How to create an Instagram carousel that will increase the number of interactions and, as a result, reach, engagement and potential leads.
5 schemes for effective carousel posts on Instagram
Brands and bloggers are looking for ways to increase interactions to increase reach and engagement. And one of the most effective ways to achieve this goal is Instagram carousels.
According to our research , this is the most effective post type to increase reach and engagement. But not every carousel is able to succeed, in addition to an interesting topic, it must have the correct structure and design.
Schemes of effective carousels on Instagram
Carousel Design Tips
READ ALSO: How to Create an Explosive Viral Marketing Campaign
Schemes of effective carousels on Instagram
A carousel is not only an opportunity to make a selection on any topic, but also a good way to briefly convey information to the audience without a text canvas, or natively sell your product or service.
AIDA scheme
If your goal is to sell a product / service by communicating its values ​​/ benefits to the audience, then this scheme is perfect.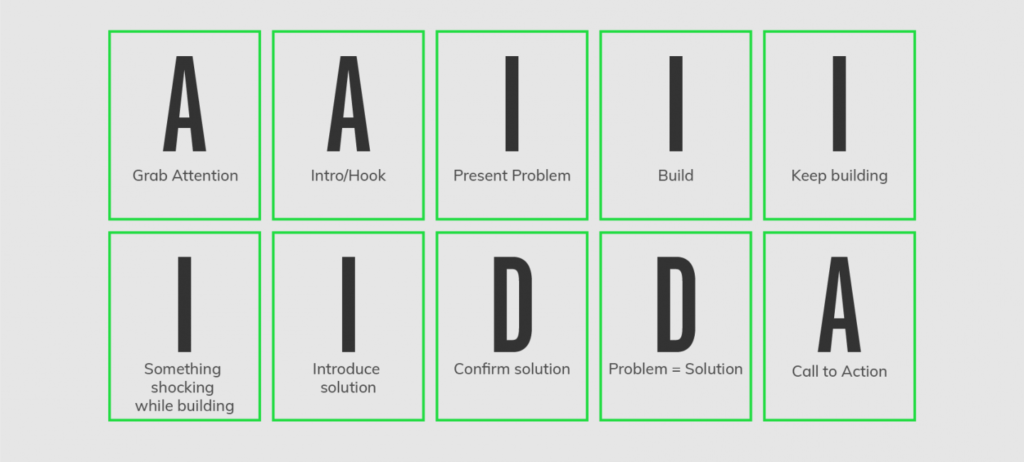 A (attention / attention)
Grab the customer's attention with a catchy (intriguing) headline on the first carousel slide.
I (interest / interest)
Generate interest in the topic/product through the reader's pain or need. Here, operate with facts and focus on logic.
D (desire / desire)
Give the maximum value so that the reader wants to purchase the product. Here, focus on emotion, the brand archetype will help with this – do not sell the product head-on, sell its image. For example, an expensive watch = confidence, a car = prestige and security.
A (action)
Encourage the audience to take one action: order a product, purchase a course, write to Direct, etc.
You can also use the reverse AIDA scheme for the carousel post, that is, give the maximum value immediately after the cover, and then reveal the value of the product, etc. But this scheme is controversial, since it does not fully motivate the user to scroll to the last slide.
Scheme "How to"
The how-to diagram is perfect for a step-by-step guide. Such carousels usually contain useful information and are actively saved by Instagram users, which additionally adds "points" to the level of engagement.
Scheme "Question-Answer"
In this scheme, the carousel is devoted to one topic, but several questions are considered in it at once: one slide is a question – the second slide is an answer, etc.
The scheme is flexible, so two slides with answers can be devoted to one question. Or one slide is devoted to the question, the second to the answer to it, and the third to the example.
Scheme "Storytelling"
Lead users to the desired action through the story in the Instagram carousel. Usually, storytelling is good at evoking dialogue subscribers and they are willing to share their stories/opinions in the comments.
The story can be personal and even fictional, as long as it resonates with the audience. The main difficulty of this scheme is to convey information briefly so as not to overload the slides with the amount of text.
Case scheme
Company cases are a good way to demonstrate your expertise and lead to the sale of a service. But not all clients are willing to spend time studying a large number of materials. Therefore, information can be wrapped in a carousel, then it will be concise, and the numbers are easy to perceive.
In the topic, it's better not to write tritely "Case of company N", but to intrigue and add numbers. For example: "How we doubled our sales." At the end, lead to action, for example, "Write to Direct to order a consultation and take sales to a new level."
You can learn how to make a seamless carousel step by step on a computer or phone in the article .
Instagram Carousel Design Tips
Regardless of the type of scheme, for a carousel to hold attention, it must be about an interesting/useful/relevant topic for the audience. In addition, you should adhere to some design principles.
Don't overload your carousel slides with visuals, as this distracts attention. Add pictures according to your needs. For example, a picture with a giraffe is not the best choice for a post on the topic "How to warm up the audience."
Align the text to the left, so it is well perceived. Do not shrink or write a lot of text on one slide, break it into paragraphs.
Choose a text color that contrasts with the background so that it does not merge. For example: yellow background – black text, blue background – white text. Try to avoid harsh combinations, such as red background – blue text.
Periodically dilute standard carousels with images – videos. This will diversify the material, make it dynamic and keep the attention of the audience.
Add a call to action to each slide, such as swipe left, swipe, arrow, etc.
Experiment and be sure to analyze each carousel layout. To do this, you can assign two categories to one post – one with a topic, the other with a carousel scheme. Read more in our article "Analyzing the effectiveness of posts using categories" .
boost instagram post
,
carousel ads
,
carousel advertising
,
carousel post
,
carousel post instagram
,
carousel posts on instagram
,
create instagram post
,
engagement instagram
,
engagement instagram post
,
increase engagement on instagram
,
instagram carousel
,
instagram carousel ads
,
instagram carousel post
,
instagram carousel template
,
instagram guide
,
instagram social media marketing
,
instagram tips
,
make instagram post
,
tech tips
,
tips
---