Huawei Watch GT 3 is a new watch designed primarily for monitoring workouts and body performance. The gadget has a great design and long battery life.
However, it lacks the capabilities of competitive smartwatches: third-party applications and full-fledged notifications from a smartphone. GT 3 is more of a fitness tracker with smart features.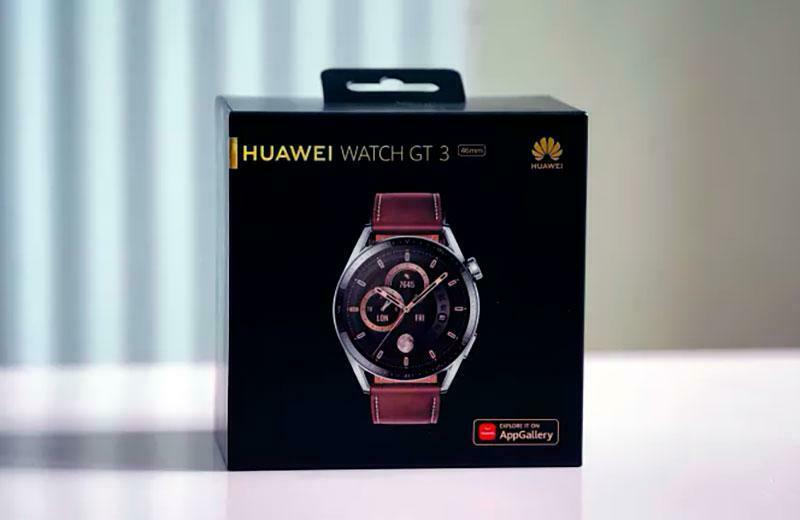 Features Huawei Watch GT 3
Screen

46 mm: 1.43 inch AMOLED, 326 ppi, resolution 466 x 466 pixels
42 mm: 1.32 inch AMOLED, 352 ppi, resolution 466 x 466 pixels

CPU

ARM Cortex-M (not listed)

RAM

32 MB

Inner memory

4 GB

System and software

HarmonyOS 2.1

OS Compatibility

Harmony OS 2, from Android 6.0, iOS 9.0 or newer

Sound

Speaker, microphone

Communication and navigation

Dual-band GNSS, GPS, GLONASS, Galileo, Beidou and QZSS
Bluetooth

Sensors

Accelerometer, gyroscope, geomagnetic sensor, optical heart rate, air pressure, temperature

Security

5 ATM

Autonomy

46 mm: up to 14 days of "typical" use, 8 days of intensive use
42 mm: up to 7 days of "normal" use, 4 days of intensive use
Wireless Charging

Colors and materials

46 mm
Color: black / steel
Material: stainless steel and plastic
Straps: black fluoroelastomer, brown leather,
42 mm stainless steel
Color: black / gold
Material: stainless steel and plastic
Straps: black fluoroelastomer, white leather, Milanese gold

Dimensions and weight

46 mm: 45.9 x 45.9 x 11 mm 42.6 g without strap (for 140-210 mm wrists)
42 mm: 42.3 x 42.3 x 10.2 mm, 35 g without strap (for wrists 130-190 mm)

Price

18 ths rub.
Huawei Watch GT 3 Design and appearance
The Huawei Watch GT 3 feels like a sophisticated premium accessory rather than a regular body tracker.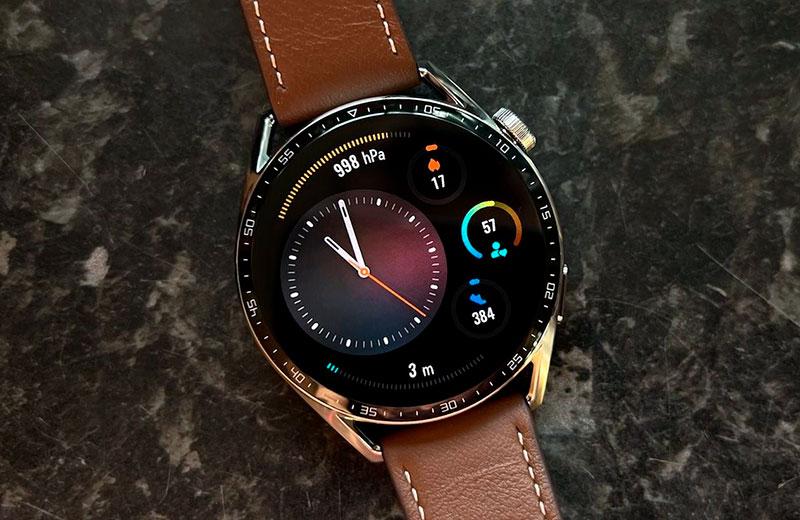 There are many smartwatches and fitness trackers released in 2021, but Huawei's device can be recognized at a glance. There are two versions of the Watch GT 3 – with a 42mm and 46mm case, I tested the second option.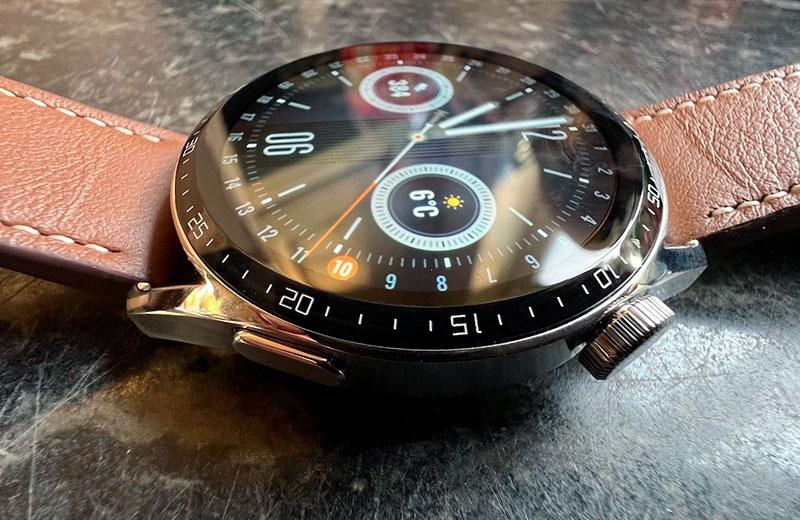 The screen is covered with high quality glass, the case is made of stainless steel, while the watch is large, although the thickness is only 11 mm. If your wrists are not very wide, I recommend using the 42mm version. The design of my model is reminiscent of the smartwatches of yesteryear. There is an external bezel with additional divisions, a rotating crown on the right, and just below there is one physical key (although the Huawei Watch GT 2 had two of them).
Read Also: Huawei Watch GT Runner Review: Bright and sporty running watch
The crown is borrowed from the Huawei Watch 3 , so you can scroll through messages and menus without touching the screen. It also provides quick access to the workout list and virtual assistant, although the function can be reassigned to another activity.
The Watch GT 3 is available in three versions: the Classic Edition with a soft brown leather strap, the Active Edition with a fluoroelastomer sports strap and the Elite Edition with a Milanese stainless steel strap. The width of each is 22 mm, so the watch is compatible with any third-party straps, they are also easy to replace.
Huawei Watch GT 3 Clock screen
The reviewed Huawei Watch GT 3 has a bright and detailed AMOLED display with a circular shape of 1.43 inches, with a resolution of 466 × 466 pixels.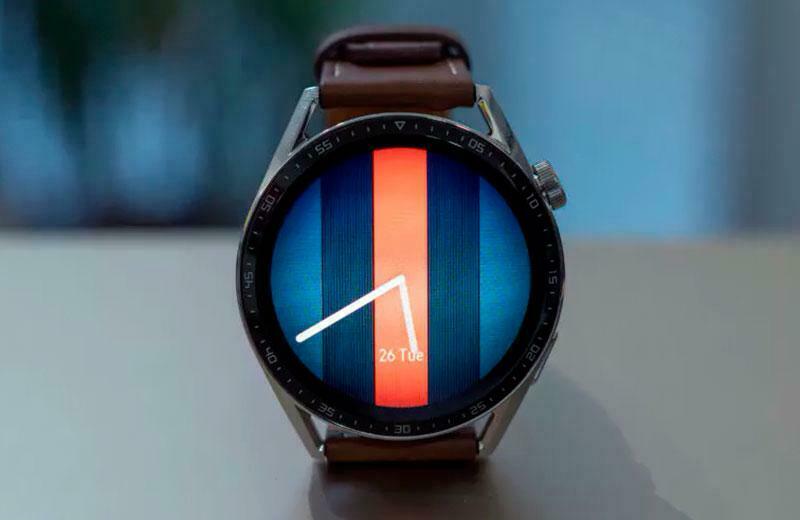 Thanks to the large diagonal, the text is easy to read, and the brightness is sufficient even for the sunniest weather. There are several pre-installed watch faces to choose from: from standard to those where information about the steps taken, heart rate and weather is displayed in real time.
There are many other watch faces available for download from the Huawei Health app, free or paid. But, the screens have few settings – you can change the displayed information, although the design or color scheme, as on the Apple Watch Series 7 or Samsung Galaxy Watch 4 , is impossible.
Huawei Watch GT 3 Management and functions
The Huawei Watch GT 3 runs on the HarmonyOS 2.1 operating system.
While Huawei's OS isn't as functional as Wear OS or watchOS, it's simple and enjoyable to use. Swiping left or right on the watch face will open different widgets showing the weather, heart rate, and even the current phase of the moon. Clicking on the crown will open a menu with applications, but only icons without names will be shown.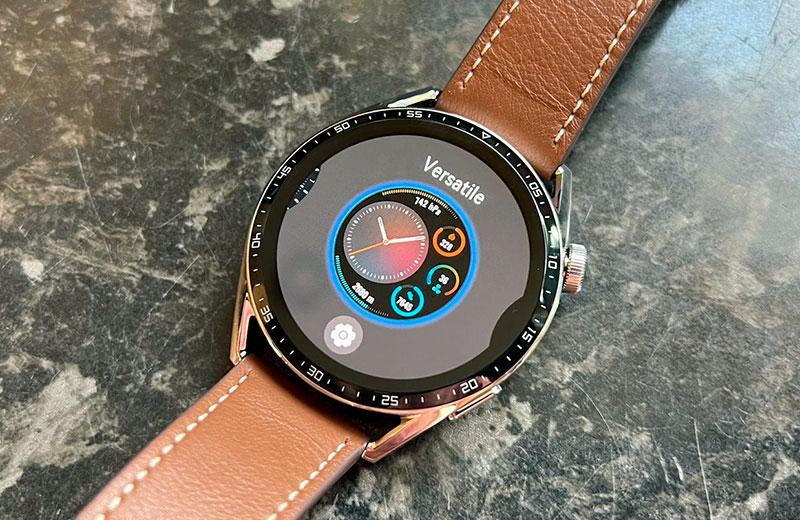 It is difficult to remember the purpose of each icon at first, especially since some of them are very similar. Among the applications there are monitoring of heart rate, sleep, exercise, blood oxygen saturation, barometer, compass and a number of others. Third-party applications cannot be installed, which significantly limits the functionality of the gadget.
Smartphone notifications are also limited – only text is shown with which you cannot interact in any way. There is not even support for emoji, so many messages will be a set of stars.
Huawei Watch GT 3 Smartphone app
If general information on the Watch GT 3 is not enough for you, the Huawei Health companion app for Android and iOS is here to help.
The software has a large number of charts and detailed sleep analysis with helpful recommendations for improvement. The app even works with Apple Health on the iPhone to export sleep data for more accurate analysis.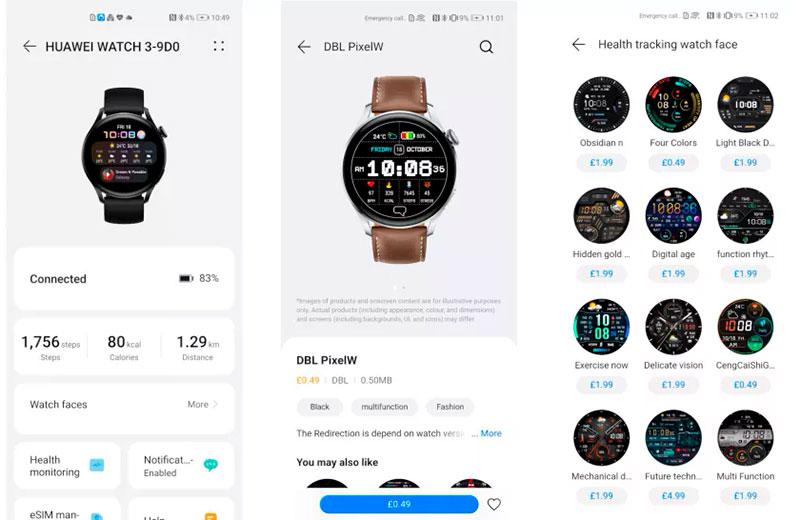 The information is stored in the watch and the Huawei Healthy Living app. Here you can set goals: to wake up and fall asleep, walk a certain number of steps per day, or drink enough water.
It is important that Huawei did not, like Fitbit, make a paid subscription to access some of the functions. Everything is available immediately after purchasing the watch.
Huawei Watch GT 3 Training and health monitoring
Buying the Huawei Watch GT 3 is worth it just for the sake of tracking workouts and body performance, and it's not just the number of sensors.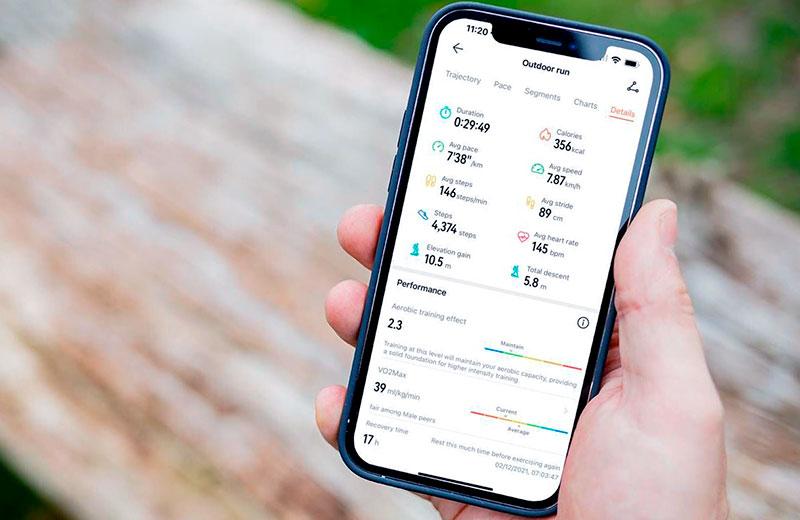 During the day, the watch monitors your heart rate and blood oxygen saturation. Provides information on activity time, calories burned, stress level and more. The device can even automatically record naps, while other competing devices require at least 3 hours of sleep to analyze.
The Workout application is launched by pressing a key on the right side. It contains over 100 types of workouts – both standard ones like running, swimming and yoga, and more exotic ones like mountaineering or cross-country skiing. This model is most suitable for joggers.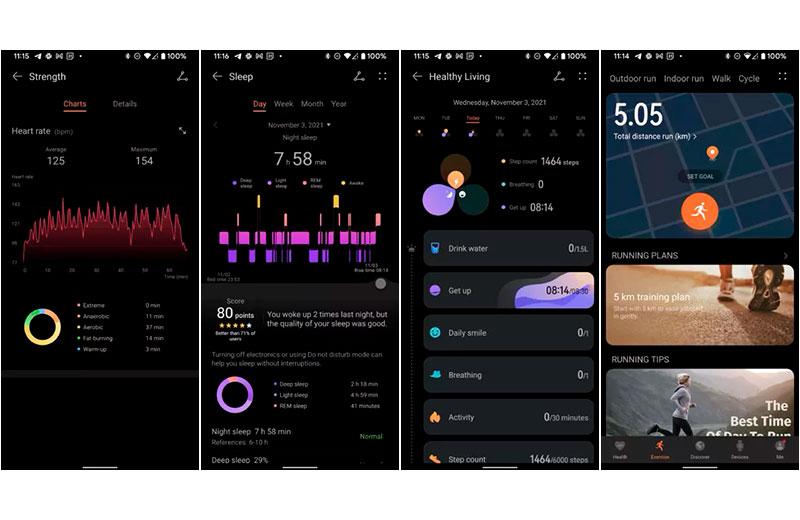 There are several programs on the Huawei Health app and watch for both beginners and experienced runners. The virtual trainer AI Running Coach is available. Through headphones, it reports on your body performance at different times and encourages you to accelerate your pace if you move too slowly.
Establishing a connection with a satellite for GPS operation is instant, and the route is tracked accurately. The display of Huawei Watch GT 3 shows heart rate zones, pace and distance covered. Physical buttons allow you to stop or resume monitoring, which is more convenient than trying to tap the screen while running.
After a run, you will see a large amount of information on the display: body temperature, blood oxygen saturation, cadence. An overall Running Ability Index based on the data collected will help you understand how well you are running and your progress in doing so.
Autonomy Huawei Watch GT 3
The Watch GT 3 has a battery life of up to two weeks, although for the maximum period you will have to turn off the always-on display.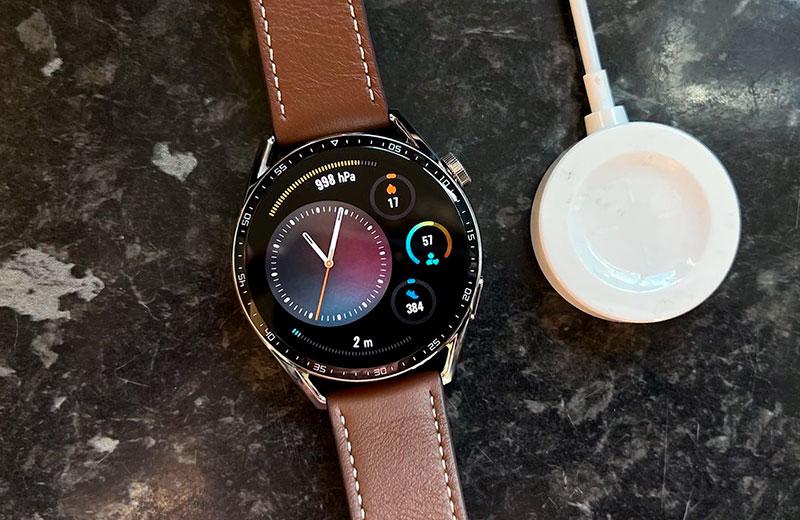 At the same time, most of the smart watches are discharged after a day of use or even less, as is the case with the Apple Watch. You have to charge such wearable gadgets almost every day, which sometimes does not allow you to fully track your sleep.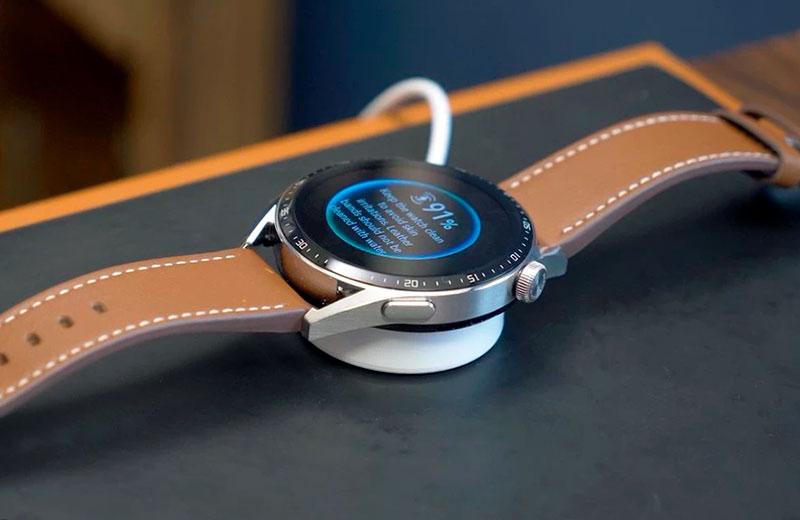 If you constantly monitor the pulse and blood oxygen saturation, two weeks of autonomy is unlikely to be achieved, but energy should be enough for 10-11 days. A full charge takes just an hour and a half.
Read Also: Garmin Venu 2 Plus Review: Smartwatches for sports become more versatile
Outcome
The Huawei Watch GT 3 is a stylish watch with many features to track your workouts and body metrics. The large OLED display also looks great with a huge selection of colorful dials.
On the other hand, there are few smartwatch functions – there is no support for third-party applications and full-fledged notifications from a smartphone. But the information about training and body parameters is presented in great detail, especially there are many options for joggers.
Should I buy
If you're looking for a powerful fitness tracker with some smartwatch capabilities, Huawei's Watch GT 3 is almost the perfect choice.

Review of Huawei Watch GT 3 – video
Advantages and disadvantages
Advantages
Stunning design
Great large display
Long battery life
In-depth health and fitness tracking
Disadvantages
No support for third party applications
No broad support for notifications