The first XGIMI Halo was an excellent portable projector with vibrant Full HD images. But, recently there was an update – XGIMI Halo +, a projector with all the advantages of the previous model and a couple of new useful features.
You will also have a user-friendly interface based on Android 10, high-quality speakers and decent battery life. Some will be disappointed only by the lack of support for Netflix.
XGIMI Halo + Feature Comparison
| | | |
| --- | --- | --- |
| Peculiarity | Halo + | Halo |
| Display | DLP, 0.33 inch DMD | DLP, 0.33 inch DMD |
| Brightness | 700-900 ANSI Lumens | 600-800 ANSI Lumens |
| Permission | 1920 × 1080 (native) 2K / 4K (compatible) | 1920 × 1080 (native) 2K / 4K (compatible) |
| Coffee. projection | 1.2: 1 (76 inches by 2 m) | 1.2: 1 (76 inches by 2 m) |
| Keystone Correction | Vertical: +/- 40 ° Horizontal: +/- 40 ° (2D) (with automatic correction) | Vertical: +/- 40 ° Horizontal: +/- 40 ° (2D) |
| Projection method | Forward, backward and suspended (ceiling) | Forward, backward and suspended (ceiling) |
| CPU | MediaTek MT9629 Cortex-A55 Quad Core | Amlogic T905X2 Cortex-A53 Quad Core |
| Graphics | Mali-G52 | Mali-G31 |
| RAM | 2 GB | 2 GB |
| Inner memory | 16 GB | 16 GB |
| System and software | Android 10.0 with Chromecast option | Android 9.0 with Chromecast option |
| Ports and connectors | Input: DC power supply, HDMI, USB 2.0; Output: headphone jack | Input: DC power supply, HDMI, USB 2.0; Output: headphone jack |
| Communication and connectivity | Wi-Fi: 802.11A / B / G / N / AC Dual Band 2.4 / 5.0 GHz, Bluetooth 5.0 | WiFi: 802.11A / B / G / N dual band 2.4 / 5.0 GHz, Bluetooth 4.2 |
| Noise | <30 dB | <30 dB |
| Power | 90 watts | 90 watts |
| Battery | 49.9 Wh, 5400 mAh | 49.9 Wh, 5400 mAh |
| Dimensions (edit) | 113.5 x 145 x 171.5 mm | 113.5 x 145 x 171.5 mm |
| Weight | 1.6KG | 1.6KG |
| Guarantee | One year | One year |
Design and appearance
XGIMI has decided not to change the Halo + design, and outwardly the updated projector is almost identical to its predecessor.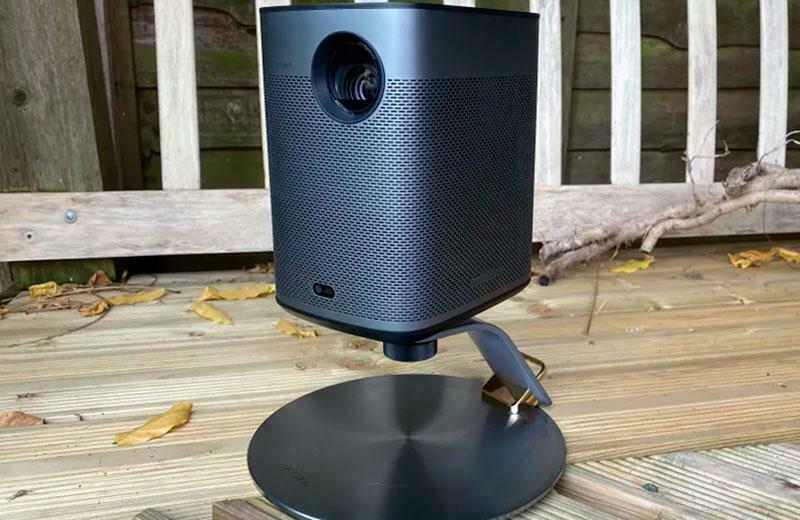 The only difference is that the new version has a sensor at the front for automatic keystone correction. Like the previous model, the XGIMI Halo Plus in terms of dimensions, is somewhere on the verge between a conventional and a portable projector. Its dimensions are 17.15 x 14.5 x 11.35 cm, and its weight is 1.6 kg.
You can still put the device in your bag, but it's not very convenient to carry with you. The kit also lacks a protective lens case.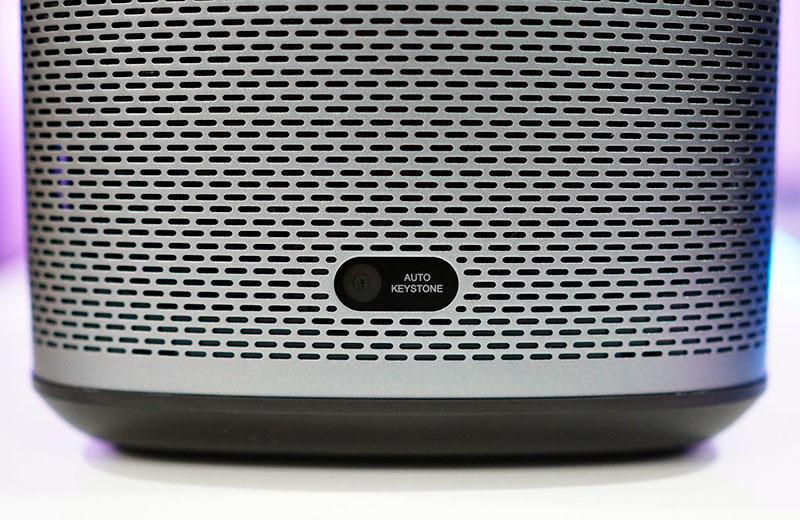 Charging takes place through the included adapter, similar to laptop chargers, and the cable length is 2.5 m.However, you can install the projector far from a wall with an outlet, since a 5400 mAh battery is installed inside it for autonomous operation.
XGIMI Halo + Management and connection
XGIMI Halo + can be installed on any level surface, and the height adjustment foot will allow you to fine-tune the tilt angle.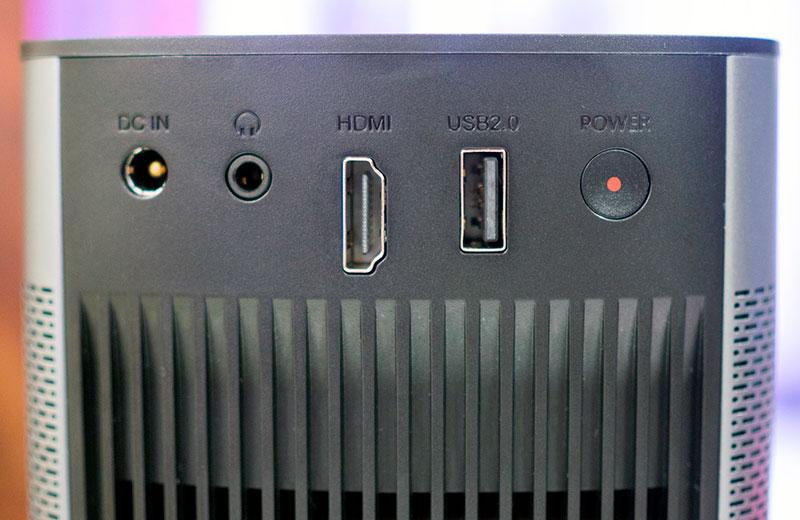 There is also a tripod mount on the underside of the case, so the projector will be convenient to use outdoors. At the back there is a standard set of connectors for the Halo line: HDMI, USB and 3.5 mm audio output. Above there are keys for playback control and volume control. For everything else, you need to use the remote control.
The Halo Plus remote works via Bluetooth. Only the most necessary keys have been added to it, in which you are unlikely to get confused. It feels quite solid, and all buttons have excellent pressure feedback.
Read Also: XGIMI Aura 4K review: the best ultra short throw laser projector price and quality
XGIMI Halo + Functions and features
Each time XGIMI Halo + is turned on, it performs a series of automatic projection and image adjustments.
The first is autofocus, as on the original Halo, and automatic keystone correction. The latter feature first appeared on XGIMI Elfin and works amazingly. The device does not just make the picture rectangular, but also sets it to the size in accordance with the screen. But, I advise you to set the device as straight as possible, because some of the resolution is lost during distortion correction.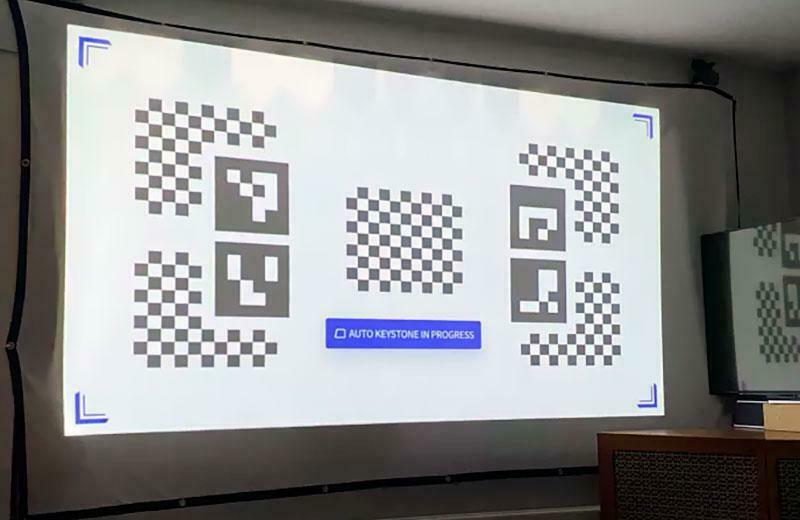 Works Halo + on Android TV (in this case, Android 10). In terms of the quality of the interface, the new version clearly outperforms most other portable projectors. The Android TV based system is ideal for large screens and navigation via a remote control. There is also support for voice search through the Google Assistant and the Google Play Store for downloading applications.
Unfortunately, there is one problem that is significant for many. Netflix is available for download, but Halo + does not support it, so the official app will not work here. This can be fixed only by connecting an external device via the USB connector, such as a TV stick Fire TV Stick 4K Max .
XGIMI Halo + Image quality
In Halo +, XGIMI has slightly increased the brightness, now we have 900 lumens instead of 800 as in the previous model.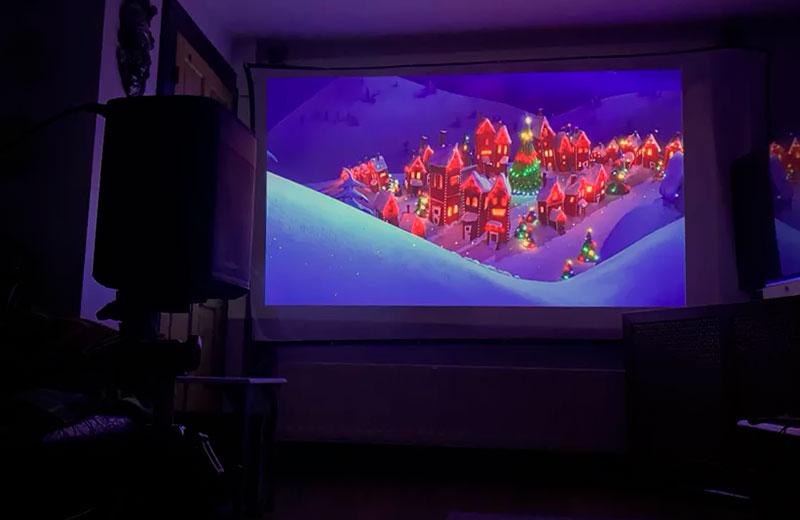 But, there is no visually noticeable difference. The main thing is that the brightness of the updated projector is much higher than that of almost all competitors, it is enough for comfortable viewing in a dark room. There are several built-in presets like Movies and Sports. But you can create your own profile with brightness, contrast and saturation settings.
You can turn motion compensation on or off, which reduces image blur. Halo + has a maximum resolution of Full HD (1920 x 1080 pixels), and the image quality is clearly higher than other portable models.
The projection is bright, vivid and rich in color. Contrast is fine too, although blacks tend to appear gray and in dark scenes it can be difficult to see many details. HDR10 + technology helps, but brightness will still be limited. You won't see the same wide dynamic range as a top-end TV.
XGIMI Halo Plus sound and autonomy
The XGIMI Halo + has two built-in 5W Harman / Kardon speakers, just like the Halo model. They provide loud and detailed sound.
This makes it unnecessary to connect an external sound system. While the built-in speakers clearly lack bass, you can go without a portable Bluetooth speaker on the road. The built-in battery lasts about two hours of projection.
You can take Halo + with you on the road to watch a mid-length movie, but for some Lord of the Rings you'll have to grab a charger.
As before, the LED lamp does not change, although its resource should be enough for 30 thousand hours of operation. Even if you use the projector for 8 hours a day, the lamp will "live" for about 10 years.
Read Also: Wanbo T2 Max review: cheap Full HD LED projector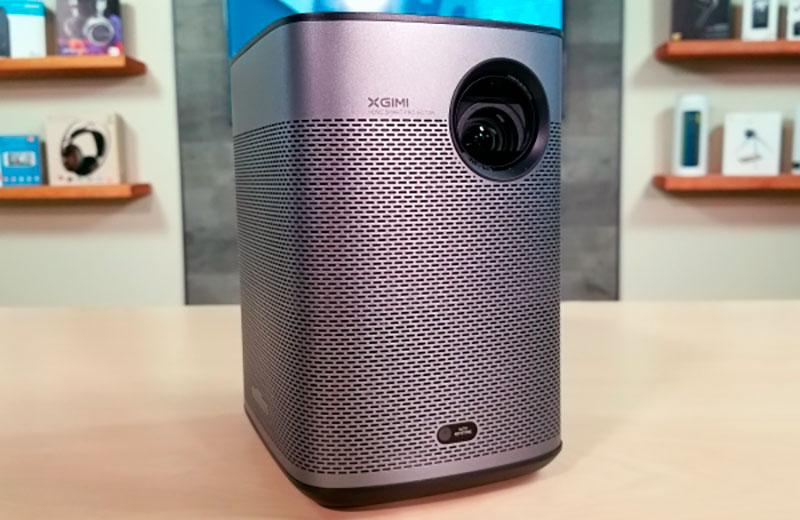 Outcome
XGIMI Halo + is almost the king of portable projectors thanks to its ease of setup, brightness and image quality. The picture quality here is much better than that of the competition, and the built-in speakers produce good sound quality.
XGIMI Halo + Advantages and disadvantages
Benefits
Bright enough
Sharp image
Decent sound quality
Smart auto setup
Disadvantages
It's expensive
No native Netflix
Should I buy XGIMI Halo +
By almost every measure, this is the best portable projector on the market, lacking only Netflix support. Owners of the original Halo have little reason to upgrade. For wider application support and offline viewing of films, you can take the Nebula Capsule Max, especially the weight of this model is slightly less. But in all other respects, XGIMI has no competitors.
XGIMI Halo + Projector – video
About Post Author
XGIMI Halo + Review
Design and construction -

95%

Setup and connection -

95%

Software -

95%

Picture quality -

90%

Sound system -

90%

Additional functions -

95%
Summary
XGIMI Halo+ is an upgraded version with automatic keystone correction, making this portable projector incredibly easy to set up. Just sit next to you and you will get a clear image and an incredible experience.