A smartwatch that is impossible to pass by indifferently. Huawei Watch GT 3 Pro is a wonderfully designed watch with high-quality workmanship that will be perfect for a woman's wrist. In a white, ceramic version with a 43 mm case, it looks amazing, can work for a long time on a single charge and provides a lot of tools for monitoring health and activity. So if you have no idea what to buy for Mother's Day, I can guarantee that the white Huawei Watch GT 3 Pro will be the perfect gift.
How much is this gem? In the promotion that started today and will last until June 5, the ceramic watch GT 3 Pro model can be purchased for INR 42,500 , receiving Huawei FreeBuds Lipstick headphones . The version with a ceramic body, sapphire glass and a leather strap was priced at INR 35,500.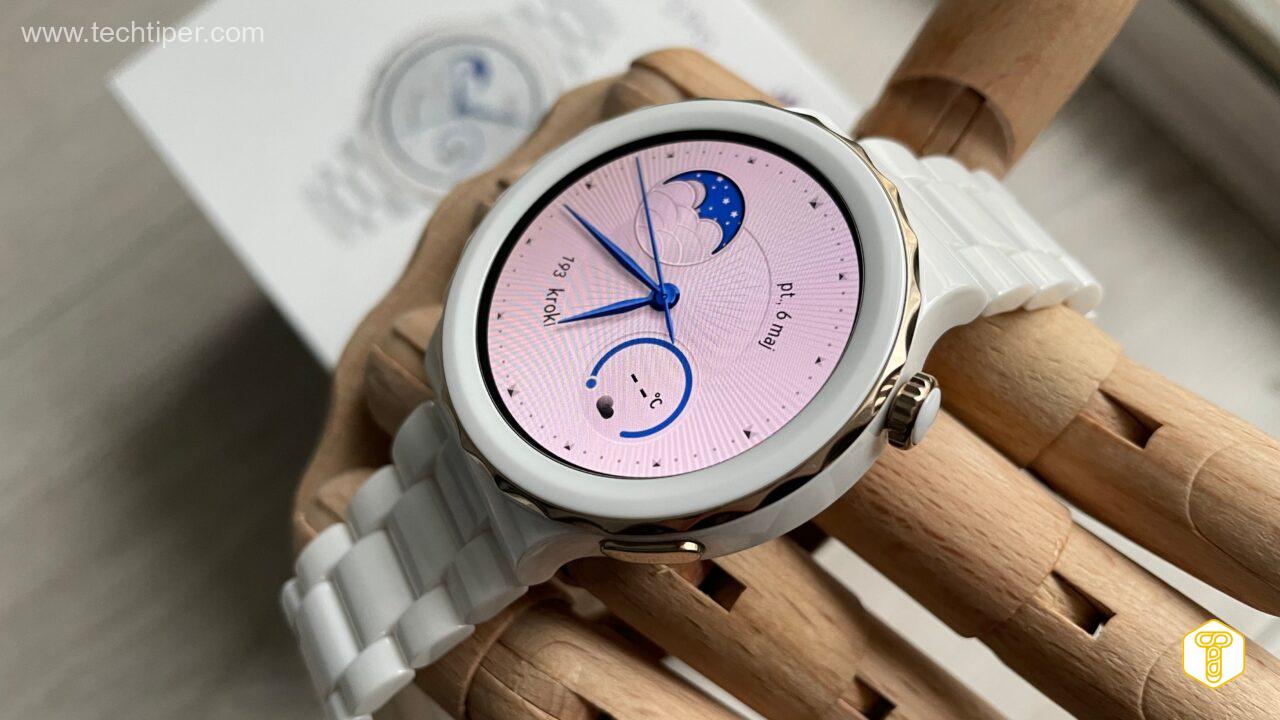 Here you will find a pre-sale offer for the latest Huawei smartwatches from the Watch GT 3 Pro line .
Indians have stopped loving smartphones with the Huawei logo, and without Robert Lewandowski, the former brand ambassador, the popularity of the rest of the Chinese manufacturer's devices is questionable.
However, while Huawei can be criticized for many things, I believe it is a company that makes very successful accessories. I use their routers, I like their wireless headphones, but their smartwatches deserve the most attention.
For two years I have been accompanied by the Huawei Watch GT 2 model, but the latest installment of the series encourages me to change more and more every day. Huawei Watch GT 3 Pro not only looks great, but also brings many new features compared to previous editions. Let's check what exactly it offers and whether it is worth buying …
Benefits
Attractive appearance
Production quality
ECG, heart rate measurement and SpO2
Good working times
Qi wireless charging
Numerous sports modes
A lot of dials to choose from
Disadvantages
Contactless payments do not work
Bracelet length adjustment method
Always on Display and GPS function strongly drain the battery
Respond to notifications only with quick replies
Big price
Specification of Huawei Watch GT 3 Pro
Huawei Watch GT 3 Pro launched in China at the end of April , five months after the launch of the Huawei Watch GT 3 series, in two versions. The model under review, with gold accents and a white ceramic bracelet, is a rather feminine accessory. It has a smaller screen and looks neater on a woman's wrist. The manufacturer has also prepared a version with silver details and a white strap made of high-quality calf leather, although at the moment I do not know if they will go on sale in India.
Model: FRG-B19
Screen: 1.32 inch, AMOLED, 466 × 466 pixels, approx. 326 ppi
Dimensions: 46.6 x 46.6 x 10.9 mm
Weight: 50 g
Material: sapphire glass, ceramic case
Health Monitoring: ECG, Accelerometer, Gyroscope, Heart Rate Measurement, Barometer, Compass, SpO2 Measurement, Thermometer
Connectivity: Bluetooth 5.2, GPS / GLONASS / BDS / GALILEO / QZSS, NFC
Other waterproof, IP68, 5 ATM, 2 GB memory for music file, speaker, microphone,
Strap: 20 mm ceramic, butterfly clasp
Software: HarmonyOS 2.0
Battery: Li-Po 530 mAh
Charging: wireless, Qi
The second model is based on a titanium case and has a leather strap with a buckle clasp. It has a stricter appearance, is more bulky, and is much better for men.
Read Also: Huawei Watch GT Runner Review: Bright and sporty running watch
In China, along with the Watch GT 3 Pro watches, the luxury model Huawei WATCH GT 3 Porsche Design also had its premiere, with a 1.43-inch AMOLED screen and a case and bracelet made of titanium.
Set
A large, white box holds a nicely displayed watch, and also some papers and a charging pad with a USB cable. There is also a kit for self-adjusting the length of the bracelet to the wrist – you can add a few links or remove a few. However, due to the unfriendly way of carrying out this process, for a moment I missed a standard belt with a typical buckle clasp.
I suspect that shortening the bracelet on the Huawei Watch GT 3 Pro would be a challenge even for a watchmaker – and what is an ordinary user to say when forced to manipulate a miniature screwdriver, "escaping" miniature screws and pins? But more on that later.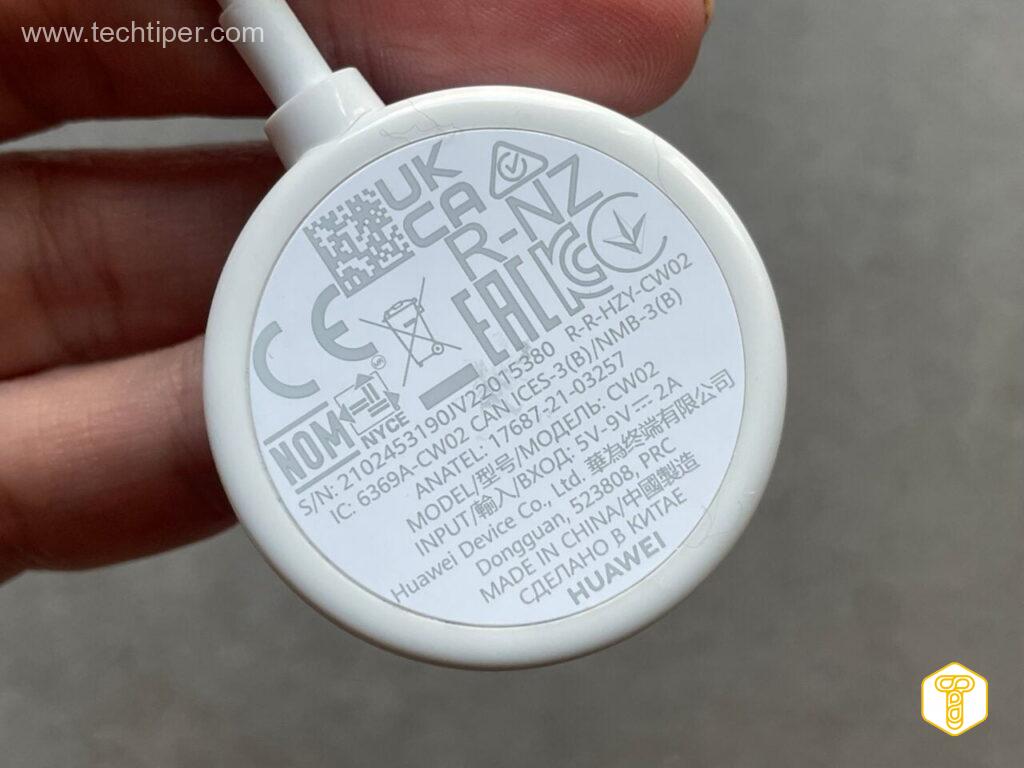 Construction of a watch
The design of the Huawei Watch GT 3 Pro is inspired by the painting "The Birth of Venus" by Italian painter Sandra Botticelli. White ceramics give elegance, and the golden frame around the dial has a characteristic pattern – 24 waves, which are to symbolize 24 hours, also refer to the 24 solar periods of the Chinese calendar.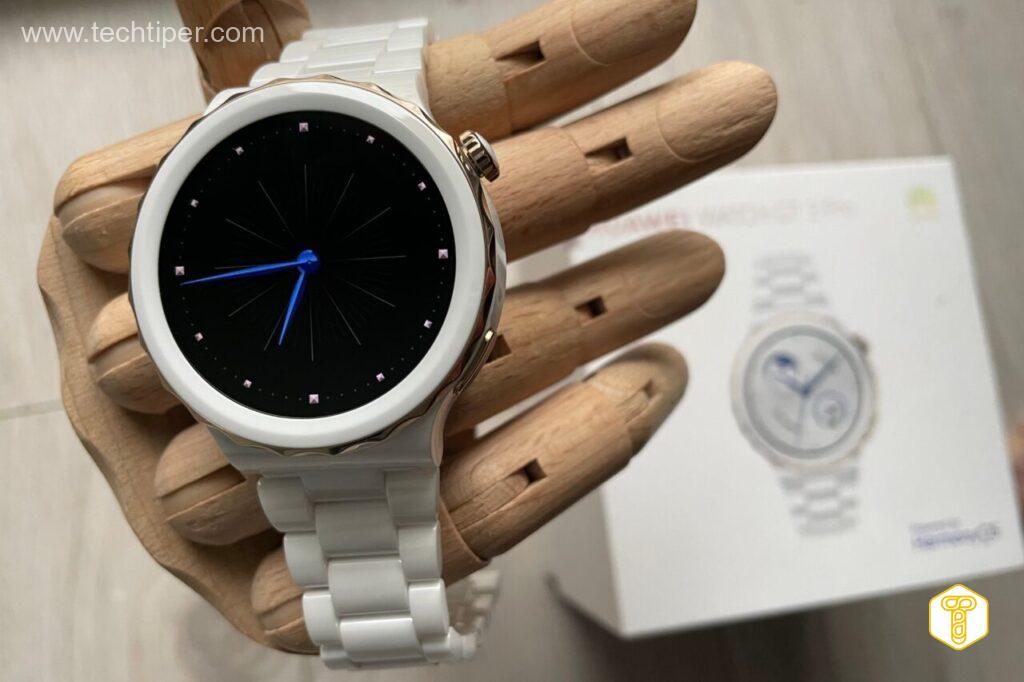 The watch face is round with the white bezel around it slightly above the screen surface. 1.32-inch AMOLED display provides excellent image quality with deep, saturated colors, in addition it is protected by sapphire glass. There are no problems with using the watch outside, in the sun – what is displayed on the screen is perfectly visible.
On the right side of the watch there are two buttons for operating the accessory. The upper one, with a golden rotating crown, brings up the list of applications when you press it, and when you turn it, you can easily move between them (in the case of playing music, it functions as a volume control). The bottom one has a different shape. It's flat and is set to sport modes by default, but you can choose a different app to run in the settings. It is also used in ECG measurement.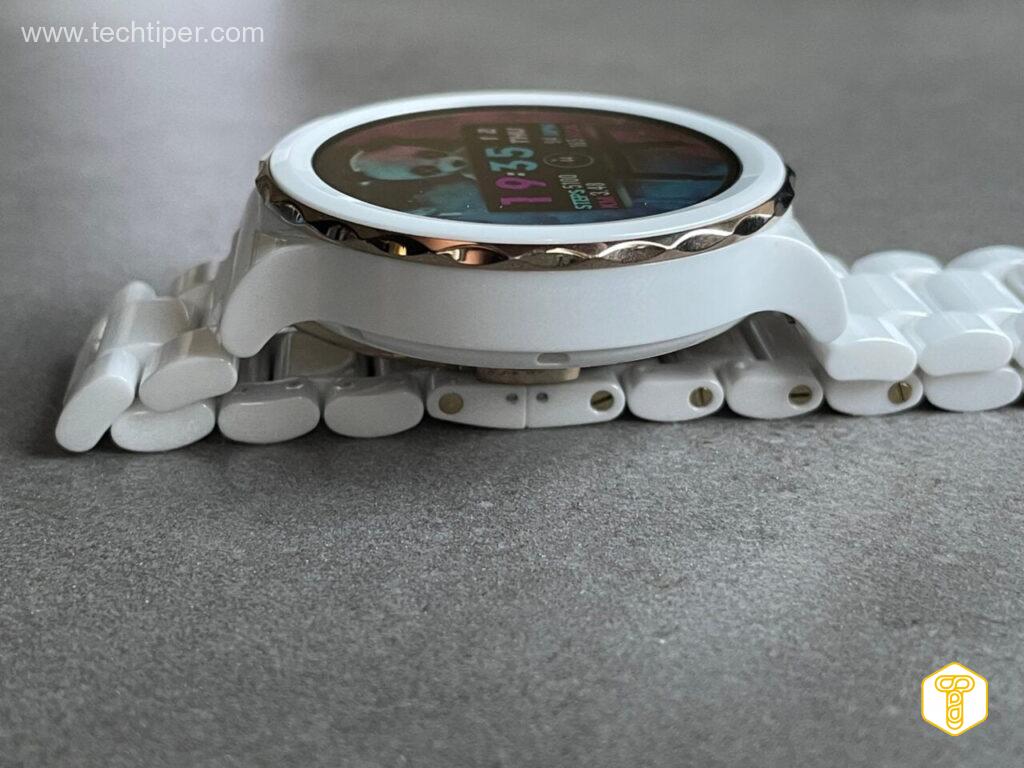 The watch supports five navigation systems: global GPS, Beidou, GLONASS and Galileo, and QZSS, which covers mainly eastern Asia. The watch is dust and water resistant, boasts an IP68 rating and a water resistance rating of 5 ATM. What's more, it meets the requirements of the standard for diving equipment EN13319 and can be used during free diving at a maximum depth of 30 meters. However, it does not support SIM cards or memory cards.
Ceramic bracelet
The ceramic bracelet is beautiful – it gives a completely different feeling compared to putting on a smartwatch with a silicone strap. Here we have a white belt with ceramic links – it should be noted that it is a hard and difficult to scratch material, but at the same time less resistant to falling.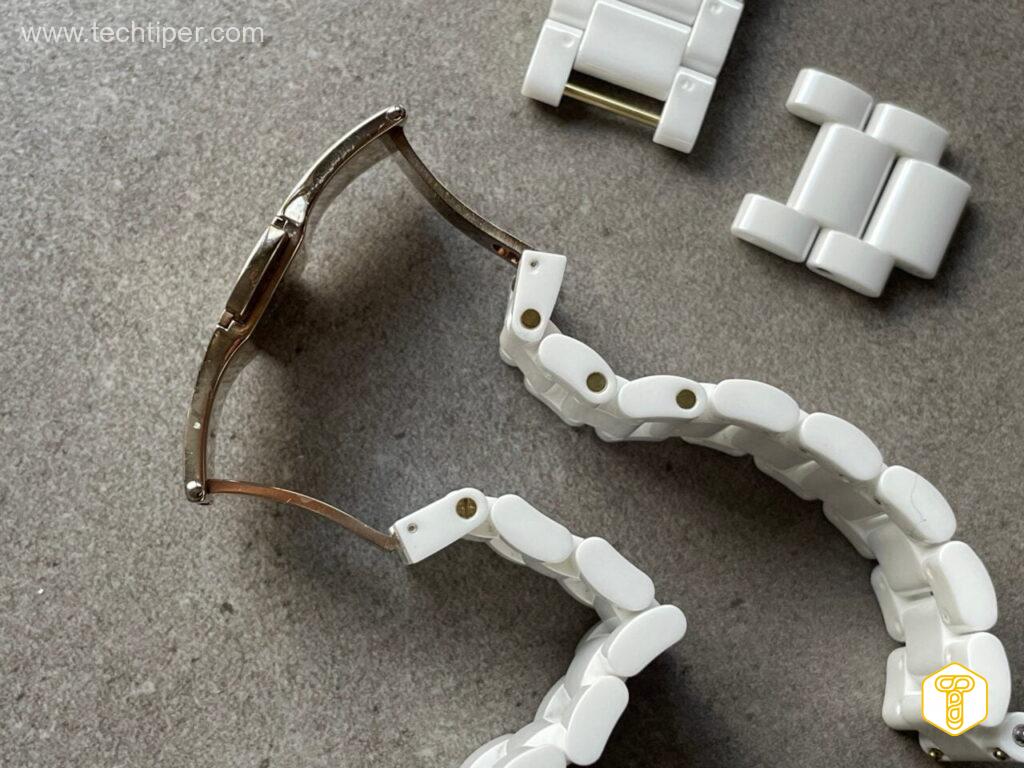 The bracelet uses a butterfly clasp that allows you to quickly and easily fasten and unfasten the strap. Just press a button on both sides of the bracelet. This type of clasp does not allow the strap to be fully unfastened, but creates a kind of loop through which the hand passes. It is a convenient solution that leaves no traces of use on the skin and causes less wear of the strap (for example, there is no forming of holes as in the case of buckle fasteners).
It also makes it impossible to lose the watch – even if it detaches, it will not fall to the ground, but will stop on the hand. Moreover, it looks great – it gives the impression of a uniform surface. It also allows you to adjust the length of the bracelet to the hand. And here comes the minus.
To adjust the length of the bracelet to the hand – shorten it or lengthen it – remove or add a specific number of links. And while it doesn't sound complicated, it's a job for really patient people. Because instead of using a telescope-based system, we have threaded spindles and miniature screws here. You have to unscrew them to be able to pull out the pin and remove the link. With a miniature screwdriver that does not have a magnetic tip. The screws fall out, the spindles do not go all the way in, and the worst is when you manage to do everything, but it turns out that the strap is still too loose or too tight … But when you get through this step, then it's only better.
It is worth noting that the clasp itself is made of stainless steel, and replacing the entire bracelet will not be a problem – telescopes that are easy to unfasten and fasten are used here.
Interface, operation and a multitude of functions
The smartwatch is operated using a touch screen and side buttons – it is very intuitive and even people who have not used smart watches so far should have no problems. The main screen is one of several watch faces pre-installed – but there are hundreds of designs, both paid and free, that you can install through the Huawei Zdrowie app. Keeping your finger on it longer allows you to change the dial – it is worth adding that some dials have AoD screens that are compatible in terms of design.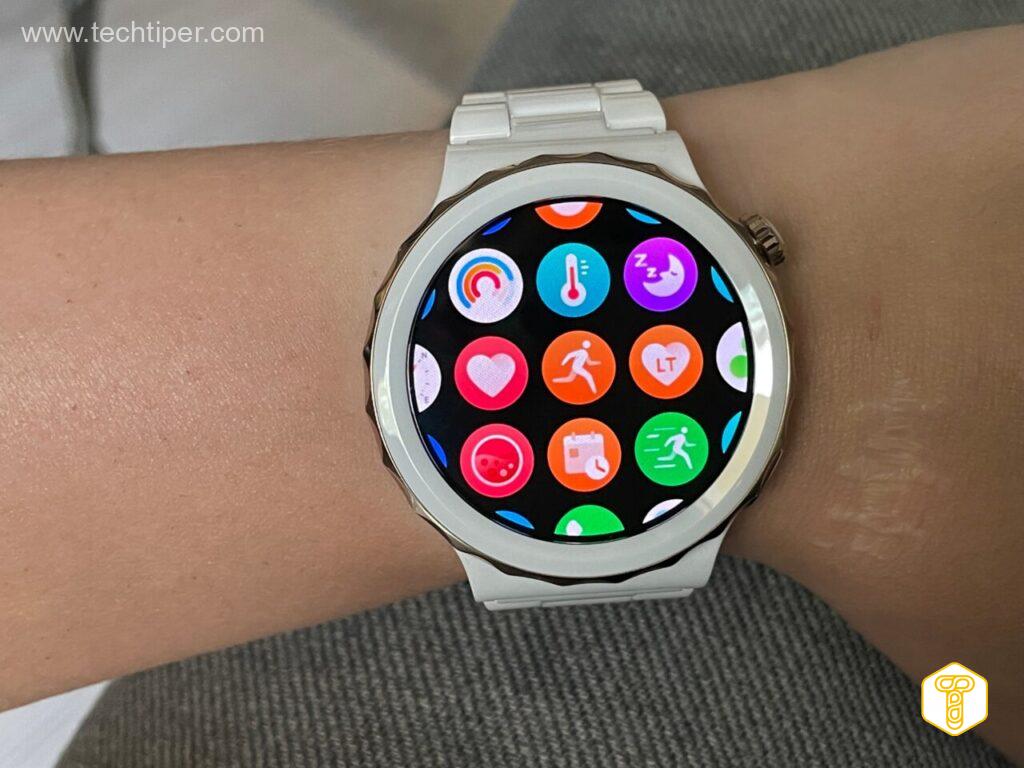 Swiping down the screen reveals the quick settings menu, giving you access to settings, device drain, find my phone, do not disturb, alarm and screen on. It also shows battery status and Bluetooth connection activity. In turn, a screen with notifications slides out from the bottom of the screen – Huawei Watch GT 3 Pro supports Hindi characters, but does not display emoticons. You can respond to notifications through predefined responses and emoticons. The menu itself can be displayed as a grid or a list.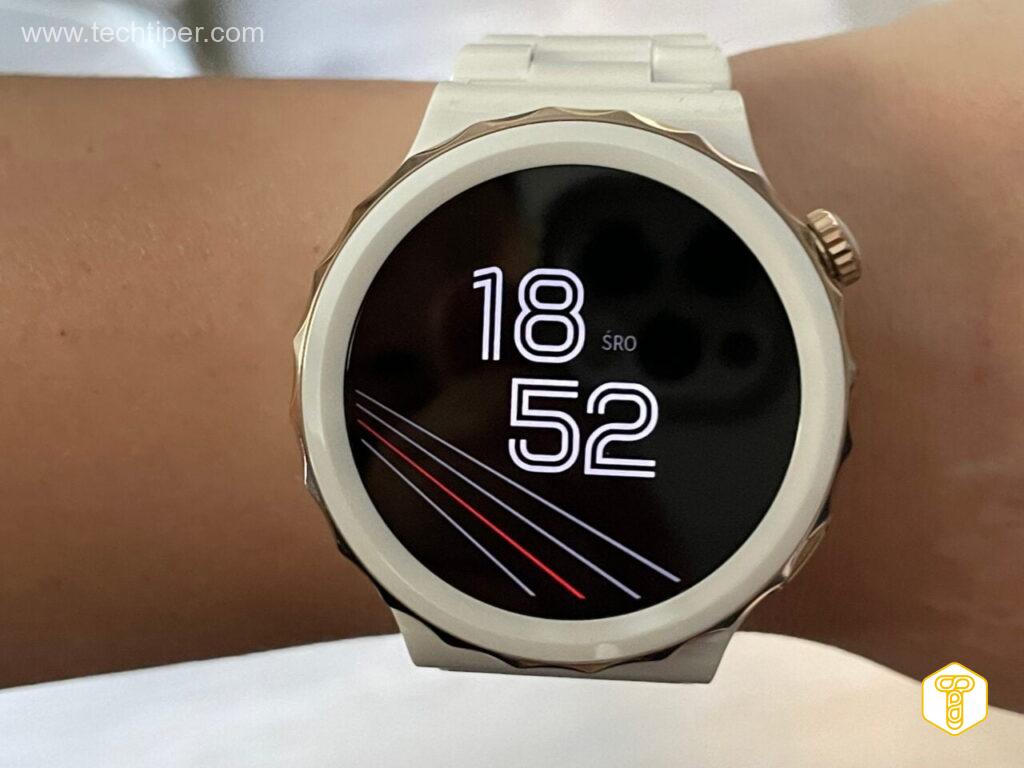 Huawei WATCH GT 3 Pro comes with the latest version of HarmonyOS, which supports a range of functions: Exercise, Exercise Record, Exercise Status, Lactate Threshold, Heart Rate, ECG, SpO2, Skin Temperature, Healthy Living, Activity Record, Sleep, Stress, Breathing Exercise , call log, contacts, music, barometer, compass, notifications, weather, wallet, stopwatch, timer, alarm, flashlight, find phone, settings. In addition, you can use additional applications.
Cooperation with a smartphone
The watch works with the Huawei Zdrowie application. I was using the beta version of the application here. Nevertheless, the application should be downloaded via the attached QR code or via the App Gallery because the version from Google Play does not include the latest watches and the latest functions available in accessories.
The main panel of the application is divided into five tabs:
Health – panels with the results of individual measurements and monitors from the watch.
Practice – exercise records.
Discover – the marketing part.
Devices – a set of settings and tools for a connected watch.
Me – user profile.
The smartwatch works great with a music player, but also has a built-in memory (2 GB) to which you can copy music. Via the Bluetooth module, you can connect headphones, smart tags (Huawei S-Tag), a heart rate monitor strap, a speed / cadence sensor or a power meter.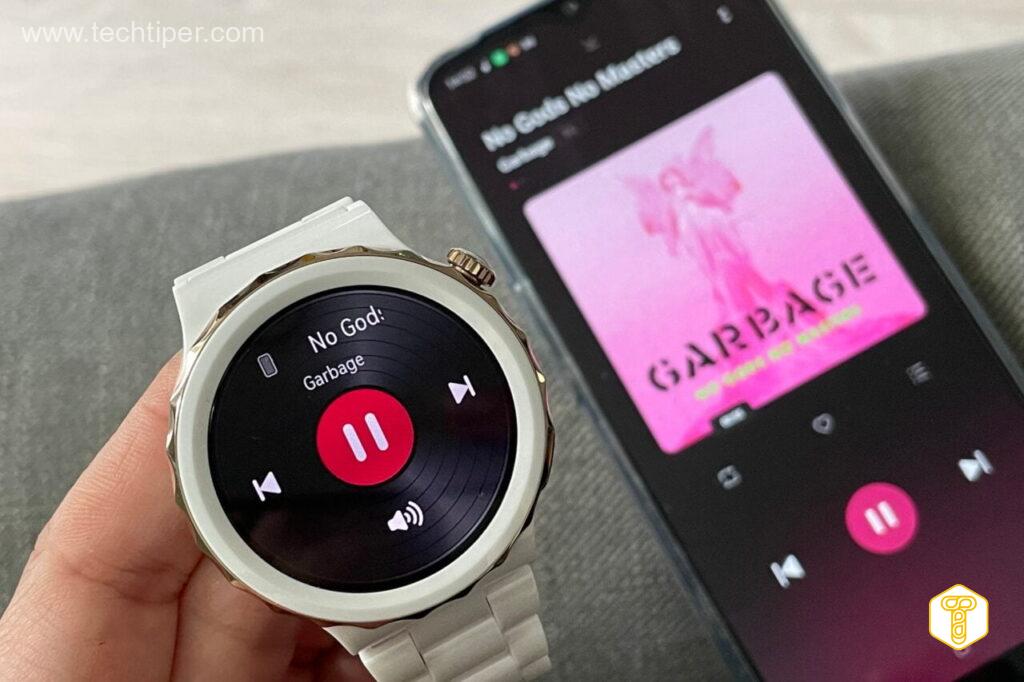 The smartwatch is a great extension to what a smartphone offers. For example, when it comes to voice calls. Huawei Watch GT 3 Pro supports Bluetooth connections, has a phone book function (you can determine the 10 most common contacts) and a call log. Of course, you can reject calls, easily reply to messages with pre-set or self-prepared texts, or mute a call.
Health monitoring
Huawei Watch GT 3 Pro supports the monitoring of a number of health parameters. It allows you to measure your heart rate (the results are comparable to other bands, I also compared the readings with the blood pressure monitor), blood oxygen level (the results are in line with what the pulse oximeter shows), skin temperature, and monitor sleep quality and stress.
But the biggest attraction of the Huawei Watch GT 3 Pro is the EKG function, which is the recording of the electrical activity of the heart muscle in the form of different voltages between the electrodes. The result is saved in a graphical form read in the form of an electrocardiographic curve. Unlike a doctor's ECG with multiple sensors, the smartwatch uses one sensor on the wrist and an electrode on the bottom button. The recording lasts 30 seconds and provides information about the heart rate and rhythm, as well as information on identified abnormalities such as abnormal sinus rhythm, atrial fibrillation, premature ventricular contractions and premature atrial contractions.
But before you get scared of alarming indications, remember that the manufacturer declares in the manual that:
The product does not constitute a medical device and is not intended for the diagnosis, treatment or prevention of diseases. All the obtained data and measurement results should be treated as indicative and intended for personal use only.
It is worth adding that, according to the Chinese media, Huawei's ECG analysis software has been certified by the second-class medical device of the National Medical Products Administration, i.e. the Chinese authority that regulates drugs and medical devices. However, in Europe, it is only undergoing certification, so the ECG function should be made available when the software meets the requirements of the Regulation of the European Parliament and of the Council (EU) 2017/745 of April 5, 2017 on medical devices.
In the Huawei Zdrowie application, the individual registers related to the recording of health, stress and sleep parameters are as follows:
Let's not forget about sports …
Like most modern watches, in addition to monitoring health parameters, the Huawei Watch GT 3 Pro has a number of sports modes and will be an effective personal trainer. For example, it offers 13 running workouts, allows you to set up a training plan, and sports monitoring includes programs for professional golf and breath-hold diving. Right after exercising, you can view the relevant data for time, distance, steps, calories burned, heart rate, pace, etc.
The built-in loudspeaker allows you to get information about the current distance, heart rate, etc. Of course, the voice messages can be muted. It is worth adding that thanks to GPS, if the user gets lost while running or cycling, it is possible to set the return route.This is how the record of an exemplary recorded exercise looks like in the application:
Working times
Huawei even promises weekly working times here, but it depends on the number of activated health monitors and whether you are using the Always-on-Display feature. The latter drains the battery very much – so that it is impossible to achieve a two-day working time. But if you turn it off, then 6-7 days of work (without training) is quite a real operating time on a single charge.
Power consumption increases noticeably when using GPS. The percentages literally disappear in front of your eyes, about a dozen within half an hour. However, we assume that the navigation module will only be used during training. Therefore, people who use both the watch and training functions will likely recharge their smartwatches more frequently, e.g. every 3-4 days, depending on the intensity of the exercise.
Charging with the included pad takes about 1.5 hours. But the watch uses Qi technology and has no dedicated pins, so a different wireless charger can be used for charging.
Read Also: Xiaomi Watch S1 Active – inexpensive smartwatch with a beautiful screen and NFC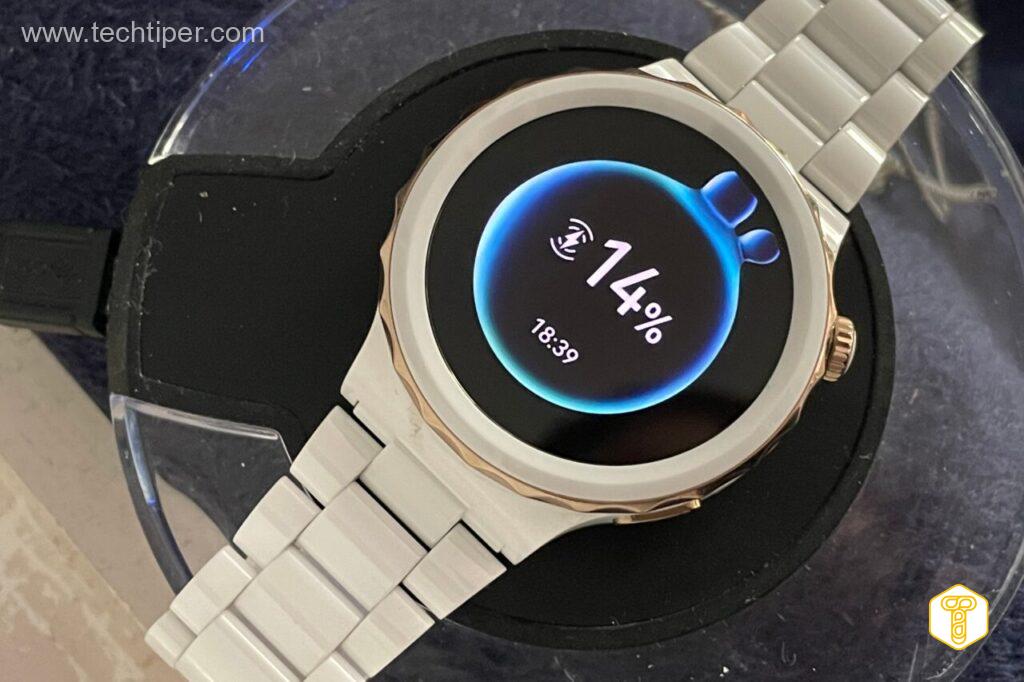 Summary
Smartwatches have long ceased to be a gadget – they have become a fully-fledged device that accompanies us in our daily activities. Among the other manufacturers, Huawei can additionally make them look really attractive, monitor a number of health parameters of the user and can work for a really long time – for example compared to Apple or Samsung watches – without charging.