Hisense E76GQ is a model from a Chinese manufacturer aimed at fans of sports and computer games. The reviewed model is not one of the most expensive TVs, but it is also not in the lowest segment, which means the necessity of many compromises that the manufacturer had to make. How does the TV work in everyday use? I invite you to read the entire text. In
Hisense E76GQ review in three sentences
The Hisense E76GQ TV is a very strong proposition in its price range. Very good image quality and ease of use are its main advantages. However, I would not despise slightly better sound quality and an increase in the number of applications.
Benefits
Value for money
Decent factory calibration
Very good traffic rendering
Smooth operating system
Ease of use
Disadvantages
The sound quality is not impressive
Not many apps like HBO Max
The pilot has problems sometimes
It may not fall over, but it wobbles
Set and price
Hisense E76GQ comes to us in the standard manufacturer's carton. It is properly secured, but due to the weight and construction of the box, I recommend taking it out by two people, I had to do it myself and it meant a moment of exercise to avoid damaging the TV.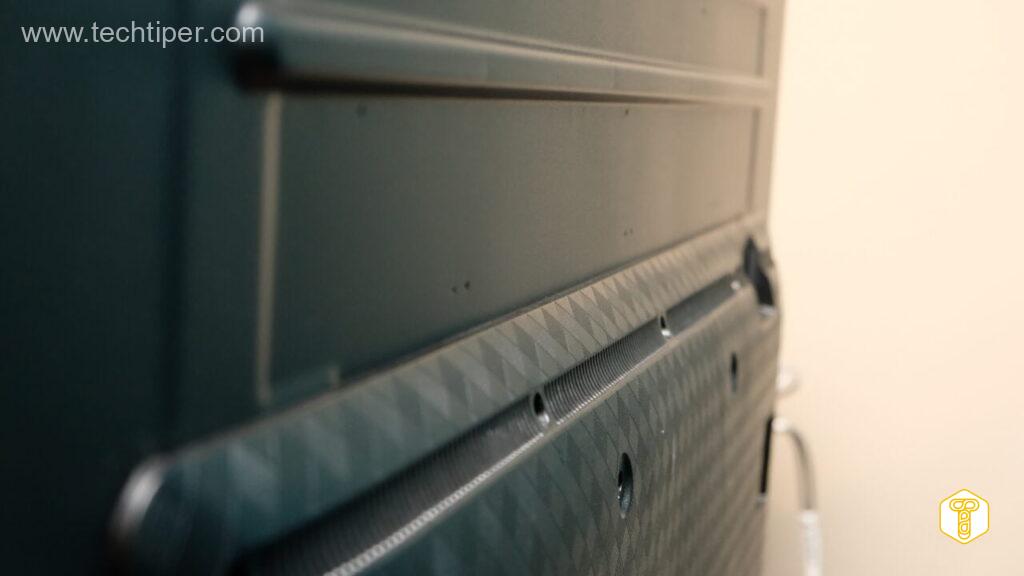 Inside, apart from the TV itself, we find two feet, a full-size remote control, a power cable and some paperwork. Editing itself takes very little time, but it does not fully inspire my confidence, which I will come back to later.
The prices, of course, depend on the size and are as follows:
Hisense 55E76GQ – $570 – Approx
As you can see, unfortunately we only have two sizes to choose from, and I would love to see it in the 65-inch version, which I believe is the most popular. In terms of price, the TV is positioned in the middle price range.
Specification
55 inch diagonal
3840 x 2160 resolution
LCD matrix with Quantum Dot technology
Refresh 60 Hz
4000: 1 contrast ratio
HDR, HDR10, HDR10 +, HLG, Dolby Vision, Dolby Atmos support
15.5 kg
VIDAA system
Two full-range speakers with a total power of 20 W
Build quality and build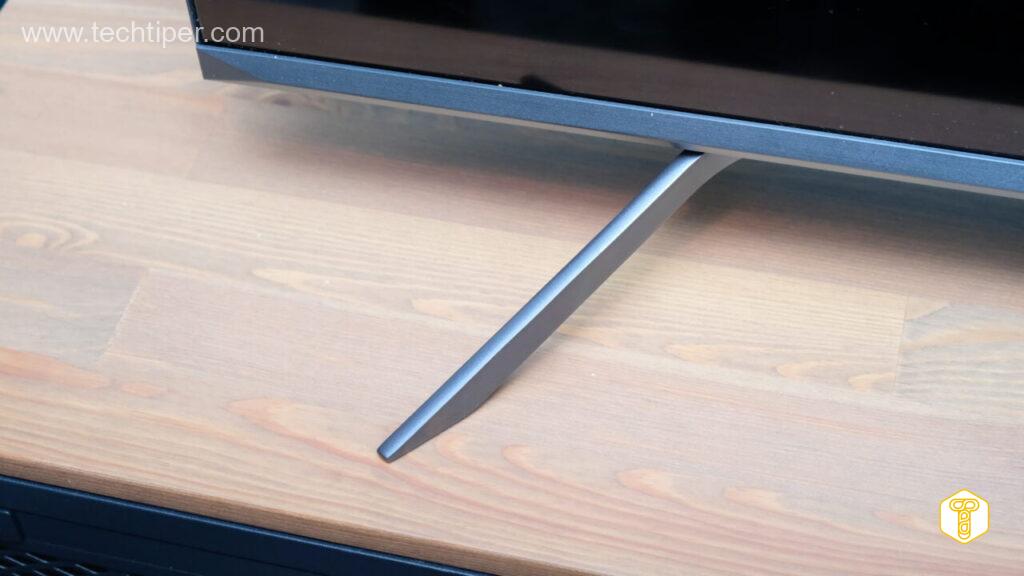 Starting from the bottom, i.e. the feet, I have to complain a bit. They are made well, but they do not provide the best stability. Hisense E76GQ was able to sway slightly when the cat passed in front of or behind him. This resulted in an unpleasant crackle that can spoil the first impression a bit. On the plus side, however, the location of the cable guides at the back of the feet.
The back of the TV is standard. A plastic panel with a significant thickening from the middle down. The TV set is almost 7.5 centimeters thick in this part, which is a relatively large value these days. This is due to, among other things, the DirectLED backlight.
When looking at the front of the device, a very nice aluminum frame will surely catch our attention. At the bottom of this frame you will also find a small manufacturer's logo. The whole thing fits very well and looks good.
Connectors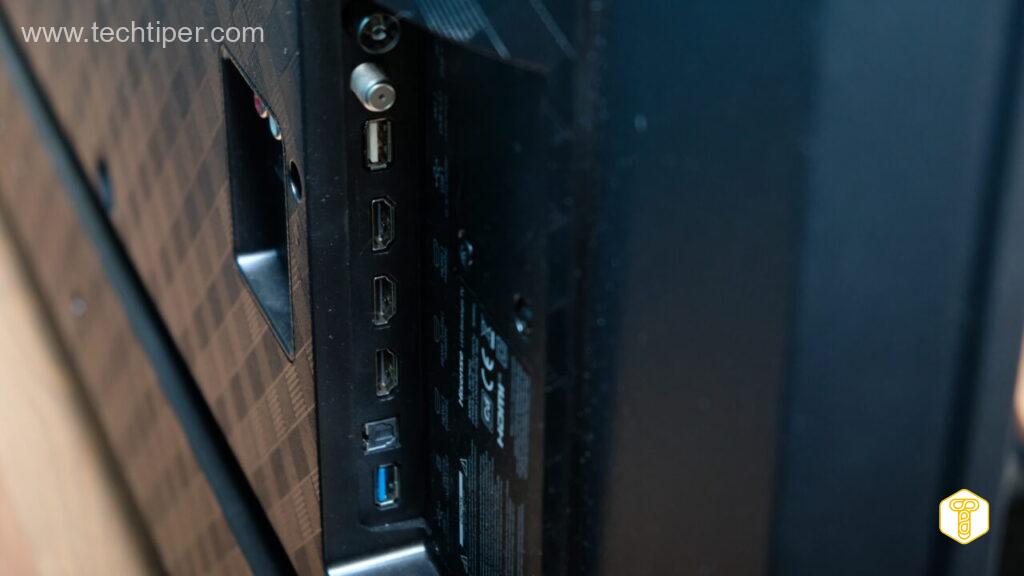 Most of the sockets on Hisense E76GQ are located on the left side of the TV, which makes it much easier to access. We do not have to remove the TV from the wall to quickly connect a USB flash drive or laptop.
Full list of connectors on the left:
2x HDMI 2.0
1x HDMI 2.1 with VRR and ALLM support
1x USB 2.0, 1x USB 3.0
Antenna connector
Optical output
On the back of the TV we find additional, rather less used connectors:
RJ45
AV input
Headphone output
Remote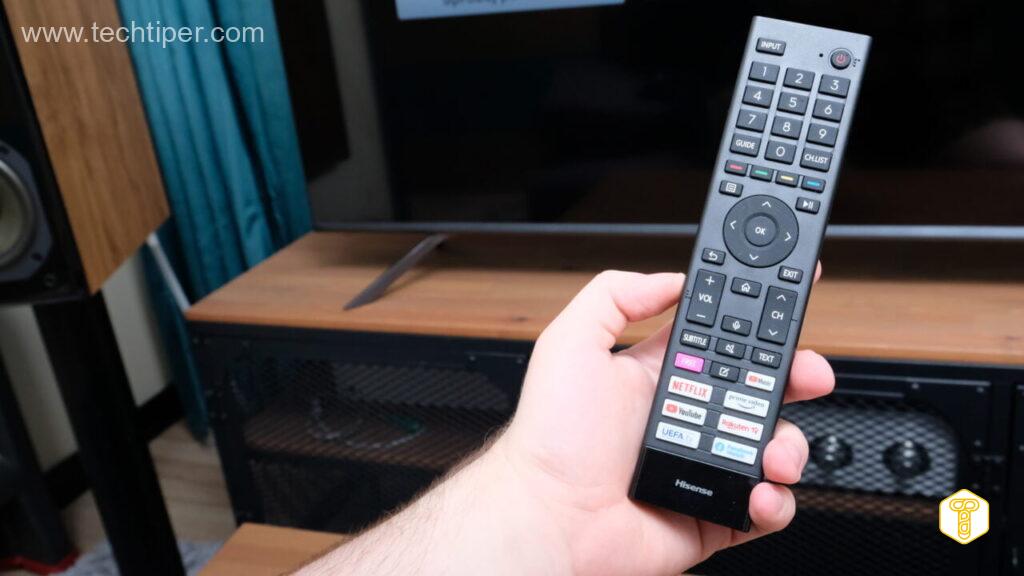 In the set with Hisense E76GQ we find a relatively basic pilot. Classic, bigger controller. It is made of matte black plastic. Overall it is very light and fits well in the hand. The rubber buttons have a relatively large jump, and the manufacturer has placed here, among others, dedicated buttons for Netflix and Amazon Prime. The whole thing is not perfect, despite the use of fresh batteries , there were times when I had to aim at the TV quite accurately .
Sometimes, when there was a larger bowl on the way, a laptop or a fragment of a blanket, the TV did not respond to commands. In theory, one hand movement is enough for the problem to disappear, but it did arise and in the long run may be disturbing.
Operating system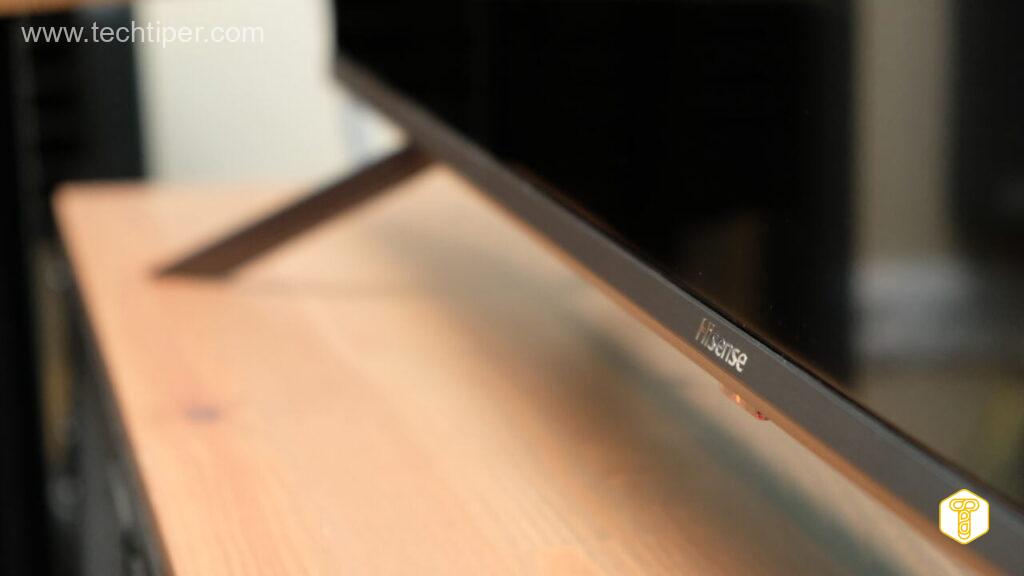 Hisense E76GQ operates under the proprietary proprietary VIDAA system. The largest players use their solutions, so Hisense also relied on the system from Google and opted for independence. Unfortunately, this is associated with problems with the availability of the application.
The list does not include HBO Max, Player and several other services. There are also no music applications such as Spotify or Tidal. The only one available is Deezer, not very popular. Sports fans should not be bothered by this, because this list will include many applications. I don't even know many of them, but this is because of my disinterest in sports.
Not many applications, but smooth operation
The streaming shortage is basically the only downside of the VIDAA system . The whole thing works really smoothly and I did not experience any problems with the daily use of the TV. App to App transitions will slow down a bit at times , but in most cases there's no problem going back to a specific point in a Netflix video after listening to a YouTube song. As a result, the whole thing significantly improves the comfort of use.
VIDAA is very easy to use
And praise her for that . Some operating systems in televisions are too complex and options are hidden. Using the Hisense E76GQ I had no problems finding a specific option, because everything is presented in a simple and clear way.
The only thing that can be problematic in everyday use is looking for an application in the store .
At the beginning, we get many offers, and the search engine sometimes does not work properly and presents similar applications instead of the one we are looking for exactly.
Image Quality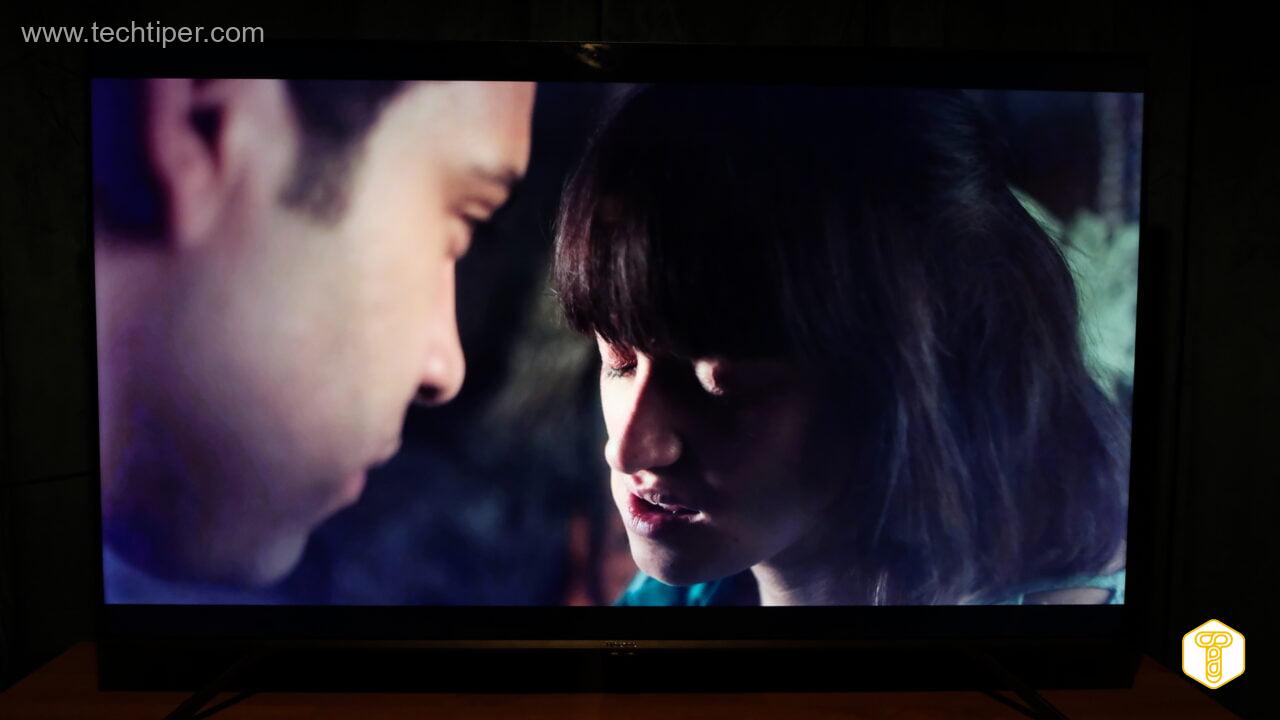 Hisense E76GQ was tested on the Kino Dzienne / Warm1 and Dolby Vision Noc / Warm1 settings, which offer the colors closest to the expected ones. Most of the time, all image aids were turned off.
The movies look better than I thought
From a TV focused on sports and games, I expected average picture quality in movies, but the Hisense E76GQ surprised me a lot . Most of all, my eyes were drawn to the movement, which was reproduced in a natural and fluid way.
The colors are also accurate, although the image seemed to be slightly bluish at times, which is very quick and easy to adjust in the settings, but probably most people will not even notice it.
But there are also minor problems in this regard
Due to the lack of zone blanking, which is obvious in this budget, there were some problems with shadow detail . Sometimes the TV lost detail in the darkest parts of the screen, especially when they took up a relatively small percentage of the entire image. The bright parts were as pleasant to watch as possible, despite the relatively low brightness of the image.
The backlight of the TV is relatively even, although you can see a slight brightness on the left side of the panel.
The colors are good, but there is a slight dissatisfaction
And this deficiency occurs mainly in greens. When watching demo materials or professional recordings from wildlife, there were no shades of green. Some parts are slightly too pale, although most people probably won't notice this. The rest of the color gamut was properly saturated, with no undue exaggeration and no deficiencies. Especially the blue and reds looked good which is often an issue in this price range.
HDR effect that does not impress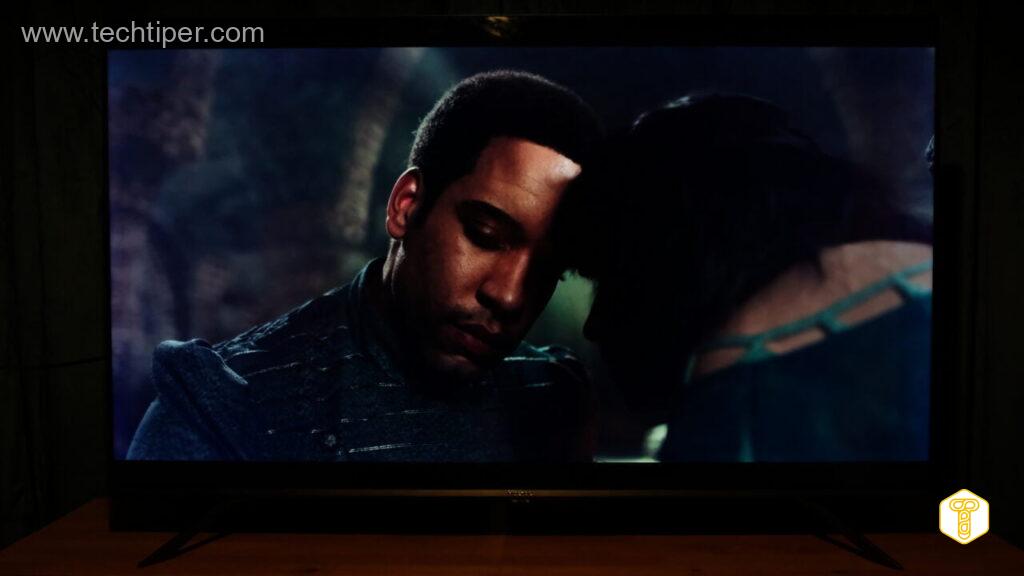 Hisense E76GQ supports all available HDR formats, which will allow us to view virtually all materials that are offered in this version. The difference between SDR and HDR, however, is not the greatest due to the maximum brightness , which does not allow us to fully achieve the desired effect. Nevertheless, it can be observed that the image is in HDR and it increases the overall comfort of watching your favorite movies or series.
Sport is a great pleasure
Due to the lack of an F1 weekend while testing the TV, I decided to watch a few other racing series and thanks to the Hisense E76GQ I had a lot of fun doing it. The movement was reproduced naturally, and at the same time each element was very clear.
Football fans will also be pleased, because you can see exactly where on the screen there are small elements, such as a ball, and they do not become a smudge across the entire width of the TV, as in some televisions, even in this price range.
Games, that is what Hisense E76GQ was created for
In theory, because in practice the 120 Hz matrix is ​​missing . Considering the price, it is not a big problem, after all, no TV set in this budget has it. You need to pay a few hundred zlotys for this. In my case, this is not a big problem, because I have an Xbox Series S, as well as a computer that has no chance of producing 4K 120 Hz, but the owners of a higher model, or Playstation 5, may not be completely satisfied.
Despite the maximum number of 60 frames per second, the TV performed very well. Input lag is imperceptible when the game mode is on , and thus our reaction is not delayed by the hardware. The TV proved to be good both for FPS games and for calmer games like The Witcher 3.
Image enhancers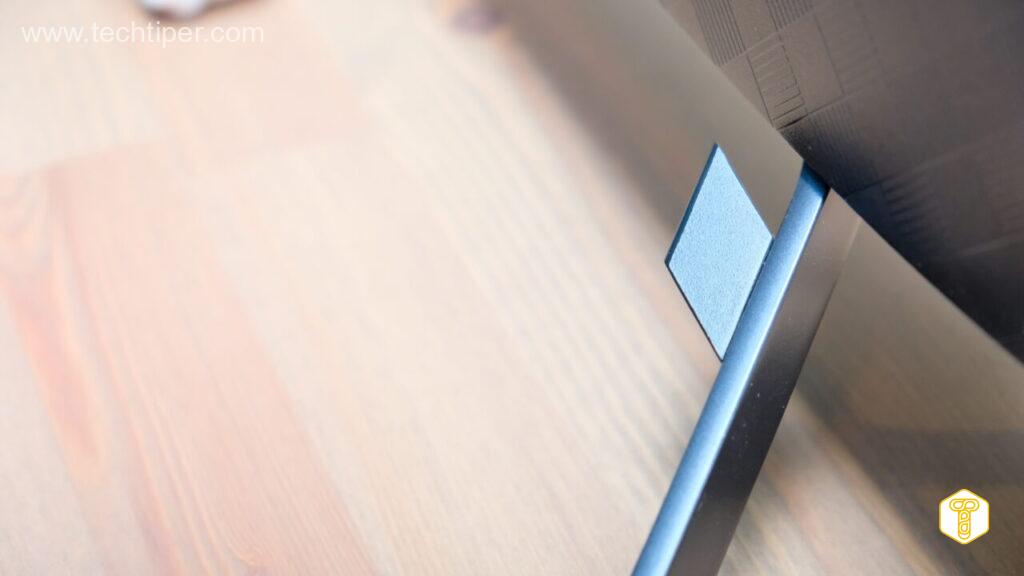 Hisense offers a wide selection of different image enhancers in the VIDAA system. The list starts with a great 4K scaler, through denoising systems and ending with dynamic contrast.
Thanks to the scaler, we can watch materials of higher quality than they are available. This applies mainly to older productions, but also to ordinary television, which is still broadcast only in HD. The final material is qualitatively very close to the native 4K resolution.
Dynamic contrast is also a very nice feature that constantly controls the brightness of the panel. It makes a good optical impression, improving the impression of contrast.
There are also options for poor quality materials
Among the settings we can also find an option to remove noise and a separate one for MEMC, i.e. motion smoothing. By default, they are turned on at medium level, generate no problems, and are relatively unobtrusive . I admit, however, that out of habit I turned them off immediately. It all depends on your preferences in this regard, but enabling these options will not spoil your viewing pleasure.
Image fluidizer
The Hisense E76GQ offers an image fluidizer whose performance is decent. After turning on the strongest modes, you already feel unnatural, although it also depends on your habit. Privately, I watch movies without fluidizers, because I can even react to it with a headache. I must admit, however, that the basic fluidizers support watching amateur films, which are often recorded without basic knowledge of operating the camera, and even more professional productions, because the image still looks very natural.
Measurement
As you can see in the graphs, the measurements are in line with my feelings. The TV shows a slightly bluish image, although this is not a large value and can be quickly corrected in the advanced settings. The whole thing is not perfect, but for this budget it is very decent and should satisfy cinema enthusiasts.
Sound that is a bit lacking
In terms of the sound, the Hisense E76GQ does not impress. There were times when I had to turn on subtitles to understand what the actors were saying .
This was mainly the case with less well-recorded, and to a large extent also European, productions. It definitely made it difficult for me to use and watch movies on a daily basis, so when buying, I recommend that you consider an additional soundbar right away.
However, if the TV is to be used mainly for watching better productions or for breakfast TV, I would not be afraid of this problem. It can manifest itself mainly in European and American productions, especially popular, low-budget series.
Where will the Hisense E76GQ work?
Due to the brightness of the screen, which is not the highest, I would suggest placing the TV in rather shaded rooms, or where movies are watched mainly in the evenings.
The peak brightness around 280 cd / m 2 does not allow comfortable watching TV when there is a large window next to it, or worse, when the sun is shining directly into the receiver.
It is a very good solution for the bedroom or as a TV set for our grandparents and parents who may be a bit confused with technology.
Read Also: Review of Hisense A9G – a TV close to the ideal
Hisense E76GQ review – summary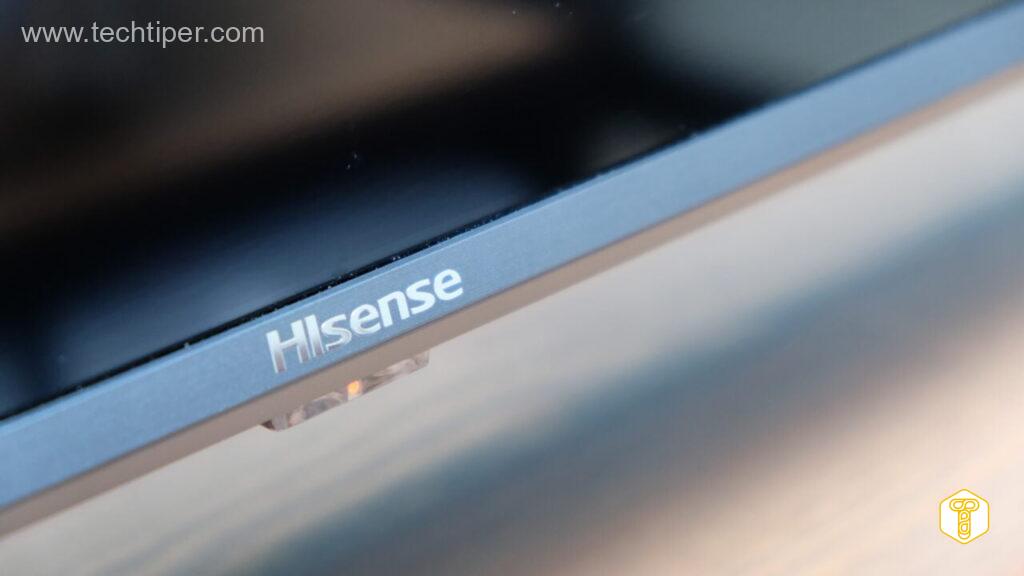 The Hisense E76GQ TV is a very strong proposition in this price range . It has very good colors and initial calibration for this budget, it is well made, but it could sound a bit better. The whole thing is completed by the VIDAA system, which works very smoothly and without any problems, although it lacks some applications, incl. HBO Max, which has been gaining popularity in recent weeks.
About Post Author