Qualcomm Snapdragon 8+ Gen 1 just had its premiere. When it comes to the leap in performance, there is a huge disappointment here – this is only 10%. Nevertheless, I am convinced that this is the best processor in the + series so far. Why? Well, Qualcomm this time did not focus on increasing power, but on energy management. Thus, the processor will be cooler, and the smartphone itself will last much longer on the battery.
Snapdragon 8+ Gen 1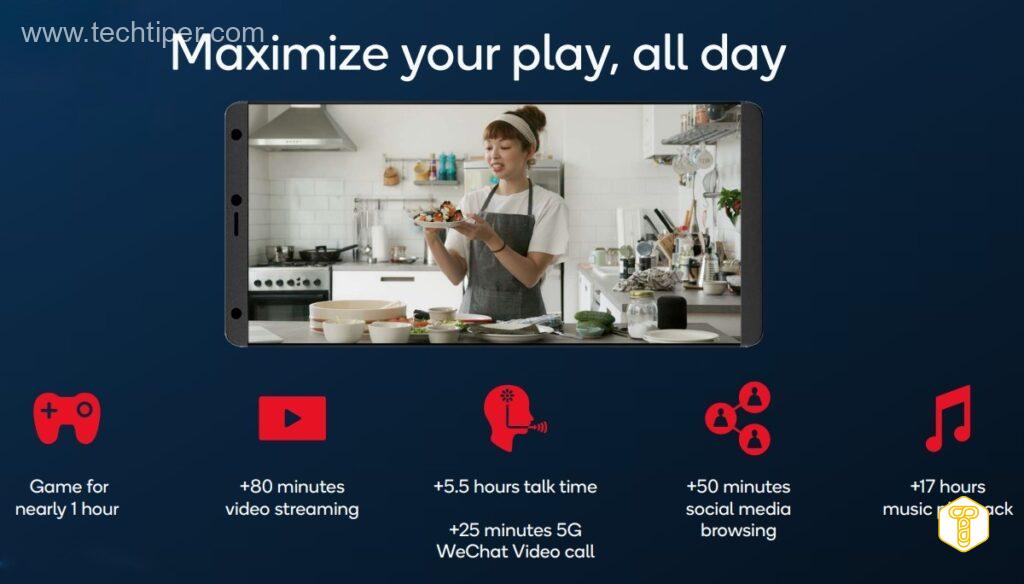 As I mentioned in the introduction, the efficiency increase is 10%. This applies to both the operation of the CPU and the GPU. However, when it comes to improved energy efficiency, we are already talking about 30% for the CPU and the same value for the GPU. And this is one of the smarter moves on the part of Qualcomm in recent years. Let's be honest: there is no shortage of pure computing power in the giant's systems. However, rising temperatures and deteriorating battery life are annoying.
But how is this supposed to work in practice? Well, better time management in the Snapdragon 8+ Gen 1 system translates into an increase in time by:
60 minutes of gaming.
80 minutes when watching movies online.
5.5 hours of talk time.
25 minutes of 5G video calling.
50 minutes of browsing social networks through applications.
50 minutes of browsing the web.
17 hours of listening to music.
Of course, it is worth approaching with some caution, as Qualcomm did not specify the battery capacity for which this improvement took place. 
It is worth underlining, however, that these results do not seem particularly out of touch with what one might expect.
Snapdragon 8+ Gen 1 – not only the battery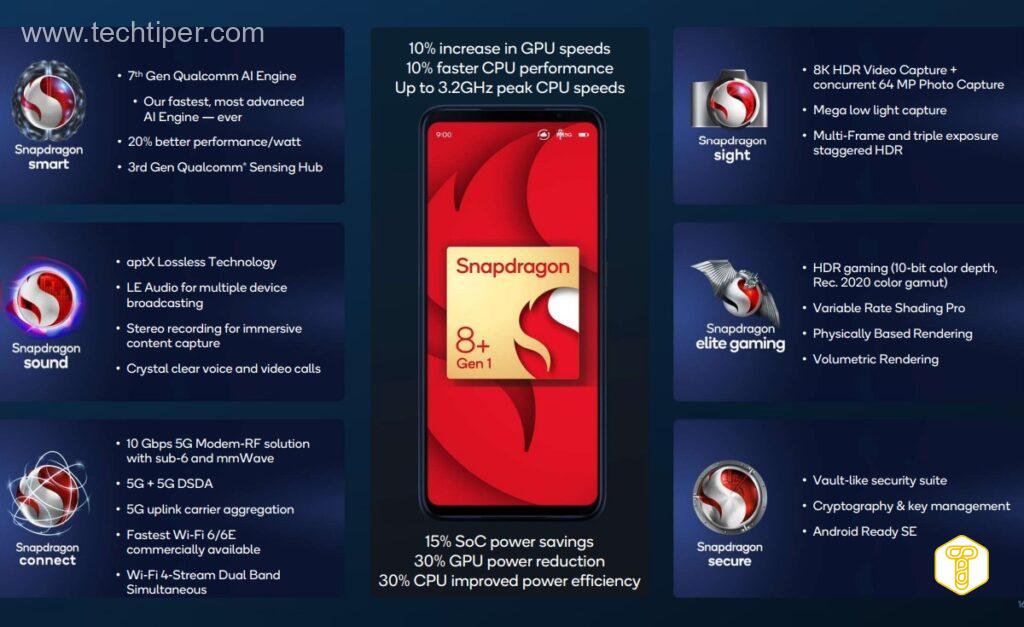 What's more, Snapdragon 8+ Gen 1 also brought a number of other novelties. The manufacturer has integrated a completely new Qualcomm Spectra ™ image signal processor with the latest SoC, which can boast a triple, 18-bit ISP. 
Read Also: Overclocking DDR5 will become a child's play with AMD Zen 4
Compared to its predecessor from Snapdragon 8 Gen 1, it can process up to 4,000 times more data than a 14-bit ISP, allowing the simultaneous use of 3 lenses. Additionally, it can capture as many as one billion shades of color while recording 8K HDR video.
In addition, the fourth-generation Snapdragon X65 modem has been integrated with the processor, which is also a significant optimization compared to the previous version. It was thanks to him that the talks were significantly extended. And thanks to the Qualcomm® FastConnect ™ 6900 mobile communication system, it is possible to use Wi-Fi networks with speeds up to 3.6 Gb / s. 
The last key change is the 7th generation Qualcomm® AI Engine with a Qualcomm® Hexagon ™ processor, i.e. an AI system faster by up to 20% compared to its predecessor.
Snapdragon 8+ Gen 1 – where and when to expect it?
The first devices with it on board are to debut in the third quarter of this year. As for the list of manufacturers who are going to release a smartphone with a new system, it is really long:
Asus ROG
Black Shark
HONOR
iQOO
Lenovo
Motorola
Nubia
OnePlus
Oppo
OSOM
realme
Red Magic
Redmi
vivo
Xiaomi
ZTE
So it seems that almost everyone was waiting for a revised Qualcomm chip.
More Latest Technology News on Techtiper.com
Source: GSMArena , Qualcomm
About Post Author