Huawei Sound Joy is a new portable speaker from a Chinese manufacturer, which was created in collaboration with the French brand Devialet, known for music equipment for music lovers.
The result of the union was the Sound Joy Bluetooth speaker with good sound quality, aimed more at the average and less demanding consumer. I tested it and here I will share my opinion.
READ ALSO: Anker Soundcore Life Dot 2 NC Review: Affordable Wireless Headphones with Powerful Bass and ANC
Speaker Type: Wireless, Bluetooth, Portable
Transducers: two-way with passive diaphragms, tuned by Devialet
Technologies from Devialet: Speaker Active Matching (SAM), which adjusts the sound to the characteristics of the source device
Drivers: 2x passive boxer drivers, 1x 20W full-range (50x75mm), 1x 10W tweeter (19mm diameter)
Frequency range: 50 Hz – 20 kHz
Connectivity: Bluetooth 5.2, NFC with Huawei Share support, One Touch Transfer
Control: remote from a smartphone, using the buttons on the case
Microphones: 3 pcs. (depending on the setting, all or only two work)
Visual effects: built-in LED ring also informs about the status
Interaction with devices: connecting 2 speakers in stereo mode (shake – Shake Stereo Link Up)
Connector: USB-C for charging
Housing: fabric braid, IP67 protection
Battery and autonomy: 8800 mAh, 26 hours
Charging: 40W, 5V/2A, 9V/2A or 10V/4A devices
Colors: Obsidian Black (black), Spruce Green (green)
Dimensions and weight: 202×73 mm, 680 grams
Recommended price: 11 thousand Rupees.
Unpacking and kit
We get the Huawei Sound Joy in a classic rectangular box, where we find well-built and organized accessories in extra packs.
In the kit we have:
bluetooth speaker
USB-A to USB-C charging cable
Documentation and user manual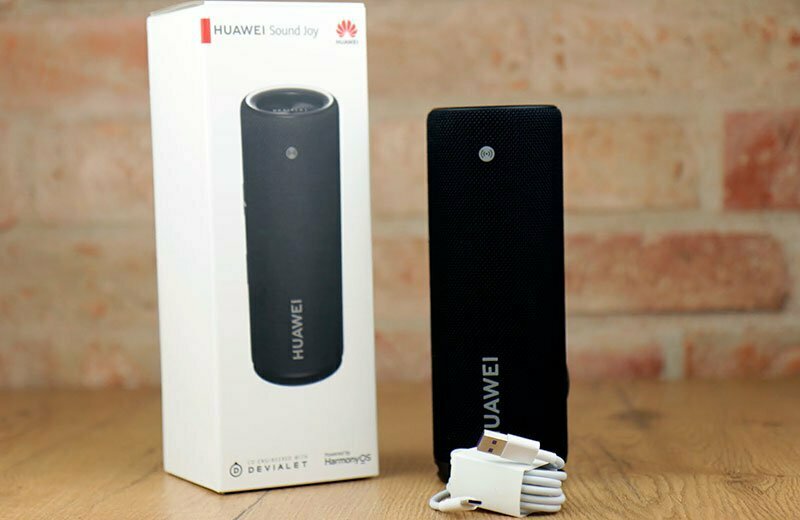 Fortunately or not, there's no power supply, which isn't a surprise. However, it's worth having a relatively reliable plug on hand to quickly top up the Sound Joy's battery.
Design and features
The appearance of Huawei Sound Joy differs little from other wireless speakers in the segment.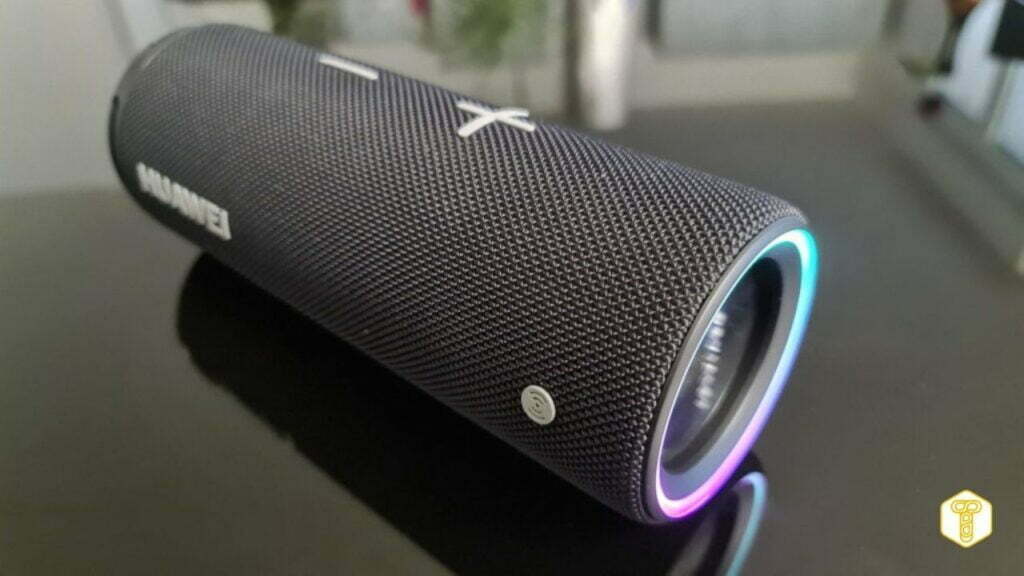 The device has the shape of a tube or a cylinder, due to which it can produce a rather loud sound, and at the same time it is relatively comfortable to wear. This is facilitated not only by the shape, but also by the strap attached to the case.
Sound Joy weighs about 680 grams and has a height of just over 20 cm. This allows you to take the speaker with you almost anywhere. It won't take up much space in your backpack and can even be placed in a bike water bottle holder.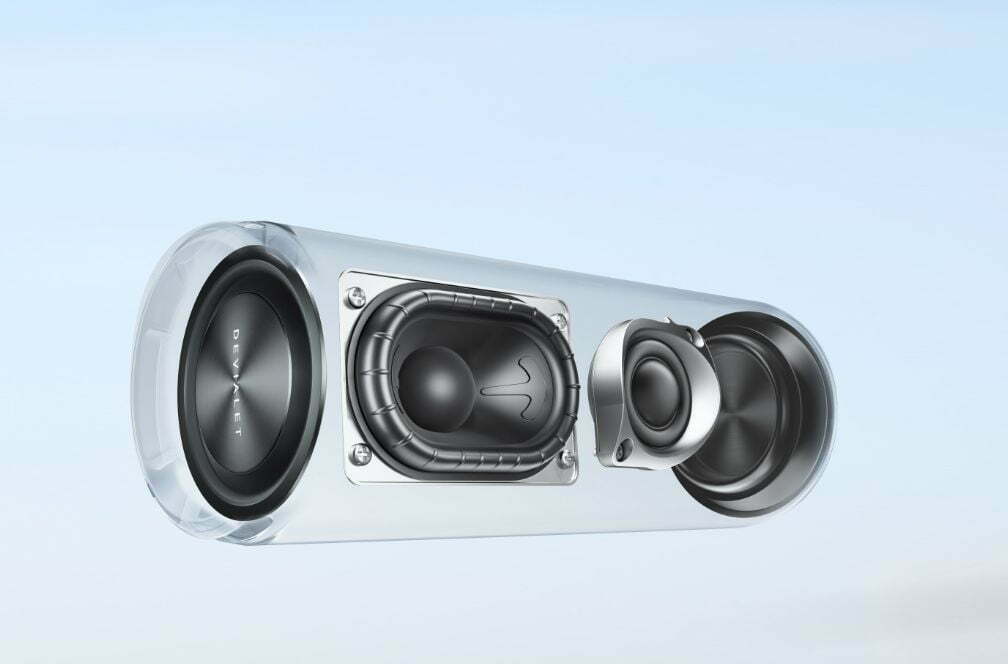 In favor of the fact that the equipment can be taken with you to the street, another important characteristic speaks - the resistance of the case to moisture IP67. Occasional splashes or heavy rain are not a problem.
The design is durable, made of strong plastic and covered with a pleasant to the touch material that can additionally cushion and protect the column. However, I am afraid that it will be difficult to shake off the beach sand from the coating. In winter, it is difficult for me to test this theory.
You can use the Bluetooth speaker in two ways – by placing it vertically or horizontally. For this, there are special legs that provide good stability. Two passive radiators are installed at the outlet of both parts of the cylinder, which ensure the correct sounding of low tones.
On the top, there is space for a color LED ring, which can make listening more enjoyable with lighting effects. Light indication is also able to indicate the volume level or battery charge.
Both speakers have the Devialet logo, reminiscent of the fact that the acoustics were created in collaboration with the French audio company. In addition to the two passive vibrating radiators already mentioned, the manufacturer installed a 20 W main speaker and a 10 W tweeter. The latter is primarily responsible for the correct reproduction of higher frequencies.
There is a Huawei logo on the main part, also indicating the direction of the main speaker (not omnidirectional). In the central part there is an NFC symbol, you just need to touch it with your phone for a quick connection. The function works very effectively and makes it easier to use if we play music in turn from several different smartphones.
The manufacturer placed on Huawei Sound Joy and two rather large volume buttons. Although they break the overall aesthetic a little, the solution is very convenient and useful.
On the rear panel there are several concave buttons responsible for power, voice assistant activation, pause and play tracks, Bluetooth activation, as well as pairing the speaker with another, for a stereo pair. Below the buttons is a USB-C connector for charging the battery.
Connection and communication
The Huawei Sound Joy portable speaker connects to source devices using Bluetooth 5.2.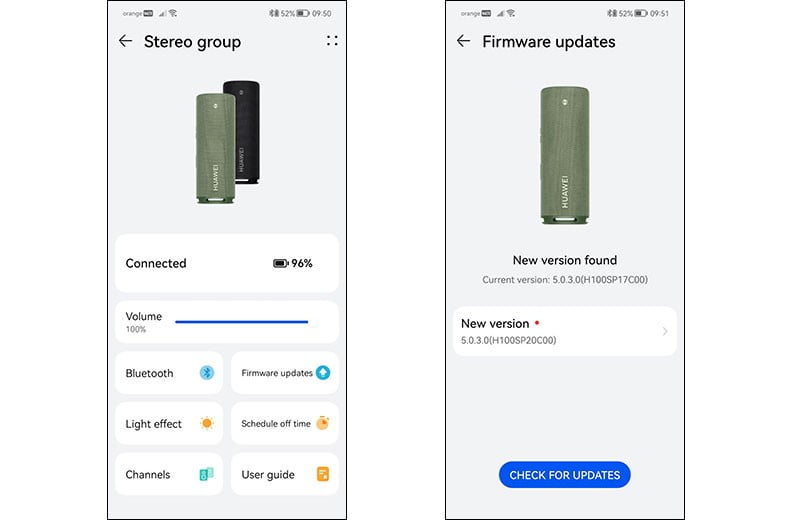 The coverage is satisfactory. You can walk a few meters away from the equipment without worrying about signal interference. A significant advantage in practice is fast pairing via NFC. It is enough to bring the smartphone to the designated place on the case to immediately start playing your favorite music.
Intelligent Application
Column Huawei Sound Joy works well without any applications. But no good hardware today is complete without software.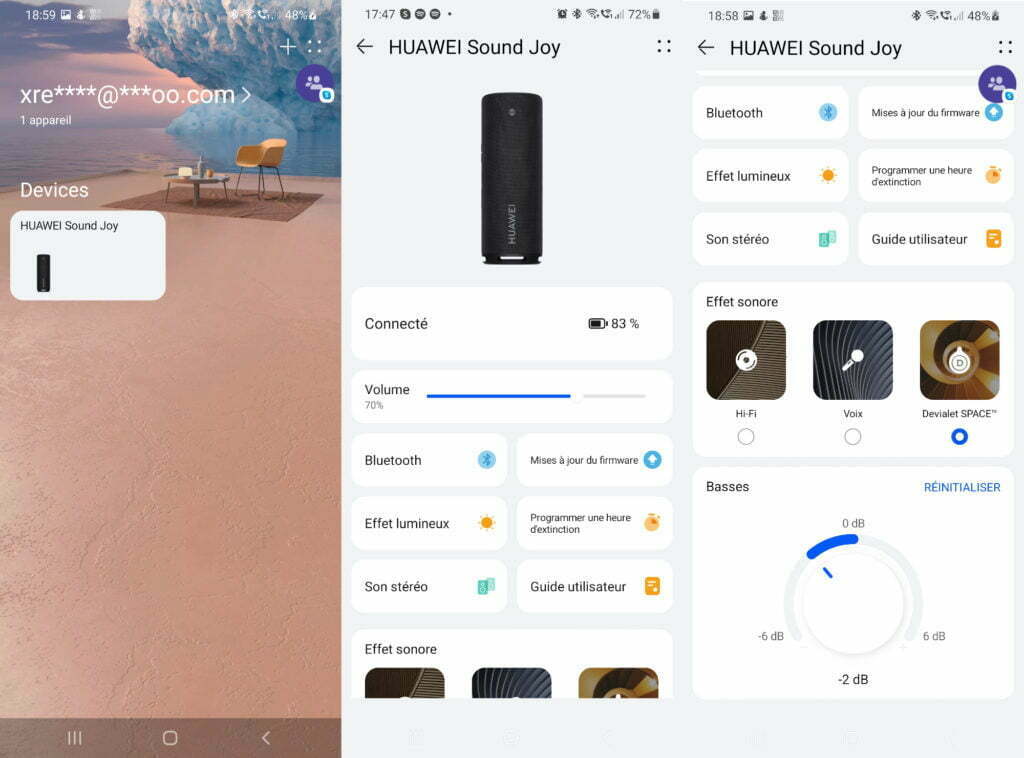 In the case of Sound Joy, all parameters are handled by the AI ​​Life app used to control all smart home devices in the Huawei ecosystem. If you already have it on your smartphone, there is no need to install additional software.
Unfortunately, the app features are limited. We can choose from three sound presets (by Devialet), change the intensity of the bass, activate the LED lighting or upgrade the firmware.
This is where the useful functions of the software end, so you will quickly forget about AI Life. It's disappointing that there isn't even an audio equalizer.
During tests, the use of AI Life caused some problems. When the Sound Joy was playing music, when the application was turned on, the speaker began to "stutter", the sound became intermittent.
I had to pause playback and then adjust the settings. In such a situation, it will not be possible to quickly compare the differences between the three presets or the intensity of the bass.
READ ALSO: TOP 10 portable speakers of 2022 price and quality – Rating of the best Bluetooth Speakers
Strong bass and nice sound
The name Huawei Sound Joy itself says what the speaker was created for – to give joy from listening to music.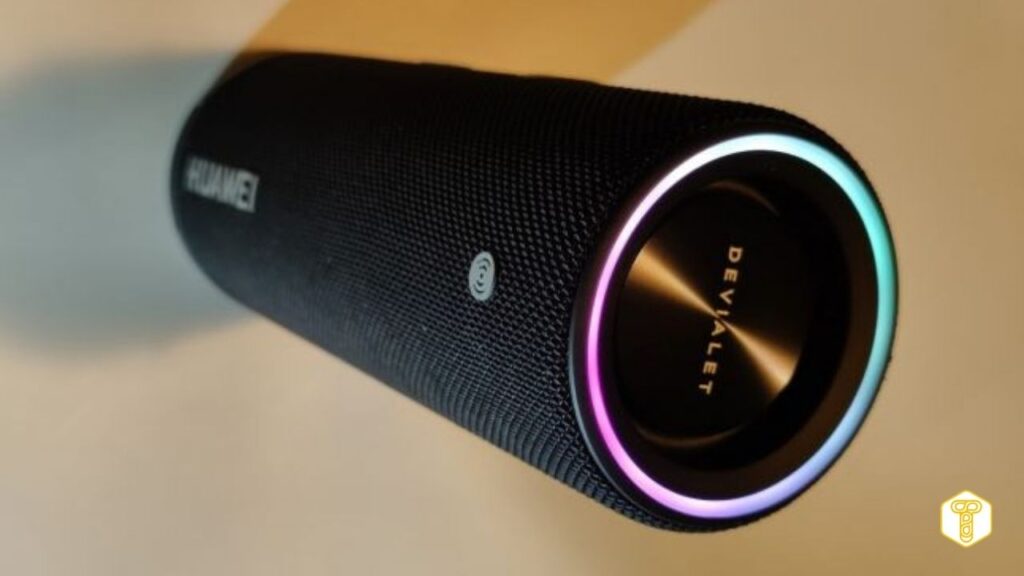 While the system doesn't produce audiophile sound, it's hard to expect that from a $11,000 wireless speaker. In terms of quality - here it is better than just good.
There is no doubt that the low end is favored, giving us a relatively deep but not dominant bass. Thanks to this, mid and high tones still sound decent and are not distorted. Since the Sound Joy is designed for bass-heavy tracks, the speaker works best with them.
The effect is enhanced by two passive radiators. They resonate pleasantly and carry characteristic bass jolts across the table or any other surface. The sound is not flat, it is pleasant to listen to it. On the other hand, we do not encounter "crackling" or unrestrained buzzing, which is a big plus.
Higher sound parts also play well, harmonizing with the bass. This is due, among other things, to the tweeter, which maintains the proper level even at higher volume settings.
However, at maximum settings, the bass lags behind, so the sound flattens out a bit. Chances are you'll rarely listen to full-length music, so that's a minor issue.
Up to about ¾ volume everything works fine. Huawei's Sound Joy is great for entertainment music. Acoustics will perfectly reproduce electronics, hip-hop or pop music. I would not recommend listening to classical music or more elevated compositions, although it is unlikely that you will buy a wireless speaker for them.
The audio system can play very loudly, making it suitable for small outdoor events where music is more of a background. At home, I usually use a much lower volume, around 30%.
I can't say anything bad about the quality of voice calls either. There are three microphones that are activated depending on the vertical or horizontal orientation of the speaker. Thanks to them, it is convenient to make calls or give commands to the voice assistant.
Alas, the Sound Joy sometimes caused a little trouble here. The speaker could suddenly "shoot" loudly, pausing playback for a moment. This indicates problems with the connection or operation of the equipment.
It didn't happen often, but it's worth mentioning. Perhaps this is a defect in a particular sample that I got for testing.
An impressive 8800 mAh battery inside the Sound Joy allows you to enjoy a long and uncluttered sound.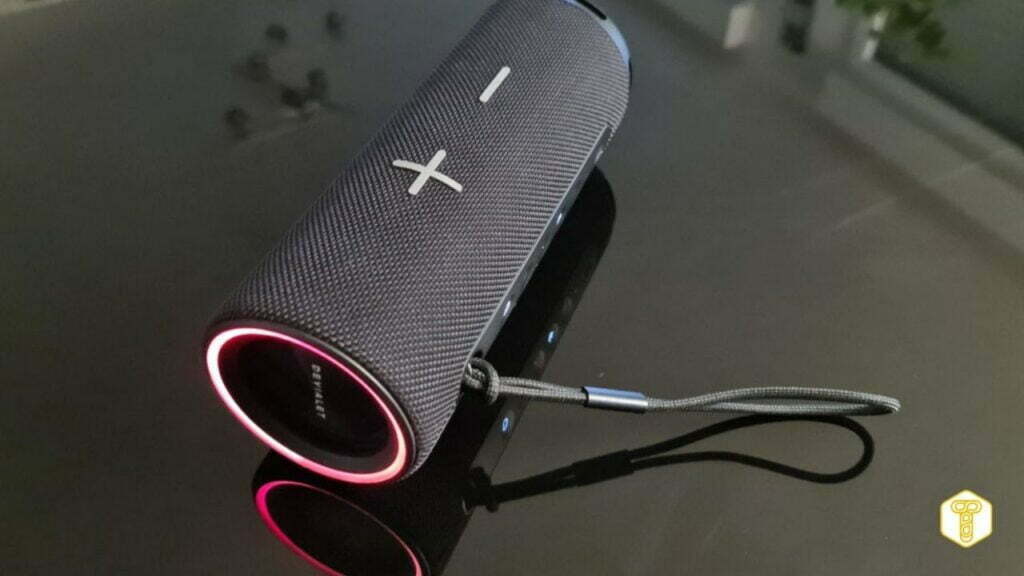 The energy reserve is enough for more than 20 hours of continuous music playback, of course, at a reasonable volume level. A full charge takes approximately 3.5 hours. The good news is that the Huawei portable speaker supports fast charging, so if you have the right adapter, you can use it.
Approximately 15 minutes of charging is enough to enjoy an hour of playback. However, it is worth remembering that only the cable is included in the kit, there is no charger, which is standard for this type of device.
Outcome
Despite some minor flaws, Huawei Sound Joy is a very successful Bluetooth speaker. We get solid workmanship, satisfying volume, good sound quality and powerful bass in a waterproof case.
These features and more make this Huawei portable speaker almost ideal for indoor and outdoor use.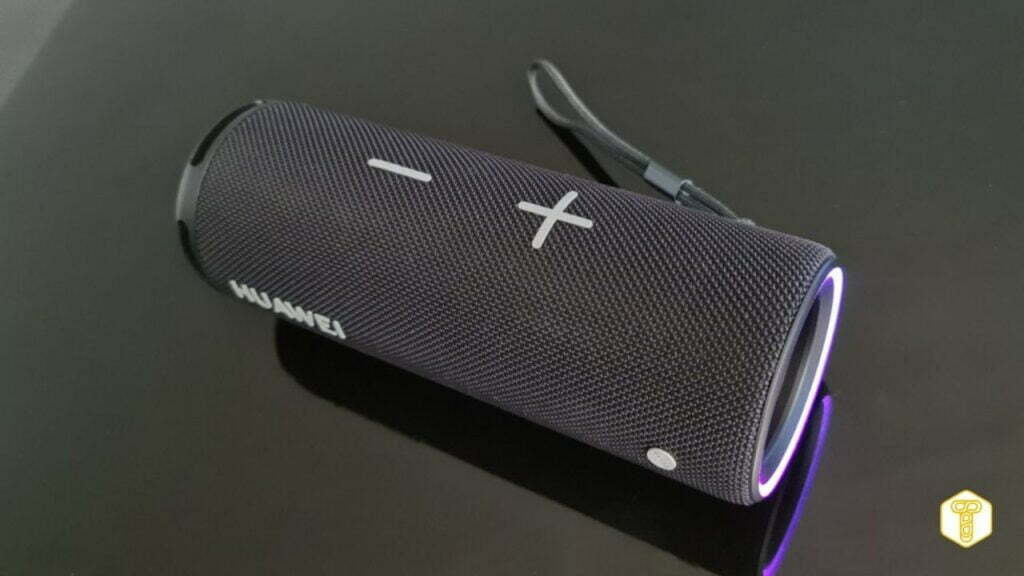 Is it worth buying Huawei Sound Joy ?
With a starting price of 11 thousand Rupees , this is a very attractive offer, which also impresses with battery life.
Portable speaker Huawei Sound Joy – video