TCL C735 QLED 4K Google TV Review
Image quality

Sound quality

Production quality

Remote controls and service

Operating system
TCL C735 QLED 4K Google TV Review in two sentences
The TCL C735 TV is a budget-friendly option that presents a balance of features and compromises. While it may not have the most outstanding picture quality compared to its competition, it still offers a 144Hz matrix, a great sound system, and an operating system with a large number of applications.
The recent rise in TV prices, fueled by inflation and a struggling economy, has made it difficult to find a high-quality television at an affordable price. However, some models, like the TCL C735, have managed to maintain their value. In this review, we will assess the TCL C735, a television that was introduced at the same price as its predecessor, the TCL C728. Is the TCL C735 worth the investment? Does it offer any improvements over the previous model? Our TCL C735 review will answer these questions and provide you with in-depth insights. Join us as we take a closer look at this television.
Benefits
Sound quality
Production quality
Two remote controls included
Smooth operation
144 Hz matrix
Disadvantages
Small differences from last year's model
Worse image quality than the competition at this price
TCL C735 Set and price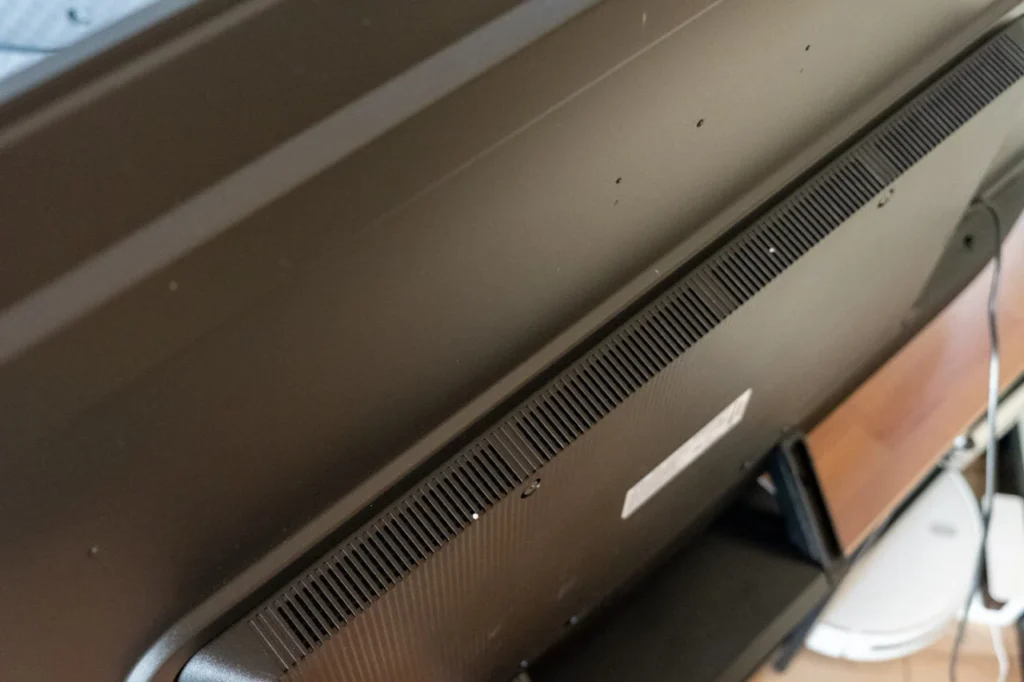 The reviewed TCL C735 TV comes to us in a standard cardboard box, not much larger than the TV itself. It is well packed, inside you will find a lot of polystyrene and foam fillers. The elements useful for use inside include:
TV
Two remote controls (multimedia and standard)
Battery packs for both remote controls
Power cord
Complete paperwork
Two feet and a cover
TCL C735 is available in seven sizes, but the two smallest have significant differences from the higher models. The prefix before "C735" indicates the diagonal of the model.
TCL 43C735 Approximately costs USD $429
TCL 50C735 Approximately costs USD $589
TCL 55C735 currently costs USD $1,195
TCL 65C735 currently costs USD $1,395
TCL 75C735 currently costs USD $1,995
TCL 85C735 currently costs USD $3,999
TCL 98C735 currently costs USD $9,999
Check TCL C735 price on JB Hi-Fi
Specification
Diagonal from 43 to 98 inches
144 Hz refresh rate for 55 to 85 inch dies, 60 Hz for 43, 50 and 98 dies
UHD resolution of 3840 x 2160 pixels
QLED technology, or quantum dots
VA matrix
Dolby Vision, HDR, HLG, HDR10 + support
Direct LED backlight
2.0 speakers with a power of 20 W
Google TV system
10cm thick without the base
Two remote controls included
Build quality and build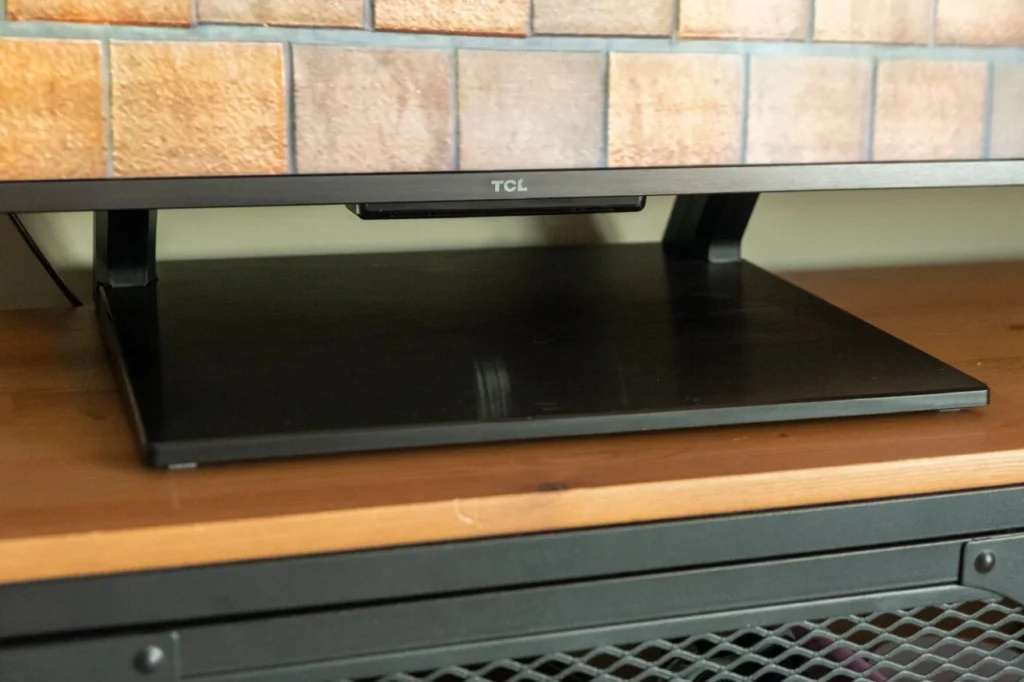 The TCL C735, which is the subject of this review, is a very decently made TV with one drawback, or simply something not fully understandable to me. I mean the base, which consists of two feet and a cover made of brushed plastic . It slides under the matte plastic feet, and in the end it looks pretty bad in my opinion and it doesn't fit in with the rest of the TV.
In my opinion, black, brushed plastic also clashes with many of today's interiors, but here it is a matter of taste. In addition to this element, I can not complain about the performance of the TCL C735 TV. Very thin frames, stable structure despite two narrowly spaced legs, connectors located on the side and a nice back of the TV. What more could you want?
In addition, thanks to the small thickness and small frames, the TV will look great if you hang it on the wall , with the help of a bracket that is designed to keep the TV as close to the wall as possible.
Connectors
All the connectors on the TV are located on the right when viewed from the front side. We have a fairly large set to choose from, because we have four HDMI connectors to use , where one supports 4K 144 Hz , one 4K 120 Hz, two 4K 60 Hz, and one of the last supports eARC. Going further, we find one USB2.0, which makes me a bit sad, because I would like to see USB 3.0, RJ45 connector, optical and headphone output, as well as antenna and satellite input. On the left side of the TV you will find a 230V connector which is the standard eight.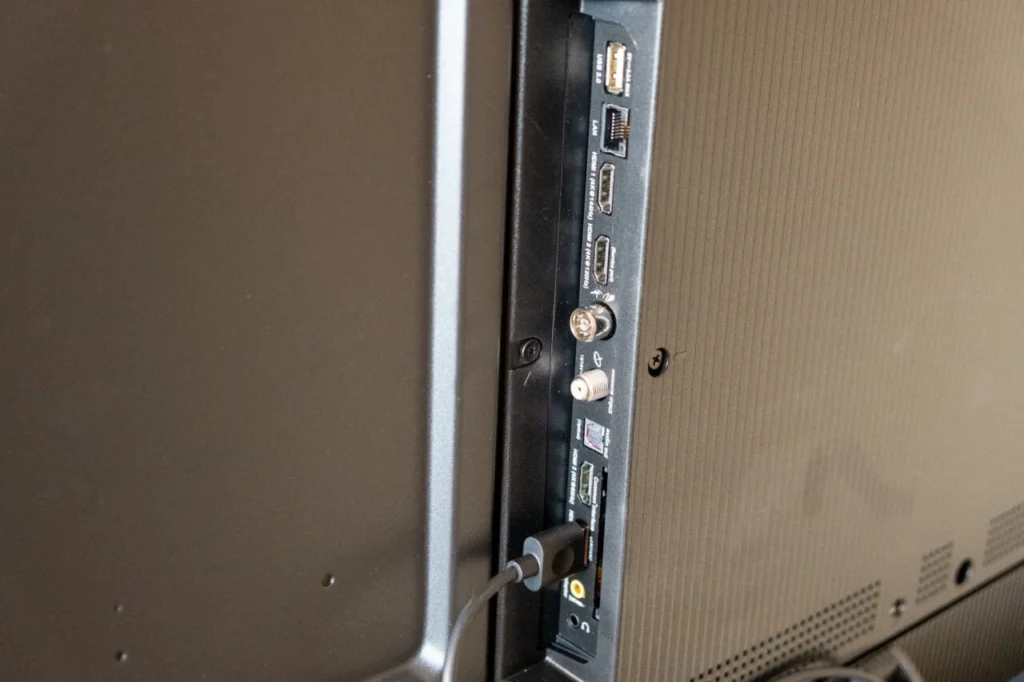 TCL C735 has very easy access to all ports thanks to their location on the right side of the screen. We do not have to take the TV off the wall to connect an additional device, or combine it with moving the TV cabinet on which it stands. It is certainly a very convenient issue for many if someone needs to connect a laptop or a USB flash drive.
The remotes are still very nice
TCL C735 continues the company's series of adding two remotes to its televisions. They are well-made, very comfortable thanks to a decent balance and have soft-touch buttons made of matte rubber. They have a fairly shallow, but hard jump, so we quickly know if we pressed what was needed.
The first is for more multimedia use, with dedicated buttons for six apps , although four of them make sense anyway. The penultimate one is TCL Channel, an application. The last button irritated me a lot, but it was only because my cat liked to stand directly on it and launch the Safety Guard application, which in theory is to improve the operation of the reviewed TCL C735 TV. In addition to this drawback, the remote control has everything that a person who mainly uses streaming video services needs.
The second remote control is intended rather for fans of cable TV. It has a full numeric keypad , simple arrows and the rest of the standard buttons you see in the photo. In addition, there are only two buttons pointing to the application, and more specifically to Netflix and Amazon Prime Video.
Google TV is smoother but slower and slower
 The TCL C735 TV, which is the focus of this review, It comes equipped with the Google TV system, which has both advantages and disadvantages. The clear advantage of the system is the number of available applications. However, it falls behind the competition in terms of setup and ease of use.
In theory, setting up the TV with the Google Home app on your phone should be simple and quick. The app is supposed to guide you through the process and suggest frequently used applications. But in practice, the process took me almost 40 minutes, as the app kept getting kicked out and the TV wouldn't connect to the network.
Once I managed to go through the setup process, I had to wait for the applications I selected (Netflix, Twitch, Canal +, Prime Video, Disney +, F1TV, and Spotify) to download and install, which took another 30 minutes. During this time, I couldn't use the TV at all.
Despite the difficulties with setup, the basic use of the Google TV system on the TCL C735 TV is fluid and smooth. The TV doesn't experience any animation jams or clipping when jumping between applications. However, it takes a relatively long time to launch and use applications, which can be annoying for those who like to quickly browse through videos on different platforms.
Compared to the TCL C635, which is a lower model, the TCL C735 TV has improved fluidity.
The settings on the TV are decent
In terms of image settings, Google TV excels once again. There are plenty of options available, and I appreciated that some of them are disabled by default. However, navigating these options can be confusing at times. The most basic settings, such as image mode and brightness, are prominently placed and easily adjustable depending on what you're watching or the time of day.
Personally, I kept the brightness set to maximum and the image mode in "Movie" for all types of content, as it had the least display errors. Unlike the TCL C635, a lower model, the settings never took up the full screen, allowing me to see the changes at a regular size.
Image quality, i.e. several times yes and several times no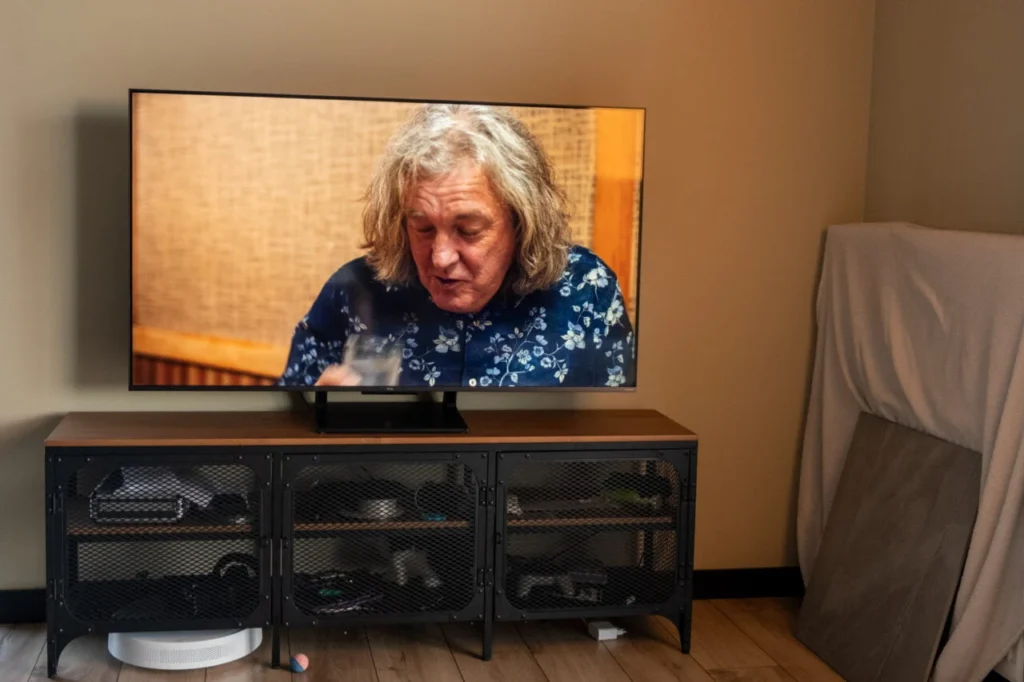 The TCL C735 TV being reviewed is a lower-middle-shelf device, and it will be compared to other devices in this shelf. One of them is the Hisense U7HQ TV, which has a better picture quality in many aspects. In synthetic tests, the TCL C735's image appears too warm and slightly too dark. The grayscale deltaE error in this TV is large, with an average of 5 in the reviewed model, which is noticeable to the naked eye. The gamma value, which should be around 2.2, is 2.3, which can result in some scenes appearing too dark and losing shadow detail. However, the TV excels in its details in bright points, particularly with materials using Dolby Vision.
The TCL C735's contrast reaches a value of 5800:1 in tests, which is a decent result for this class, but still ten times worse than the Hisense U7HQ's contrast, which offers zone blanking of the image and a much taller contrast. The backlight is even, with only one segment appearing visibly brighter. The colors also have an advantage, with an average error delta E of 3.5 and a balanced error scale.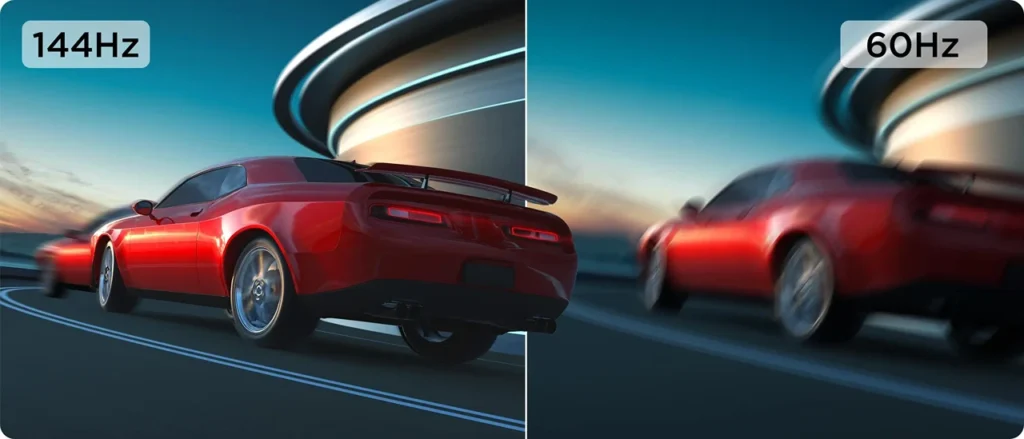 The TCL C735 has some advantages over the Hisense TV set. It has a 4% greater filling of the DCI-P3 color space (FRC), with 94% coverage. It also has a 144 Hz matrix, which is appreciated by gaming fans, and two connectors with HDMI 144 Hz and 120 Hz refresh rates, along with VRR, ALLM, and Dolby Vision support. Although the DV image is limited to 60 Hz, the TV's blur reducer significantly improves the gaming experience. The motion reproduction is decent, not fully natural, but with no significant image tearing or blurring, except for small bright objects on a dark background, which is normal for VA matrices.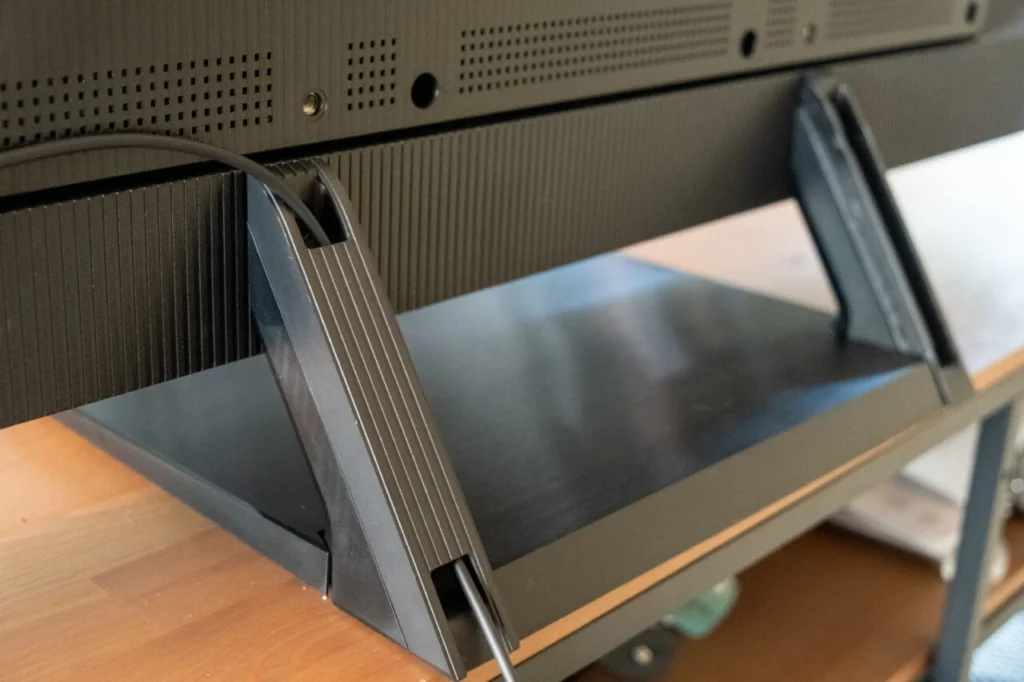 In conclusion, the TCL C735 TV is versatile and works well in various viewing options. It was enjoyable to watch everyday shows, high-budget productions, and animated series, as well as amateur materials on YouTube. The low response time and 144 Hz refresh matrix with VRR and ALLM support also made playing on this TV a great experience.
Brightness that is too low
When compared to the Hisense U7HQ, the TCL C735, the focus of this review, falls short in brightness. With a maximum measured value of 360 nits, it falls well behind the 540 nits offered by the competitor.
This could be a problem for those who intend to use the TV in a brightly lit living room, as reflections may impair the quality of the displayed image. However, in a room with lower lighting or in a location with limited sunlight, such as the northern part of a house, the low brightness level may not be as noticeable.
The sound quality is decent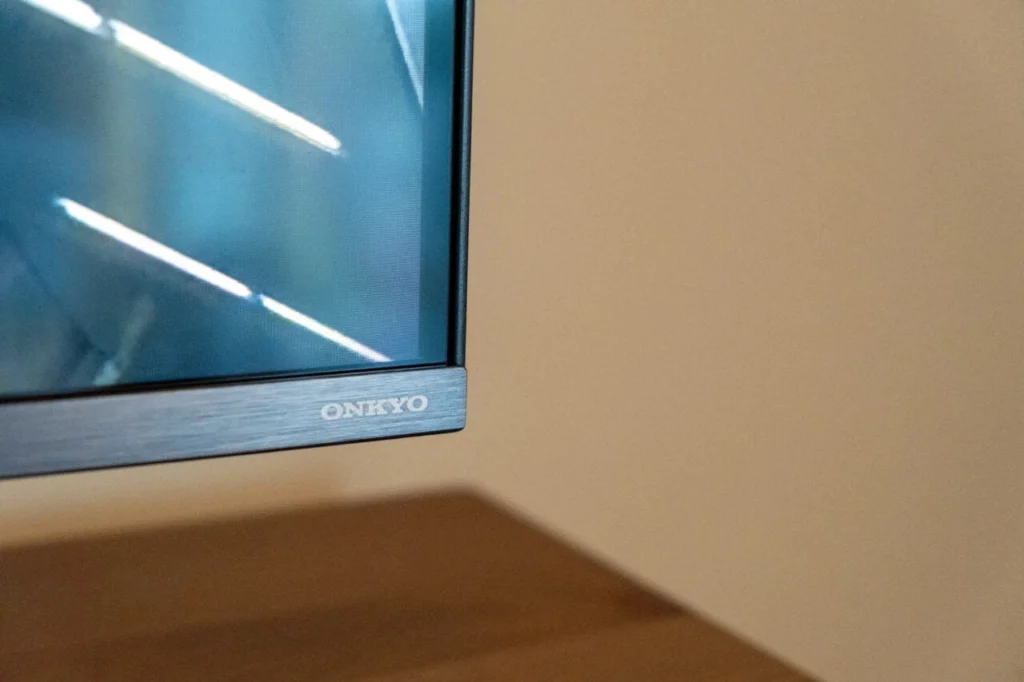 The reviewed TCL C735 TV set has two Onkyo speakers with a total power of 20 W. They work well in everyday TV watching or sports. In most cases, the dialogues are clear, but the sound itself is simply boring. There is not a lot of dynamics or the wow feeling that comes in handy in movies. The sound is perfectly fine for everyday use, for popular series and movies.
If we plan to watch movies like Blade Runner or Dune on it quite often, then I would personally buy a soundbar like Sonos Ray or Teufel Cinebar 2.1 Set, which should fit under the TV and provide us with very good sound. After all, such productions provide the best experience when each element is of the highest level.
Is it worth changing TCL C728 to TCL C735?
Definitely not. These TVs are nearly identical in most aspects, except for the operating system, where the C735 has a distinct advantage over its predecessor. Both TVs have comparable picture quality, sound quality, and handling. The only noticeable difference is that the legs of the newer model, the C735, are made of plastic instead of aluminum.
TCL C735 review – summary
In conclusion, the TCL C735 is a television that makes some compromises in terms of picture quality, but compensates for it in other areas. Its sound quality is better than the competition, it comes with two remote controls, and has a more extensive library of available applications. When choosing between the TCL C735 and other models like the Hisense U7HQ, it is essential to consider what factors are most important to you. If sound quality and the number of available applications are your top priorities, the Hisense U7HQ might be the better option. However, if you place a higher emphasis on image quality and brightness, the TCL C735 is a more well-rounded option, despite its compromises.
About Post Author