Xiaomi is better known for its smartphones and fitness bracelets, but the Chinese company also produces other devices: cameras, sensors, lamps and even air grills. The new model of the air fryer – Xiaomi Mi Smart Air Fryer ( Air fryer reviews )has modern and intelligent functions.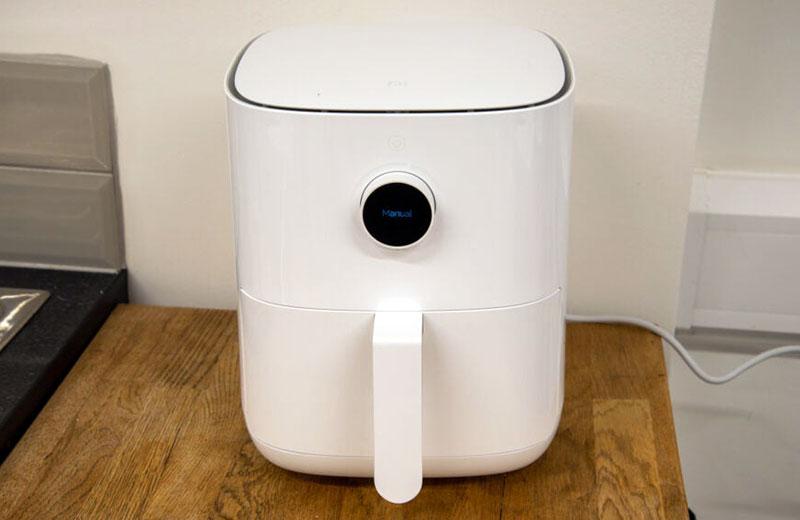 Convection ovens are much more functional devices than you might think. In fact, these are mini versions of convection ovens capable of preparing a wide variety of dishes. Moreover, it is extremely easy to use them: put the food inside, press the button and come to eat the finished dish in 15–20 minutes.
The size of the airfryer is much smaller than the ovens, it works faster and uses less energy. True, you have to find a separate place in the kitchen. According to Xiaomi, the new Mi Smart Air Fryer brings smart functionality to the modern kitchen. But what can technology do – and is it worth paying for?
Features of Xiaomi Mi Smart Air Fryer
Type: Airfryer, Airfryer, Airfryer
Power consumption: 1500 W
Bowl volume: 3.5 L
Basket capacity: 2.6 kg
Body material: plastic
Features: removable bowl, anti-odor filter, heating indicator, non-stick coating
Programs: deep fryer, chicken, wings, meat, steak, shrimp, fish, cake, pie, vegetables, dried fruits
Dimensions and weight: 370 x 295 x 345 mm, 3.9 kg
Xiaomi Mi Smart Air fryer prices 93.01 US Dollar.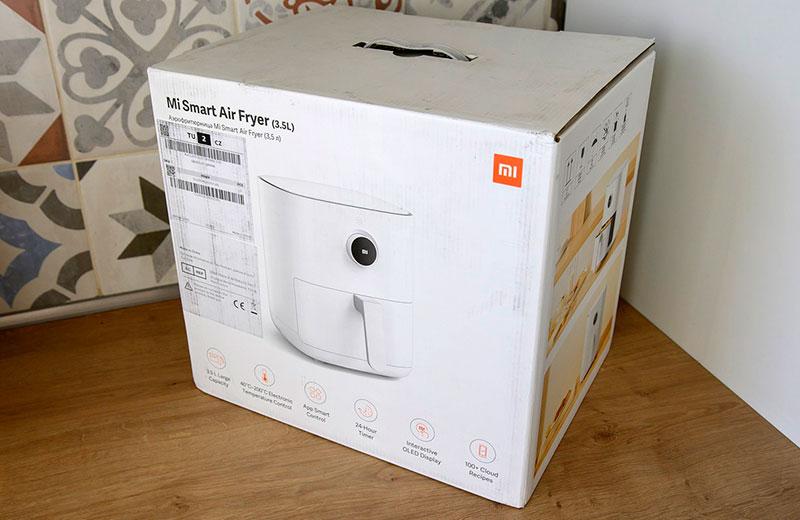 Xiaomi Mi Smart Air Fryer Design and appearance
The Xiaomi Mi Smart Air Fryer is one of the most attractive airfryer you can find on sale.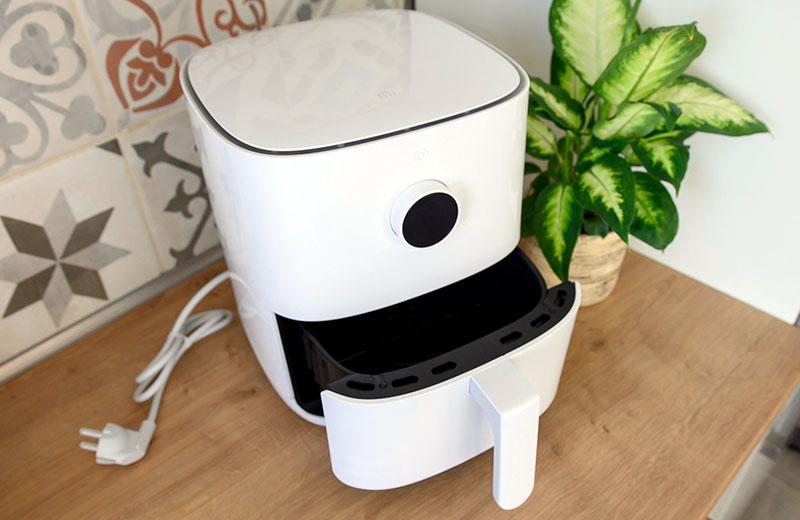 Usually, such devices are large square containers that are difficult to distinguish from each other, and Xiaomi did not change much in design. However, the underlined minimalism looks stylish: the body is white and glossy, the only power button is almost invisible, and in the center, instead of control keys, there is a rotating wheel.
The dimensions of the Mi Smart Air Fryer are 370 × 295 × 345 mm, and the volume of the bowl is 3.5 liters. In most cases, this is enough to prepare two servings of food, but you should not count on a full dinner for several people.
The Xiaomi Airfryer is convenient if you need to quickly cook some part of a dish: potatoes or chicken fillet.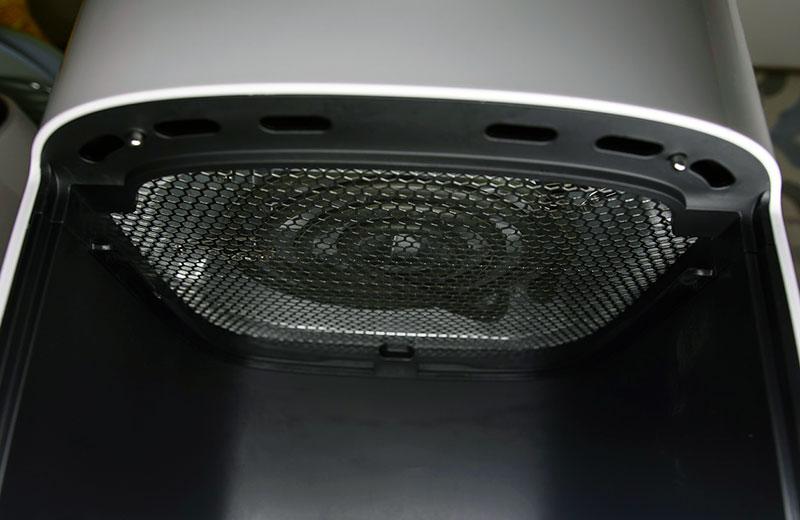 I am a little confused by the build quality – the food container does not open and close well, so you often have to support the back with your other hand. Doubts arise as to how long such a structure will last.
Xiaomi Mi Smart Air Fryer Display and control
A display with information about the selected temperature mode and cooking time is installed inside the rotating control wheel of the Xiaomi Mi Smart Air Fryer. That make this appliances smart.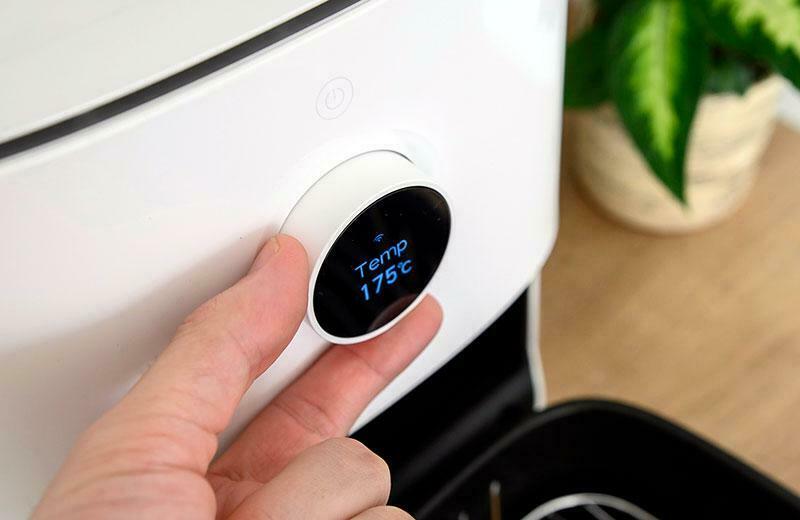 There is also a choice of products: from fries to pie. Of course, baking a delicious cake the first time is unlikely to work, you have to experiment with the settings. However, you can then cook this dish twice as fast as in a conventional oven.
There are also manual settings, where you set the temperature and time yourself, so trial and error can be used to find the ideal parameters for almost any product.
Mi Smart Air Fryer Features
Using an air fryer can be tricky but the Xiaomi Mi Smart Air Fryer has been added "foolproof" – if you choose one of the dishes on the menu, it is very difficult to spoil it.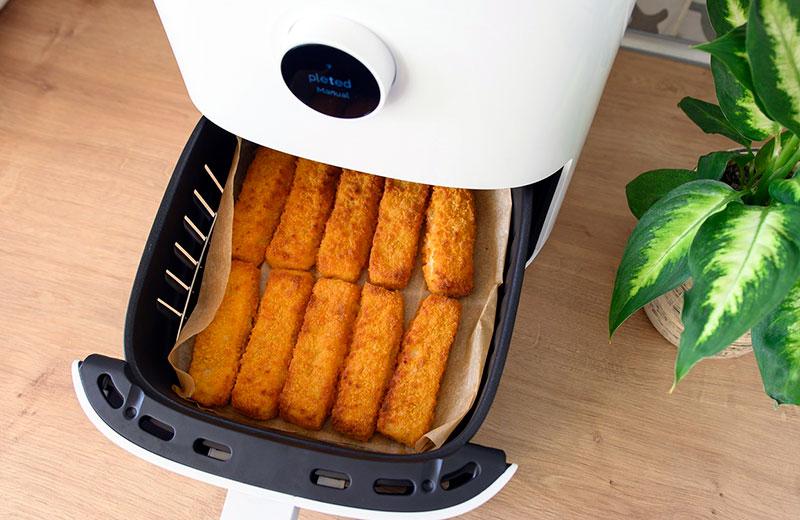 After half the time, the device will remind you that the food should be turned over or shaken if it is fries. The set includes a removable grill rack air oven fryer suitable for grilling fillets and burgers or can be used as chicken fryer. Interestingly, in this case, you don't even need to turn anything over – just press the button and return for the finished meal.
Since the Mi Smart Air Fryer is a smart airfryer, you need to download the Xiaomi Home app for Android or iOS to use all the possibilities. True, there are few additional functions: in addition to dishes from the menu, there is a defrosting mode on the screen and creating your own recipes.
The most useful feature of the app is the ability to monitor the cooking process and start / stop at any time. You can start cooking using voice commands through the Google Home Assistant, but setting it up is too tedious.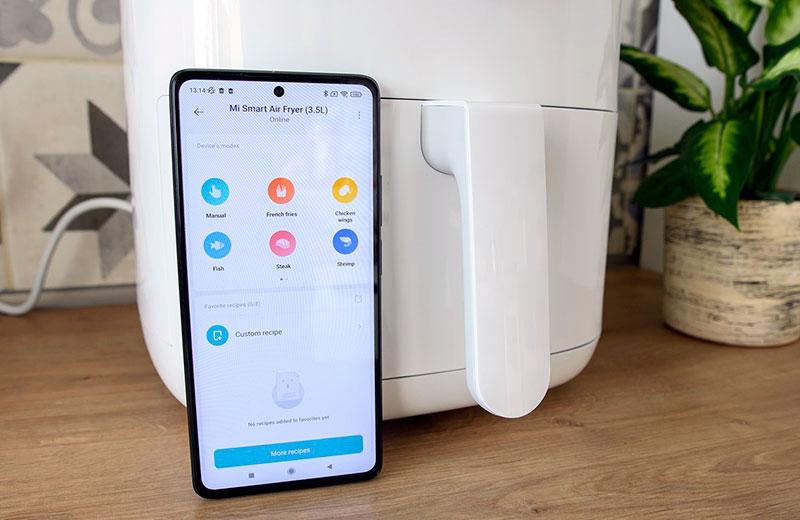 In the appendix, you will also find recipes with a complete cooking process. Some of them are more complicated, requiring you to warm up the device, put some foil on, or find a plate of the right size if it's a pie.
Air fryer uses
In many ways, the Xiaomi Airfryer resembles a microwave. There are two types of users: those who know all the settings and complex recipes ( air fryer recipes ), and those who simply reheat food. The Mi Smart Air Fryer can be used in the same way.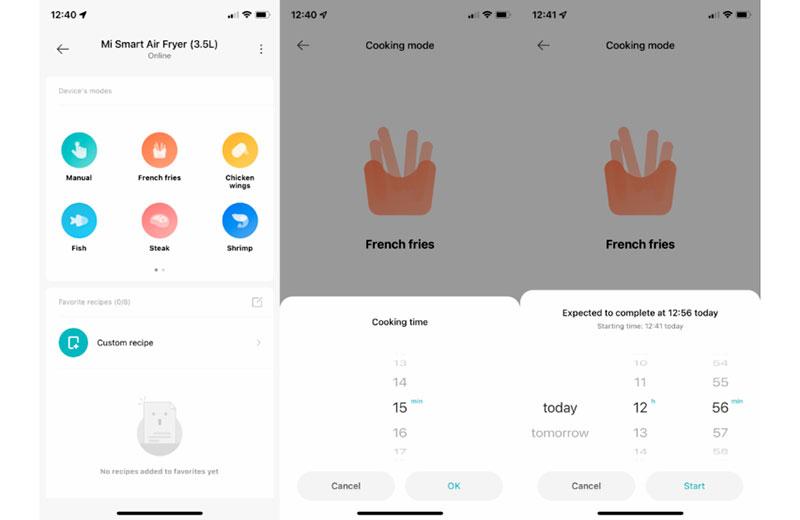 Outcome

In general, the Xiaomi Mi Smart Air Fryer looks stylish, although the build quality is a little alarming – there is a feeling that the device does not last long. There is a set of additional functions, but only for those who are ready to spend time preparing food according to their own recipes.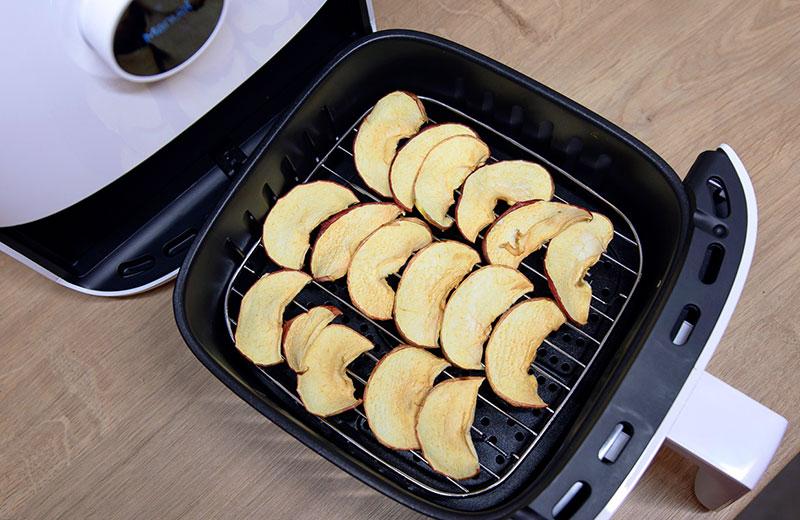 Advantages and disadvantages
Benefits
Stylish design
Recipes included
Attractive design
Convenience and ease of use
Disadvantages
Small useful volume
Smart features are limited
Not very strong construction
Should I buy Xiaomi Mi Smart Air Fryer
The Xiaomi Airfryer is able to quickly cook tasty and healthier food with little or no input. It is best air fryer in this price Range, If you are looking for such a device, the Mi Smart Air Fryer is highly recommended.
About Post Author
Xiaomi Mi Smart Air Fryer Review
Design and construction

Power

container volume

Performance

Software

Functions and convenience
Summary
The Xiaomi Mi Smart Air Fryer has a stylish design and can be conveniently controlled remotely, but the slightly flimsy design is embarrassing.