Bowers & Wilkins PI7 are the highest quality TWS headphones with great design, active noise cancellation and excellent sound. Six built-in microphones perfectly eliminate noise during telephone conversations.
In addition, there is IP54 water and dust resistance, wireless charging, and even the unique function of connecting the case to any device via the headphone jack. But, there is one key drawback – PI7 are very expensive.
Specifications Bowers & Wilkins PI7
| | |
| --- | --- |
| Type | Intrachannel, reinforcing + dynamic |
| Speaker size | 9.2mm |
| frequency range | 20–20,000 Hz |
| Connection | bluetooth 5.0 |
| Communication range | 10 m |
| Codecs | aptX HD, AAC, aptX, SBC, aptX Adaptive, aptX LL |
| Active noise cancellation | Yes |
| Protection class (IP) | IP54 |
| Colors | White, graphite |
| Retrieval sensors | Yes |
| autonomy | 4 hours playback – earpiece, 20 hours – with case |
| Charger | USB-C, 15 min charge gives 2 hours of listening time, wireless charging case |
| Dimensions | Case: 60×57×28 mm |
| Weight | Earpiece: 7g, Case: 61g |
| Price | $299 |
Design and construction
Bowers & Wilkins PI7 headphones are not the smallest, but they can not be called large either.
There are no special devices for fastening behind the ears, but the PI7 sit securely in place and do not fall out even with active movement. The headphones look great – even in appearance it becomes clear that this is a premium model.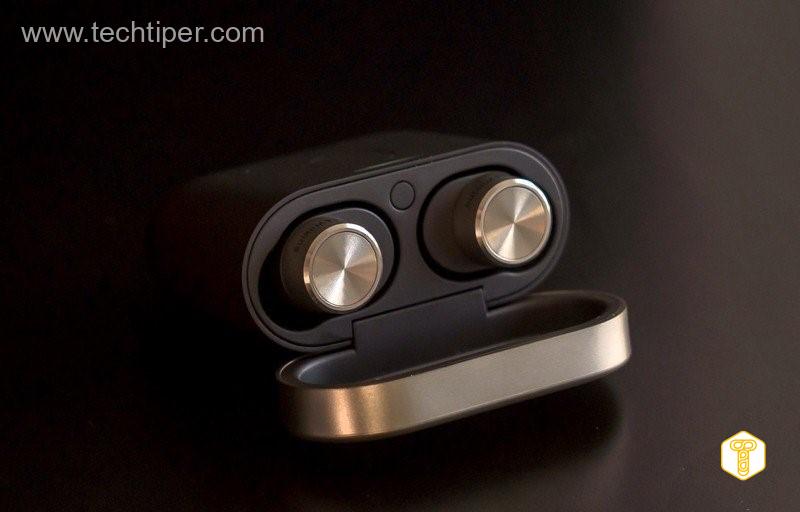 On the body of each B&W PI7 headphone is located on the touch area for operation control. With their help, you can control playback, active noise reduction and call the voice assistant. The only thing missing is the ability to change the volume through the headphones.
Application and control
The Bowers & Wilkins Headphones app for Android and iOS is available for customizing the PI7, but features are limited.
You can set Active Noise Cancellation (ANC), turn on Transparency Mode, or turn on Auto Pause on Capture. You'll also find battery information and a set of "nature sounds" for relaxation.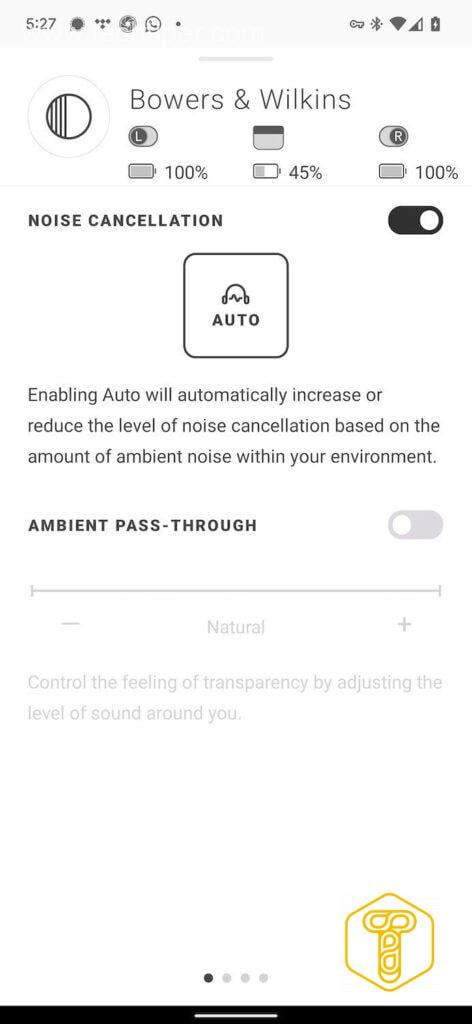 On the other hand, we do not have sound profiles, equalizer and control settings. All in all, the Bowers & Wilkins PI7 app still needs work.
Sound quality
When it comes to sound quality, Bowers & Wilkins is something that few can match, which the company has once again confirmed.
Bowers & Wilkins PI7 are some of the best TWS earphones released in recent years in terms of sound quality. You don't have to be an audiophile to experience the rich, detailed sound these headphones produce.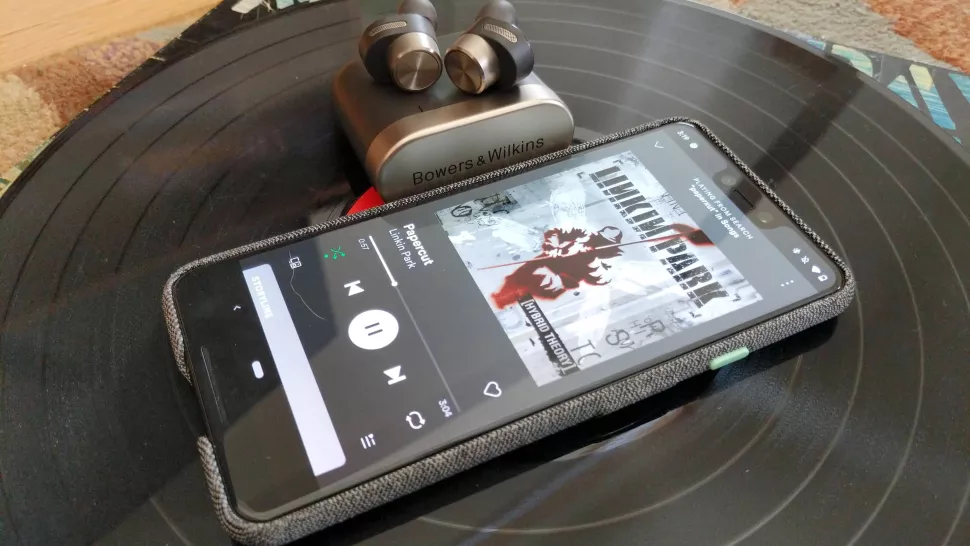 Any music sounds energetic and powerful – the basses are felt almost physically, and the small details of the composition are not lost.
Inside the PI7 are 9.2mm dynamic drivers and armature tweeters with a balanced armature. Unfortunately, the sound cannot be adjusted, but this is not required here. Any composition is reproduced amazingly.
Microphones and active noise cancellation
Each Bowers & Wilkins PI7 earphone has three microphones that eliminate unnecessary noise during phone calls.
Your voice sounds clean and clear for the interlocutor, and there are no sounds in the background, the voice will become a little quieter, but this is not a problem.
The PI7 are in-ear headphones, so they naturally isolate external noise well, but we also have active noise cancellation. Although ANC is not the most powerful among TWS headphones here, it does its job.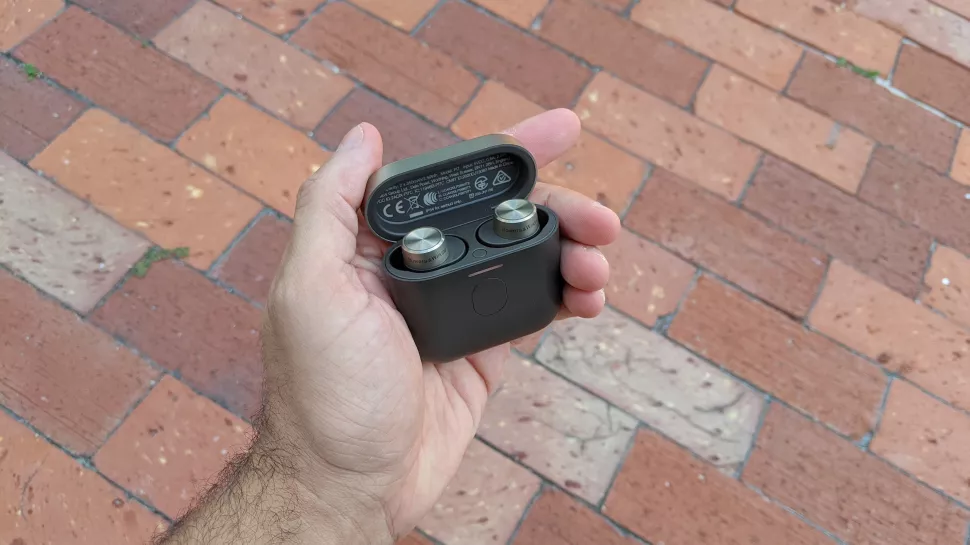 On the other hand, if noise cancellation is one of the main factors for you, it is better to take some model from Sony. The PI7 also has a transparency mode that allows you to hear everything that is happening around you.
Endurance Bowers & Wilkins PI7
The charging case on the PI7 looks as stylish as the earphones themselves and fits easily into the palm of your hand or any pocket.
The case is recharged via USB-C or wirelessly. The music listening time on a single charge is only 4 hours for headphones, which is not much by today's standards. This is enough for a workout or commute, but it may not be enough for the whole day.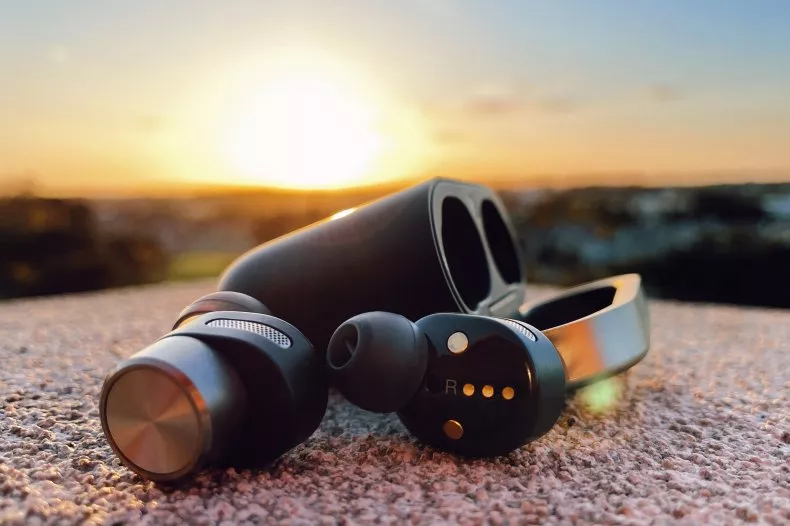 The Bowers & Wilkins PI7 case has one unique feature – it can be connected to any device that has a 3.5mm headphone jack. The kit includes a USB-C cable – 3.5 mm, with which you can transfer music from any gadget, and you don't even need to set up a wireless connection.
Headphones themselves recognize when the cable is connected to some device, it becomes a sound source. However, Bowers & Wilkins has gone one step further and added the ability to stream audio to the company's other Bluetooth headphones.
15 minutes of charging in the case gives you two hours of listening time. In total, the case provides four more full charges, for a total battery life of 20 hours.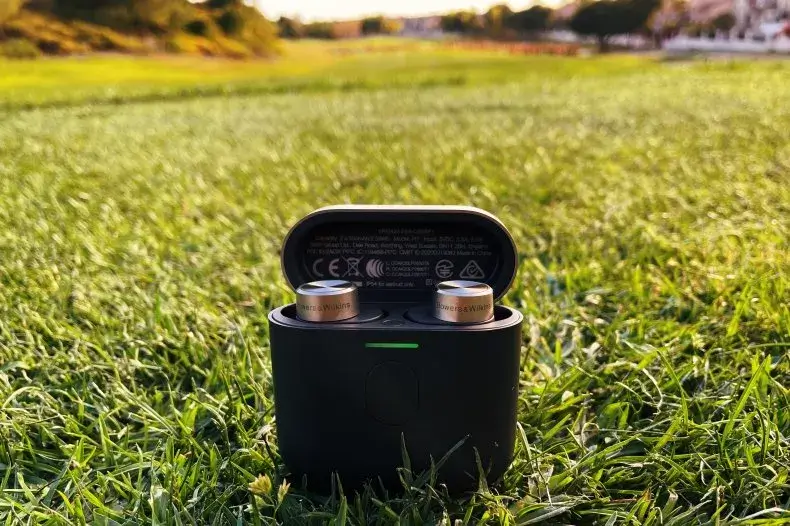 Read Also: JBL Tune 230NC TWS review: Headphones with good sound, noise cancellation
Outcome
It's impossible not to fall in love with the Bowers & Wilkins PI7 for their amazing sound quality and stylish design. There are also a number of unique features here – for example, the case allows you to connect to any device with a 3.5 mm jack and stream music directly to the headphones.
Of course, there are drawbacks too: the battery life is not too long, and during the day the headphones sometimes have to be recharged. The app doesn't have an equalizer or settings for controls, which isn't ideal – accidental presses can happen when you adjust your headphones. Also, PI7s are very expensive.
Benefits
Fit securely in the ears
Incredible sound quality
Water and dust protection IP54
Wireless charging case
There is a function for transmitting sound through the case
Disadvantages
Are expensive
Management is limited
Not too autonomous
No equalizer in app
Is it worth buying
Bowers & Wilkins PI7 are some of the best TWS headphones in terms of sound quality for early 2022. If your budget is unlimited, these are worth a try.
Bowers & Wilkins PI7 review
Design and ergonomics

Convenience and comfort

Communication and connection

Management and software

Sound quality

Autonomy and charging
Summary
Bowers & Wilkins PI7 are arguably the best sounding TWS wireless earbuds today. And the charging case can even be plugged into any 3.5mm jack for wireless streaming from any audio source.