Not only the school layette spends sleep at the eyes of parents of children returning to school. The place to study is equally important, as is the space where the child can concentrate. So let's think in advance how to prepare it and what to take care of. Below are some universal tips that will help us create a corner for real education.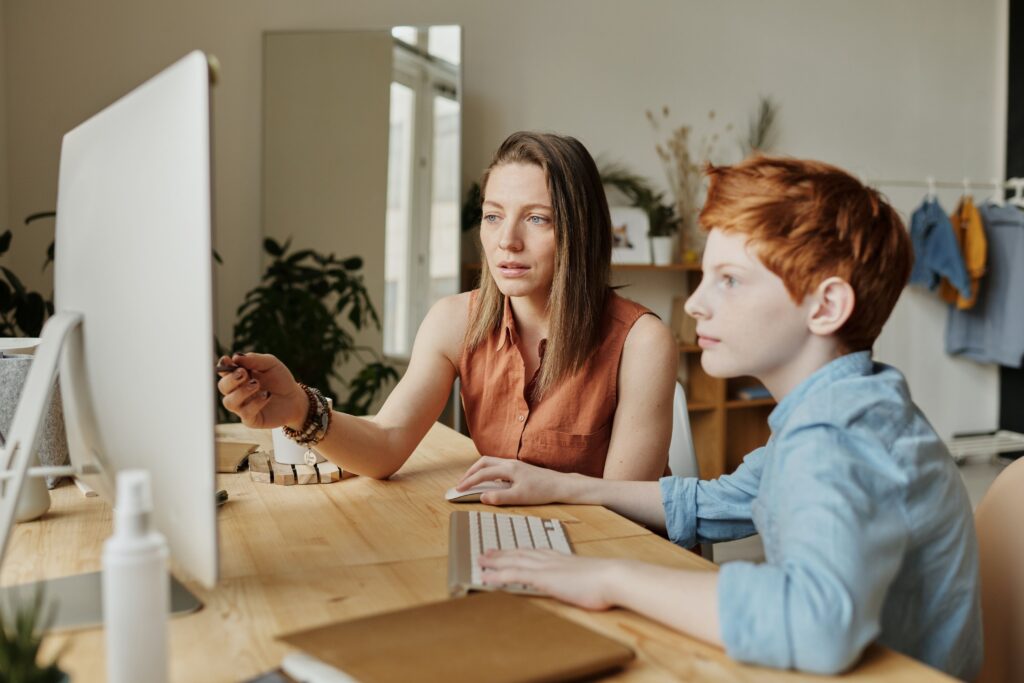 The most important things are comfort and silence. A well-chosen desk and chair are the basis
If we only have such an opportunity, let's make sure that the child actually has a corner only for himself. A separate room where he will find silence is conducive to concentration and developing passion . A well-arranged space and the correct selection of a desk and chair will significantly increase the comfort of learning.
The height adjustment is particularly important in both pieces of equipment . While in the case of a chair it is standard in most offers, in the case of a study desk it will be necessary to find a suitable model (we have selected a few proposals in the Back to School guide ).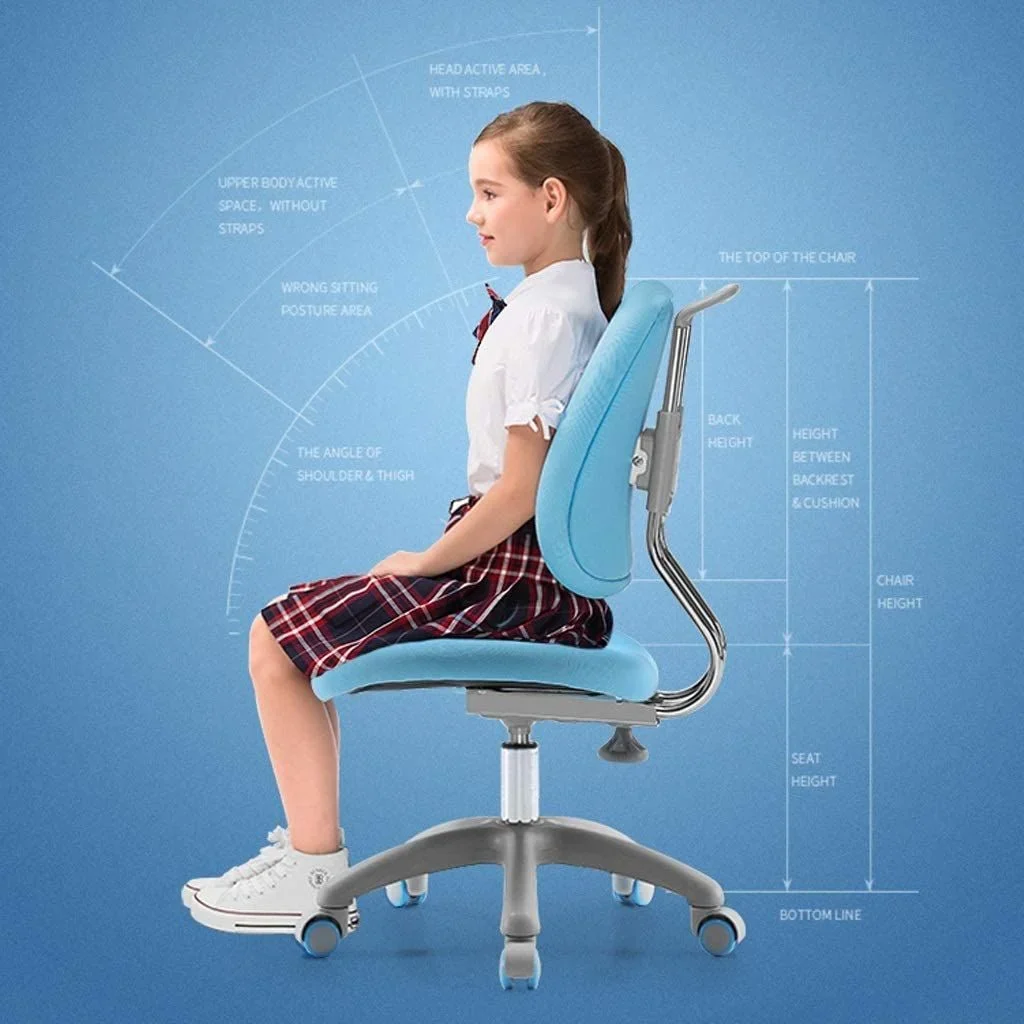 Why is it so important? For example, when buying a desk for a first-grader, we will probably choose something about 55 centimeters high, but this does not close the topic. It is worth considering how quickly children at this age grow , so that the desk once bought will not turn out to be problematic in a moment. An additional adjustment option takes care of this issue and allows us to treat this piece of furniture as an investment . Why pay multiple times over the years if you can spend your money wisely and have peace of mind for an extended period of time?
A similar principle should guide us when buying a chair with seat height adjustment. Important for the comfort will be, among others contoured backrest – it is this part that will ensure a straight back and maintain the correct posture of the spine. We should also pay attention to the presence of armrests , which should support the child's elbows approximately at the height of the table top.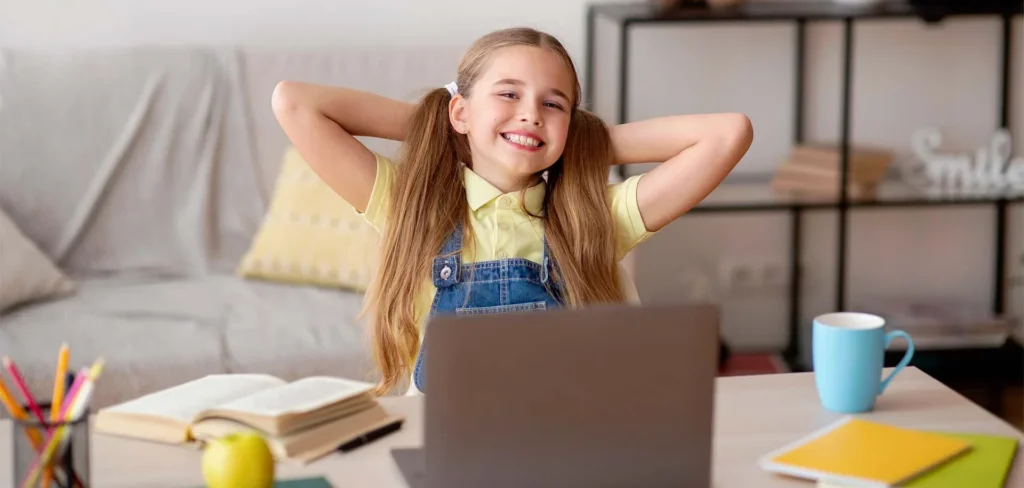 Let's take care of good light – both natural and artificial
A dark room and insufficient daylight are often neglected mistakes when organizing a study space for a child. Let's take care of the position of the desk close to the window – preferably from the front or side, never from the back (the light from behind the back will be reflected in the matrix of the monitor or laptop). It is also important to have free access to open and close the window, i.e. fresh air and regular ventilation of the room.
We will probably have a greater influence on artificial light . The lamp on the desk must illuminate at least a significant part of the table top, and the angle and height of the light should be regulated. Remember to avoid transparent lampshades and shiny surfaces . The former tend to glow when viewed directly (depending on the degree of transparency), while the glare countertops reflect the light causing discomfort (matte surfaces will work better in this case).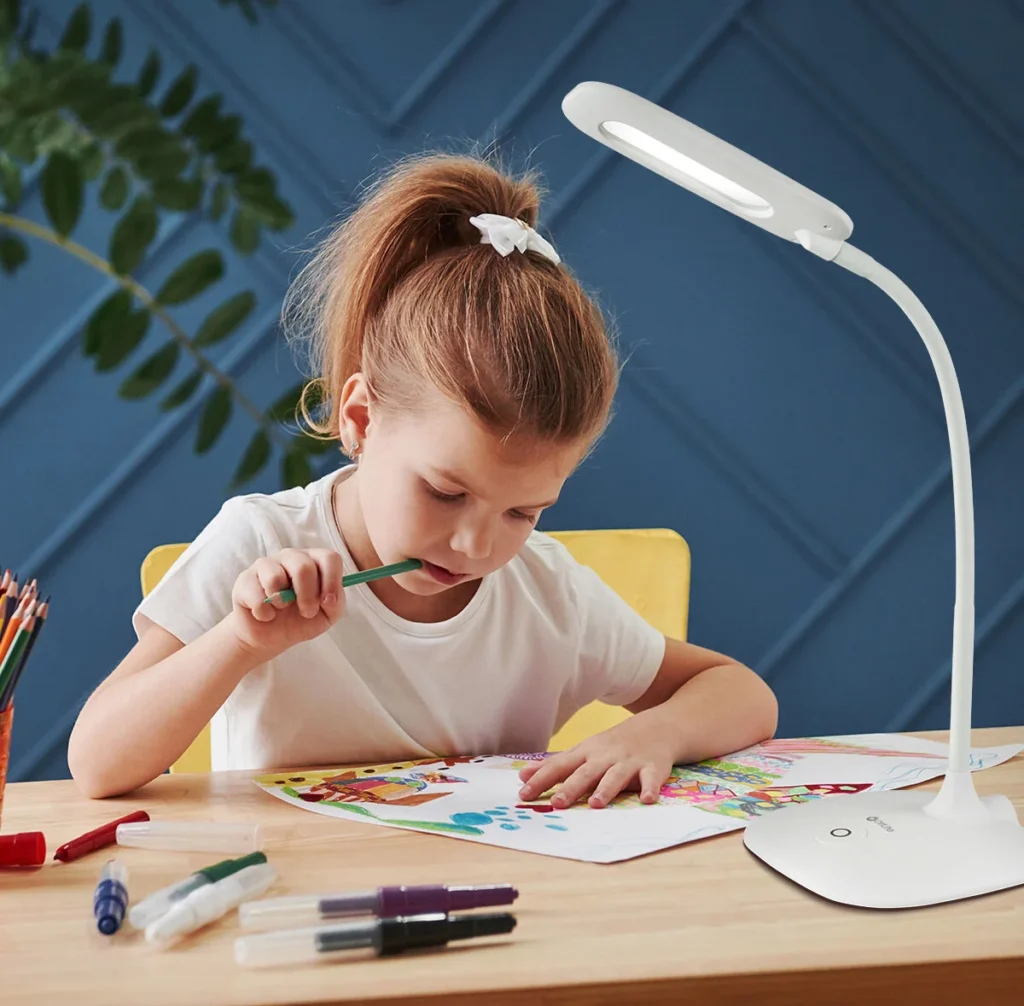 In terms of brightness measured in lumens and color temperature expressed in degrees Kelvin, experts recommend the use of light bulbs with a power of about 1000 lumens (~ 75 watts) in the range 3300 K – 6500 K. Such parameters guarantee light that has a positive effect on concentration and the ability to collect thoughts.
Let us not disregard the above recommendations – scientists have already proved that too warm a temperature of light makes us sleepy and is not suitable for study . In order to acquire knowledge, we need a light that is stimulating, uniform and without the flickering effect . The latter feature excludes the cheapest Chinese products of dubious quality. Flickering may be responsible for the irritation of the child, who will, after all, function in such conditions every day.
In the interests of the child's eyesight and concentration, it is also worth considering a good monitor . In our list of devices you will find model proposals that are characterized by, among others high refresh rate and low blue light emissions.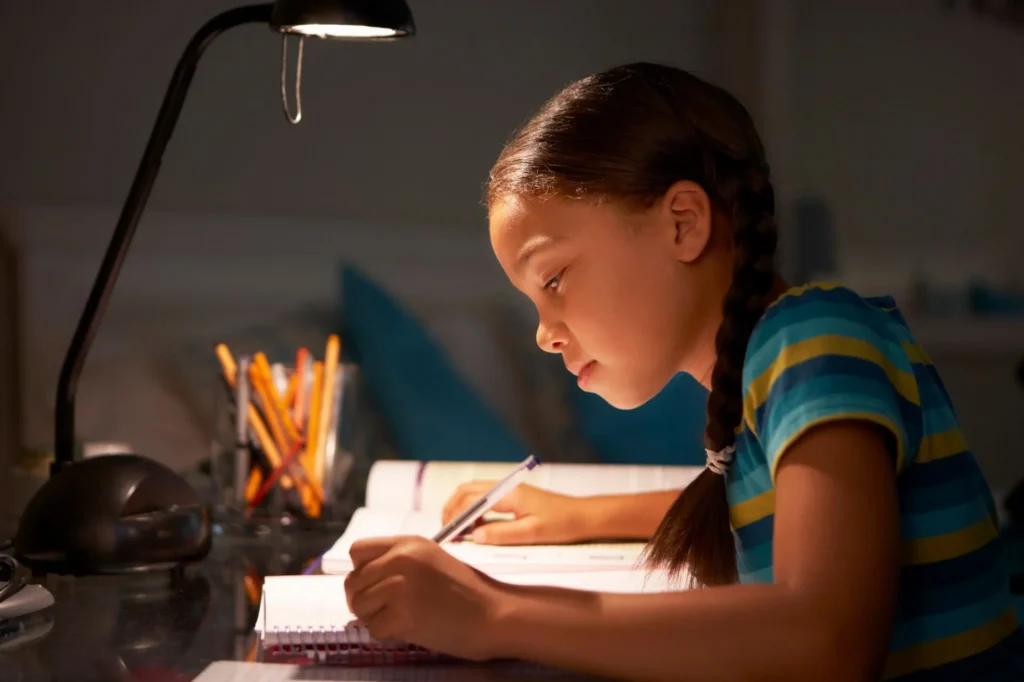 Organization is key. Zero tolerance for chaos and "distractions"
We already have the issues related to the comfort of learning and proper lighting behind us, so it should be focused on the arrangement of the environment and the proper organization of details, which are also important. This is primarily about school supplies, notebooks, books and the so-called distractions .
Necessary accessories – pens, crayons, scissors, glue and everything that can be used for learning, it is worth putting into baskets selected to size for a small chest of drawers or cupboards, which should be under or next to the desk (the top itself can be protected by a pad). The optimal setting is one that does not require the child to constantly get up and put things back – the closer, almost within reach, the school aids are, the better. It is only important that they are hidden and reasonably arranged, which will be helped by the previously mentioned baskets.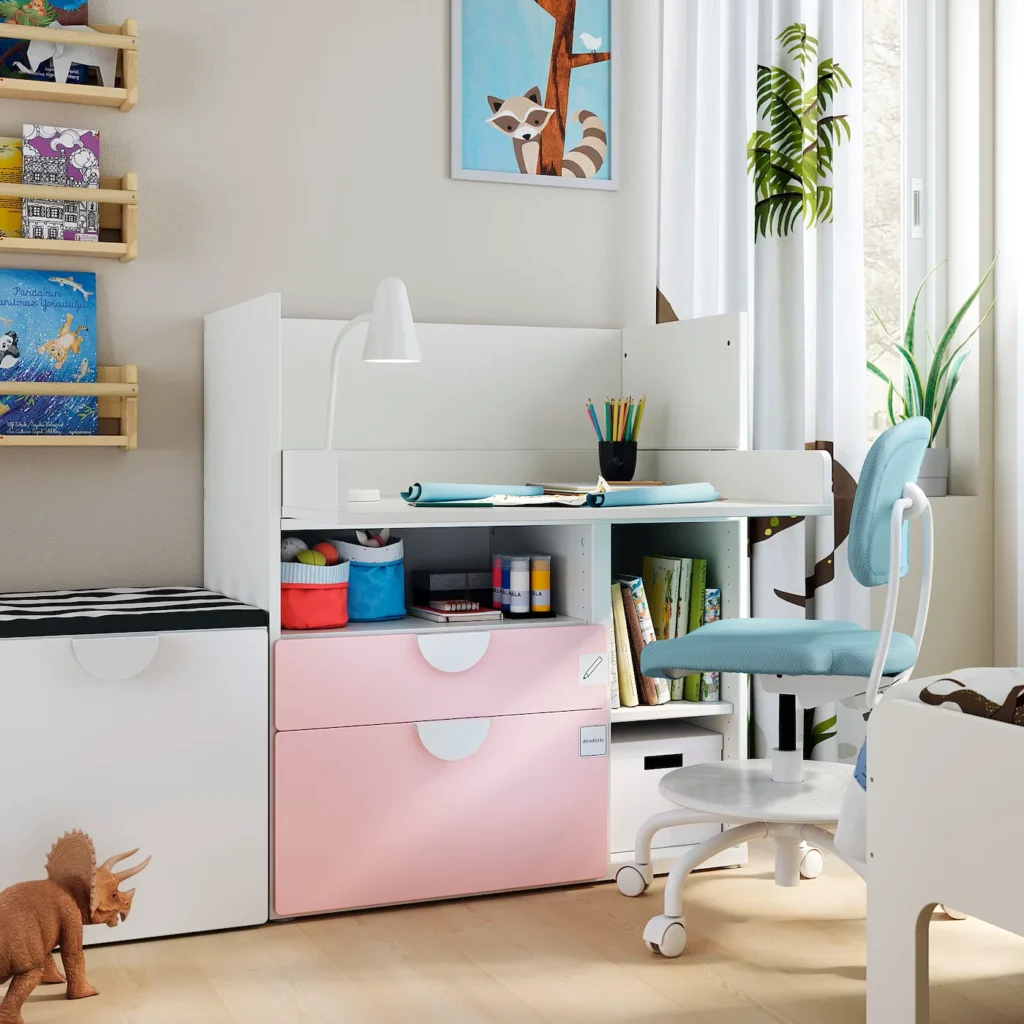 Let us pay attention to a clear division and marking where the accessories are, and where the notebooks or textbooks are, so that the child gets used to the organization and order . The alternative is unfortunately chaos and tossing everything into the first free drawer, which will later end up looking for that one particular thing that cannot be found anywhere.
Let's not forget about removing things that are simply unnecessary. The study corner should not be filled with toys and gadgets that distract attention. The overall clutter of the room also has a negative impact on concentration – sometimes less is more .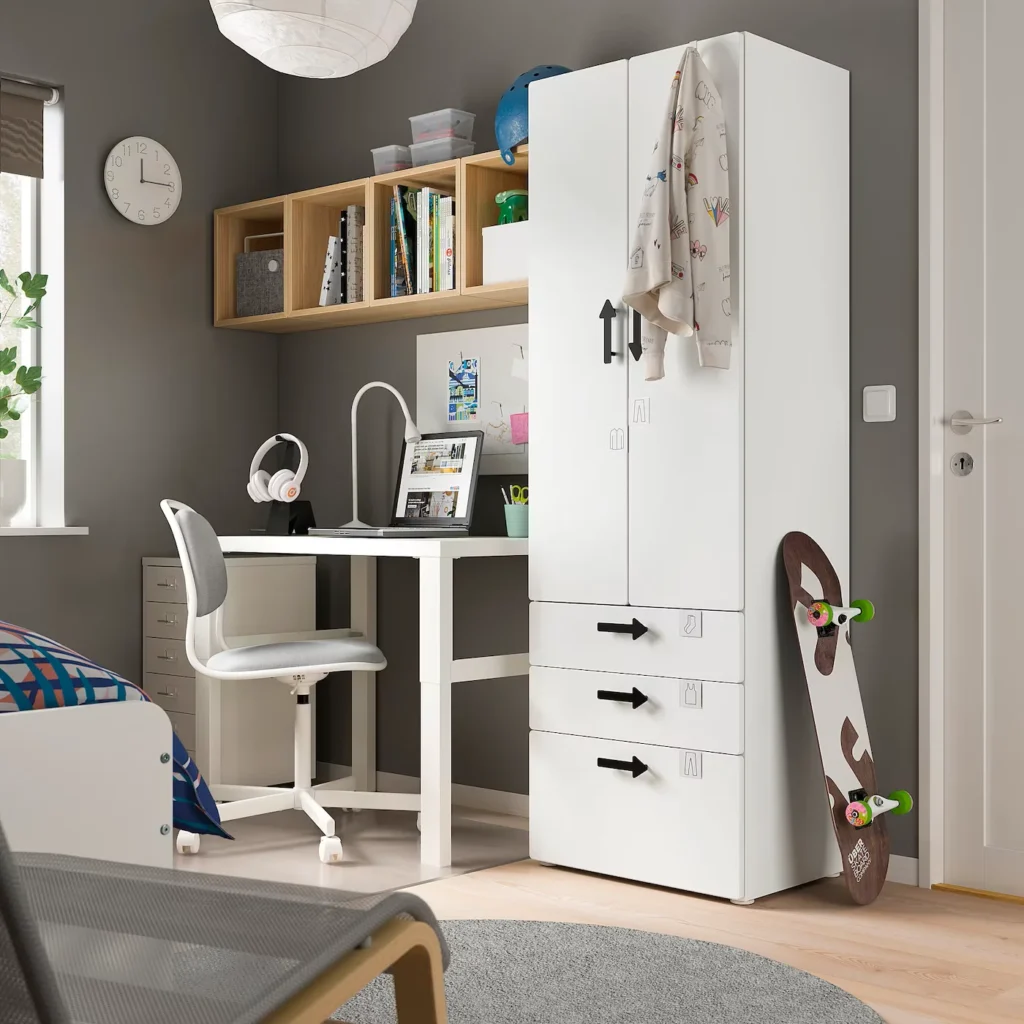 The moment of break is equally important. About unleashing creativity
A properly prepared place to study does not have to be associated only with boring duties. The space can be organized in such a way that the child will also find inspiration in it , willingness to develop passion and rest .
We can replace the traditional filling of the wardrobe door with blackboard boards – the fronts will then act as a giant draftsman, ready for colored chalk and freeing creativity . Following this lead, we can arrange one of the walls in a similar way. If we paint it with magnetic blackboard paint , sticking cards to the wall with magnets will become our everyday life.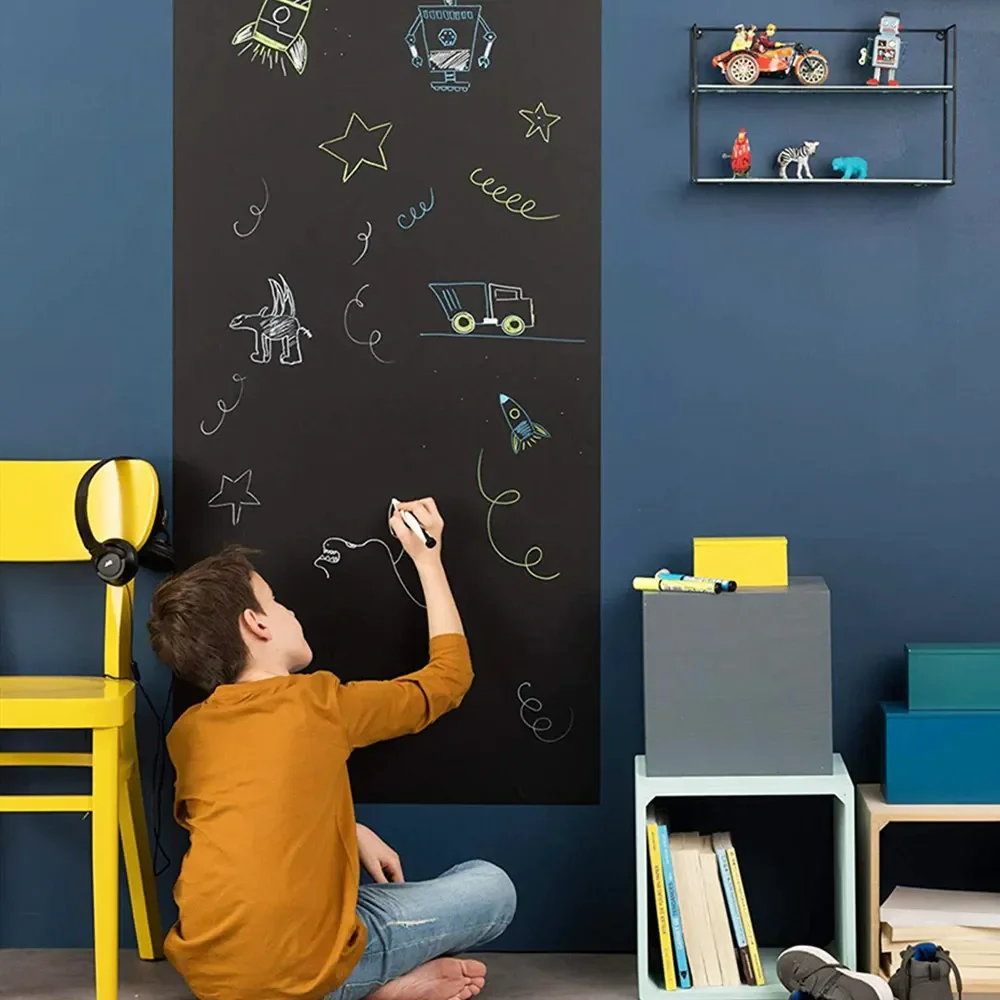 After all, the child does not live by duties and education alone – let's also take care of a place where he will be able to rest . Parents will also benefit from a comfortable sofa, small table or armchair when they come to help them solve tasks and prepare for school. This small Zen zone can be complemented by calm greenery, live vegetation or an aquarium filled with a blaze of fishy colors.
Read Also: How to prepare your computer for back to school in 5 steps?
In times of a pandemic, the youngest people spend much more time locked in four walls. Remember that the specter of remote learning has not completely passed and this mode of teaching may be in force again at any time – so it is worth thinking in advance how to prepare a room for a child and what to take care of.
About Post Author