The intention to find a service or product linked to a location is at the heart of 46% of all Google queries . And according to Google Trends, the number of queries with the keyword "next to me" (eg shoe repair near me) doubled from March to December 2021.
Almost every time we search for local services on Google or Yandex, we get a map with companies marked on it in the search results.
In the issuance of both Google and Yandex, the map can be a separate special element that occupies the entire screen and diverts the user's attention from other organic results. Therefore, anyone who wants to drive traffic from search to their offline business needs to understand SEO for maps.
Below we will tell you how the cards appear in the search results and how to make your company appear in them.

Let's start by looking at Google Maps.  
What are the maps in the issuance of Google
The most popular map variant in Google search results is called Local 3-Pack or list maps . This is a map with local businesses and a list of the three most relevant places. This block contains the contact details of the companies: name, address, phone number, opening hours and a link to the site.
There is also a very similar element – a local teaser, which, unlike a map with a list, comes without a link to the site and a phone call button. Previously, the teaser accompanied the issuance of requests for culturally significant places, for example, museums, concert halls, sports complexes. Now they can be seen on product requests.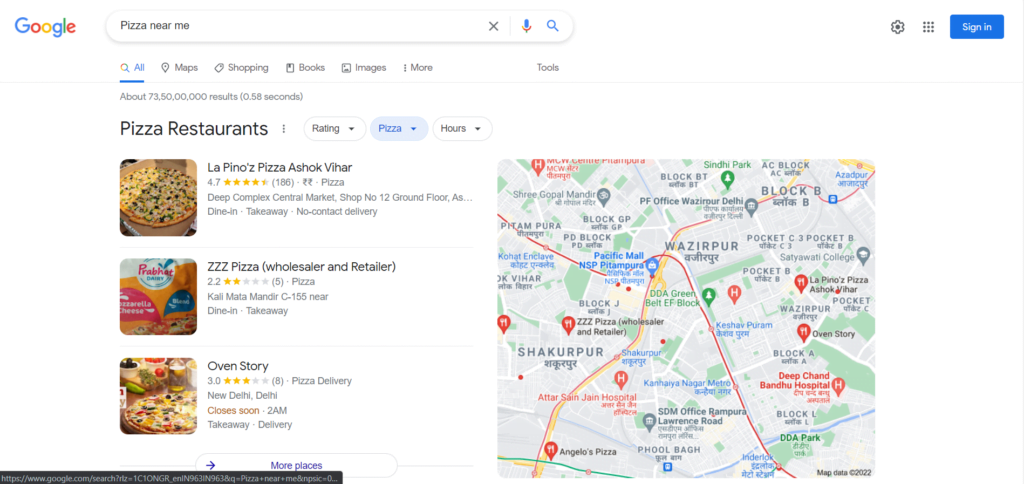 The list of three companies in both blocks changes depending on where the user is located. That is, geographical proximity is one of the main ranking factors in the block.
Read Also: What is Google Performance Max : how to get the most out of it
It is interesting that in both blocks, by clicking on the name of the company, we do not get to its website, but to a complete list of all relevant objects and information about each of them.
In addition to the teaser and the classic Local 3-pack, you can see another block with a map that appears when searching for hotels or other places to stay overnight. You can see room rates per night, check availability, view basic room amenities, hotel ratings, and more.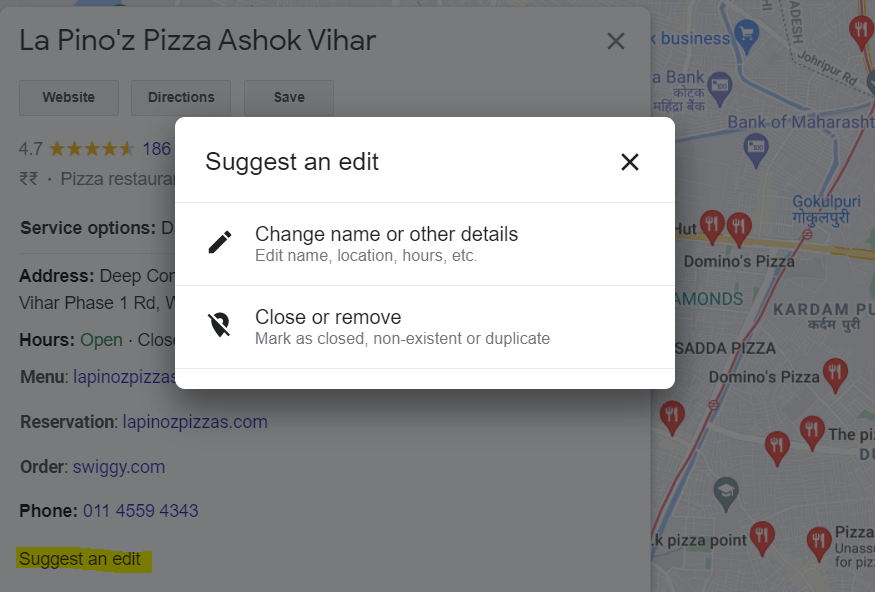 The Local 3-pack block with a list of companies, links to sites, and directions is not the only type of map in Google search results, but still the most popular. It has an internal ranking system, so to see your service among the three companies listed in the block, it is not enough just to add your business to the map. If your business has no clicks from the map or no comments, it may disappear from the block altogether.
Let's take a look at what it takes to get your business on the list cards and stay there for the long haul.
Checklist for getting into Google Local Pack
Getting into the Google SERPs involves two groups of work: preparing your business profile in Google My Business and optimizing the website for ranking in the local SERPs.
1. Set up a Google My Business page for your company
Check if your business has already been added to the GMB list. Don't worry if you see that your company already has a page in the service – it could have been created as a result of analyzing data from other databases. Simply apply for page management and verify your ownership.
If no matches with already existing companies are found, register your business.
2. Confirm company address
Fill out an application in Google My Business and receive a confirmation code that will be sent to your physical address by mail within 3-5 days (in the CIS countries you will have to wait two weeks). Enter this code in the appropriate field in your Google My Business account.
Or just use the same email in Gmail when signing up that you use in Google Analytics and Google Search Console. Thus, Google will pull data from these services and your business address will be automatically verified.
3. Optimize your business information
When the page is already started, you need to carefully fill in all the fields of information about the company. Each item can affect the search visibility of your business in the maps, so first carefully read the instructions from Google on how to correctly fill in the data in GMB.
Here's what you need to know about filling in the basic fields:
Company name . Specify the actual name of your business and do not try to add the name of the city where you work or any other keys to this field.
Category . The category determines what queries Google will match your business with, so for local issuance, it is extremely important to correctly specify the information in this paragraph. Define the category as specifically as possible. The fewer categories you choose, the better. Strive for one, but capacious.
For example, if you're a sushi delivery business, use the "Sushi Restaurant" or "Sushi Delivery" categories instead of just "Restaurant" and "Food Delivery". And you definitely don't need to try to cram keywords into this paragraph to describe the services you provide.
Contact details. Please make sure your business hours, address, and phone number listed here match the contact information on your site. If you have multiple stores or service centers, please provide the opening hours, address, and phone number for each.
Images . Images and photographs play a big role for the user when choosing a local business. Therefore, do not forget to monitor changes in this section, because photos can be added here not only by you, but also by your clients.
Reviews . A company's rating based on user reviews can be seen as stars below each company's name in the map results. For many people, it is the rating that is the decision-making factor when choosing a cafe, dry cleaning, dentistry and dance school. Monitoring and responding to feedback is a must.
Information from the company – a short description of your company, which can be quoted in catalogs, Google special elements (for example, the same maps or knowledge cards), in applications, etc. It is in this text that you should use the keys and talk about the services and benefits of your business to the point.
Such quotes are a source of backlinks and one of the factors of local issuance. There are two important things to keep in mind here:
1) do not try to publish quotes in spammy aggregators. Refer to reputable business directories and directories;
2) Check that your information is up-to-date in all your sources (the same contact details and opening hours must be indicated on your website, GMB page and directories).
You can keep track of which directories already have a description of your company, and which ones are worth registering. For example, in SE Ranking, this can be done using the Business Directories and Directories tool. You will find it in the Marketing Plan section for each of your projects. This feature offers a list of authoritative directories for the region you're promoting in.
Posts, messages, questions and answers. In addition to basic information, you can post to your account, add a messaging feature and the ability to ask questions to your GMB account, all of which are powerful feedback tools. You can use this functionality by clicking on the company name in the map block. We will be transferred to a general list of local services upon request, where an information card is attached to each company in the list. There are also questions and answers, for example:
The activity of these sections can affect the ranking of your site in the local SERP and the number of impressions in the list map.
Read Also: Event at gunpoint: how to promote events using digital Medium ?
4. Prepare your site for the local SEO race
Google lists three main factors for local ranking: relevance , distance, and prominence .
Relevance is about matching the search query. That is, in order to have high positions in local search, the site and description of the company in Google My Business must be optimized for relevant queries.
Distance as a factor indicates that local search results depend on the user's location. In the issue, he will see those companies that are nearby.
And finally, the business must be known at least locally and have a good reputation online and offline. Here, user reviews and customer interaction with your GMB profile (asked questions, added photos, etc.) will play a big role.
Among the main points of local SEO-optimization of the site are the following:
Content optimization isn't just about adding location markers to the content on your site. And yet, in order to associate your resource with a specific location, it must necessarily include the name of the city, region, state, and, in some cases, the district.
Technical optimization includes scanning capability, speed, adaptability, security, etc. Technical errors, especially if they go unnoticed for a long time, can significantly affect the position of the site. Therefore, it is very important to conduct a regular audit, checking the main SEO parameters of the site, in order to find and correct any errors immediately.
Domain authority is built with quality incoming links to your site. To advance in local search, it is very important to have links and citations on regional resources. These can be local business directories, city forums, news outlets, websites of other local companies, local media, etc.
The idea is that Google at all levels see the binding of your business to a certain territory. In addition, by placing links on "local" sites, you automatically target your own territorial audience.
Website optimization requires constant attention and participation. The same applies to the preparation of your profile on the Google My Business page – you will not only have to make sure that the information remains relevant, but also monitor the adequacy of the added pictures, answer comments and questions, etc.
5. Check your Google Maps business regularly
Once your business is showing up in the map results, you need to regularly monitor the information in the block. The difficulty is that not only you, but any user can change the data about your company. While changes are made as suggestions, they may be accepted without your knowledge. Name, category, contact information, photos and even location – absolutely anyone can change everything. And these changes can significantly affect your position in the local SERP.
For example, only recently Google fixed a serious bug : any user could change the opening date of a business to the future. Because of this, positions suffered seriously – Google considered the business to be non-existent and did not display it in the search results.
The very ability to set an opening date in the future was intended for new companies that want to announce their opening. And now everything has been fixed: it is no longer possible to choose a day that has not yet arrived as the date for opening an existing company.
If you see that someone has changed your data, try fixing everything manually using this guide or contact GMB support immediately . Alternatively, try tagging @GoogleMyBiz on Twitter. As a rule, answers through this channel come within 15 minutes.
Just like regular Google search results, you can place ads in maps.
Google Maps Advertising
If you want fast results and the competition in your area and niche is too high, start your PPC campaign in maps.
According to Peter J. Myers, a researcher at Moz, about 35 percent of map results contain ads . It looks like this: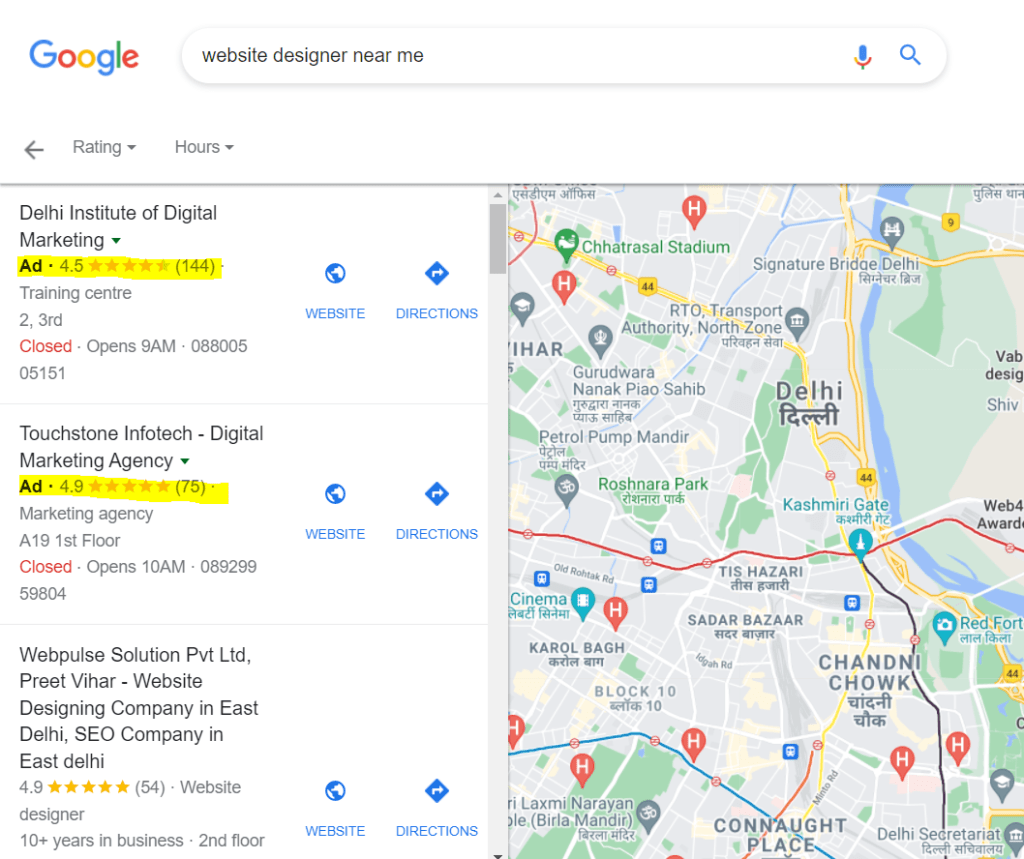 The advantage of these ads is that they target users from a specific location, which increases the potential conversion of those who click on it.
Basic steps to launch a PPC campaign in Maps:
You need to have both accounts: Google Ads and Google My Business.
In extensions, when formatting an ad, you need to select "Address":Here's how it works in SERP ads – Google adds information about the address of the business:
After that, you need to update and double-check your data in Google My Business
Next, when you create your Google Ads campaign, you need to set up targeting and location bidding .
Finally, don't forget to use location marker keywords in your campaign.
To see how your ads look for other regions, use the Google Location Changer . Unlike Yandex, where you can choose another city to view the SERPs, this cannot be done on Google. With Location Changer you can check the SERP with all its elements for any other location.
How to track map hits for keywords
If you still managed to break into the Local Pack, you won't be able to relax. The situation in the issue can change quickly: new competitors have appeared, advertising has been added, etc. Drops in rankings can be sudden and can seriously impact your search traffic. To be ready for this and react in time, you need to regularly monitor your positions and the issuance of cards for the keys that are important to you.
Today, some position tracking tools allow you to monitor different SERP elements. We will show how this works using SE Ranking as an example.
In the keyword positions table, you will see a column with Google special elements for each of the tracked queries.
The data can be filtered by the special element you need. In our case, this is "Map Results". This way we will see all your requests for which there is a map with a list in the search results.
If there are targeted ones among the requests with the map, you need to think about how to break into the block – analyze the weaknesses of your SEO strategy. In addition, with regular monitoring of maps for targeted queries, you will see how this or that change on the site affected your positions or presence in the Local Pack.
SE Ranking allows you to check the availability of cards in both organic and paid issuance. Thus, you can simultaneously track for all your queries whether there is a block with a map in the results for them, and whether your site is included in this block. The same goes for advertisements.
Read Also: How to launch advertising on Telegram: instructions for use
How it all works in Yandex
Yandex calls special elements in the search results sorcerers, and the block with a map and a list of businesses is called "Addresses". The block has much in common with Google's Local 3-Pack, but there are some nuances:
Carousel of 10 items instead of a list of three companies. But business cards include the same data: address, phone number and, if specified, hours of operation, site URL, and rating.
The ability to scale and move the map directly in the block. This means that the list of businesses in the list changes depending on the accuracy of the selected region. In Google Local 3-Pack, this list is fixed, and you can change the geofocus only by opening the general map search page.
There is no possibility to add questions-answers and messages. An expanded company card in Google and Yandex maps is very similar, but the latter does not have elements for feedback.
Preparation for ranking in "Addresses" also involves registration in a separate service for businesses – Yandex.Directory .
Working with the directory begins with authorization. Create a Yandex account or log in via Gmail, Facebook, VK. If you already have an account and other registered companies, you need to click on "Add an organization" in your workspace. In all cases, the new company registration page will be the same.
Then you need to register. Everything is simple here – you need to carefully enter the data about your company. Six items: name, actual address, phone numbers, hours of operation, links to the site or social networks and activities. Wishes on the points are the same: accuracy, reliability and relevance. The title does not need keywords – they will be pulled up from the rubricator by type of activity. Moreover, Yandex itself says that extra words in the "Name" field (keys, cities, advertising slogans) will prevent the card from passing moderation. And an already existing card for violation can be removed from publication. An important point: for each branch of the organization, cards are created separately.

After filling out the application, you send it for moderation. Its status will be changed to "Approved" upon completion of the process. An important point: third-party users can also add companies to Yandex.Directory, but without confirming the rights to the company, they will not be able to manage its account in the service. Therefore, if your company's card is already in the Directory, do not be alarmed. Confirm the rights and fill in the data in the profile.

Confirm the rights to the company. This can be done by calling the phone number listed in the company profile. Only after verification and filling out the profile in the directory by 90+ percent, you will receive the status of a verified owner. With it, it becomes possible to edit basic information, additional parameters, receive notifications of edits and moderate them, and order advertising. Accounts managed by company owners receive the "Information verified by the owner" badge.
But at the same time, Yandex has a system of pre-moderation and post-moderation. That is, if undesirable clarifications are still made by someone, you can refuse edits in your account.
Be sure to check out the reviews. Like for Google, for Yandex, the opinion of users about your company is very important. Rating can directly affect impressions in Addresses. In addition, Yandex marks favorite places of users with the "Good Place" sign . Only an organization with a rating of more than four out of five can receive such a badge. Yandex even gives stickers to "excellent students", which can be placed directly on the doors of your cafe or hostel.
Track the statistics of your card in your workspace. In the side menu, you will see the "Statistics" tab. There is information about how users interact with your company on Yandex.Maps. You'll see which queries lead users to your business category. For example, "put a seal" – to the category "Dentistry", "tasty rolls" – to the heading "Restaurants". A query can be assigned to several categories at once.
In addition, here you can see the number of impressions and clicks of your card, as well as competitors – companies that have chosen the same headings as you.
Under the statistics is the so-called heat map (heat map), showing in which places your business was searched most often.
Below you will find data on clicks on specific elements of the card: phone number, photos, reviews, website. Plus, how many times users built a route to your company on the map.
All this is accompanied by data on the audience: gender, age, and the device from which you were searched. This information will help you better understand your audience in Yandex.Maps and correctly target your advertising campaign.
By the way, about advertising.
Advertising in Yandex.Maps
Geoadvertising in Yandex has several options at once. There are different systems of paid promotion for maps and navigator. Maps have the following options:
The green label allows you to highlight the address beacons of your company on the map in green (they are blue by default).
You can read about all the details of launching an advertising campaign through Yandex.Directory here .
Finally
If you have a local business, you simply cannot ignore Google and Yandex maps as a potential traffic channel. Your efforts to get into the Google Local Pack or Yandex "Addresses" will also help you increase your positions in the regular local issue.
Plus, registration in GMB and Yandex.Directory opens up additional opportunities, for example, expanding information in snippets and publishing ads in maps.
It is very important to constantly monitor your profiles in the Google and Yandex business directories and track your positions for queries with a local context. If your site has sufficient SEO preparation at the same time (there are no technical problems, the content is optimized, there is a mobile version and a solid link profile), then the geo-targeted search and the presence of maps in the issue will only benefit you.
About Post Author