Instructions: how companies run effective advertising on Telegram
According to the results of the Telegram market research in 2020, the volume of advertising for the last year amounted to 12.8 billion rupees. According to analysts, this figure will increase by at least 30% in 2021. So, Telegram for many companies is becoming a full-fledged performance tool along with advertising from Instagram or YouTube influencers. In this article, we will figure out how to use its resources correctly, which means as efficiently as possible.
What companies can do on Telegram
There are three standard types of communication for companies on Telegram:
1. Purchase of advertising in channels and bots for an external resource (website, application).
This type of communication is used by 99% of advertisers who come to the messenger for an advertisement for the first time. This is the fastest option for testing.
Using it, you can understand in a few days if your audience is on Telegram.
Spoiler alert: of course there is. :) You just need to make a high-quality selection of channels, but more on that below.
2. Creation of the company's Telegram channel and purchase of advertising on it.
Having decided on this method, you should know in advance about some of the limitations of the messenger.
Firstly, there is no organic growth of subscribers in Telegram, that is, at the start, you need to understand that you must have a monthly advertising budget to promote your channel.
Secondly, the channel must be personalized. Lead it on behalf of the founder, manager, employee, or fictional avatar.
Telegram is a messenger for communication. Therefore, it is more interesting to read the content in the channels on behalf of the people. Nobody will subscribe to a conditional bank's channel to read its press releases. But people happily subscribe to the investment advisor channels of these banks for first-hand insights.
3. Creation of a Telegram bot and attracting traffic to it.
The creation of a Telegram bot that performs any business functions for a company (leave an application, buy a product, arrange delivery) is part of the Telegram First concept, which came to us from Asia. A striking example is the WeChat application, in which you can chat, read news, buy goods without leaving this ecosystem.
Therefore, creating a Telegram bot and advertising it is the most difficult and at the same time the best way to promote yourself in the messenger, since the reader does all the actions seamlessly and within the messenger.
We discussed three basic options for communication in Telegram, now we will dwell on the first option, which is used by 99% of companies – advertising of an external resource.
Where to look for Telegram channels
Finding the necessary Telegram channels is not such an easy task as it seems at first glance. After all, Telegram has a lot of channels with a low-quality audience, and buying ads from them is a waste of money.
One of the most common problems with channels: subscribers do not match the topic of the channel. How does this happen? Initially, the channel was created with an entertainment theme and gained subscribers from the low-cost industry (for example, humor). After that, he decided to change the name and theme to investments, but his audience remained the same – people who are not interested in the financial sector in any way.
To calculate such channels and bypass them, use special analytical services such as Telemetr.io. He has detailed analytics not only for channels, but also for advertising publications that go to them. But I warn you right away: you will spend a lot of time on analytics through telemetr.io .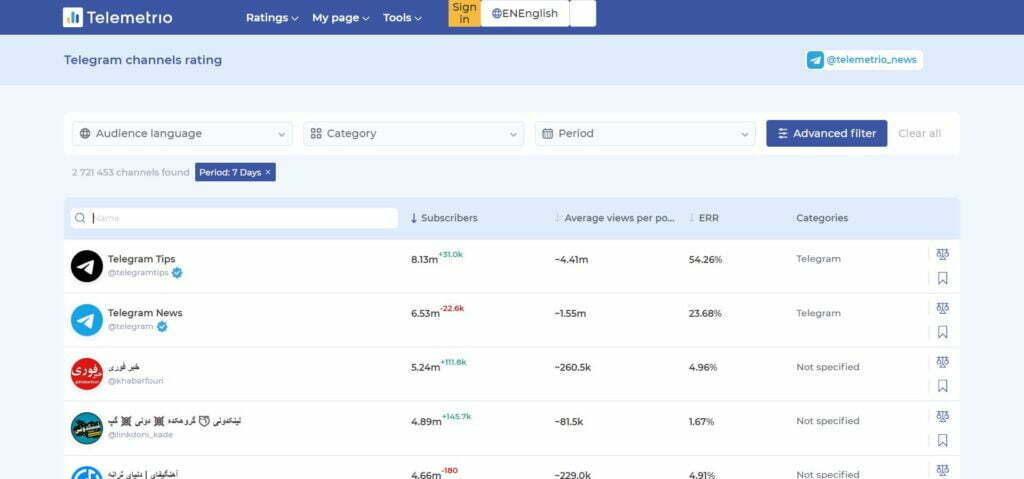 If you do not have time for analysis, and the advertising campaign had to be launched "yesterday", use advertising exchanges with pre-moderation. For example Telega.io. 🙂 Then the exchange will do all the work on the selection of live channels for you, you just have to choose the channels by subject, cost and ER (Engagement Rate). And with budgets of 30 thousand rupees or more, a personal manager can do this work for you.
How to choose Telegram channels
What are the important parameters to look at when choosing channels?
Primarily on ER (Engagement Rate): This is the percentage of people who will see your ad post. We advise you to take ads in channels with ER> 20%.
Secondly, this is CPM (Click Per Mille) of the subject – cost per thousand impressions. You need to know it in order to navigate the cost of advertising and understand whether the channel admin overestimates or underestimates it. Yes, there is an established practice that expert channels in any niche are more expensive than just thematic ones. But comparing CPM still helps you get a feel for the maximum value in this niche.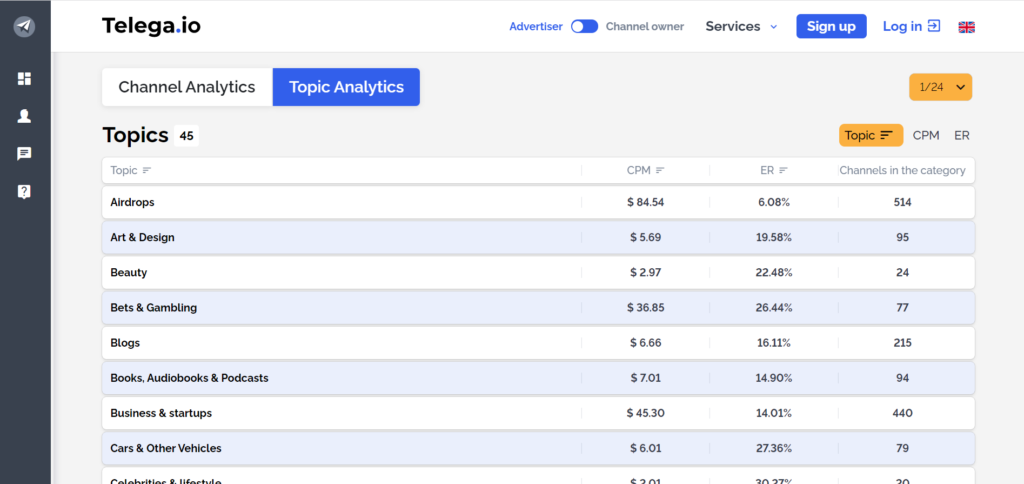 To help compare CPM in various topics, we collect monthly analytics on this parameter. By the way, it also changes in dynamics, and you can watch from month to month in which topics the cost is increasing (they are popular), and in which – the decrease.
Third, pay attention to whether the channel's theme has changed. If you do not use exchanges, do it yourself on Telemetr.me in the "Descriptions History" tab.
The final parameter, which I suggest you pay attention to, is the dynamics of the growth of subscribers on the channel. The graph should be flat and not look like a "saw" with giant rises and falls. This is a clear sign of a botanical channel.
How to write a post
On Telegram, like any other social network, there is no example of a perfect post. But there are general rules that can be followed when creating advertising publications for an external resource.
The text should be no more than 600-700 characters on average. Owners of channels and Telegram bots are reluctant to take longreads as advertising publications.
Use 1 picture or gif-image no more than 5 MB.
If you want to promote a YouTube video and get views for your account, remove the video preview, otherwise views are counted in the application, and not on your account.
You can combine links in the text: embed them into the text, leave them "bare" links, or add them as a button. We try to leave one "naked" link to all our clients, as it is more clickable.
Do not forget to use UTM tags, because Metrics and Analytics do not provide correct information on referrals from the messenger.
If you will be driving traffic to your channel, use Invite Link – a new functionality from Telegram for channel owners to track subscribers 100% from each channel or bot.
Read Also: A secret Telegram update has been released. It is not available to everyone
What else is cool in Telegram 🔥
An excellent option for those who want to promote PR agenda in the messenger among a huge number of readers. You can get 200K, 300K and more coverage of your news and get into the top publications of the messenger from TGstat, which will attract additional free views.
For example, this is how we did our announcement of the Telegram advertising market research. We paid for reposts for 200 thousand impressions, got to the top and received more free reposts for 90 thousand views.
Secondly, this is advertising in Telegram bots . This is a relatively new ad format for external advertisers. You get much more coverage in a shorter amount of time and at a lower cost.
But you need to remember about some of the features of advertising in bots:
in this option, you cannot check the exact number of the active base, you have to take the admin's word for it;
it is impossible to verify that the sending of an advertising post in the database has completed. This can be done only by subscribing to the bot or requesting a screenshot of the mailing process;
there is no open analytics for comparing Telegram bots with each other.
Considering all these features, we recommend trying advertising in bots for companies that already have experience in advertising in channels and want to reach a new audience.
---
So, let's summarize: how a business can use Telegram as a marketing tool as efficiently as possible.
Choose the right type of communication based on the goals of the advertising campaign.
Carefully select channels for advertising, focusing on the topic, audience, cost, ER and CPM.
Write advertising posts in the language of your audience, using visuals and links, which can be used to track the result in the future.
In addition to marketing activity through channels, use additional Telegram features – reposts and advertising in Telegram bots.
About Post Author