Hama Soundbarrel Bluetooth Loudspeaker Review
Set

Construction

Impressions of use
Hama Soundbarrel review in three summary sentences
The reviewed speaker is distinguished primarily by its low price in relation to its size. Keeping this amount in mind, all imperfections are relegated to the background, and we appreciate, among other things, water resistance and long working time. However, if we are to be picky, the button handling and low tones are certainly something that should be improved in the next editions.
Bluetooth speakers have settled in for good in our environment. There are many of them on the market, but everyone tries to stand out in their own way. Then this Hama Soundbarrel review will show you exactly how this particular model wants to reach the customer. I can already tell you that it will be the price, although this is not the only advantage that the title speaker can boast of. That is why I cordially invite you to the Hama Soundbarrel test.
Benefits
Much for little
Good workmanship (waterproof)
Strong battery
Disadvantages
Unintuitive controls
Average bass (see sound modes)
Hama Soundbarrel Loudspeaker kit, technical specifications and price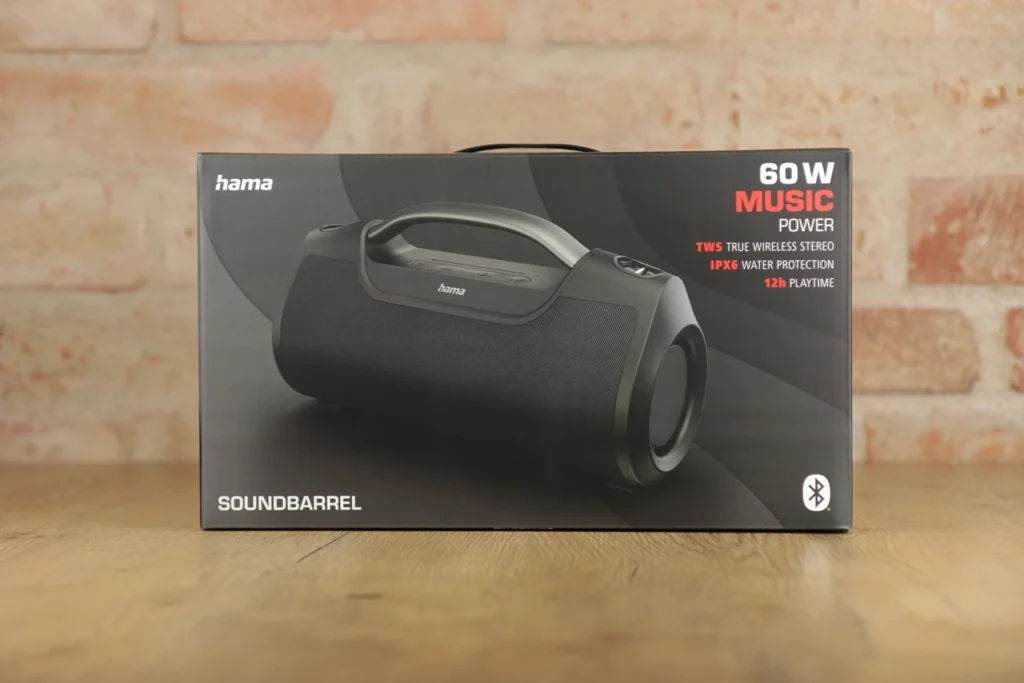 For good morning, we are welcomed by a varnished cardboard in which we find a well-protected speaker with accessories. In separate foils and boxes, the company has placed a carrying strap, waste paper (at the forefront with an important user manual) and a short USB-C – USB-A cable for charging the equipment. That's all we can find in the package. But it is also in vain to expect more from the equipment of this category.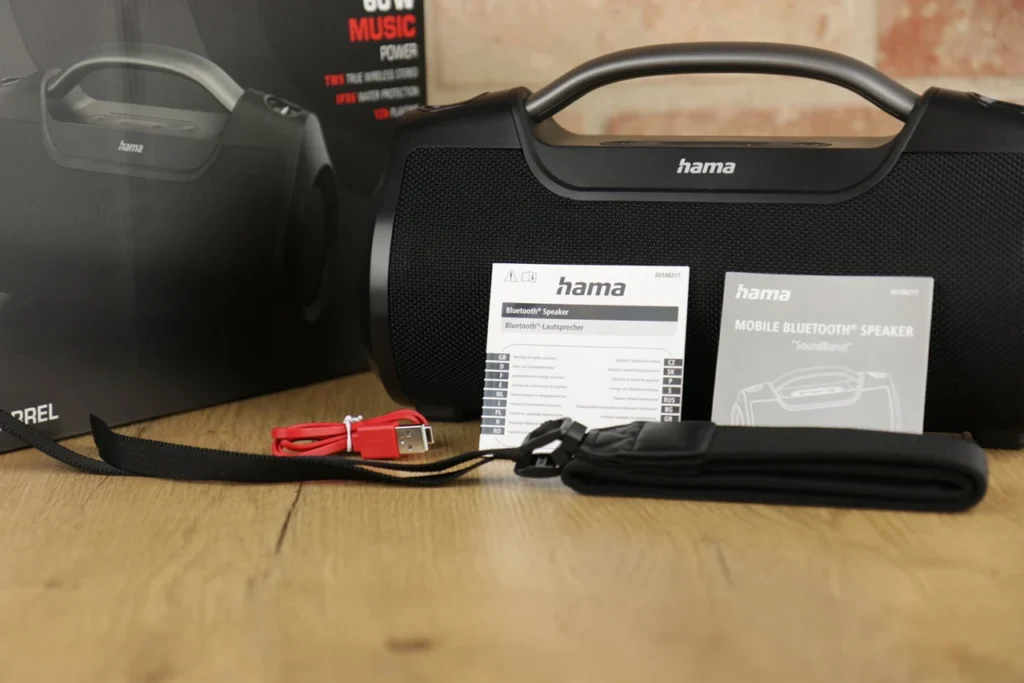 A large loudspeaker at a low price – this is how the Hama Soundbarrel presents itself
Currently, Hama Soudbarrel costs less than USD 110 , but looking at the historical prices, you can easily buy this speaker for even USD 99. In this way, we are talking about a relatively cheap proposition in the context of the size and possibilities that the reviewed product hides.
Technical specifications of the Hama Soundbarrel
peak power: 60 W (RMS: 30 W)

2x 20W tweeters
2x 10 W heat sinks

Bluetooth 5.0 support (A2DP, AVRCP, HFP)

SBC codec
support for stereo pairing

battery with a capacity of 26.64 Wh
connectors:

USB-C
USB-A
3.5 mm jack (AUX)

IPx6 certificate (waterproof)
dimensions: 11.8 x 31 x 15.2 cm
weight: 2.55 kg
Housing and build quality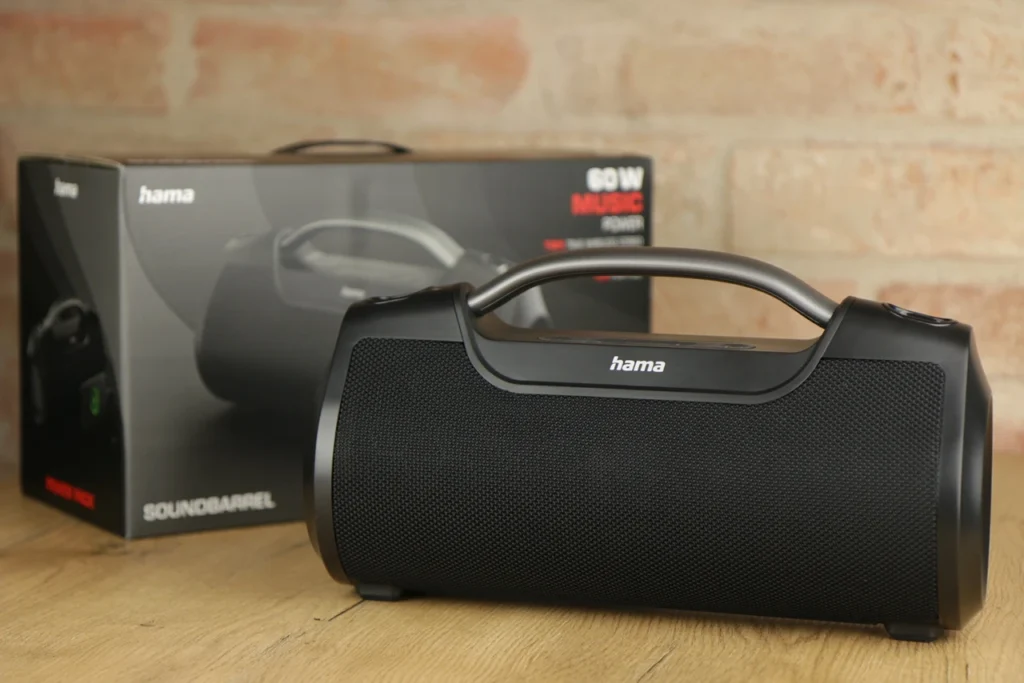 The design comes down to combining plastics with a material masking frame. Nothing creaks, nothing creaks and the whole thing is well painted. There are also no sharp edges, so the speaker looks the way everyone sees it, and you can't fault the performance.
From the front, we are welcomed by the Hama logo. There is also a handle that facilitates the transport of the loudspeaker. To this let's add mounting places for the strap, which will be discussed in a moment. All physical buttons are visible between the logo and the permanent handle. These ones have been covered with rubber, which easily collects all dirt, but in the long run it is not a problem. Nearby, we can also see LEDs informing about the work status and a microphone.
The bottom belongs to the rubber feet, which, combined with the considerable weight of the equipment, stay well in a given position. Movable grilles appear on the side. In turn, the back has been reserved for another plug that sticks very tightly to its place. After all, the equipment is waterproof, so you should always remember to close it tightly. Behind it you will find all the connectors – the Jack socket acting as AUX, USB-C for charging the speaker and USB-A, which in turn allows you to give energy to the outside. The powerbank function is fine, but you have to be aware of the limited power to 10W.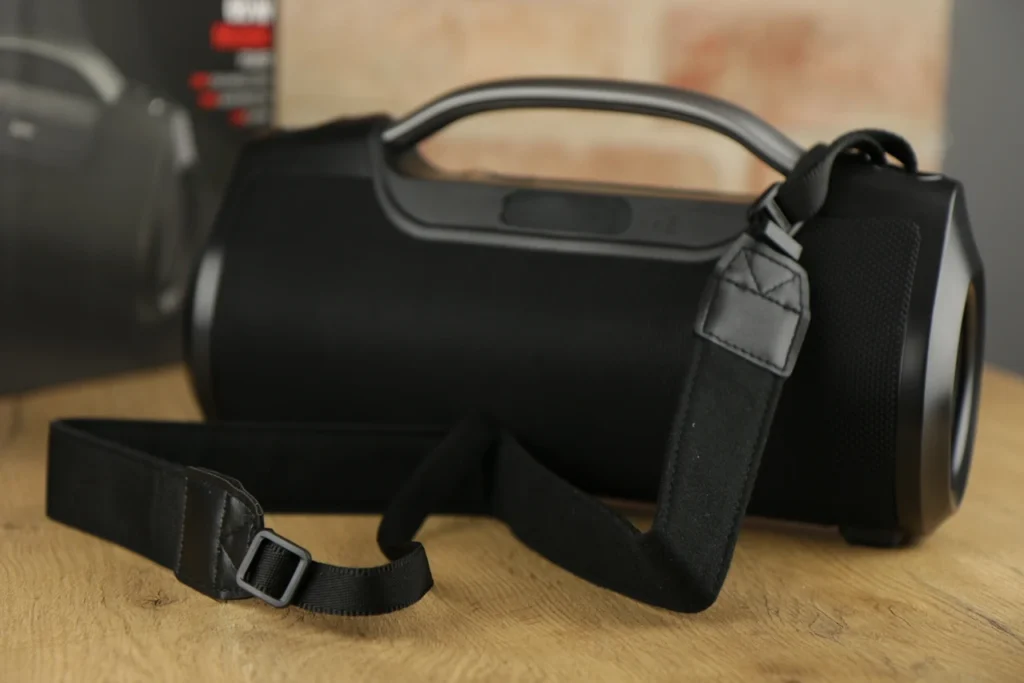 Meanwhile, the strap included in the kit makes it even easier to transport the speaker. We can hang the equipment over our shoulder and carry it with us all the time without having to take a hand. It's okay to make an accessory, and it's definitely a convenient solution in the long run. Especially that we should not worry about rain and other splashes.
Impressions of use
Pairing the speaker with the device you want to play music from is very easy. The first launch immediately calls up the appropriate Bluetooth mode , so you just need to find the Soundbarrel position on your smartphone or computer and connect. It is a bit more difficult with subsequent connections and equipment control in general, because it is not very intuitive.
However, about the control literally in a moment, because for the sake of formality I would like to point out that the wireless connection itself does not cause any problems. Both range and stability are at the appropriate level. An interesting feature is the option of pairing with a second loudspeaker to make them sound in stereo. It is natively supported. There is no question of additional smartphone applications or software updates.
You already know that you will find four buttons on the top of the Hama speaker. They provide the basis for all hardware functions, so you need to know what and where to click to activate the desired mode or connection. Therefore, at the beginning, it is worth looking at the user manual to be able to quickly learn how to answer or reject a call, as well as how to even activate the pairing mode.
It's just that the whole thing is unnecessarily complicated and different gestures can be irritating depending on a single or double click as well as a hold. Only on the other hand, it all takes some getting used to and learning, in order to stop being mistaken and irritated less often or not at all over time.
The sound quality matches the price
For less than USD 110, we cannot expect the sensational quality of everything. Therefore, the microphone is very average and it is better to talk on the smartphone's speaker so that the other person can understand us without a doubt. In terms of the quality of the speaker itself, it's not bad. It is worth remembering that the Hama Soundbarrel supports several sound modes – internal, external and spatial.
In practice, this translates into boosting high and low tones. I completely reject the spatial mode, because all the music is very flattened and it is just bad to listen to. Due to the fact that there is no shortage of treble in this speaker, it is worth choosing a mode that adds more bass and not to change it anymore.
It is in this setting that we best appreciate the capabilities of the Hama Soundbarrel and now we can sit down and listen to how the reviewed speaker sounds. First of all, size goes hand in hand with loudness, so the maximum volume should be enough for everyone. Maybe it is even exaggerated, because it is enough to exceed a certain limit for unpleasant distortions to appear. Nevertheless, this limit is set quite high, so we can still talk about a loudspeaker with decent quality.
I will repeat myself, but you cannot expect miracles for less than 400 zlotys, so the Hama Soundbarrel must also have its drawbacks in terms of audio. Apart from the aforementioned inconveniences, I will also throw in low tones. The bass is audible, but quite slow and not as intense as we would expect. However, the chunk does occur, so don't worry about obvious shortcomings. Medium and low frequencies do not have such problems anymore and it is even hard to fault them, because overall the Hama Soundbarrel sounds very nice and at its price is a great proposition.
A large speaker allows for a large battery to fit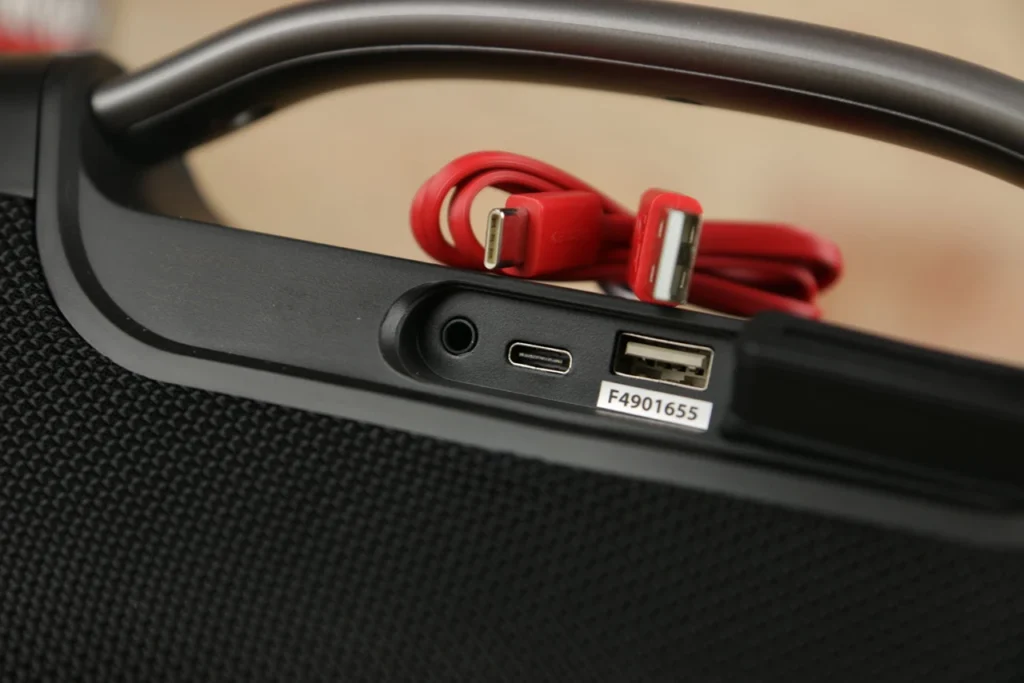 The sound quality is behind us. But how long can we enjoy it? Well, a very long time. The manufacturer states that Hama Soundbarrel can withstand 8 hours at 70% volume, 12 hours at 50% and even 30 hours at 10%. These are quite specific measurements and they are reflected in reality. Above 70%, there is the aforementioned line, which we do not want to cross, so 10-12 hours of work is really possible.
The automatic switch-off after 10 minutes of rest is also a plus. It also has a positive effect on extending the life of the equipment when the equipment itself (fortunately) does not radiate colors, informing that it is turned on.
Of course, the speaker still needs to be charged. Hama Soundbarrel does not support any fast charging technology, so any power supply with a capacity of at least 10 W is enough. Regeneration takes less than 4 hours.
Read Also: Review of Huawei Sound Joy portable and wireless speaker with nice bass
Hama Soundbarrel review – summary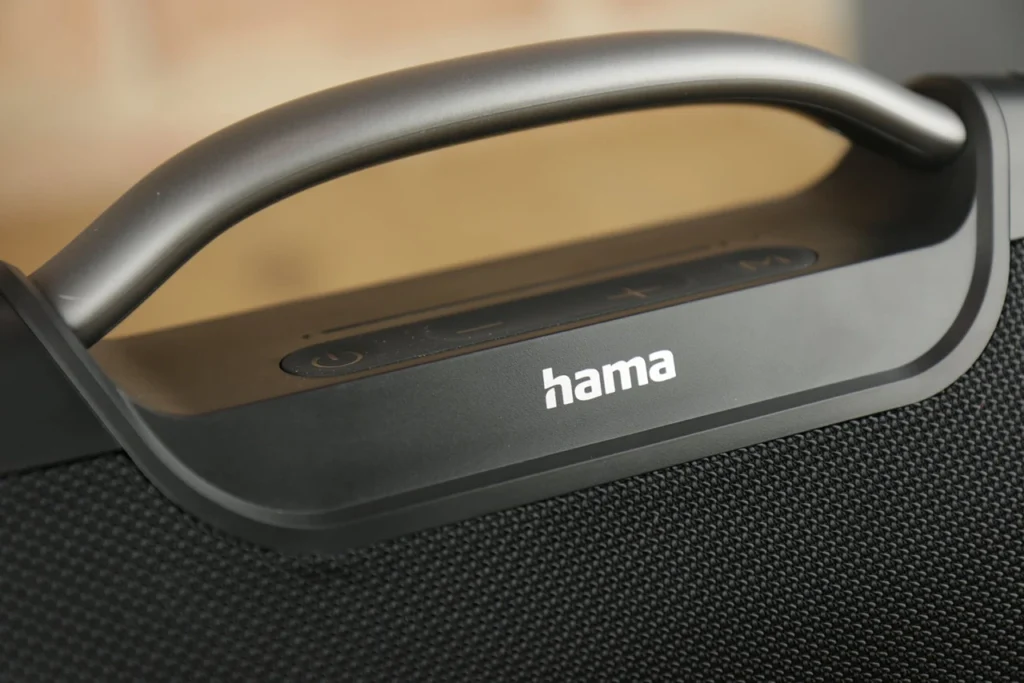 The Hama Soundbarrel is a large loudspeaker that is loud and can work for a long time. In addition, it is waterproof and makes life easier in transport. If we add a relatively low price to that, it creates a really good proposition. You can invest in more expensive loudspeakers when we want better sound in the upper volume or when we need a more powerful bass. However, in other cases, the Hama Soundbarrel should have worked flawlessly.
About Post Author