Realme TV RMV2005 review
Image quality

Sound quality

Remote and operation

Operating system

Production quality
Realme TV RMV2005 review in two sentences
realme TV RMV2005 is an inexpensive TV set that should fit well among young people who are entering adulthood. It has the most important features for them at an affordable price, despite many well-set compromises.
The Chinese manufacturer grew very quickly on the telephone market, and following the example of Xiaomi, they decided to expand their business with televisions. The realme TV RMV2005 review will show whether the first 4K TV from this manufacturer, available in USA, is worth it.
Benefits
Sound quality
Fluid system
A good remote control for streaming
Decent image quality
Disadvantages
The TV is average for gaming
Poor build quality
Set and price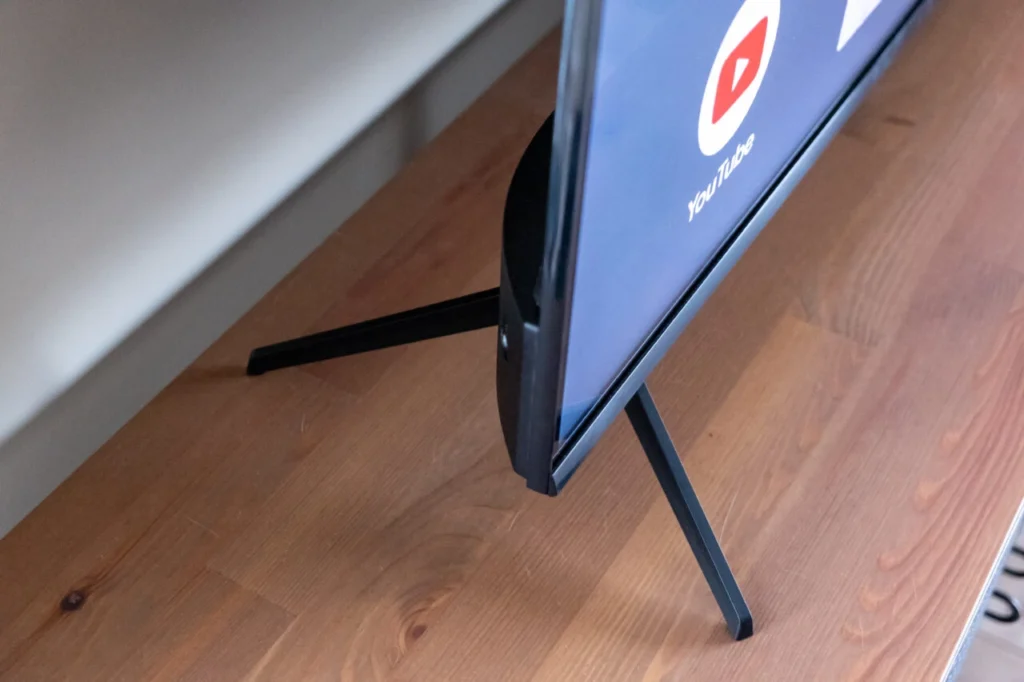 Realme TV RMV2005 comes in a standard, small cardboard box that corresponds to the dimensions of the TV. Inside you will find a standard set, because the remote control, power cord, some paperwork, feet and an AV cable . The whole thing is reasonably secured, so we should not be afraid of transporting the TV by courier companies. 
Realme TV RMV2005 specification
Diagonal 50 inches
Resolution 3840 x 2160 pixels
DLED backlight
Wifi 5G and Bluetooth 5.0
HDR10 + support
Four 24 W loudspeakers
330 cd / m2 maximum brightness
Refresh 60 Hz
Dolby Atmos and DTS support
Google TV with Chromecast
Connectors: HDMI with ARC, 2x HDMI, 2x USB, antenna, LAN, AV and tuner
Build quality and build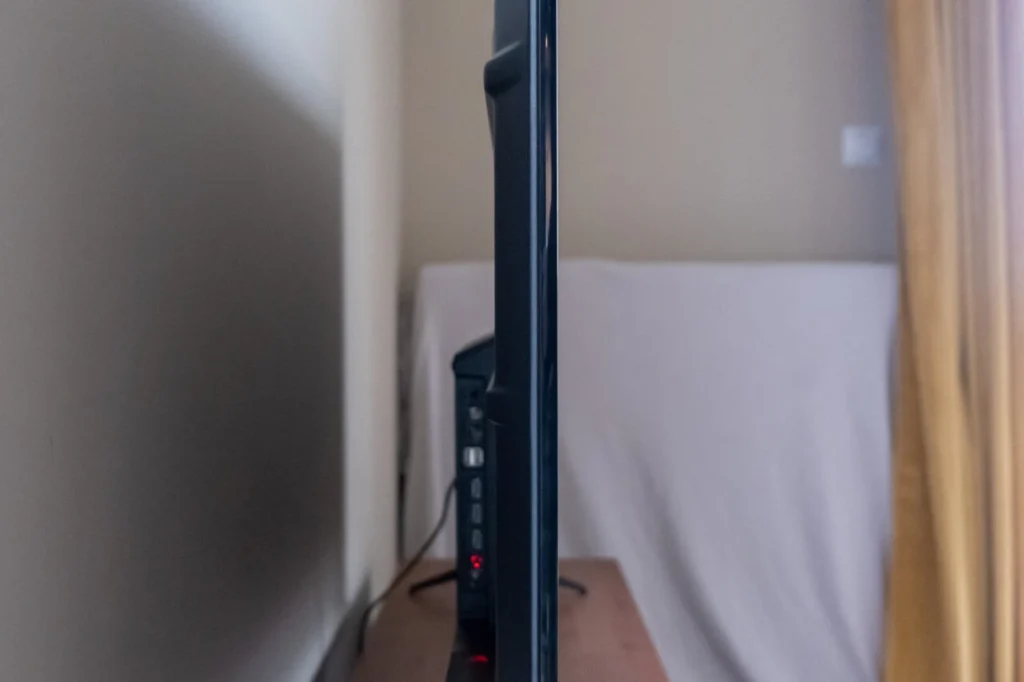 The realme TV RMV2005, which is the subject of today's review, is a low-end TV, and it is made that way too. It is quite a slim structure that should easily stick to the wall. The TV itself is fully plastic, but has a rather surprising component on the front. More specifically, I mean the bottom bezel, which is made of glossy plastic that scratches easily. There is no manufacturer's logo on it, or anywhere else on the front of the TV . Of course, all connectors are located on the back of the TV set, they are located close to the center, which makes quick access a bit difficult if you decide to hang the TV.
The legs are another element that disappoints a bit. They are made of poor quality plastic, and they are placed very wide , so we need a table with the width of the entire TV set to be able to place it freely. The TV also sways quite heavily on them, which, taking into account the availability of models such as Hisense A7GQ, which is only USD $45 more expensive, can be sad.
A small but convenient remote control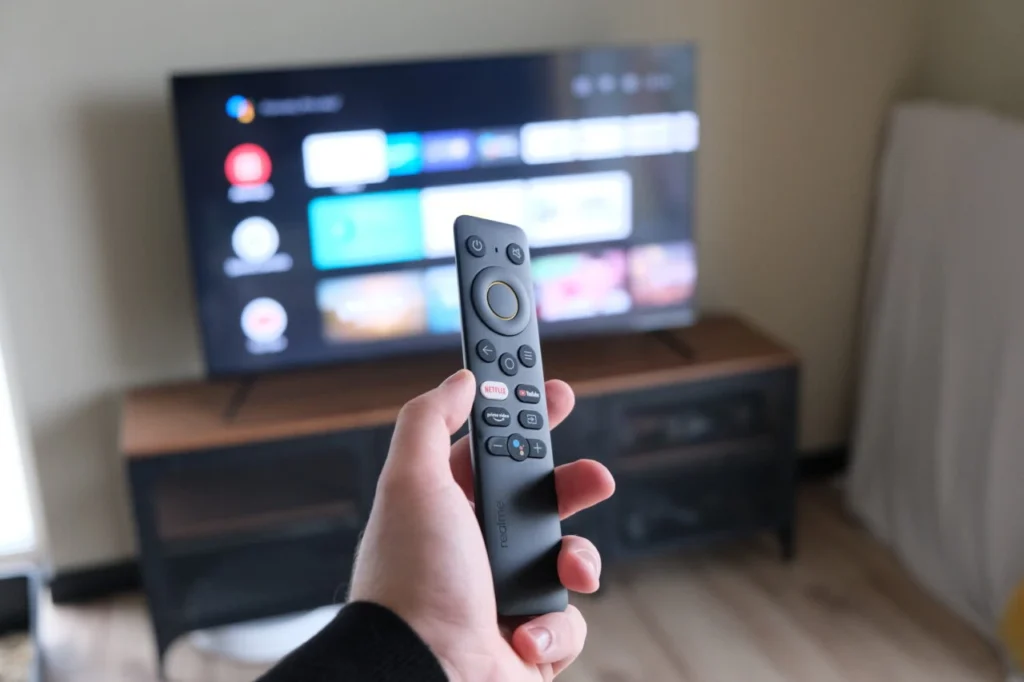 realme TV RMV2005 is equipped with a small and very comfortable remote control. We will find shortcuts to three applications, invoking the Google assistant and not much else. It will be perfect for people who prefer to use an in-built system and streaming services it offers, or people with an external digital decoder. The inability to enter channels will likely scare terrestrial TV fans effectively. The remote control that comes with the realme TV RMV2005 is well-made, has a very pleasant key travel, and at the same time is well-balanced. The TV very easily picks up the actions taken, even from behind the blanket.
Google TV runs smooth but is terribly slow
Recently, I apologized a bit about Google TV, which has the most streaming apps on offer. realme TV RMV2005 is equipped with an ARM Cortex A53 processor and 2 GB of RAM , which ensure very smooth operation immediately after starting the TV. Another issue is that realme TV RMV2005 needs to boot up for a while . It is not the fastest operation, and it can take up to 10-15 seconds. Even so, I prefer the TV to boot up longer, but run smoothly from the start, rather than giving it two or three minutes to stealth boot up.
After starting the TV for a long time, we see the main screen, which immediately suggests many different productions, although for me the most important is the application store. In it we will find practically everything that is on the Android system , and thus, it would be difficult if anyone could not find the application they require. I used mainly standard applications, such as Canal +, Netflix or Disney +. Each of them worked very close to each other, that is, it preferred smoothness over speed.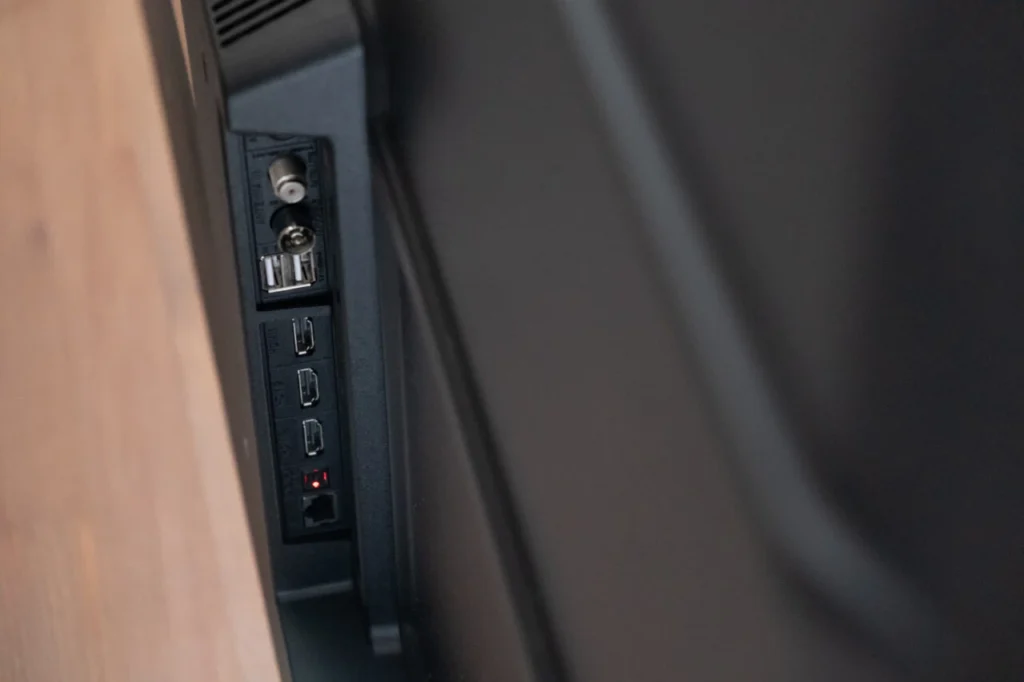 However, there were no problems with jamming, and thus skipping to the next movie, applications did not close automatically, but you can forget about recalling them from RAM. They almost always had to restart completely from scratch, and we started from the start screen.
Chromecast is a very convenient option which is my favorite feature on Google TV. It allows you to quickly and conveniently run applications such as Spotify, HBO Max, or Disney +. For everything, we only need our smartphone on which these applications will be installed. It was a much more convenient option for me, especially since many applications have recently had big problems with passwords saved in their Google account . I don't know why, but both Disney + and HBO Max did not allow me to log into my accounts using this option.
A small amount of image options
Unfortunately, but realme TV RMV2005 does not provide us with too many options for image modification. Of course, we will change the modes, of which "Movie" is the best option, but apart from that, we do not have much room to show off. On the one hand, it does not surprise me, after all, this is not a TV set aimed at cinema fanatics, which can also be seen in its price, but on the other hand, such solutions are never enough.
Image quality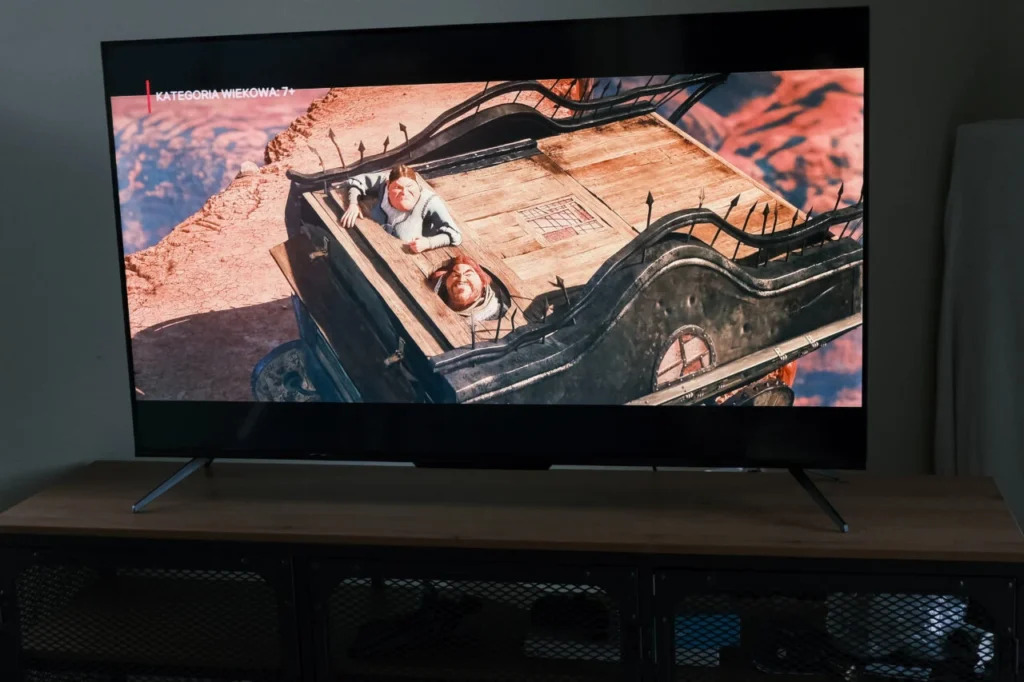 The image quality itself is at a decent level. The TV has its better and worse moments, which depend on the types of production. realme TV RMV2005 is a great TV for breakfast TV and the most popular American tapeworms like Dr. House. It presents natural colors, without excessive saturation and distortion, except for pink, which turns slightly purple. Unfortunately, it can be seen sometimes on the actors' skin, but it is not an element that definitely imposes itself and is usually shown in animated or poorly colored films.
In the case of dark productions, there are already bigger gaps. The reviewed realme TV RMV2005 had a lot of problems with shadow detail, which he liked to whip on a regular basis . This was especially true of films like Dunkirk or 1917, where the scenes in the trenches were already very poorly visible.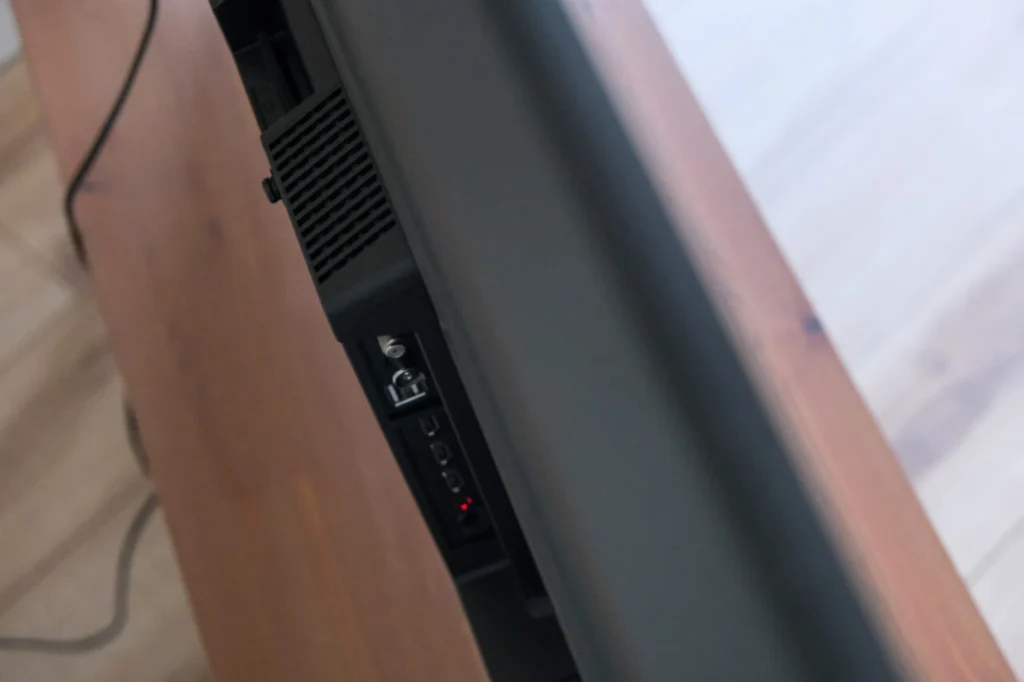 Interestingly, animated films like Shrek presented themselves much better. realme TV RMV2005 offered very high quality for productions aimed at younger audiences. In their case, the TV did not have such visible problems with details in the shadows, and at the same time the bright parts of the screen were very well readable.
The maximum brightness at the level of ~ 310 cd / m2 measured did not allow for the powerful HDR effect , therefore I do not want to complain about the lack of the Dolby Vision standard, which, however, is my favorite among currently available solutions. The colors were very pleasant, despite the coverage of about 88% of the colors in the DCI-P3 palette and the average display error of Delta E around 4.5 . Let me remind you that the ideal coverage of the color palettes is less than two. Then the differences should not be distinguishable by the human eye. In this price range, I still consider it a decent result, especially taking into account the overall device.
Sports and games are average
The realme TV RMV2005, which is the subject of this review, however, performed very mediocre in games and sports. The motion blur was quite significant. This effectively made it difficult to see car numbers in Formula One races or keeping up with the ball in other sports. In the case of games, the input lag is also noticeable , which disqualifies the TV from being able to play at a competitive level. The obtained effects made the gameplay pleasant in the case of simpler games, a bit slower, or just to share Mortal Kombata with friends. However, I would not risk playing F1 22 online or popular FPS games at a higher level.
The sound quality is surprising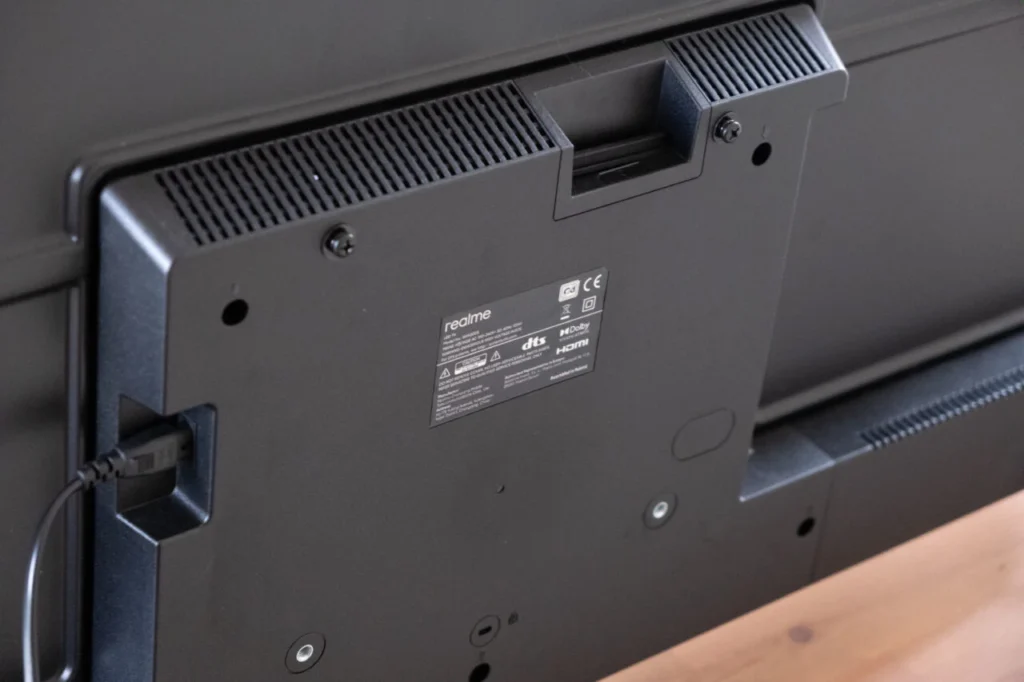 After a small, inexpensive TV, I didn't expect much. realme TV RMV2005, however, positively surprised me, although it was not yet full of enchantment with the quality obtained. All dialogue except for some moments in Shrek was fully understandable to me, and the reviewed TV also performed very well with music and games. While it is average for gaming, I enjoyed watching live broadcasts of games very nicely.
It is similar with listening to music, although here it is worth staying with calmer music, like Kortez or Amy Winehouse. Fast jazz was much more of a challenge and music lovers might not be delighted with it. However, as a background for cleaning the apartment or cooking, they are completely sufficient . Let me remind you that the reviewed realme TV RMV2005 has been equipped with four speakers with a total power of 24 W.
Is realme TV RMV2005 suitable for a bright living room?
Maximum brightness, which is just above 300 cd / m2, is not the best solution for the main TV in the living room. The matrix used also reflects the light quite strongly, which makes it very easy to reflect on the screen . This is a very troublesome issue, so I would advise you to place the TV in rather shaded places, or in rooms on the north side.
Realme TV RMV2005 review – summary
The realme TV RMV2005 TV set is clearly equipment with a lot of compromises, but quite well thought out . The TV offers very good sound quality for this price range and decent picture quality. The operating system from Google means that we have a choice of a huge number of applications, as well as simply high smoothness of operation. You can complain about the speed a bit, but the compromises had to show up somewhere.
The weakest element of the TV is its build quality , which for many is the least important. Taking it out of the box and wiping it off the dust once a month are the only times when you will feel it. Well, unless we have a pet that will happily jump around the TV. My little cat was not a threat, but the other big cat was already making the TV squeak and sway.
About Post Author