The Hisense 55A7GQ is an affordable TV that delivers great picture at its price shelf. The TV set is based on the proprietary VIDAA system, which has its problems, but overall it works very well and is dynamically developed. All this is topped off with good build quality and quite good audio for a TV of this class.
The Hisense 55A7GQ review shows that this is the perfect TV for people without a blown budget for this type of equipment. The company is relatively unknown in India, but it is starting to push itself harder on the market.
Hisense 55A7GQ review in three sentences
Hisense 55A7GQ gives you a very good picture after a few moves in the menu. Nice sound follows, and lots of modification options. The built-in system works very well, but unfortunately doesn't have many applications.
Price and quality of workmanship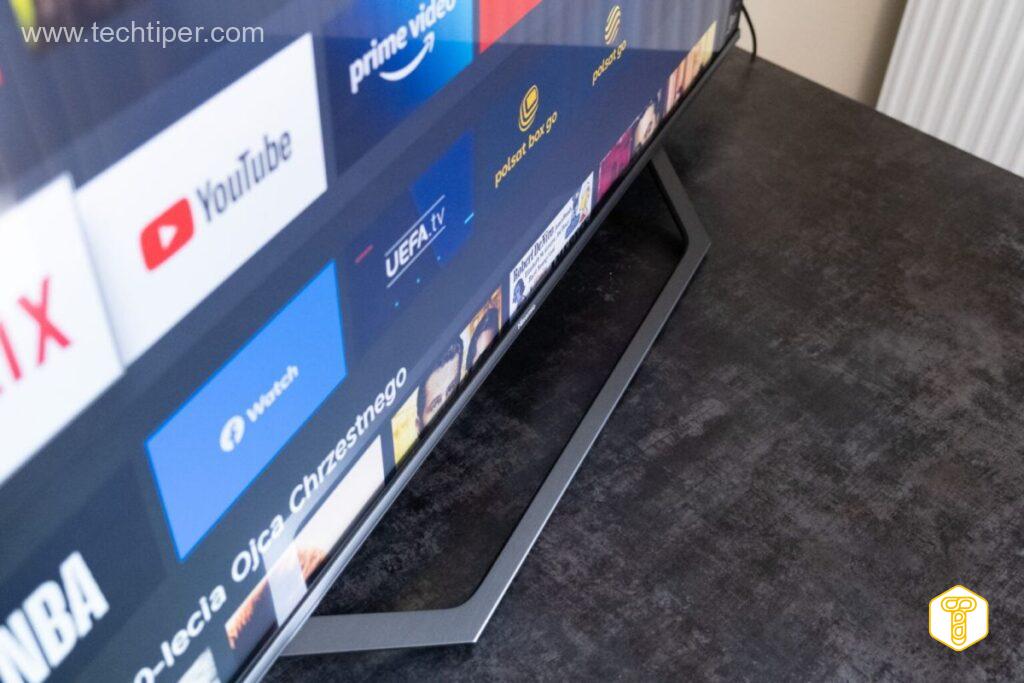 The Hisense 55A7GQ currently costs is Approximately ₹45,900 , which is a very reasonable amount for what we get. The packaging is very standard for a TV set. The TV is neatly packed and we shouldn't be worried about its condition upon arrival. The manufacturer informs us about Dolby Vision support, QLED technology, several applications and a game mode from the very beginning.
Read Also: Review of Xiaomi Mi TV P1 43 LED: 4K TV with high-quality picture and multimedia
After opening, it's time to unpack the whole thing. At the beginning, our eyes will see a stand, which after putting it on is very stable. On a big plus, the possibility of hiding the cables on both sides of the base. If we are going to put it on a TV cabinet or a chest of drawers, it is definitely a much more aesthetic option than simply running the cables down. I recommend taking the TV out by two people, especially for less experienced people. Screwing the leg is very simple, we screw in four screws and we can start our TV set.
The frame is very thin and fades when watching movies. A very big advantage is the large number of available connectors. The set even includes a composite cable. This is, of course, archaic technology, but I know a lot of people who like to play on old consoles. The full list of inputs and outputs can be found in the subsection below.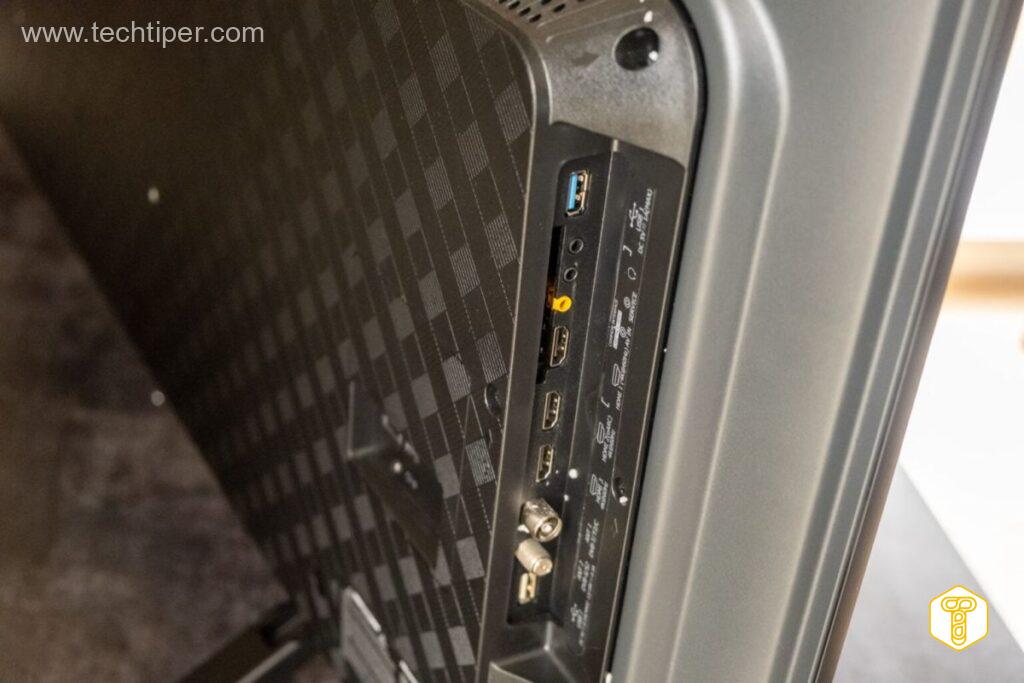 Hisense 55A7GQ specification
Diagonal 55 "
Resolution 3840 × 2160 pixels, UHD
DirectLED backlight
QLED technology
Refresh 60 Hz
Contrast 1200: 1
350 nits brightness
HDR formats: HDR10, HDR10 +, HLG, Dolby Vision
Audio formats: Dolby Atmos, WMA, FLAC, MP2, MP3
2 × 10 Watt speakers
Connectors: 2x HDMI 2.0, 1x HDMI 2.1, 1x optical output, 1x USB 3.0, 1x USB 2.0, RCA, headphone output, 1x AV, Ethernet RJ45
VRR, ALLM, eARC support
Hisense 55A7GQ, which is one of the few televisions that has been on the market for more than one year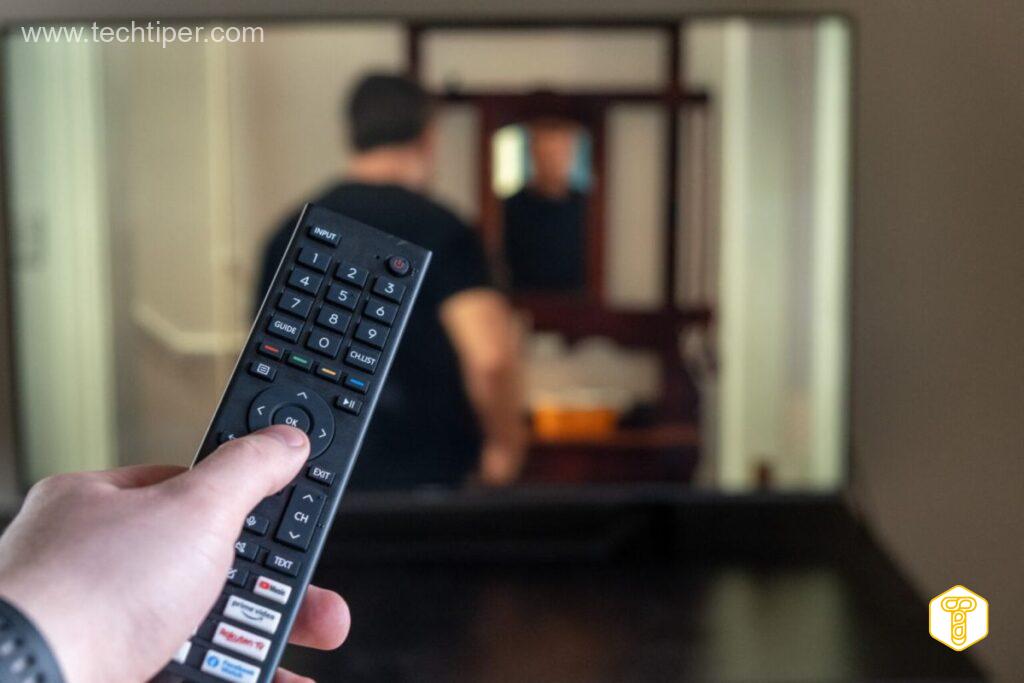 Every year, most manufacturers present new models in all price ranges. While it makes sense in the highest segment, because new technologies are being introduced, there is no such need at a lower level . Often, ideas from flagship models are cheap too slow to be relevant to budget or middle-class men.
Additionally, new models are often more expensive straight away, and the price does not always justify the image quality.
I preferred to buy an older TV model myself, because a newer TV with a similar picture cost 25% more. Hence, I think Hisense's approach here is very reasonable and the fear of last year's model doesn't make much sense. 
VIDAA, i.e. a positive surprise
Hisense 55A7GQ is based on a proprietary operating system called VIDAA. It has many advantages, but also a few disadvantages that should disappear with time. So let's start with the pluses of this system. Hisense 55A7GQ TV works very smoothly . All applications run smoothly, even when switching from one to the other.
It will sometimes take a little longer to go through Netflix -> HDMI -> YouTube, but it's not a big deal. On the remote control, we have buttons that take us directly to the most popular applications, including Netflix, Prime Video or YouTube. It makes the process of changing the application that we use much easier and faster.
Another advantage is the simplicity of this system. Everything is served on a plate and you don't have to look for anything. Televisions with the VIDAA system are perfect even for older people who are a bit confused with technology. At the beginning, the TV shows us not only the American giants, but also the CDA application, which will probably be used by many people in India.
Correction of image elements is also very simple and legible, but I will come back to it a moment later. The built-in file player also deserves recognition. With its help, we can play virtually everything, except for Dolby Vision files. Longer HDR10 movies play without a hitch, and some Smart TVs have minor issues with this.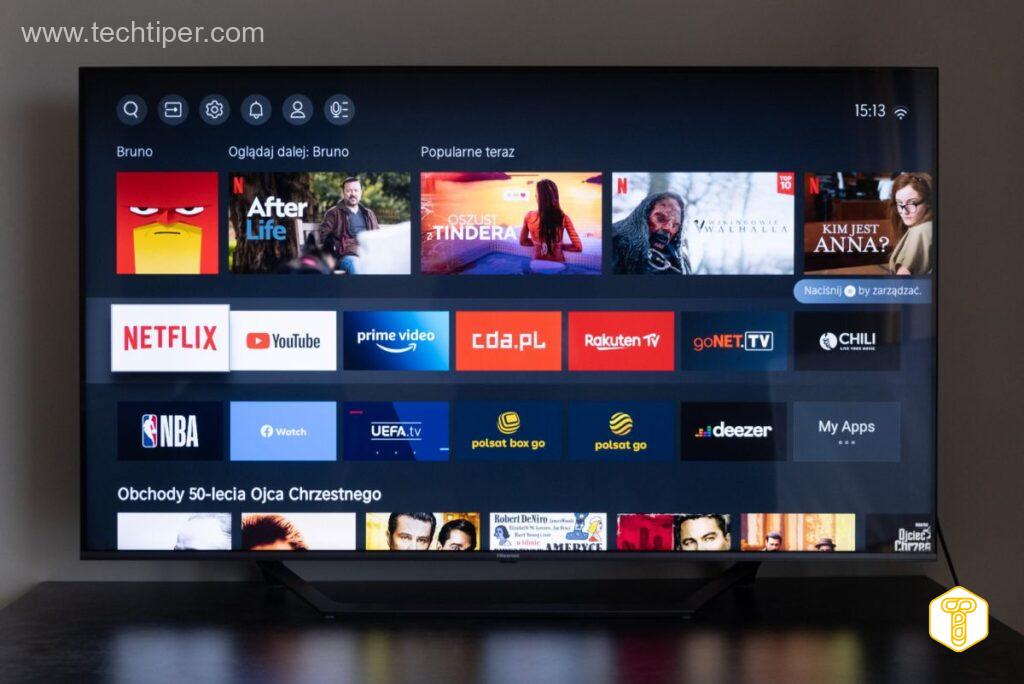 The proprietary system also has its drawbacks
Time for the only, but big, disadvantage of the VIDAA system. Many popular apps are missing. Of course, Hisense boasts a very large base of sports applications. Hence, among others, their sponsorship of the Paris Saint-Germain football team, or being a sponsor of UEFA Euro 2020. Among the available apps, we can find NBA, UEFA.tv, RedBull TV and many others.
On the other hand, there are no music applications, because we only have access to Deezer, which is not very popular in India, and YouTube Music. We will not experience Spotify or Tidal here. There are other shortcomings among Indian streaming applications.
Personally, it doesn't bother me, because I often prefer to connect my laptop to the TV, but I know many people who reject the TV right away without these applications. The manufacturer assures that he will develop this segment, but at the moment we have to be patient or just buy a Smart TV box.
We have a remote, but there is also an app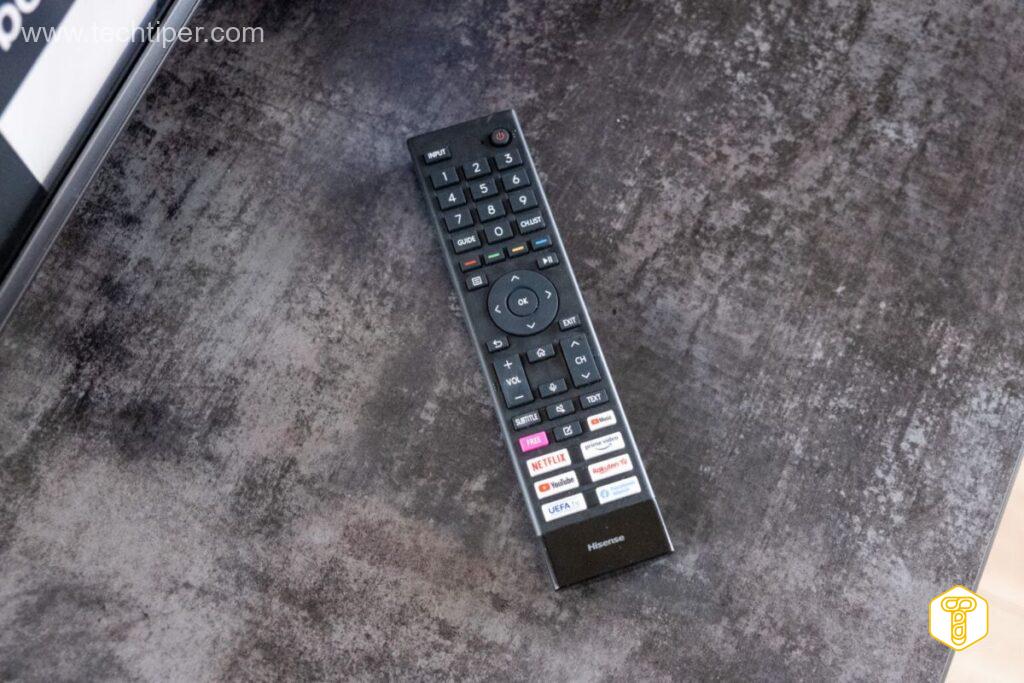 The remote control is not the only option to use the TV, although for me it is the most convenient. The remote control that comes with the Hisense 55A7GQ TV is quite large. Despite this, it is comfortable in the hand and using it is quite comfortable, but you have to get used to the placement of the buttons.
The button that takes us to the menu reminds me more of a teletext button, and the Home button is in a not very convenient place. After a long time, of course, I got used to it, but if someone changes from a minimalist Samsung remote control, it may be a surprise.
Connecting the application to the TV is very easy. Just make sure your phone is connected to the same network as Hisense 55A7GQ, then select your TV and rewrite the code from the screen. In terms of the use itself, the application was less convenient for me than the remote control.
It basically has the same basic functionality as the included remote, but is sometimes harder to get to. However, it is a good solution when our batteries are low and we do not really want to go for new ones.
We also have some additional options. Among other things, it is possible to enter text from the application . It is very convenient when we want to find specific materials in the application. I've used this to search for specific YouTube videos, and it worked very well. The typing delay is not great, and it speeds up the search process considerably. This can also come in handy when you want to use the built-in browser.
Image quality, which is great
The Hisense 55A7GQ is an inexpensive TV, so there is no point in looking for Local Dimming or other options of this type. Despite that, it's pretty good. I would like to mention that the description was carried out with enhancers turned off, in the "Day Cinema" or "Dolby Vision Bright" mode with the image temperature set to "Warm1". These settings gave me the best image right out of the box. Let's not forget that the matrix in IPS technology does not provide the perfect black or the greatest contrast. This results in the loss of detail in blacks, which is slightly annoying in dark scenes.
Of course, mainly for people who have had contact with much better panels, where these problems do not occur. If a VA matrix was used instead of an IPS matrix, the problem would be smaller due to the better blacks that this solution offers. On the other hand, bright movies and series literally shine on the screen. Watching colorful animations or nature programs is a feast for the eyes. Relatively high brightness allows you to enjoy your favorite materials without any problems, even on a sunny day. HDR makes a positive impression, but for even better results it lacks a higher brightness, which we will not see in this budget anyway.
Thanks to the use of QLED technology, however, we have a very wide range of colors that is visible to the naked eye. The numbers from the measurements will be lower. The use of rear illumination makes the Hisense 55A7GQ offer relatively even illumination, with slight leaks at the edges. This makes dark scenes, such as the starry sky in Star Wars, lose a bit.
I expected more from the sport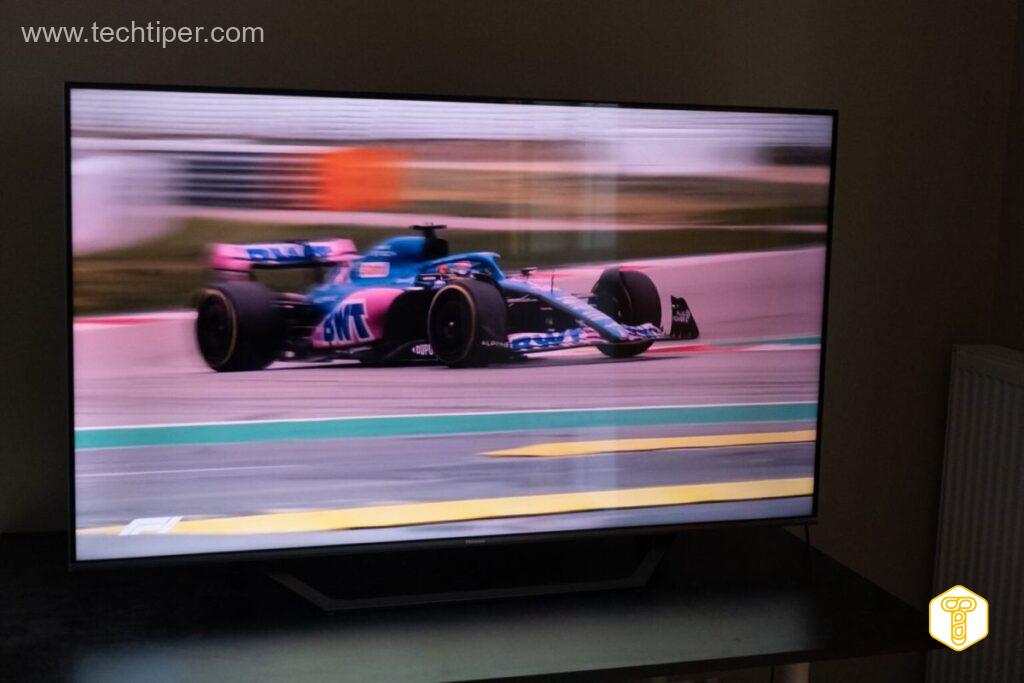 I cannot say that I am the person most interested in sports channels, but I will never despise Formula 1. For this reason, I decided to watch some of the archival races and I have to say that the feeling is fine. The movement is relatively blurry. You can see it in the photo above, although it absolutely does not bother me. Nevertheless, from a TV with such marketing, I expected a bit more.
However, my friend, with whom I watched an excerpt of the race, is very used to the traffic smoothing function on his TV. For this reason, I decided to turn it on for a while. He liked the image obtained in this way, although to me it seemed unnatural.
After ten minutes of watching I got used to this presentation and it was enjoyable to continue watching. Disabling this mode made the image feel stuck, and again it took a few minutes to get used to. So I can confidently admit that the fluidizer works well, and whether we decide to use it is a matter of personal preference.
There may be no 120 Hz refresh, but the games are a pleasure
After a long session of playing, I can confidently say that it is a great feeling. The low-latency auto-detection mode works fine, staying around 15 milliseconds. It may be too much for professional gaming, after all, professional players have a reaction time of about 200 milliseconds, but playing on the console with friends is a great pleasure. All games were run with the help of the Xbox S. The titles include Forza Horizon 5, The Hunter: Call of The Wild, Mortal Kombat and Battlefield V.
Measurements, i.e. a positive surprise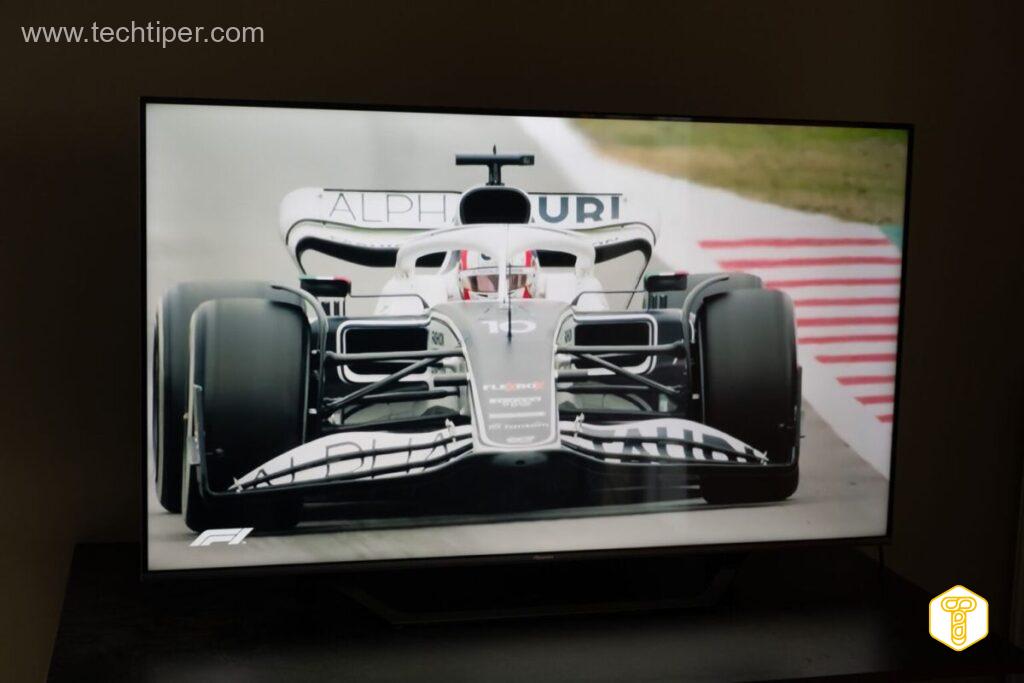 In the mode in which I tested the TV, that is the Day Cinema with the color temperature set to "warm1". And I am enchanted by the results I have seen. I took the measurements using the X-Rite i1 Display Pro calibrator and the HFCR Colorimeter application.
Most of the colors except yellow showed an error below the human eye perception scale. This is a really amazing result in this price class of equipment. The only section that stands out is white, which recorded a score of 4.5. The color temperature is around 6,500 Kelvin, which is considered a target for televisions and monitors.
You can check all the more detailed information on the screenshots from the HFCR program below. Delta E is responsible for the difference in colors, and a value below 2 or 3 (depending on the person) is considered imperceptible to the human eye.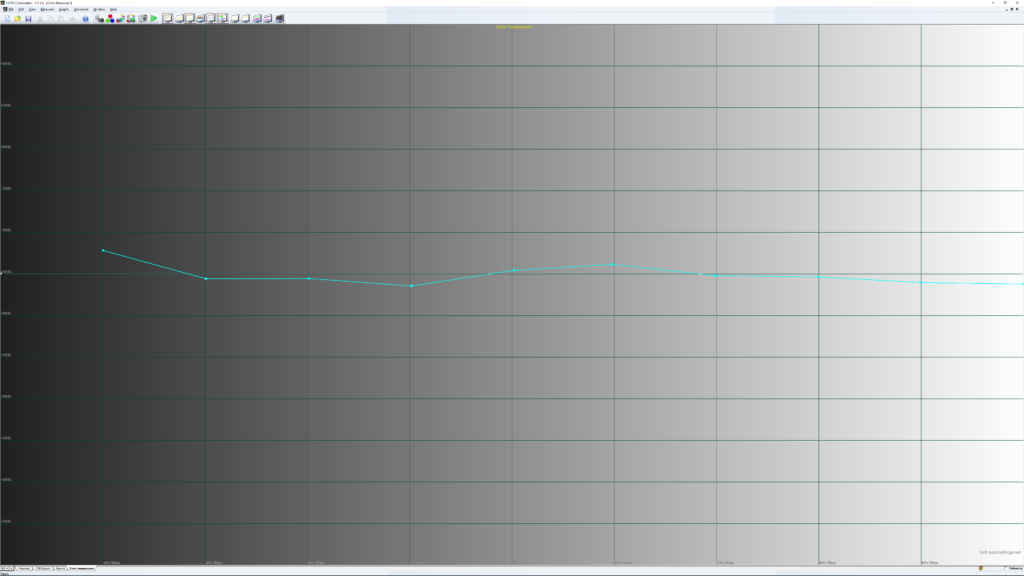 A sound that does not impress, but also does not disappoint
The sound quality of the TV is pretty good . It is not the best audio I have heard, but for a budget screen it is doing really well. The dialogues are clear and the music is quite dynamic. We have nothing to expect, however, a sound that is breathtaking and shakes the neighbor's chandelier. We will not hear a powerful subbass here either.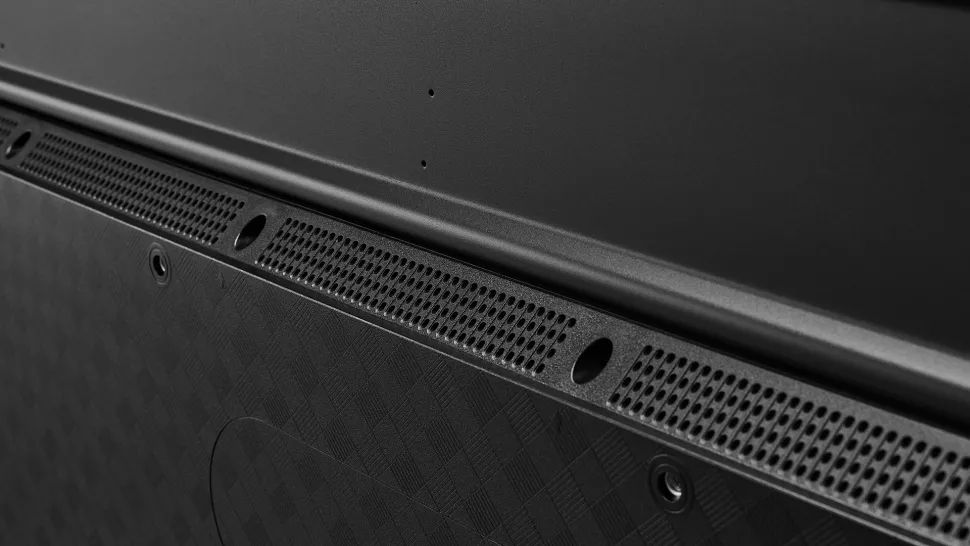 The volume, however, is more than enough. In the living room myself, I used the TV mostly with the potentiometer set to 10-12. I could even turn it down a little, but then a very interesting thing happens. In the range below 7-9, the sound quality changes a lot. It becomes more nasal, unnatural. Another such jump is at values ​​19-21. The sound then gets a nice dynamic jump and sounds even better.
Interestingly, Hisense also offers us some introductory audio presets and an equalizer. From the predefined modes you can choose from Standard, Theater, Music, Speech, Night and Sports. In my opinion, the first two options are the best options. The equalizer works, but in an unnatural way. You can have some fun at a party, but in the long run, this is a rather mediocre option. If we want better sound quality, I would suggest buying a soundbar.
Read Also: Apple TV 4K (2021) review of smart set-top box with Siri in remote
Hisense 55A7GQ review – summary
The Hisense 55A7GQ is the perfect affordable living room TV. The proprietary VIDAA system works well if we do not need applications such as Spotify or Player TVN to be happy. A huge surprise for me is the fact that a TV costing only ₹45,900 for a 55-inch version is able to have such small display errors. All this is complemented by quite good sound and a lot of possibilities to adjust both the image and the sound to your taste.
I believe that Hisense TV sets are able to make a small revolution on the Indian market, they only need a little more publicity.
Benefits
Image quality
Sound quality
Smooth operation of the VIDAA system
Nice maximum brightness
Can be operated by the application
Disadvantages
Few applications in the system
---
About Post Author
Hisense 55A7GQ review
Image quality

Sound quality

Built-in system

Production quality

Remote control and application
Summary
Hisense 55A7GQ gives you a very good picture after a few moves in the menu. Nice sound follows, and lots of modification options. The built-in system works very well, but unfortunately doesn't have many applications.