Sonos Ray review
Sound quality

App

Production quality

Possibilities to connect

Service
Sonos Ray review in three summary sentences
Sonos Ray is a very good sounding soundbar for its price range. It is very well made and its networking features are top notch. However, it lacks HDMI, and the manufacturer did not think about people with remotes operating via Bluetooth.
Sonos Ray is advertised by the manufacturer as a soundbar for a second TV. However, I checked it mainly for the main screen use, although if it were not for one thing, it would work perfectly in a slightly different application.
Benefits
Sound quality
Connection stability
Design and execution
Universal sound
Sonos' networking features are great
Disadvantages
Only optical input and Wi-Fi
Necessity to operate via a remote control with IR or an application
An optional subwoofer far exceeds the cost of a soundbar
Set and price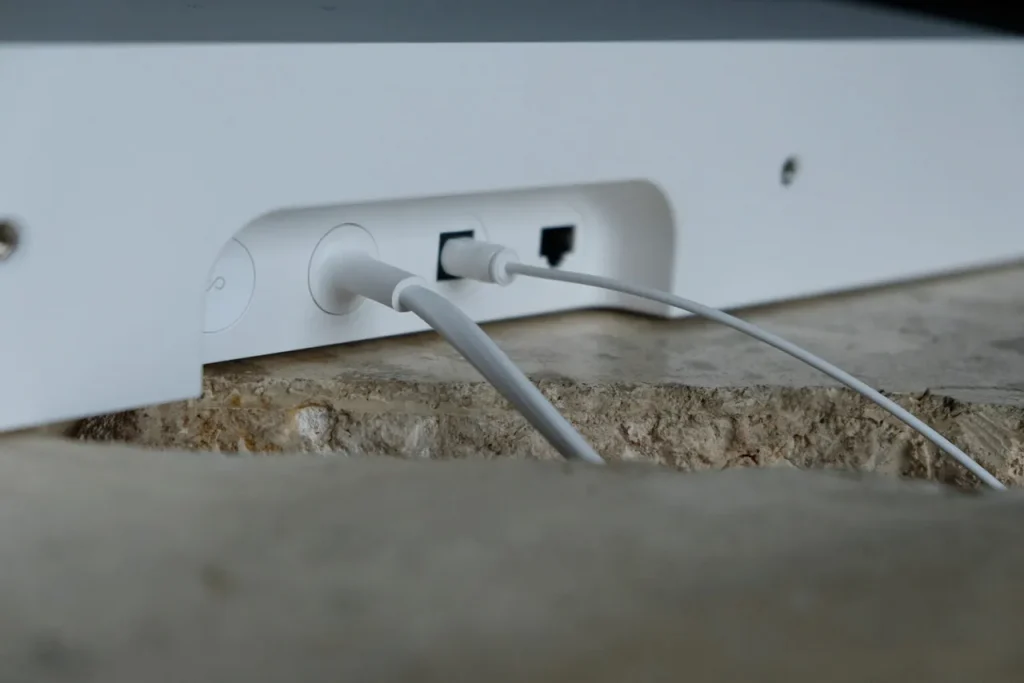 Sonos Ray comes to us in a nice, simple cardboard box with little inside. In addition to the soundbar itself, we find here only a thin optical cable and a power cable. A nice bonus is that both cables are the same color as the hardware , which makes them less conspicuous.
The power cord at the plug, which is the popular eight, has a circular safety lock that locks into the soundbar. The removal itself is as simple as the standard, but it is much harder to damage the socket if you accidentally pull the cable.
The Sonos Ray costs USD $269.00 , which makes it the cheapest soundbar in the American manufacturer's offer. It is of course available in two colors, black and white.
Build quality and build
Like most Sonos products, Ray looks very minimalist, but elegant at the same time. Simple shape, hidden logo, unobtrusive buttons. Thanks to this, the reviewed Sonos Ray will hide very well in a modern apartment, but it will be a bit at odds with the rustic decor.
In this case, the Samsung HW-Q800A will fit much better . In terms of build quality itself, it is also very good. The finish is made of plastic, which is pleasant to the touch, does not get dirty and does not catch too much dust. The front grill is also made of plastic and has an elegant manufacturer's logo in the center.
Wall hanging? No problem
Sonos Ray has two M5 thread holes on the back, thanks to which we can hang the soundbar directly on the wall. However, a dedicated bracket for the soundbar will be useful for this , but allows you to even stick the equipment to the wall.
Sonos Ray – specification
Dimensions (H x W x D): 71 x 559 x 95 mm
Weight: 1.96 kg
Three capacitive buttons
WiFi 2.4 GHz
Optical input
10/100 Mbps network input
IR sensor
AirPlay2 support
Sonos Ray – use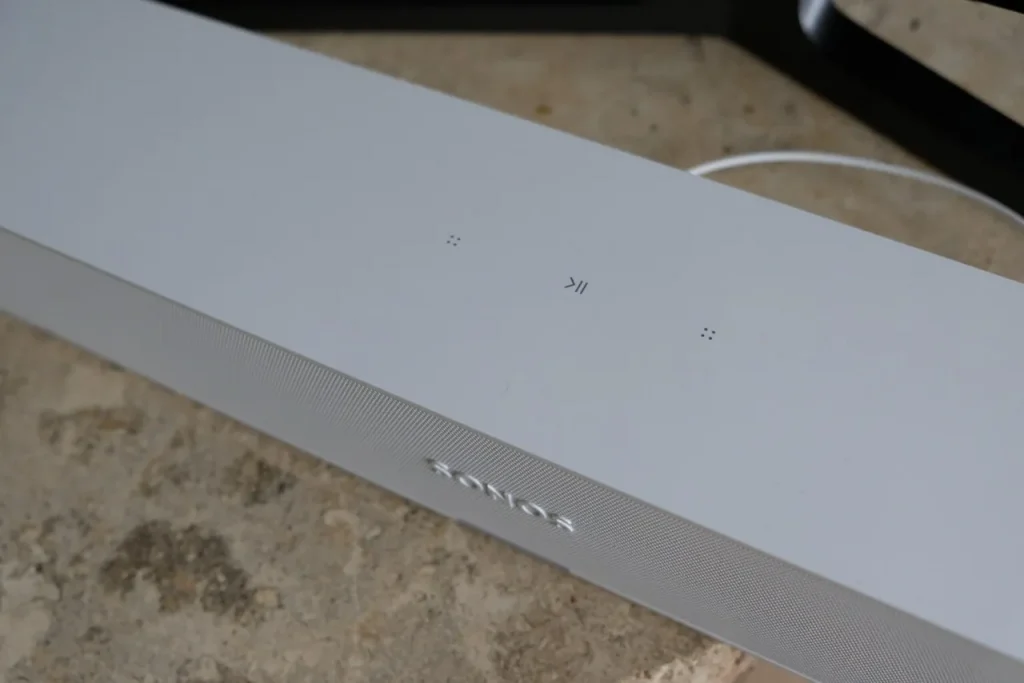 Sonos Ray is minimalist not only in terms of design, but also the option of using it. First of all , the set does not include a remote control , so it should be configured with the remote control of our TV set, if this one works via IR. If we have a TV from, for example, TCL, where the remotes are Bluetooth-enabled, we can stop thinking about the reviewed soundbar right away.
This is quite a bothersome matter, especially since in my case the volume on the TV jumps in a different way than the soundbar perceives. In fact, I never know what volume is currently set. The equipment itself turns on after transmitting the sound from the TV and is fast, and it is practically right. Some devices with this feature have had trouble waking up.
Why only an optical input?
Sonos Ray only works over Wi-Fi or a so-called optician. There is no analog or HDMI input here. The lack of HDMI disqualifies Sonos from some TVs, and the presence of only an optical input disqualifies the soundbar from use on a computer. I myself would be very happy to use the reviewed product at the computer, because it would fit perfectly under the monitor, and in the current heat I do not really want to sit in the headphones. The cost of converters to optical output is often around $100 , so many people will probably choose another product with an AUX socket, or even USB.
We will not find Bluetooth either
This type of wireless connection is also in vain for us to find in the Sonos specification. It would be useful to operate the remote controls of some TV sets, or in the case when we want to listen to music and the router has died. Personally, I think Sonos flew a bit too much in terms of limiting the ability to connect to the soundbar.
Application as a replacement for the remote control?
Sonos is one of the largest manufacturers of multiroom sets. Hence, it must have at least a good application. In fact , it is one of the best applications for this type of equipment. It always works smoothly, the music has never crashed, and Spotify inside the application works as well as the official application.
We can arrange practically anything in it. From volume, through the queue of songs, to subscribing to their streaming service. Personally, I didn't feel the need to switch to anything else to use the equipment. Except, of course, the moments when I wanted to watch the latest series from the Star Wars universe. Back then, operating with the TV remote control was fully sufficient.
What does Sonos Ray sound like?
Overall, it sounds surprisingly nice. I tested it in rooms with dimensions of twelve and thirty square meters. In both cases it worked very well , although in the living room I would not spurn the addition of a subwoofer. The movies lacked the extra punch that often has the greatest effect.
To better understand what I am writing about, I invite you to the headphone guide, where I explain the sound descriptions .
Is Sonos Ray suitable for music?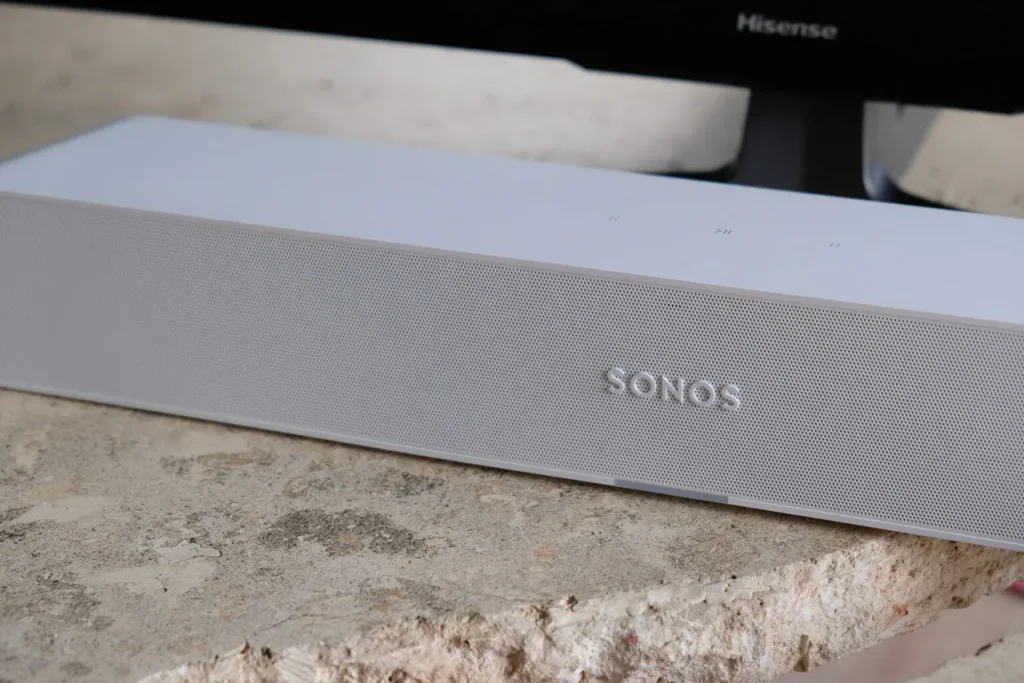 Sonos Ray is one of the best cheaper music soundbars in my opinion. It sounds like Sonos, of course, but it's not as dark as IKEA Symfonisk . After Sonos, that is warm and fatigue-free. What surprised me, it works very well in jazz music. Sonos Ray has a good enough separation to be able to hear a complete set of instruments even in relatively large ensembles.
I really like the overall bass capture, which is fast and dynamic, yet not hard. The whole thing balances very well and is pleasantly smooth at the same time. The diameter is similar, though not completely. Most of the time it presents a decent amount of detail and the male vocals are presented in a nice way with a little bit of texture and that's what is presented on the front.
The diameter and the top are continued
The female vocals are a bit different than the male ones, especially the slightly sweeter ones, such as Taylor Swift, or simply higher, such as Snail Mail. They are also frontal, but slightly nasal, compressed. Technically speaking, the sound is still very good for this price, but when it comes to the sound signature, they don't have to be liked by everyone anymore. The highest notes are delicate but make themselves felt. There is no lack of them, they do not impose themselves and they sound nicely in the background, complementing the sound.
What kind of music will Sonos Ray work in?
In virtually every music genre, Sonos will sound at least decent. Personally, I listened mainly to lo-fi, where it played perfectly in the background. He also performed well in rock, pop and rap. Only the classics lacked texture, but this is a matter of personal preferences and habits. And in the larger room, the lowest bass is missing, so records like "happier than ever" will not sound best here.
Sonos Ray works great in movies
Unless we are in a large room, as I mentioned earlier, Sonos will cope well not only in everyday use, but also in more serious film screenings. I decided to watch a classic from my childhood, i.e. The Incredibles on Disney Plus. The film is not the newest, but very well made in terms of sound. After all, it is a kind of action movie for kids, so it combines many of the features of other movies very well.
Starting with the voices, they were always fully legible and presented at the front. The situation is similar in series like CSI: Miami Crime Riddles, where the voices are often recorded simply on average and on worse equipment they can hide much. Sonos Ray pushed them to the front well and made it possible to fully understand what the actors wanted to convey.
Back to the Incredibles
There are many elements of an action movie in them. Explosions, shots, running on water and many other elements that can be found in a very wide range of series or movies. And each of them sounds very good . Nothing is exaggerated, it is not blurry. Even when a lot was happening on the screen, the sound was not lost. Such a good separation showed itself when listening to music, listening to jazz, and it's nice that it persisted in films, even in the absence of Dolby Atmos format. In a small room, the amount of bass was also sufficient to enjoy nice special effects in movies.
Positioning is not amazing, but it is not surprising
No soundbar in the this budget, which is so good at music, is able to replace even a basic home theater. However, this is a price at which each manufacturer has to make some compromise. Sonos Ray is not able to generate such a space as the 5.1 set, although it pleasantly separates the sounds happening in front of us. Thanks to this, you do not feel that the sound is coming from the soundbar specifically. You can easily improve the scene, just add two speakers from the Sonos family and place them behind us . Pairing Ray with other products from this company is not the slightest problem.
Sonos Ray in games
As you might guess, it's just like in the movies here. The manufacturer himself describes the Sonos Ray as a soundbar for gaming or for a second TV set. In action games or RPGs, such as productions from CD Projekt Red, the beam works really well. The voices from far away are clear, the sword swing is pleasant, and the sounds of the CP2077 cars are really great considering the average level of play in this regard, of course. From this point of view, it is much better to run Assetto Corsa Competizione, where the V8 purr is probably the best among the games I have had the opportunity to play.
Sonos Ray Review – Summary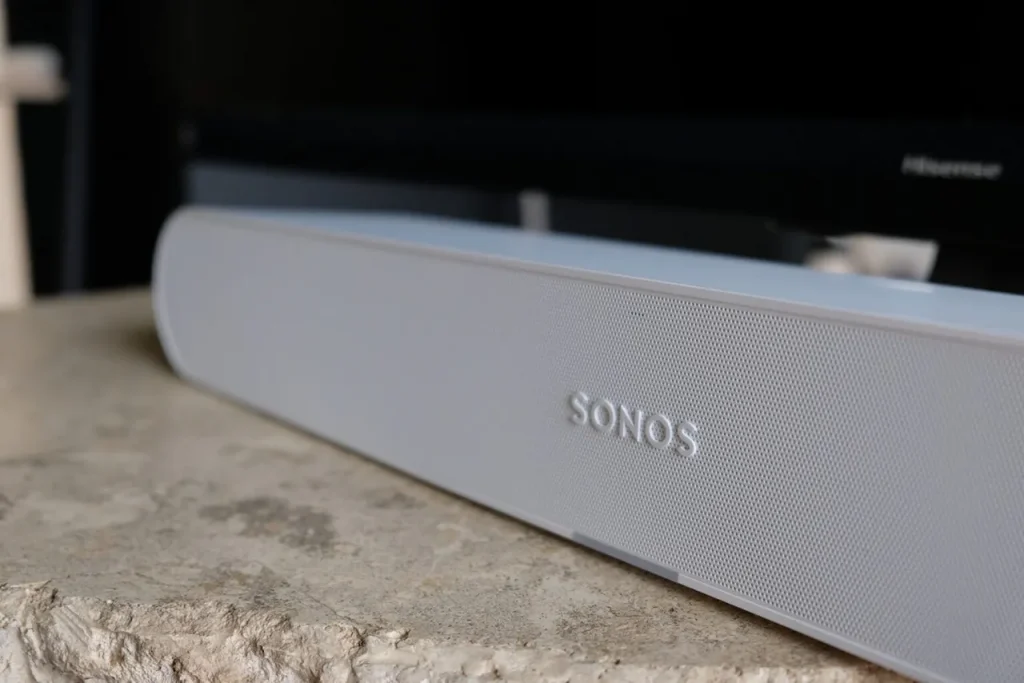 The Sonos Ray is a great soundbar, but for very specific purposes. The lack of Bluetooth, the presence of only an optical input, or the lack of a remote control effectively exclude it for many people. However, if you do not belong to this group, and you need a small soundbar that can be the starting point for a multiroom set, it's hard to find something better . He is great at music, movies and also games. I would think very hard about buying it in order to place it on my desk, but the fact of only the optical input discourages me.
About Post Author