The mobile processor inside the Samsung Galaxy Book Go does its best – the laptop does not make noise or heat up, turns on instantly and lasts a very long time on a charge. But loading it with serious tasks will not work, and Windows 11 compatibility with x86 applications is poorly implemented.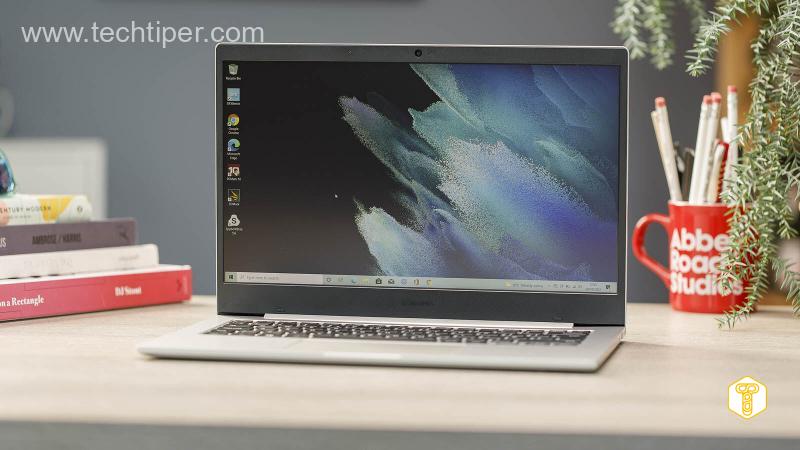 The Windows on ARM program may have seemed promising to Samsung at one time, but now the Korean company is hardly happy with it. The new Galaxy Book Go didn't live up to expectations, and it's not just the Snapdragon 7c Gen 2 processor that's to blame.
It remains an open question why there is only 4 GB of RAM – because of this, multitasking is almost impossible. The Galaxy Book Go is similar to a regular Windows laptop, but inferior in performance to many smartphones.
Specifications of Samsung Galaxy Book Go
| | |
| --- | --- |
| Screen | 14″ TFT Full HD (1920×1080) non-touch |
| CPU | Snapdragon 7c Gen 2 (8-core Kryo 468, up to 2.55GHz) |
| Graphics | Qualcomm Adreno |
| RAM | 4/8 GB LPDDR4x |
| Inner memory | 64/128 GB eUFS |
| Expandable storage | microSD |
| Camera | 720p HD, digital microphone |
| Connection | Wi-Fi 5 AC, 4G LTE (optional), Bluetooth 5.1 |
| Ports and connectors | 2xUSB Type-C, 1xUSB 2.0, 3.5mm Headphone/Mic, Nano Security, Nano SIM |
| Operating system | Windows 10 Home or Professional |
| Audio | 2×Dolby Atmos |
| Battery | 42.3 Wh |
| Charger | USB Type-C 25W |
| Color | Silver |
| Dimensions | 323.9×224.8×14.9mm, 1.38mm |
| Price | From 299 $ |
Design and Features
Judging by the appearance, Samsung spent a little time on the design of the Galaxy Book Go.
The case has a traditional silver-black coloring without any additional visual elements. The device is thin and compact, the side bezels of the display are not wide, but the top and bottom are huge. There is a separate power button above the keyboard, although this can hardly be considered an advantage.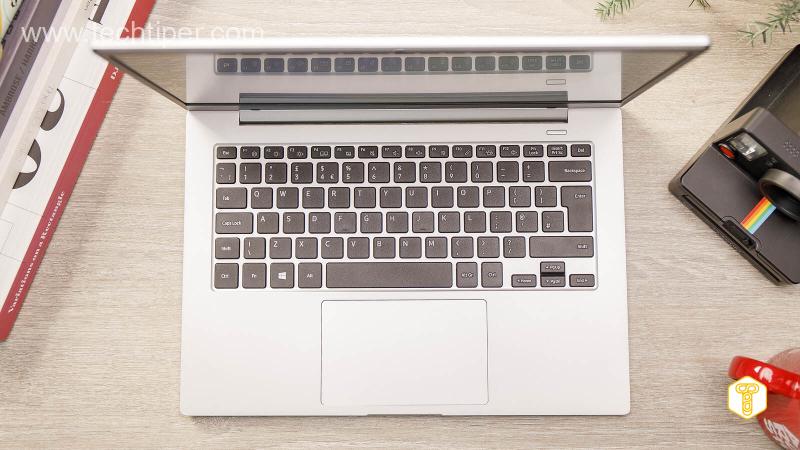 Alas, there is nothing more to brag about the Samsung Galaxy Book Go. Despite the plastic case, the laptop is quite heavy - 1.38 kg, it is easy to carry around, but it is felt in the bag.
It is clear that Samsung tried to save on everything in order to make the laptop as cheap as possible. But even the display here is of low quality, even if the resolution is 1080p. The plastic case flexes at the slightest pressure, and there are few connectors.
There is also no support for 5G, available even on the budget smartphone Galaxy A13. The only thing that saves the model is Windows, no matter how badly this operating system works here. If you wish, you can run any program that Chromebooks cannot yet boast of. As long as you don't open too many tabs, you can use web apps as well – no more than one at a time.
Display and multimedia
The LCD screen of the Samsung Galaxy Book Go has a matte finish and 1080p resolution, but the image quality is poor.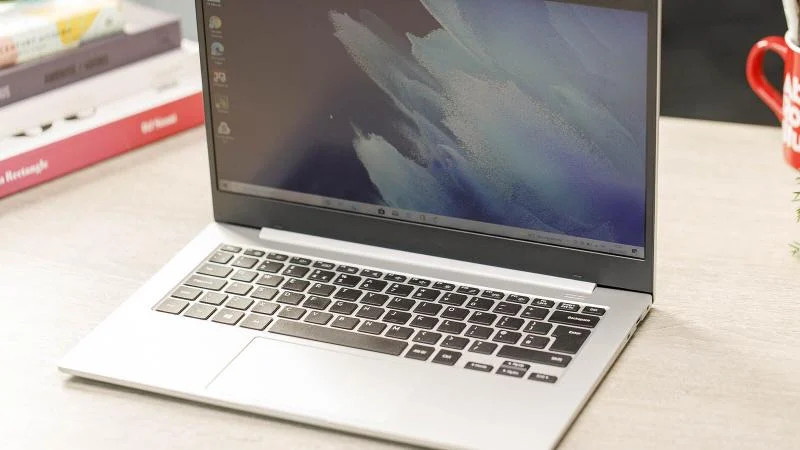 The contrast is so low that it feels like looking at the display through a smoke screen. The colors lack saturation and the refresh rate is 60Hz. It would be better if Samsung lowered the resolution, but worked on the shades.
The Galaxy Book Go's downward-facing speakers are loud, but lack detail. Support for Dolby Atmos is a bit ridiculous given this shortcoming. Any movement of the Galaxy Book Go, or even fast typing, causes the display to wobble a little.
Connectors and keyboard
With Samsung Galaxy Book Go, we get a standard set of connectors for connection.
On the left side are USB-C 3.0 for charging and data transfer, a combo audio jack and a microSD card reader. On the right is another USB-C with video output, USB-A 2.0, Kensington lock and a nano-SIM card slot.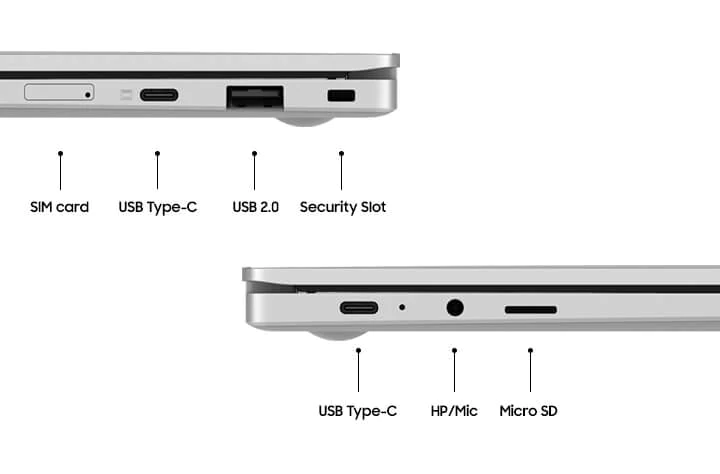 One more USB-A and an HDMI output are missing. However, modern problems require modern solutions - USB-C is also suitable for connecting an external display.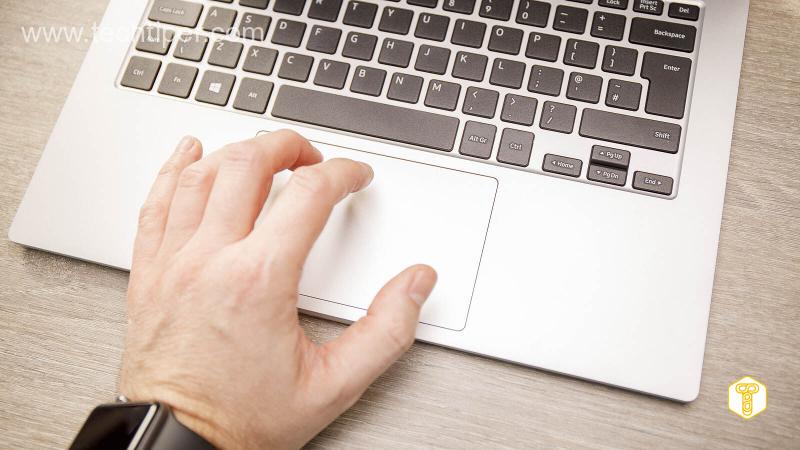 It is difficult to open the laptop with one hand – the hinge is very rigid here. The surface of the case in the keyboard area flexes, although the key travel is quite deep. The trackpad is also cheap, although it does its job well.
Iron performance
If you are familiar with the problems of Windows OS on ARM architecture, the poor performance of the Samsung Galaxy Book Go will hardly surprise you.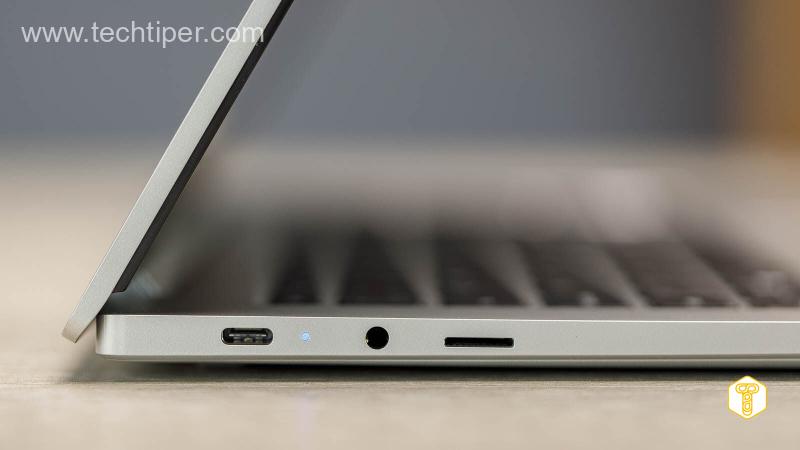 Although the basic functions of Windows 11 work without problems, the emulation layer greatly slows down the work with the device. For example, Chrome still does not have native support, so the browser works terribly, which is unacceptable for a Windows laptop.
It is best to think of this laptop as a smartphone the size of a laptop. The device works for a long time from a single charge, does not make noise and does not heat up, which is rare for a budget laptop. Samsung has also added many of its services here, which interact well with the company's smartphones. True, it is much more convenient to use the DeX mode, in which performance is higher.
The Galaxy Book Go has only 4 GB of RAM (max. 8 GB), which is even less than many smartphones. The laptop is designed only for web surfing and basic work tasks, nothing more.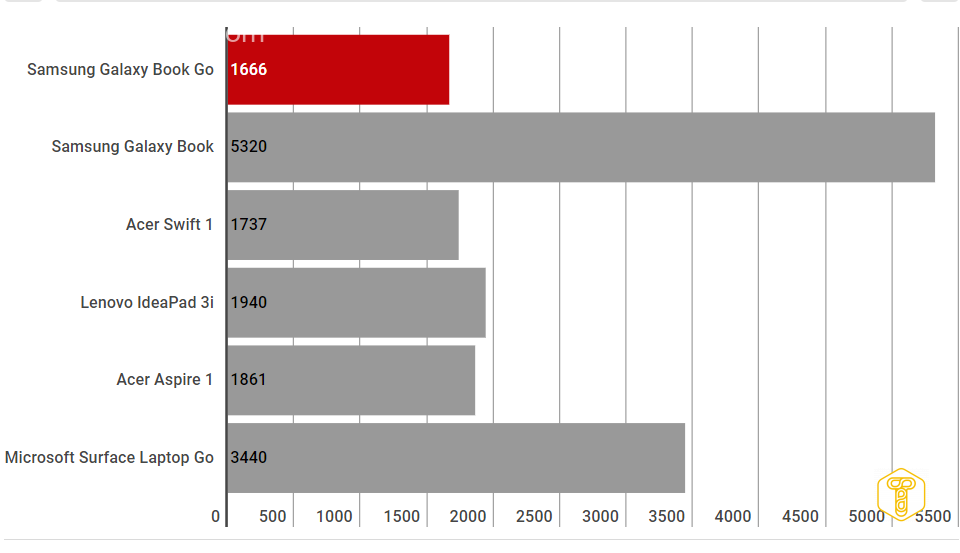 Benchmark tests clearly show weak performance: on GeekBench 5, the Samsung model only has 508/1399 points in single-core and multi-core modes. Every other Windows laptop in this segment performs significantly better. In the Cinebench R20 (Multi-Core) test, the Galaxy Book Go scores only 359, one of the worst results.
Autonomy Samsung Galaxy Book Go
The main advantage of the Galaxy Book Go is its long battery life.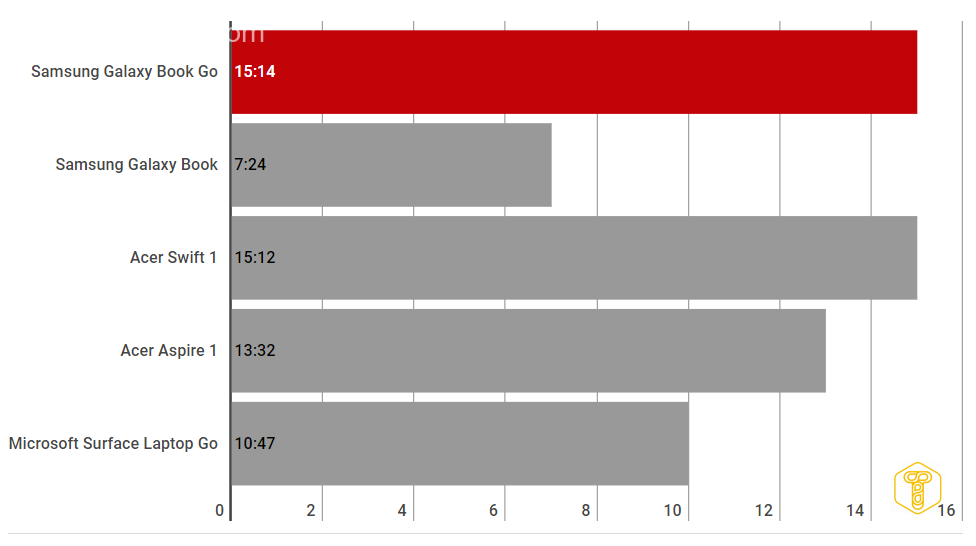 The laptop has enough energy for 11 and a half hours of video viewing, although with such a screen you don't really want to watch anything dynamic. But, the device works on a single charge for a very long time, in this regard it surpasses many smartphones.
Outcome
The Samsung Galaxy Book Go is only worth buying if you want to get up close and personal with Windows on ARM without spending a lot of money. But, acquaintance may not be the most pleasant – almost all programs slow down, even if they have native support.
The display is also mediocre – colors are pale and contrast is incredibly low. The build quality is such that it seems as if the laptop could break at any second. Connectors and ports are also lacking, and the speakers are weak.
At least you don't have to worry about frequent recharging, because the device lasts longer than many smartphones. You can also put a SIM card here – there is no 5G support, so the device is limited in this regard.
Is it worth buying
The Galaxy Book Go looks good on paper, but its capabilities in practice are unable to compensate for the dim screen and dismal performance. In general, it is difficult for me to recommend it for purchase.
---
About Post Author