Agree, not everyone needs a full-sized keyboard with RGB backlighting, additional macro keys and other "gadgets" for games. Many want to have a minimalist peripheral that will come in handy when working on creating various content. Logitech understands people and offers them a new keyboard MX Keys Mini, which I had a chance to test. So, lets start Perfect Wireless Typing Keyboard Logitech MX Keys Mini Review.
What features does the Logitech MX Keys Mini offer? Is it comfortable to use? You will learn about all this from the review.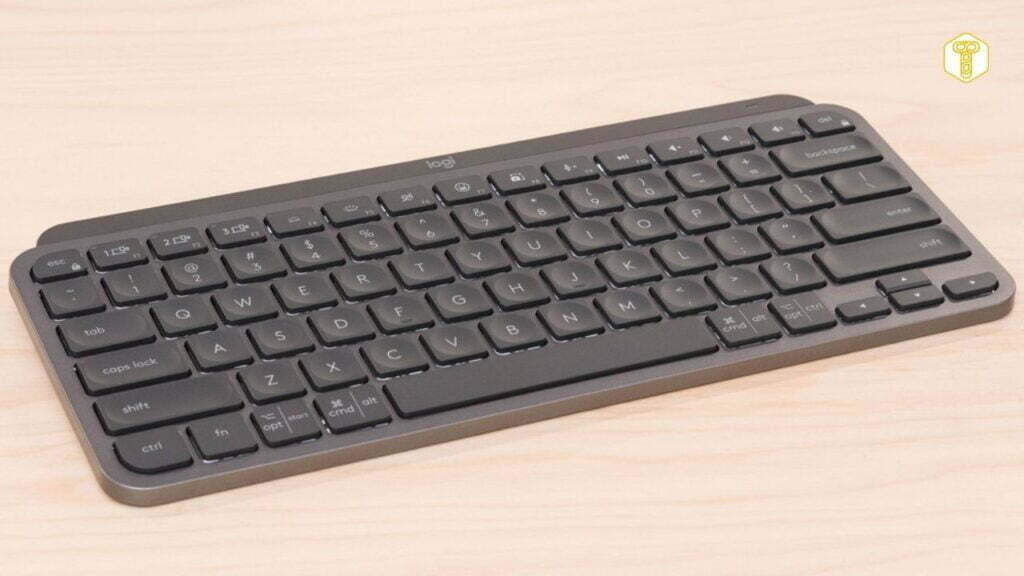 Specifications Logitech MX Keys Mini
Switch Type: Membrane, Low Profile
Communication: wireless, Bluetooth, up to 10 meters
Macro support: No
Key backlight: white, single zone
Multimedia Function Keys: Yes
OS Compatibility: Windows, Mac OS X, Linux, Chrome OS, Android, iOS, iPadOS
Connector: USB-C
Autonomy: up to 10 days with backlight, up to 5 months without backlight
Dimensions and weight: 131.95 x 295.99 x 20.97 mm, 506.4 grams
Price: from ₹11,995.00 approx. 100$ on Amazon.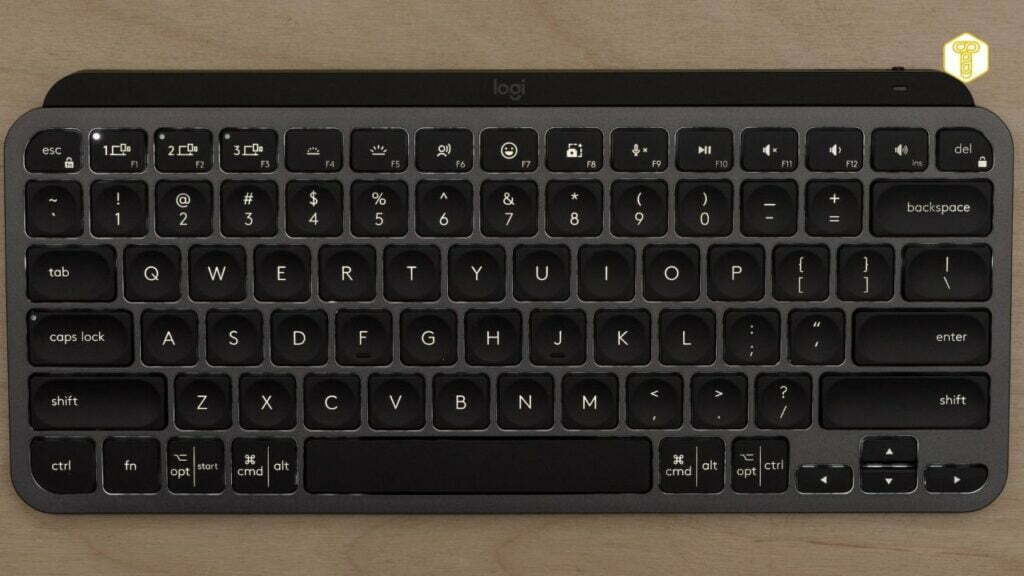 The Logitech MX Keys Mini is a shortened version of another user-favorite MX Keys keyboard .
It's also wireless, and easily connects to a variety of devices using Bluetooth technology. It uses a lot of interesting solutions to extend the autonomy of work, membrane switches, backlit keys and ergonomic buttons for fingers.
Unpacking and kit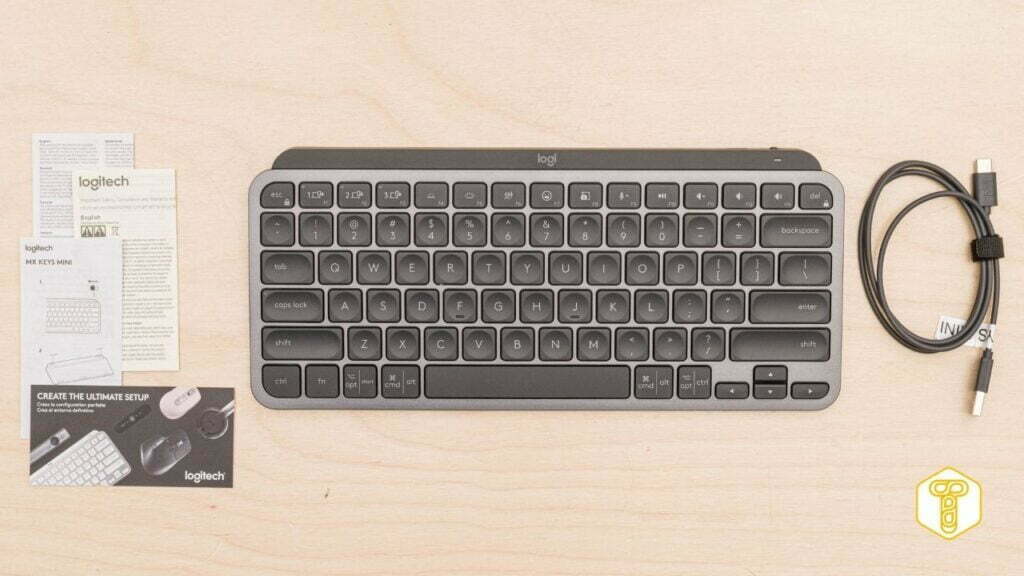 The Logitech MX Keys Mini came to me in a small box with a picture of the keyboard and the most important features.
Inside the box is:
The MX Keys Mini keyboard itself
USB-A to USB-C charging cable
Manual with inf. for safe use
READ ALSO : HyperX Cloud Stinger Core Wireless Gaming Headset for Xbox Fans : Review

Design and Features
When I took the Logitech MX Keys Mini out of the box, I found it to be really small and thin, but it was also heavy – pleasantly heavy.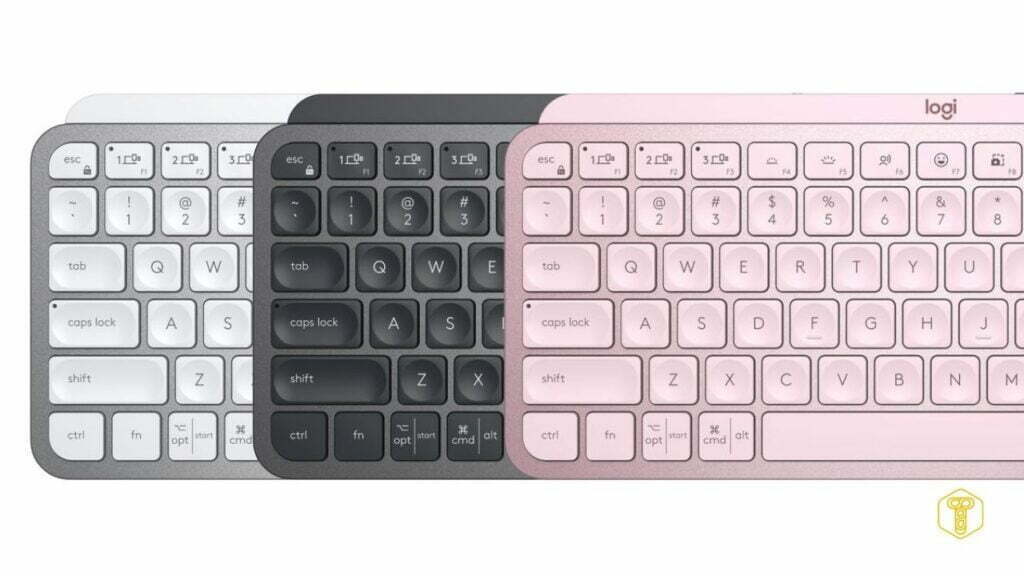 The small size makes it easy to find a place for the keyboard even on a narrow table or put it in a bag for use on the road or anywhere else. At first glance, you can see that the MX Keys Mini has a high build quality. There is no cheap plastic that easily scratches and collects fingerprints, all elements fit well together, and the key markings are not applied, but built-in. Because of this, it will never fade.
Noteworthy is the fact that the MX Keys Mini has not only a numeric keypad, but also keys that are located above the arrow buttons in full-sized TKL keyboards. Only one of them Del is moved through Backspace. The PrtScr function was taken over by a button that allows you to take a screenshot. Such a decision is difficult to criticize, since most people simply do not use them.
You will also be able to understand that this keyboard was designed for Windows and macOS users. The keys next to the spacebar have labels that are common to both Microsoft and Apple. An interesting addition is a dedicated emoji button. Yes, one of the function keys opens a window with emoji emoticons.
Paired with my computer on Windows 11, this did not work. There is information on the Internet that the mute and dictation buttons do not work on macOS, dictation, emoji, screenshot and mute on Linux, emoji and mute on Android OS, and mute on iPadOS.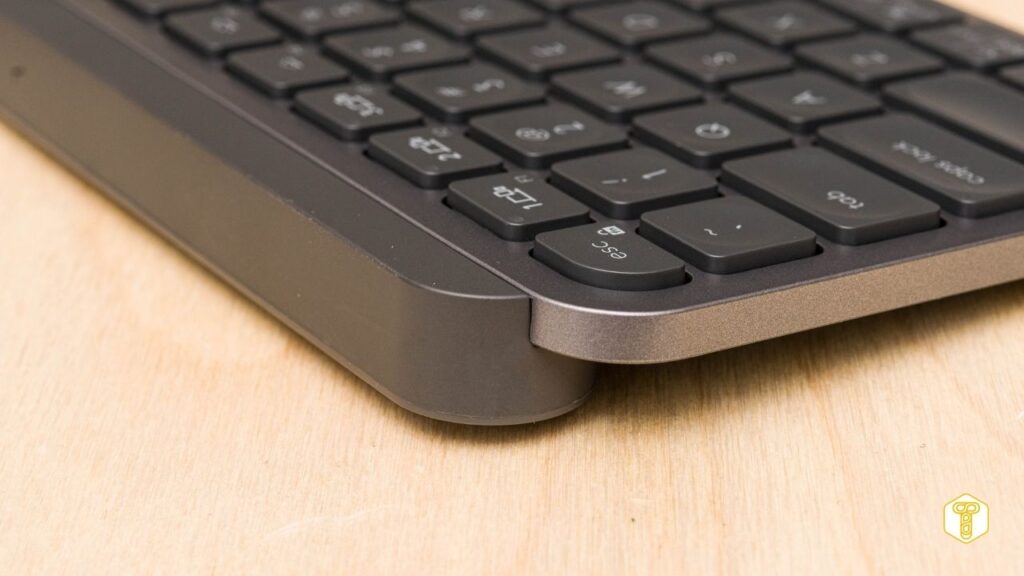 It's hard not to notice that the layout of Logitech's MX Keys is rather unusual. Left Shift is shortened, next to it there is an additional button with several special characters. The arrow keys are much smaller than in regular models, which is not to everyone's liking, although I quickly got used to it.
Many may be unpleasantly surprised by the lack of folding legs that allow you to change the angle of the keyboard, as well as the ability to use the palm rest. However, the MX Keys Mini is so low and tilted in such a way that a stand is definitely not needed here.
Connection and communication
Universal Logitech MX Keys Mini can work both in wired and wireless mode.
The former can be used with the supplied USB-A to USB-C cable, which is a charging cable – in wired mode, the keyboard is simultaneously charged. Wirelessly via Bluetooth, peripherals are able to pair with three devices at the same time. You can quickly switch between them using the Easy Switch keys next to Esc.
What devices are you communicating with? The choice is very wide, as the Logitech keyboard supports hardware on Windows, Mac OS X, Linux, Chrome OS, Android, iOS and iPadOS.
The pairing process itself is very simple. All you need to do is turn on the keyboard using the switch located on the back, next to the USB-C port. Your computer or smartphone with active Bluetooth will immediately detect the Logitech device. To connect a second or third device, just use one of the Easy Switch keys and MX Keys Mini will see your device again, ready to pair.
Keyboard in use
Immediately after turning on the Logitech MX Keys Mini, before pairing with any device, I checked the white backlighting of the keys.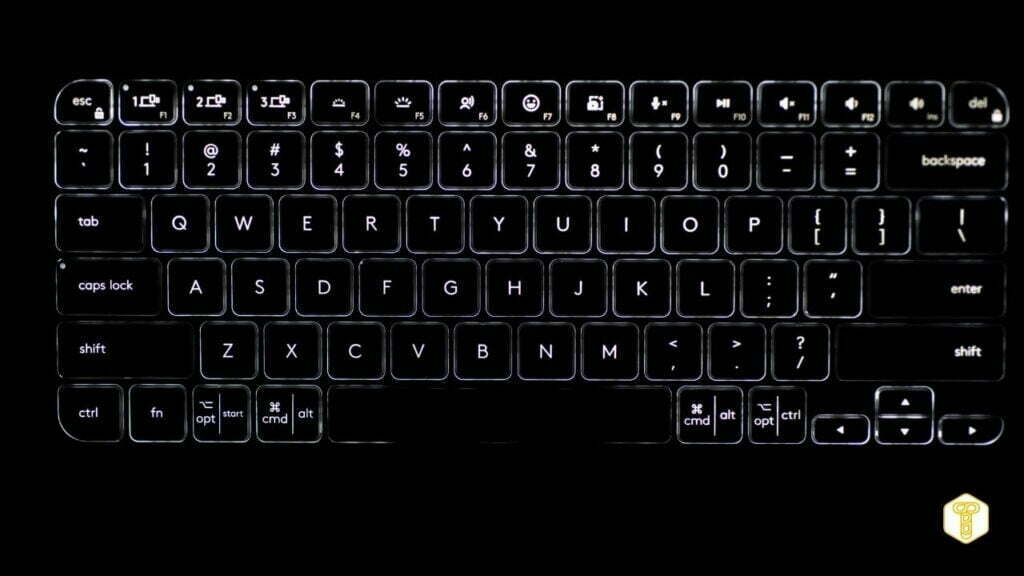 Interestingly, it is not active all the time, and turns off if you remove your hands. The backlight will turn on again when it senses the approach of your hands with the help of special sensors. In addition, with the help of other sensors, the brightness adjusts to the environmental conditions. This is a great solution for extending battery life.
During the tests, it never happened that the proximity sensors were late or turned on the backlight after touching. I used MX Keys Mini for almost a week, working for hours. Initially, I confused some keys by making typos, but it took me 10 minutes to adapt without any problems.
In operation, it is also a very quiet keyboard that will appeal to people who do not want to disturb their household or colleagues. The keys have a very low profile, but at the same time a high and noticeable travel. The feel of using it here reminds me of laptop keyboards, not desktop ones.
In addition, the usability of Logitech's MX Keys Mini is enhanced by the concave shape of the keys, with a slightly matte surface and a high degree of stabilization. Thanks to this, the fingers do not slip off. It should be noted that there are horizontal protrusions on the F and J keys, which facilitate the orientation of the fingers and smooth operation, as well as the fact that Caps Lock has a special LED indicating its status.
I can not help but note the ergonomics of work. Due to its small size, you can align your hands while sitting by placing the mouse closer to the keyboard. Because the MX Keys Mini is very low and doesn't have a kickstand, our wrists don't bend too much, nor do they hang in the air. The keys themselves do not require much effort to press, which affects hand fatigue.
Logitech Options App
The new MX Keys works with Logitech Options (for Windows and macOS), which has a very readable and simple interface.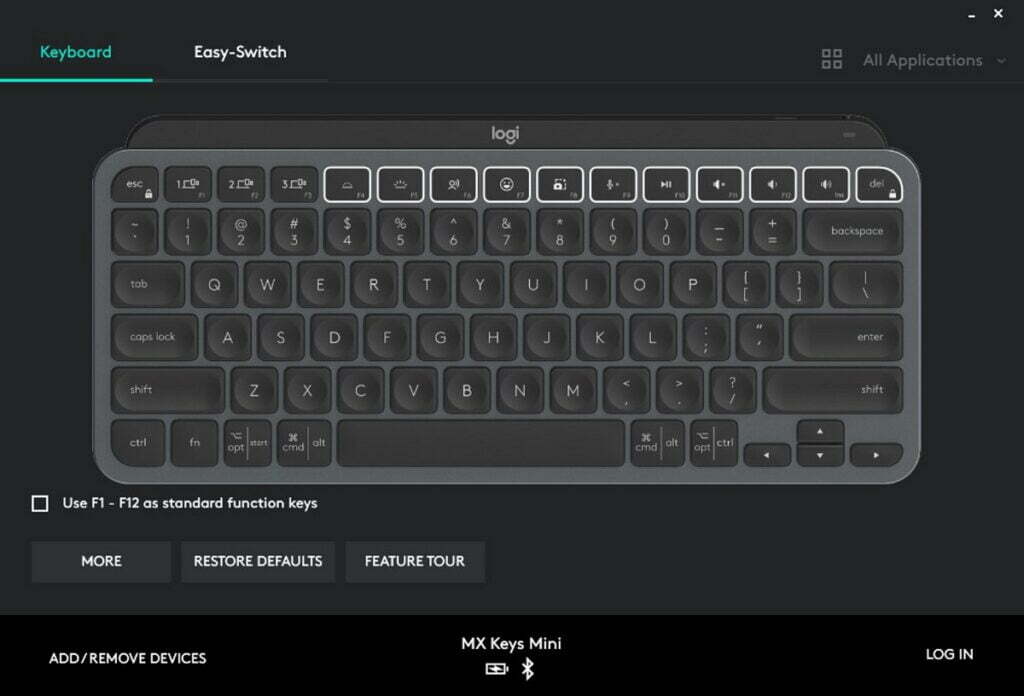 Thanks to the software, you can familiarize yourself with the capabilities of the function keys and change the functions assigned to them, as well as turn off individual buttons or the backlight. It's a pity that Logitech Options only shows the battery charge status graphically and not numerically. But, at least in Windows 11, the battery percentage can be viewed in the Bluetooth settings.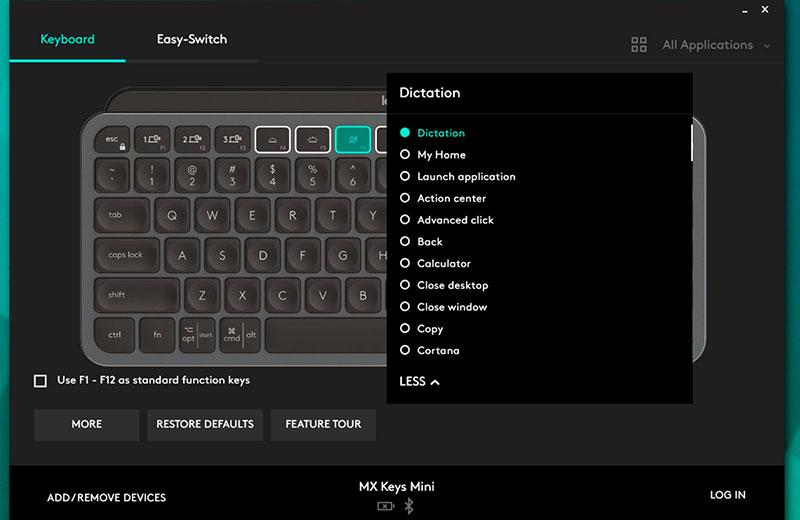 READ ALSO : Need a best webcam for computer? We have collected the best webcams of 2022 in the TOP-5 rating
Autonomy Logitech MX Keys Mini
According to the manufacturer, MX Keys Mini should work in wireless mode for up to 10 days with active backlighting or up to 5 months with inactive backlighting.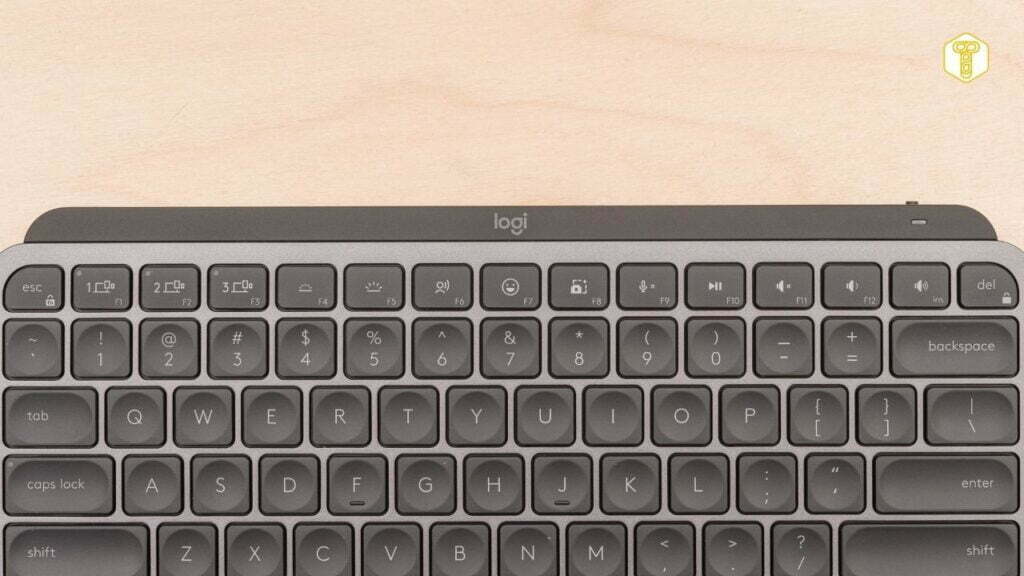 Of course, I could not verify the veracity of the statement in the second case, although when it comes to autonomy with backlighting, I can say that here you can really achieve a result of 10 days. It also depends on how much time we spend at the computer. Using the keyboard for several hours a day, with backlight, I discharged the peripherals after 9 days.
Charging time is not the fastest – it takes more than three hours. However, you can continue to use the keyboard all the time. However, it would be nice if the charging cord were a little shorter.
Outcome
The Logitech MX Keys is a very practical and elegant keyboard that I can confidently recommend to people working at a computer. This is an ergonomic device that is very comfortable to use. The key layout is a little unusual, but you quickly get used to it.
Benefits
Quality performance
Long battery life
High level of comfort in practice
Minimalistic and elegant design
Keys don't wear off when used
Compatible with many operating systems
Ability to pair/switch up to 3 devices
Intelligent backlight with proximity and light sensors
Disadvantages
Expensive keyboard
Unusual key layout
Inability to adjust the angle
Function keys do not work with some OS
Is it worth buying
Yes, the cost is quite high, but it is partly justified by the long battery life, thanks to the presence of sensors that activate the backlight when there are hands on the keyboard. There is also the ability to pair with various devices – from smartphones and iPads to personal computers with support for Windows and macOS.
What if you not only work at the computer, but also play from time to time? Maybe the MX Keys Mini isn't meant for gamers, but there's nothing stopping you from using it for gaming.
Logitech MX Keys Mini keyboard review – video
About Post Author
Logitech MX Keys Mini Review
Design and ergonomics

Work comfort

Performance

Software and personalization

Other features
Summary
Despite the hefty price tag, Logitech's MX Keys Mini outperforms virtually every other small and comfortable keyboard on the market with superior typing, universal wireless pairing and software customization.