What is the TOP 10 of the most popular movies and series available on HBO Max ? You could say exactly as we thought. We have most often checked blockbusters and titles that were previously not so easily available in streaming. HBO Max's debut meant that many people could catch up, but probably not everyone was happy about it.
The most popular movies and series on HBO Max – what did we watch?
The Just Watch website has prepared a list of the most popular productions that were available on HBO Max from the launch of the platform (08/03) to March 14. So these are not results that come directly from HBO, but are based on the popularity and interest in a given production on the Just Watch platform .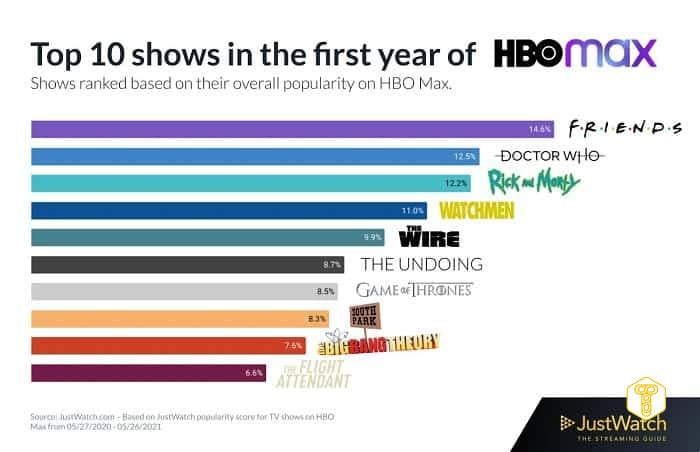 However, seeing the following titles, you can agree that this is actually how the viewers' choices were presented immediately after the premiere of HBO Max. It is not surprising that the most popular films turned out to be those that have recently been shown in cinemas.
Speech especially in two big titles, namely "Dune" and "The Matrix: Resurrection". And while the first one is worth recommending, it is worth being cautious about the fourth Matrix.
Already the second and third parts were specific, but had their own atmosphere, which the fourth installment of the series does not have. For fans, it may be a bit of a shock, but you can stop the production at any time, which is an advantage over the fact that you would watch it in the cinema.
Read Also: An unpleasant start to the week – HBO GO has removed over 30 amazing movies!
King Richard: The Victorious Family , the fictionalized story of the father of some of the most popular tennis players in the world (Serena and Venus Williams), was also popular. When it comes to the most popular series, viewers here were rather interested in well-known productions, but the presence of new products, ie "Peacamaker", is very pleasing. If you haven't watched this series yet, check out our review of "Peacemaker" and you will surely change your mind.
TOP 10 of the most popular HBO Max movies
Dune
The Matrix: Resurrection
King Richard: A winning family
The Matrix
Mother!
Joker
Space Match: A New Era
What what
A quiet place 2
dark Knight
TOP 10 of the most popular HBO Max series
A brilliant friend
Victoria mean victory
vampire Diaries
Peacemaker
Game of Thrones
Euphoria
Two and a half
Rick and Morty
Folklore
Adventure Time!
Source: Just Watch
---
About Post Author