The market does not like a vacuum, so in each category of various equipment, we will find several interesting proposals. It is no different with laptops for players who are constantly growing. More and more new models or refreshed representatives of well-known series are trying to gain interest. The same is with the title proposition, where this Acer Predator Helios 300 review will show you whether it is a model worth paying attention to. I cordially invite you to read the material.
Set, technical specifications and price of Acer Predator Helios 300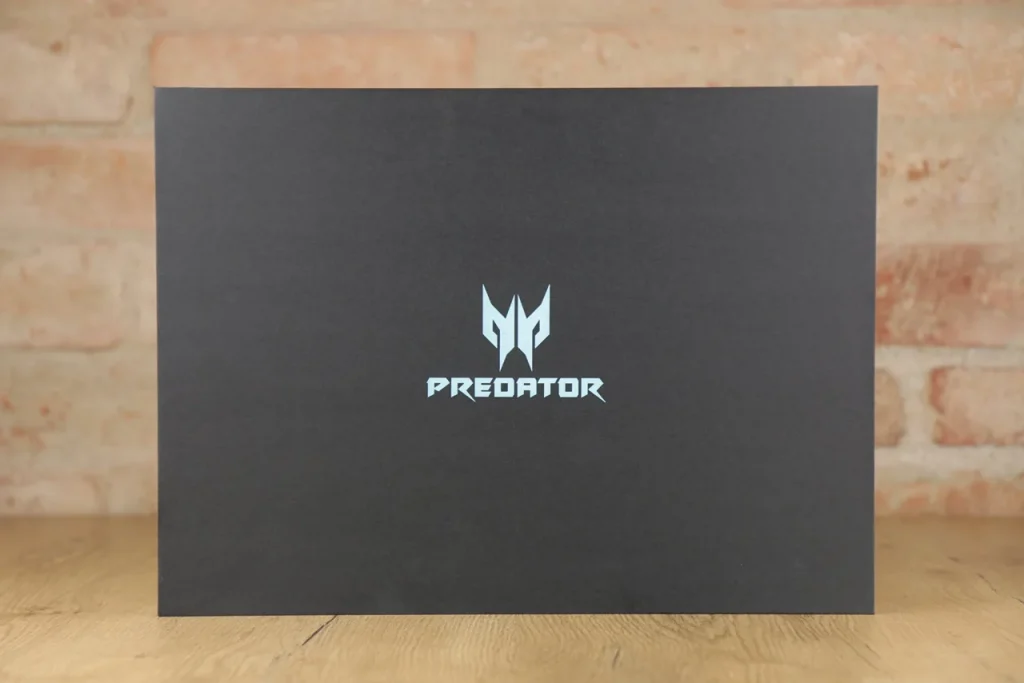 We actually get the Predator Helios 300 in two boxes. In the first, general, there is a well-protected second box, visible above, and a power supply (180 W) with a classic plug. The laptop itself is also well protected against padding , and is accompanied by an envelope visible below and a set of adapters and screws for mounting a 2.5-inch drive. Instructions and a set of stickers appear in the envelope.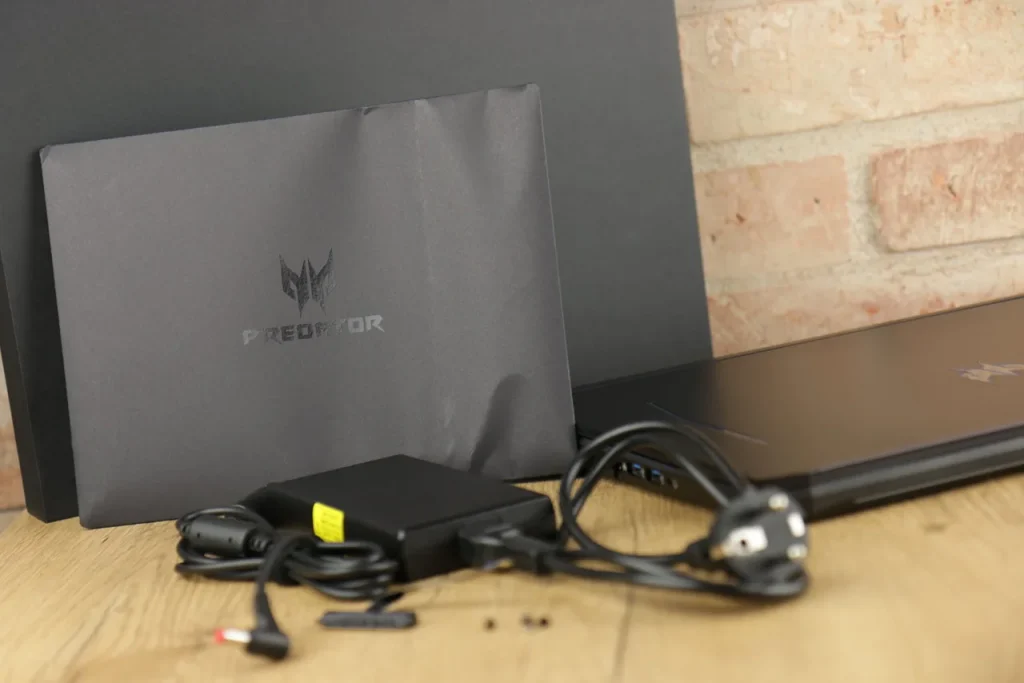 The basic version of the Acer Predator Helios 300 is not the most expensive
Technical Specifications
15.6 inch IPS LCD FullHD display

resolution: 1920 × 1080 (16: 9, 141 ppi)
brightness: up to 350 nits
image refresh rate: 144 Hz (3 ms)

CPU: Intel Core i5-11400H

lithography: 10 nm
6-core (12-thread), 2.7 GHz (turbo: 4.5 GHz)
12 MB cache

graphic layouts:

Intel UHD Graphics
NVIDIA GeForce RTX 3050 Ti (4 GB GDDR6, TGP 85 W)

16 GB DDR4-3200 RAM (dual channel)
1 TB SSD (NVMe) – two M.2 slots + one SATA (2.5-inch)
battery with a capacity of 59 Wh
Connectivity (Intel Killer Wi-Fi 6 AX1650i):

Wi-Fi 6 (802.11ax)
Bluetooth 5.2

connectors:

HDMI 2.1
Mini DisplayPort 1.4
2x USB-A (3.2 Gen 1)
USB-A (3.2 Gen 2)
USB-C (3.2 Gen 2, Thunderbolt 4)
RJ45 (Ethernet 1 Gigabit)
Jack 3.5 mm headphone jack

HD camera, directional microphone, backlit keyboard (RGB, 4-zone)
Windows 11 Home
dimensions: 363 x 255 x 22.9
weight: 2.3 kg
material: aluminum and plastic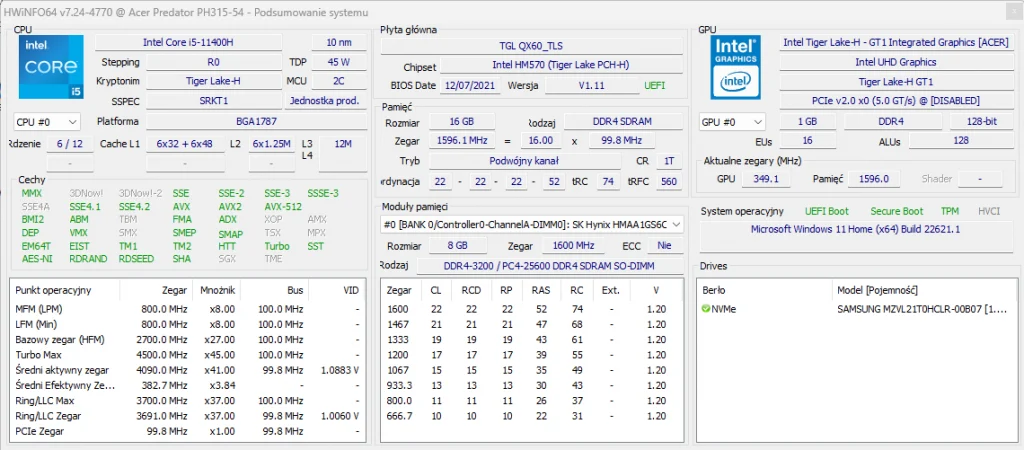 Construction and build quality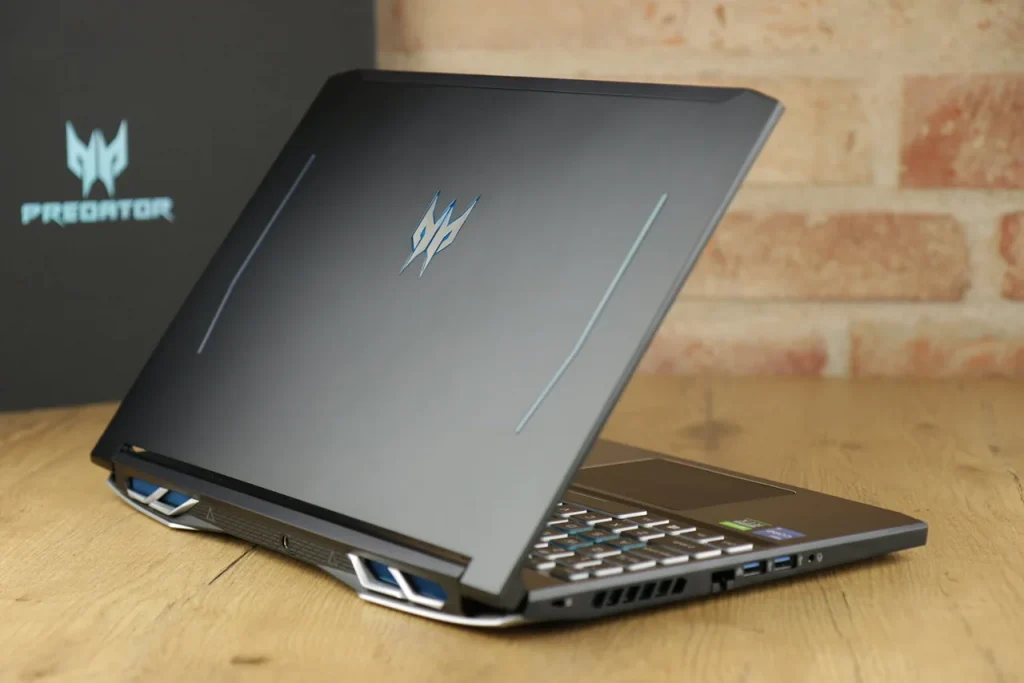 You can see immediately that we are dealing with a laptop for players. A more aggressive design, more ribbing and special markings indicate that this equipment has more power. The whole thing fits very well with each other, so the Predator Helio 300 is a rigid structure that gives the impression of being solid. Only the finish could be better, which would make any dirt, especially fingerprints, less visible. The total weight is acceptable for equipment intended for one purpose. The same applies to dimensions, so any transport is not a problem.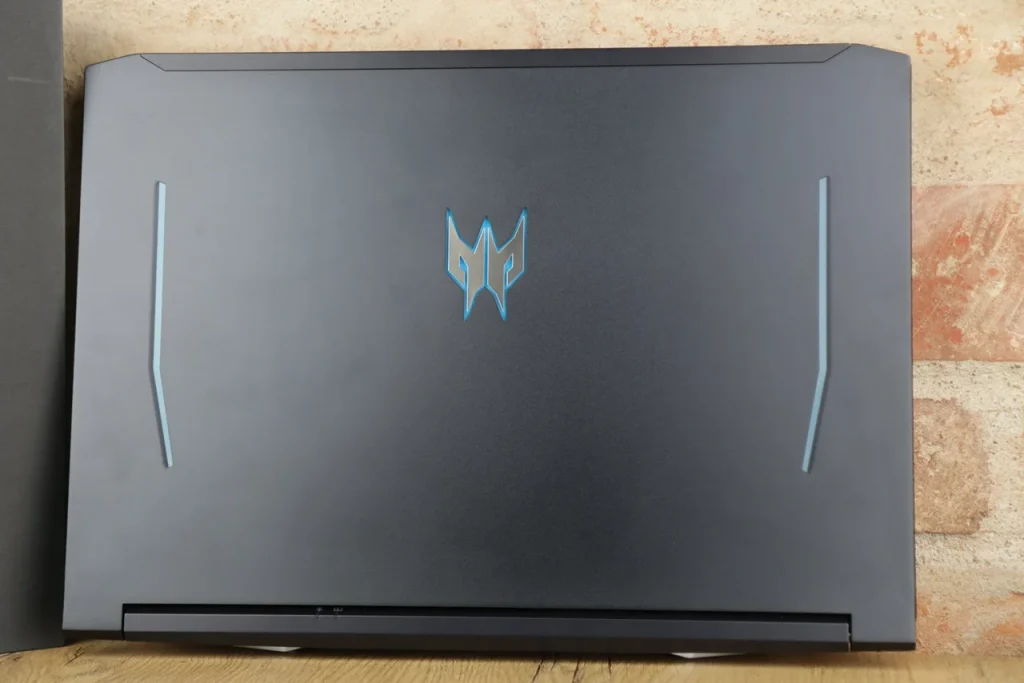 The cover from the outside is decorated with the Predator brand logo with side stripes. The blue outlines of these elements may herald the backlight, but Acer did not bet on additional RGB effects. In addition, on this surface we can see the power and charging LEDs, which are visible both when the laptop is closed and open.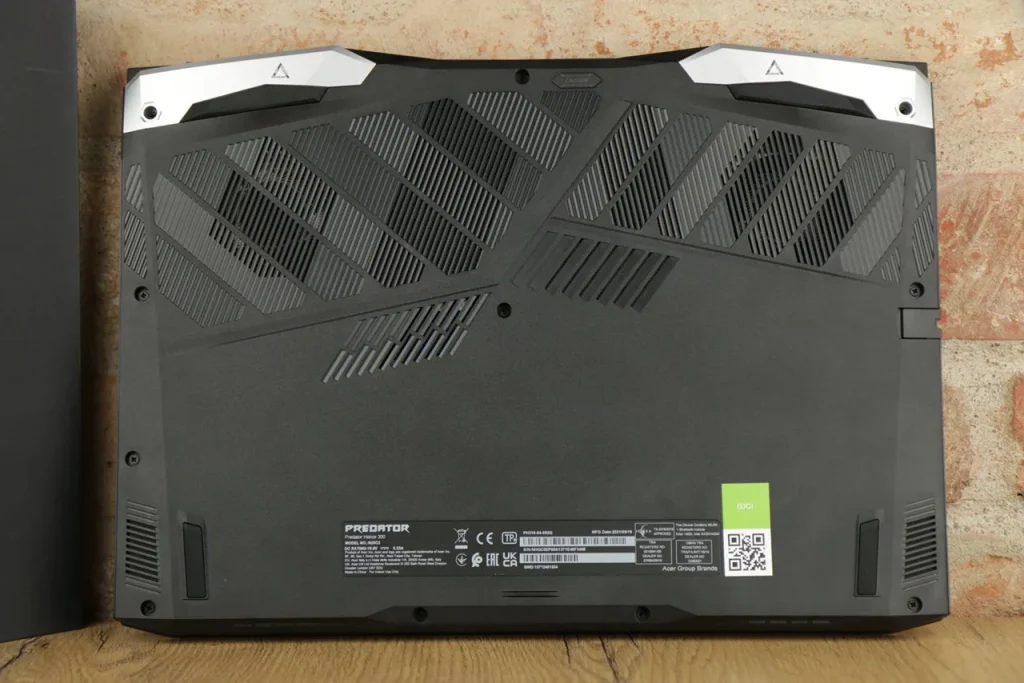 There is quite a lot going on from below. In this case, the company decided to go crazy with various embossments and ways of masking the cooling system. There are also silver, plastic inserts that emphasize the warm air outlets. From the bottom, we can also see speaker grilles that do not bring you to your knees. They are just average in every aspect.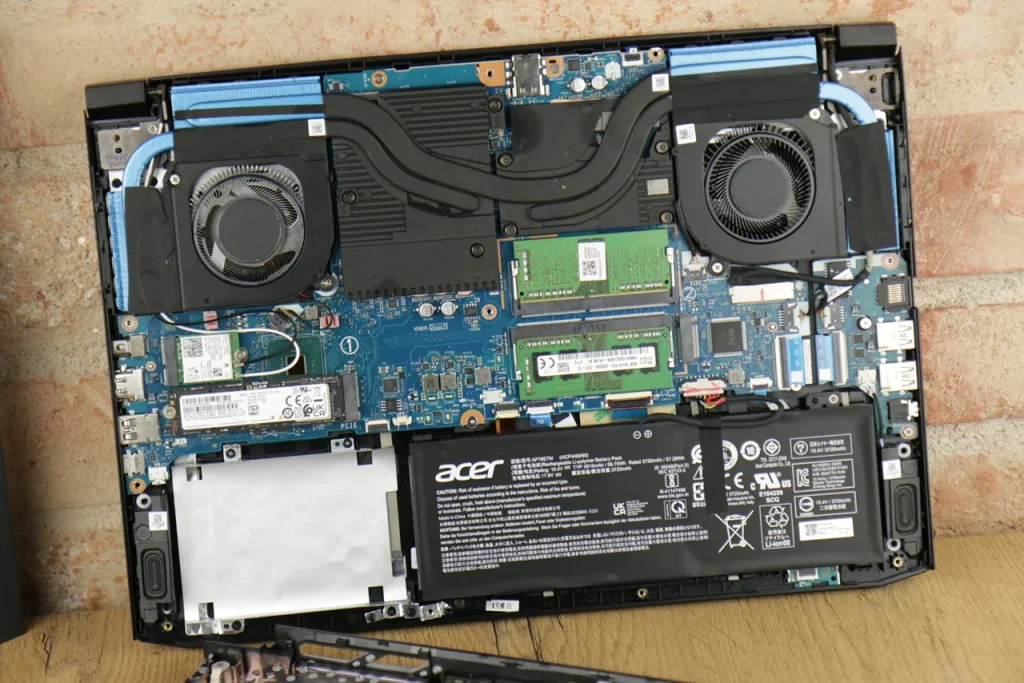 But I have a very positive view of the possibility of expanding the Predator Helios 300. First of all, removing the bottom cover is not a major problem and our eyes immediately see a multitude of options for adding additional disks, free replacement of operating memory, and even a Wi-Fi card. For this Acer receives a big plus.
The edges are laid out correctly, although the pattern is still a bit missing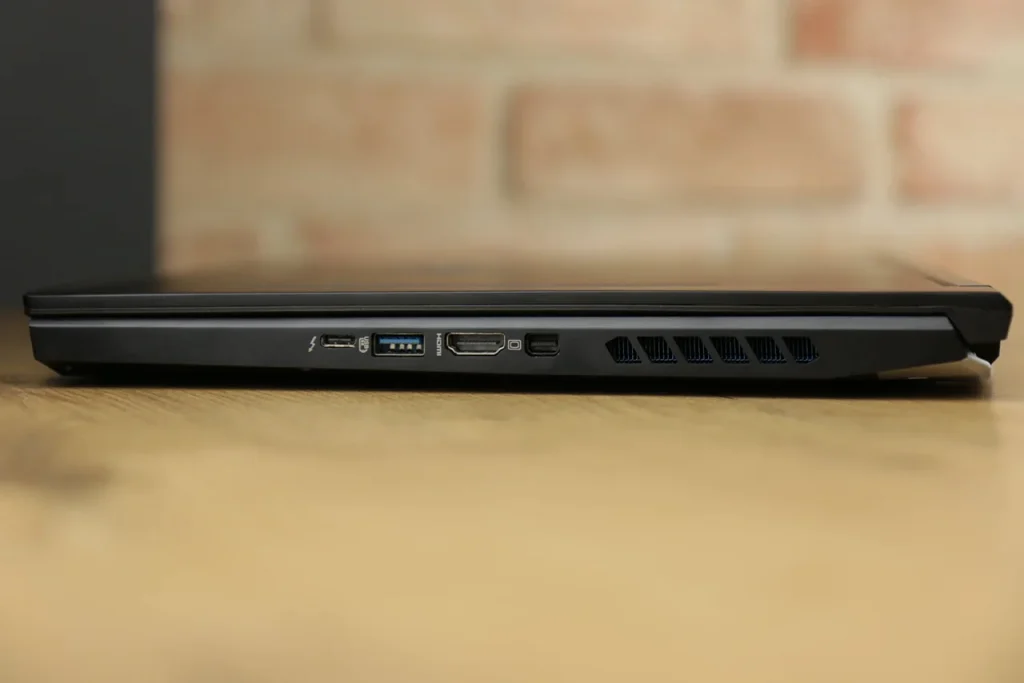 We can also see some more gaming aspects on the edges, where we can see silver inserts once again, as well as blue elements hidden inside the housing.
rear: cooling system, power socket
left side: Kensington lock, RJ45, 2x USB-A
right side: mini DisplayPort, HDMI, USB-A, USB-C
I feel positively about the placement of the power socket on the back, although it is a pity that the manufacturer has not moved more connectors there. Located on the side of the USB are placed towards the front of the laptop, so they somewhat limit ergonomics. However, this is the only note I can have. I enjoy the presence of the Ethernet and Thunderbolt connectors, although it is a pity that USB-C is only one and does not allow the battery to be charged.
The cover opens easily and hides some interesting elements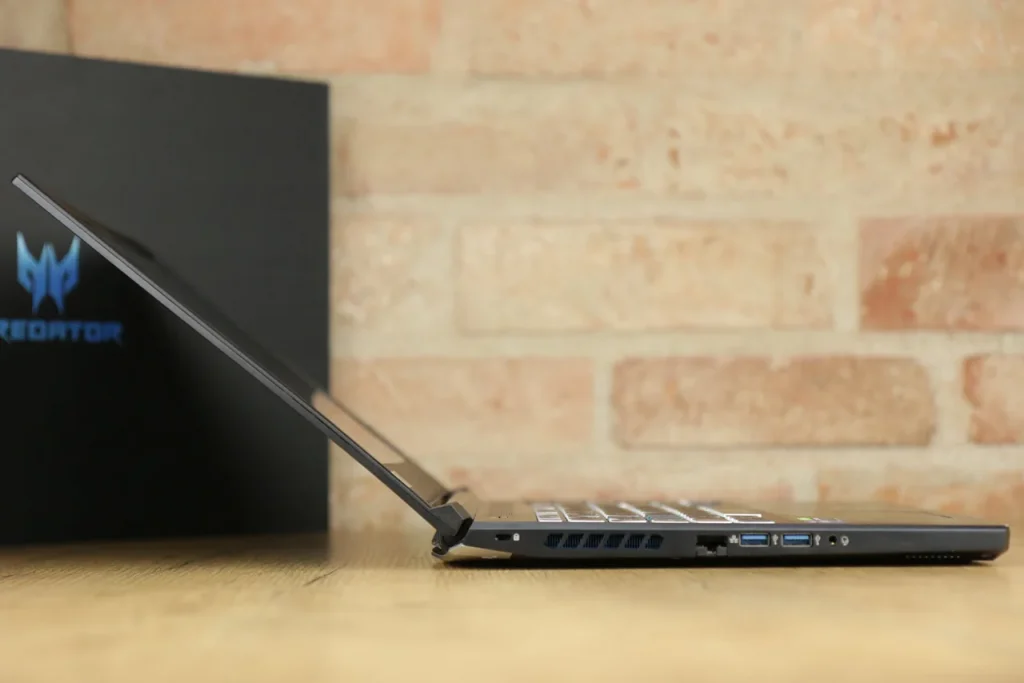 Opening the cover is easy. Proper extension of it relative to the palmrest allows you to do it with only one hand . The lid opens quite a bit, so everyone should find the perfect position for themselves.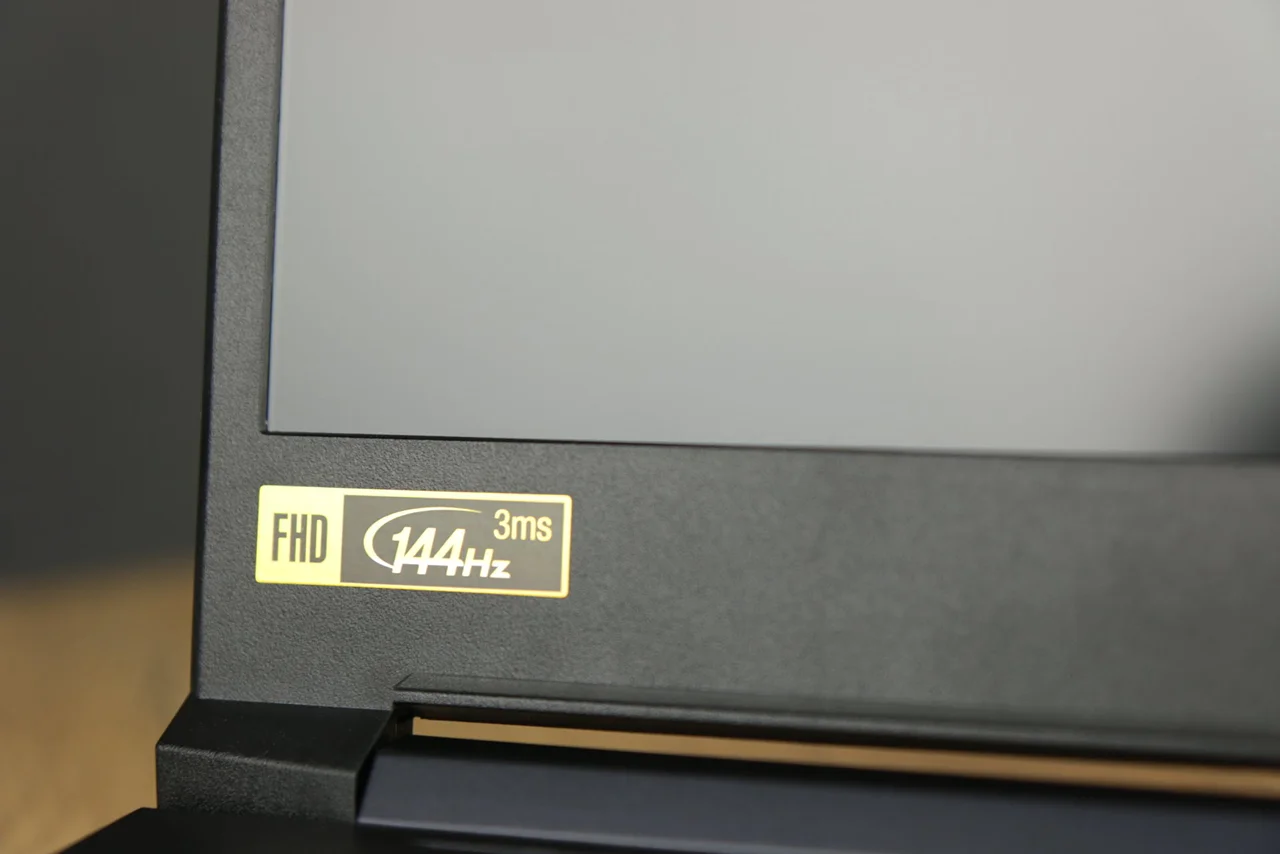 The screen envelope itself is made of plastics, although this does not affect the overall, good performance rating. There are no sharp aluminum edges. The frames are quite thin (except for the lower one), so the Acer fares correctly in this respect as well . In turn, the camera used for video calls is average. I couldn't complain about the microphones.
The Predator keyboard and touchpad have been well adapted to the needs of gamers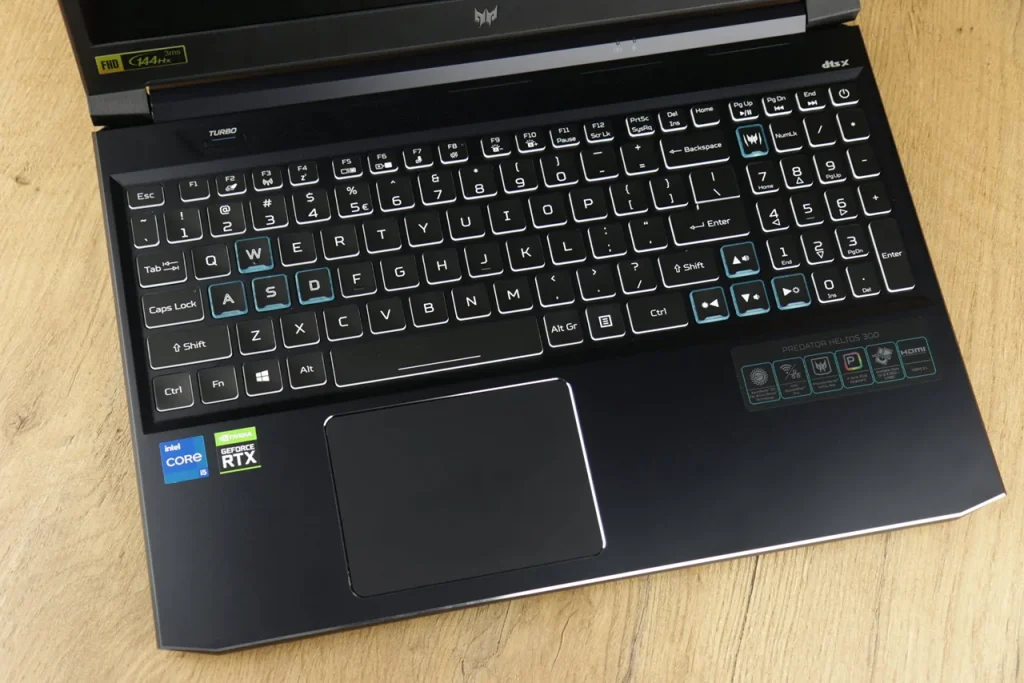 Around the keyboard and touchpad, of course, we will see more or less necessary markings, but also an additional Turbo button , which allows you to quickly use the full performance of the equipment. The keys themselves offer a pleasant resistance and the typing comfort is generally high. White borders often mean that we do not need additional backlight, although this is of course – within 4 RGB zones, which we can freely configure. Acer managed to find full arrows, which, like WSAD, have blue dust jackets. The same distinction was given to the button shortening to the main Predator application, located above the alphanumeric part.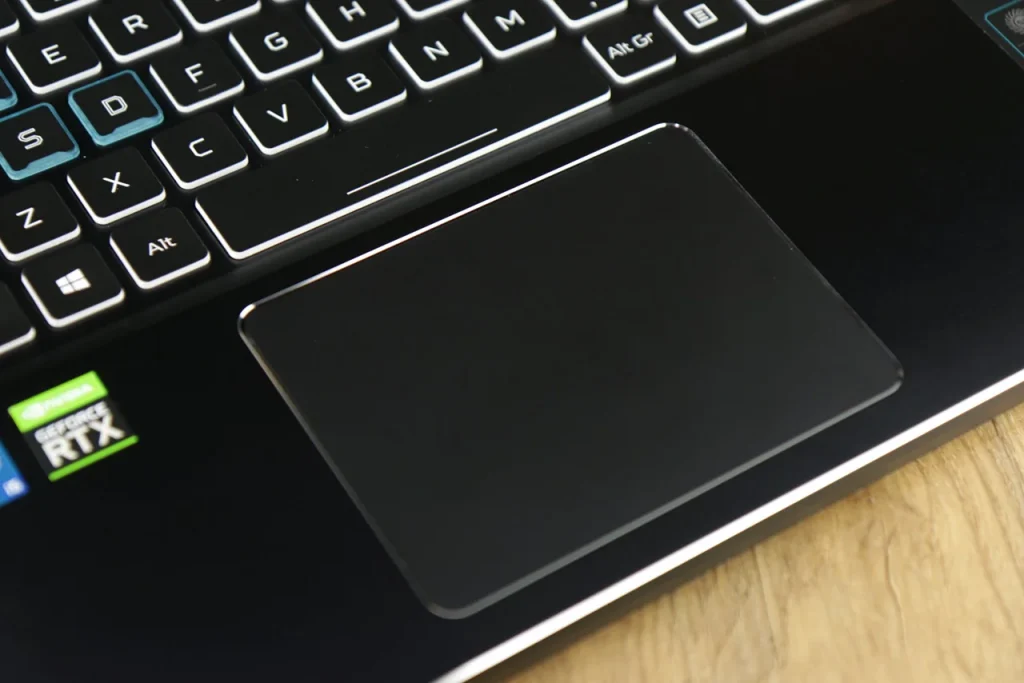 The touchpad has been clearly moved to the left edge of the laptop, which of course makes it easier to use the arrows during games. The very quality of touchpad support is correct. This is not a great panel, because the responsiveness can be different, but I didn't have to have a mouse with me. The competition is simply using more complex trackpads.
Display and image quality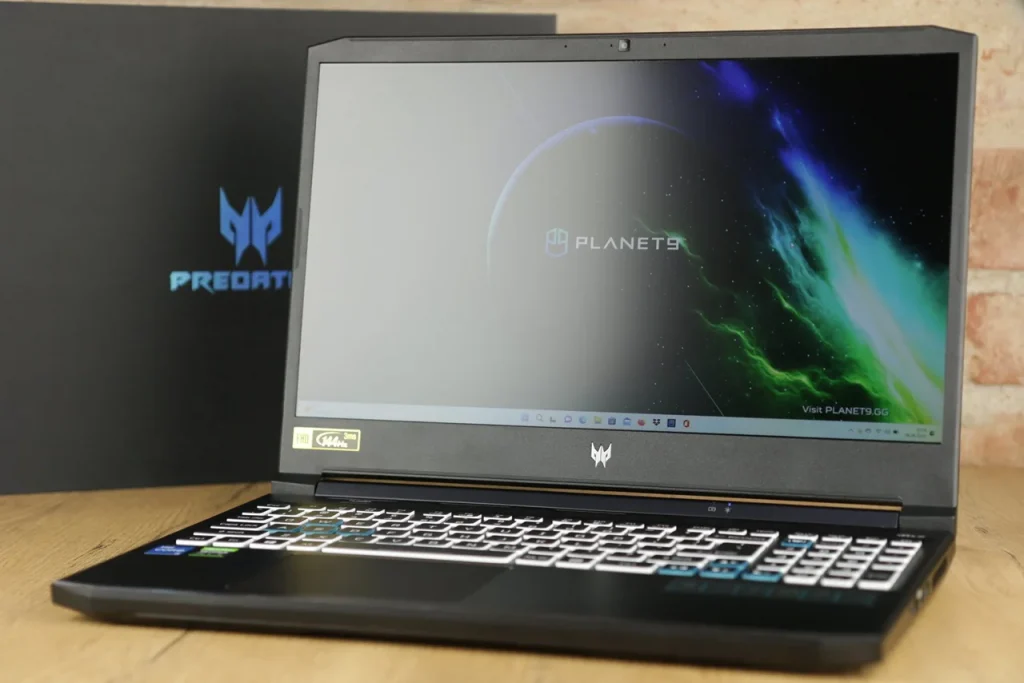 Acer decided not to reinvent the wheel, so they used a panel that was proven for themselves in the tested Predator Helios 300. This is a correct display that can boast a brightness of up to 400 nits , so slightly more than announced. However, at night it is not difficult to see some kind of illumination leaks in the corners of the casing against a dark background. The contrast, in turn, is the classic 1000: 1. The available color palette is not overwhelming, because we are talking about 92% sRGB and 66% DCI-P3 coverage. After the required calibration, the error is correspondingly low.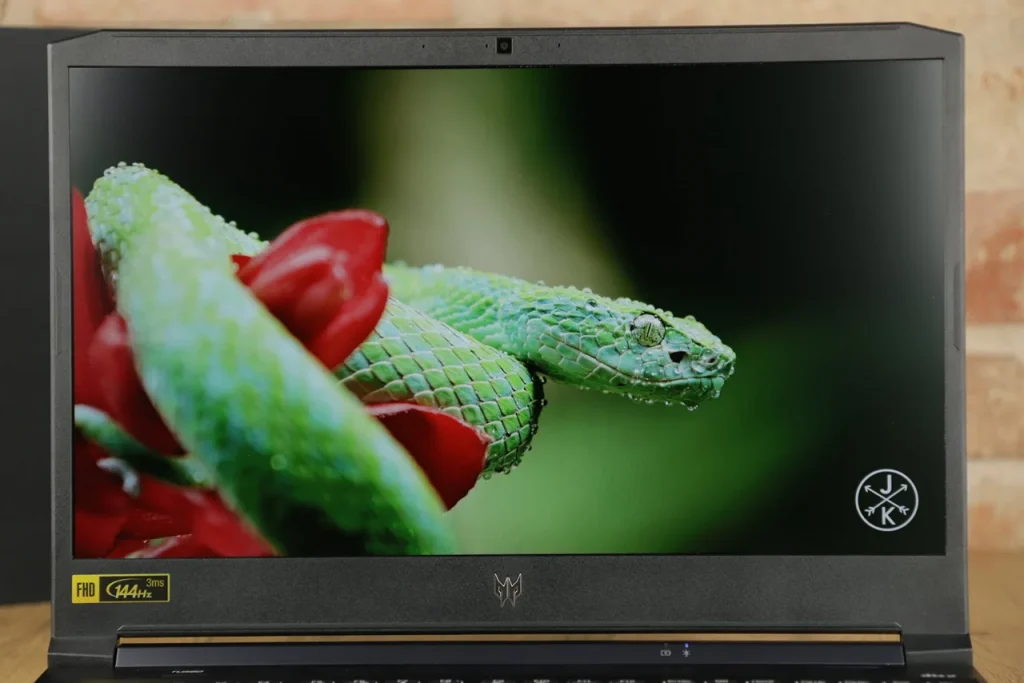 Of course, we are talking about a laptop for players, so there was also an increased refresh rate to 144 Hz . In this regard, I cannot fault anything. The response time of the panel meets the parameters assumed by the manufacturer.
Battery – working and charging time
Laptops for gamers rarely offer exceptionally long operating times on a single battery charge. However, the tested Predator went even a step further, because the 58 Wh capacity cell is below the average in this class. Acer decided to shrink the battery to make room for a 2.5 inch drive so something for something. As a result, we can expect the Predator Helios 300 to last for around 5 hours when watching movies , 3 hours for more demanding office work, and less than an hour when we decide to run more powerful games.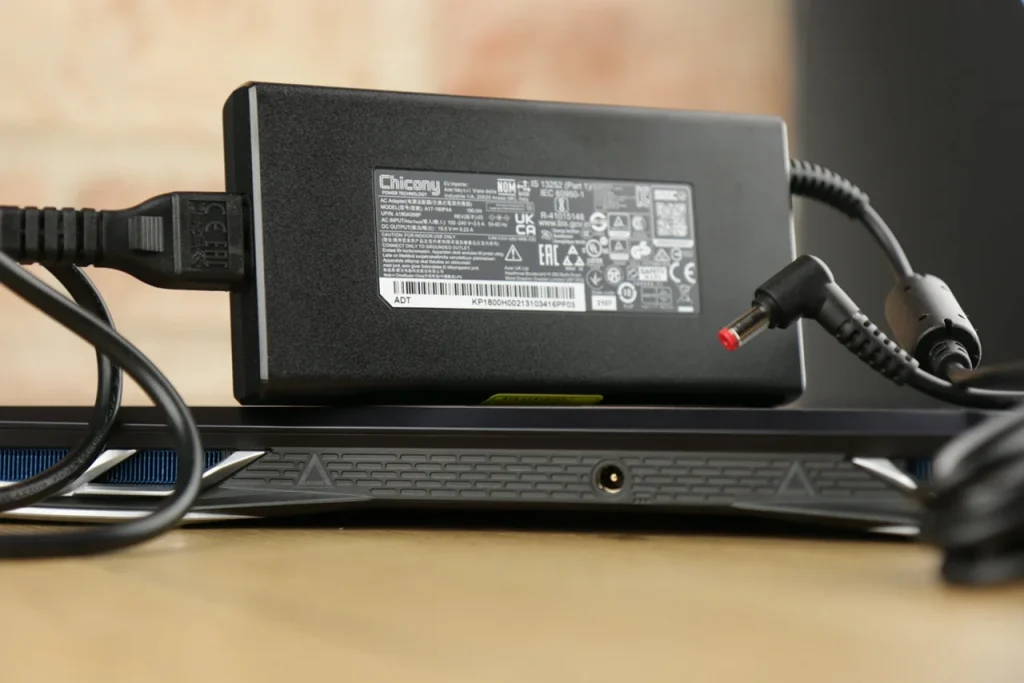 Charging fully takes about two hours and as I mentioned before, we cannot use the USB-C port for this purpose. We must use a power supply with a separate plug.
Software and performance
Predator Helios 300 already receives Windows 11 Home with a few additions. The basic one is the Acer Care Center, which collects the most important information about the hardware with the possibility of verifying the operation of components and updating drivers. Next there are applications for sound (DTS), network card (Killer Control Center) , and even PowerDirector 14 in the form of… less useful add-on. I also positively evaluate Norton, which was installed as the default antivirus. It's not overly annoying as is the case with some of the competition from McAfee.
After all, the most important application is PredatorSense , which we can turn on, among others, as part of a keyboard shortcut. The program allows you to view temperatures, control fans, backlight and adjust profiles to specific games.
Temperature and noise
The cooling system used by Acer is efficient, and even very much when we look at the temperatures and remember that it is a laptop for players. Under maximum load, the Predator was able to generate about 37 degrees Celsius above the keyboard , while the keys themselves remained relatively cool (WSAD and arrows). In everyday use, without generating the maximum computing power of the components, there is no way that the temperature will exceed 27 degrees Celsius.
The situation with noise is slightly different. Two fans, whose proprietary technology is emphasized by Acer, can be quickly turned up to the maximum value. After all, you just need to turn on Turbo mode to hear the cooling system at full throttle. Then the noise reaches almost 55 dB , so it is not too quiet and headphones are needed, but fortunately there are no annoying sounds. In everyday use, the fans rarely exceed 30 dB.
Benchmarks and performance
Our tests included the basic version of the Acer Predator Helios 300 from the 11th generation of Intel systems, but this does not mean that it is not efficient. We can easily run Cyberpunk 2077 in over 40 fps, and the Witcher 3 or GTA V in over 60 fps. Similarly, Shadow of the Tomb Rider reaches close to 70 fps, as well as Red Dead Redemption 2. Also, you can definitely not complain about the gaming aspects, although in some situations you definitely have to deviate from the quality settings.
At work, the laptop also works flawlessly. The memories used are efficient in terms of the device class. You cannot forget about the banally simple expansion options – Acer fares really well in this respect.
Read Also: [ Review ] Asus ROG Flow Z13 – a practical gaming laptop in the form of a tablet
Acer Predator Helios 300 review – summary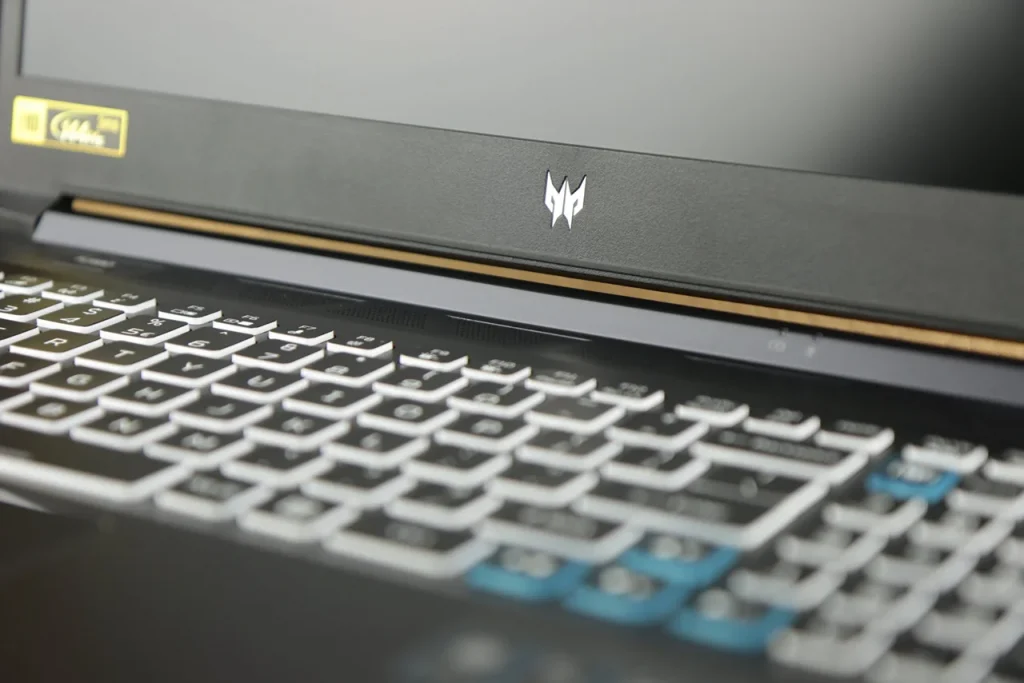 Acer Predator Helios 300 is definitely interesting and rationally balanced equipment for players. First of all, no one should complain about the solidity of the housing, because this one is great. Also in terms of guts, Acer allows a lot, which I emphasize once again as an advantage. Of course, some might expect a bit more from the screen, USB-C charging and, above all, a more efficient battery. However, it is always something for something.
Acer Predator Helios 300 Review
Set

Technical Specifications

Construction

Display

Accumulator

Software

Efficiency
Acer Predator Helios 300 review in three sentences of summary
The tested laptop is primarily a well-complex design that allows for free expansion, but already offers a lot of good as standard. We will appreciate the aluminum housing for its rigidity, while gamers should be satisfied with the image presented by the screen and the computing power of the components used. You just have to turn a blind eye to the above-average noise and the fact that this is not equipment for pedants.