The Asus ROG Flow Z13 is a gaming tablet disguised as a Surface Pro-style laptop. This is a practical laptop for every situation: you can connect an external graphics card and enjoy the most demanding games, as well as carry out common tasks. By disabling the keyboard, it is convenient to use the Z13 as a tablet.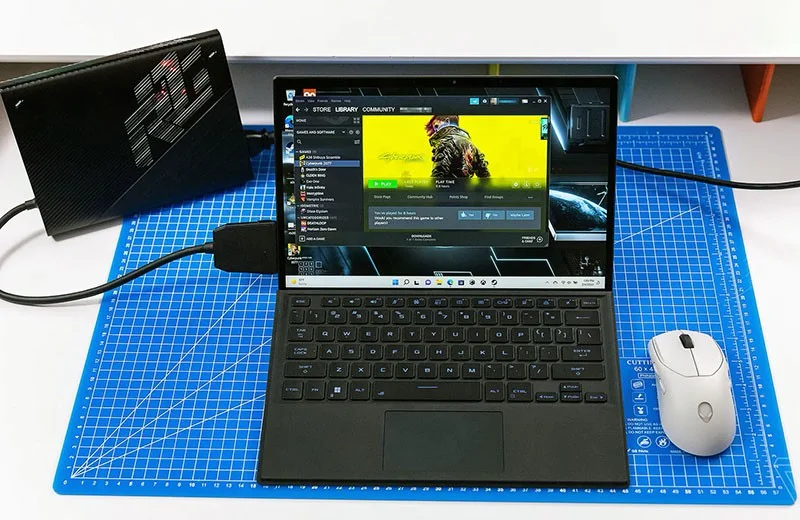 There are downsides too: battery life isn't long, the keyboard isn't great for gaming, and an external graphics card is expensive. Despite all the advantages, the ROG Flow Z13 is not for everyone.
Specifications Asus ROG Flow Z13
Screen
13.4″ IPS, 1920×1200/3840×2400 resolution, 120/60Hz refresh rate, 16:10 aspect ratio, HDR10+
CPU
Intel Core i5-12500H 2.5 GHz (18 MB cache, up to 4.5 GHz, 12 cores)
Intel Core i7-12700H 2.5 GHz ( 24 MB cache, up to 4.7 GHz, 14 cores)
Intel Core i9-12900H 2.5 GHz (24 MB cache, up to 5.0 GHz, 14 cores)
video card
Intel Iris Xe NVIDIA GeForce RTX 3050 Ti for Notebooks
RAM
2×8 GB LPDDR5
Inner memory
512 GB 1 TB
Operating system
Windows 11 Home
Camera
8 MP + 720p
Communication and connections
Wi-Fi 6E (802.11ax), 2 bands 2×2, Bluetooth 5.2
Connectors
1xUSB 2.0 Type-A, 1xUSB 3.2 Gen2 Type-C, 1x Thunderbolt 4/DisplayPort, microSD card reader (UHS-II), 3.5mm, 1x ROG XG Mobile interface, 1xUSB 3.2 Gen2 Type- C/DisplayPort/Support Power/G-SYNC
Battery
Li-Ion, 56 Wh, charging 100 W
Dimensions and weight
302×204×12mm, 1.12kg/1.18kg
Price
From $1,799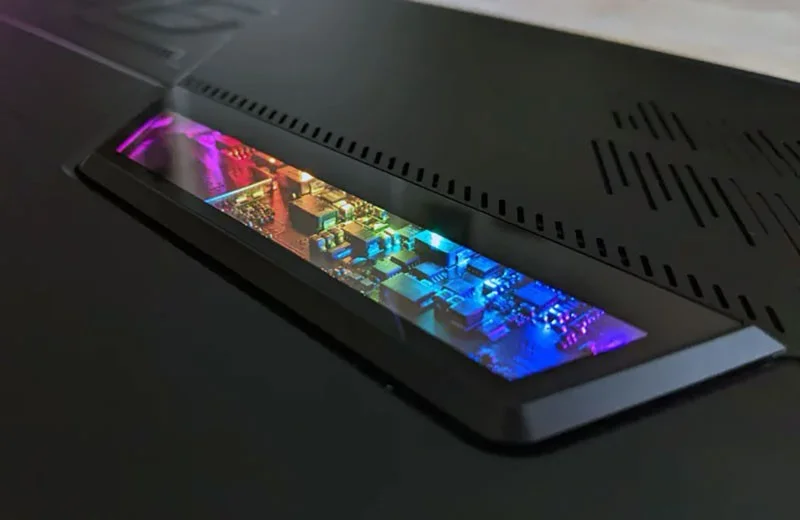 Design and appearance
Formally, the Asus ROG Flow Z13 is a 2-in-1 tablet, but it is larger than the large iPad Pro 12.9 and functions like a laptop.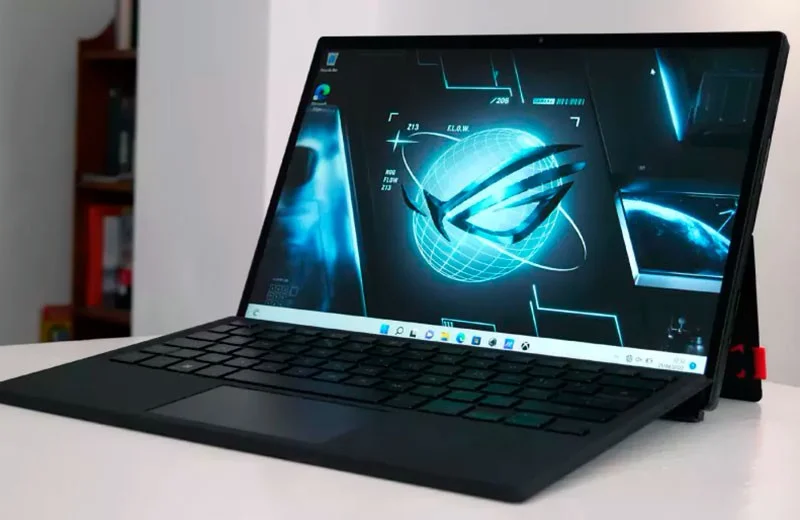 The screen diagonal is 13.4 inches, the sides and corners are not rounded, which is why it is not very convenient to hold the Z13 in the hands. The thickness of the device is 12 mm, and outwardly it looks more like a display detached from the keyboard than a tablet.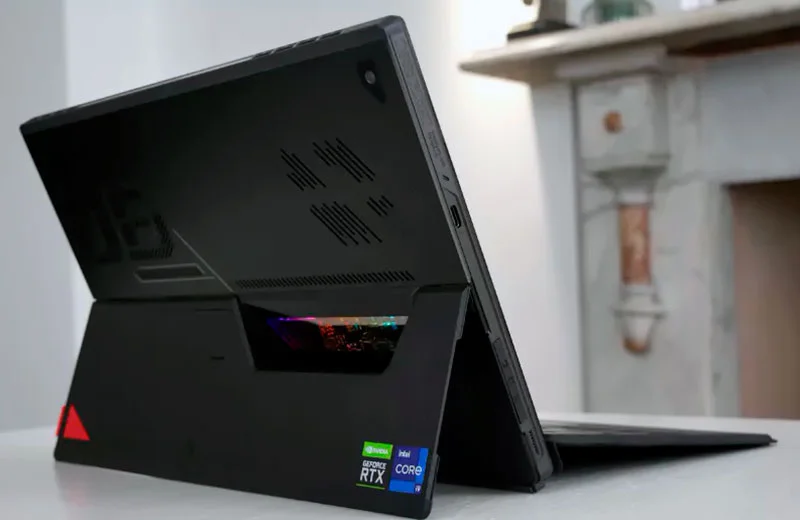 The ROG Flow Z13 is primarily designed to be used as a laptop.
Includes a keyboard that magnetizes to the bottom. This is good because Windows 11 is poorly optimized for gesture navigation. The Flow Z13 weighs 1.18 kg, which is not much for a gaming laptop, it is convenient to carry it with you in your bag. However, the light weight is possible thanks to a lightweight keyboard case that cannot be compared with a full-fledged peripheral.
laptop screen
The Asus ROG Flow Z13 has an excellent 13.4-inch IPS display with a resolution of 1920x1200 or 3840x2400, depending on the version.
The aspect ratio of the screen is 16:10, there is support for HDR10 +. The shades are clear and saturated, although the diagonal may seem too small to many. The maximum brightness reaches 500 nits, and the contrast ratio is 1346:1.
Alas, the color scheme of the ROG Flow Z13 panel is too dark, in some games it is difficult to see the details in the shadows.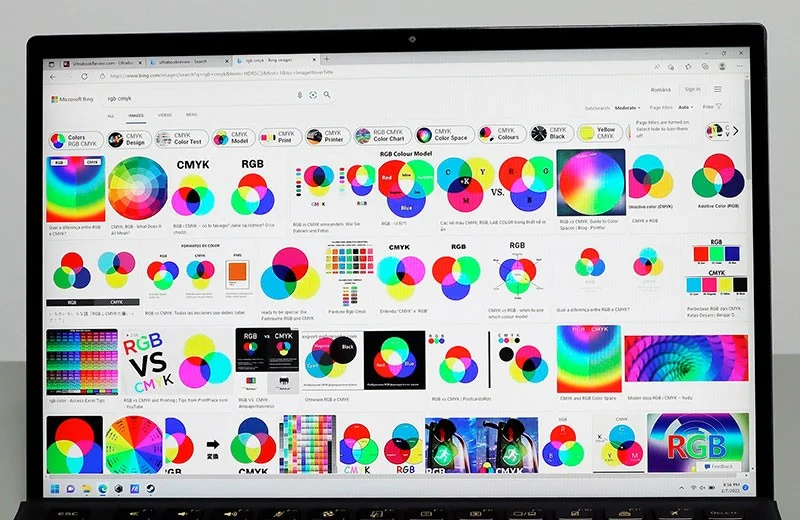 Coverage of the sRGB color space is 96%, so the shades are quite accurate. In addition, wide coverage of Adobe RGB and DCI-P3 spaces allows you to work professionally with photos and videos.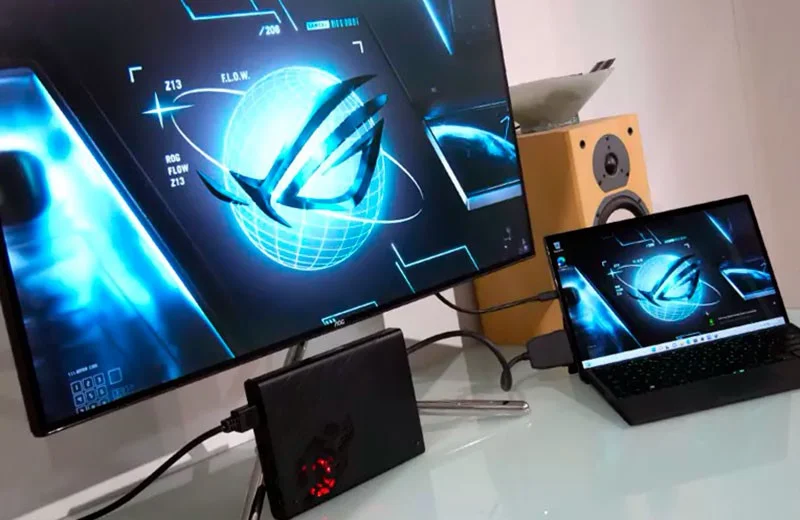 Keyboard and touchpad
The Asus ROG Flow Z13 laptop is primarily designed for gaming, but the included keyboard is not very comfortable.
It is too thin, and the key travel is small, so it is difficult to type text for a long time, it is easier to connect an external mechanical keyboard. The trackpad is also small and doesn't compare to a gaming mouse.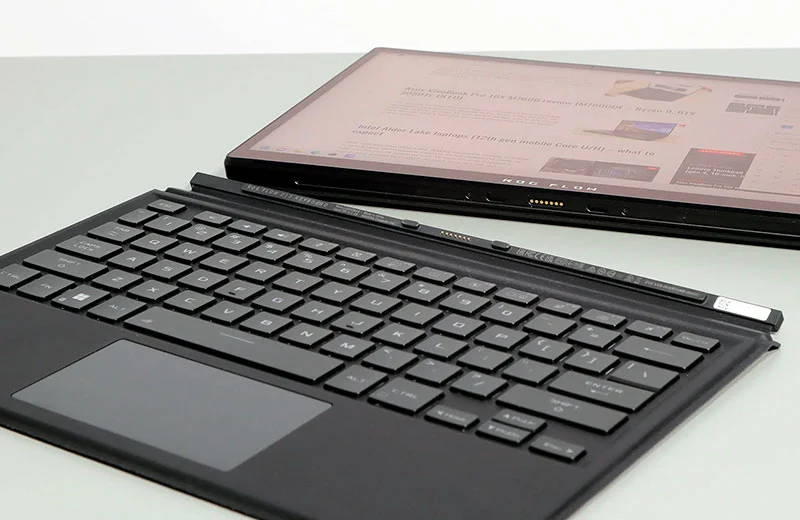 The main problem with ROG Flow Z13 is that you need to carry a mouse or keyboard with you.
But it's easy to connect a gamepad here – on the back of the Z13 there is a built-in metal stand, thanks to which it is convenient to play with the controller. The stand has an excellent build quality, it securely holds the gadget in an upright position.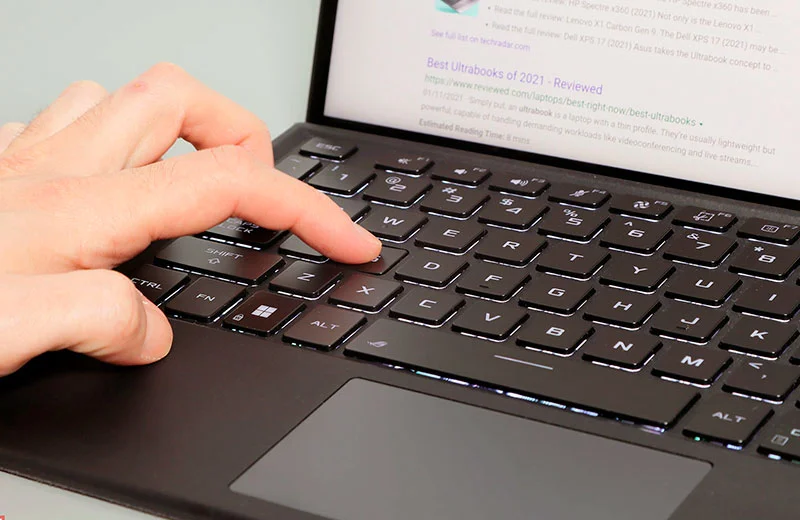 Component Performance
The Asus ROG Flow Z13 tested was powered by an Intel Core i9-12900H processor and an Nvidia RTX 3050 Ti graphics card, the most powerful configuration available.
You can choose a version with an Intel Core i5-12500H and an integrated Intel Iris Xe graphics card, but you should not count on high performance in modern games.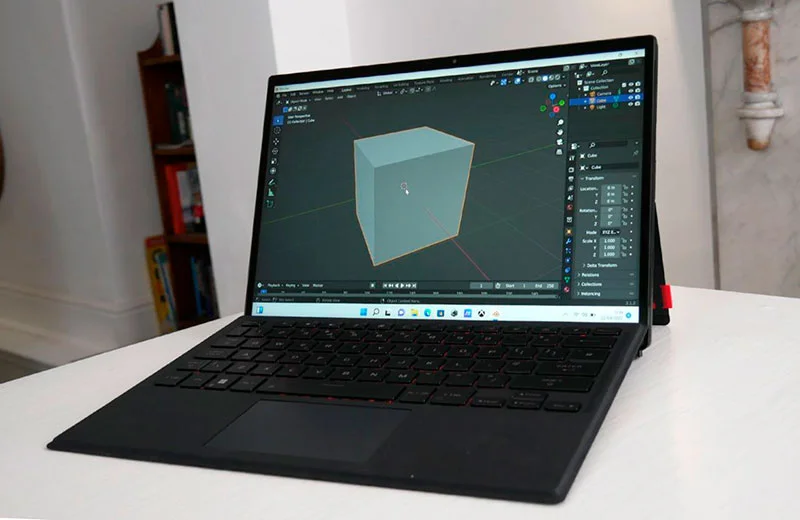 The Intel Core i9-12900H processor can handle any task without any problems, which is confirmed by performance tests. GeekBench 5 gives 1885 points in single-core mode and 10665 in multi-core mode. And in PCMark 15, the ROG Flow Z13 scores 6967 points.
The RTX 3050 Ti is not very impressive – it is one of the weakest new generation Nvidia graphics cards. This is confirmed by the 3DMark Time Spy test, where the Flow Z13 scores 4577 points. However, the device supports connecting an external graphics card through the Asus XG Mobile docking station. With it, you can equip a laptop with an RTX 3080 graphics card.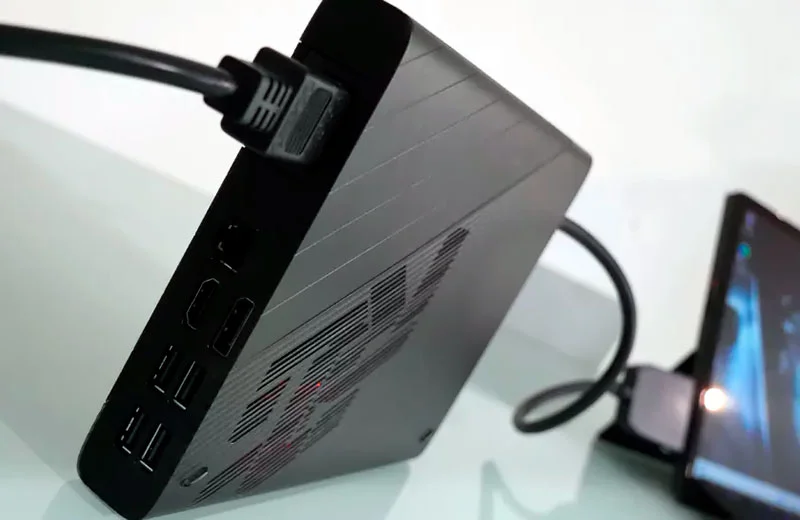 Of course, XG Mobile is expensive, and it is problematic to carry a docking station with you all the time. But, the difference is obvious: with the RTX 3050 Ti at high graphics settings in Borderlands 3, I had about 27 fps, and with XG Mobile and RTX 3080 – 91 fps. In Dirt Rally, these figures are 61 and 192 fps, respectively, while Horizon Zero Dawn is 35 and 99 fps.
Another problem with the XG Mobile, besides the price, is noise and heat. If any cable gets too close to the fan, a burnt smell will almost immediately appear and the noise can be distracting. SSD capacity is 512 GB or 1 TB, which is enough for a large collection of games. The read and write speeds are 3466 Mb/s and 2311 Mb/s, so loading and saving are instantaneous.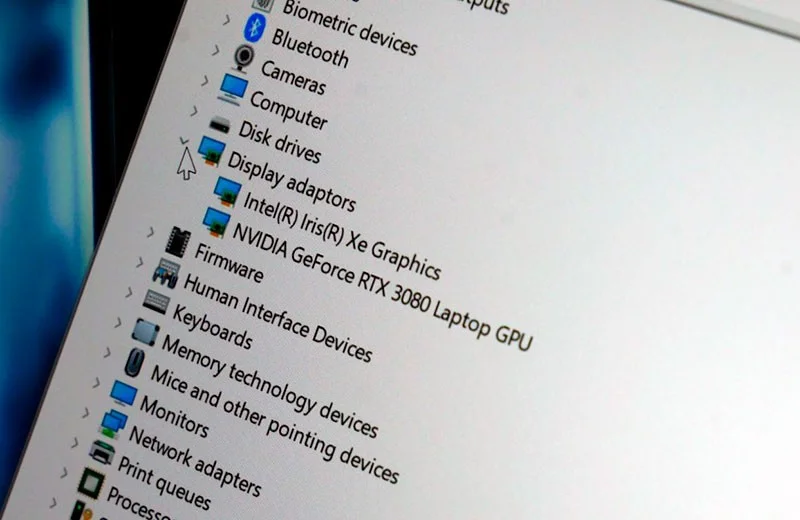 Autonomy Asus ROG Flow Z13
The ROG Flow Z13 is a great portable gaming laptop, but it does have one big downside: a weak battery.
When playing the new (not the most demanding) RPG Tunic, the battery will run out in a few hours. Of course, you can lower the brightness and graphics settings, but it's hard for me to call the Z13 a very portable device.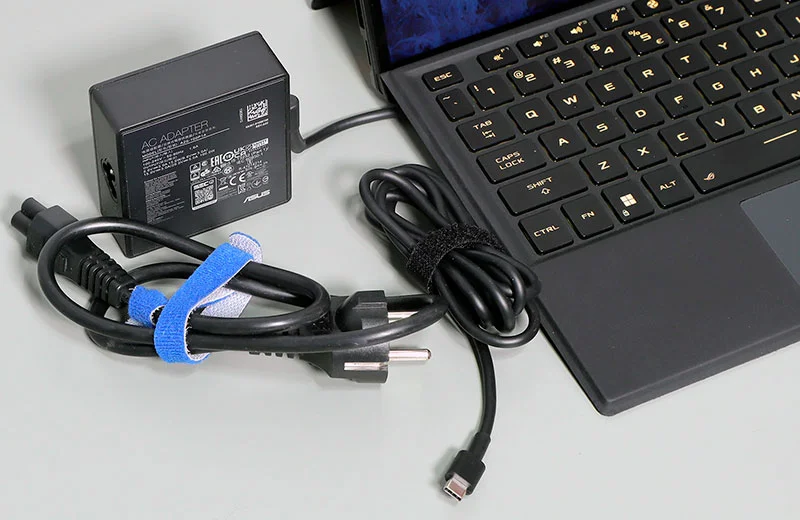 When performing everyday tasks, the Flow Z13 has a battery life of approximately 5 hours, which is a good indicator for a gaming laptop. However, if autonomy is important to you during games, it is better to take Steam Deck .
Read Also: What lightweight laptop to buy – TOP 5 best ultrabooks in 2022 price-quality
Outcome
The Asus ROG Flow Z13 is a unique 2-in-1 gaming laptop that transforms into a tablet when the keyboard is removed.
It can be used both for everyday tasks – typing, photo editing, and for playing games, including with a gamepad. The GeForce RTX 3050 Ti graphics card is not the most powerful, but it is possible to connect the XG Mobile dock with any card, up to the RTX 3080.
All in all, the ROG Flow Z13 could be the perfect portable gaming device, but this is hampered by a weak battery that barely lasts for several hours of gaming.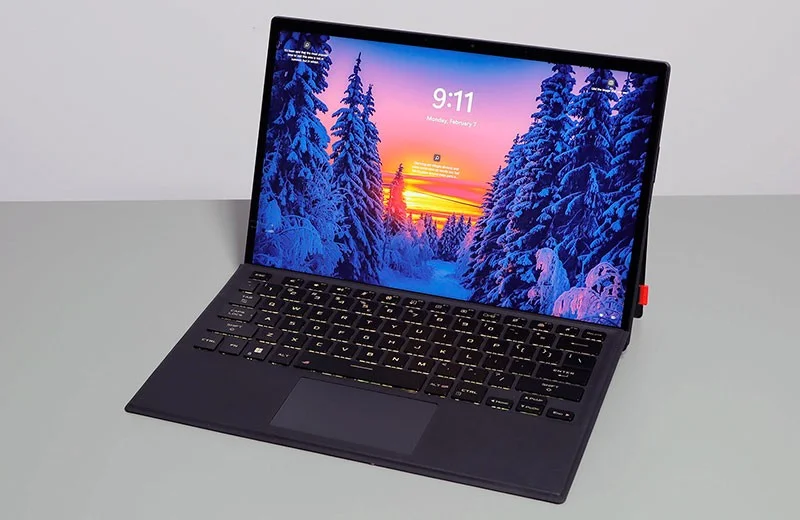 Is it worth buying
The ROG Flow Z13 from Asus is recommended for anyone looking for a portable gaming laptop. But you will have to carry a separate keyboard, mouse and charger with you.
Advantages and disadvantages
Benefits
Unique design
Compact and lightweight
Superb IPS display
High performance
Connecting an external video card
Disadvantages
Weak battery
External video card is expensive
Complete keyboard-case not for games
Asus ROG Flow Z13 Review Summary
Design and ergonomics

Display and multimedia

Keyboard and input devices

Connectors and ports

Performance

Communication and connections

Autonomy of work
SUMMARY
The Asus ROG Flow Z13 is the company's second attempt at a gaming tablet. The device offers great versatility, but remains specialized and expensive.