The lightest mouse in the world is undoubtedly the arugula. It is the smallest representative of the mouse subfamily. The average representative of this species living in Eurasia reaches about 7 grams of weight. They mainly eat seeds, leaves, fruit and insects. They live in wetlands and make their nests among grasses, which is where their Polish name comes from. But you … well, you probably didn't come here to read about mice in the context of live animals, but rather computer accessories. So let's start again.
The lightest mouse in the world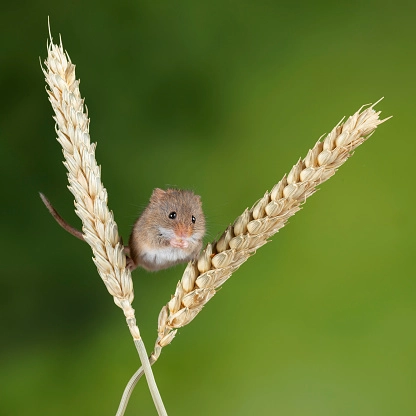 The lightest mouse in the world is without a doubt the Zaunkoenig M2K. It is the lightest representative of wired mice. The average specimen of this species designed in Germany is 23 grams in weight . They only feed on 5V from the USB-A port. They occur where the most important parameter is the low weight of the accessory and no one requires high ergonomics from them, which is limited by the small size of the lightest mouse in the world. "Well, it's much better now."
Well, even though the mouse itself is small, the manufacturer considers it a gaming accessory. However, the rather basic set of buttons and the above-mentioned issue of ergonomics do not convince me too much. Well, its structure is characterized by a footprint half the size of a traditional gaming mouse. So there is no question of a comfortable palm rest on the rodent. Larger sizes, however, would mean higher weight.
However, size is not everything that affects its dimensions. In fact, the lightest mouse in the world is mostly an empty carbon fiber shell. What takes up the filled space deserves to be called gaming equipment – although weight was still the main criterion here. The left and right buttons use Japanese Omron D2F01F switches, which are among the lightest switches used in mice today and, according to Optimum Tech, very close to the ultra-light switches used in the Logitech G303 mouse.
Read Also: Need the best cheap computer mouse – TOP 5 mice 2022 for work and play
The main element is the PixArt 3360 sensor. This one offers a refresh rate of up to 8 kHz. In addition to a size that may be a problem for many, is there any downside to the lightest mouse in the world? Well, one: M2K costs 300 euros approx. $315. So we are talking about one of the most expensive rodents on the market. So the lightest mouse in the world requires quite a heavy wallet. On the other hand, if someone travels a lot on business with a laptop in a bag, such an accessory can be a real godsend. Although I would prefer to exhaust myself with something that weighs 100 grams and keep the 315$ for other expenses.
Source: Tomshardware
About Post Author