NovoQuad from the USA implements anti-drone solutions. The company argues that the dangers of unmanned aerial vehicles can no longer be ignored. He gives examples of dangerous incidents involving drones as examples.
Anti-drone solutions as a recipe for the irresponsible use of flying devices?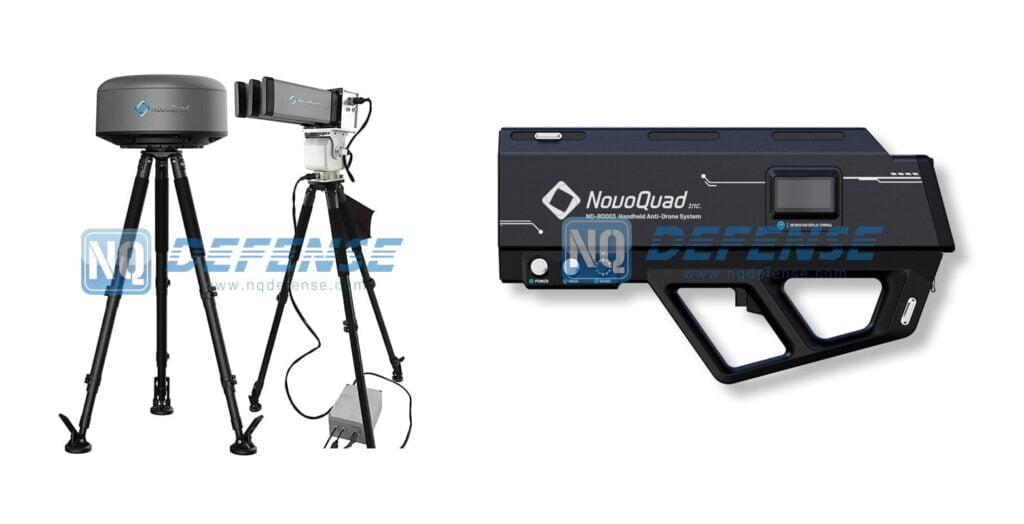 Drones are devices that can improve the daily functioning of many industries, but when controlled by an irresponsible person, they can also pose a serious threat . The NovoQuad company draws attention to the events of 2016 (the drone hit the top of the Space Needle in Seattle) and 2017 (the drone collided with a passing light plane in Quebec, Canada). However, the company boasts of the Counter UAV System anti-drone system. The security threats posed by drones can no longer be ignored , he argues.
Read Also: Israeli police have adopted AIROBOTICS DRONS that respond to the SOUND of a Shot.
Anti-drone systems are to protect low-lying facilities – mass events, airports, government infrastructure and military facilities. The basic ND-BU003 system consists of a detection module (RF detector) and a jamming module (directional jammer). Provides comprehensive detection up to 3 km. A camera can be integrated with it if the operator wants to closely monitor the target drone and have a video recording of the mission.
NovoQuad also boasts the ND-BD003 manual anti-drone system . This equipment combines drone detection, counter, display, control and power supply in a lightweight, compact device. Its dimensions are 50 × 30 × 10 cm, and the weight is up to 3.5 kg. The user can define the jamming frequency bands and manage the connection with the mobile application.
Currently, along with the dynamic development of drone technology around the world, the existing technology of anti-drone solutions is also constantly being improved, and more and more optimized solutions for detecting and combating them will be created – argues NovoQuad .
Drones are more and more often used equipment, and as a small aircraft can be bought by virtually everyone, sometimes dangerous incidents involving these devices occur. For example, the Civil Aviation Office has repeatedly noted incidents involving the violation of airport space by drone operators . An unmanned ship approaching, for example, a landing plane poses a significant threat.
source: PR Newswire, main photo: Dose Media / Unsplash
About Post Author