Bluetooth has one major drawback: it allows sound to be sent to a single device: even wireless headphones need to communicate with each other – although there is a fairly limited exception to this rule. But what if several people want to listen to music from one source, but are in a public place, such as a bus, and respect their fellow passengers? Auracast Bluetooth technology is the solution to this problem. 
Auracast Bluetooth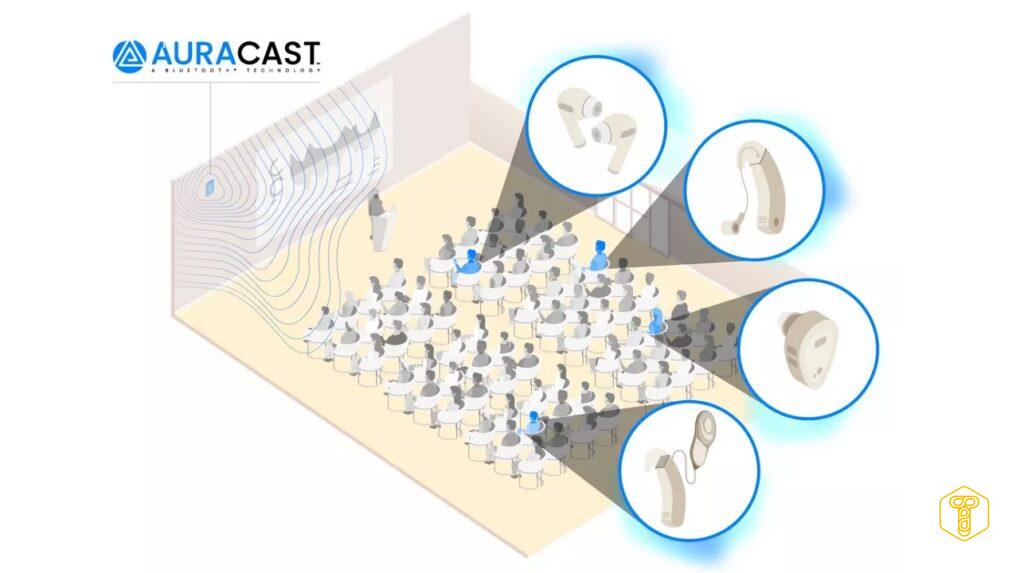 This solution was developed by the Bluetooth Special Interest Group (Bluetooth SIG). Therefore, it is not a proprietary technology of a single producer, and it is supervised by a foundation that has been developing this standard for years. If its description seems familiar to you, it's because it is based on the existing Audio Sharing function, which is part of the LE Audio protocol. The latter only allows point-to-point communication and audio sharing with up to two headphones or speakers without having to communicate between them. Auracast will allow Bluetooth devices to broadcast audio to any number of other devices within range.
Sounds complicated? None of these things. This can be compared to a public Wi-Fi network. And just like in her case, anyone who has the appropriate access key at hand will be able to connect to the network here. Of course, the range in this case will be typical for a Bluetooth network, and communication will not take place between client devices. Thus, this solution will not necessarily work in the case of sound transmission over a larger area, especially if there is a large potential for interference that limits the real range.
So where can it really work? Well, apart from the bus trip, I think of another, more personal scenario: the combination of headphones and speakers in the car. So that you can listen to music / podcasts on the speaker from the radio all the way, and when you get off without having to switch in the settings, smoothly switch to the headphones. Another idea might be to watch movies together without disturbing other people in the room. These are just three examples of what the Auracast Bluetooth offers.
Read Also: What is NFC on a smartphone? Find out what it really is and what it will be useful for!
Auracast Bluetooth – a bit of patience
Of course, in order to take advantage of the Auracast Bluetooth benefits, you will need to purchase devices that are equipped with this standard. This means that only in a few years they will become widely used, and in the case of systems in cars, we will probably have to wait even longer for them. On the other hand, there is always an FM transmitter that solves this problem.
Source: TechSpot
About Post Author