"Take any train… "they say. Well, Brad Pitt wouldn't necessarily agree with that. This is evidenced by the movie "Bullet Train" directed by the author of "John Wick" and "Deadpool 2".
Bullet Train – a description of the plot of the film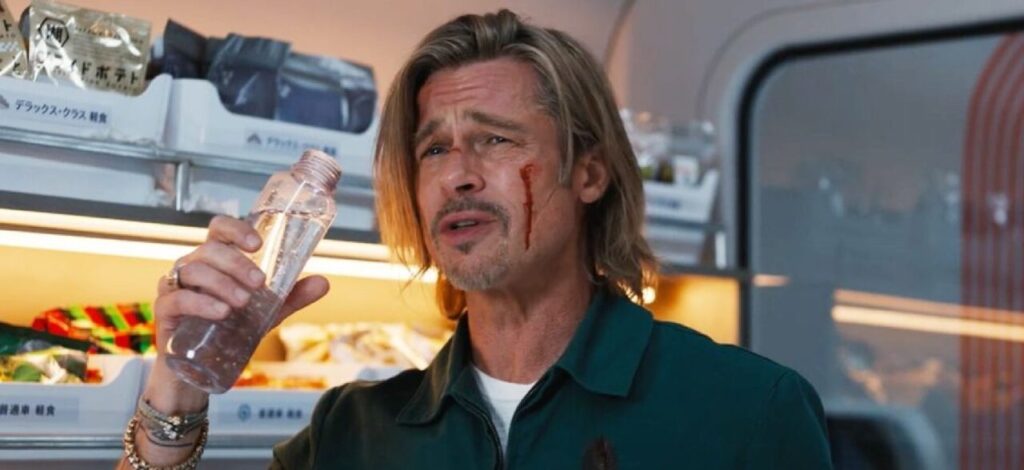 Brad Pitt He plays the role of a hired killer code-named "Biedronka", who accepts a theoretically simple order to take over a suitcase on a Tokyo train. Unfortunately, Biedronka does not have very good luck with luck, so this task gets complicated very quickly, because there are several dark star characters on the same train.
Bullet Train – a train to comic book violence
I admit, "Bullet Train" didn't turn out to be as bad a movie as I thought it would be after watching the trailers. Of course, this is cacophonic and an exaggerated comic-book variation of Quentin Tarantino and Guy Ritchie's films with an admixture of Looney Tunes cartoons (and even criminal intrigue straight from the Agatha Christie novel). But fortunately, stunt-director David Leitch has enough formal prowess not to fall into the trap of many of the previous unsuccessful followers of the aforementioned artists. Not that "Bullet Train" was immediately a fully successful movie, because it is not, but I was expecting something much worse.
In the Leitch movie, I had a lot of fun at times. With an emphasis on "moments", because "Bullet Train" is unfortunately a very uneven work. It is also worth noting that almost the entire film takes place in the tight carriages of a train, and it is not an intimate psychological drama, but a criminal comedy and action cinema, at times in full swing. The staging and choreography of the scenes requires much more creativity here than in other cases. In this respect, the creators do not hide their inspirations from films with Jackie Chan. Of course, there are two classes lower, but it is worth appreciating both the willingness and the sometimes good effects of these inspirations.
The "Bullet Train" action can be just as effective, flashy, wildly colorful and chaotic at the same time. Not every viewer will buy it, because not everyone expects it from entertainment cinema, but against the background of the recent (and much more expensive) Gray Man, Leitch's film seems to be much more full of life, fun, momentum, creativity and style. All the time, of course, we oscillate in the middle of class B cinema, but if I had to choose between these two productions, "Bullet Train" fares much better in this genre.
Bullet Train – will something stop this train?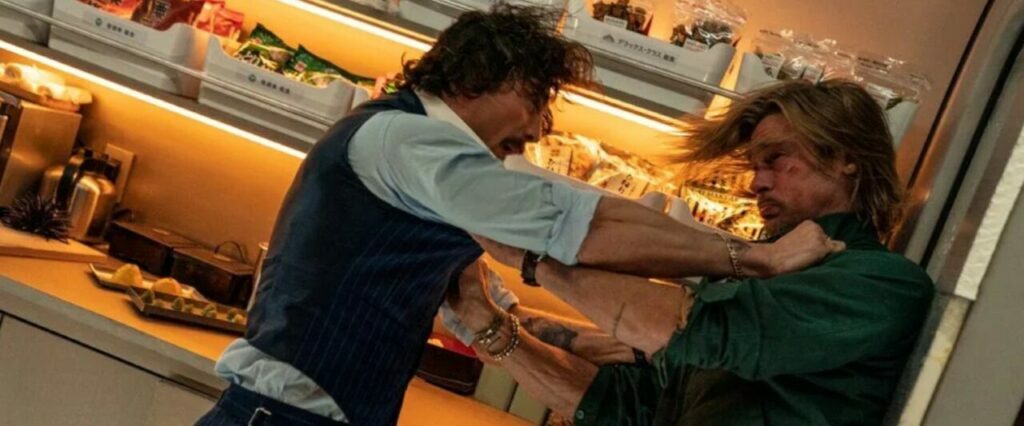 Undoubtedly, as the title suggests, "Bullet Train" is not a movie where you can get bored. The action rushes like a speeding missile, with all its pros and cons. The beginning, the entire first act, unfortunately, did not convince me. This is largely due to the ton of flashbacks that tell us the stories of all the characters in the plot's interest in a music video (visual and narrative) style.
Not only are these flashbacks distracting from the main plot every now and then and they can be very irritating, disrupting the rhythm of the film, but most of them are not needed for anything. These stories could either be omitted at all without detriment to the script, or be included in a few sentences embedded in the dialogues. The film would gain a lot from it.
These dialogues can be relatively good, at times funny, but it also takes time to get going for good. Certainly, however, "Bullet Train" is a film that is not as funny and brilliant as its creators think. We have already seen and heard all this somewhere in a better form. Nevertheless, as a light entertainment for one approach, especially recommended on the big screen in cinemas, it is really enjoyable to watch.
Unless, of course, you like crazy, cacophonous, full of exaggerated and unnecessary violence films that are not really serious. It is also one of those productions that, as I wrote earlier, accelerate gradually, but also successively and consistently raises the stakes, leading to the crazy finale. I admit that I liked this construction regime in "Bullet Train".
There are many movies the pace of which is much more shaky and, for example, the beginning can be boring, in the middle we get the most impressive sequences, and then in the final the pace slows down again. "Bullet Train", with all its narrative and visual chaos, from the skeleton side is a really organized structure that skillfully raises the temperature higher and higher.
Bullet Train – movie rating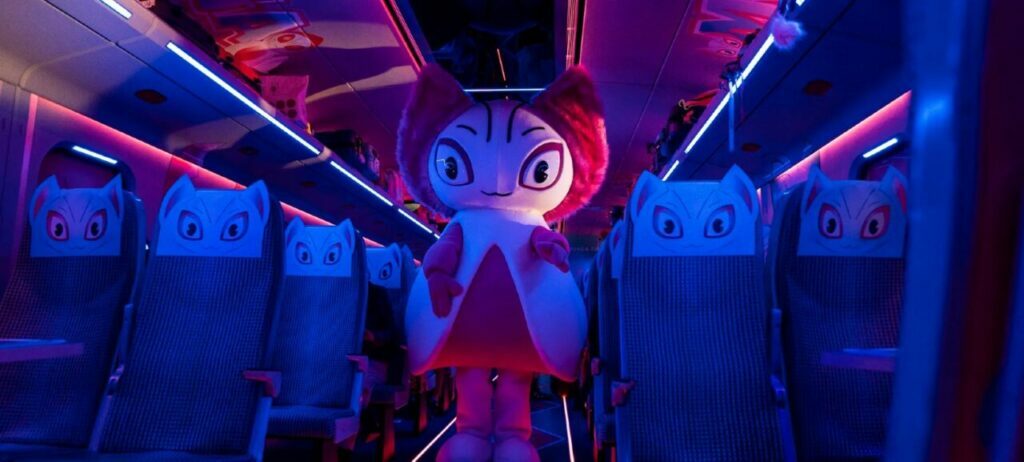 If you are expecting a real revelation in the action cinema, like "John Wick" but on the train, then this is not the address. David Leitch efficiently ticked off the paraphrasing of Tarantino, Ritchie and sometimes Jackie Chan, but his work is far from those points of reference. In fact, whether you like "Bullet Train" depends on what you want and what your preferences are. For sure, if you like music video montages and storytelling, and absurdly silly plots as a pretext for showing a cartoon orgy of violence, Leitch's movie can be a good option for a fun afternoon or evening.
Read Also: Carter from Netflix is ​​impossible to watch: Review
Actors, and the cast is interesting, because it is and Brad Pitt, Aaron Taylor-Johnson, Hiroyuki Sanada and some surprising episodes of big Hollywood names, have a great time giving viewers equally successful creations. A few twists and turns make a good impression, the visual of the film looks very good. In a word, decent, though not knocking on your knees, entertainment for B-cinema fans. "Kill Bill" meets Bugs Bunny and "Murder in the Orient Express". If such a mixture makes you excited then "Bullet Train" should give you a lot of fun.
About Post Author
Bullet Train - A Review Of A Crazy Action Movie
Summary
This movie grabs you from the start and doesn't let go. Its an entertaining whirlwind of goofy character after goofy character, and awesome fight after awesome fight. Brad Pitt nails his leading role and everyone else does great. The visuals of the film are fantastic- soaked in a beautiful neon glow. While soundtrack is fine but not too memorable outside of the film.