Since the release of the first smartphone gimbal from Osmo Mobile by DJI in 2016, the company has released a new model almost every year last model was DJI OM 4 . The next – DJI OM 5, has become a third smaller than its predecessor and has a built-in monopod for easy selfie shooting.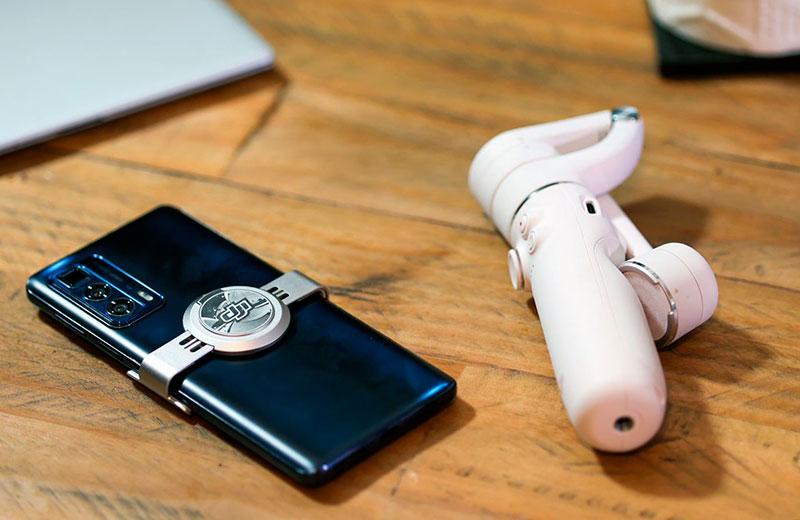 An extra button makes it easier to use the  DJI OM 5 gimbal, and the app's new ShotGuides mode will let even beginners get great photos and videos. But, the battery life has decreased, and it will no longer be possible to charge the phone from the stabilizer.
The price of the DJI Osmo Mobile 5 is also not small, especially if you want to buy an additional magnetic mount with two LEDs. But this is a great solution if you need a device for stabilization when creating videos and shooting high-quality selfies.

Stabilization: 3-axis
Connection and connectivity: Bluetooth 5
Battery autonomy: up to 6.4 hours
Charging time: 1.5 hours (10W device)
Tilt: -101.46 ° to 229.54 °
Pan: -127.05 ° to 208.95 °
Panning: -161.2 ° to 172.08 °
Compatible smartphone weight: 170-290 grams
Compatible phones width: 67 to 84 mm wide and 6.9-10 mm thick.
Price: from 159 $
DJI OM 5 Design and construction
The main features of the DJI OM 5 are more compact dimensions and a monopod (selfie stick).
The latter has already been on many other models, but not from DJI. The monopod allows you to shoot yourself from a farther distance and take more interesting shots in general. When folded, the Osmo Mobile 5 measures 17.5 x 7.5 x 3.7 cm – the gimbal can be tucked away in a pocket (large pocket).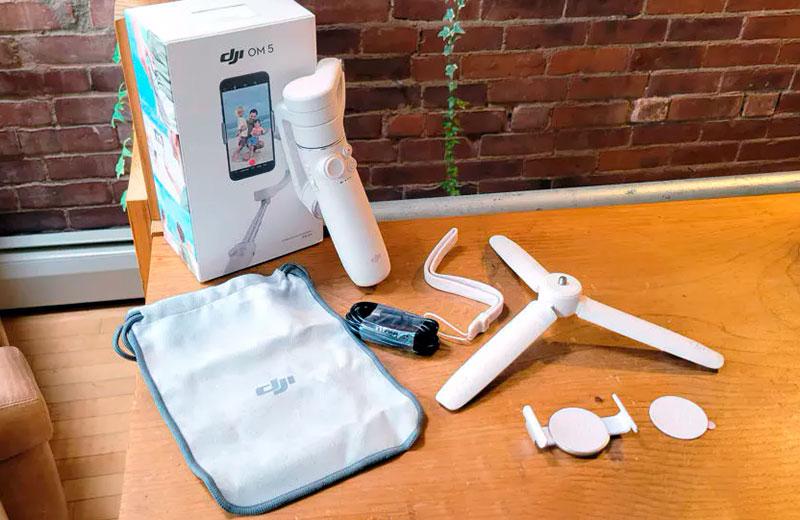 Weight has become 100 grams less than that of OM 4 - about 300 grams, but with a magnetic holder for a smartphone, it is 324 grams. It is nonetheless one of the lightest phone gimbal gimbals on the market.
According to DJI, the magnetic mount has been redesigned to support smartphones weighing between 170 and 290 grams, and widths 67–84 mm. Essentially, DJI's OM 5 is suitable for any modern smartphone.
The set includes a soft carrying bag, although there is no Combo version this time, there are two colors to choose from: white and gray.
Management and convenience
The layout of the keys on the DJI Osmo Mobile 5 has hardly changed compared to the previous model.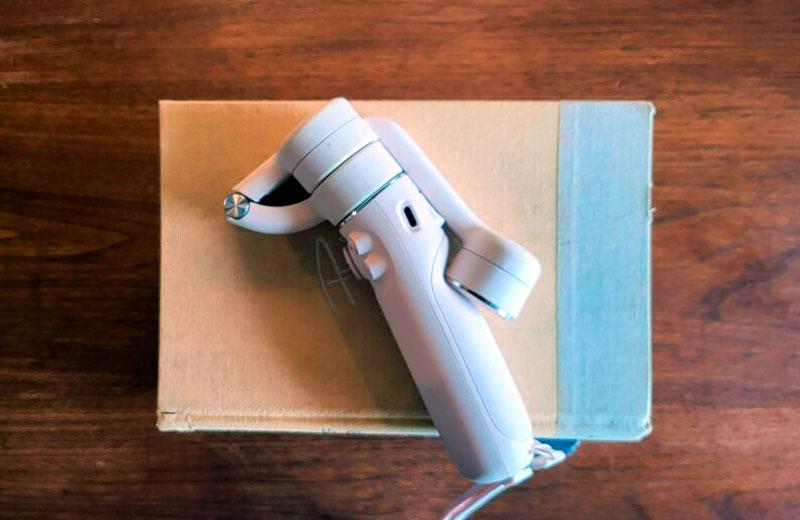 Only the button for switching on / changing modes moved to the right side, and in its place was a new key.
When pressed normally, it switches between photo and video modes (or those functions that you choose in the MIMO application), and when pressed twice, it changes the orientation of the smartphone from landscape to portrait or vice versa.
DJI OM 5 Holders and lights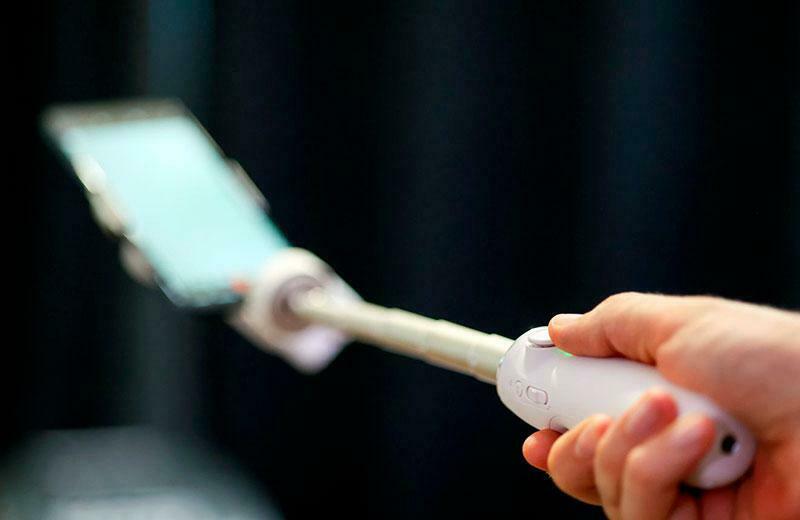 Unfortunately, the DJI OM 5 does not have built-in lighting, although it is found even on cheaper models like the Zhiyun Smooth Q3 .
If additional lighting is important for you when shooting, you will have to buy an additional holder with an illumination. The accessory is charged via USB-C, it has three brightness levels and three lighting styles: standard, warm and cold.
The holder copes with its work, but it can only be directed at you – the backlight cannot be turned, for example, to shoot objects behind a smartphone.
DJI OM 5 Stabilization quality
The DJI OM 5 is excellent at stabilization in all conditions – even while running.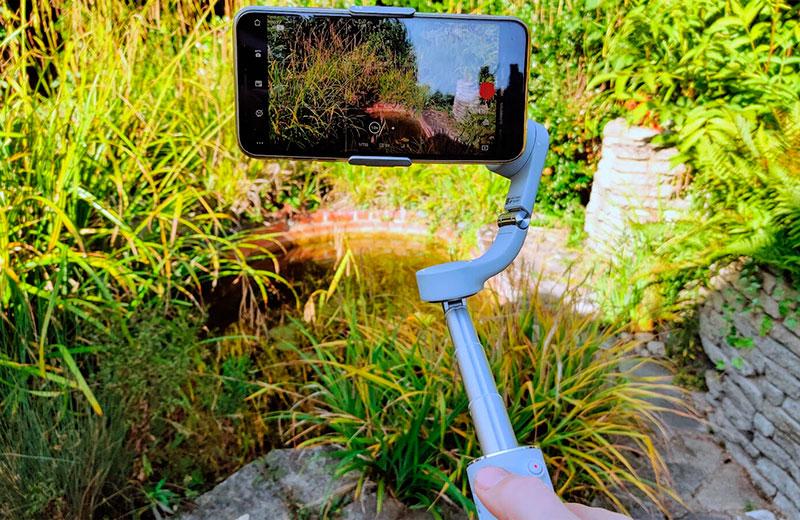 However, there is one drawback here :-
Movement control is carried out through the joystick. This means that you will not be able to control the speed of the tilt or turn with high accuracy - a lot depends on your dexterity when driving.
The movement speed is configurable in the MIMO application, there are three options to choose from: slow, medium and fast. The problem is that even the first option gives a higher speed than we would like.
The movements are also not always smooth. In general, you first have to learn how to operate the OM 5 so that the results are satisfactory.
DJI Gimble Application and shooting modes
DJI's MIMO app has been around since the release of Osmo Mobile 3, but recently a new feature has been added – ShotGuides.
It allows you to shoot shots in a variety of styles: "Nature", "City", "Kitchen" and others. After clicking the "Apply" button, a video will appear on the screen showing how to shoot.
Moreover, this is not an easy video with instructions – in some modes, the response of the stabilizer to the movements of the joystick changes, which allows you to get more interesting shots.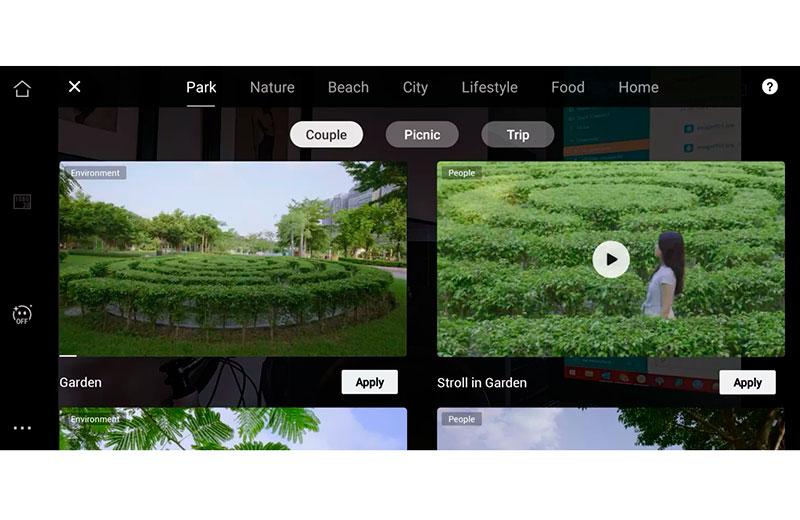 For example, in one of the modes, moving the joystick to the left will not turn the smartphone horizontally, as in panoramic shooting, but will tilt it to the side.
There is a Stories mode where you can choose from different TikTok-style templates. Several clips after recording will be combined into one video, here you can choose from different filters and music.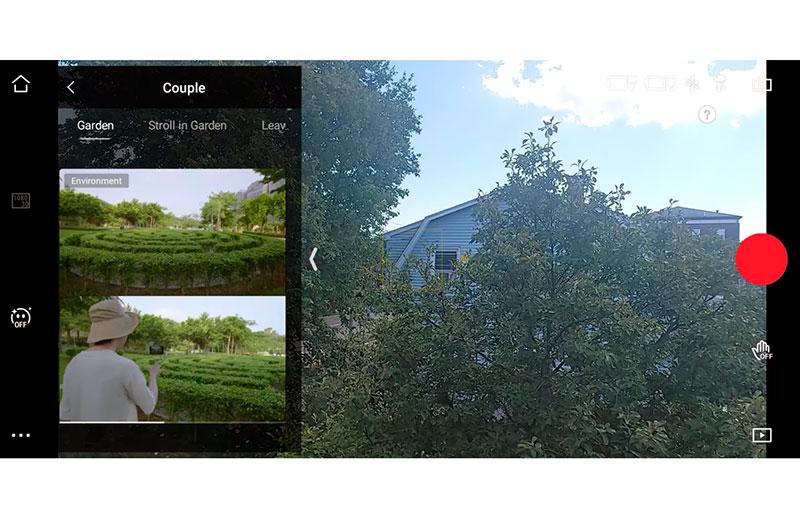 The MIMO app for DJI Osmo Mobile 5 also has an AI Editor feature - you upload multiple clips, and the smartphone selects the highlights from them and adds music with effects. True, the results are not always successful.
ActiveTrack 4.0 has been optimized to track people in the frame even better with a head and shoulder model. In addition, the app can detect familiar faces thanks to machine learning. There is also a follow mode that eliminates the need to constantly turn the gimbal manually.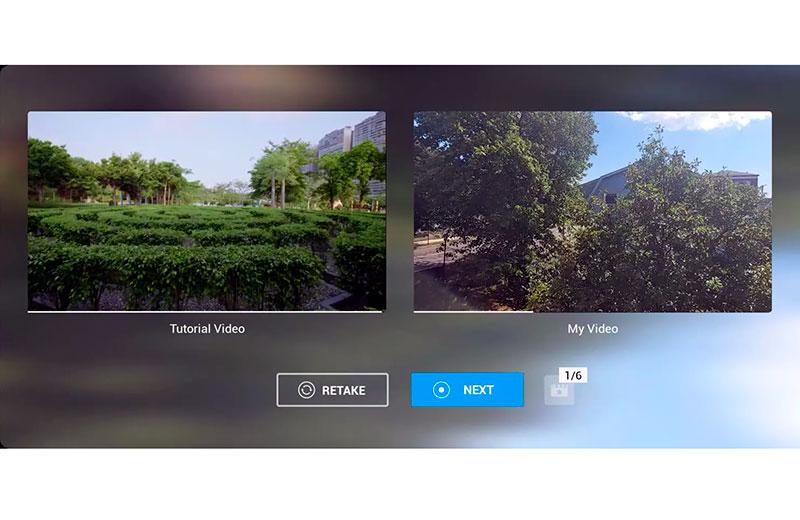 DJI OM 5 also retains the familiar modes: hyperlapse, time-lapse, dynamic zoom and slow motion. With these, you can set up the automatic movement of the device, after which you will have professionally shot videos with smooth movement.
It should be noted that the zoom through the app is digital only. If your smartphone has a telephoto lens with optical zoom, it's best to shoot using the phone app. In MIMO, only the main sensor is controlled.
DJI Osmo Mobile 5 battery life
As the DJI OM 5 Gimbal has decreased in size, the battery capacity has also become smaller – it is only 1000 mAh.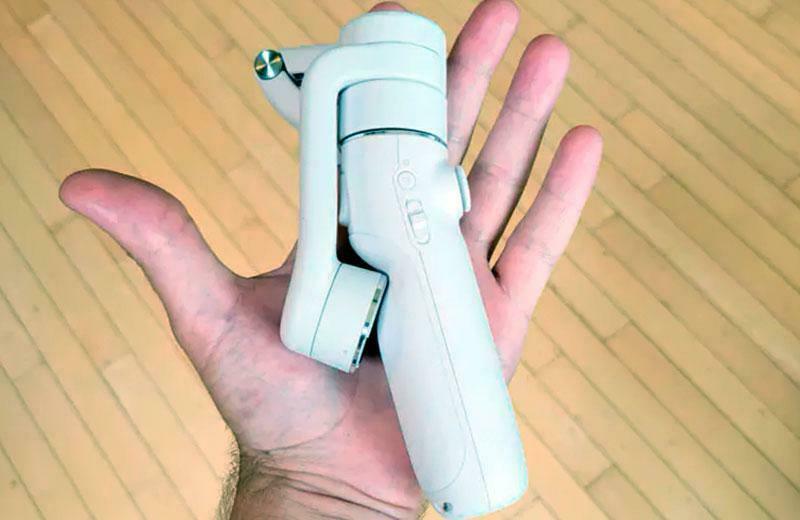 According to DJI, a full battery charge will last 6.5 hours, which is enough for most smartphones. However, if the phone is not properly installed in the mount, the motors will have to spend more energy when stabilizing, and the battery will discharge faster.
Unfortunately, the OM 5 does not have a smartphone recharge function. The Osmo Mobile 3 had such an opportunity, but here you have to separately monitor the battery level of both the phone and the stabilizer.

Outcome
If you want to create creative selfies and beautiful videos at the touch of a button, the DJI OM 5 is an excellent choice among the many gimbals for mobile phones.
One of the reasons why DJI smartphone gimbals are so popular is the quality of the device itself is as high as the apps for it. Through the MIMO application, you can select various modes that will allow you to shoot professional videos even for beginners, and various additional functions will make your clips unique.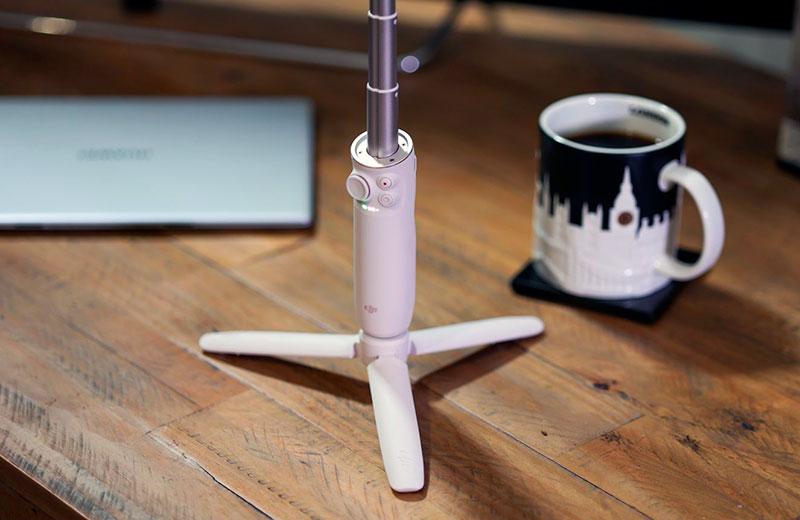 There are also a couple of minor drawbacks – only the main camera is used for shooting through the application, and there is no built-in backlight. If you need extra lighting, you'll have to buy an accessory, although the Osmo Mobile 5 itself is not cheap.
Read Also: [Review] DJI Mini 3 Pro – a serious and expensive upgrade for a small quadcopter
Should I buy DJI OM 5 Gimbal ?
It takes a little time to get used to the OM 5. However, the results you can get from using this 3-axis gimbal for video, hyperlapse and time-lapse shooting, and for capturing photos from difficult angles are worth the investment of time and money.
DJI OM 5 Gimbal Review – Video
[ays_poll id="30″]
---
About Post Author