The DJI Mini 3 Pro is the best drone to date, weighing less than 250 grams. It easily avoids obstacles, tracks the right objects and supports 4K shooting. Light weight allows you to manage the device even for beginners.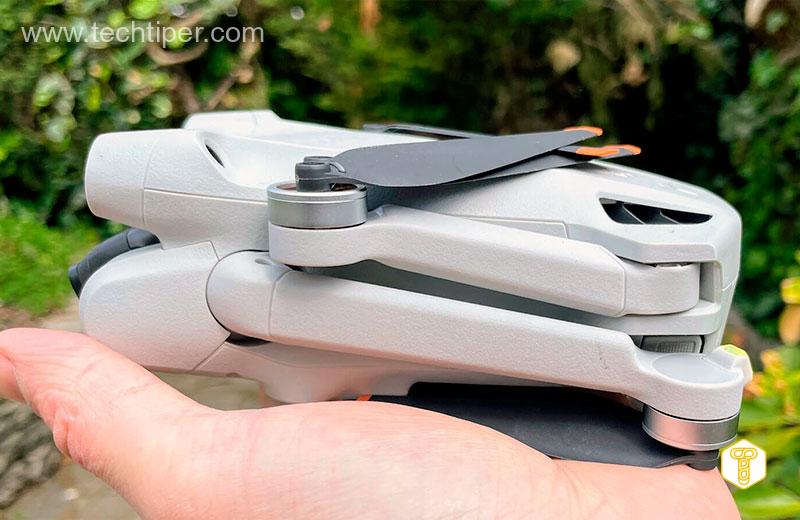 However, the device is expensive – if you have a Mini 2, it hardly makes sense to switch to a new model. The essence of the Mini line is that the mass of the quadcopter does not exceed 250 grams – in many drones, up to this indicator does not need to be registered.
Previously, for the sake of light weight, important functions had to be sacrificed: there was neither obstacle avoidance nor object tracking. However, the Mini 3 Pro has everything you need, and the model is in many ways not inferior to the full-fledged Mavic Air 2.

| | |
| --- | --- |
| Permission | 48 MP |
| Sensor | CMOS 1/1.3 inch |
| Lens | f/1.7, 82.1° FOV, 24mm equivalent |
| Max. speed | 16 m/s (S mode), 10 m/s (N), 6 m/s (C) |
| Max. tilt angle | Front: 40° Rear: 35° (S mode); 25° (N); 25° (C) |
| Max. flight time | 34 min. (with Intelligent Flight Battery) 47 min. (with Intelligent Flight Battery Plus) |
| Max. wind speed | 10.7 m/s |
| Internal storage | 1.5 GB, microSD support up to 512 GB |
| Stabilization | 3-axis |
| A photo | 4:3: 8064×6048 (48MP), 4032×3024 (12MP) 16:9: 4032×2268 (12 MP) |
| Video | 4K at 24/25/30/48/50/60 fps 2.7K @ 24/25/30/48/50/60 fps 1080p at 24/25/30/48/50/60 fps, 1080p slow motion at 120 fps |
| Bitrate | 150 Mbps |
| Color profiles | Regular, D-Cinelike |
| File formats | Photo: JPEG/DNG (RAW) Video: MP4/MOV (H.264/H.265) |
| Dimensions | 145×90×62mm (folded) 171×245×62 mm (open) 251×362×70 mm (open with propellers) |
| The weight | 249 grams |
| Price | From US$935.00 |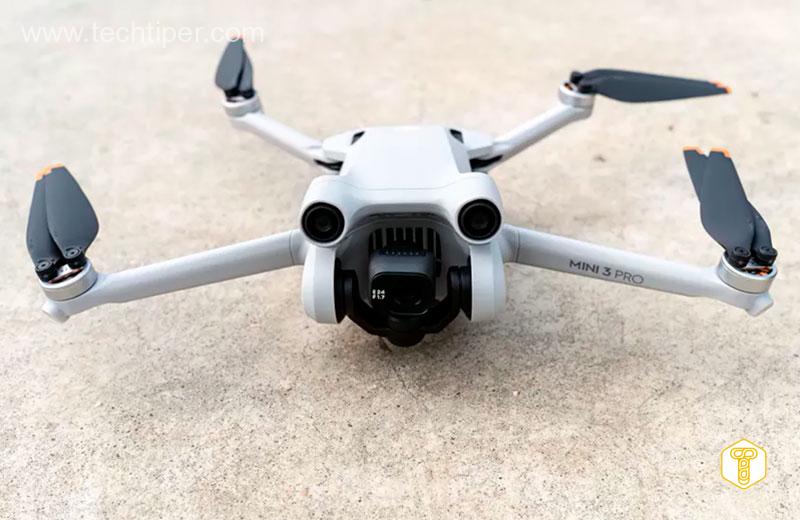 Design and construction
In terms of design, DJI Mini 3 Pro is very different from its predecessors: the front legs rotate 180°, and the rear legs forward and backward.
There is a battery slot on the back, and a gimbal on the front. The latter can be tilted up to 60°, making it easier to shoot in situations where the drone is flying below the tracked object. According to DJI, the legs and propellers have become more aerodynamic, which increases the flight time to 34 minutes.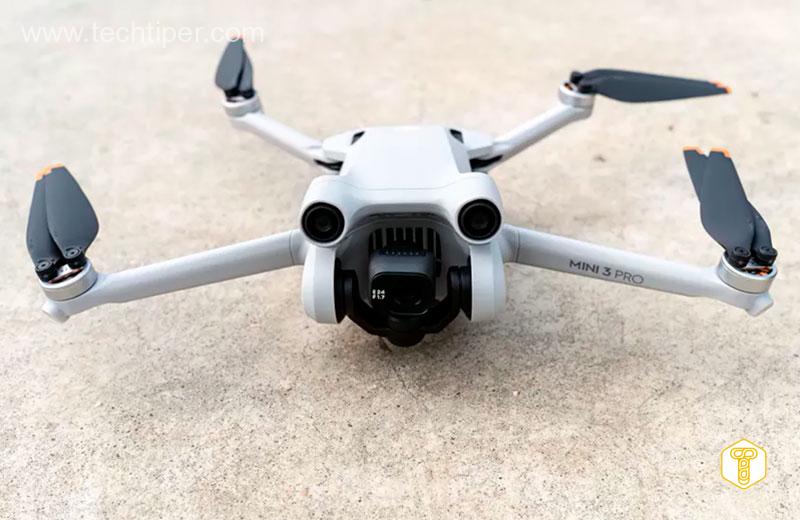 The wind resistance of the Mini 3 Pro increased from 10.5 m/s to 10.7 m/s, but remained at 5.
The case has a slot for a microSD memory card and a USB-C connector for charging and data transfer. The amount of internal storage is only 1.5 GB, which is only enough for taking photos and a couple of short videos.
DJI RC Control
An important advantage of the DJI Mini 3 Pro compared to other models of the company was the DJI RC remote control.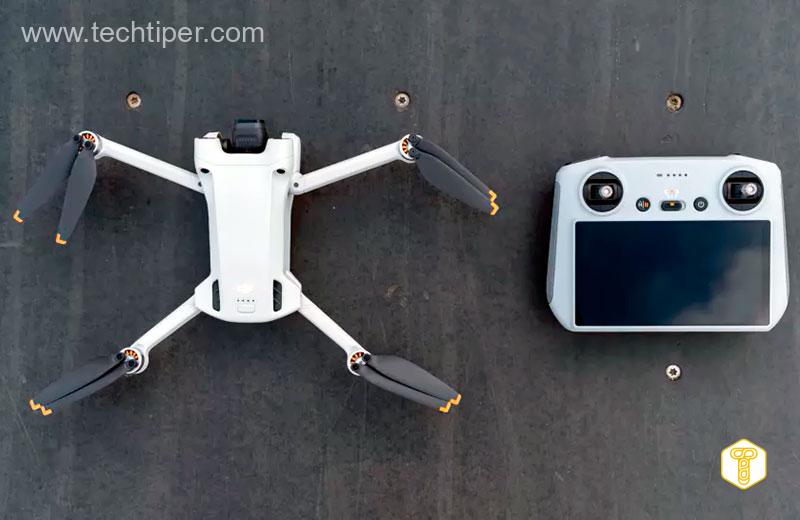 It looks similar to the RC Pro for Mavic 3, but has a 5.5-inch touchscreen display, which makes it unnecessary to use a smartphone with the DJI Fly app. In fact, the remote is a gadget with a built-in screen with a single application. It is much more convenient than analog with a smartphone connected to the RC-N1 controller, as was the case with the Mini 2 and Mavic Air 2S .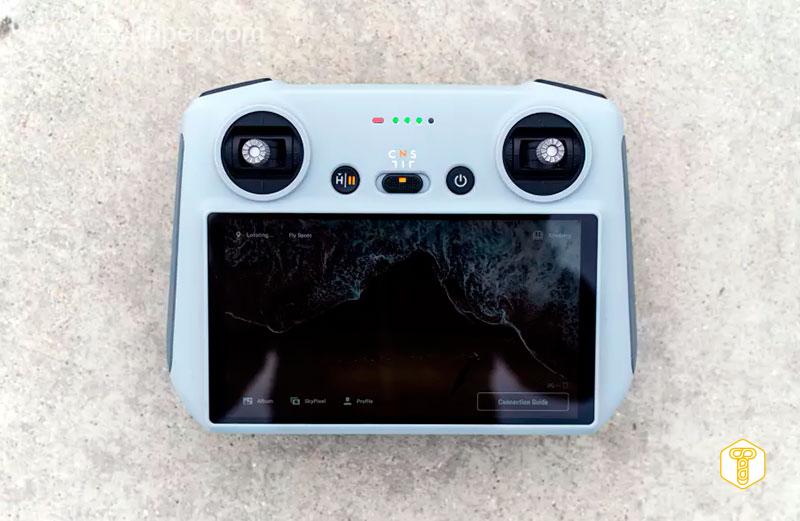 The DJI RC's screen brightness is 700 nits, which is enough for comfortable outdoor use, although in bright sunlight it is better to use a sun visor, DJI will certainly offer separately.
The remote has several programmable keys and two wheels to control the camera and gimbal.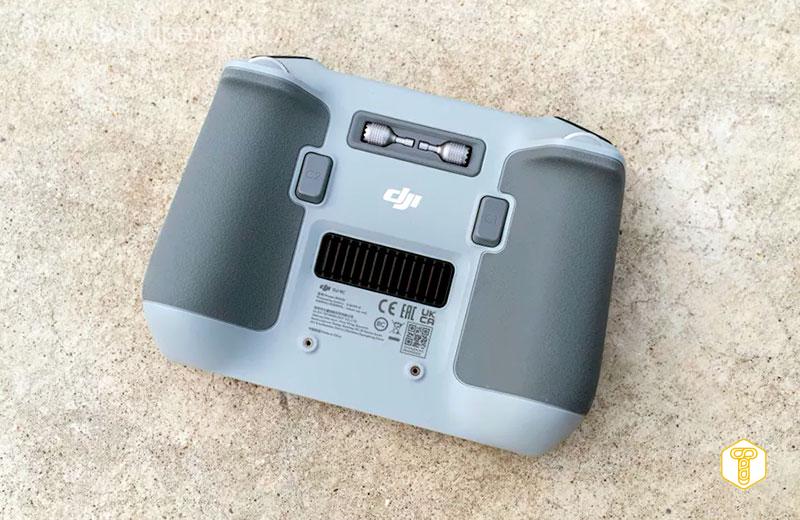 The controls of the Mini 3 Pro are incredibly simple and no different from other DJI drones. The remote has a switch that allows you to quickly select between Cinema, Normal and Sport modes. The side buttons allow you to capture a photo and start or stop video recording.
The Mini 3 Pro also boasts an O3 broadcast system that transmits 1080p/30 fps video up to 12 km in real time. However, in the city, the communication range is reduced to 1.5-3 km due to a lot of interference.
If you purchase the DJI RC version, you can use the QuickTransfer feature to download videos and photos to your smartphone via the DJI Fly app. So you can edit them without using a PC.
The video quality of the Mini 2 did not exceed 4K/30 fps, which was not enough to compete with more expensive DJI drones.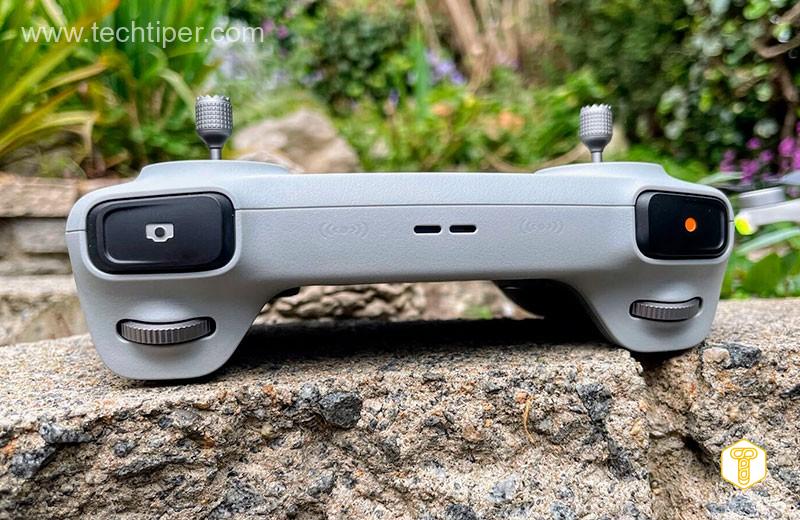 The DJI Mini 3 Pro quadcopter captures 4K/60 fps, so you can make videos smoother and more cinematic. There is also support for HDR at frame rates up to 30 fps and a gimbal that allows you to rotate the camera vertically. If you need this format, you no longer have to crop the frame on the sides and lose pixels.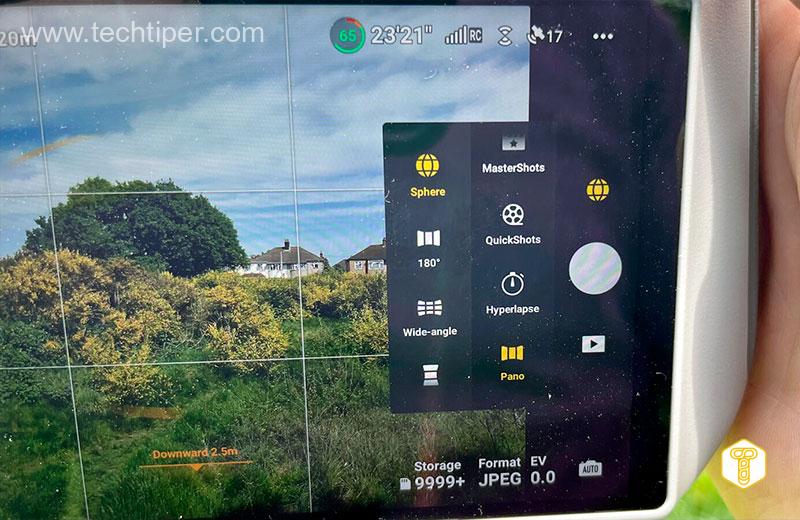 There were sensors for avoiding obstacles during the flight and the ActiveTrack 4.0 tracking mode. A large set of QuickShot modes have also been added, allowing you to create beautiful videos effortlessly.
Mini 3 Pro and smart MasterShots modes are available, when the subject remains in the center of the frame, and the drone performs complex maneuvers.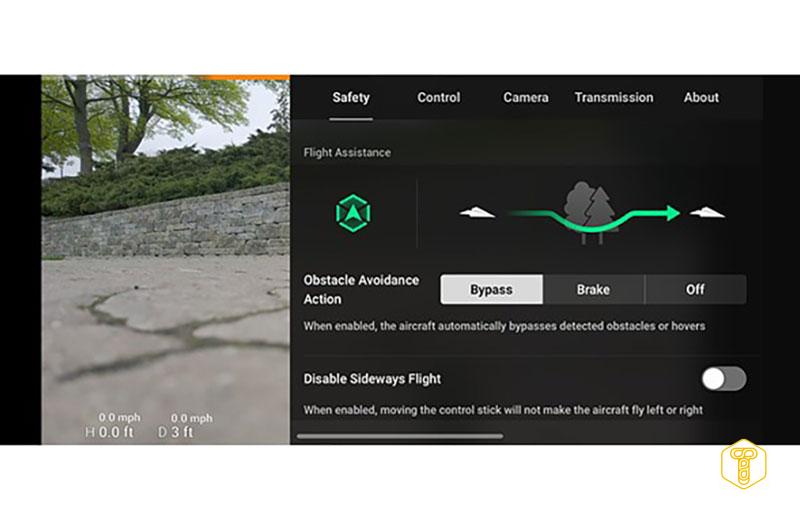 Previous DJI models were not able to track objects, but the ActiveTrack 4.0 option solved this problem: Trace and Parallel modes are available to choose from. The Spotlight 2.0 feature allows you to make sure that the main subject is always in the frame while you are flying the drone.
Shooting and video quality
In addition to the updated gimbal and the ability to shoot in portrait orientation, the DJI Mini 3 Pro has an enlarged camera sensor.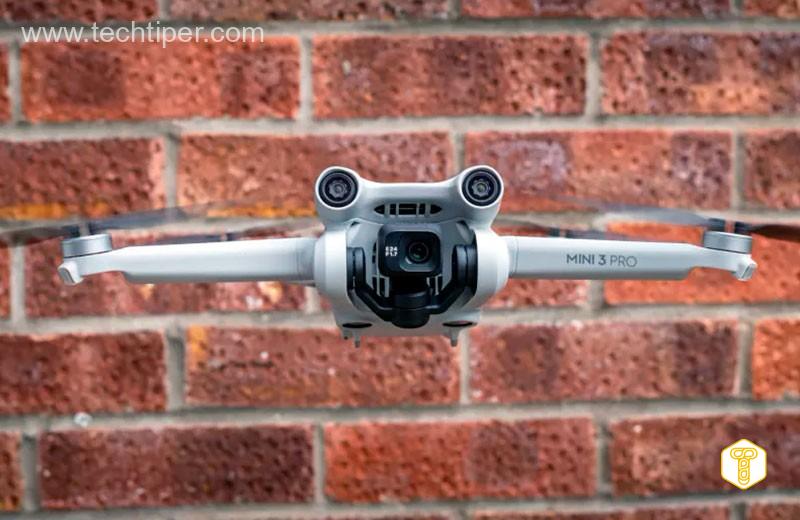 There is a 1/1.3-inch sensor here, which is larger than the 1/2.3-inch DJI Mini 2 and the 1/2-inch Mavic Air 2.
The larger the sensor, the more information (and light) it captures, which improves the quality of shooting under any conditions. The dynamic range has also become wider, and the detail in the shadows and in the highlights is higher. The f/1.7 lens also contributes to the high quality – the aperture is wider compared to the Mini 2 and Mavic Air 2 (f/2.8).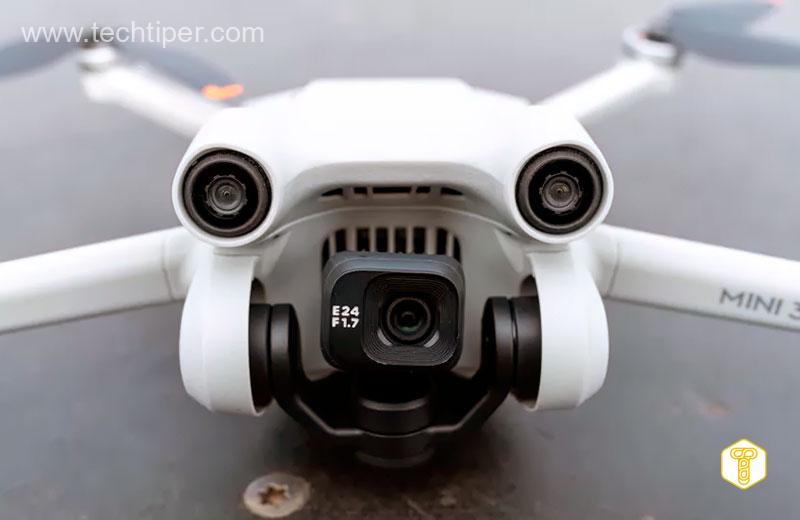 The focus is not fixed, so you can choose the subject on the display yourself or switch to manual focus. The Mini 3 Pro shoots in 4K – the video has huge detail and nice tints, even if you don't use the D-Cinelike profile. But, there is still a risk that the sky and highlights will be blown out, so it's worth using an ND filter.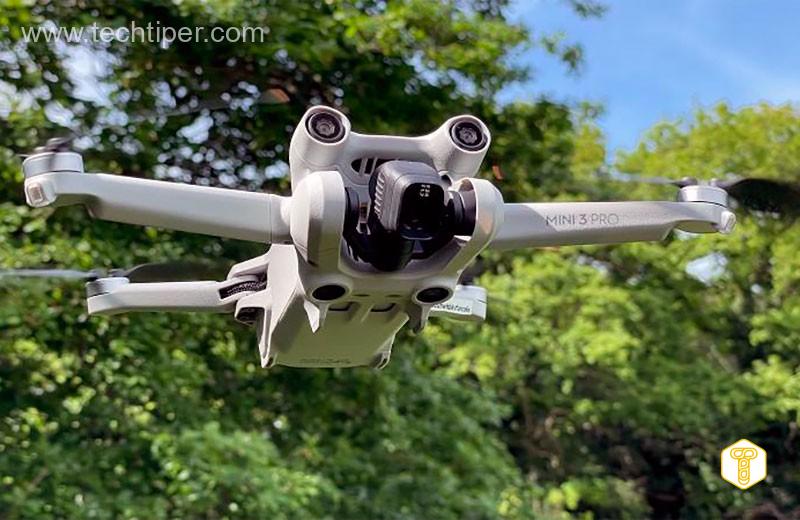 On the other hand, you can downgrade 4K/60 fps to 4K/30 fps, after which HDR mode will be available. The low-light quality is excellent, and you can easily capture great sunset shots. The available 120 fps slow-mo is handy when capturing fast-moving subjects, but resolution is limited to 1080p.
Photos taken by the Mini 3 Pro are saved at 12 megapixels, using pixel binning technology, just like on smartphones.
If desired, you can select the 48 megapixel mode, there is also RAW shooting in DNG format for further processing. Panoramic shooting with a viewing angle of 180 ° is available, both vertically and horizontally.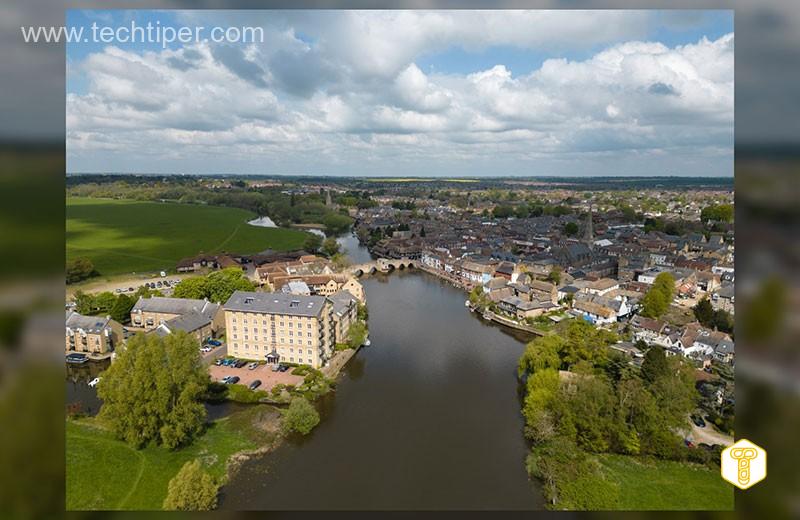 In landscape mode, the quadcopter takes several photos and automatically combines them into one image, and then compresses them to about 25 MP.
Read Also: DJI OM 5 Review: New Smartphone Gimbal Smaller and Lighter

Outcome
If you're looking for a compact drone with obstacle avoidance, object tracking, and 4K/60fps shooting, the DJI Mini 3 Pro is the perfect choice.
It weighs 249 grams, so you don't have to register the device, and the controls here are as simple as possible. As a bonus, there is a portrait shot, which is great for content creators on TikTok or Instagram. RAW and D-Cinelike modes are unlikely to be needed by many, but they definitely won't be superfluous.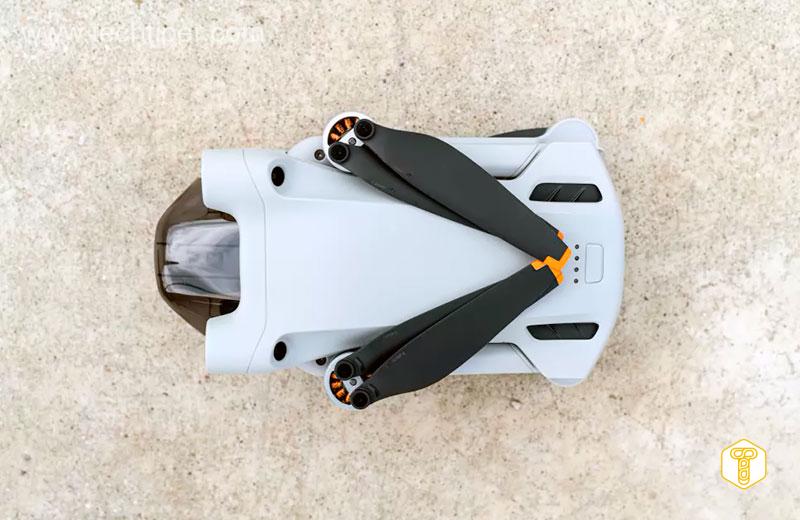 Benefits
Compact design
Obstacle avoidance system
Automatic flight modes
Ability to track objects
Excellent photo and video quality
Disadvantages
High price
No obstacle sensors on the side
Is it worth buying
Mini 3 Pro from DJI is not a cheap quadcopter, and it is hardly worth switching to it from Mini 2. Overall, this is the best drone under 250 grams today.
DJI Official store on Amazon
About Post Author