Hisense is not idle on the Indian market and is increasingly pushing out among larger producers. The review of Hisense A9G, the flagship model, shows that they do it for a reason. OLED, 120 Hz matrix, great audio and unique design . But there are some things that I do not fully understand, although I will bring them up a bit later.
Hisense A9G review in three sentences
Hisense A9G is an evident flagship, despite the lack of a few typical features. Great picture quality, very good sound quality from the built-in soundbar and smooth operation. For happiness, only full HDMI 2.1 with 4K 120 Hz support is missing.
Advantages and disadvantages
Benefits
Image quality
Production quality
Sound
Smooth operation
Pre-calibration
Natural mapping of movement
Disadvantages
Could be a bit brighter
Number of applications
No HDMI 2.1 supporting 4K 120 Hz
Only one size available
Design and price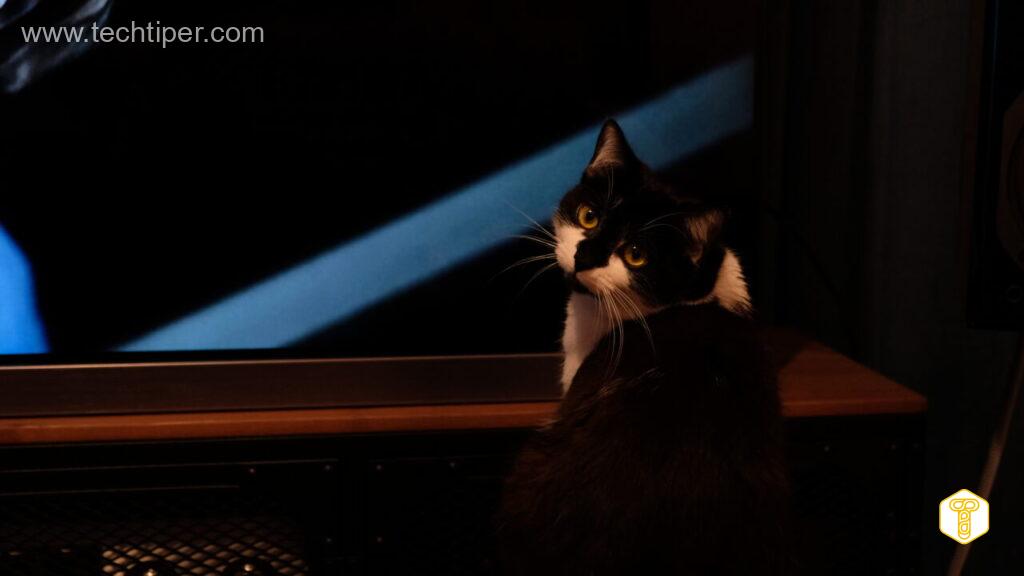 I will openly admit that the Hisense A9G is one of the most beautiful TVs I have seen . Standing on the TV cabinet makes a great impression, all thanks to the use of a specific stand. The front TV looks like the screen itself with a soundbar. The handle is located at the back, heavily weighted down and unobtrusive, unless the TV is in the center of the room.
We can attach a housing to it, in which you can hide cables. The assembly itself is hassle-free, and the cardboard box in which the TV was packed is a work of art. Removing the TV is very easy , because the packaging has been divided into two parts. First, we take out the polystyrene, and then remove the cardboard. Thanks to this, you do not have to wrestle with the TV, which, however, weighs its own.
The Hisense 55A9G currently costs £1,499/€1,499 , and the 65-inch version cost £1,899/€1,899. It cost money because it is no longer available. This places it in the premium class of TVs, so the Chinese manufacturer has a big challenge.
Read Also: Hisense 55A7GQ review – an inexpensive TV with a great picture
Technical specifications Hisense A9G
Size 55 or 65 inches
Resolution 3840 × 2160 pixels
OLED matrix
Refresh 120 Hz
2.1.2 speakers with a power of 120 Watts
Dolby Vision, Dolby Atmos, HDR10, HDR10 + support
4x HDMI 2.0 with VRR and ALLM support, 2x USB, optical output, RF input, RJ45
Production quality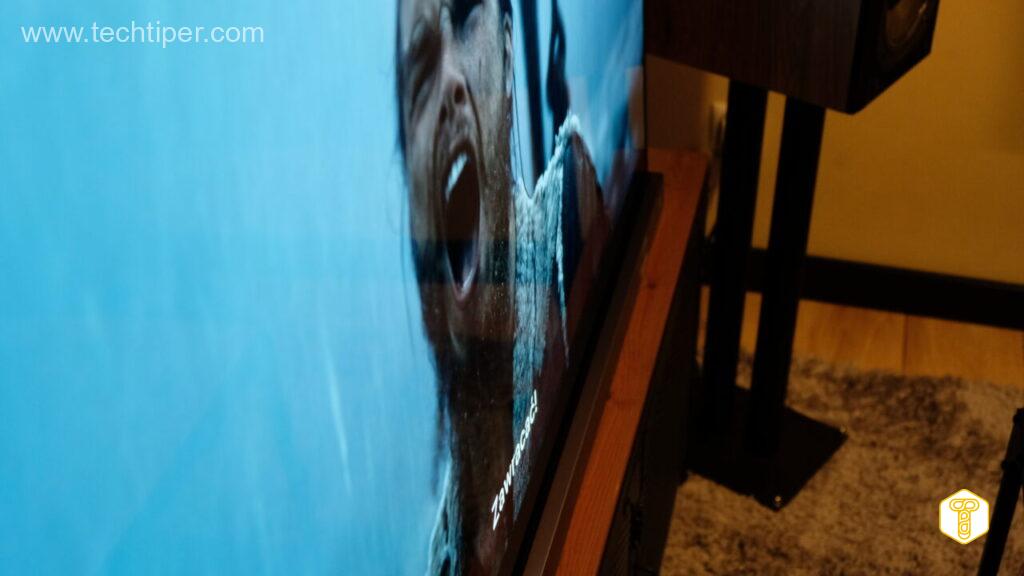 As befits the price, the TV is perfectly made. I can not find a single weak point of the reviewed TV . The aluminum grill on the bottom, a tiny frame and the very good stability of the structure do not allow for the slightest complaint. Unless we have to move the TV quite often. Then over 40 kilograms of weight may be a bit disturbing. The mounting scheme for the handle is also relatively simple and the scheme itself is very convenient. There is no need to put the screen on a flat surface, risking damage. It is enough to assemble the stand and put the TV on it, which makes the process much easier and faster.
Where's HDMI 2.1?
Hisense made a great TV but didn't put even a single HDMI 2.1 with 4K 120Hz support in it . Console players who would like to play in the highest quality and with increased frame, unfortunately, have to get by with the taste. However, if we have 60 frames per second in 4K, we have access to VRR, ALLM and eARC. The rest of the connectors are basic, but they have one huge advantage. Almost all of them are located to the side of the TV. On the back we find only RJ45, optical output, one HDMI 2.0 and a place for the power cable. So if we often plug connectors, change places where the console is located, or we want to connect a laptop, there is no need to dive behind the TV. This is a very pleasant point, although the lack of HDMI 2.1 still leaves a slight distaste.
A remote that makes a great impression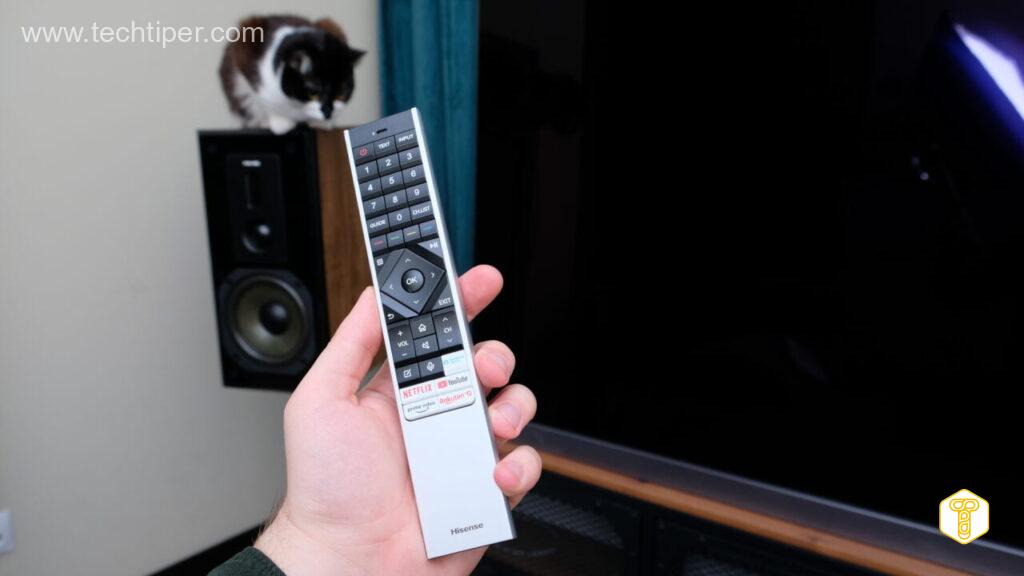 And it doesn't end there. The remotes that Hisense adds to its flagships are exemplary . Aluminum and the highest quality plastic combine nicely and actually holding such a remote control in your hand lets us know that we are dealing with a premium class. The shape of the keys is a very interesting, but also convenient issue. These are not standard rubber studs or flat plastic buttons. The buttons are in the shape of a wave , so we know exactly where they end and in my case it was very difficult to make a mistake which is which. Their jump is also specific, because the upper part is squeezed much deeper.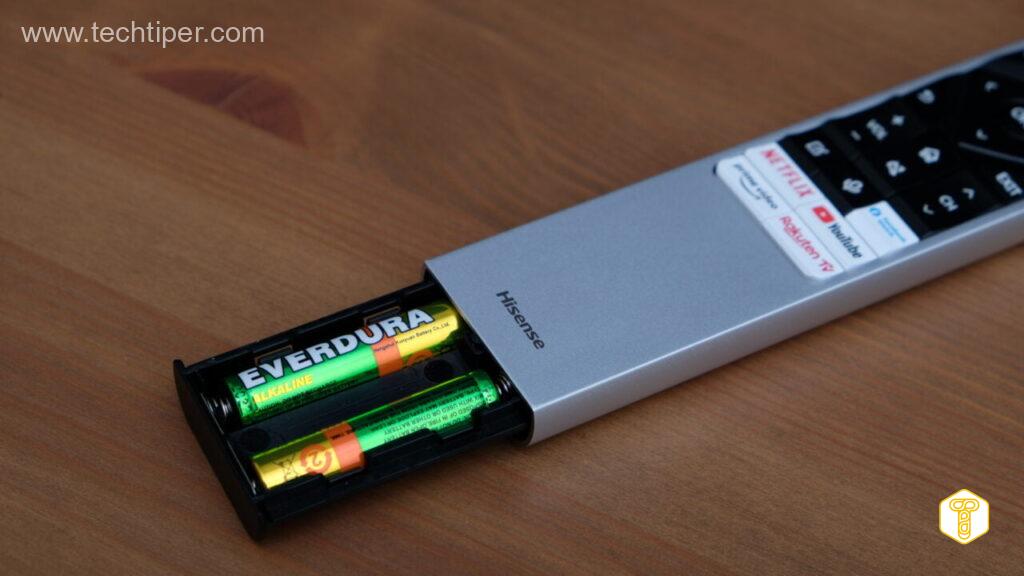 The remote control that the Hisense A9G is equipped with has a full set of buttons, with full numbering, function buttons, as well as buttons that take us directly to the application. The retractable battery compartment is a nice addition.
VIDAA, which is somewhat missing from the application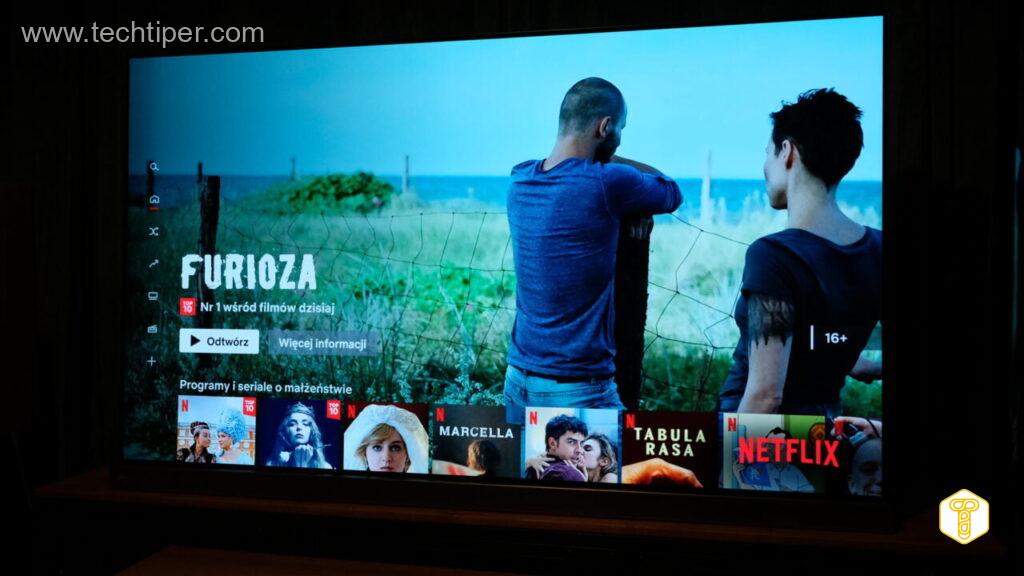 Hisense A9G, like every manufacturer's TV, is equipped with the proprietary VIDAA operating system. The biggest and, in fact, the only downside to this solution is the lack of many applications. It is in vain to look for Player, Spotify, Tidal, Twitch or VOD TVP here . Only YouTube Music and Deezer, not very popular in India , are available from music applications. We will get almost everything we can expect from larger, foreign streaming services. There is of course Netflix, Amazon Prime Video, Rakuten, and more. Hisense can also boast a very large base of sports applications. NBA, UEFA.tv, RedBull TV and many others that I do not know myself, but probably sports fans will know what to do with them.
But it works very smoothly
I have to admit that VIDAA is the most fluid operating system on the market . Hisense A9G has never bent when playing movies on streaming services, jumping between them, or even changing settings. Some TVs can jam when switching from Netflix to YouTube and back, for example, due to either low computing power or a poorly written operating system. Possibly both of these factors, but as you can see Hisense A9G and the VIDAA system are absolutely free of them.
Access to the settings is quick and easy, and we can see all changes immediately on the screen. I played with the settings for a while, but I will come back to this topic, discussing the image quality.
The ability to connect the application on a smartphone
If we are not fans of conventional remote controls, and we always have a smartphone in our hand, the Hisense A9G can be conveniently operated with it. It is enough to be connected to the same network, rewrite the code from the screen and we can do the same as with the remote control, but we also have one great advantage.
I prefer to use the remote control myself, but the application allows you to enter text from the phone's keyboard. It is a very convenient solution when we search for specific titles or want to use the built-in browser.
Image quality that is exceptional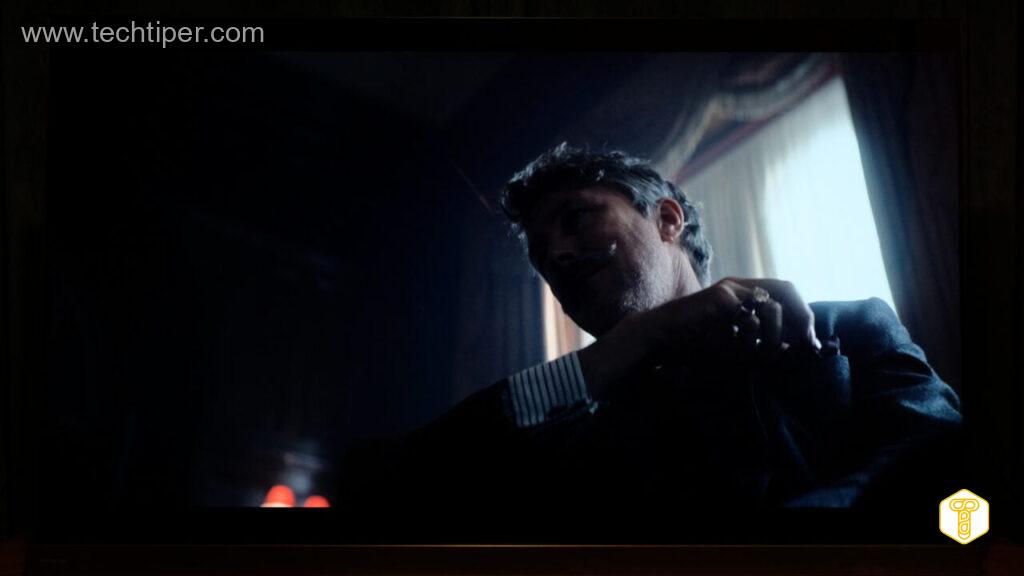 And by special, I don't even mean it's better than anything I've seen so far. The Hisense A9G is reasonably priced among the most expensive 4K models of the competition. And it has its advantages and disadvantages with respect to them. The main downside is lower brightness than products from other companies. It is actually visible, but still allows you to use the TV even in a strongly exposed room.
However, the best element of the image, which is quite far from the competition, is the naturalness of the generated image . Watching various movies and sports , I did not have the impression of watching them on TV, but live . It's all thanks to a very natural reproduction of movement, great gamma and a few other things that I will go to in a second.
Hisense A9G does not impose any additional image enhancers
And praise him for that. As you could read in the LG OLED48C1 review on our portal, I complained a bit about too strong blacks in many situations. Sure, it could be turned off, but it took a while of fun.
In the case of Hisense A9G, it was enough to turn on the TV, set the Filmmaker mode and everything was ready . 
A very pleasant thing for the casual user who does not want to spend the first day in the settings. Hisense is not surprised by this approach and has done everything to shorten this time as much as possible. We don't have to play with energy saving, hidden settings, or other elements that we would like to avoid.
But the basics work great
Some of the most important functions in televisions for me are upscaling and dynamic contrast. Not all content is in 4K and HDR, which makes these options handy. Hisense A9G does both very well . Later seasons of Dr. House looks very good, even though they are recorded in FullHD and SDR resolution. In my opinion, dynamic contrast looks best in medium mode, and when the sharpness is set correctly (which the mentioned series has huge problems with), it is sometimes hard to believe that it is only Full HD. The only features that are active by default in Filmmaker mode are noise reduction and MPEG noise reduction, which I turned off right away. Not even because of their incorrect operation, but it happens that the algorithm misinterprets the assumptions of the filmmakers.
Sport looks amazingly natural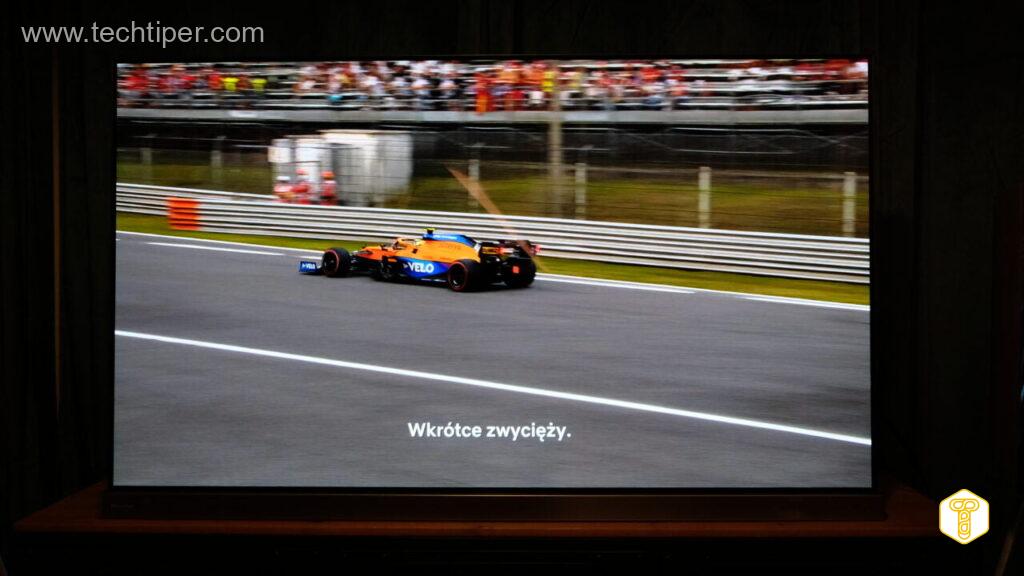 Due to the lack of an F1 weekend, while testing the TV, I tried to fill this gap with the help of WRC and older recordings from group B. Due to the fact that group B was recorded using analog methods and intended for CRT televisions, it is quite difficult to recreate it works well on modern televisions. We often deal with smudging, or simply too sharp an image due to imposed processing.
The Hisense A9G is free from these problems and despite the low-quality recordings, the picture looks good. Of course, much worse than professional Gymkhana recordings or modern rallies that look incredibly natural and make us feel as if we are watching them live.
Measurements that are of a very high standard
The Hisense A9G displays amazingly accurate colors in Filmmaker mode and with the color temperature set to "Warm1". The only problem is a slightly too warm image, but switching to other modes completely ruins it. It literally takes a short while to correct this factor, but the difference is not that big, anyway. According to some, the error at this level should not be visible to the human eye.
Does the built-in soundbar do it?
Even an understatement can do it. The sound quality is at a very high level and it works amazing both for movies and sports. The TV itself has two speakers in the front strip, a subwoofer on the back, in the lower part, and two tweeters located on the back, in the upper part. This combination gives a really nice impression and personally I think that the only thing missing is more subbass. For small rooms, the built-in speakers are fine, but if you plan to put this TV in a large room, it can be a bit of a problem.
Watching movies and series was already incredibly enjoyable. Twitters aimed at the ceiling enhance the stage and space , and the main speakers present voices well and don't get lost, even when there's a lot more going on than just quiet conversation in the movie. Nothing escaped my attention, not even during the events of the Euforia series or during the battle scenes in war movies.
It's okay for music, but I'd like more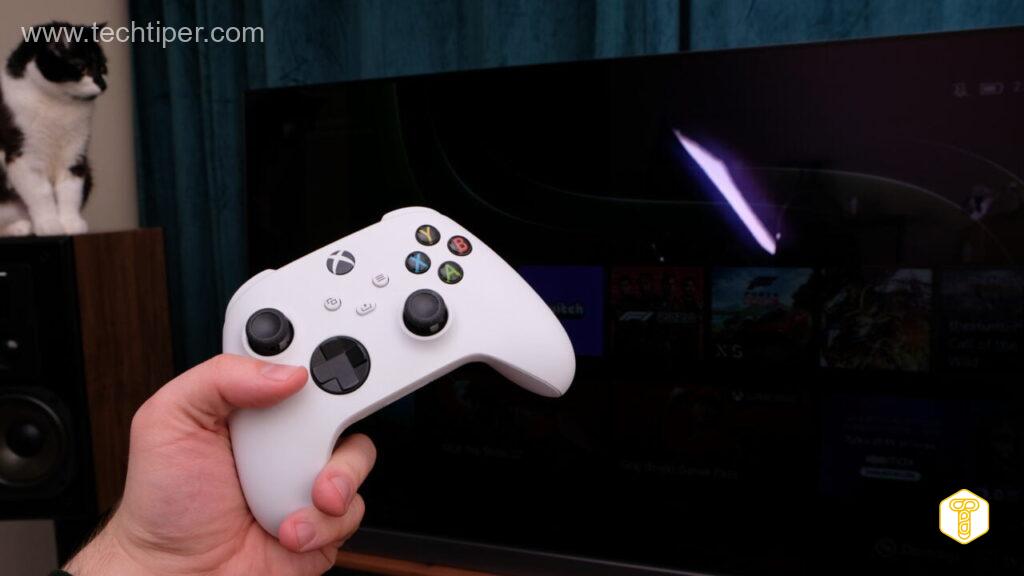 Let's face it, no TV set was designed to listen to music from its speakers. The Hisense A9G is fine anyway, but the bass it produces is a bit worse than from the LG C1 series. It is much better than the 50-inch Samsung QN91A, whose audio is far below expectations. Don't expect the TV to get the party going, but it was great for listening to music during dinner or just for background purposes.
The music that sounds best on a Hisense A9G TV is calm jazz. This surprised me a bit, because it is a relatively heavy genre of music for equipment, but it is actually so. I listened to it with pleasure a little louder when I did not want to turn on my stereo.
Where will Hisense A9G work?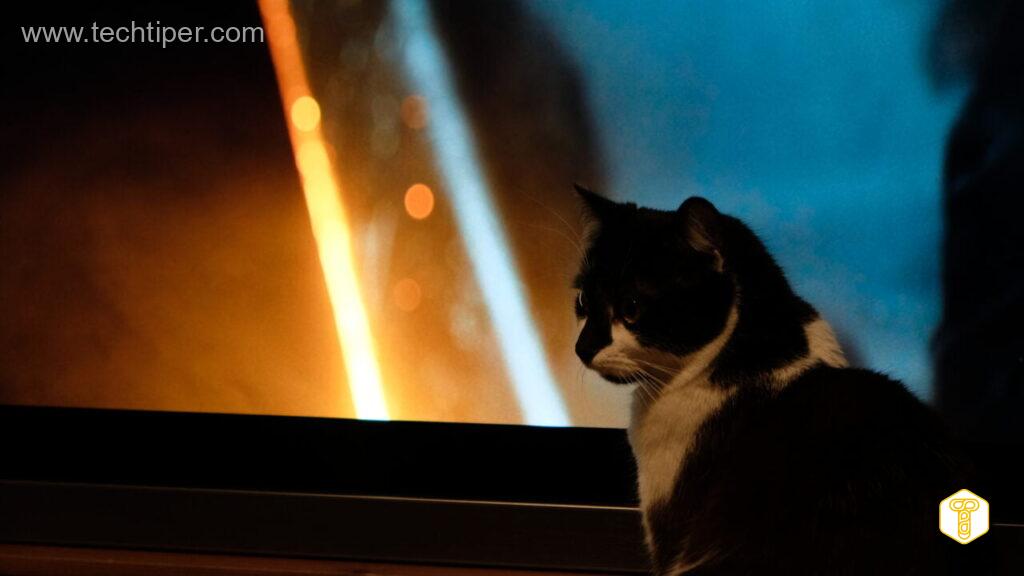 Virtually everywhere, but within this budget we can find more interesting solutions for very bright rooms . It is a very universal TV that will work well for a movie fan, a sports fan and an avid gamer, but also at home, where we will find fans of each of these options. Relatively high brightness, very natural image that looks great right out of the box, very good sound and ease of use make it a great TV.
Do I have to worry about screen burn-in?
Hisense does not loudly boast of the technologies used in this area, but the TV itself performs the sensor cleaning. We can also do a full panel refresh ourselves, and the TV set reminds us from time to time to perform panel maintenance. Therefore, we should not be concerned about burnout. The only cases that can be problematic are watching news feeds frequently or playing the same game over and over again.
Read Also: Review of Samsung QN91A Neo QLED – perfection in a moment
Hisense A9G review – summary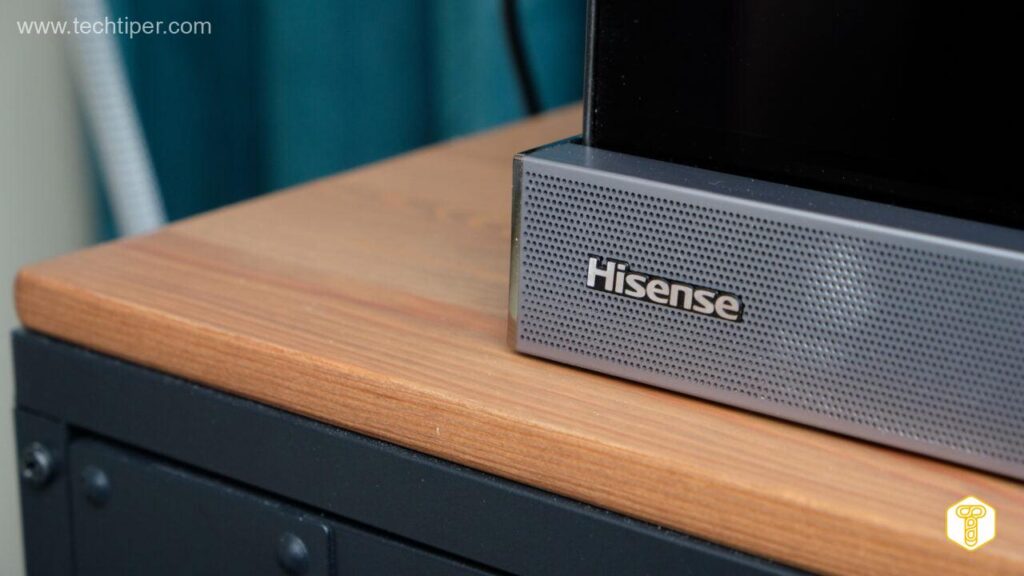 Hisense A9G is a very good TV. It is not outstanding due to the slightly lower brightness compared to the competition, but also due to the lack of full HDMI 2.1, which should be a standard in this budget. It will work for practically everyone , as long as we do not care about some applications or the 4K resolution at 120 Hz, which is so vigorously pushed by console manufacturers. Everything is topped with a very good picture, great mapping of movement and sound at a very high level for a TV, even within this budget.
About Post Author