Google has long held the position that the time of free access to G Suite Legacy is almost over and countless appeals from users will not change that. The Mountain View giant has just turned 180 degrees – all you need to do is react quickly to continue to enjoy free.
January surprise. Free G Suite Legacy goes under the ax?
G Suite Legacy users received a nasty message earlier this year – all free accounts using the service were to be paid when they migrated to Google Workspace . The migration would take place regardless of the lack of response from the user, and the first fees were to be charged at the end of July (the lack of payment data was to be associated with freezing the account and a complete cut-off after 60 days).
Google's policy, as usual, did not take into account the little ones. The whole thing was tried to powder with a discount for the first 12 months of using Workspace. However, the estimates showed high costs not only for companies. Especially private individuals who did not conduct any commercial activity were not satisfied with this approach, and the proposed amounts were still prohibitive ($6 per month for each e-mail account).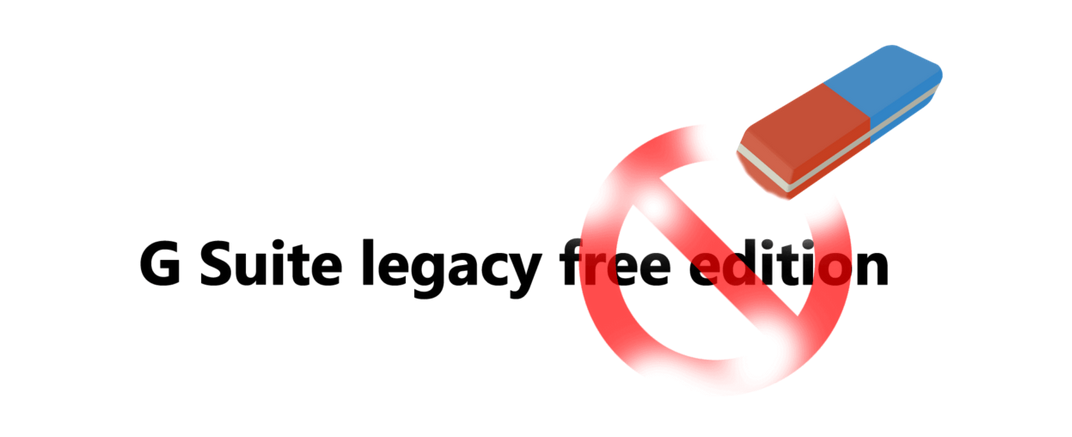 The company in no way responded to the petitions and requests of ordinary users . The alternative provided in the documentation was very simple: "If your needs have changed and you don't want to upgrade to a Google Workspace subscription, you can export your organization data using Takeout." In other words , pay or we say goodbye .
Some users broke down and paid off, others looked for creative solutions and replacements. Some distressed companies have given a new scent to business by encouraging the use of migration intermediation services , thereby providing discounts not for one year but for three years.
Who can stay with a free G-Suite Legacy account and under what conditions?
Twists and turns in big corporations' politics aren't very common, but they do. Google said that, however, it will not forcefully fight users who probably will not earn or earn little anyway.
At the start, we provide important information right away – the policy change only applies to users who use the package only for private purposes . Of course, it is doubtful that the company will verify each account and I can imagine that freelancers will probably benefit from the offer to stay on the current terms .

What do we know about the shape of the free version of G Suite Legacy ? Google reserves that we will not be able to count on technical support in this case and the company does not guarantee full functionality of the package in the future – some of the options can be permanently transferred only to Workspace.
In addition to this enigmatic message, from a technical point of view, not much will change – access to data, information about purchases and popular tools will be preserved, which translates into trouble-free use of Google Drive , Meet or Gmail, along with the option of using the address in your own domain .
What should be done to take advantage of the offer and by when do we have time to react? What to do if I have already paid?
Staying with the free offer will require us to confirm that you have chosen this path. We can do this in two places:
Just find the Choose a path section and select For personal use: Stay with the retired free version of G Suite :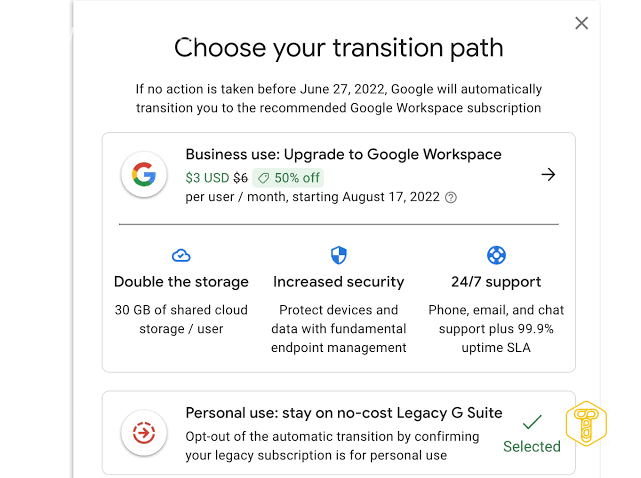 Now all you have to do is confirm our intentions and click the Confirm personal use button :
Read Also: Two-factor authentication – what is it, why should you use it, and how to set it up?
So you might think that the worst situation is for people who have already paid and are just grabbing their heads. Also in this case, Google finally reached out – if we are interested in a free account, and in the meantime we have already jumped to the paid option (after January 19, 2022), we should contact the support team at:
Contact the Google Workspace support team - Administrator
In both cases there is not too much time to react. We have to make a decision by June 27 , after this date, automatic migration will take place and we will not be able to use the option for non-commercial applications.
About Post Author