The affordable HP Pavilion 14 (2021) laptop is a great companion for work and home entertainment – even with a Core i3 processor. Here is my full review of this mid-range laptop.
The HP Pavilion line of notebooks has long been popular for its combination of quality components and affordable prices in an attractive package. The new representative of the series is Pavilion 14 (2021), with good hardware and convenient features. But, can it compete with devices from other manufacturers?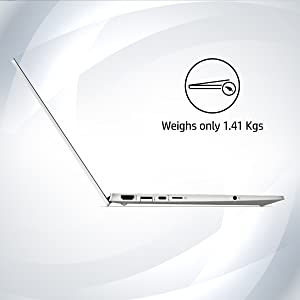 Also Read: HP Victus 16 Review – Affordable Gaming Laptop with Efficient Performance
Specifications HP Pavilion 14 (2021)
Display: 14″ IPS LCD touchscreen, Full HD resolution 1920×1080 pixels, brightness 250 nits
Processor: Intel Core i3-1115G4, Tiger Lake (11th Gen), 2-cores, 4-threads, 3 GHz, TurboBoost/TurboCore 4.1 GHz
Graphics: UHD Graphics Xe G4 48EUs
RAM: 8 GB DDR4 (3200 MHz), 2-slot
Internal Memory: 256 GB PCI-E SSD
Wireless: Dual Band Wi-Fi: Wi-Fi 4 (802.11n), Wi-Fi 5 (802.11ac), Bluetooth 5.0
Connectors: 1× USB-C 3.2 Gen2, 2×USB-C 3.2 Gen1, 1×HDMI, combo 3.5 mm, microSD card reader
Audio: Dual speakers, tuned by B&O, dual microphones
Webcam: Wide angle 1280×720 (HD) high definition
Input Devices: Membrane keyboard, multi-touch trackpad
Operating system: Windows 10 Home
Security: fingerprint scanner
Battery: 3-cell lithium-ion, 3560 mAh, 43 Wh
Autonomy and charging: up to 9 hours, 50% in 45 minutes.
Dimensions and weight: 17×325×216.6 mm, 1.41 kg
Manufacturer's Warranty: 1 year
Price: From £549.98.
Design and appearance HP Pavilion 14 (2021)
Notebook HP Pavilion 14 (2021) looks stylish – despite the low price, the body is made of aluminum in a pleasant silver color.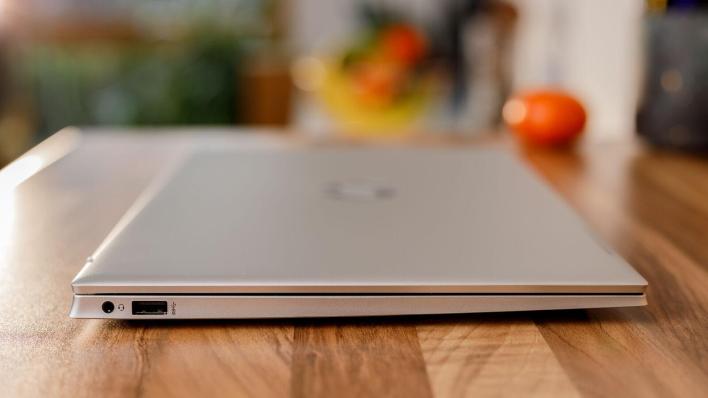 The laptop is great for office use, and the slim design makes it easy to take with you wherever you go. The Pavilion 14 weighs only 1.46 kg, and the dimensions are small: 32.5 × 21.66 × 1.7 cm. It is convenient to take it in one hand and move to another room or kitchen, or use it on your lap during long trip.
There is no separate numeric keypad block, as on the larger Pavilion 15. There is also no Kensington lock, although access protection is provided by a fast and reliable fingerprint scanner.
Connectors and ports HP Pavilion 14 (2021)
In the HP Pavilion 14 (2021) we get four connectors – two USB-C 3.2 Gen1, one USB-C 3.2 Gen2 with Power Delivery support and data transfer rates up to 10 Gb / s, as well as DisplayPort 1.4.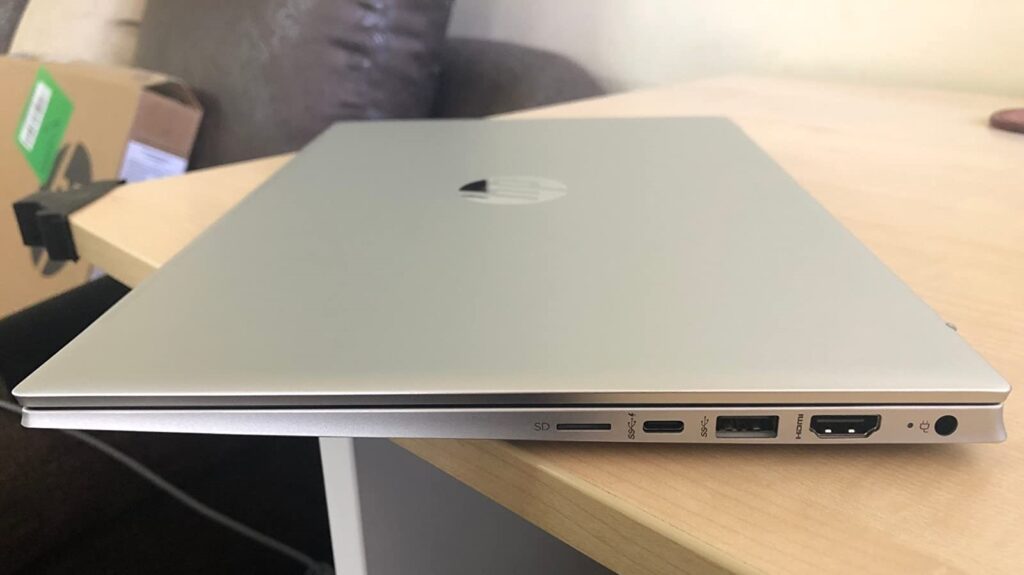 To connect monitors there is the usual HDMI 2.0. In addition, you can increase the amount of internal memory via a microSD card, and a 3.5 mm combo jack allows you to connect wired headphones or a microphone. There is support for Bluetooth 5.0, as well as Wi-Fi 4 (802.11n), Wi-Fi 5 (802.11ac).
Display and multimedia
The version of the Pavilion 14 (2021) I reviewed had a 14-inch anti-glare IPS touchscreen display with Full HD resolution.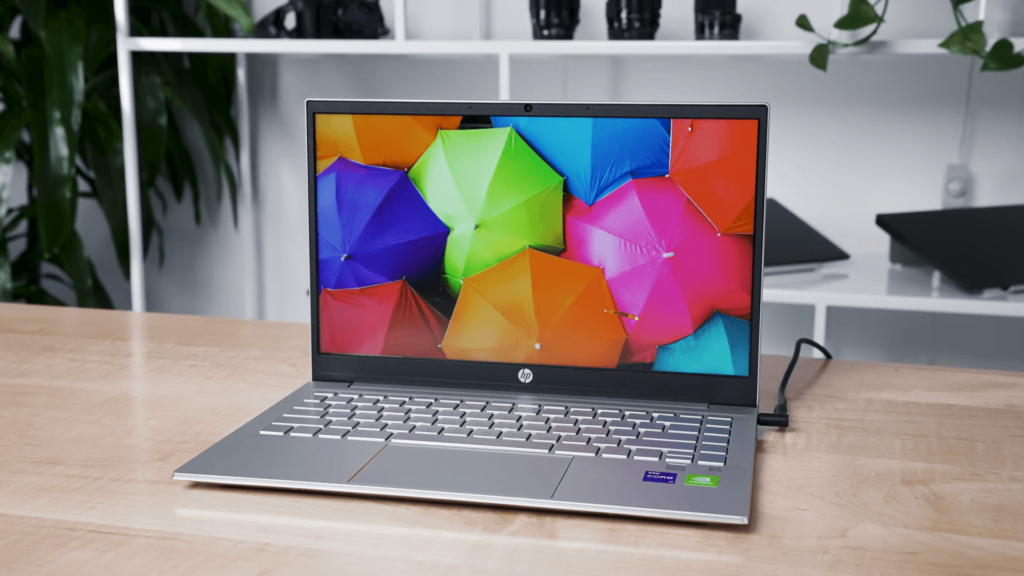 The screen looks a bit cheap due to the black plastic bezels, although they are not too wide. The top bezel houses a 720p webcam with two built-in microphones. The quality of shooting is not striking in clarity, but it is enough for video calls. For broadcasting on YouTube, it is better to buy a good external webcam.
The maximum screen brightness is 250 nits, although it could be worse, in many budget laptops it barely breaks the 200 nit mark. It will be difficult to work outside on a bright sunny day, even despite the anti-reflective coating.
There is a speaker on each side of the HP Pavilion 14 (2021) chassis, both tuned by Bang&Olufsen. The sound is clear and detailed even at high volumes.
The quality of the display is generally average – although the contrast is good, the colors are not rich enough, so for graphics work it is better to choose another model. The screen is touch-sensitive, and such a solution is not entirely clear to me – it will not work as a tablet to use the Pavilion 14. This feature is rather inconvenient if you want to wipe the panel from dust. On the other hand, in many cases you can do without a mouse or trackpad.
Keyboard and touchpad of HP Pavilion 14 (2021)
There is no numeric keypad on the HP Pavilion 14 (2021), but for most users this is unlikely to be a problem.
The keyboard here is an island type, it is comfortable when typing, the distance between the keys is large, although the case is compact. The buttons are plastic, which slightly destroys the uniform style with the aluminum case; you should not count on silent printing either. But the keys have a white backlight.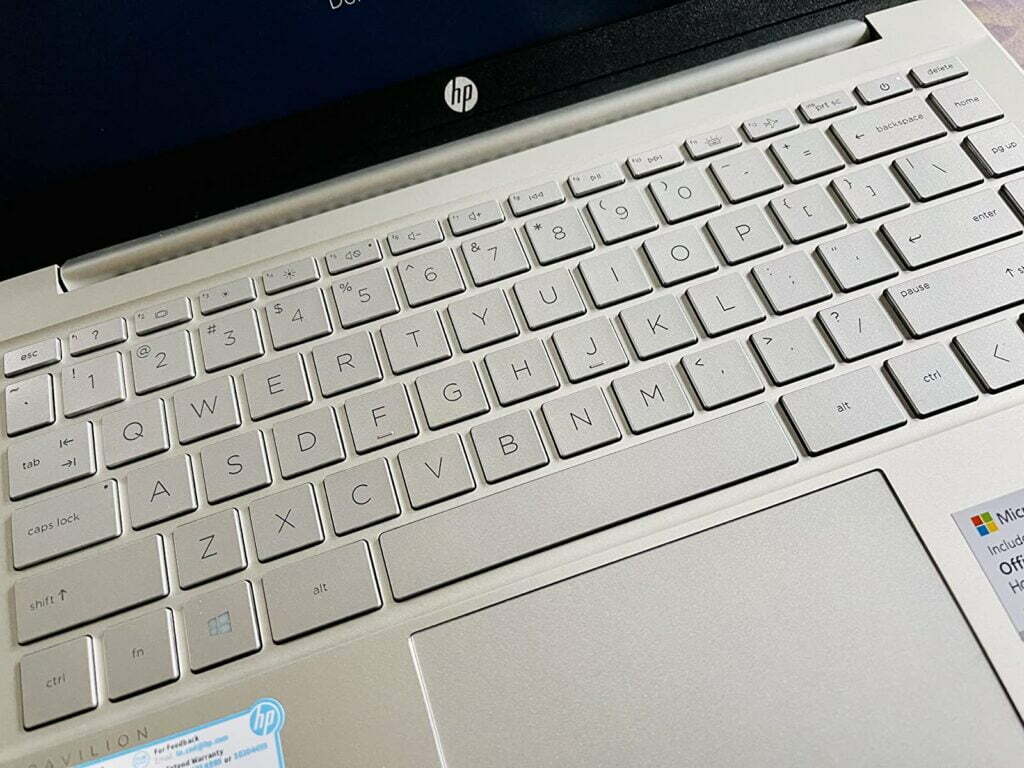 Right in the middle, under the keyboard is a large touchpad. It supports single taps and all major gestures. The touchpad is comfortable and pleasant to work on.
Iron performance of HP Pavilion 14 (2021)
With the speed of the components, the HP Pavilion 14 (2021) is also all right, the laptop is suitable for working not only from home, but also for performing any everyday tasks.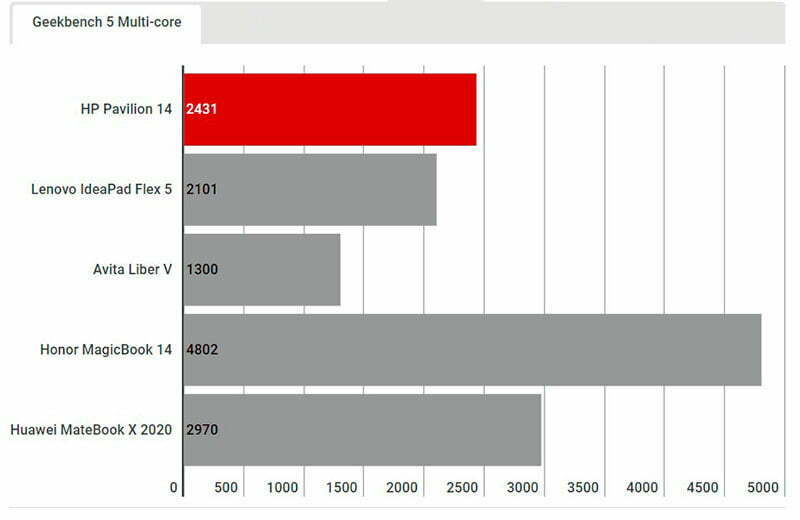 Inside the case, an Intel Core i3-1115G4 processor, an integrated Iris Xe graphics module, two 4 GB DDR4 3200 MHz RAM sticks and a 256 GB SSD drive are installed. Noise and strong heating during the work does not arise.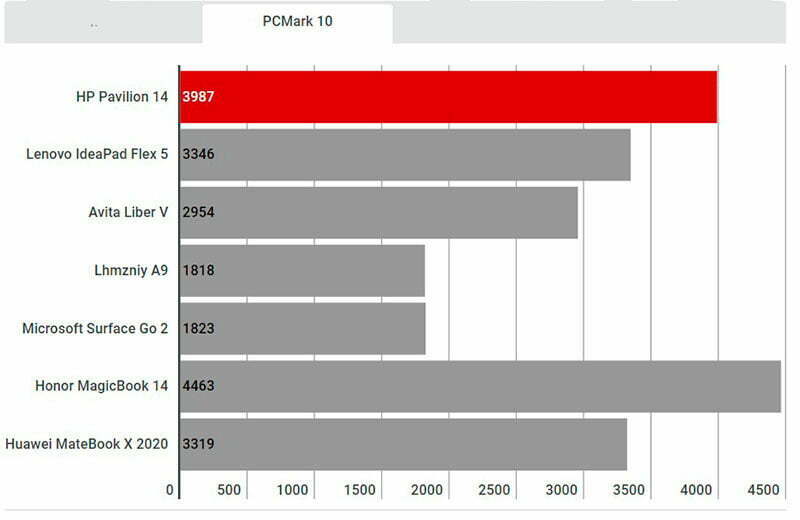 In the GeekBench 5 performance test, the laptop scores 2431 points in multi-core mode, which is quite good. The device will easily cope with any simple task and basic image processing. However, if you're looking for the best performance, the Huawei MateBook 14s is the one to go for .
Autonomy HP Pavilion 14 (2021)
The Pavilion 14 (2021) has no problems with battery life – the manufacturer claims up to 9 hours, although I got seven and a half hours of video viewing.
For a budget laptop, this is a very good result, although some modern models have an even higher figure. In 45 minutes, 50% of the battery's energy is restored, and a full charge takes a little over an hour and a half.
Outcome
The HP Pavilion 14 (2021) is an affordable and highly productive laptop for everyday work, home use and any basic tasks. Although the display is not too bright and the touchpad feels superfluous, there are no other significant drawbacks of the device.
The laptop is portable and compact, you can easily take it with you wherever you go. USB-C, HDMI and DisplayPort connectors allow you to quickly connect anything, and the fingerprint scanner ensures data security.
Is it worth buying Notebook HP Pavilion 14 (2021) ?
HP's Pavilion 14 is a great option for those looking for a device that looks stylish and performs well at an affordable price.
Computer
,
hp 14 notebook review
,
hp pavilion 14 2021
,
hp pavilion 14 2021 i3 review
,
hp pavilion 14 2021 review
,
hp pavilion 14 i3 review
,
hp pavilion 14 i5 review
,
hp pavilion 14 inch laptop
,
hp pavilion 14 laptop review
,
hp pavilion 2021 i3 review
,
hp pavilion 2021 laptop
,
hp pavilion 2021 review
,
hp pavilion laptop review
,
hp pavilion laptop touch screen
,
Laptop
,
laptop reviews 2021 review
,
pavilion laptop review
,
review
---
About Post Author