Laptops today take a variety of forms. One of the most interesting duels that is going on all the time is the fight with tablets. The result turned out to be the creation of hybrid devices and the title Huawei MateBook E is one of the representatives of this market, and its review is ahead of you. But what is such a solution characterized by? Well, we don't have to carry keyboards with us all the time, but there is also nothing for free, so components are necessarily limited. This is how it usually happens, i.e. something for something. However, the specific effects depend on the specific implementation and the hardware idea itself, so let's get to know the Huawei MateBook E.
Benefits
A very good display
Good workmanship and rigid structure
Virtually clean system
Thunderbolt 4 on board
Great speakers
Disadvantages
Only one USB-C connector
No built-in stand
Performance limited to basic tasks
Huawei MateBook E review summary
Huawei MateBook E is perfect as a hybrid laptop. A great display and the same speakers are in a pretty good build. However, you have to remember that this is universal equipment, but not necessarily for professionals and players.
Huawei MateBook E kit, technical specifications and price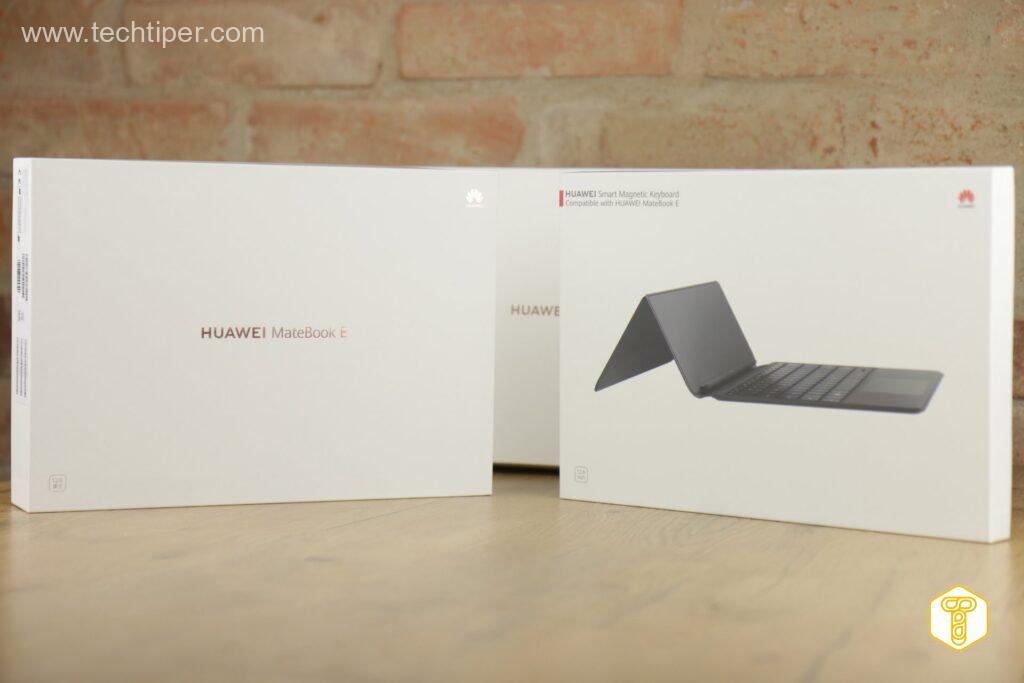 Theoretically, I got one box, which in practice turned out to be two. In the first one, we find the device and the charger. As is the case with Huawei, with MateBook E we get the best possible solution. By this I mean a 65 W power supply and a long USB-C – USB-C cable, which we can use for many purposes – including communication with other devices. By searching further in the box, we will only find basic instructions. There is even a place for the key for the SIM card tray, but the key itself is already missing – MateBook E does not offer this form of communication.
Nevertheless, I mentioned two boxes, and we've covered one for now. Well, in the second one there is a must-have accessory for the MateBook E, i.e. a detachable, full-size Huawei Smart Magnetic Keyboard. It is also a case for the device, but more about it later in the review.
One version and one price for the MateBook E to get you started
Huawei decided not to introduce many different varieties of MateBook E for sale. Therefore, there is only one version on the market that has been rationally equipped. You can look at the price in a similar way, which is €1,199 and the manufacturer does not forget about additional promotions. amount also includes the keyboard, so don't be surprised by separate boxes.
12.6 inch OLED display

resolution: 2560 × 1600 (16:10, 240 ppi)
90% of the front panel
brightness up to 600 nits
100% coverage of DCI-P3

Intel Core i5-1130G7 processor

lithography: 10 nm
4-core (8-thread), 1.8 GHz (turbo: 4 GHz)
8 MB Cache

graphics chip: Intel Iris Xe
16 GB LPDDR4x RAM
512 GB SSD drive (NVMe PCIe 3.0 x4)
battery with a capacity of 42 Wh
connectors:

1x USB-C (Power Delivery, DisplayPort, Thunderbolt 4)
Jack 3.5 mm headphone jack

Connectivity (Intel AX201):

Wi-Fi 6 (802.11ax)
Bluetooth 5.1

cameras:
fingerprint reader in the key, 4 loudspeakers, 4 microphones
system: Windows 11 Home
dimensions: 306 x 205 x 146 mm
weight: 709 g
execution: aluminum
color version: black
At its core, Huawei's proposal is close to the Microsoft Surface Pro 8 we recently tested. However, we are not talking about direct competition, as this hero is placed on a slightly lower price point. This is due to, among other things, a slightly smaller display and weaker components. Only on the other hand, Americans should also be interested in this market, because Huawei is already at home.
Construction and build quality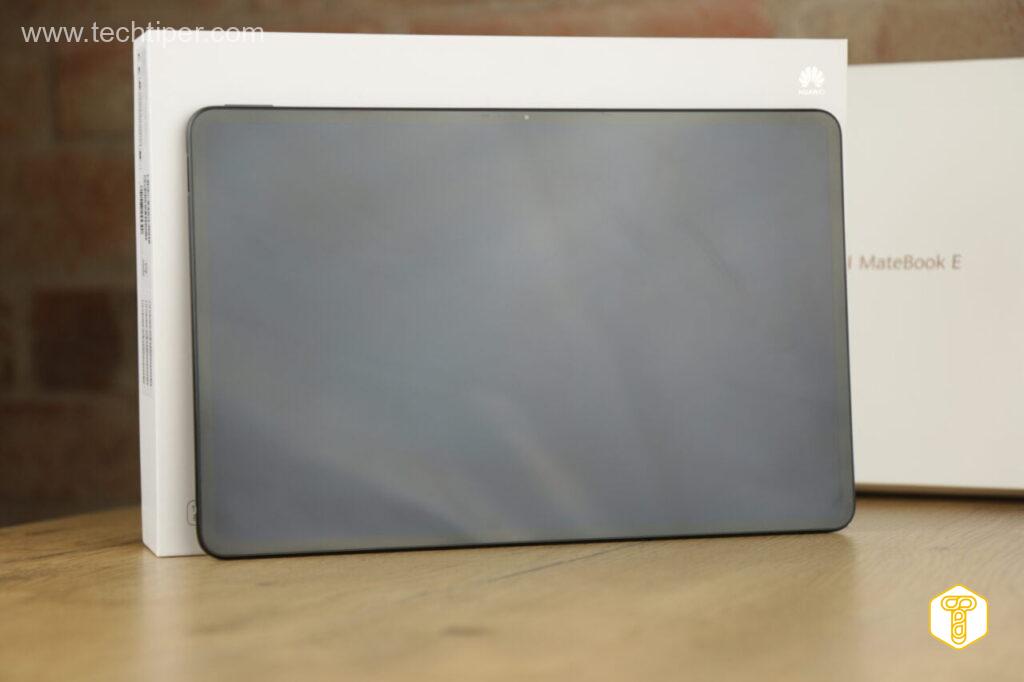 At the heart of the MateBook E is very close to MatePad Pro 12.6, its counterpart from HarmonyOS, which, fortunately or not, has not yet arrived. Therefore, for us, the title character is the first one that we can admire in terms of performance. As is usually the case with this type of laptop, aluminum and a rigid structure dominate . In addition, we can count on a great fit and a pretty good finish. Quite, because after prolonged use, dirt and streaks appear that are not so easy to remove. After all, the Huawei MateBook E is a really well-complex device and in terms of construction it does not lack anything.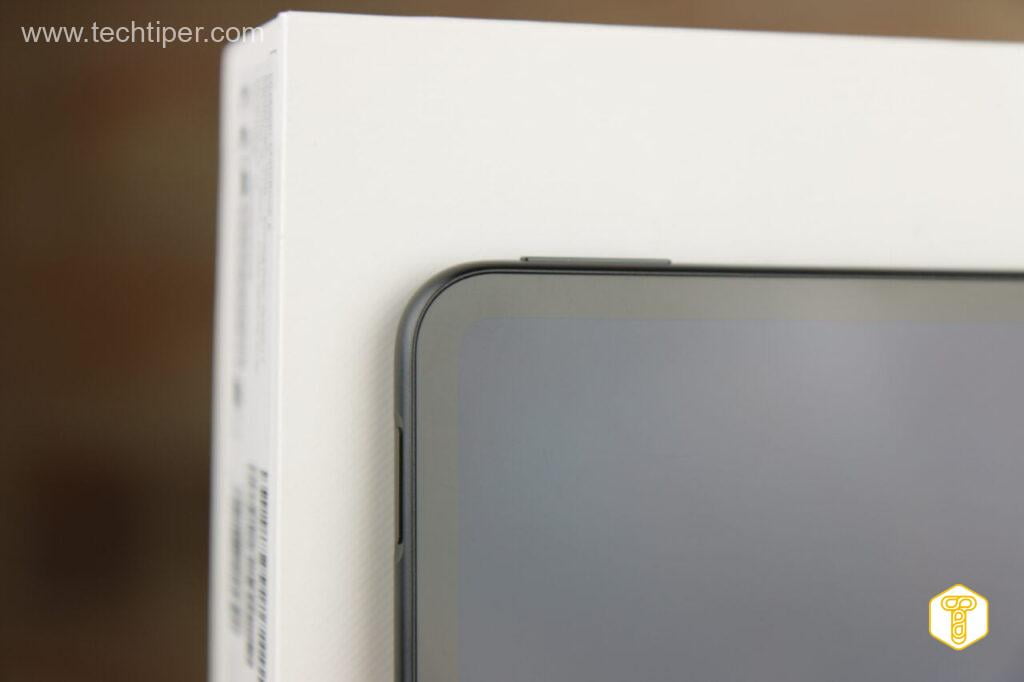 The front is a naturally large glass surface under which the display is hidden. This one is surrounded by relatively thin frames , on which we can see a selfie camera with a LED informing about its work. The quality of this matrix is ​​correct, but not crazy. The constant focus point and narrow tonal range leave room for improvement.
The back has also been kept in a very simple form. There is no great madness here, i.e. there is a slightly protruding camera with a LED diode, an embossed Huawei logo and the necessary markings. Fortunately, we are able to peel off the largest logos, if we did not want to remember what processor drives the MateBook E.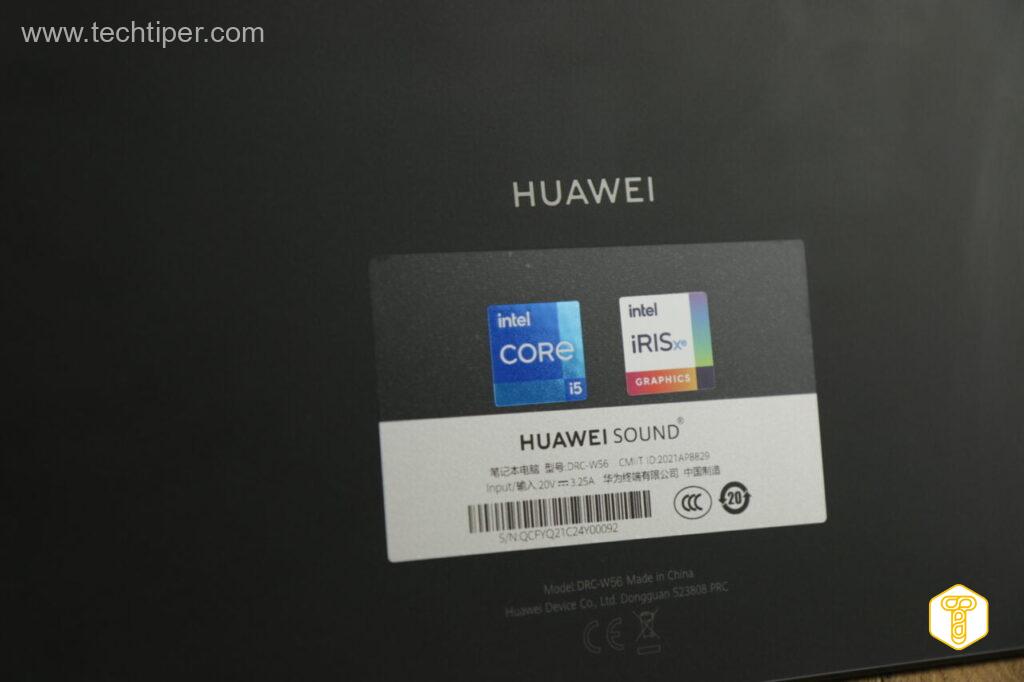 The only thing I miss is a built-in foot that would increase the ergonomics of the laptop. The mentioned camera is doing much better than the front one, but it's still a quality that does not encourage taking pictures. It will only be useful in emergency situations.
There is no madness at the edges, but there is Thunderbolt!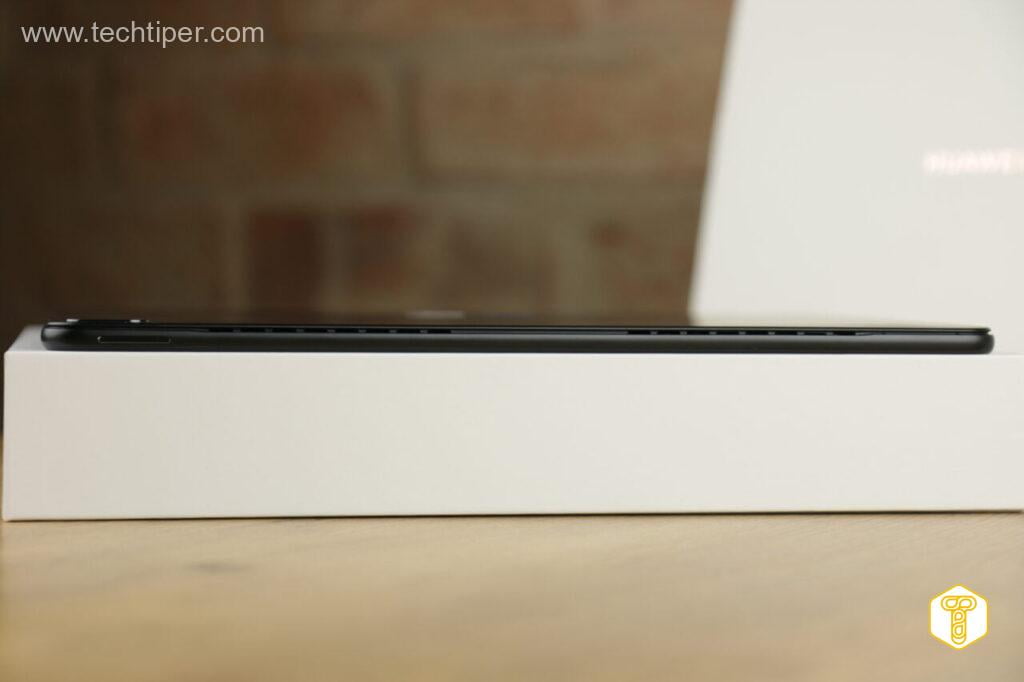 The edges of the Huawei MateBook E have been separated by a thin crack that has several tasks. The most important of them is heat transfer, as the equipment is equipped with an active cooling system with one fan . However, this is not all that can be found on the sides of the laptop in question:
top – cooling system grilles, sound intensity control buttons
down – pogo connector to keyboard
left side – the lock key combined with the fingerprint reader
right side – USB-C, Jack 3.5 mm headphone jack
As for the MateBook E hybrid laptop, however, it is closer to tablets, looking at the number of available connectors. After all, the only USB-C is the latest generation Thunderbolt, which is a big plus. The fingerprint reader also performs well, recognizing the user quickly and easily.
Going through the individual edges, we will also locate the speakers, of which there are four in total. I have to admit that they sound really good and you want to listen to them. They are definitely one of the best-sounding devices in their class. All four are loud and can boast above-average mapping of individual bands. Naturally, the bass does not dent the chair, but it is clearly audible and for this type of construction it works very well.
Smart Magnetic Keyboard works well, although it is still not perfect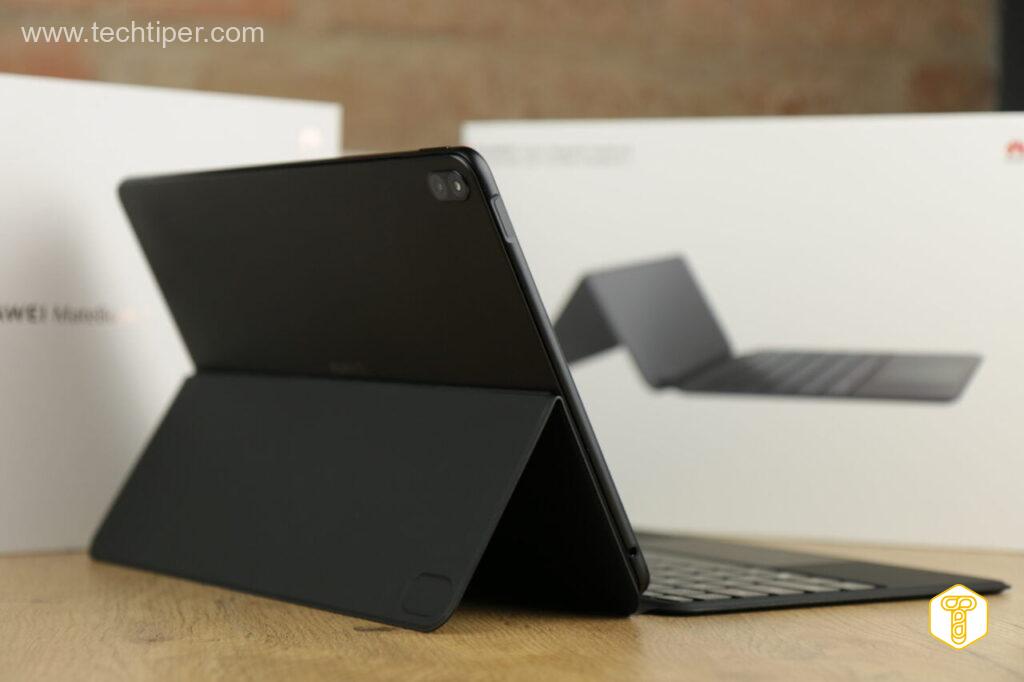 The key and basic accessory of the Huawei MateBook E is the keyboard. Without it, we wouldn't be able to call it a hybrid laptop. The Smart Magnetic Keyboard works… well. It is not a Signature keyboard from Microsoft , but we can still talk about good workmanship. Rubber, because rubber, but good. The assembly is painless and comes down to putting the device to the accessory, and then the magnets will do everything for us. The form of the foot is quite characteristic, because we do not fold back any bottom part, but tear off the top one and thus create a triangle that holds the MateBook. An interesting solution and fully acceptable after getting used to it.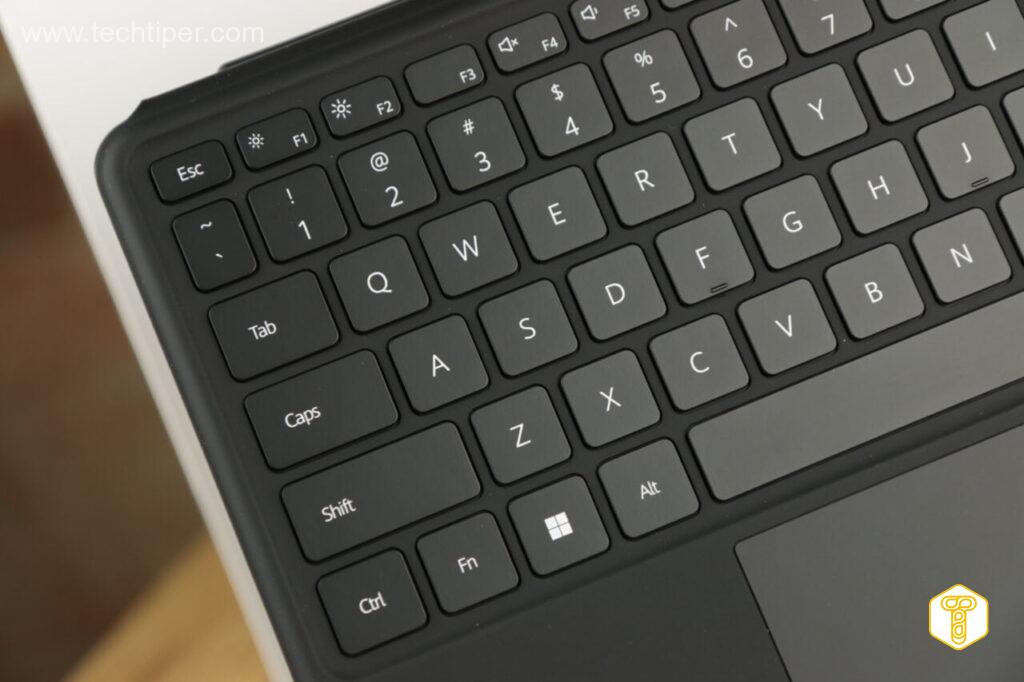 Moving on to the keyboard itself, we certainly cannot count on perfect stiffness. Therefore, we must provide this as part of the substrate on which we will place the set of keys. We also do not look for a backlight or an additional cell that would increase the laptop's capabilities. This is a basic solution, but allows you to enjoy convenient text input. The key travel is correct, their placement also does not require longer getting used to, so there is no tragedy. I perceive the touchpad in a similar way, which of course is small and quite loud, but easy to use.
Display and image quality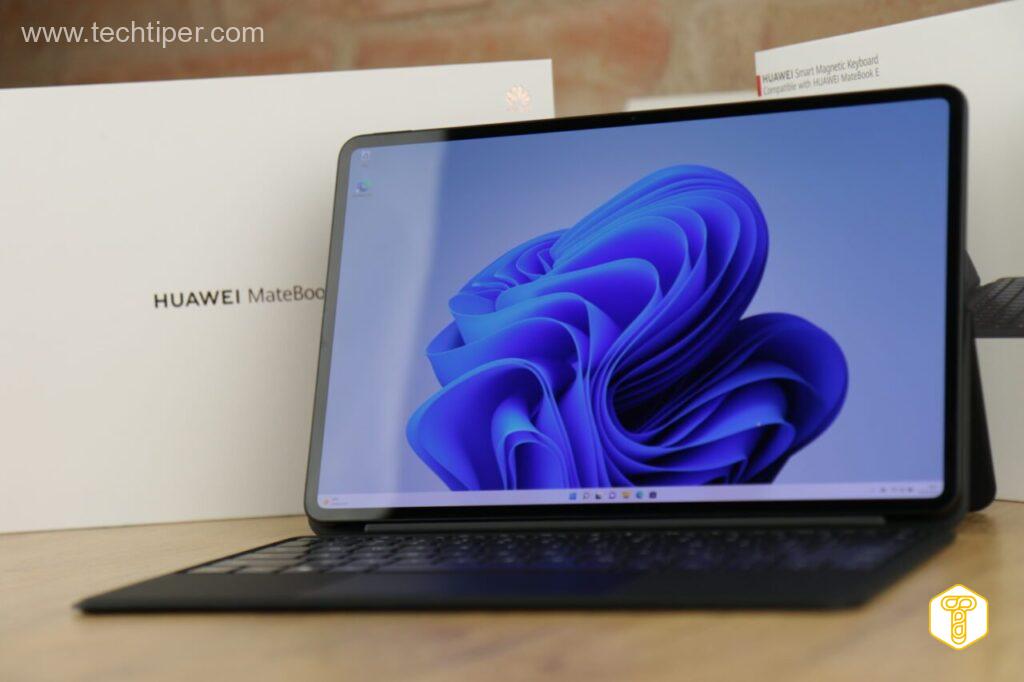 One of the biggest advantages of the Huawei MateBook E is its display. The 16:10 panel made in OLED technology stands out not only from laptops, but also from most top tablets. We get high resolution and even higher contrast, and we can count on high brightness. Over 400 rivets were easily obtained during the tests. The announced 600 rivets are available pointwise in selected modes, so standard. Nevertheless, it is the colors that play the first fiddle of this display , because it actually achieves 100% coverage of the DCI-P3 palette with a deltaE of <1.5. Only the increased refresh rate is missing for full happiness.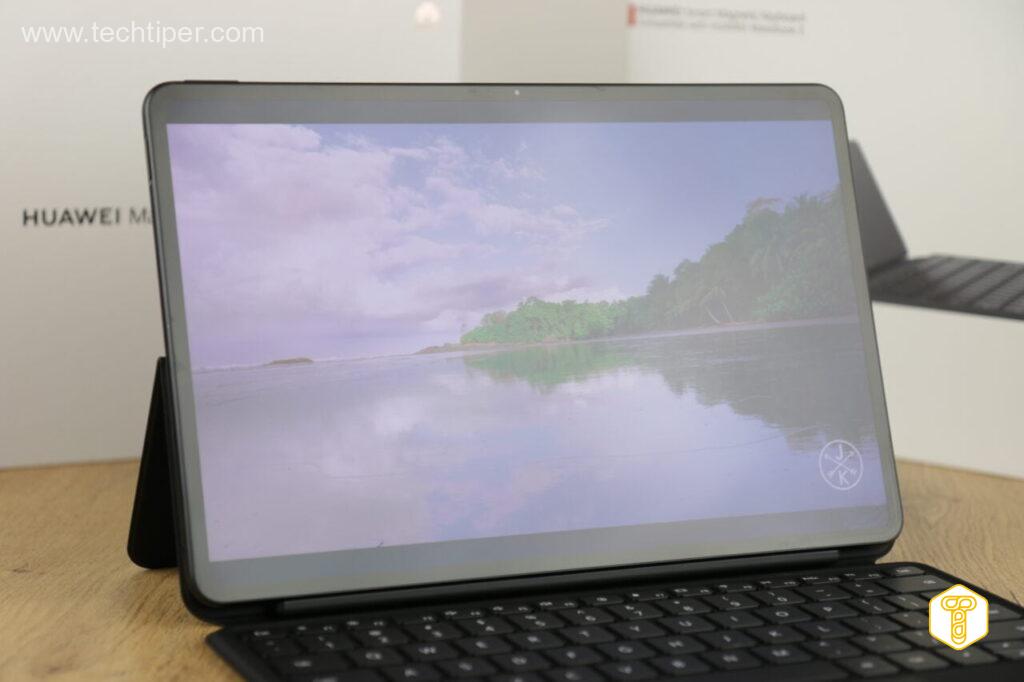 Battery – working and charging time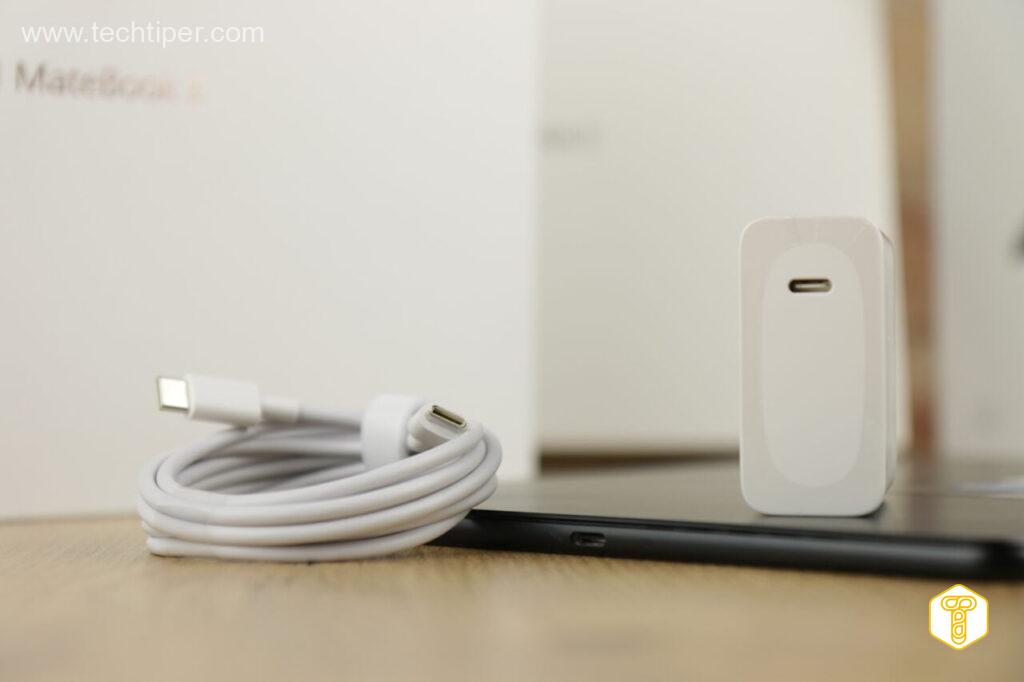 In terms of battery performance, it's not as great as it is with the display. On average, I was able to work on the Huawei MateBook E for 5-6 hours , when we are mainly talking about browsing the web with many tabs open. In turn, watching movies takes less than 7 hours, so the values ​​are most acceptable, although maybe not overwhelming. However, under full load, the MateBook E works for over 2.5 hours, which is already a satisfactory result. In turn, full charging takes less than two hours , but only three quarters of an hour are needed for the laptop to regenerate its link to 50%.
Software and performance
Huawei offers an almost clean system, without any special additions, including bothersome antiviruses. The company only adds its PC Manager , which is a convenient addition, because it allows you to freely update the system and communicate with the smartphone.
Temperatures and cooling
The already announced active cooling system sometimes makes itself felt, but it certainly cannot be said to be a nuisance. After all, we are not talking about a performance demon that is supposed to break down the next benchmarks. This equipment is designed for much more quiet work, although it is certainly not perfectly silent. After all, all you have to do is run the movie in a higher resolution browser to hear the fan. These are only really low values, considering that the equipment generates about 30 dB under full load. Thus, the surroundings are often louder.
Moving on to the temperatures, there is no fear of burns. In some places, MateBook E is able to heat up to about 38 degrees Celsius , but this mainly applies to the upper part of the device near the air outlets, where our hands practically never wander.
Benchmarks and performance
I have already mentioned that the MateBook E is not a performance demon, because it is also not its role to be a gaming laptop. If we want to play, it is mainly in the cloud, because the basic computing power is enough to run The Witcher 3 or GTA V in the lowest settings . The role of the iGPU used is more office work, browsing the web and playing movies. Therefore, in combination with a sufficiently fast SSD disk, efficient operating memory and the same processor, we should not complain about any slowdowns in everyday use. Naturally, there is no potential for expansion.
Read Also: [Review] Microsoft Surface Pro 8 – work and quality at the highest level
Huawei MateBook E review – summary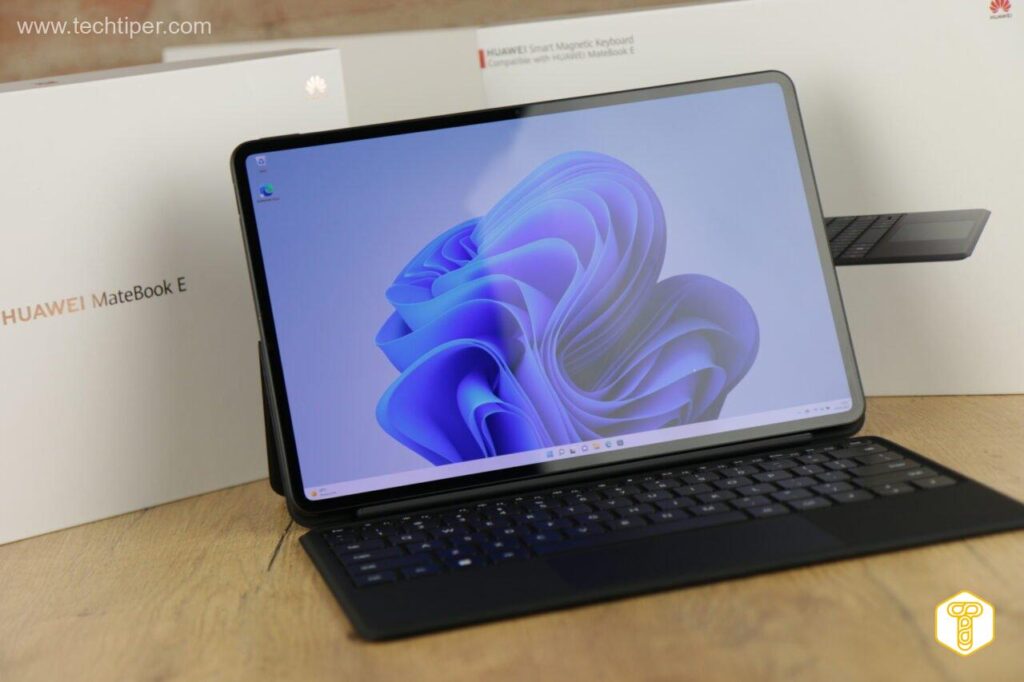 Huawei MateBook E is certainly an interesting, because it is cheaper proposition for people who are interested in laptops like Microsoft Surface Pro 8 . We can count on an interesting performance, a great screen with 4 speakers and well-chosen components. At the same time, we don't have to complain about the price. Especially bearing in mind that the manufacturer often offers various promotions in his store and does not order to pay extra for the keyboard. Structurally, you can definitely improve a few issues (e.g. built-in foot, better finish, additional connectors), but overall we are talking about a really successful proposition for people who are looking for a good hybrid laptop.
About Post Author