Huion Kamvas Pro 16 is a drawing tablet for beginners who have never used such a device, as well as more advanced illustrators.
A couple of years ago, this market was completely dominated by Wacom with its Cintiq line, and in the niche for drawing tablets, Wacom Intuos and Bamboo were the most popular . Kamvas Pro 16 should not be confused with other similarly named Huion products: Kamvas 16 (2021), Kamvas Pro 16 (4K) and Kamvas Pro 16 Premium. The specifications are similar, but there are a few key differences. You will learn about them in the review.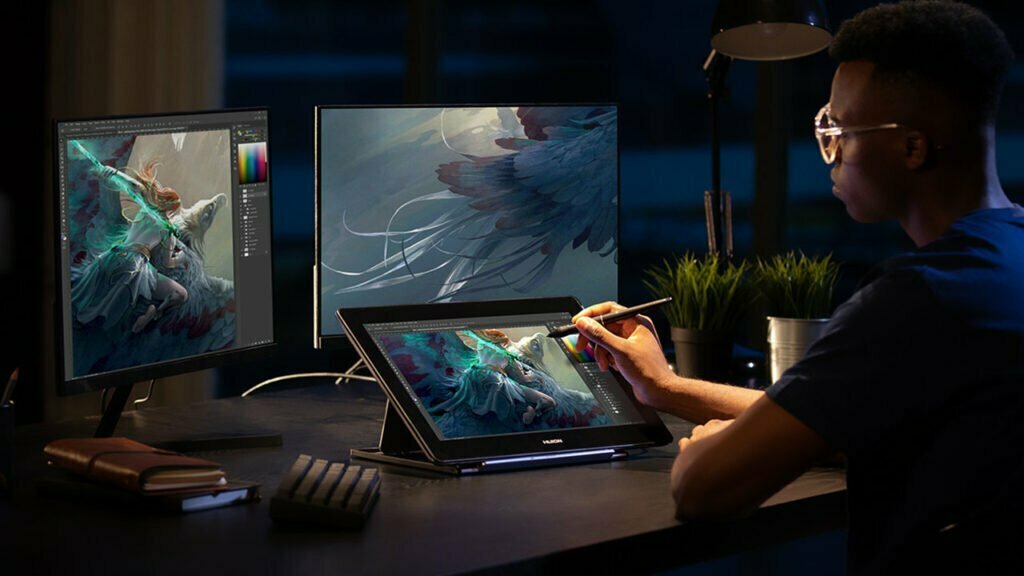 Read Also: HP Victus 16 Review: An Affordable Gaming Laptop with Efficient Performance
Specifications Huion Kamvas Pro 16
| | |
| --- | --- |
| Screen type | IPS LCD |
| The size | 15.6 inch |
| Aspect Ratio | 16:9 |
| Permission | 1920×1080 |
| Contrast | 1000:1 |
| Color spectrum | 120% sRGB |
| Brightness | 220 cd/m² |
| Response time | 25 ms |
| Display colors | 16.7 million |
| Viewing angle | 178×178° |
| Active Workspace | 344.16×193.59mm |
| Control keys | 6 pcs. |
| Customizable keys | Yes |
| Connectors | 1x USB-C |
| Stylus pressure levels | 8192 |
| Incline | 60° |
| Polling frequency | 266pps |
| Permission | 5080lpi |
| Stylus accuracy | ±0.02 inch/0.5 mm |
| Stylus technology | Electromagnetic Resonance (EMR) |
| OS support | Windows, macOS/OS X |
| AC input power | 100 to 240 V, 50/60 Hz |
| Power consumption | ≤9W |
| Dimensions | 437.8×251.2×11.5mm |
| Weight | 1.35 kg |
| Price | From 50 thousand rupees |
Unpacking and kit
The Huion Kamvas Pro 16 graphics tablet comes in a stylish black box and comes with everything you need.
Together with Kamvas Pro 16 we get:
Drawing glove
Screen wipe
Pen holder with 10 spare nibs
Charger and stylus without battery PW517
Documentation with instructions and all necessary cables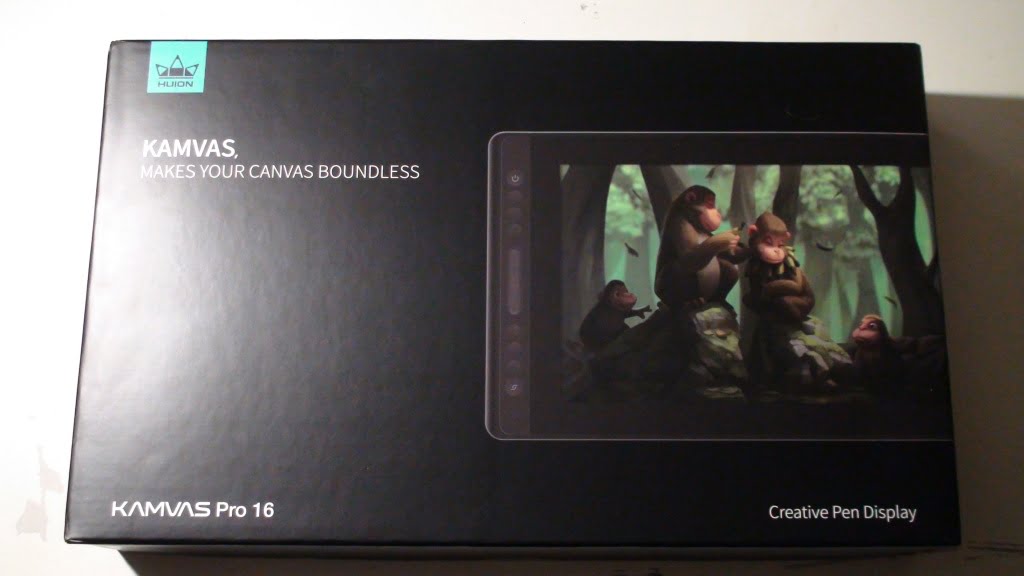 Features and differences
In general, the tested Huion Kamvas Pro 16 is not too different from Wacom graphics tablets.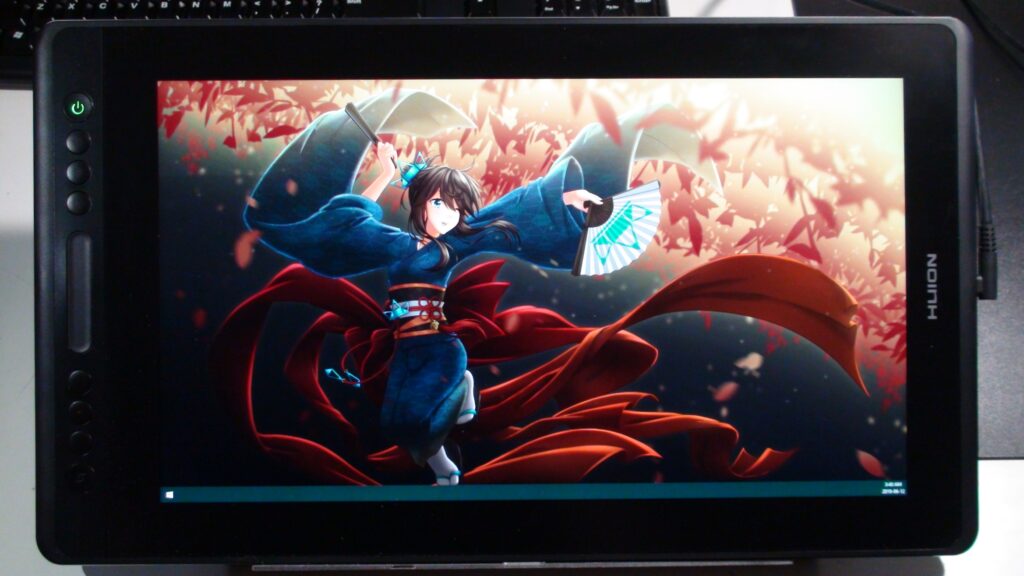 But, Wacom has a large user community where the company's device drivers and software have great support. I am glad that recently other manufacturers are also growing and developing rapidly, so their tablets are also worth paying attention to.
In comparison, the Wacom Cintiq 16 has folding built-in legs, while the Kamvas Pro 16 uses an additional stand to support the Kamvas Pro 16, which is less convenient. The stylus for the Cintiq 16 is also slightly better than the Huion counterpart, although only those who have been using graphic tablet monitors for more than one year will be able to notice the difference.
But the shades on the Kamvas Pro 16 are displayed better: the coverage of the sRGB space is 120% versus 96% for the Cintiq 16. And most importantly, the gadget from Huion is much cheaper.
Design and construction
For a nearly 16-inch tablet, Huion Kamvas Pro 16 is very compact, measuring 43.78 x 25.12 x 1.15 cm and weighing just 1.35 kg without stand.
The design is reminiscent of premium devices: the back cover is made of metal, and rubberized panels prevent slipping in your hands or on the surface of the table. Some other graphics tablets look like PC displays, but the Kamvas Pro 16 is more like an iPad than a monitor.
Controls and keys
You don't have to buy a separate touchpad, since Huion Kamvas Pro 16 has built-in control buttons on the sides.
These keys can be assigned to frequently used commands or to quickly launch applications such as Adobe Photoshop. On the Huion tablet, there are six main reassignable buttons and two additional ones: the power key and the function key. The last two are slightly larger than the others, but they are still often confused.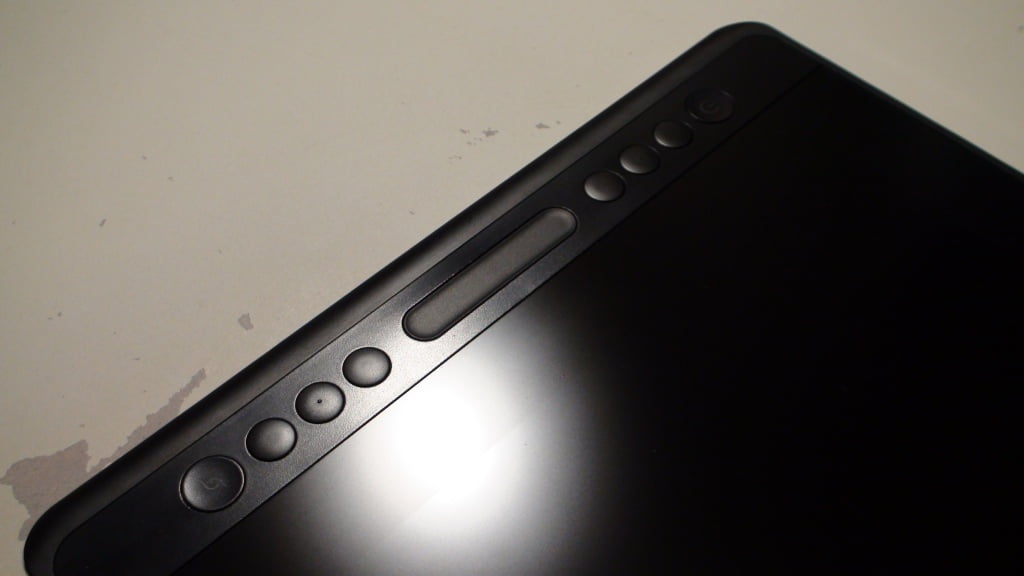 The power key could have been placed a little to the side, because it is easy to accidentally press it. Also on Kamvas Pro 16 there is a long touch button for switching between tools: brushes, scrolling and image zoom.
Graphics tablet screen
The screen of Huion Kamvas Pro 16 is protected by anti-reflective scratch-resistant glass.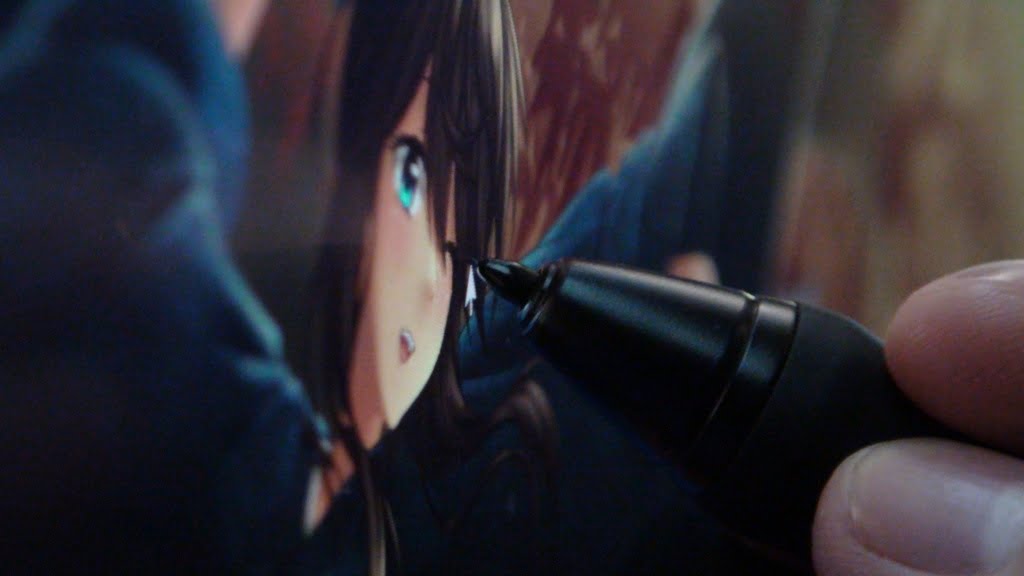 Its finish is rough and paper-like, making it much more comfortable to draw on than standard glossy screens. The brightness is quite high, it reaches 180 nits.
The display is also laminated – there is no space between the glass and the LCD panel. This means that there is no parallax – a small gap between the stylus and the drawing on the screen. In this regard, Kamvas Pro 16 outperforms Cintiq 16, where the panel is not laminated.
Handy stylus PW517
The new PW517 stylus for Kamvas Pro 16 is a significant improvement over previous versions from Huion, which required a rather heavy battery to operate.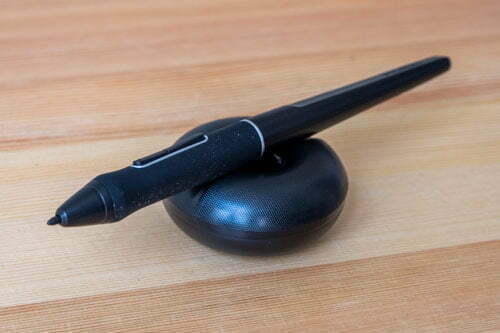 The stylus itself is lightweight, has two keys that perform the functions of the left and right mouse buttons. Of course, Wacom Pro Pen 2 is better in some aspects, but the difference here is not too big. You will notice them only if you have been using both daily for a long time. If Kamvas Pro 16 is your first graphics tablet, you don't have to worry.
Software
The first time you launch Huion Kamvas Pro 16, you will need to calibrate the screen a little, which is easy to do using the Huion custom driver.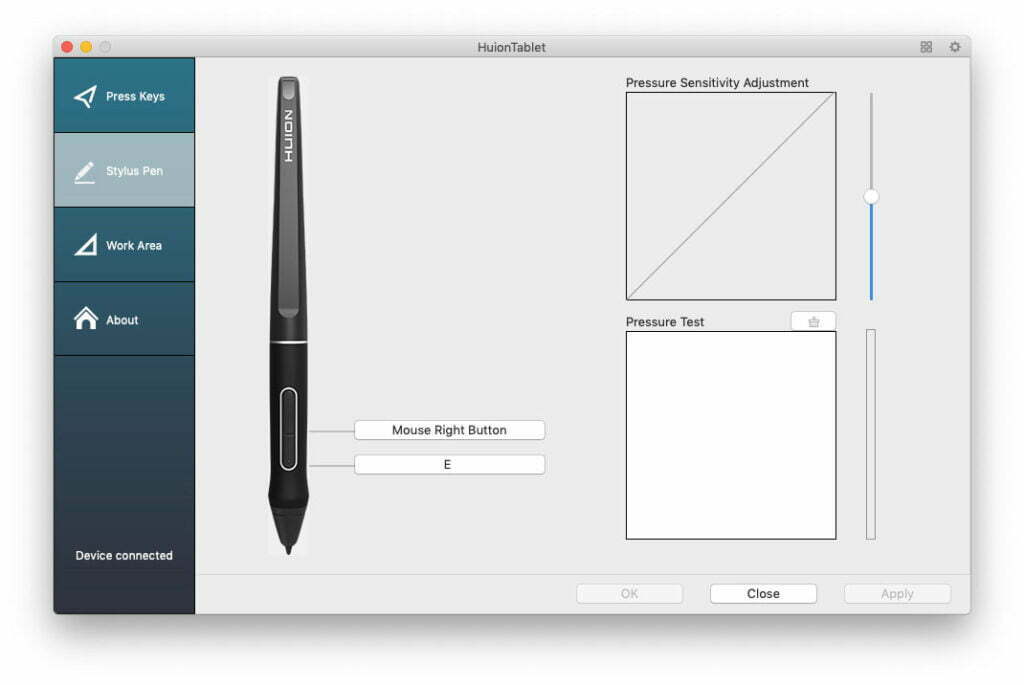 Any graphics tablet requires at least a little tweaking so that you can find the ideal settings for you. Software and drivers from Huion have become much better in recent years. Yes, Wacom has richer settings – for example, you can assign hotkeys for each application. But, here again, the software is reliable and also easy to use.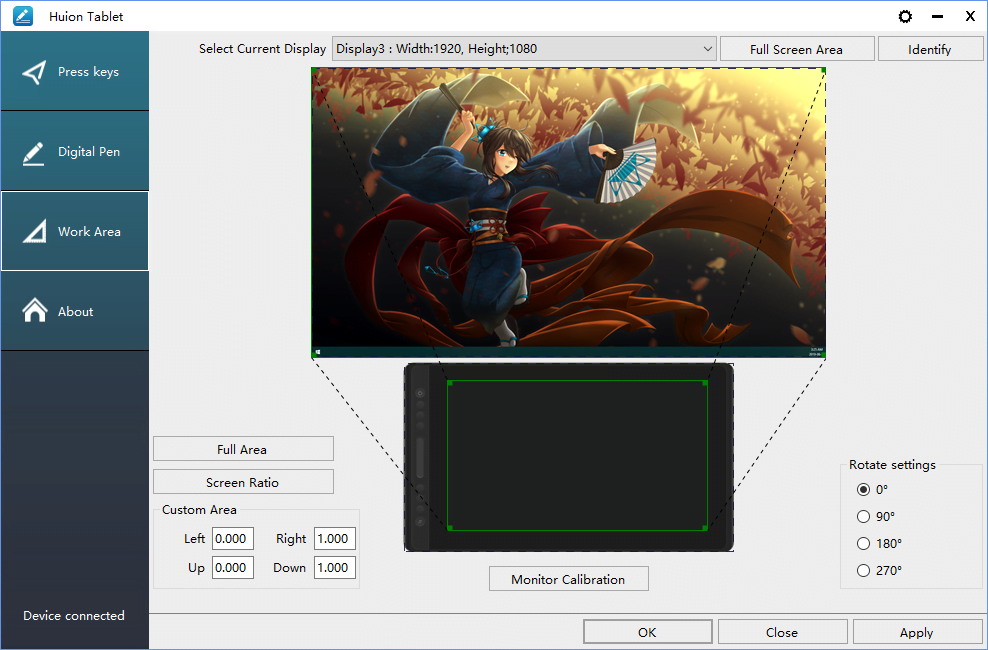 You can change the sensitivity of the stylus or customize all of the tablet's control keys, but you won't be able to create separate profiles for each application. You have to do it manually, which is a little tiring.
Drawing and Productivity
I tested Huion's Kamvas Pro 16 with Photoshop, Illustrator, Affinity Photo, Medibang Paint Pro, Krita, and Clip Studio Paint for Mac and Windows.
The overall drawing performance here is fantastic. Pressure and tilt sensitivity work predictably and consistently. The transition from thin to thick and back is smooth, the curves also turn smoothly, and the lines gradually narrow. I didn't have any problems when it came to drawing because the stylus is sensitive and accurate.

Here's my line quality test in Photoshop:
The initial activation force is minimal. The pen is sensitive enough to detect changes with minimal pressure.
No jitter/wobble when drawing diagonal lines slowly.
Lines can gradually taper, moving from thin to thick.
It is easy to maintain constant pressure to draw lines of the same width.
You will be able to draw dots by simply tapping on the display.
The features mentioned are the same in other drawing programs that I have tested, except when there are software crashes.
Heating Huion Kamvas Pro 16
After about an hour of use, Kamvas Pro 16 starts to heat up a little, although the case temperature is always acceptable and does not cause discomfort.
Heat is mostly concentrated at the top of the display, so right-handed use shouldn't be a problem. If you are left-handed, the graphics tablet will be turned to you the other side, and the warmest area will be in the wrist area.
However, this situation is inevitable for almost all graphic tablet monitors. Huion did a pretty good job of dissipating excess heat, especially when compared to some of the company's previous models.
Outcome
Huion Kamvas Pro 16 is a great pen tablet monitor for every level of creativity. Here are convenient dimensions and many functions for those who like to draw. It seems that Wacom finally has a worthy competitor.
The main difference between Kamvas Pro 16 and Kamvas 16 is the screen. The Pro 16's display is better in many ways. The downside is that Kamvas 16 has more shortcut buttons.
Is it worth buying Huion Kamvas Pro 16
I would have spent a little more on the Pro model because of the better screen. If you prefer more physical shortcut buttons, then the Kamvas 16 might be for you.
If you're looking for an interactive drawing display, Huion's Kamvas Pro 16 is the one you should definitely consider. This is one of the best graphics tablets, so I can easily recommend it.
Drawing
,
drawing tablet
,
Graphic optimization
,
graphics
,
graphics tablet
,
Huion
,
Huion Kamvas
,
illustrator
,
illustrators
,
pen tablet
,
pen tablet display
,
review
,
Tablet
---