The presentation of the iPhone 14 family has mixed up Apple's offer. We got the biggest novelty this year, i.e. the iPhone 14 Pro and 14 Pro Max powered by the A16 Bionic processor and equipped with a Dynamic Island that replaces the notch. This year's flagships also received a completely new camera with a resolution of 48 MPx. The position of these models is basically unquestionable. As every year, a large group of admirers is waiting for the top smartphones from Cupertino.
Apple also introduced a cheaper model in the form of the basic iPhone 14, which does not introduce the above-mentioned novelties. At first glance, it does not differ much from last year's "thirteen". To make it even more difficult, the company left the 12 and 13 models on offer. The iPhone 12, 13 and 14 look similar, which of these devices should you choose? You can read about the similarities and differences in the post below.
iPhone 12 if you choose the 64 GB version
It was presented in 2020, together with the mini version (which is no longer offered by the manufacturer). The smartphone is equipped with a 6.1-inch Super Retina XDR display with HDR technology. Its maximum brightness is 625 nits and its peak brightness is 1,200 nits. The device is powered by the A14 Bionic system. Like all modern iPhones (except SE), the phone uses Face ID for unlocking and paying. It was the first Cupertino phone with 5G support and compatible with MagSafe accessories. According to Tim Cook, the battery will last 17 hours of video playback. It is resistant to splashes, water and dust in accordance with the IP68 standard.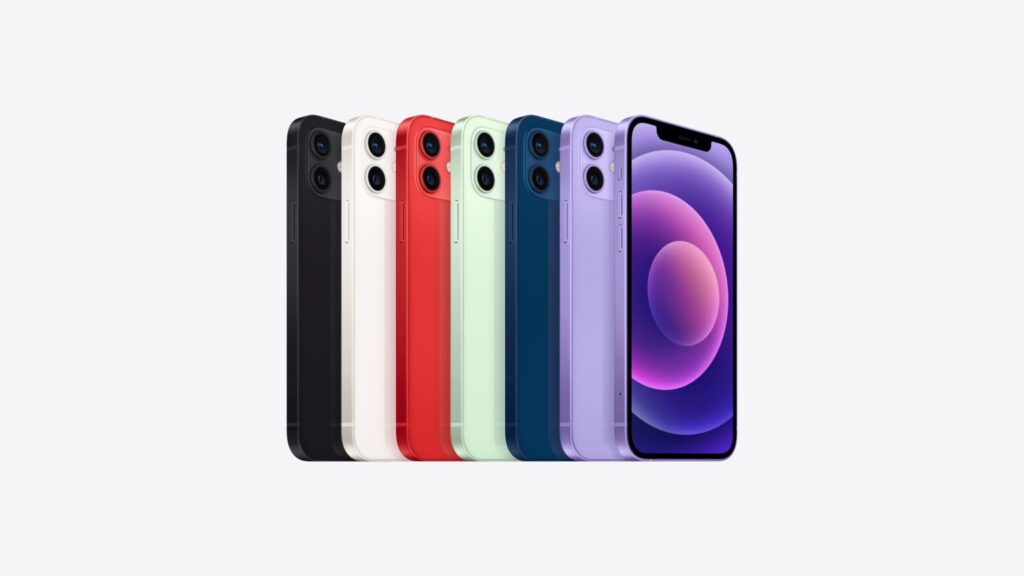 iPhone 12 has a system of two cameras with a resolution of 12 MPx (main and ultra wide-angle) with an aperture of ƒ / 1.6 and ƒ / 2.4, respectively. It is equipped with the OIS system and Deep Fusion technology that improves the quality of the photos taken. There is also intelligent HDR for three photos and a night mode.
There are versions of 64 GB (for USD $733), 128 GB (for USD $779) and 256 GB (for USD $902) in the following colors: purple, blue, green, red, white and black.
iPhone 13, which is a reasonable choice
The successor to the "Twelve" is very similar in design and has received most of its functions. The phones differ in the arrangement of the cameras on the back. iPhone 13 is basically a revised iPhone 12. We have the same 6.1-inch Super Retina XDR display with HDR technology. However, its maximum brightness has been increased to 800 nits , which will make it better suited to strong lighting. We have a newer processor, the A15 Bionic, which will probably provide slightly longer support than its predecessor. One battery charge is now enough for 19 hours of video playback.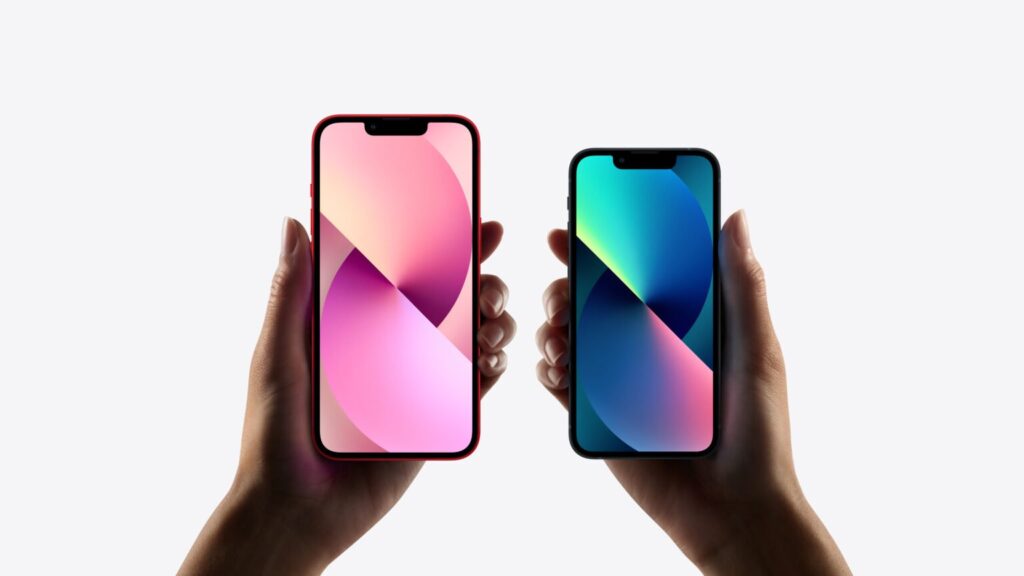 The dual camera system is modernized, but the changes are not big. They mainly come down to the introduction of the OIS system with automatic matrix stabilization and intelligent HDR for four photos. A new feature for photo styles has also been introduced . The iPhone has always offered a lot when it comes to video, and the iPhone 13 introduced a movie mode for recording video with a shallow depth of field (1080p at 30fps).
The basic model now has 128 GB (for USD $829), and subsequent versions have 256 GB (for USD $829.9) or 512 GB (for USD $1,129) built-in memory The available colors are: pink, blue, midnight, moonlight, green and blue. iPhone 13 is also available in a mini version , which is distinguished by a 5.4-inch display and shorter battery life than in a larger device. It is an interesting smartphone, but for a specific group of buyers. If you are looking for a universal smartphone, it is definitely better to choose the version with 6 , 1 inch screen.
iPhone 14, this year's novelty
It looks like… iPhone 13. Only the color versions are different . Again, the same 6.1-inch Super Retina XDR display with HDR technology with parameters as in the predecessor. For the first time, the new iPhone has received a processor from last year's model. A15 Bionic, although the more powerful version of the 13 Pro, and not the "standard" 13. The battery life, which Apple specifies for 20 hours of video playback, is slightly better. A novelty is the accident detection mode widely promoted by the manufacturer .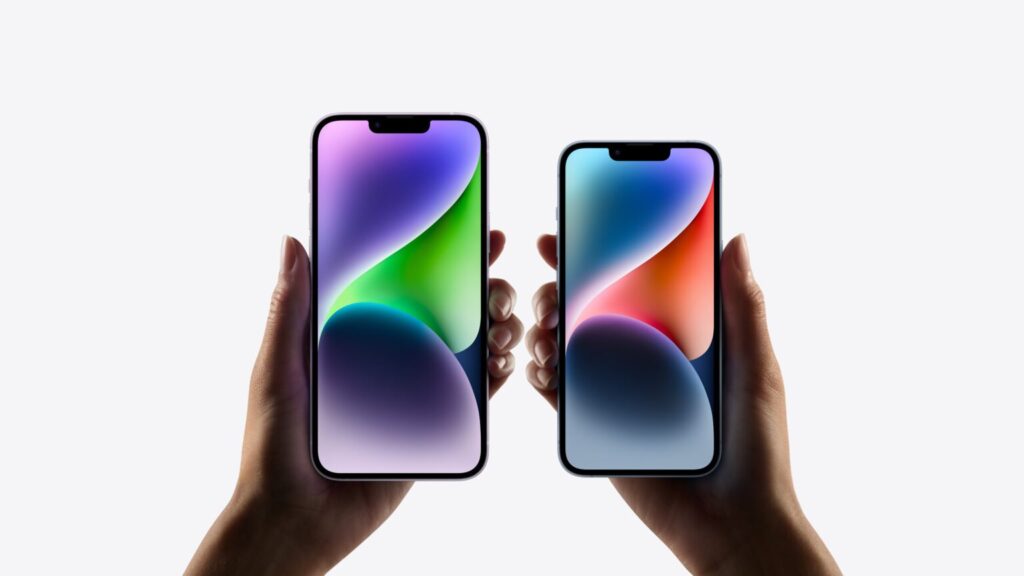 The 12MP dual camera system, the main and ultra wide-angle, now have ƒ / 1.5 and ƒ / 2.4 apertures, respectively. We have received the Photonic Engine function , which is to greatly improve photos taken in low light. Apple also improved the movie mode for recording video with a small depth of field (4K HDR at 30 fps) and introduced a new action mode. The front camera is equipped with autofocus.
There are three capacity versions: 128 GB (for USD $799), 256 GB (for USD $899) and 512 GB (for USD $1099). The company from Cupertino this time worked harder on the colors, because they look the best of all the models. We have eye-catching blue, purple, midnight, moonlight and (PRODUCT) RED. In this generation, the mini model has disappeared, but in a few days the 6.7-inch iPhone 14 Plus with the best battery of all Apple smartphones will debut on the market.
iPhone 12, 13, 14 – similar, yet different. Which one is for you?
There is a large group of users who are looking for the latest solutions and must have a smartphone with the most interesting solutions. For these, Apple offers the 14 Pro and 14 Pro Max models. These people will not even look at the devices mentioned in the text. iPhone 12, 13 or 14 are devices for those who are looking for a solid solution for several years. There are slight differences in cameras or battery life, but let's be honest – they are very similar phones .

The iPhone 12 seems to be a good choice only in the 64 GB version, however. If you are interested in a model with 128 GB of built-in memory, it is definitely better to choose "Thirteen", which has a better battery, brighter screen or an improved camera, and its price is slightly higher. This year's novelty, the iPhone 14 has the best battery, or a camera significantly changed compared to its predecessors, but its price is definitely higher.
Source: Apple
About Post Author