The Redmi Watch 2 Lite debuted on the market starting at ₹ 4,999 approx. $95.99 . In terms of quality and functionality, this wearable gadget is also closer to sports bracelets.
As the name suggests, the Xiaomi Redmi Watch 2 Lite is a cheaper alternative to the Redmi Watch 2. Therefore, the model has an IPS display rather than an AMOLED display, perhaps to cut costs, but is this a big disadvantage? Looking for someone. Let's figure it out!
Features of Redmi Watch 2 Lite
Screen: 1.55 inch TFT LCD touchscreen with 320×360 pixels resolution
Wireless: Bluetooth 5.0 BLE
OS Compatibility: Android 6.0 or iOS 10 (or later)
Adjustable strap length: 140 – 210 mm
Autonomy: 10 days battery life 262 mAh
Blood oxygen measurement (SpO2): Yes
Tracking: Sleep, heart rate and over 100 workout modes
Water resistance: up to 5 ATM
Navigation: GPS, GLONASS, Beidou, Galileo
Available colors: ivory, black, blue
Dimensions and weight: 41.2 x 35.3 x 10.7 mm (without straps), 35 grams
Unpacking and kit
In the square box we find:
The smart watch itself
Silicone strap
Documentation and power cable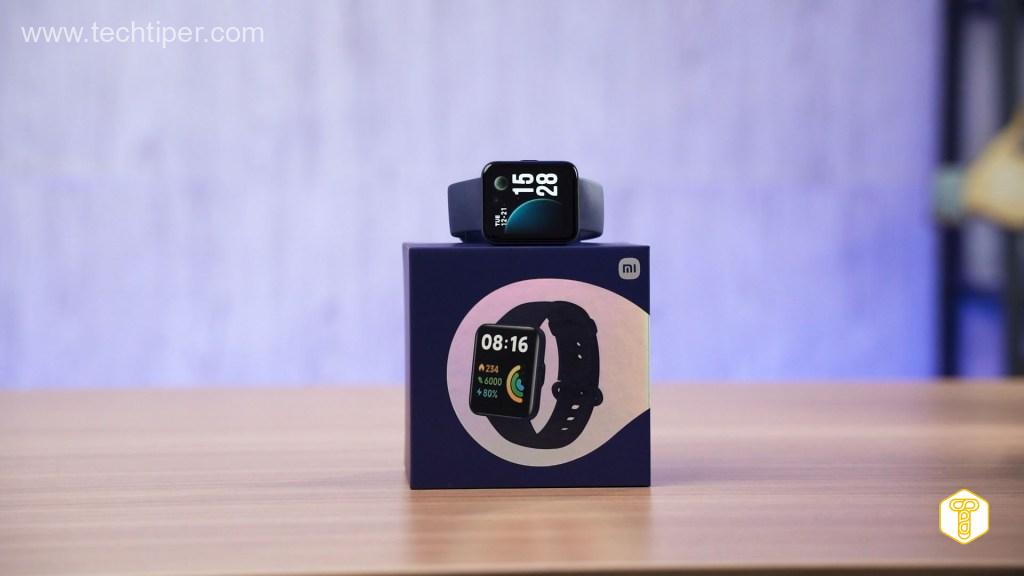 The kit is not rich, but nothing surprising, for such a price this was to be expected.
Design and comfort
Redmi Watch 2 Lite is light (only 35 grams including the strap) and sits well on the wrist. Although it must be admitted that the predecessor, Watch Lite, weighed exactly the same.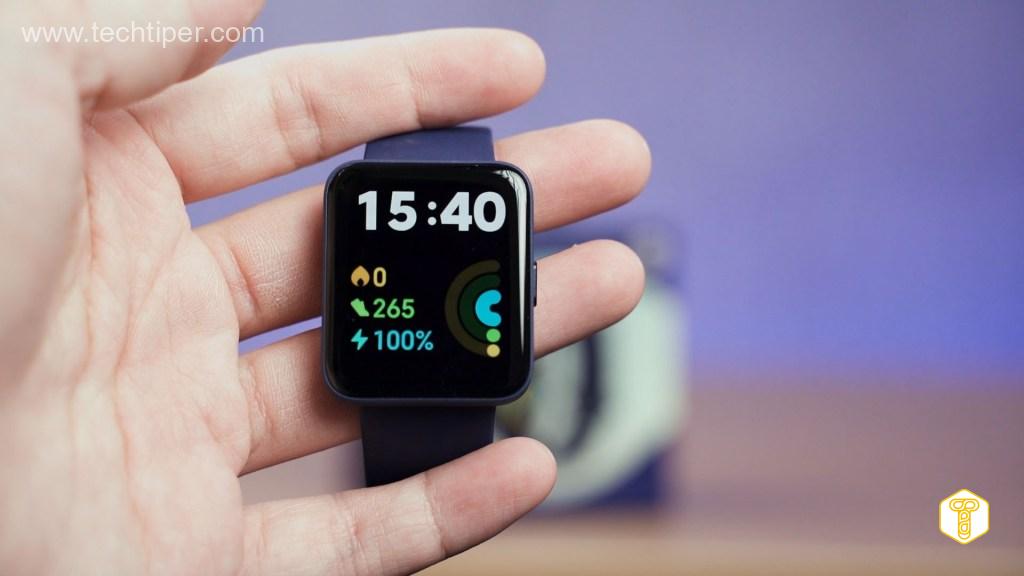 My skin on my wrist didn't get sweaty even after a few hours of use, although this may be due to the season as well. In summer, the situation may be different – after all, the strap is made of silicone. The smartwatch is water resistant up to 5 ATM, which is a plus for people who like to swim without taking their watch off.
I have no complaints about the workmanship, especially if you look at the price of the device. In terms of design, we are dealing with a classic inexpensive smartwatch in an almost square case. The richness of color options should be considered a plus, you can choose from ivory, black and blue cases, as well as pink, olive or brown strap.
Gadget Screen
The Xiaomi Redmi Watch 2 Lite smart watch screen is a 1.55-inch TFT LCD touch matrix with a resolution of 320 × 360 pixels.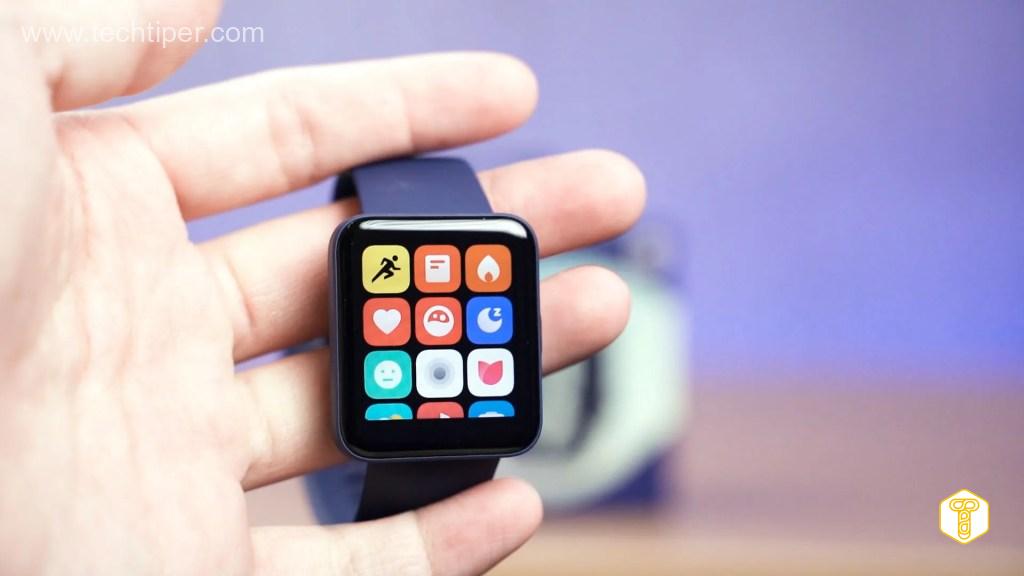 Why not Amoled? This is likely due to cost cuts. Is this saving noticeable? Depends on when. Not during the day, as the display is really bright. However, the relatively weak side of the panel is visible at night.
As for the screen sensitivity, it is at a good level in Watch 2 Lite. I didn't have any annoying problems with it working.
Functions and measurement accuracy
The new Redmi Watch 2 Lite has a lot of features, but, unfortunately, you can forget about NFC.
To work, the device must be paired with an Android or OiS smartphone and the free Xiaomi Wear app installed. After pairing, we can disconnect from the smartphone.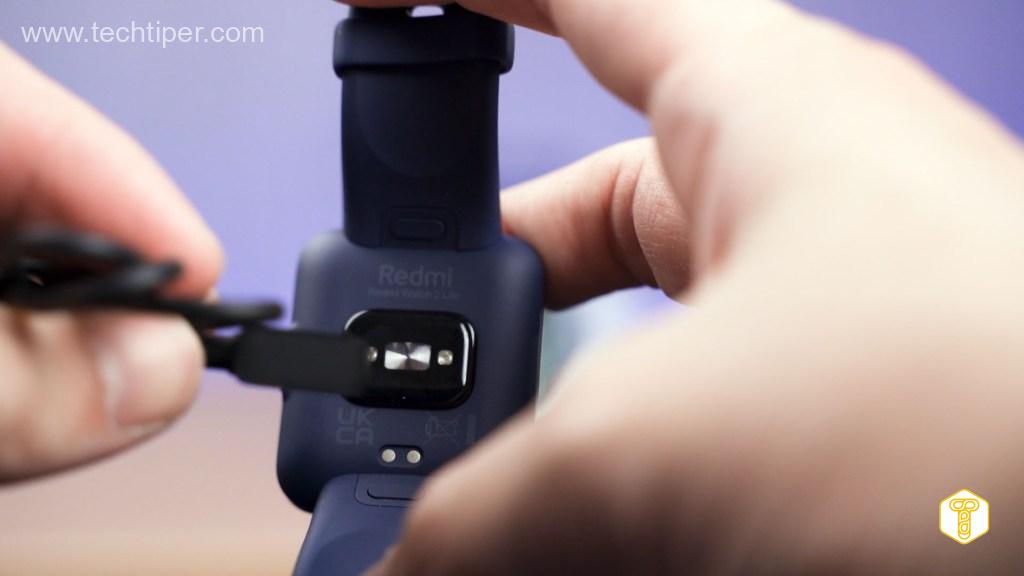 In terms of functionality, we have:
Notifications about messages and incoming calls, through vibrations, because the device does not have a built-in speaker.
Built-in GPS, GLONASS, BeiDou and Galileo navigation module which work very well.
Current weather forecast, stopwatch and the ability to control the music being played.
The ability to track sleep, and more than 100 different types of sports training.
Step counter – which works pretty well.
24-hour real-time heart rate measurement, in my opinion, the measurements are quite accurate.
Measurement of blood oxygen saturation (SpO2), I'm not sure if the function works exactly, because I have nothing to compare.
Xiaomi smartphone owners can use the smart watch to control the camera shutter on the smartphone.
Some of the options are, of course, available when connected to a smartphone. In the absence of an Always On screen, the type of panel should be blamed – in the case of LCD, power consumption would be noticeably higher than that of Amoled. Of course, the app also includes a store where we can download new watch face designs.
As you can see, the tested smart watches are close in functionality to such bracelets as Mi Smart Band 6. Of course there are differences, but most of the functions are similar.
Read Also: Audio-Technica ATH-M50xBT2 Review: On-ear Bluetooth Headphones with Studio Sound
Xiaomi Wear app
Xiaomi has separated the Mi Band and Watch into separate apps, in our case, you need to install the Xiaomi Wear app to pair and use many features.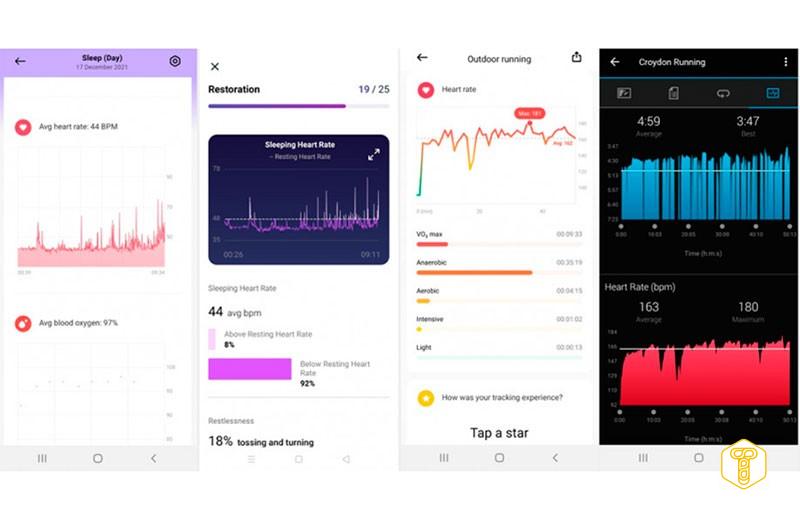 It works with devices starting from Android 6.0 or iOS 10 (or later) via Bluetooth 5.0 BLE connection. During the tests, the application did not cause me any problems. Everything worked smoothly and stably. I also had no problems pairing the smartwatch and downloading updates.
Xiaomi Wear is, of course, not perfect software, and it lacks some of the features known from Mi Fit, like the ability to compete with friends. However, this didn't really bother me.
Xiaomi Redmi Watch 2 Battery
The built-in battery inside Redmi Watch 2 Lite has a capacity of 262 mAh.
According to the manufacturer, it will last for about 10 days of normal use, 5 days of intensive use or 14 hours of continuous sports mode with GPS. After intensive testing, my watch was discharged after about 3 days. I think that with normal use of battery power should be enough for a week.
Includes USB cable for magnetic charging port. Of course, we have to connect it to the charger, which is either already there or we need to buy it separately.
Outcome
If you expect the quality and functionality of the Xiaomi Redmi Watch 2 Lite to be closer to a smart bracelet than a watch, then this model will not disappoint. Especially if you care about the built-in GPS and don't mind the lack of NFC.
Benefits
Affordable price
Compact design
GPS and water protection
Plenty of fitness modes
Accurate performance monitoring
Disadvantages
The screen is not Amoled
Difficulties with changing the strap
Is it worth buying
Watch 2 Lite costs quite fair money – Rupees 4,999. is a non-whole state, and the price is quite appropriate. The question is whether the model will be able to compete not only with cheap smart watches, but also with good sports bracelets. However, I don't think there will be any big problems here.
---
About Post Author
Xiaomi Redmi Watch 2 Lite Review
Design and convenience

Display and readability

System and software

Performance

Sports options

Smart features

Autonomy of work
Summary
With Redmi Watch 2 Lite, we get a really great watch not only for sports, because the number of additional features and capabilities makes this device suitable for everyday use.