Acer Chromebook 314 review
Set

Construction

Display

Battery

Software

Performance
Acer Chromebook 314 review summary
If you want to try what working with a Chromebook looks like, definitely consider the title model. Acer Chromebook 314 is simple equipment, but with a comfortable keyboard, great battery and, above all, a low price. Of course, you cannot expect too much, because the screen and speakers are not knocking down, but the operation of the system definitely encourages you to get to know the Google platform better.
The Chromebook market is not very popular, although this does not in any way result from the fact that these devices are bad. It's a matter of marketing and customer habits. Google doesn't care so much about our market, so awareness of something other than Windows, MacOS or Linux is low. Nevertheless, some producers decided to try their hand. In this way, here is the Acer Chromebook 314 review before you, which showed me the strength of this type of laptop. It is by no means an offer for children, and this is how the company advertises it. At least not only for them.
Set, technical specifications and price of Acer Chromebook 314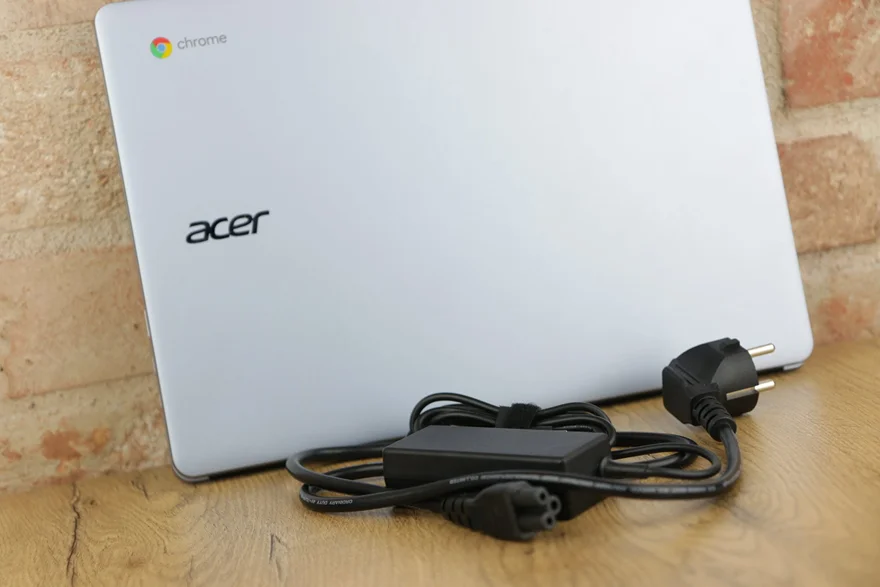 Chromebooks are cheap devices by design, so manufacturers just can't over-invest in packaging and kits. That is why we receive the reviewed model in a classic cardboard box in which the equipment is well protected. It is mainly accompanied by a 45 W power supply, terminated with a USB-C plug , so it will also work in conjunction with smartphones.
Price is the main advantage of the Acer Chromebook
Cheap, i.e. how much does it cost? Well, it turns out that the Acer Chromebook 314 in the tested version costs $250 , so we are really talking about a laptop at the price of an average smartphone. This is the first point that shows where to look for the benefits of Chromebooks. After all, the basic version of this equipment costs less than $210.
Technical Specifications Acer Chromebook 314
14-inch IPS LCD FullHD screen

resolution: 1920 × 1080 (16: 9, 157 ppi)

Intel Celeron N4020 processor

lithography: 14 nm
2-core (2-thread), 1.1 GHz
4 MB Cache

graphics chip: Intel UHD Graphics 600
128 GB of built-in eMMC 5.1 memory
4 GB DDR4 RAM
battery with a capacity of 48 Wh
communication:

Wi-Fi 5 (802.11ac)
Bluetooth 5.0

connectors:

2x USB-A (3.1 Gen 1)
2x USB-C (3.1 Gen 1, Power Delivery, DisplayPort)
Jack 3.5 mm headphone jack

720p camera, stereo speakers
Chrome OS
dimensions: 325.4 x 232 x 19.7 mm
weight: 1.5 kg
material: plastic
It is a pity that the company gave up the microSD card reader, because it would be a good complement to the connectors. On the other hand, you have to appreciate the higher screen resolution. Of course, the sale also includes variants with more powerful Intel processors or ARM-based (from MediaTek). There are also several memory varieties, but it is the tested variety that is such a golden mean.
Construction and build quality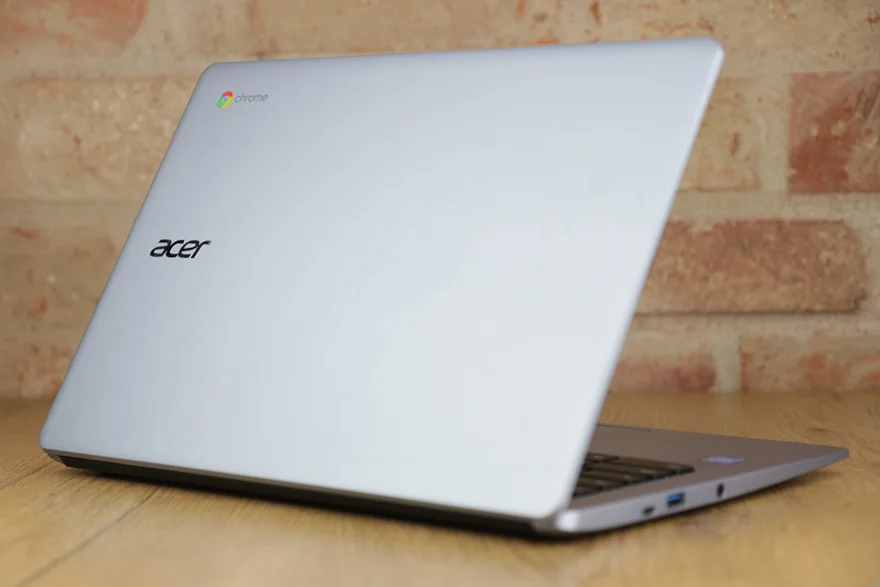 It should be cheap and you can certainly expect this mention at every step. This assumption of the tested Chromebook means that you cannot expect great workmanship, although Acer's proposal does not deter with design errors. Of course, the equipment is made of average plastics, but they are very well connected to each other. In addition, the finish allows you to keep the laptop clean for a very long time. Therefore, if you do not expect metal and glass, you will surely be satisfied. At the same time, the entire structure has been well thought out, as you will see in a moment.
The cover hides two logos – Acer and Chrome. There is no point in looking for anything more, so let me emphasize once again that the painting does not get excessively dirty . This way, the equipment looks just as good all the time.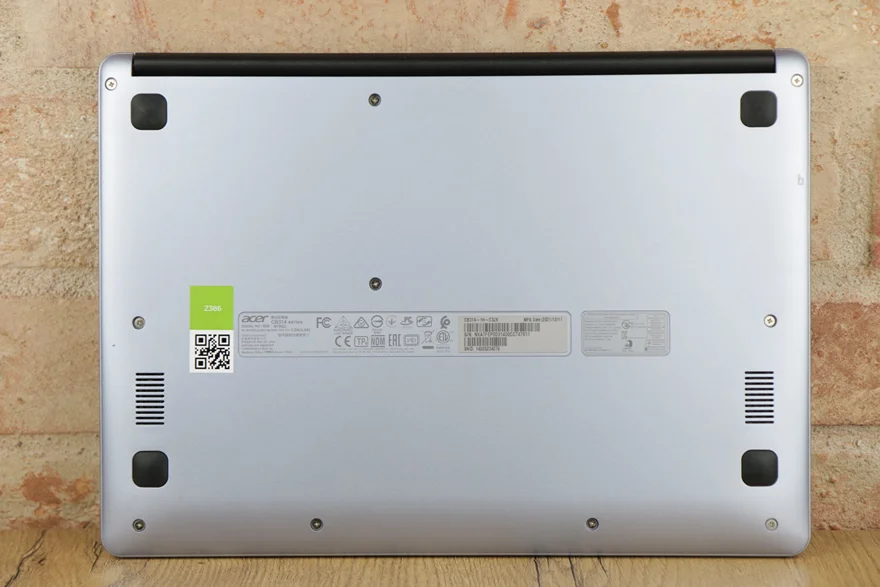 The bottom part is still calm, because we can see only four rubber feet, speaker grilles and the necessary markings. The aforementioned speakers sound average. They're okay for short YouTube videos, but in serials and long movies, we'll feel a lack of vibrancy and low-frequency reproduction. They are simply classic laptop games.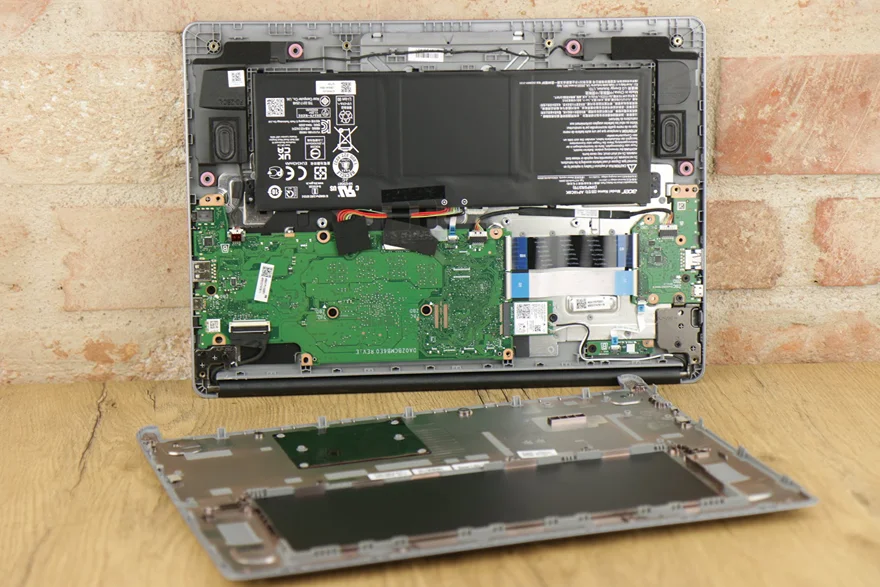 Under the cover, we will notice that only the network card is really to be replaced . Everything else looks more like an oversized smartphone than a laptop, because Chromebooks are sometimes closer to phones.
The edges are surprising with connectors for this price class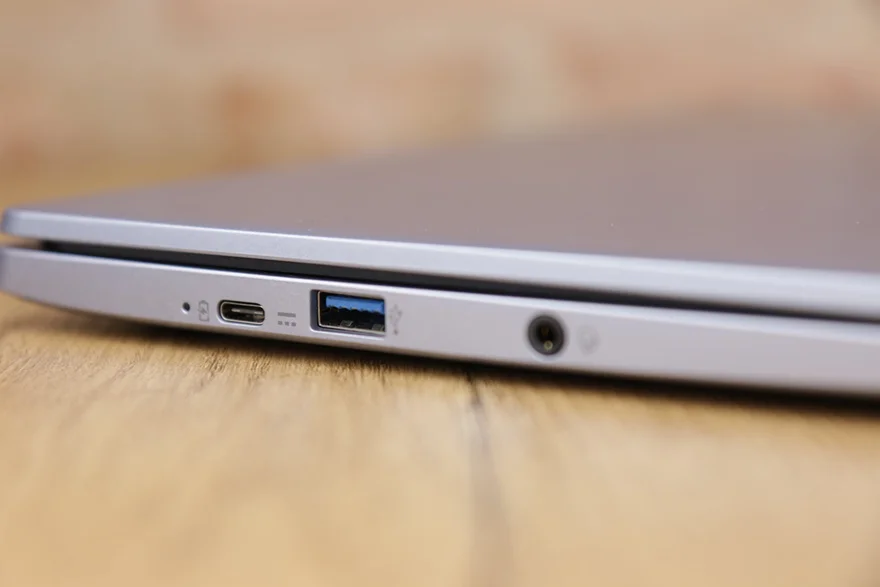 Advanced connectors are hard to expect from cheap laptops. Meanwhile, the Acer Chromebook sits at the edges:
left side – LED indicating work, USB-C, USB-A
right side – Kensington Lock, USB-C, USB-A
All USB connectors are in relatively new standards, so it's hard to complain. Of course, I have already mentioned that the memory card slot that appeared in older versions is missing.
The classic lid does not cause any problems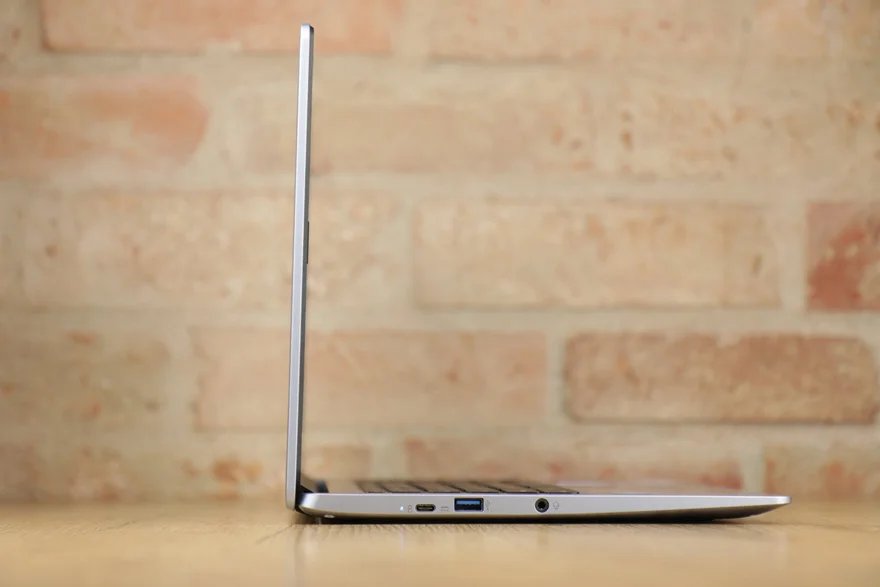 Opening the cover, which has been placed on a fairly large hinge, is not a bothersome task due to the small gap. We can further praise Acer for the possibility of tilting the screen by nearly 180 degrees, so working in any position should not cause problems. The hinge is also stiff enough so that the screen won't wobble when you move or hit hard.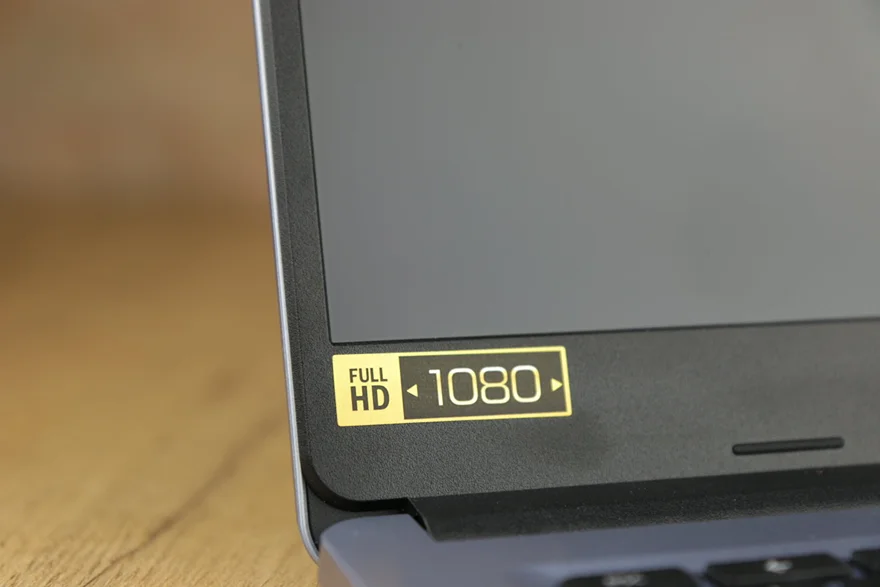 After all, the cover shows that it is a design that uses elements from older generations of laptops. The frames are quite large, which is a pity, because limiting the size of such equipment should not be a problem. Therefore, in the next generations, Acer will probably focus on the overall dimensions. Nevertheless, the frames are not too large, because the side ones have been limited. Only the upper one, with an average camera for video calls, and the lower one with the Acer logo, are distinguished by the volume of rough plastic.
The keyboard, although clunky, is comfortable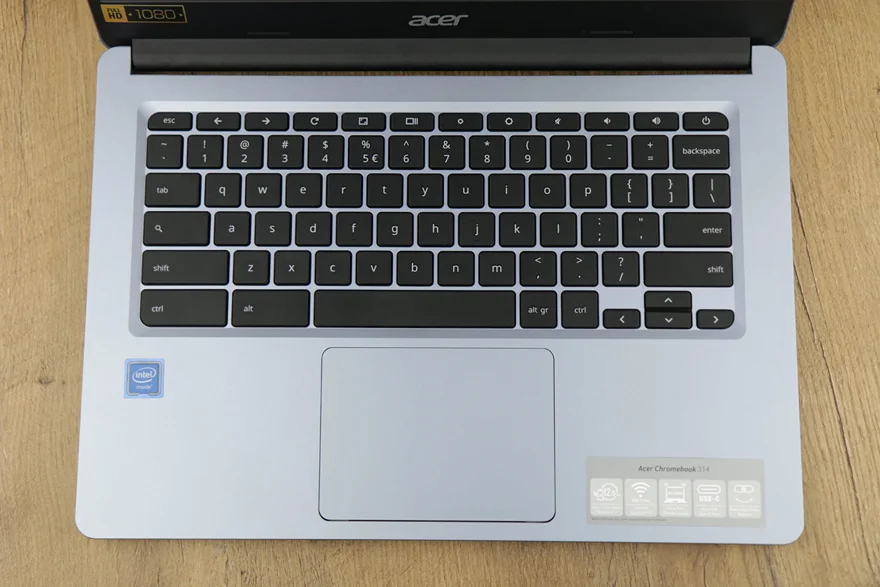 Meanwhile, let's move on to the palm rest decorated with an unusual keyboard. Unusual, because Chromebooks are rare in India, which I already noted at the very beginning. However, do not be afraid of ergonomics, because in this respect it does a great job. Typing on an Acer Chromebook 314 is no problem. The great travel of the keys and their proper placement make the overall experience very good. Of course, it is in vain to look for an alphanumeric section or a backlight, but still remember that it is cheap equipment.
The touchpad is the right size and works well. It recognizes the gestures correctly, offers adequate resistance and only the clicks could be slightly quieter, but this is a detail in the overall calculation.
Display and image quality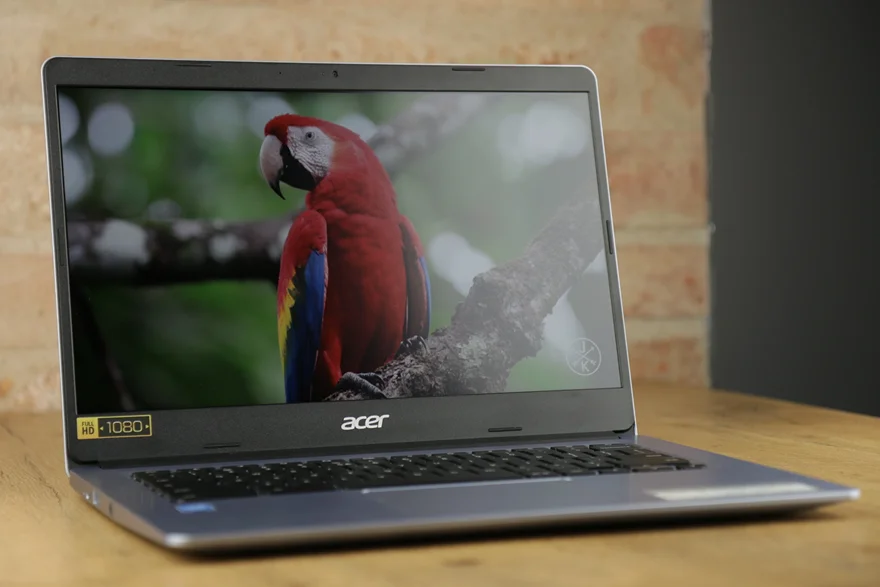 The screen used in the Acer Chromebook 314 does not captivate, because this is not its role either. Some might have been surprised by a FullHD sticker on the frame around the screen before, but this is actually a big step forward compared to the previously used 1366 × 768 resolution.
Yes, this shows that when it comes to screens, nothing revolutionary in Chromebooks is to be expected. Nevertheless, the matte panel that I had the opportunity to watch over the last few weeks did not scare me enough not to reach for work equipment. The brightness around 280 nits is quite sufficient, the color coverage (~ 79% sRGB) is fine and the general viewing of movies is ok.
It is known that with equipment that is several times more expensive next to it, we could say that the colors are a bit washed out, the contrast is not that satisfactory. I just remind you that we are talking about equipment for just over $250, so I just can't complain. The backlighting is even, and even subjective looking at individual colors does not allow me to say that it is wrong.
Battery – working and charging time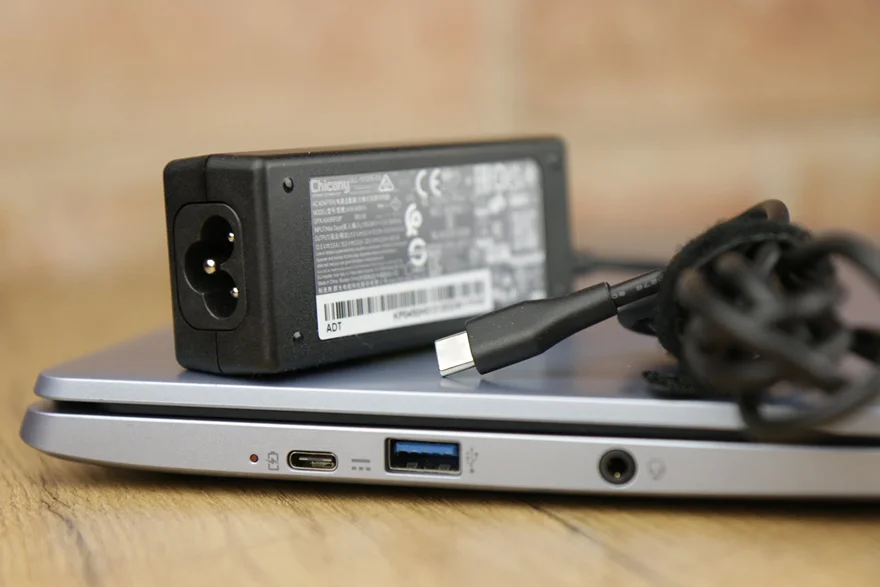 Despite everything, Chromebooks stand out for their great working time on a single charge. Low-demanding components and the same system mean that several hours of operation without connecting the charger is no problem. To be precise, the Acer Chromebook 314 is able to play videos for over 14 hours without any problem. Working in the network is a bit more demanding, because the equipment asks for external power after about 12 hours. These are more than satisfactory results for most applications. Meanwhile, the full regeneration of the battery is a matter of less than 2 hours with a connected charger.
Software and performance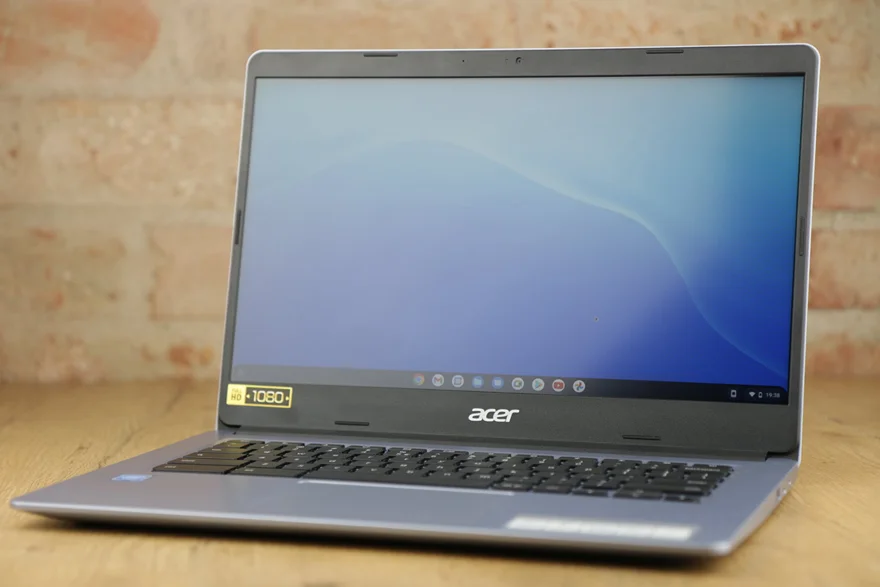 Chromebook, i.e. Chrome OS, a system that is virtually unknown in India, which is a pity. We are largely talking about a platform that relies on the launch of the Chrome browser itself and everything related to it. Of course, Android games and programs are also available thanks to the pre-installed Play Store. Also, the integration with the smartphone with Robocik is not too bad. Thus, after all, the Acer Chromebook 314 is perfect for everything that we can do in the browser. Games? For the test, I took GeForce Now to the workshop and once again realized that I do not need to have super expensive equipment to run my favorite titles.
Of course, it would be a sin not to emphasize that the Chromebook is not for everyone. It is worth verifying in advance which applications we use most often , how many of them are available, for example, from the Play Store, and how many are natively supported by Chrome. After all, for most basic applications, Chrome OS is a very good proposition.
Temperature and noise
The Acer Chromebook 314 is passively cooled, so there are no fans that could generate noise. Neither capacitors nor other coils make unpleasant noises, so the laptop is completely silent. It also does not generate excessively high temperatures. These can only be felt underneath. Additional degrees Celsius does not transfer to the keyboard, so from the top we will not notice that the laptop will ever heat up.
Daily work is pure pleasure
Chrome OS is a lightweight system that has no problems with simple tasks. Of course, the components that you could get to know earlier are not optimistic, but in combination with the discussed system, it is hard to notice the limited computing power. The music player in the background and working with several cards (including YouTube) looks just like on ordinary, much more expensive laptops.
If we add a bit more difficult tasks in the background, there are small cuts, but they do not make life too difficult and I have never switched to something stronger with further work. Of course, eMMC memory is not a speed daemon when you want to flip through large files, but Chromebooks are built primarily with the Web in mind.
Read Also: Acer Predator Helios 300 review – this is a laptop for players
Acer Chromebook 314 review – summary
In this way, we have finished the Acer Chromebook 314 review. This equipment has shown me that Chrome OS is really worth taking an interest in, if we do not use computers for specific, advanced purposes. Web browsing? Paperwork? Remote learning? All this is possible from the level of this hardware, because it is not the computing power that counts here, but just a well-tuned operating system. Therefore, for just over $250, we can be sure that nothing will jam, and the whole thing will work for a long time – both in terms of battery performance and Google support.
Benefits
A simple and therefore efficient operating system
Amazing possibilities in relation to the price
Great working time on a single charge
A very comfortable keyboard
Disadvantages
Average speakers and screen
About Post Author