Realme has established itself in our market for good. The company not only records great sales results, but also creates an interesting community that develops its devices in many ways.
Nevertheless, realme focuses mainly on cheaper models, but at the same time does not forget about the top offers. Now, this is changing in a way, as exemplified by the latest series of flagship devices from realme GT 2.
This is an evident attack on the higher price range. It was headed by realme GT 2 Pro, whose review is in front of you. I cordially invite you to read our opinion about it.
Realme GT 2 Pro kit, technical specifications and price
There is no yellow (except for the logo), there is no dominant black, but there is white and the characteristic texture of the box. Nevertheless, the design of the package and its contents remained unchanged compared to its predecessor and other, above-noted models.
This means that inside you will find waste paper and a key for the SIM card tray in a separate "drawer". Under them, the company has hidden a case and a modular charger (65 W power adapter, USB-C – USB-A cable). Full standard.
Read Also: Realme 9i review: an inexpensive smartphone not only with improvements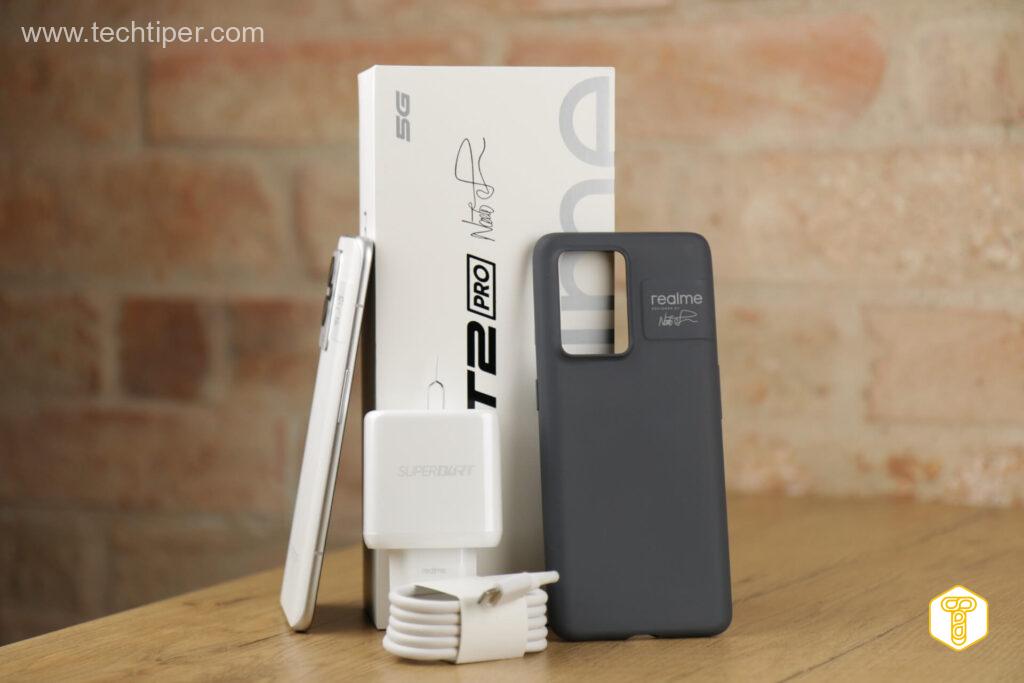 The realme GT 2 Pro case is rubber and quite slippery on the inside. It does not significantly refer to the characteristic performance. The marked section has been duplicated and that's about it.
The rest is more akin to the traveling series of Master and realme GT Master Edition . Everything is correct in terms of protection. The case fits snugly to the device, securely covers the back and edges. Lenses and the display can count on minimal protection due to protruding edges.
Does the final price of the GT 2 Pro match realme?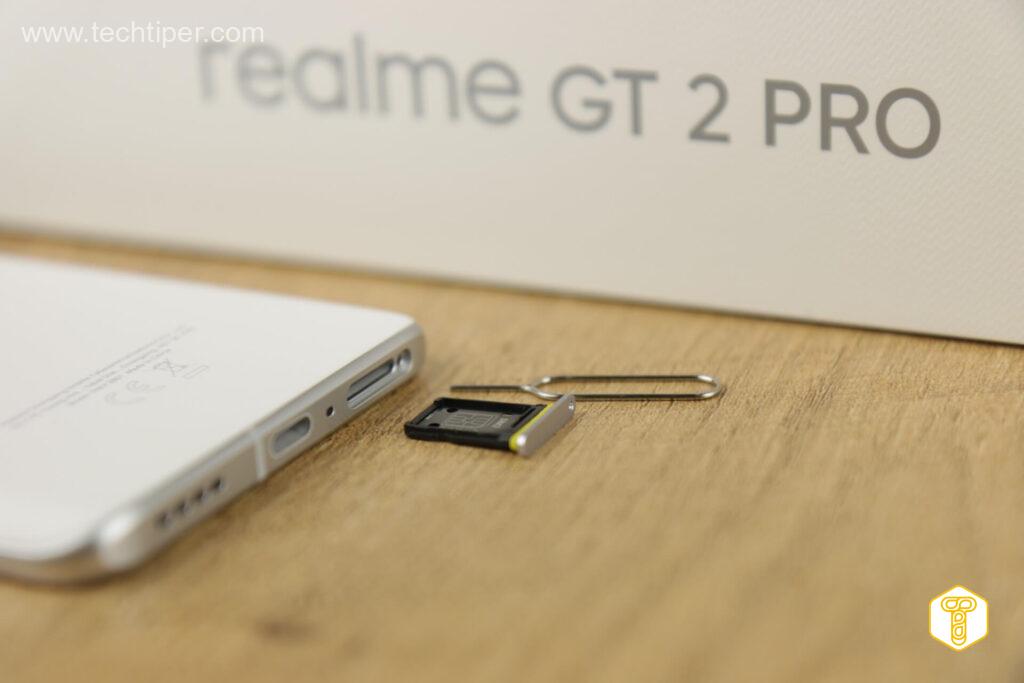 realme is a company that stands out due to its low prices. In the case of the title model, it is not so cheap anymore, but a lot has changed on the market and in the portfolio itself, looking at realme 9 Pro + and realme 9i . Thus, the price of the realme GT 2 Pro is:
realme GT 2 (8/128 GB) – price €449 (roughly ₹37,900)on sale from March 15 in the realme stores.
Realme GT 2 version (12/256 GB) – price €599 (roughly ₹50,580).
realme GT 2 Pro (8/128 GB) – price €649.99 (roughly ₹54,890).
Realme GT 2 Pro version (12/256 GB) – price €749.99 (roughly ₹63,360).
Technical specifications of realme GT 2 Pro
6.7 inch LTPO2 AMOLED QuadHD + display

resolution: 3226 × 1440 (20: 9, 509 PPI)
80.3% filling of the front
brightness up to 1400 nits
HDR10 +
10-bit color (1.07 billion colors)
image refresh rate: 120 Hz

Snapdragon 8 Gen 1 chip

lithography: 4 nm
CPU:

1x Cortex X2 (3 GHz)
3x Cortex A710 (2.5 GHz)
4x Cortex A510 (1.8 GHz)

GPU: Adreno 730

8 or 12 GB LPDDR5 RAM
128, 256 or 512 GB of built-in user memory

UFS 3.1
no support for MicroSD memory cards

cameras:

front: 32 MPx (f / 2.4)
back:

50 MPx (f / 1.8, PDAF, OIS)
50 MPx (f / 2.2, wide)
3 MPx (f / 3.0, microscope)

rechargeable battery with a capacity of 5000 mAh
USB-C (2.0), in-screen fingerprint reader, stereo speakers
Connectivity: 5G, Wi-Fi 6 (802.11ax), NFC, Dual SIM, Bluetooth 5.2
Android 12 (realme UI 3)
dimensions: 163.2 x 74.7 x 8.2 mm
weight: 189 or 199 g
execution:

front: Gorilla glass Victus
body: aluminum
back: plastic (polymers based on biomaterials)

color versions: Paper White, Paper Green, Steel Black, Titanium Blue
The full specification of the flagship lacked inductive charging, a telephoto lens and a waterproof certificate. This way you can still see that the company has catching up points. Nevertheless, realme GT 2 Pro also boasts something special .
It refers to the microscope and the most advanced display in the company's history. On top of that, let's add a special execution and see how it works right away.
Construction and build quality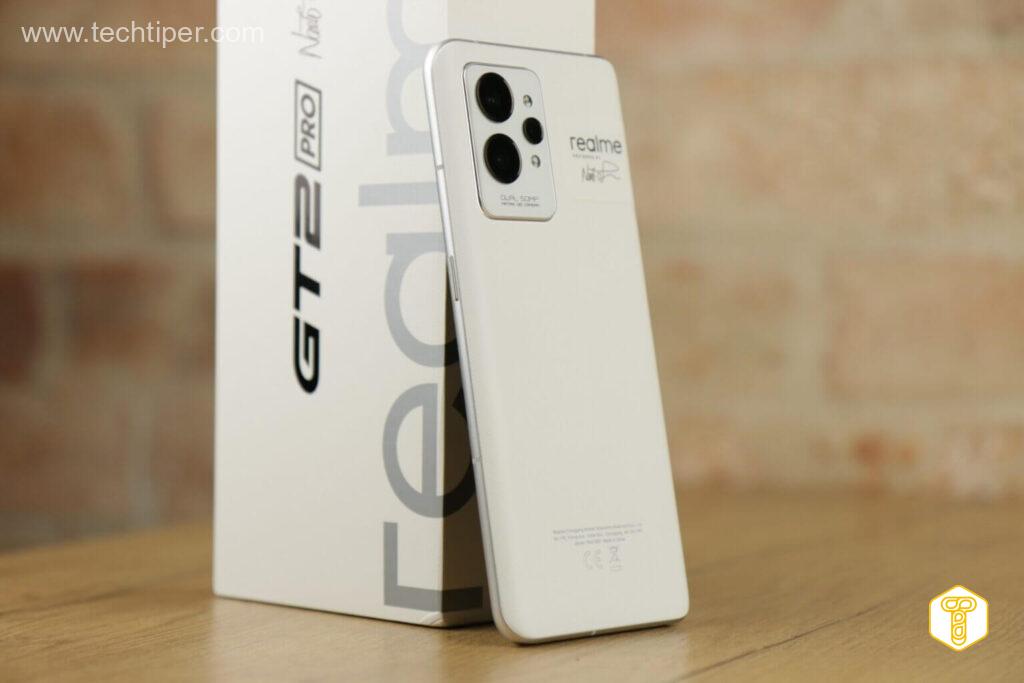 Of course, realme had to distinguish itself by the special design of its smartphone. This is one of the key features of this company, regardless of the price class, so it could not be otherwise within the flagship model. Again, Naoto Fukusawa was invited to the project , showing his abilities within the aforementioned GT Master family .
This time, the starting point was not a travel suitcase, but paper and such a rough structure appear on the back of the realme GT 2 Pro. To the touch, you can look for references to this material, although of course we are talking about plastic. However, it is very well finished, just like the entire smartphone. I rate the workmanship definitely above average in every respect.
The front is distinguished by quite thin and, above all, even frames . The smartphone received a factory-applied foil on the screen. The selfie camera, hidden in a small eyelet , allows you to take correct photos. At the top, we can see a thin speaker grille that is part of the stereo system. For this, let's add a good fingerprint reader in the display and we have a complete set of this surface.
The design of the rear of the realme GT 2 Pro itself does not stand out in particular, because we know a similar arrangement of individual elements from the already mentioned realme 9 series.
In this model, what counts is the paper texture, which adheres very well to the hand and does not get dirty at all. A platform with protruding cameras and two sets of LED diodes does not interfere with everyday use.
Due to the fact that there is an additional hump with the brand and the author of the project next to it, the smartphone also does not wobble excessively from side to side.
Edges typical of a flagship
Edges typical of a flagship, so aluminum, which was so obvious in the realme edition, did not have to be. Nevertheless, the GT 2 Pro is devoid of compromises in terms of performance , so the equipment is great in the hand and you cannot fault the materials used. Meanwhile, on the individual sides we find:
top – additional microphone
bottom – loudspeaker, USB-C connector, main microphone, tray for SIM cards
left side – volume control
right side – lock key.
The positioning is perfectly correct and it is worth adding that the last key mentioned is rough, so there are no problems with quickly locating it on the edge. The jump of all buttons is also easy. Moving on to the loudspeakers, realme decided to make the entire cabinet a kind of sound box. You can clearly feel the vibrations on the back of the device.
This is undoubtedly enhanced by the quality of the sound, which is definitely above average and emphasizes the low tones in an interesting way. However, I perceive the stereo effect on average, as the top speaker is slightly less loud. In general, the maximum intensity does not knock you on your knees, but it does keep quality consistent.
Display and image quality
The realme GT 2 Pro display is to show that we are dealing with a real flagship. Of course, officially none of the companies will admit it, but the panel used in this hero has a lot in common with OnePlus 10 Pro. Except for the curvature, it is an important plus. Nevertheless, the measured parameters suggest that the technology is identical.
Starting with a brightness that can reach up to 800 nits in sunny conditions. To this, let's add full coverage of the DCI-P3 palette with high accuracy (~ 2.5 deltaE), which is partly due to 1.07-billion colors. There is no shortage of HDR support, and the high resolution allows you to enjoy sharp images.
I have only mixed feelings about refreshing the image. The display adjusts seamlessly from 1 to 120 Hz, and that's great. Most applications have no problems with proper cooperation with the system and selecting the best frequency.
The lack of image movement quickly forces the lowest value (5 Hz), but it is worse at the other end of the scale. Well, a fairly low number of games correctly handle 120 Hz. The part locks at 90 Hz, despite being able to offer more. Not only that, hits like Pac-Man are blocked at 60 Hz, so the realme UI needs to be improved in this respect.
Battery – working and charging time
realme is keen on fast charging and strong batteries, so the GT 2 Pro looks promising in this respect. Due to the fact that the device does not heat up excessively, although the delicate heat is clearly felt on the edges, 1.5 days of work seem optimal for this smartphone. We can reach 2 days with compromises, but it all depends on what exactly we are going to do. In the case of the display time, we talk about:
8 hours of easy work (Chrome, social media, Google Sheets and Docs, YouTube)
4 hours of work at full speed.
For this, we naturally add fast charging. It is true that realme is slowly lagging behind, because the competition goes a step further, but we can still consider the power of 65 W as appropriate. Finally, the battery with a capacity of 5000 mAh will be fully charged within 40 minutes. Half an hour is enough to see more than 85% on the screen.
Cameras – the quality of photos and videos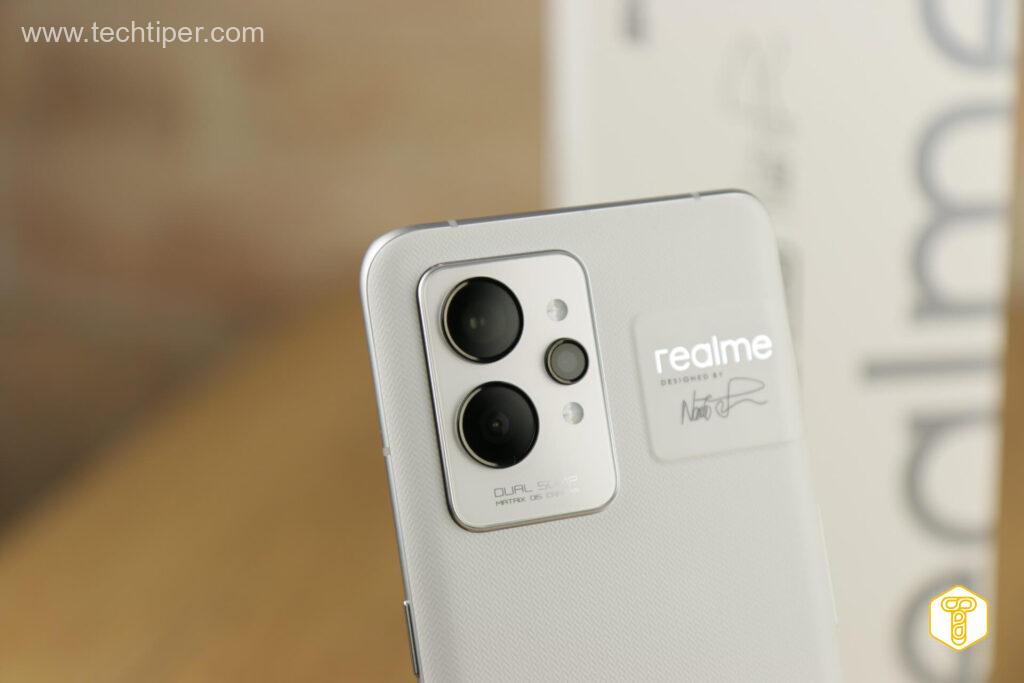 Comfortable, legible and with considerable possibilities. The realme camera app is one of the company's software strengths. Quick access to the most important settings, wide personalization options and interesting modes are the key advantages of this program.
There is no shortage of additional solutions, at the forefront of AI , which can do better or worse, but they are generally worth using under certain conditions. At this point, I would like to highlight a microscope that … actually works, but more about it in a moment.
realme GT 2 Pro allows you to record videos in the following resolutions:
720p at 30 and 60 fps.
1080p at 30 and 60 fps.
4K at 30 and 60 fps.
8K at 24 fps.
This time the manufacturer did not limit the possibilities of the lenses too much. After all, we're only talking about the wide-angle one, and we can use it in virtually any scenario. The exception is 8K and 4K at 60 fps.
Surprisingly, I was positively surprised by the microscope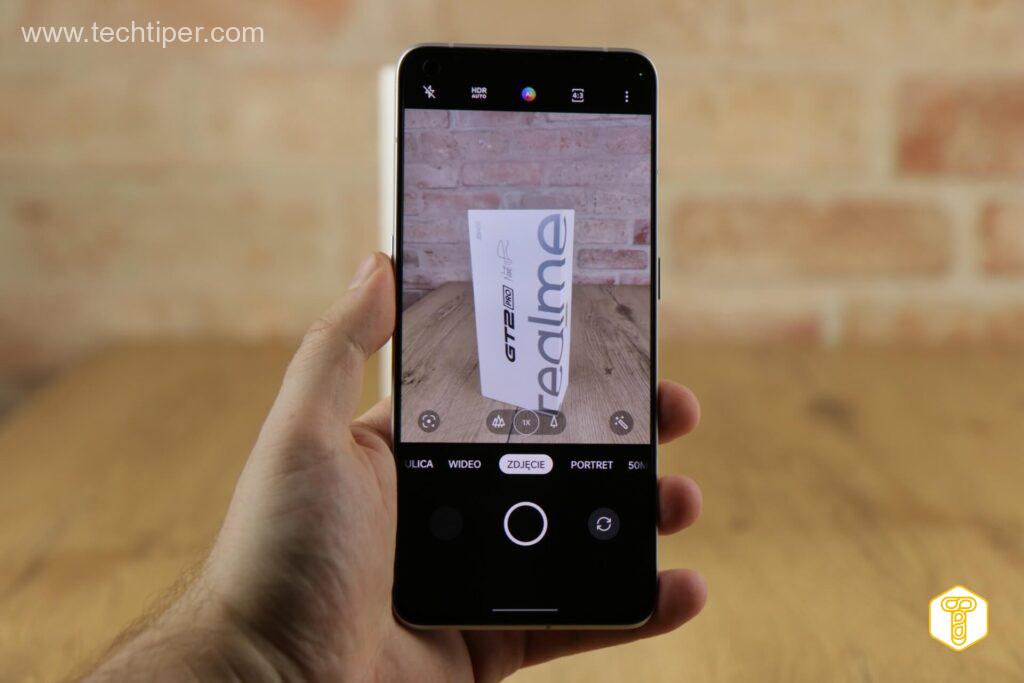 I mentioned the microscope earlier and here's a surprise. In combination with four LEDs , we can actually use the realme GT 2 Pro as a kind of simple microscope with 20x and 40x zoom and… it works.
A special mode shows us how to operate the smartphone, i.e. put it on a flat surface and slowly raise the top to obtain the appropriate sharpness. Thanks to artificial lighting, there is no problem with the lack of light, and the effects are surprisingly good.
Will this solution ultimately end up as a curiosity? Perhaps, but exceptionally, I cannot write that realme offers an unnecessary matrix, and this is a big plus for this company.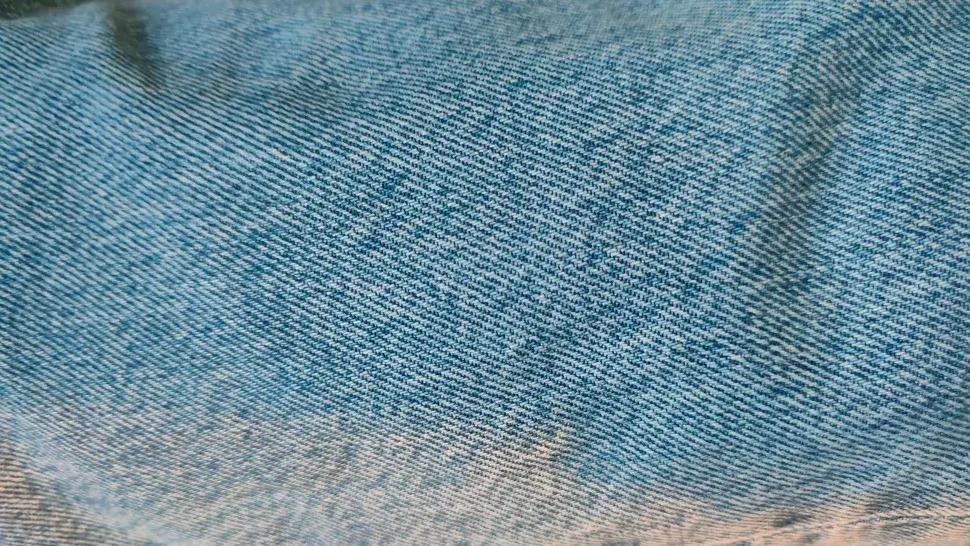 Moving on to the wide-angle lens, that's fine too. It is not a matrix added to be, but actually a sensor of good quality Samsung production (S5KJN1). In this case, it is attached to an extremely wide lens, because we are talking about a range of as much as 150 degrees.
This comes with another special mode that allows you to use the full range without curvature correction, and also allows you to take spherical photos. However, let's focus on quality, which … is very good. Especially for realme, I am positively surprised that I cannot apply the standard set of complaints. Even at night, the quality offered is above average.
Imperfections necessarily appear and mostly relate to the level of detail. There are also times when focusing is missing, but these are the main points. After all, even the white balance and color recognition is at a level very similar to the main matrix.
A real flagship, but we can see some imperfections
We already know the basic camera (Sony IMX766) from many devices and we can expect high quality from it. Fortunately, realme did not spoil anything here and we actually get a picture that is pleasing to the eye and reflects reality well. Praise for us, so you have to focus on the problems.
These I mainly noticed with fast movements, when optical image stabilization is faced with electronics, and sometimes there are weird movements that eventually get recorded in the photos. You can also expect a higher level of detail at night.
Due to the fact that the telephoto lens is replaced by digital solutions and the company encourages you to zoom in twice, it starts smudging and artificial shadow enhancement, which simply does not look good.
The aforementioned image jumps are also seen in movies, where image stabilization is doing well, but the software often wants to be smarter . Especially in AI mode, so when recording it is better to leave the relevant switch in the off position. Then we will appreciate the correct color reproduction and an acceptable tonal range, as well as quick focusing.
Software and performance
The realme UI based on Android 12 is a distinct variation that I have praised for the much cheaper realme 9 Pro + . In fact, the new software has matured , still offers a lot of personalization options and interesting solutions (heart rate monitor in the fingerprint reader), but I expected something more from the flagship model.
First of all, refinements, where there are no errors in the translations of basic phrases, and above all, there are no pre-installed third-party applications. Of course, we can remove them, only realme GT 2 Pro is, however, the highest-ranked model in the portfolio. Turning a blind eye to these aspects, there is no shortage of content in realme UI 3 that we will be happy to use.
The performance with the GT mode is undoubtedly the strong point of the smartphone in question. realme has in no way limited the capabilities of Snapdragon 8 Gen 1, as well as individual memories. That's why it's hard to add anything – everything is incredibly fast and it will be so for a long time to come.
Realme GT 2 Pro review – summary
I am very optimistic about the flagship hand from realme. The reviewed hero shows himself from a much better side compared to the previous attempts of the brand. Of course, this goes with a higher price, so individual compromises have to be considered in a completely different way. 
In this way, I am not surprised that some will complain about individual deficiencies in the specification or minor errors in the software. However, in general, realme GT 2 Pro is a really strong and interesting proposition. Not only because of its efficient components, but also a great display and unique workmanship. Even the cameras do not fall as tragically as it usually happens when we talk about compromises.
Read Also: Realme 9 Pro Plus review: mid-range smartphone with the best camera
Realme GT 2 Pro review in three summary sentences
Realme's attack on the upper class can be considered successful, because the GT 2 Pro boasts a great screen and an interesting approach to the subject of the housing and cameras. The smartphone is also incredibly fast both in terms of performance and battery. However, it is not a full-fledged flagship, looking at a few deficiencies in the specification and software.
Benefits
Amazing display
The housing stands out from identical smartphones
The microscope works surprisingly well
Performance worthy of the strongest flagships
Efficient battery
Disadvantages
Software with problems that you can turn a blind eye to, but in cheaper smartphones
No telephoto, inductive charging and waterproof
---
About Post Author