If someone asked me which household cleaning devices are the most useful, I would have no hesitation in pointing to an autonomous robot supplemented by a good, wireless vertical vacuum cleaner. This Tefal X-Force Flex universal equipment will help us in many everyday situations and thanks to it we will keep order in every corner.
It comes in different variants by many manufacturers and there are just as many aspects to consider before purchasing it. Today we will look at one of the representatives of the Tefal company – Tefal X-Force Flex 15.60, who will dust not only between the furniture, but also under it.
Construction and appearance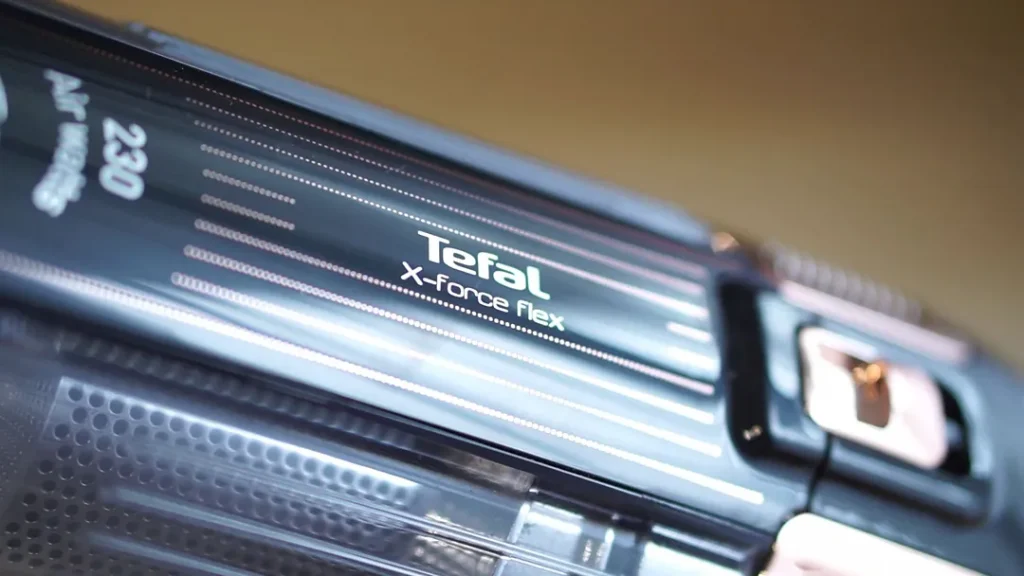 Should a vacuum cleaner, which is only supposed to be hidden somewhere in the corner, look good? Definitely yes. There is not always a place to hide it in the house, and if the storage space is difficult to access, the use of the vacuum cleaner will be inconvenient and the equipment will lose a lot of its functionality.
The X-Force Flex does not need to be hidden, because it looks great, is kept in an uninterruptedly fashionable industrial style and has "that something" that emphasizes the dynamics of its operation. The most characteristic is its black and copper colors and strong construction, which means you can hold it securely in your hand. In addition, all components of the vacuum cleaner fit well and give the impression of being very durable.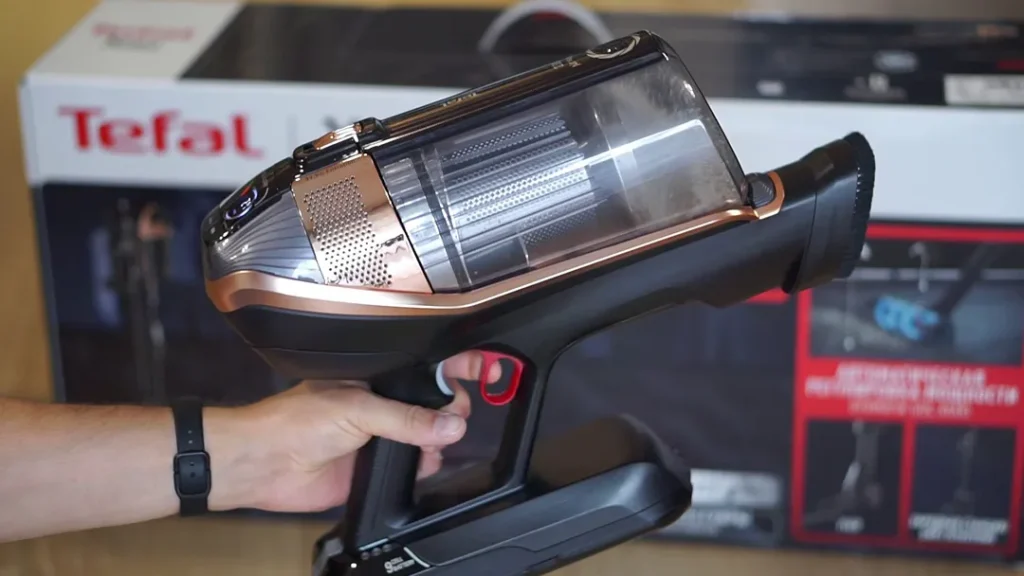 Charging base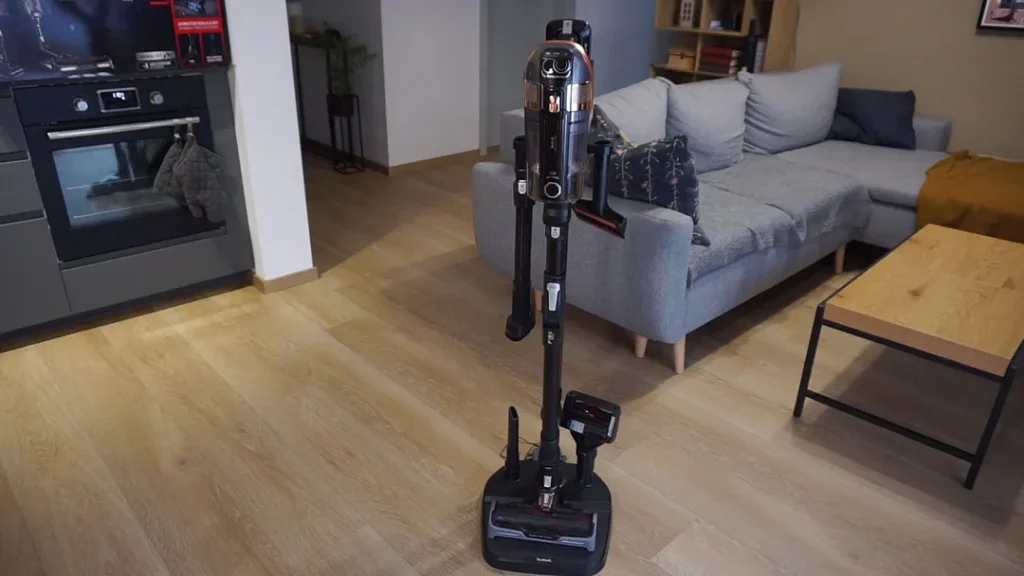 When choosing a vertical vacuum cleaner, the key issue is its wireless functionality. Here it goes hand in hand with a functional base which is also a charging station. Tefal has put on a standing station for its X-Force Flex, thanks to which there is no need to drill unsightly holes in the wall. This is an additional advantage for the undecided, who do not know where to place the vacuum cleaner best, and for apartment owners who do not want or cannot afford to hang the vacuum cleaner.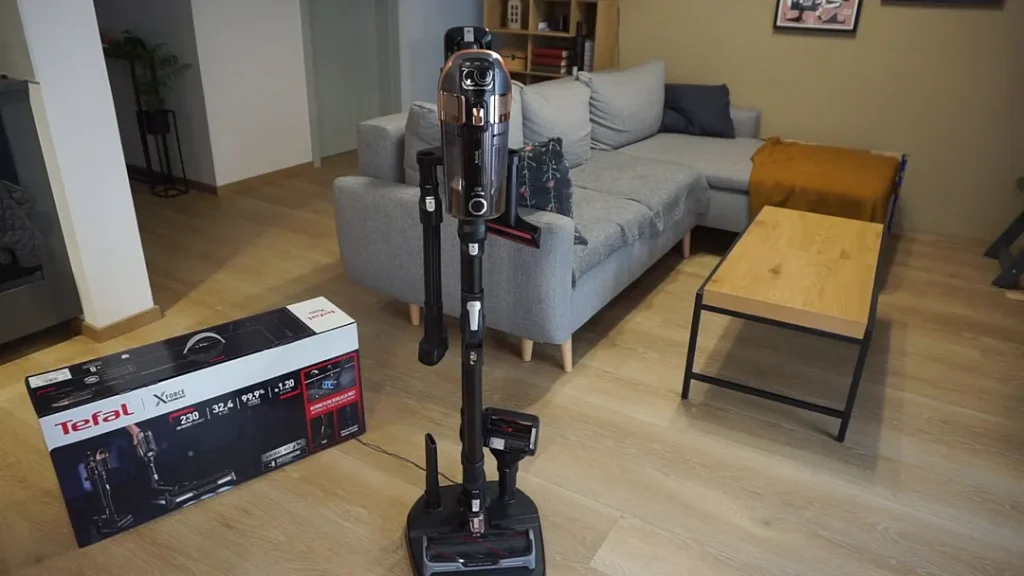 An interesting solution is that you can use even a part of the base as an extension of the pipe and vacuum the higher surface, e.g. the space behind the curtain rod or places under the ceiling.
Accessories
The base is also an elegant and ergonomic stand for all accessories attached to the vacuum cleaner, and there are many of them. The replaceable tips in the set include a universal brush, an upholstery brush plus an additional one for animal hair and a crevice tool. If we add a basic pipe and an extension removed from the base, we get a really wide range of possibilities.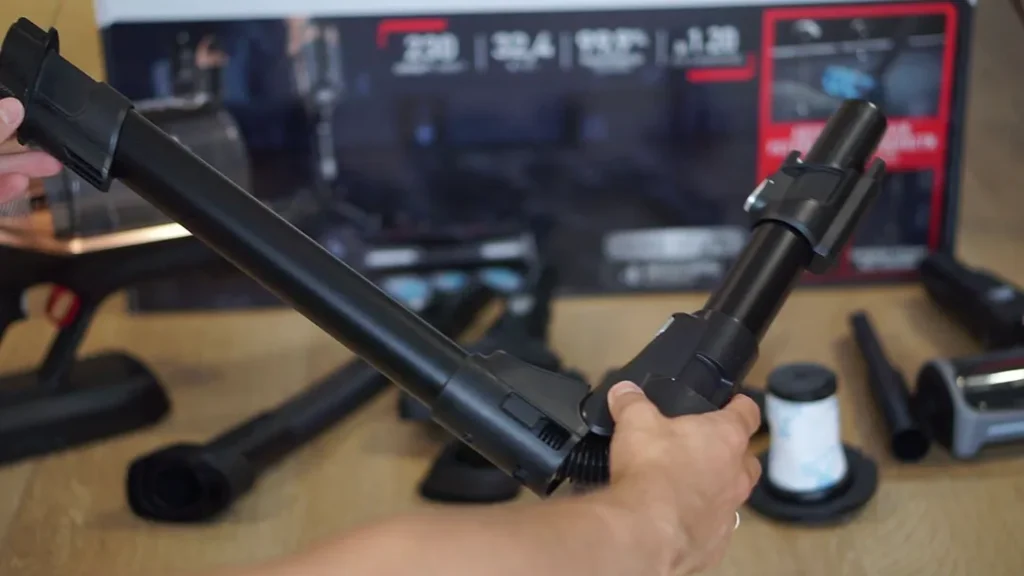 The set also includes a surprisingly small manual. I was expecting a multi-page kniga in every imaginable language of the world, and here we have a short, full-color manual with QR codes that lead us straight to instructional videos if needed. The intuitiveness of this equipment, however, allows you to leave even such a manual in the back of the drawer just in case. The set also includes an additional replaceable filter.
Vacuuming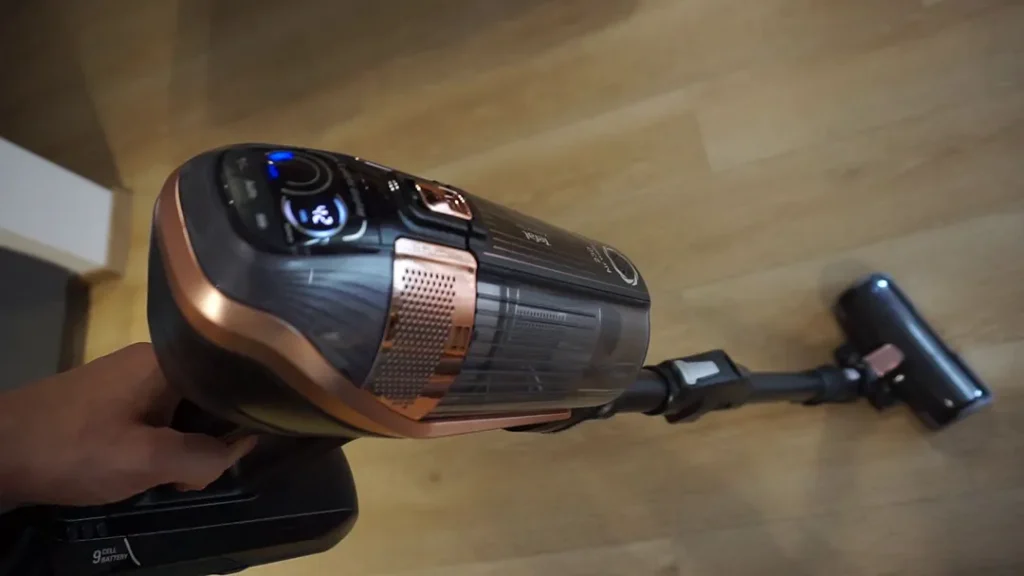 What is the most important thing in any vacuum cleaner? Of course, power. First of all, it should be noted that the vacuum cleaner has as many as 230 Airwatts, which means that it absorbs literally everything, even at low settings. In addition, the device can adjust its power to the surface to be cleaned, and even if you mistakenly think that you can handle this task better, you can manually switch quickly between as many as 5 operating modes.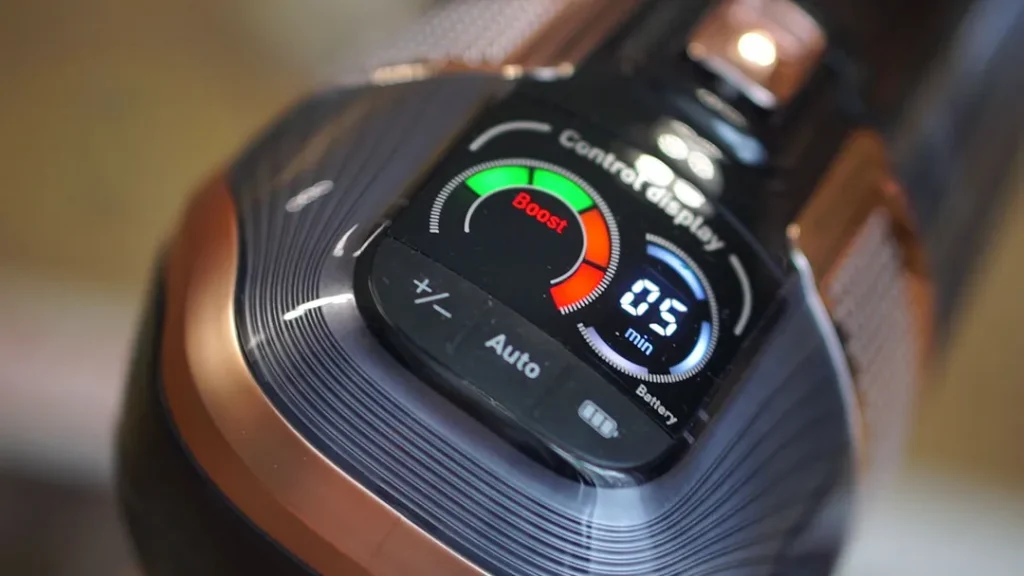 However, if you are satisfied with the automatic mode, but would like to remove more dirt locally, you can use a convenient trigger that will turn on the extra power for a moment.
Additional advantages
In addition to the sensational power, the vacuum cleaner can boast additional advantages. The flex technology allows the basic vacuum cleaner pipe to be bent with one move so that the brush vacuums the floor under the furniture. It is usually dark there too, and the illumination of the vacuum nozzle will help you see any dirt.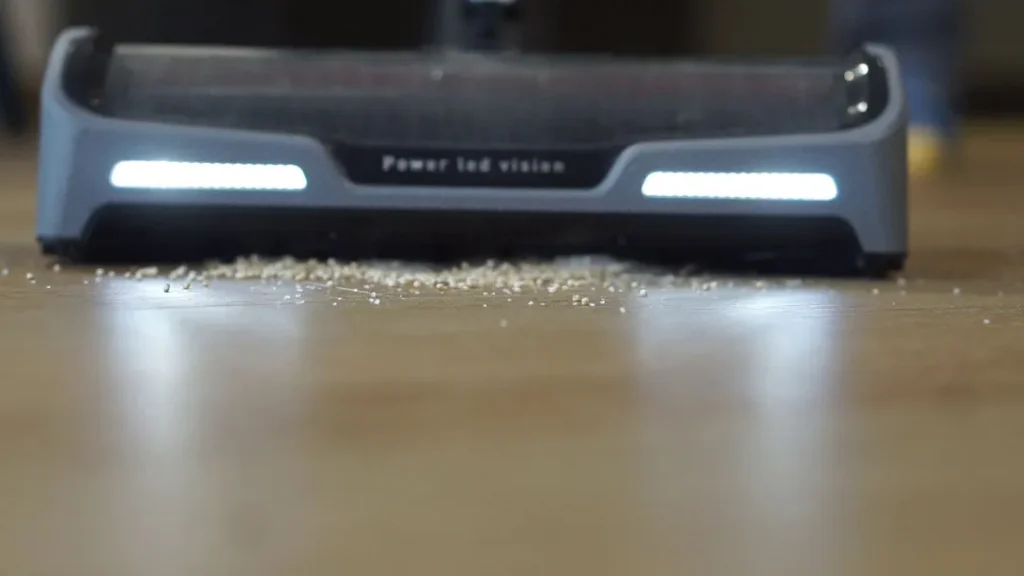 I should also mention the solution that I encountered for the first time in Tefal X-Force Flex, and these are Easy Brush brushes. Both the basic tube and the vacuum unit itself have their own attachments permanently built in, so you only need a basic set, without accessories in the station, to perform daily, basic cleaning.
In addition, you can buy a special Tefal Aqua mopping pad for the vacuum cleaner , thanks to which you not only vacuum, but at the same time mop up your floors.
I left the last advantage for the end – even if you plan to clean your car and garage later, you don't have to worry about the battery and charging.
Battery and charging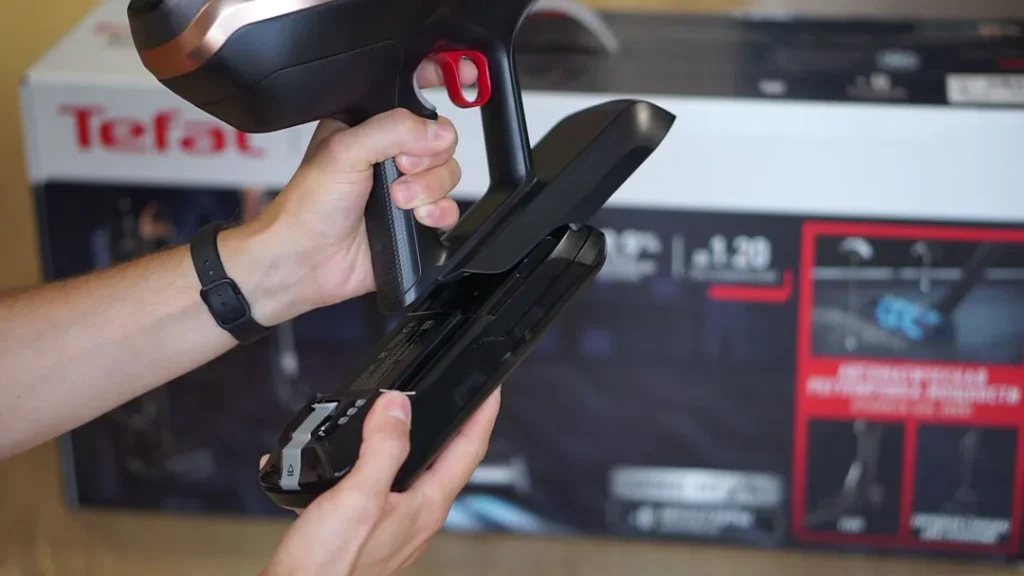 The battery in this equipment is a 9-cell cell providing a maximum operating time of about 80 minutes. If you want to know how many batteries you have left, it is visible on the display of the device. When using it, it is clear that battery consumption depends on the selected cleaning power, so by clicking through the modes you will quickly find the closest optimal solution.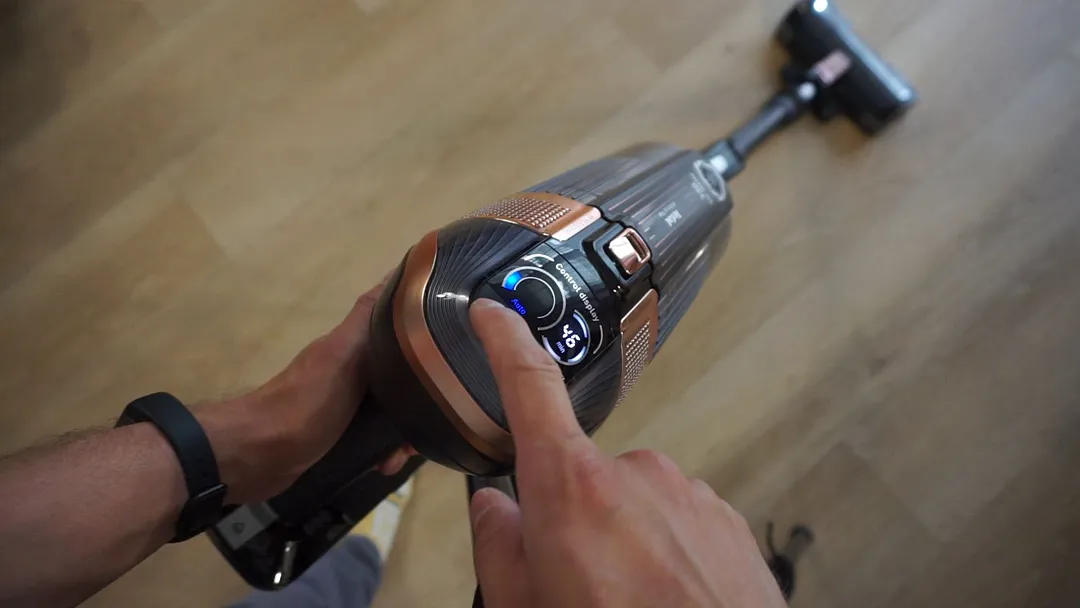 The vacuum cleaner charges quickly and although I did not manage to discharge it to zero after a single cleaning, if you succeed, it takes 3 hours to fully recharge it. You will notice blue LEDs on the cleaning unit from a distance, which will show you whether the device is fully ready for operation. It is worth mentioning that the battery is replaceable and you can expect to buy it separately.
Warranty of reparability
When using Tefal devices, you do not have to be afraid that when the equipment will require repair right after the warranty period (and not only!), All you have to do is throw it away. Tefal X-Force Flex 15.60 will be repairable for up to 15 years, and parts for repairing or maintaining your equipment will be available for this entire period.
Read Also: [Review] Roborock Q7 Max + – younger and cheaper siblings of Roborock S7
Summary
Tefal X-Force Flex 15.60 is a universal equipment that will be useful in every home. Regardless of what purposes you will use it for. Its main advantage, i.e. large and personalized power at the same time, will make the cleaning results come quickly and will be more than satisfactory.
A rich set and variety of nozzles as well as an easy-to-use station in combination with an efficient battery will directly translate into cleanliness in your homes, and you will be happy and often reach for the vacuum cleaner.
About Post Author