Is it a tracked vehicle? Is it a spaceship? Not! This is a review of Samsung Jet Bot Ai +, one of the most expensive, but also the most extensive automatic vacuum cleaners. It has a great application, cleans itself in the station and has been equipped with many advanced technologies. However, how does he deal with the cat at home and the ton of things that change their location every now and then?
Samsung Jet Bot AI + review in three sentences
Samsung Jet Bot AI + is one of the most advanced robotic vacuum cleaners. It has great solutions such as monitoring and LiDAR. Unfortunately, it has a problem with the quality of cleaning.
Read Also: Roidmi EVE Plus robot vacuum cleaner review: you will love cleaning with this Cleaning Base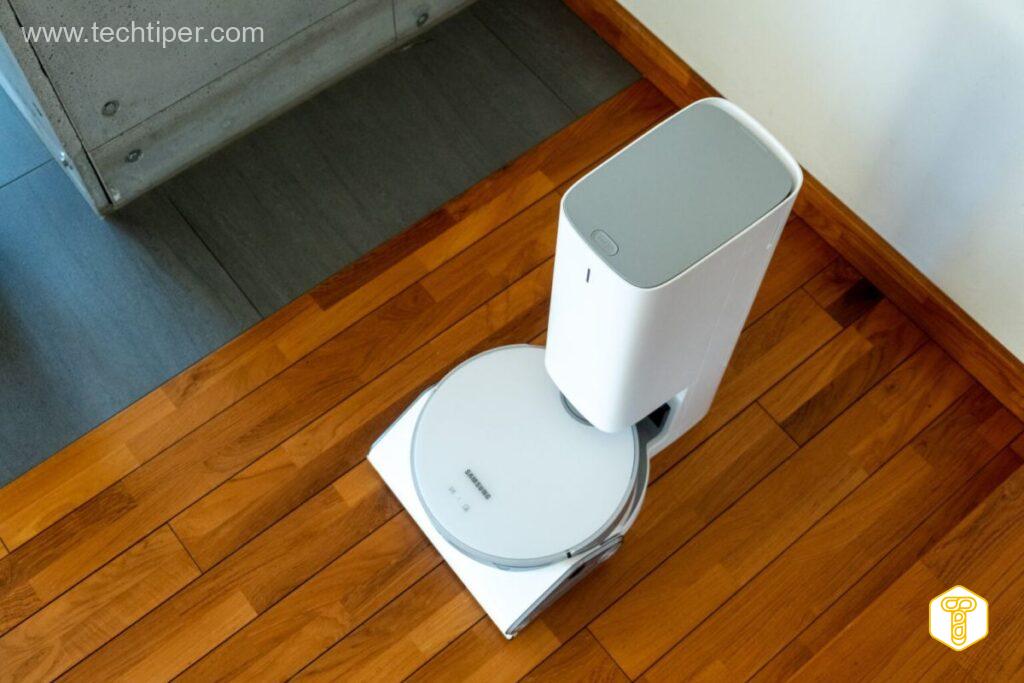 Samsung Jet Bot AI + kit and price
The set that we get with the vacuum cleaner is quite large. In addition to the vacuum cleaner itself, in the box you will find a docking station with two dust bags. They should be enough for several months of use , and in the future, a set of 5 bags for Samsung Jet Bot AI + costs about $899.
Moving on, we have a pre-motor filter for the vacuum cleaner itself, as well as a magnetic tape that will allow us to cut off a room or a specific place from the vacuum cleaner. We might as well do it ourselves in the app, but it's nice to see a physical option too.
Samsung Jet Bot Ai + at the time of writing the review costs about $899.99 . This is a lot of money, so is it worth it?
Samsung Jet Bot AI + specification
Device dimensions (WxHxD): 30.5 × 13.6 × 32 cm
Weight 4.4 kg
Engine power 170W
30W suction power
Up to 90 minutes in normal mode
Up to 60 minutes in max
Camera
LiDAR sensor
Monitoring mode
Detection and marking of obstacles
LED indicator
Build quality and design
The Samsung Jet Bot AI + is a really well-made vacuum cleaner. Good quality plastic, shiny elements and interesting design. The equipment makes an extraordinary impression when we see it for the first time.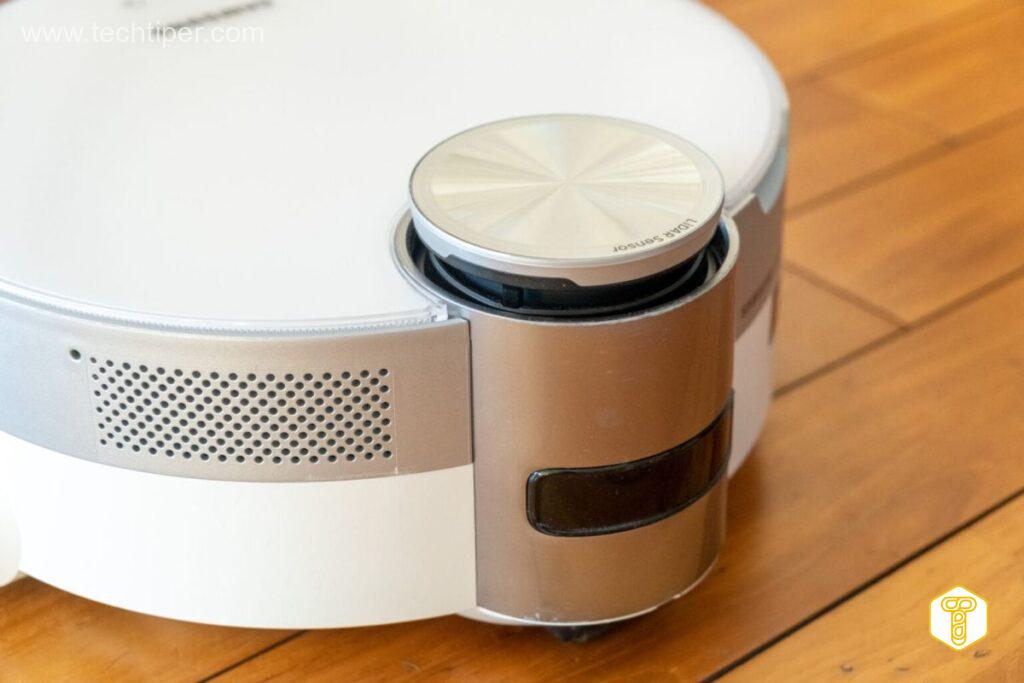 Unfortunately, a ton of electronics and a specific arrangement on the bottom have their problems. We have a very wide brush, which is less than 24 centimeters wide, but we do not have additional brushes that draw dirt from the side of the walls and corners.
As a result, my apartment was not perfectly clean, and in the corner there was often litter from a cat's litter box. Samsung, in order to minimize this problem, equipped the Jet Bot with rubber wings on one side of the brush, but they are still about a centimeter from its side, which leaves us with uncleaned edges of the apartment.
From the top, attention is immediately drawn to the "turret" on which the LiDAR sensor is mounted. Additionally, it protrudes above the building, but only when it is scanning the room. At the front we find a wide bumper, which is fully plastic. 
Some softer material is missing here, for example a rubber belt. As a result, Samsung Jet Bot Ai + sometimes bumps against the legs of chairs or tables.
Read Also: Eufy RoboVac G10 Hybrid Review: Budget Wet and Dry Robot Vacuum Cleaner
Base station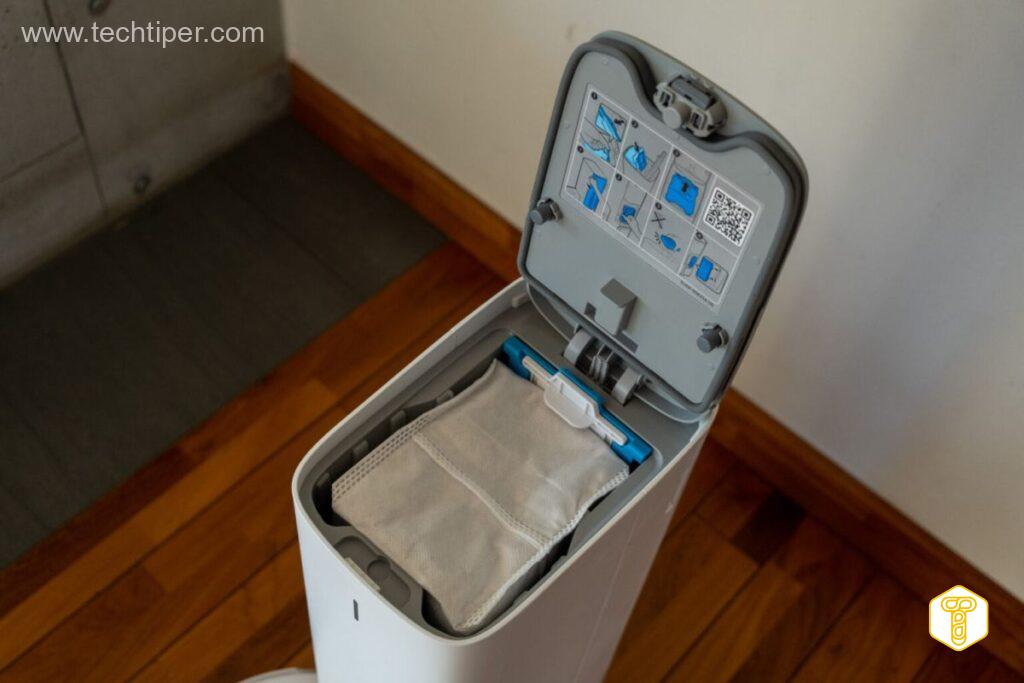 The elegant looking but rather tall base station has a vacuum cleaner that pulls dirt out of the vacuum cleaner. It is thrown into a removable bag with a capacity of 2.5 liters.
The suction takes 30 seconds, which is the volume of a standard handheld vacuum cleaner. It's because of the 1800 Watt motor inside. At the back we find a removable filter, and at the top we can replace the bag.
The replacement of both elements is very simple and quick, and it has to be done every few months. A small price to pay for the daily emptying of the built-in vacuum cleaner container.
Technologies used in Samsung Jet Bot AI +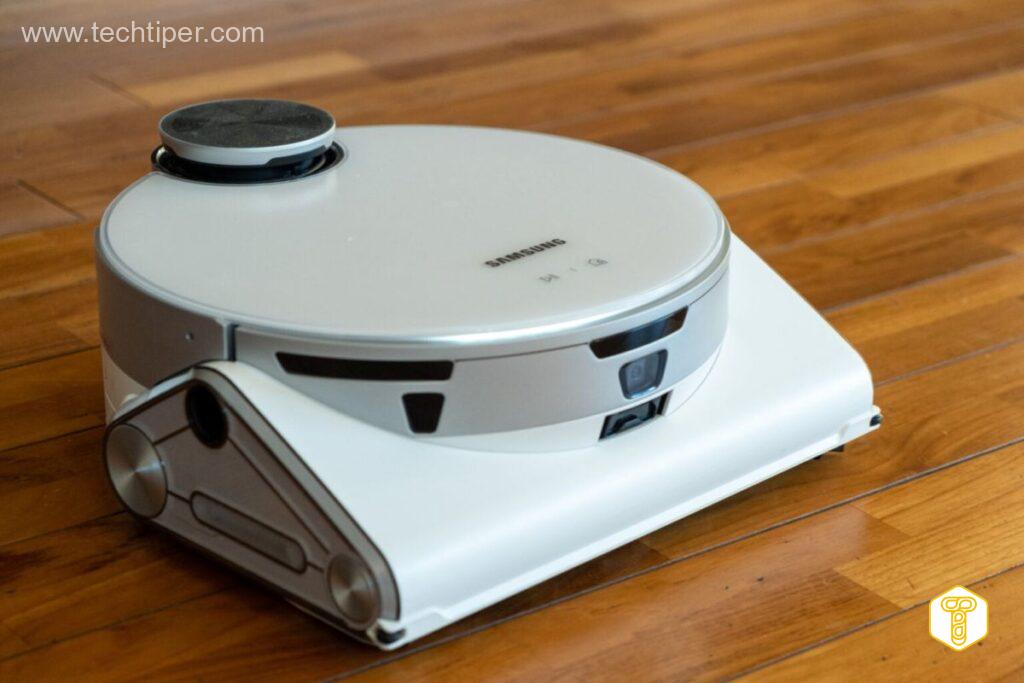 The top Samsung vacuum cleaner offers us a lot of functions apart from the most basic, i.e. cleaning. Let's start with full mapping using a LiDAR sensor. The vacuum cleaner scans the room within five meters and does it pretty well. It gets lost only with thin table or chair legs. 
Sometimes it detects something outside the window that I have to the ground, but usually means there is a wall there and it will not pass any further. Another of the more important functions is the detection and marking of obstacles with the help of artificial intelligence.
It works pretty well, but sometimes it gets lost and will label the pot as a plate and the cat's toy as a cable. Nevertheless, thanks to the built-in camera, it can take pictures of these things and show us in the application.
This allows you to easily determine if your pet is messed up or if the child has left the toys around. The built-in camera also allows us to monitor the apartment. Very useful when we have an animal with separation anxiety. 
If he is used to the sound of a vacuum cleaner, we can easily drive up and see if he is sleeping or doing something else. If we have an automatic bowl for a pet, it is also a good option to check if there is anything left in it.
When I was at MWC, I watched if my family looked after the cat well . This is of course possible through the application described in the next section.
SmartThings App
The application allows you to combine the entire Samsung ecosystem in one application. You can also connect it to Google Home if we have smart home products from other companies.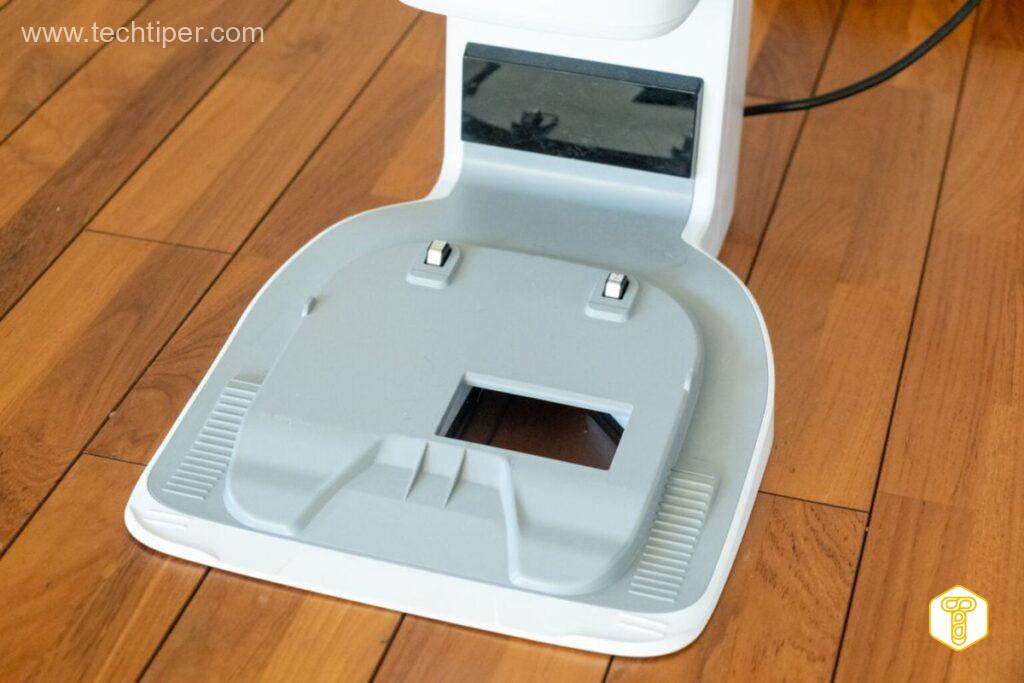 It is very polished and works absolutely flawlessly. I did not have a problem with turning on the vacuum cleaner, checking the cleaning stage, seeing obstacles or monitoring. In the application, we can set a cleaning schedule, suction mode (automatic, normal and maximum), as well as the type of cleaning.
The first one is to clean the inside of the rooms first, and then work around all edges. The second works the other way around, but I haven't noticed any major cleaning differences between the two. Mapping and recognition works fine, but sometimes it goes overboard.
He could mark a black door in my apartment for me as a TV set, a flowerpot as a mug. Still, it's a handy feature. A very useful option is the ability to set cleaning of specific places, or to bypass them. 
Thanks to this, we will be sure that the vacuum cleaner will not run into the dog's bowls, skip the rug, or just clean around the cat litter box. I set a schedule for a daily full cleaning and an additional drive around the litter boxes so as not to accidentally spread litter around the apartment.
Monitoring is a very useful feature
As I wrote earlier, thanks to the monitoring function, we can view the entire house. We can control the vacuum cleaner manually or set a route to a specific point.
Thanks to this, I was able to check where the cat is currently, if it has food and water in the bowl , or just to see if I had left my wallet on the cupboard. The image quality is sufficient for such tasks.
Unfortunately, you can't see anything in the dark, so I could use an LED on the front or an infrared option with an IR LED. This would make it possible to drive around the apartment without shining through the windows, which may be perceived as a burglary by overzealous neighbors.
Avoiding obstacles, which is a bit of room for improvement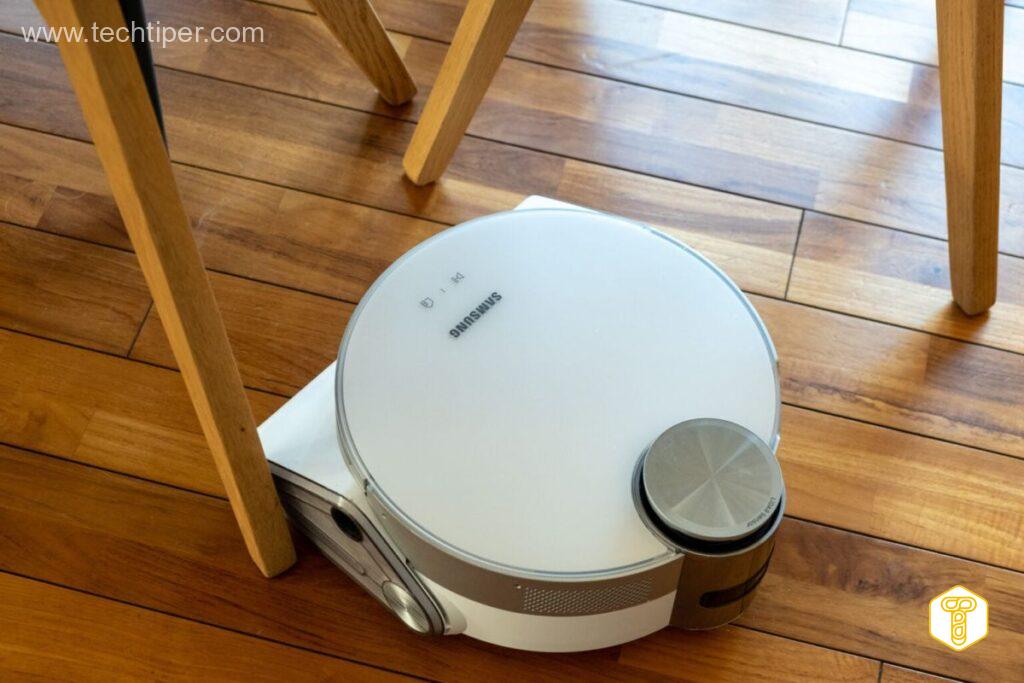 Samsung Jet Bot AI + is good at avoiding obstacles that it initially detected. Then, unfortunately, it gets a bit worse, he constantly tries to move things like a lighter table, a cat scratching post, or he even happened to almost close the door to the room in which he was located .
When the vacuum cleaner detects a new obstacle, such as a moved cat bowl or an exposed garbage bag, it will stop, inform us about the obstacle, think for a moment and go on. Messages can be turned off of course, but personally I would prefer it to just keep doing its job without interrupting.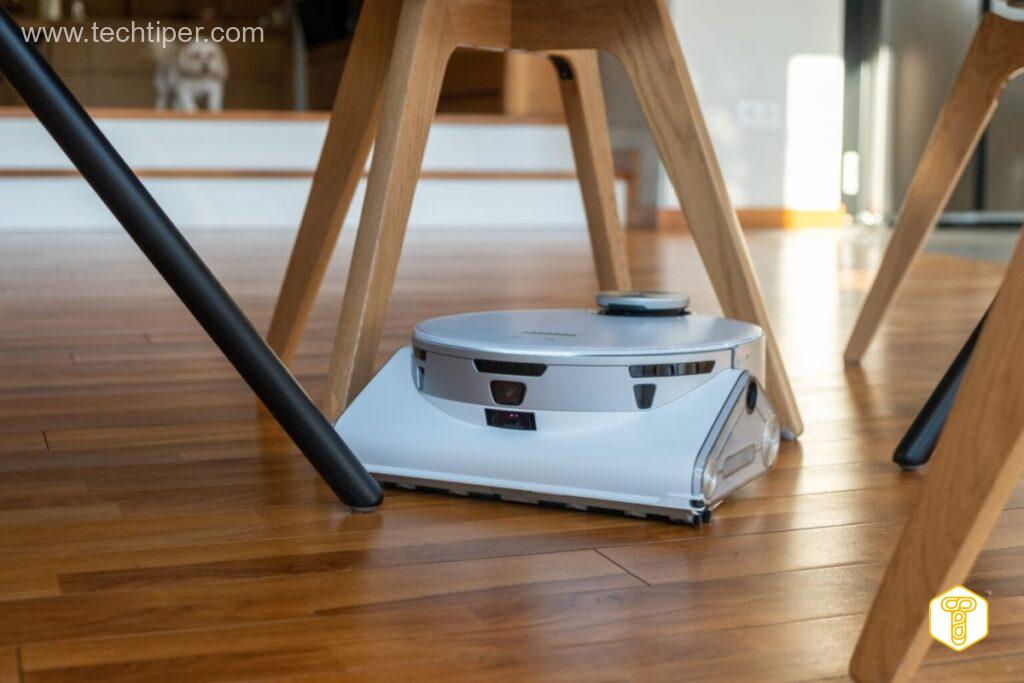 On the plus side, the vacuum cleaner never ate the cable and only once put a cat toy under it, but it did not reach the brush. Compared to ordinary, cheap vacuum cleaners, this is a very big plus, because in the end I am not worried that something will fall to me when, for example, the extension cord is on the floor.
It also means that I do not have to watch if something has fallen, if the cat has thrown the fishing rod from the couch, or simply to clean all cables from under the desk. The big downside, in turn, is that the vacuum cleaner often does not run over in places where it would easily fit.
Nowadays, there are cardboard boxes at the entrance to the salon and the passage is about 50 centimeters. Therefore, the vacuum cleaner theoretically has about 18 centimeters of reserve, but completely omits the vacuuming further.
I am very curious about the origin of this problem, because it will easily enter between the chairs in the dining room, where it fits practically on the butt. I also do not like the fact that it does not run under the curtains that hang a few centimeters above the ground. He considers them an obstacle and does not go further, and this is where a lot of dust usually collects.
Battery operation, which could have been a bit better
The manufacturer declares up to 90 minutes in normal mode and up to 60 minutes with stronger suction. And he is getting closer to these values. I started the cleaning mode endlessly and after exactly 84 minutes the vacuum cleaner returned to the base for further charging. 
In the case of maximum power, he returned after 52 minutes. These are not bad values, especially considering the pace of cleaning the surfaces that the vacuum cleaner has already learned. However, it should be mentioned that the competition currently offers up to three hours of cleaning.
For me, the values ​​offered by Samsung are fully sufficient, because my apartment is 50 square meters, and I did not let a vacuum cleaner in one room. Ultimately this gives about 25 m 2 which is to be vacuumed. For large single-family homes, this may not be of sufficient value anymore .
The quality of cleaning, which is the most important function, could be better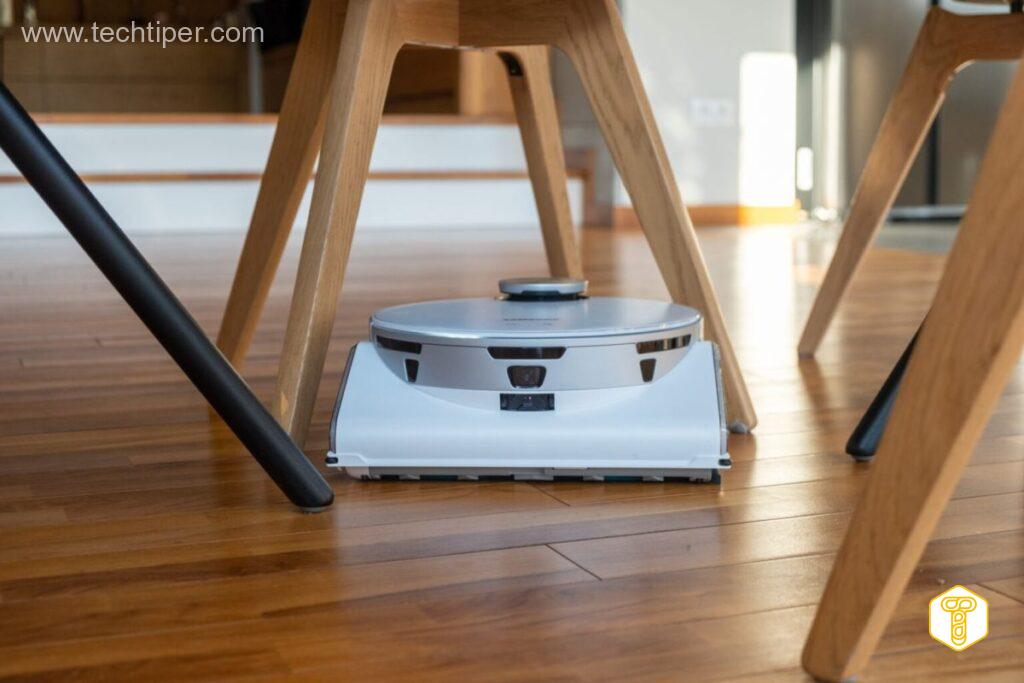 The vacuum cleaner cleaned for me every day, for two weeks, usually it did one full course and one additional one, only around the cat litter boxes. During this time, I was very happy with the inside of the rooms and the pace of cleaning, but walking around obstacles and driving along edges left a lot to be desired, because they were just not tidy .
Cleaning is absolutely essential in a vacuum cleaner, and Samsung seems to have forgotten about it. A wider brush ensures faster cleaning, but this type of vacuum cleaner is mainly used when we are not at home. Consequently, I do not consider this to be the most important factor.
Another problem is the height of the vacuum cleaner. Almost 14 centimeters is a lot for this type of equipment, and it makes it very difficult to drive under most sofas. In my case, I almost still had some crumbs or dust at the very edge of the sofa , i.e. in a very visible place. 
Again, this problem would be solved by additional brushes that would literally reach two centimeters under the couch. The same applies to the corners, they seemed almost untouched.
The pace of cleaning, which is fast
Thanks to the use of a brush with a width of 23.5 centimeters and artificial intelligence, Samsung Jet Bot AI + cleans really quickly. The first scan runs are always a bit longer, and it took about 32-35 minutes to clean up 24 m2.
When cleaning in a scanned room, this time was reduced to 25-30 minutes. On the one hand, it allowed to turn on the vacuum cleaner for the time of bathing or walking to the frog, on the other hand, I would prefer it to take more, but be more precise.
Read Also: Rating of robot vacuum cleaners in 2022 – TOP 6 best price and quality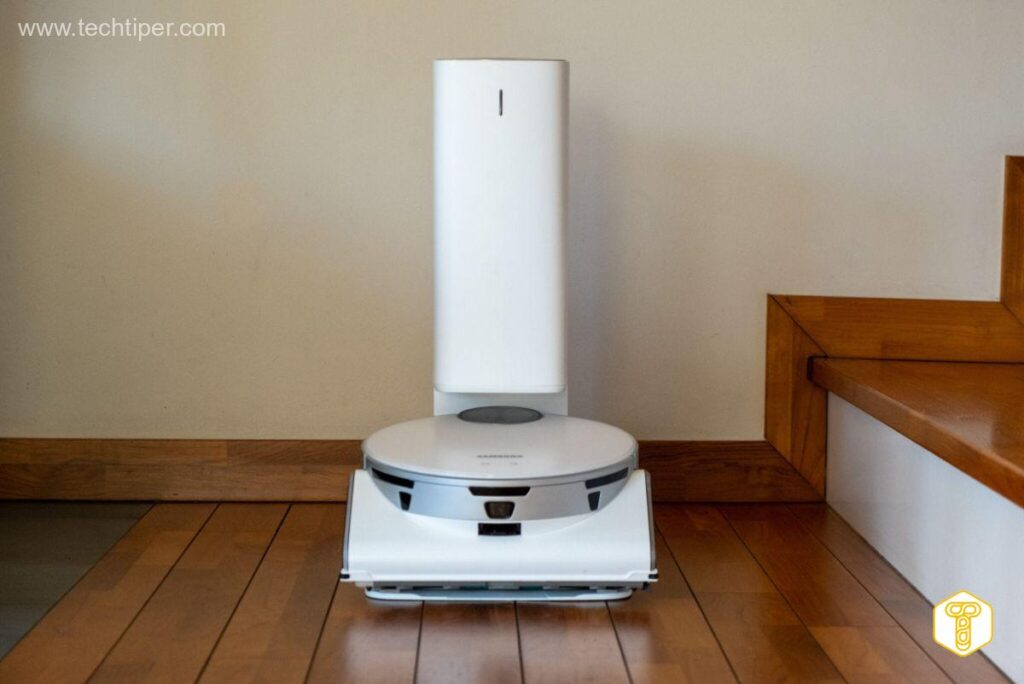 Samsung Jet Bot AI + review – summary
The Samsung Jet Bot AI + is a great vacuum cleaner in many respects, but it doesn't quite do the cleaning job. It provides many great features like full scanning, monitoring which can be very useful, as well as object recognition. The application works great and the vacuum cleaner itself drives through our apartment quickly. Is it worth buying? It depends on our needs. I will rather stick to the cheaper options, even though I liked the cat monitoring very much.
Benefits
LiDAR technology
App
Advanced solutions
Cleaning pace
Monitoring option
Avoid small obstacles
Disadvantages
Cleaning at the corners and edges
He can move the table
A hard bumper
---
About Post Author