The Sony A7 IV is a 33MP CMOS full-frame hybrid camera with 4K/60fps video support. There's AI-powered autofocus, 5-axis optical image stabilization, and 10fps burst shooting.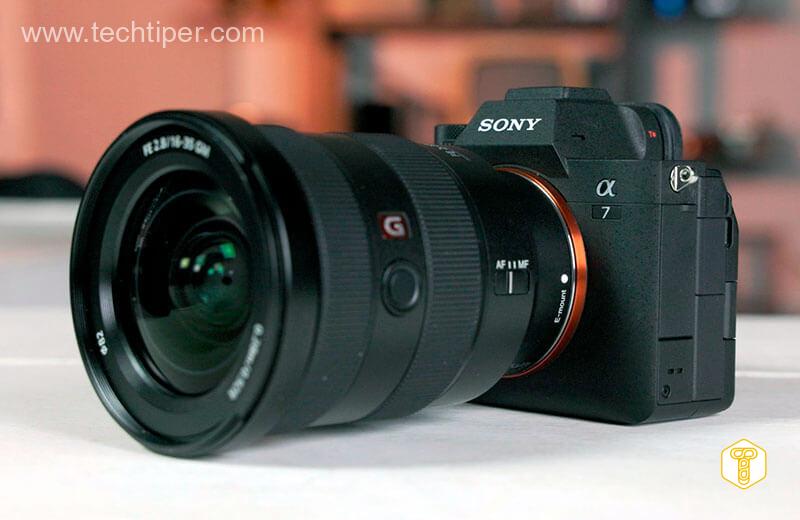 The A7 IV is a continuation of Sony's successful A7 III, but a lot has changed in the camera market over the years. Will the new model be able to compete with devices like the Canon EOS R and Nikon Z6 II?
Read Also: Sony FE 16-35mm F2.8 GM lens SEL1635GM review
Specifications Sony A7 IV
| | |
| --- | --- |
| Type | Mirrorless |
| Sensor resolution | 33 MP |
| Matrix type | 35mm, full frame (35.9×23.9mm), Exmor R CMOS sensor |
| Lens mount | E bayonet |
| Memory cards | Two: SD UHS II and CFexpress Type A |
| Battery | NP-FZ100 USB-C charging |
| ISO | Photo: ISO 100-51200 (expandable from ISO 50 to ISO 204800), auto (ISO 100-12800, selectable upper and lower limits) Video equivalent ISO 100-51200 (expandable to ISO 102400), auto (ISO 100-12800, selectable upper and lower limits) |
| Stabilization | 5-Axis Compensated Matrix Shift Mechanism |
| Focusing | Fast Hybrid AF (Phase AF/Contrast AF) |
| Display | TFT, 1.03M-dot resolution, touch |
| Viewfinder | OLED, 3.68 million dots |
| Communication and connections | USB-C, HDMI, Bluetooth 4.1, 3.5mm headphone and microphone, Wi-Fi |
| Video resolution | 4K |
| Dust protection | Yes (anti-static optical filter coating and sensor shift mechanism) |
| Dimensions and weight | 131.3×96.4×79.8mm, 699g |
| Price | Rs. 321,990 |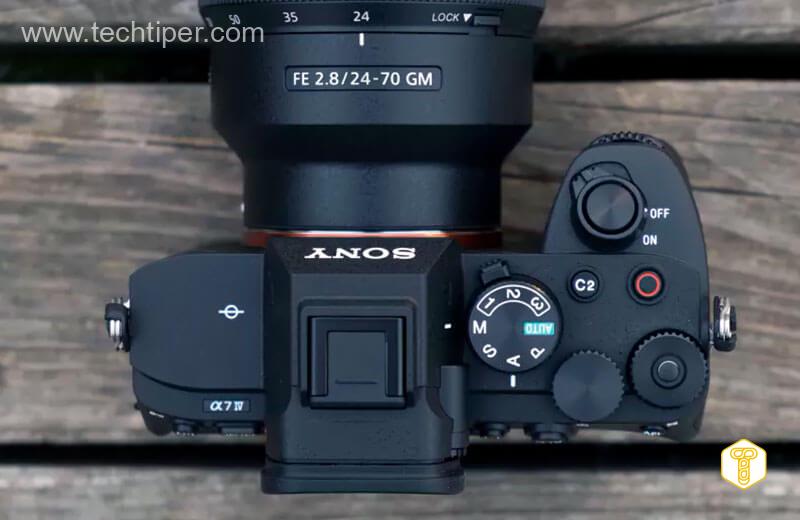 Design and construction
The Sony A1, A7S III and A7R IV were very different from their predecessors in terms of design, and the same can be said about the Sony A7 IV.
However, the grip remains large and comfortable, so you never feel like you might drop the camera – even with a huge lens. The model weighs 699 grams, although the weight of the A7 III was 650 grams, in addition, the case has become 7 mm thicker.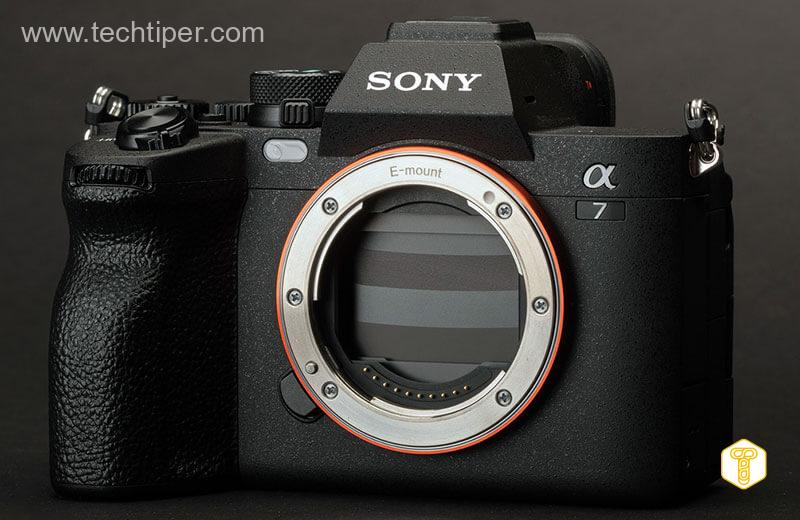 Compared to the more expensive A1, the updated A7 IV lacks dials for adjusting autofocus and shooting modes.
The video recording key has moved from the back to the top, which makes it more convenient to press it. The rest of the layout has not changed. Buttons and dials have become more responsive to use, and the joystick is more convenient to control.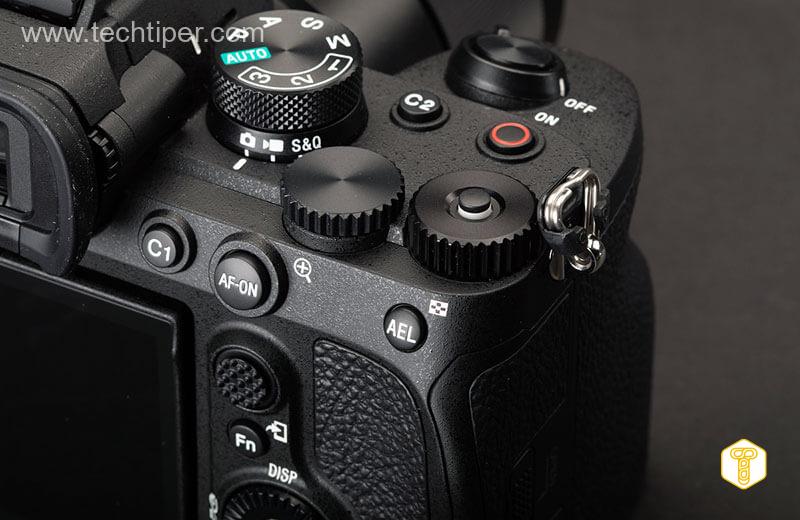 Control screen and viewfinder
The touch screen on the back of the Sony A7 IV can now pivot up and down, making it easier to shoot from low heights.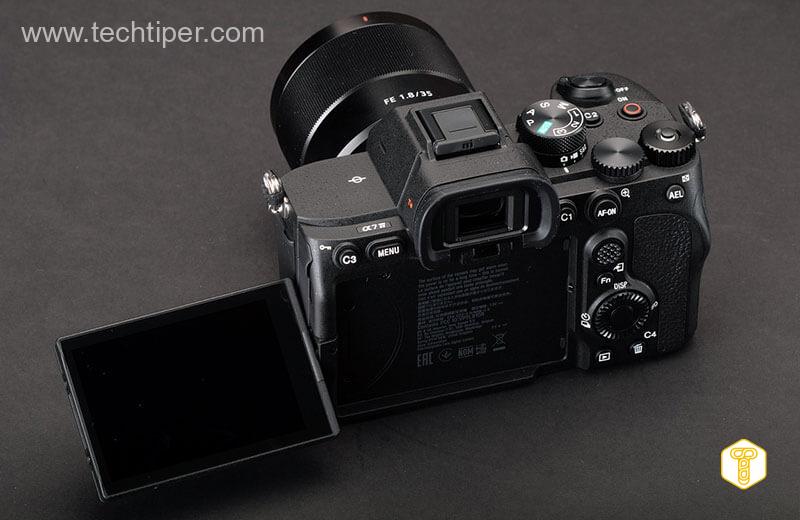 The panel has a resolution of 1.03 million dots and an aspect ratio of 3:2. The menu structure has remained almost the same as on the A7S III and A1, so it will be easy to switch from these models to the A7 IV.
As with other modern cameras, many menu items and controls can be customized.
On the top side of the A7 IV is an OLED viewfinder with a resolution of 3.68 million dots and a magnification of 0.78x. The clarity of the image is much higher than on the A7 III with its 2.68 million dots, and is not inferior to competitors in the price segment.
Autofocus and continuous shooting
Sony mirrorless cameras are known for their fast autofocus and smart features, and the Sony A7 IV is no exception.
Added a lot of functions using AI (artificial intelligence), which is why everything works flawlessly with little or no user intervention. Unlike the A7 III, face, eye, and body tracking is not limited to people, but birds and animals.
The camera itself finds the eyes, face or body of the subject and continues to track it even if it turns or moves out of frame. You just need to select the desired object on the screen, and smart algorithms will take care of the rest.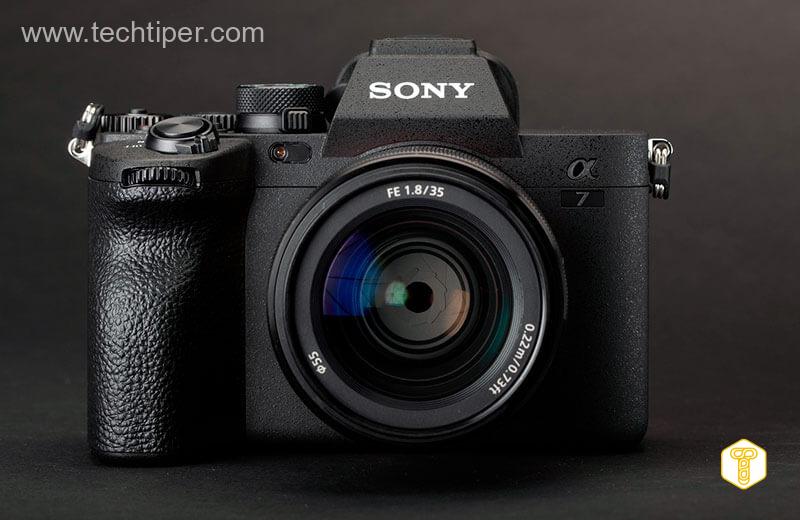 True, there are some shortcomings here. The 33MP CMOS sensor is backlit, but it doesn't have the layered structure of the A1, so burst speeds are slower. It is 10 fps in Hi+ mode and 8 fps in Hi mode.
These are still excellent numbers considering the 50% increase in resolution. But not in comparison with other models – Sony A1, for example, shoots at 30 fps at a resolution of 50 megapixels.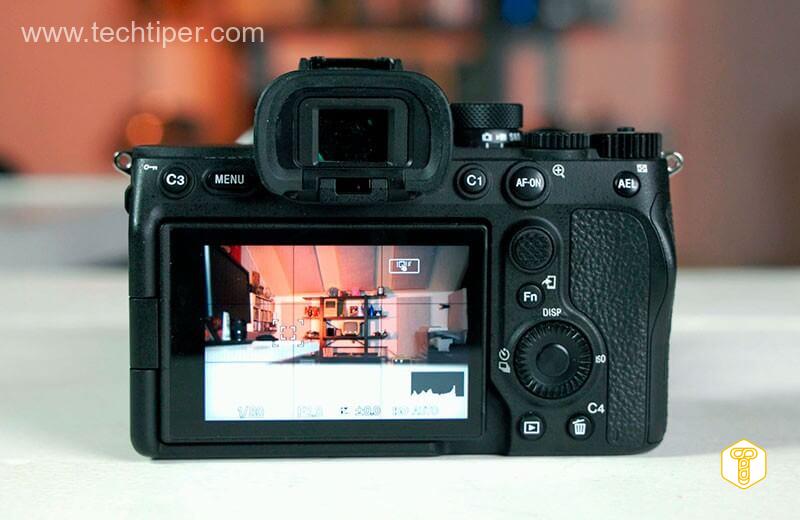 The memory buffer is large - you can shoot up to 1000 uncompressed frames in RAW. If you use CFexpress Type A cards from Sony or ProGrade, you don't have to worry about buffer overruns at all.
The continuous shooting of the A7 IV has one drawback – the effect of "rolling shutter" occurs. To get rid of this problem, the camera must be held firmly, and the subject must not move too fast. Otherwise, the frame may be hopelessly damaged.
Autofocus works great not only during continuous shooting, but also for many objects in the frame in not the best lighting. All is well with the A7 IV with automatic exposure and white balance.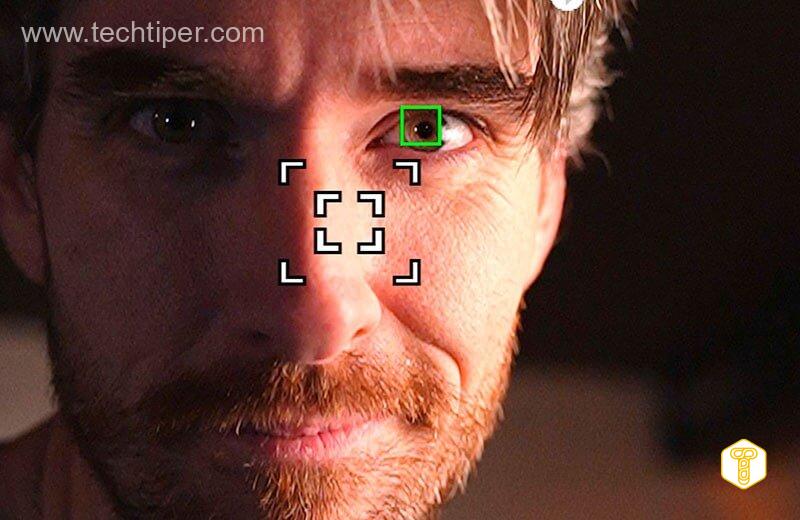 Photo quality
The Sony A7 IV camera has noticeably improved the quality of taking photos.
The resolution has increased, the pictures are sharper as expected, and the quality in low light is better than the Sony A7S III . When shooting in the dark, there is practically no noise up to ISO 12,800, and with proper exposure, the photos remain "clean" up to ISO 25,600. After that, the noise becomes too noticeable.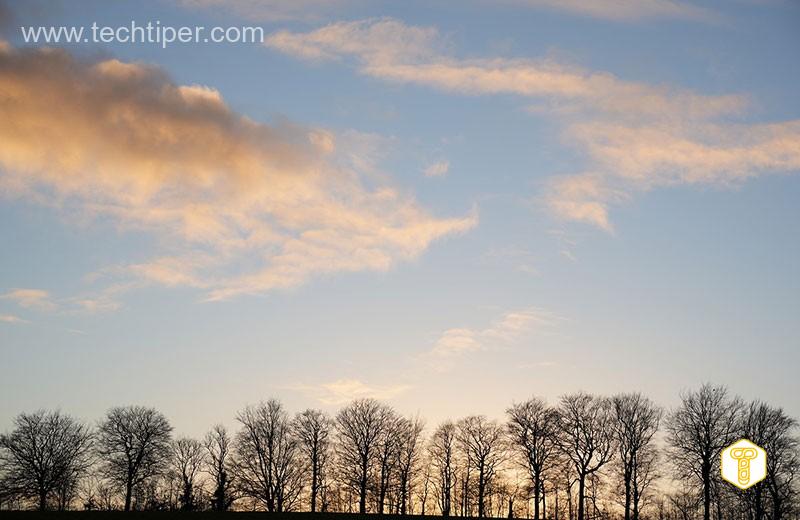 It is important that Sony has worked on the colors: there is no more green shift, all colors are natural and very accurate. In terms of image quality, the A7 IV is one of the best cameras on the market.
Video quality
Like previous Sony cameras, the A7 IV can shoot 4K video at 30 fps.
However, the new model is capable of recording 10-bit video with 4:2:2 sampling at 60 fps. Video quality is excellent, and S-Log support delivers colors that are on par with professional camcorders. It is also important that there is a lot of room for post-processing.
The video bitrate reaches 500 Mbps, and the XAVC HS format is much more efficient than MPEG-4 AVC/H.264.
When recording video, autofocus and eye tracking work, so the A7 IV is ideal for shooting interviews. As with taking photos, simply tap on the desired object on the screen and tracking will start automatically.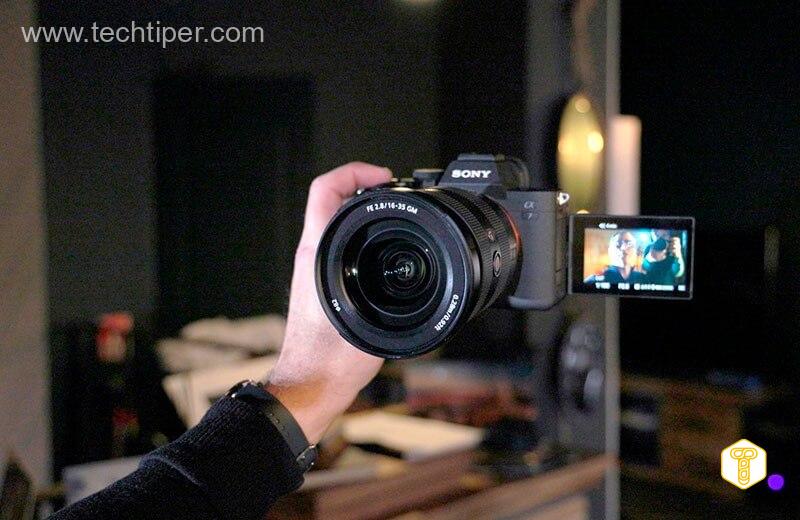 There's also a cool new feature – focus breathing compensation. This is the effect that occurs when you change the angle of view of the lens, after which the focus changes. Sony uses their Clear Image zoom technology to maintain a constant angle of view. But, the function only works with some Sony lenses, and the most expensive ones.
Image stabilization has also become more effective when shooting 4K video, it works with a frame rate of 60 fps and 30 fps.
Connectors and autonomy Sony A7 IV
On the right side of the Sony A7 IV, there are two slots for storage media: you can put both regular SD UHS II cards and the much faster CFexpress Type A.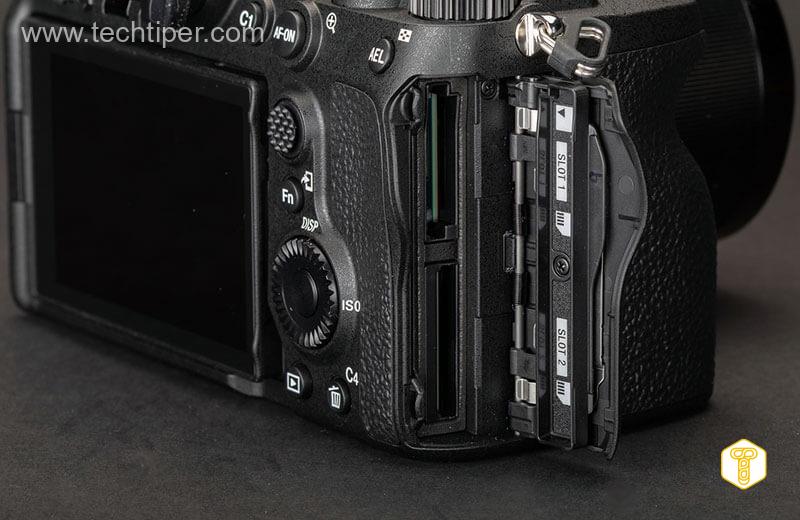 But, only one of the two slots supports both types of cards – you can only put SD UHS II in the second. CFexpress Type A cards are not as fast as CFexpress: the former is limited to 800 Mb/s, while the latter reaches 1700 Mb/s. In addition, this format is used only in cameras from Sony, and these cards are expensive.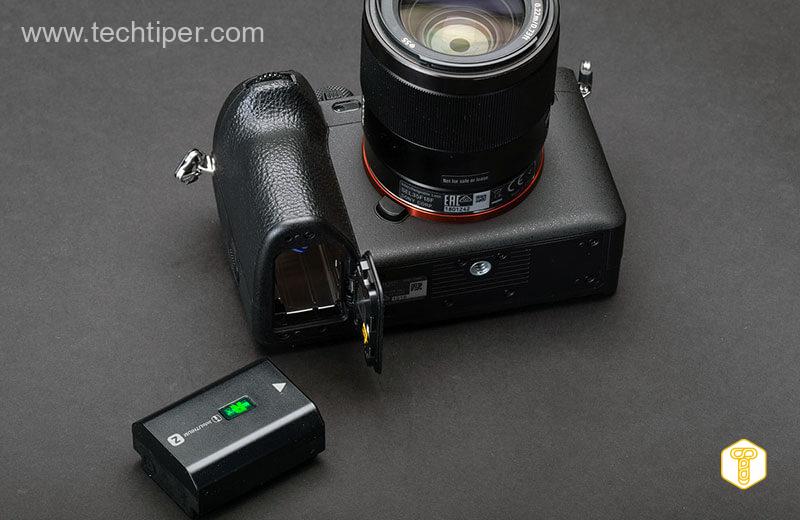 The A7 IV has a USB-C port for charging, as well as a full-sized HDMI port. The camera has a new battery from Sony NP-FZ100, enough for 580 shots on a single charge or 2 hours of shooting 4K video.
When the camera is turned off, the shutter closes to help protect against dust when changing lenses. The feature first appeared on the EOS R, so Canon should be credited for the idea.
Read Also: SEL1224G Ultra Wide Angle Zoom Lens Review: Sony FE 12-24mm
Outcome
The Sony A7 IV mirrorless camera surpasses its predecessors in terms of resolution, autofocus and video features. But most importantly, Sony has managed to create a camera that is easy to shoot even if you pick it up for the first time.
The only disappointing thing is the rolling shutter and the too high price compared to the A7 III. But competing models with similar specs aren't particularly cheap, including the Canon EOS R6, Panasonic S5 , and Nikon Z6 II.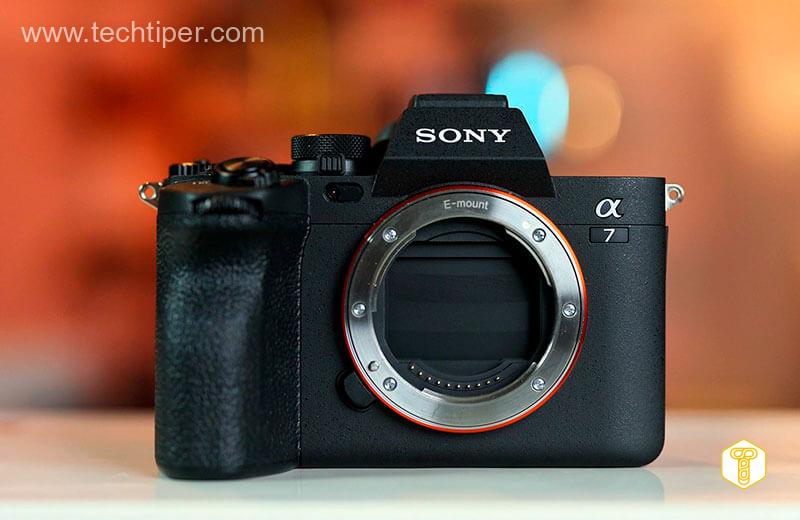 The Sony a7 IV is the fourth generation of the company's full-frame mirrorless camera. This is the most advanced camera ever, with many improvements in autofocus and interface design.
Benefits
Comfortable body and grip
Video 4:2:2 up to 4K/60fps
Excellent photo quality
Autofocus with AI
Disadvantages
High price
Rolling shutter
Continuous shooting speed
Is it worth buying
Sony has once again managed to create one of the best cameras for both professionals and amateurs. The A7 IV lets you capture professional-quality photos and videos from day one.
---
About Post Author