Microsoft regularly updates Windows 11 – this time it's version 22563. We'll see big changes for tablets and widget improvements here. There are also some smaller fixes – let's get to know the most important of them.
Read Also: Windows 11: How to change the taskbar and restore the classic start menu?
Changes in tablets
I have the impression that so far Windows on tablets have been treated neglectfully. That will change, however, as Microsoft is introducing the enlarged Taskbar to mobile devices. 
It has been specially designed so that mobile users can easily operate it in a touch-based manner. For 2 in 1 devices – The taskbar will automatically go to the optimized version when you disconnect the keyboard.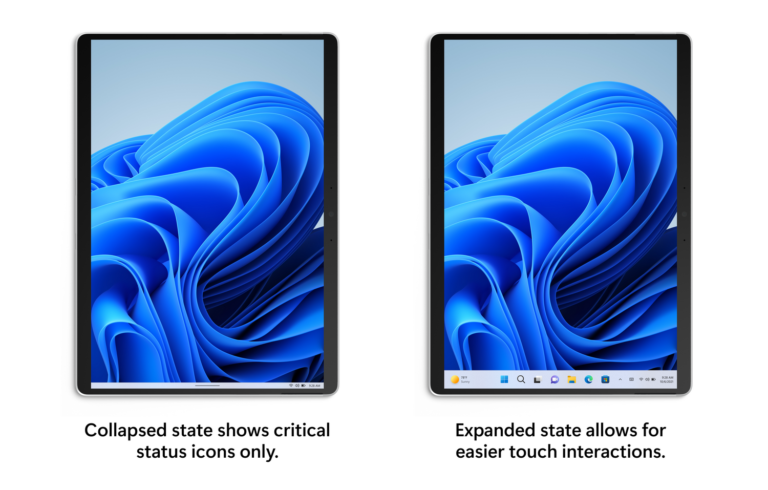 On these types of devices, we will see two versions of the Taskbar:
Collapsed – provides more screen space without accidental touches,
Expanded – allows for easier use of its area and precise clicks.
Live Widgets
Widgets are one of the worse areas of Windows 11 that is of little use right now. Microsoft is working on making third-party widgets available, but we will have to wait for this opportunity. So far, we've got more lively information areas.
More dynamic content will be fed to the feed with the latest news. This should make it easier to discover new content and explore more news and content. So far, I rarely even use this channel, but this may change with an update that I would like to try.
New Windows Update management policy
The new feature will primarily affect IT administrators in education . Using the main computer, it will be possible to disable all Windows Update notifications on connected PCs. 
This is to help increase pupils 'or students' focus in the classroom. It often happens that they turn on a Windows update and do not know what to do with it. Such situations can distract the teacher or the whole group during the lesson. 
According to Microsoft, updates should take place overnight. On the one hand, this is a good idea, on the other – connected devices 24/7 have a negative impact on energy consumption and the environment.
Smaller changes
Among the smaller changes, it is worth paying attention to:
Refreshed Bluetooth device management screen . You will be able to manage them directly in Quick Settings.
New in attracting windows . When we use this great feature, we will be informed that any Microsoft Edge tab can be snapped. In the proposals, we will see the 3 latest tabs from the browser. If you don't want to use this feature, you can change its settings in System> Multitasking.
The arrival of 37 new emojis . This is an update as part of the release of Emoji 14.0. We can see, for example, a disco ball or a slide. New skin tones for hand gestures have also been added.
Refreshed accessibility flyout . You will find them on the login screen next to the switch.
Source: microsoft
---