Elden Ring is a game that I have been waiting for basically from the first announcement. As a faithful fan of the Dark Souls series, I simply couldn't let go of this position, so I played it right for the premiere. Has the latest production from From Software lived up to the hopes placed in it? Please check out my review.
Elden Ring review – the (huge) game world to start with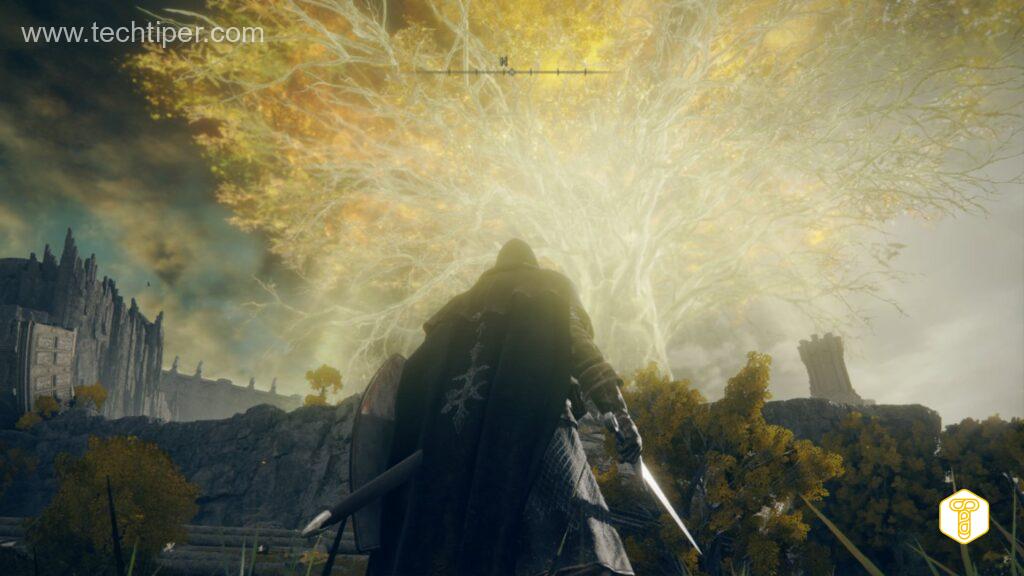 It was known from the outset that the Elden Ring would be an open world game. After over 35 hours with "Dark Souls 4" I can confidently say that there is something to do. The terrains on which we will be traveling are so vast and varied that there is literally no time for boredom or monotony; there were, among others majestic clearings, ruined castles or forests full of bloodthirsty beasts.
Read Also: The premiere of Elden Ring – From Software was a hit, Steam players are not satisfied
Importantly, the whole thing looks really good, and I played the Xbox Series X in performance mode . Of course, Elden Ring is not the most visually beautiful game that I have had the pleasure to play, but it cannot be said that the latest offer from From Software studio is dazzling. On the contrary: it is good, although of course it could have been better.
The biggest problem of many open world games is the open world. As illogical as it sounds, there are many items that boast of freedom of action, they are in fact blown eggs with "copy-paste" locations and tasks such as "find, bring, sweep".
Fortunately, the creators of Elden Ring did not take the easy way, because all areas (except for the optional dungeons ) are very different from each other and bring a breath of fresh air. 
The tasks and the plot of the game are quite non-obvious and mysterious, so no fan of Souls should be disappointed.
The storyline in Elden Ring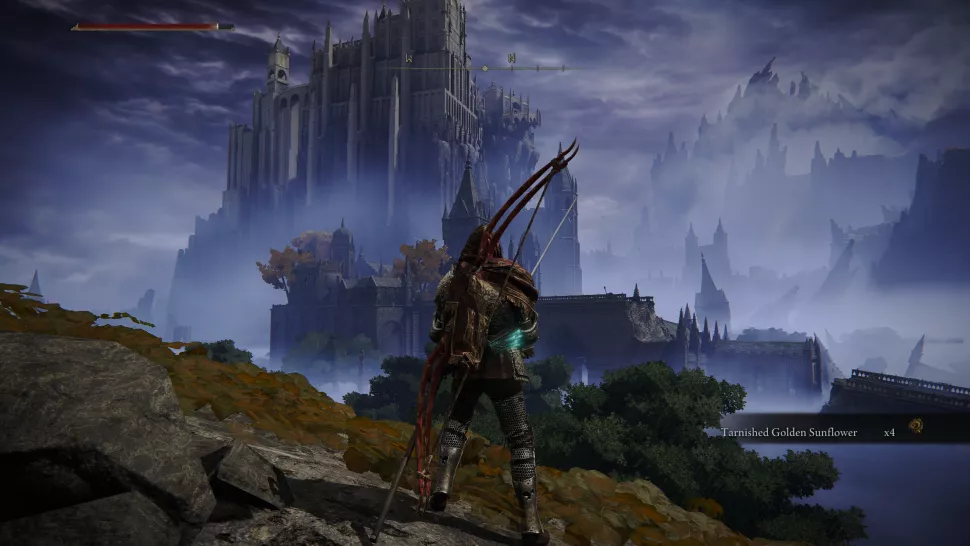 As in every From Software game, the storyline in Elden Ring is extremely mysterious, residual and at the same time relatively complicated.
The creators tell the story in a non-obvious way, so that the player himself has to put it together. 
In a nutshell, the game is about defeating six demigods and taking a fragment of the title Elden Circle from each of them. We learn about the further stages of the story by reading the descriptions of items or listening to the stories of independent characters. Put simply, this is not something that will surprise any fan of the Dark Souls series.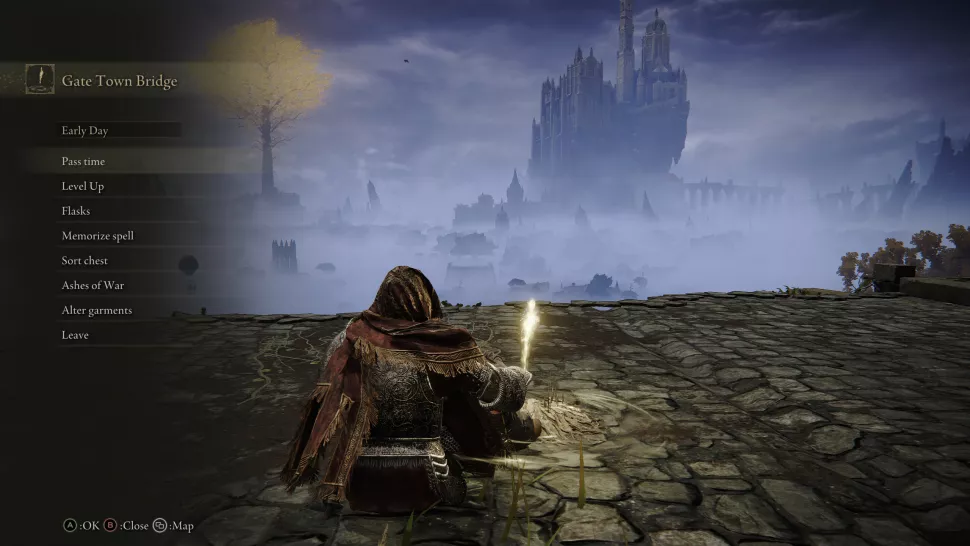 The story of Elden Ring is at a high level, and discovering it yourself is a lot of fun. However, I can imagine that not everyone will like the narrative presented in this way. Here it is not enough just to rush ahead to finally understand what's going on. The Elden Ring warms the player's gray cells to red if he tries to put together the giant story puzzles into a single whole on his own.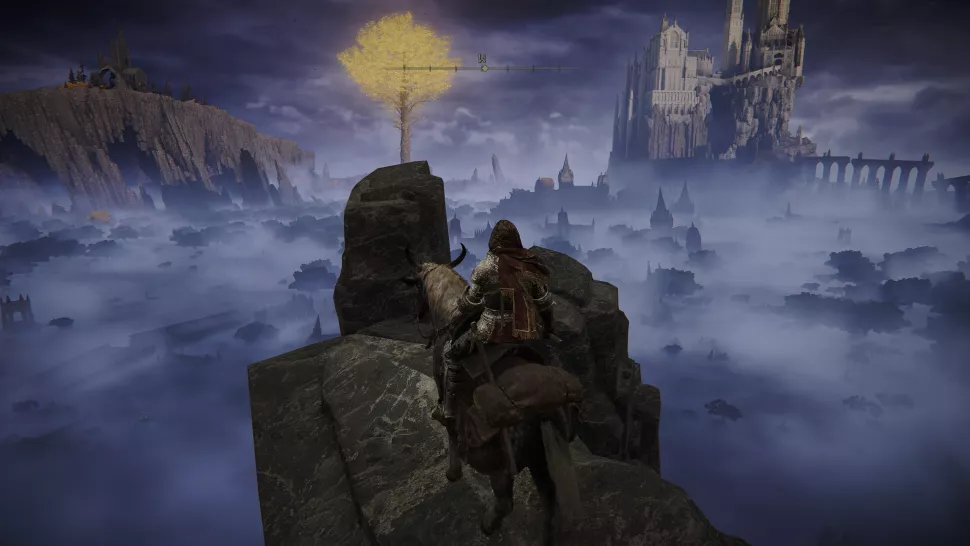 Mechanics
I will be right if I say that Elden Ring is a mix of all From Software games with a bit of new stuff. Of course, we can find mechanics known from Dark Souls, as well as Bloodborne and Sekiro.
The fight is basically just like in Dark Souls – we can infuse targeted enemies with light or strong attacks, using all kinds of swords, axes or staffs. Among the important novelties is the ability to "break" enemy attacks, which work basically as in Sekiro: Shadows Die Twice.
A block performed at the right moment allows you to prevent the opponent's strike, while exposing his weak point. Mastering this technique makes the game much easier and suits the gameplay very well.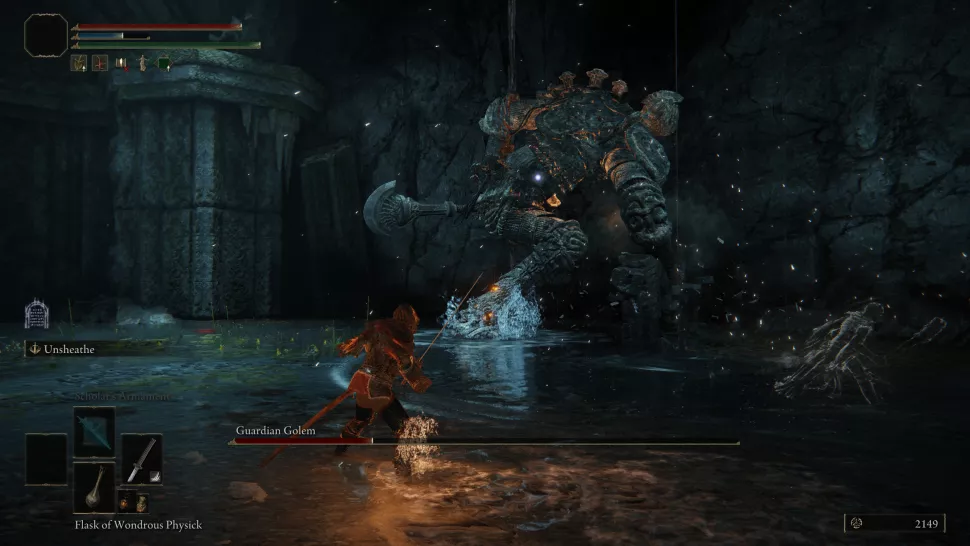 And since we are with important news, we cannot ignore the fact that the main character can now jump. In a game with such a large and varied world, this mechanic simply could not be missing, otherwise you would simply not be able to get to many places. As if all these novelties were not enough, in Elden Ring a large part of the game can be traversed on horseback. Yes, on horseback – it's not Roach, but he can do it.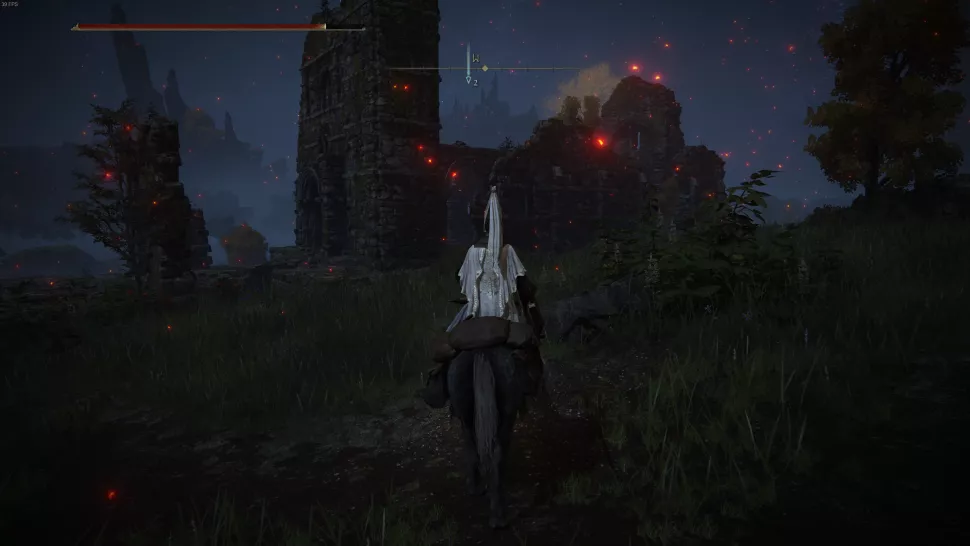 When it comes to character development, From Software has prepared a lot of options for players. At the very beginning of the game, we choose the hero's class, which more or less determines which direction we should go in when it comes to his development.
And there are many options for development, because the "tree" contains a whole lot of different skills from which we can choose. In fact, there are so many of them that it is not difficult to get lost.
A whole lot of various items have been placed in the world of Elden Ring, but if we are still not enough, now we can also create them ourselves. The crafting system is quite extensive and intuitive, and it also introduces a nice variety to the game. In a game of this scale, it simply could not be missing.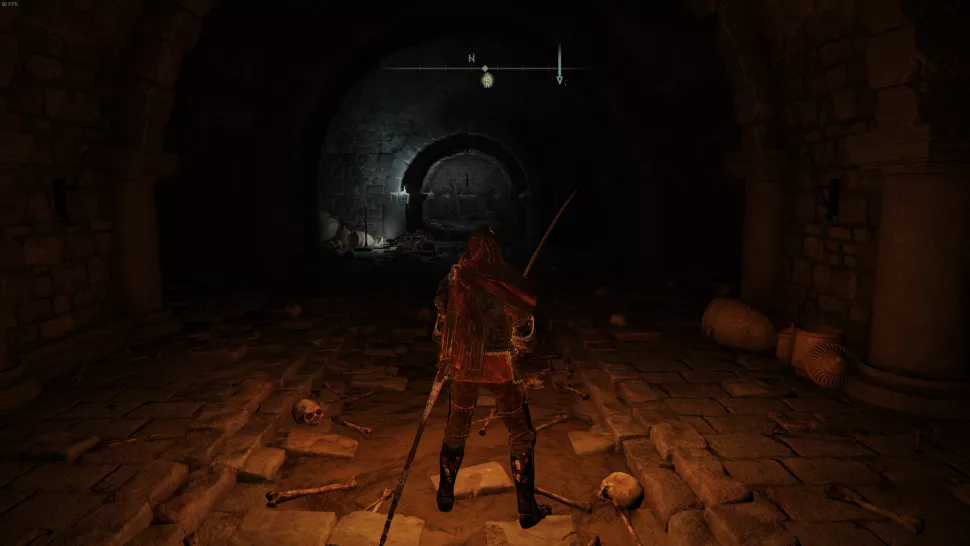 As befits the creators of Dark Souls, in the Elden Ring, at the end of each stage, a boss awaits us. Some of these skirmishes are completely optional, so less patient players can skip them.
Personally, I think that the bosses in the latest production from From Software are really interesting, diverse and in most cases extremely demanding. The design of many "bosses" is impressive and once again proves that the creative resources of the Japanese are endless.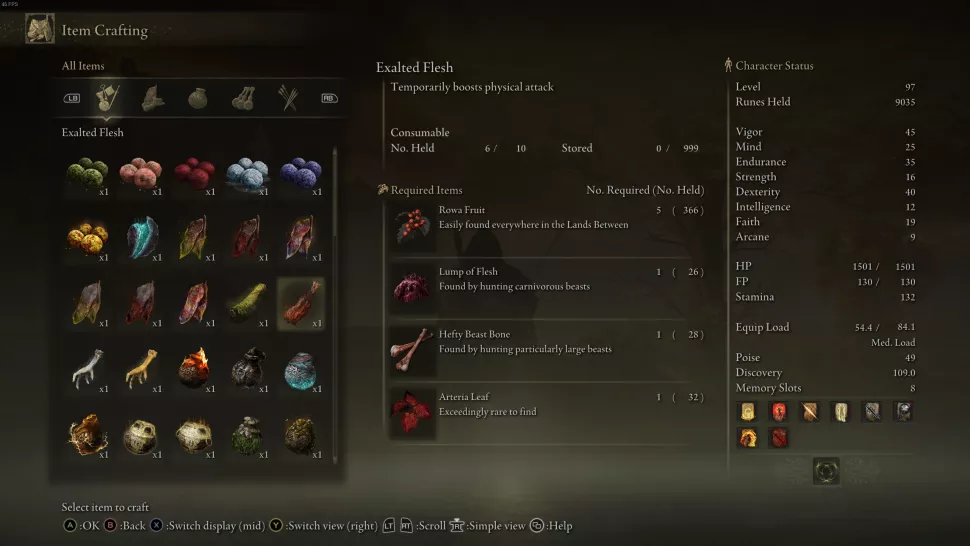 You can read many statements online that Elden Ring is easier than the studio's previous productions. For me, it's a bit more complex and I wouldn't say it's true. There are more bosses in Elden Ring than in any Dark Souls, and the game world itself is enormous. Following this lead, the developers just had to somehow "distribute their forces" to balance the game.
In Dark Souls, Sekiro or Bloodborne we fight with bosses on average every hour – two, while in the Elden Ring you can find the "boss" every 15 – 20 minutes. Constantly hitting extremely demanding opponents would be simply tiring.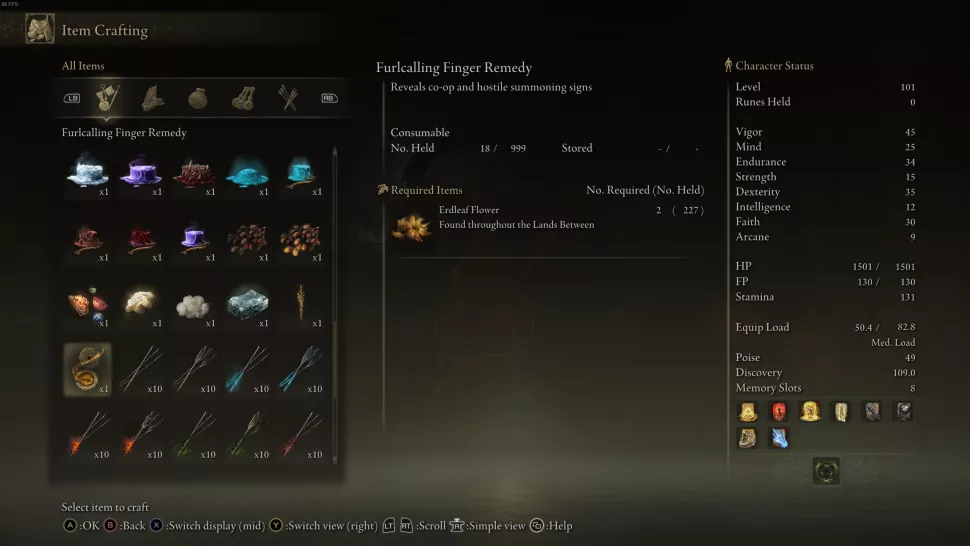 Elden Ring review – summary
There is no denying that the Elden Ring is a phenomenal game where you can spend dozens, if not hundreds of hours. The world is so huge here that there is plenty to do from start to finish. During my adventure with the hit From Software, I had a great time, although I personally prefer the formula known from Dark Souls, i.e. a more condensed world and semi-open locations.
The plot in the game is intriguing, the fight is extremely demanding and at the same time satisfying, and the atmosphere - enhanced by a great soundtrack - just pours out of the screen. 
From Software managed to do it and created a production that will set industry standards for a long time. As I mentioned, the review is based on the Xbox Series X version. I was playing in performance mode, but at times you could feel a drop in FPS; These were not blatant values, but always. I mention it because I know that after the problems of the premiere version of Dark Souls 3 on Xbox One, many people expected the worst.
Bottom line: Elden Ring is a great game, but definitely not for everyone. However, if you want to visit a huge world full of content, learn an interesting story and fight many demanding battles, I encourage you to buy this game with a clear conscience. From Software did it again!
Advantages and disadvantages
Benefits
Addictive, mysterious storyline
Huge world full of content
(Epic) music
Demanding and extremely rewarding combat system
Superbly realized bosses
Total freedom in the game
Disadvantages
Repeatable (optional) dungeons
Occasional drops in FPS and sometimes grass textures read in front of the player
---