I had to wait a while for the Hyperbook GTR test, but I knew it would be worth it. After all, it is one of those devices that is known from a distance to be unique and completely different from what we encounter every day. If you are looking for a laptop where performance and development opportunities over the years count, then the title proposition is definitely for you.
There are literally no compromises in her case. Maybe except for one thing – this is not exactly a laptop, although of course we are able to move with it without external power. Only not necessarily in the backpack, but we'll get to everything one by one. In that case, you have a review of the Hyperbook GTR, to which I cordially invite you.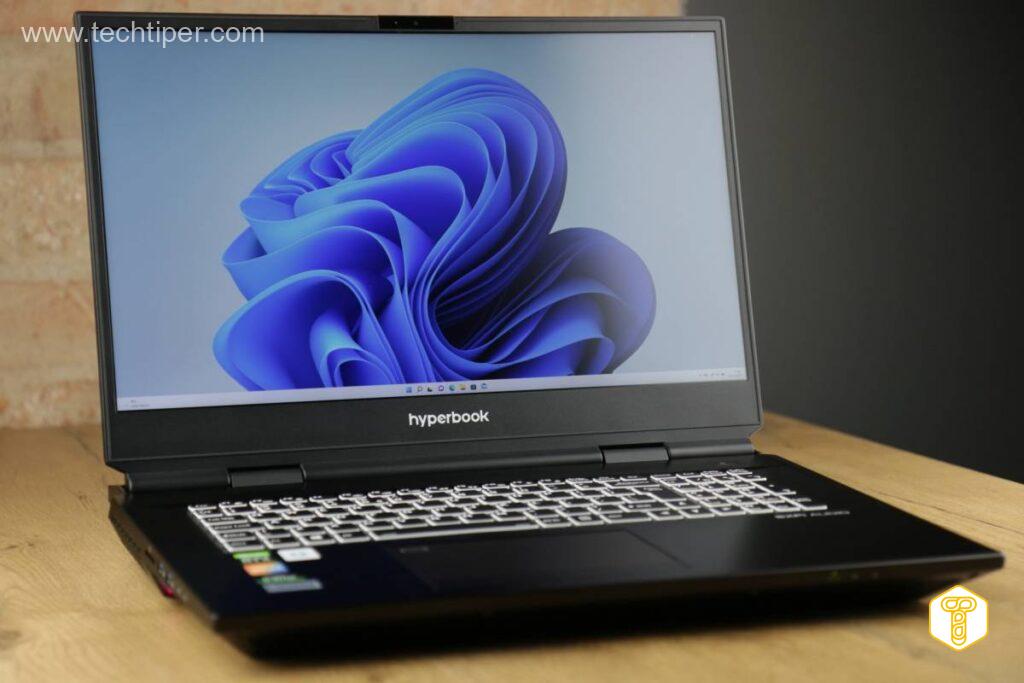 Hyperbook GTR review in three summary sentences
The reviewed laptop is hard to call a full-fledged laptop. It is equipment for special tasks and it works great in them, because it does not lack power in any aspect and it will not be missing for many years thanks to freely replaceable components. Of course, in return, you should not expect great mobility and… exceptional workmanship.
Benefits
The king of performance in every way
Free replacement of even the CPU and GPU, not forgetting the battery
Super fast display
Latest technologies on board
Multiple configurations
Disadvantages
Significantly reduced mobility (size and weight)
Noisy fans are associated with high efficiency
You need two power supplies!
The finish could be better
Read Also: The best laptops for distance learning and college. Ranking for everyone
Hyperbook GTR kit, technical specifications and price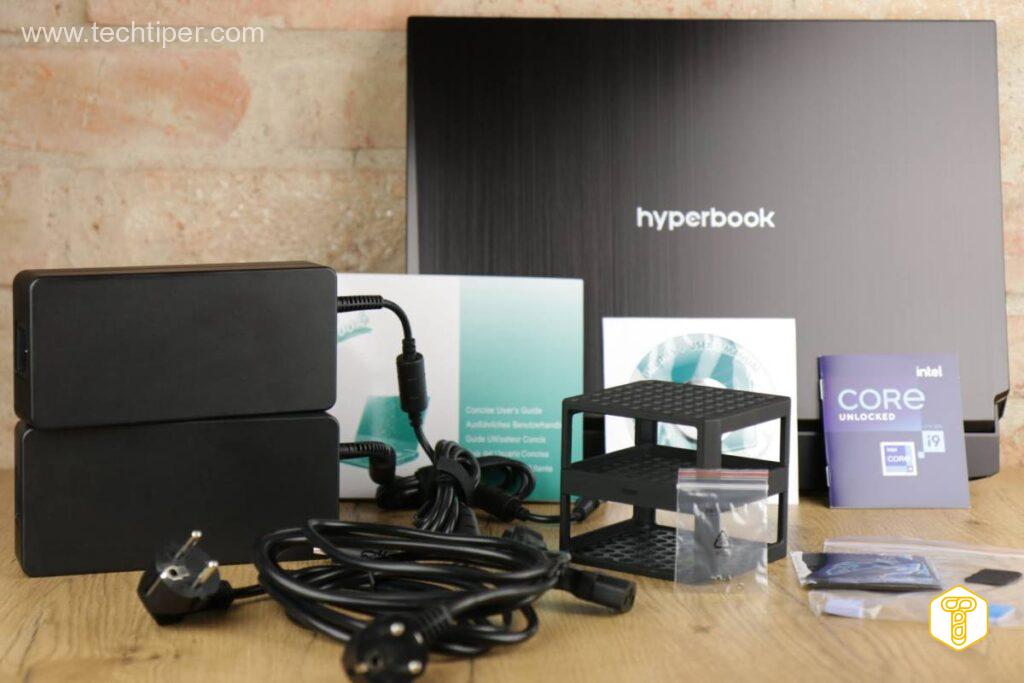 We get the Hyperbook GTR in a double cardboard box, which does not look very impressive. Especially in the context of the equipment that is hidden inside and the price, which we will go to. Nevertheless, we cannot complain about the lack of content.
First of all, we get a lot of instructions. Including information about replacing the processor and the possibility of overclocking it. In addition, there are thermocouples, screws for additional SSD drives, a microfiber cloth, an SD card plug and two 280 W power supplies, for which we receive a special rack. Little? The icing on the cake is a CD with drivers, basic tools and manuals. Yes, the laptop does not offer a CD / DVD drive, let alone Blu-Ray.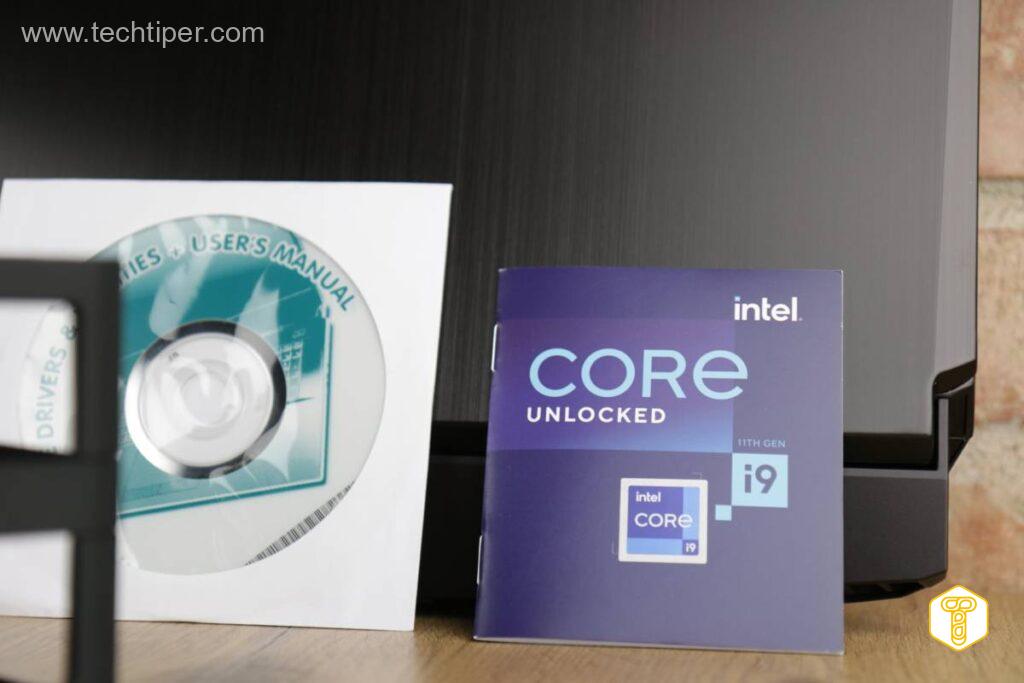 The price of the Hyperbook GTR may scare you, but the multitude of options is impressive
The Hyperbook GTR is actually the Clevo X170KM-G and there is a lot behind these names. Nevertheless, let's start with the price that starts from the ceiling of $3,290. Yes, that's a lot, but that's the price for the base, entry-level, and weakest version. If we are interested in literally all the options offered by the manufacturer, the final amount exceeds $6,400. Yes, almost twice as much for the extras alone. However, these are not just any accessories, because there is a lot to choose from.
I omit aspects of the software (antivirus, Office, Windows, etc.), because we can also choose a special service package, personalize the BIOS and even the cover, adjust the cooling system and virtually every component. The exception is the layout, which remains without any additional choice. Nevertheless, the Hyperbook GTR can be offered even without a processor, which we will probably move on to.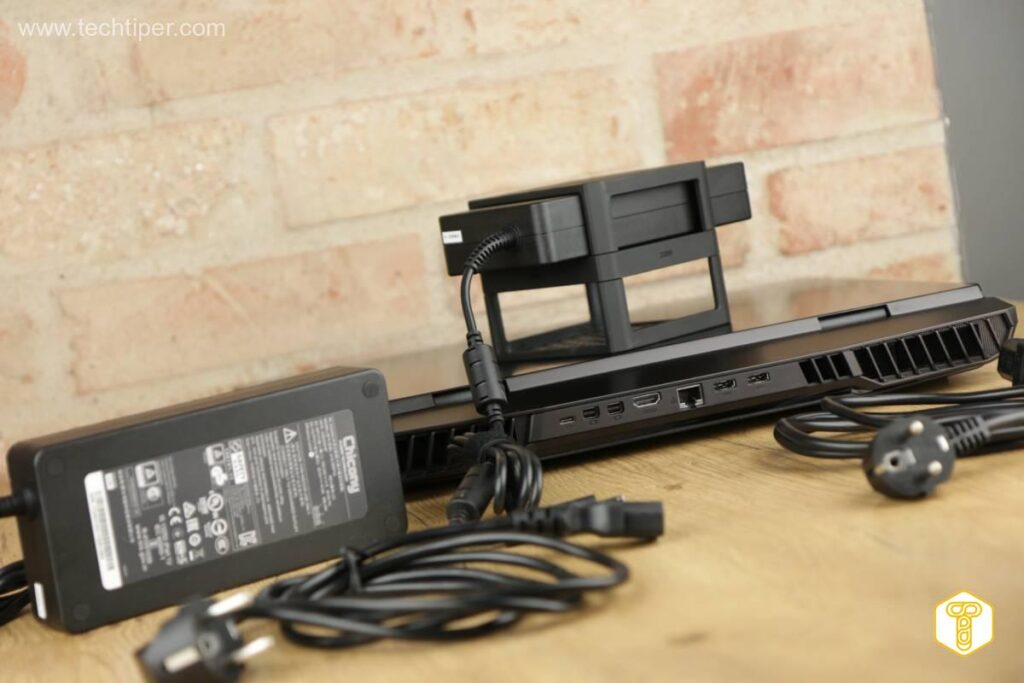 Technical specifications of the Hyperbook GTR
17.3 inch IPS LCD QHD display

resolution: 2560 × 1440 (16: 9)
brightness: 300 nits
100% sRGB coverage
image refresh rate: 165 Hz

Intel Core i9-11900K processor

lithography: 14 nm
8 cores (16 threads), 3.5 GHz (up to 5.3 GHz Turbo)

graphics chip: NVIDIA GeForce RTX 3080 (16 GB, TGP 165 W, MXM)
4x 32 GB DDR4 RAM (3200 MHz)
4x Samsung 970 Evo Plus SSD (2 TB, NVMe M.2 2280 PCIe 3.0)
battery with a capacity of 97 Wh
connectors:

USB-C (3.2 Gen 2 with DisplayPort 1.4)

2x Thunderbolt 4
3x USB-A (3.2 Gen 2)
LAN (Ethernet RJ45 2.5 Gb / s)
2x Mini DisplayPort 1.4 (with G-SYNC)
HDMI 2.1
SD memory card slot (6 in 1)
two 3.5 mm jack sockets:

headphones and microphone
S / PDIF and microphone

Connectivity (Killer Wireless-AC AX16500)

W-Fi 6 (802.11ax)
Bluetooth 5.2

backlit membrane keyboard (RGB), 720p camera, microphone, stereo speakers, fingerprint reader, Kensington lock
Windows 11
dimensions: 399 x 319 x 43.5 mm
weight: 4.5 kg
material: plastic made of aluminum
Above I have presented the version that was tested, but if you are interested in all the options, I am sending you to the Hyperbook store. You will admit that such components are clearly impressive. Virtually every element can be replaced, which already proves the class of the equipment we deal with. And, the processor used is not a variety for laptops, but a full-fledged PC system.
Construction and build quality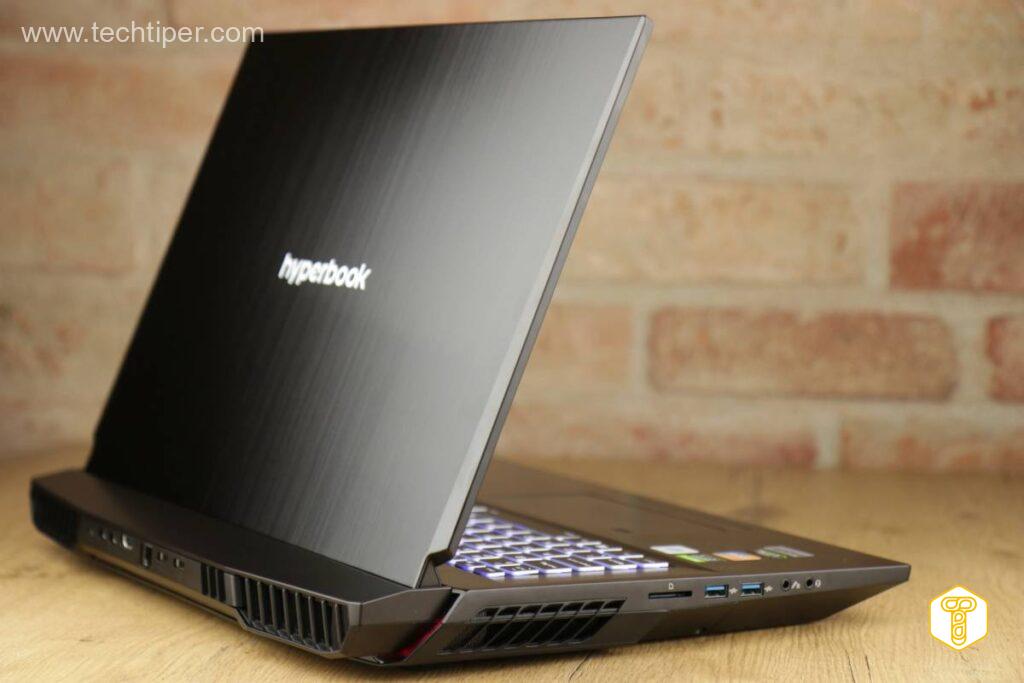 The laptop under review is huge. Let's agree that its transport requires a special bag or a large backpack. This should come as no surprise when looking at the components. However, the overall performance evidently receded into the background.
The Hyperbook GTR looks massive, but the individual materials are average. While their fit is fine, the finish leaves a bit to be desired. First of all, it is impossible to keep the equipment clean. There are fingerprints everywhere, which are hard to get rid of.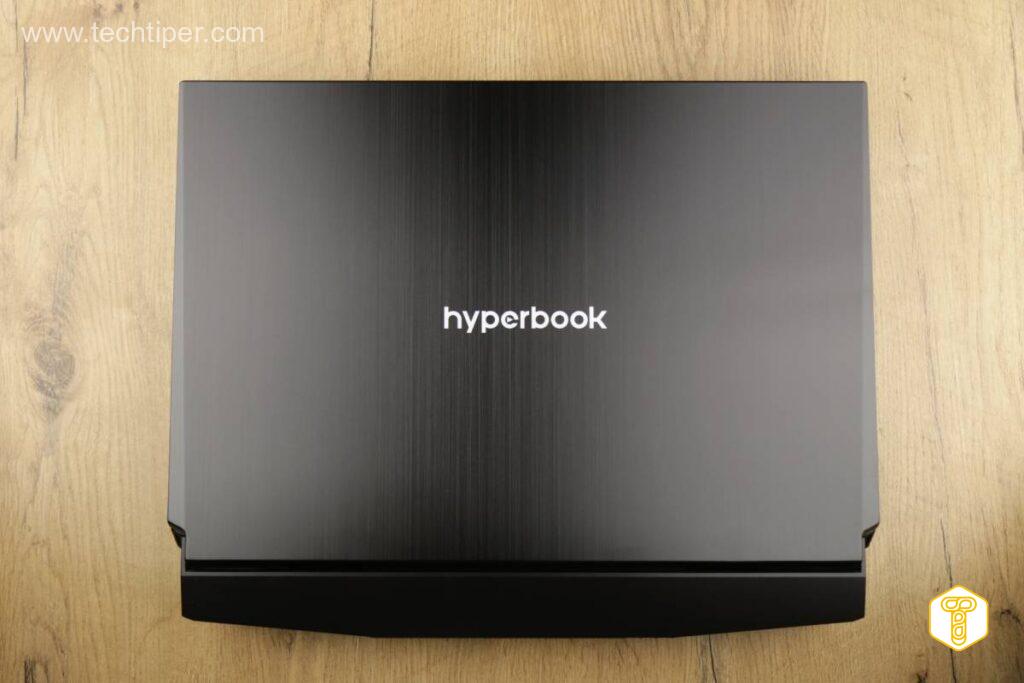 It is especially visible on the cover, which is decorated with the printed Hyperbook logo (maybe yours too). The pattern of brushed aluminum is lost in the above-mentioned prints. Nevertheless, the design of this surface is simple on the one hand . Only on the other side you can see many ribs and, of course, a protruding panel, which is no longer a cover.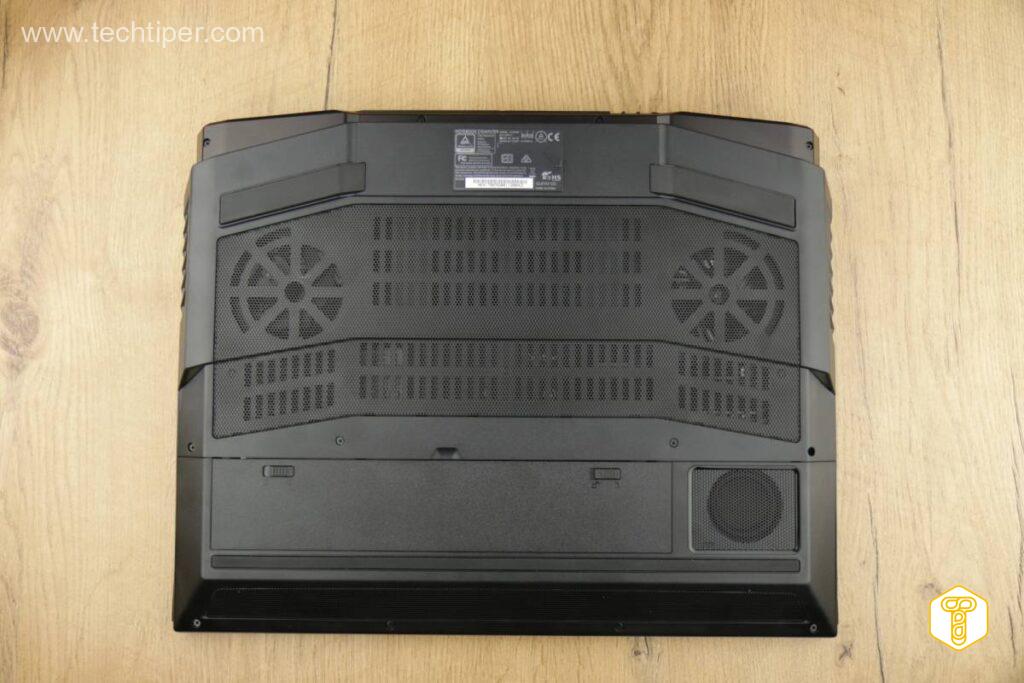 There is much more going on from below. You can see a huge grille of the cooling system, which consists of two fans and large heat pipes. Additionally, we can see a removable battery, accompanied by a woofer. Even lower, behind the sloped grille, there are more speakers. Such an audio set announces that we could expect good sound quality, but it is … average. The whole is relatively loud (90 dB), although the low tones are just average. The bass is even, but quite muffled in relation to the other correct frequencies. The last elements that can be found on the underside of the Hyperbook GTR are large, rubber feet. The equipment, due to its weight, stays reliably in the given position.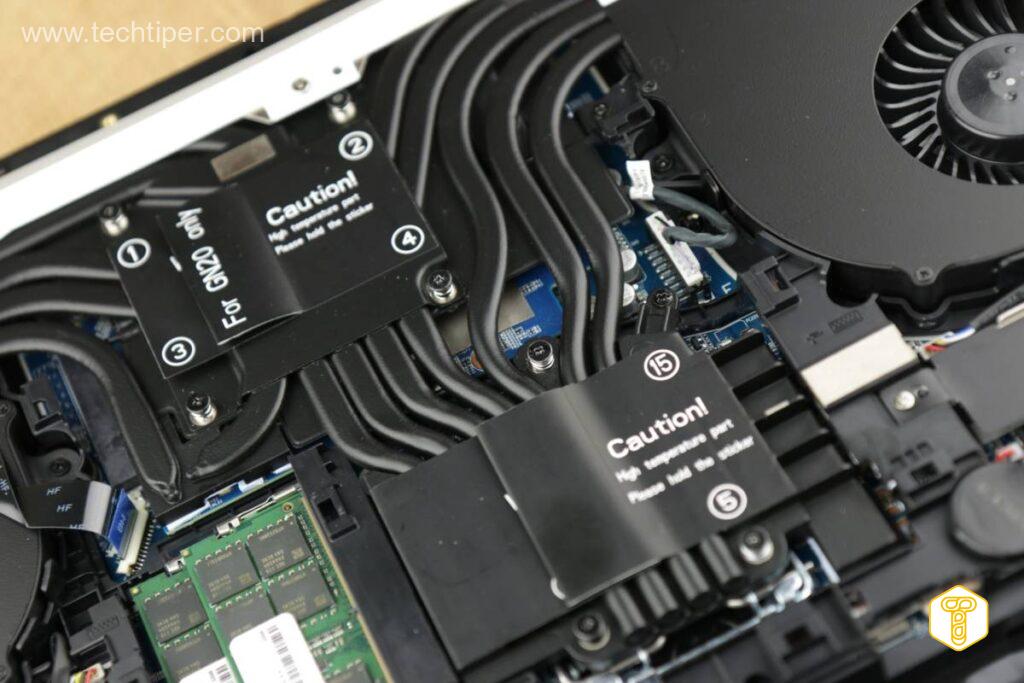 After removing the bottom part, we can see that the CPU comes straight from the PC and it is not a version intended for laptops. Therefore, we can freely remove the chip and replace it with another within one socket (Comet / Rocket Lake). It is similar with the graphics card, where the MXM connector appears.
The large edges show that this equipment is powerful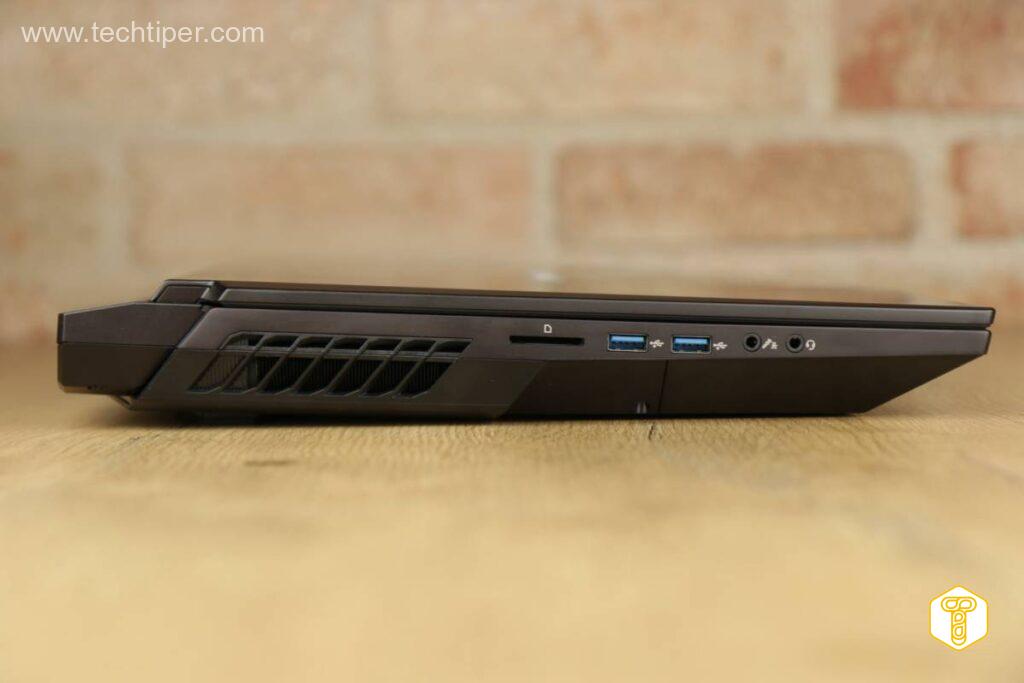 At the edges, first of all, the first part of the customizable RGB lighting appears. However, it is not exaggerated, so let's focus on the rest of the elements:
rear – USB-C, 2x DisplayPort, HDMI, Ethernet, two power sockets
front – LEDs informing about the work status
left side – SD card slot, 2x USB-A, 2x Jack 3.5 mm socket
right side – 2x Thunderbolt, USB-A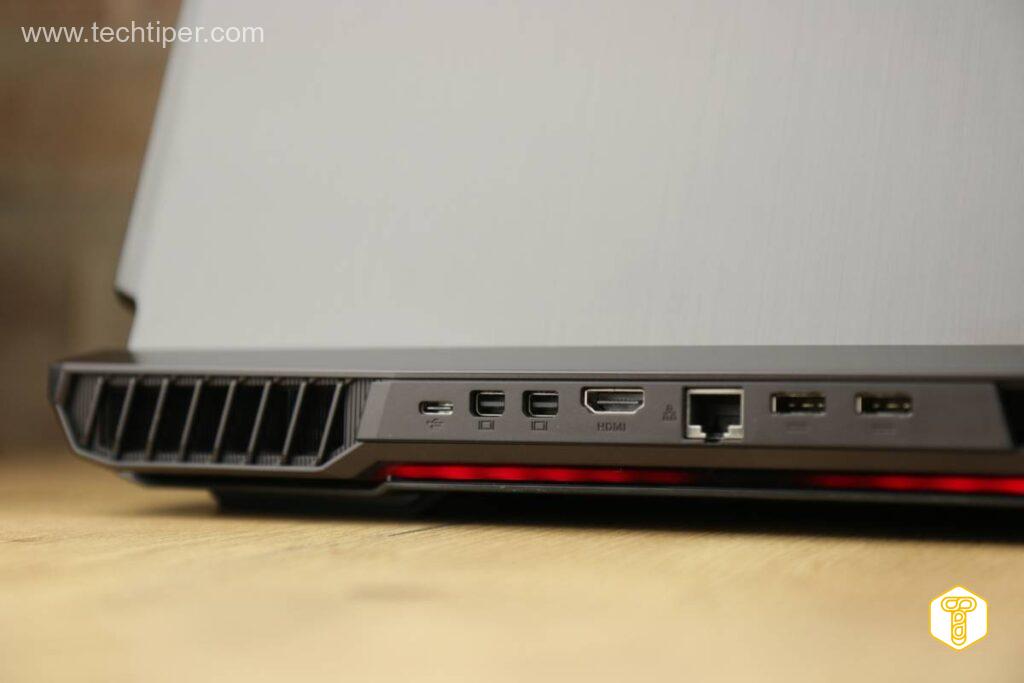 The height of the edges makes individual joints get lost in all of this. Of course, this is due to the components and the huge cooling system that makes itself felt on practically every side. Nevertheless, the arrangement of the elements makes sense. You can find a good old school in it. Behind the removable battery, there are separate, readable LEDs and a separate microphone socket. Of course, the headphone is a 2-in-1 jack and supports microphones at the same time.
A lot of cover, although it could be more stable
Due to the overall size, opening the lid is easy. Theoretically, the manufacturer did not apply any facilitation in this matter, but he did not have to. Surprisingly, the hinges used do not allow the screen to be tilted 180 degrees, although the offered range is acceptable. The hinges are slightly worse in terms of depreciation. Each poke takes a moment for the screen to stop shaking.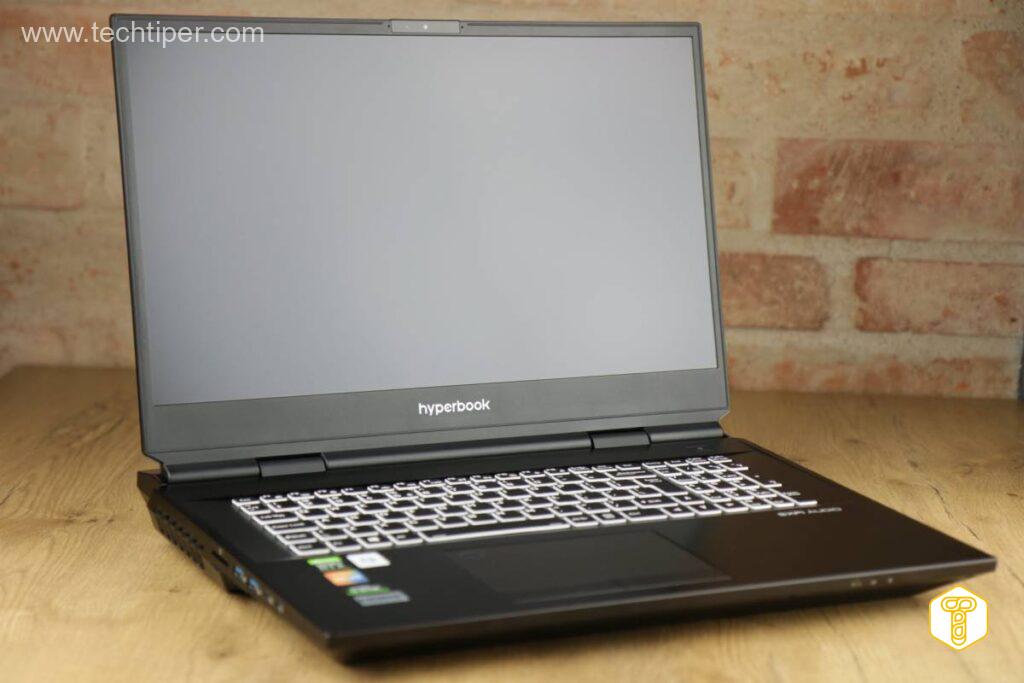 By the way , the company did not try to limit the size of the frames , which of course is partly due to the construction itself and the lack of such a need. Only the 16:10 panel could fit in interestingly. Nevertheless, above the screen we find a camera for video calls, which was certainly not a priority for the manufacturer. Next to it you can see microphones, which I also rate average.
Comfortable keyboard and an unusual fingerprint reader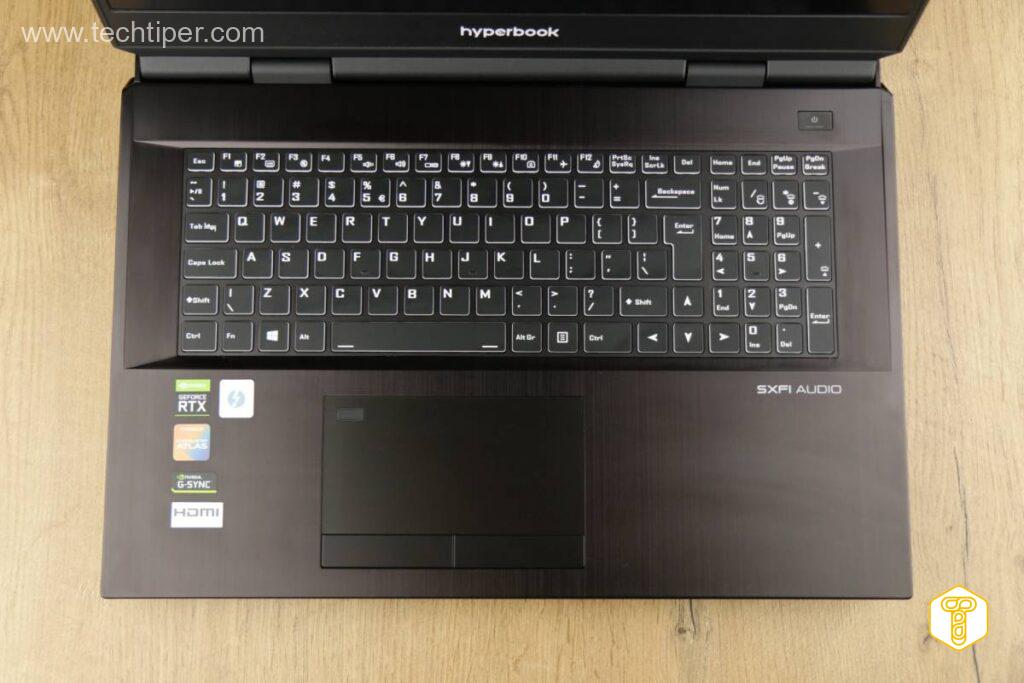 Moving onto the palmrest, we again greet easily messy brushed aluminum. From the top, we see a switch with a diode , and below the keyboard, which is well known from other manufacturer's propositions. Among them is, for example, the Hyperbook NH7, which I have already tested for. Therefore, I can repeat that this is a convenient set of keys that even without backlighting stands out. Comfortable jump and clear arrangement of buttons do not cause problems both in games and during office work. For this let's add RGB backlight, configurable per key and quite a lot of shortcuts, which you initially need to get used to.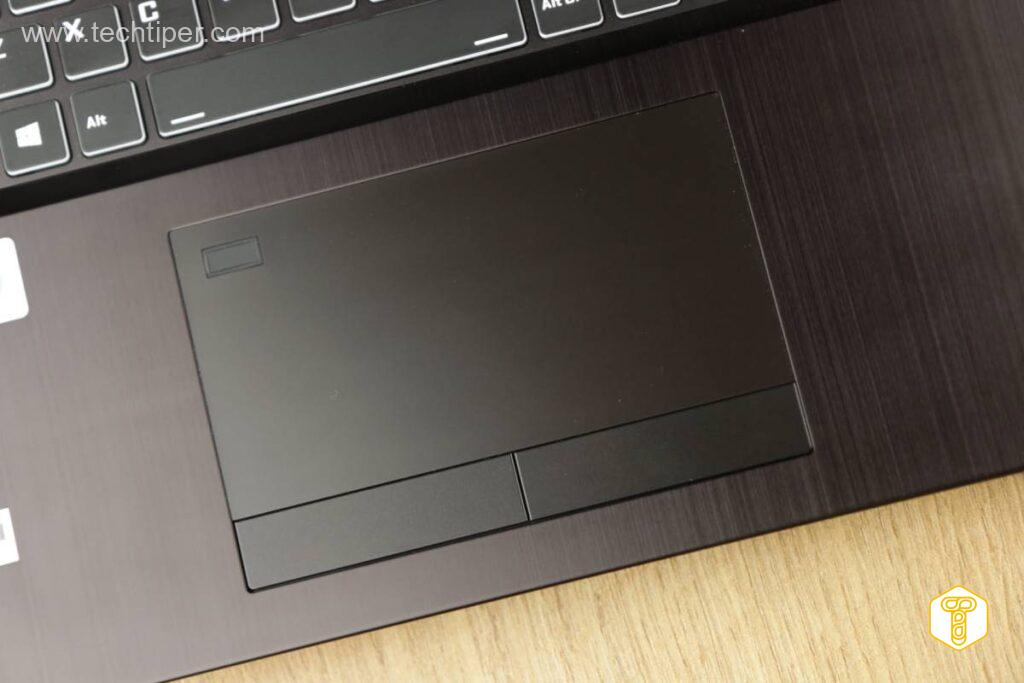 Meanwhile, the touchpad surprises with the use of physical action keys. They are quite unresponsive, but you can swallow it in the long run. The size feels acceptable, as is its roughness and gesture recognition. The surprise at this point is the fingerprint reader that works properly. The field of average size means that sometimes you have to put your finger on several times to ensure that the device is sure of the recognized user.
Display and image quality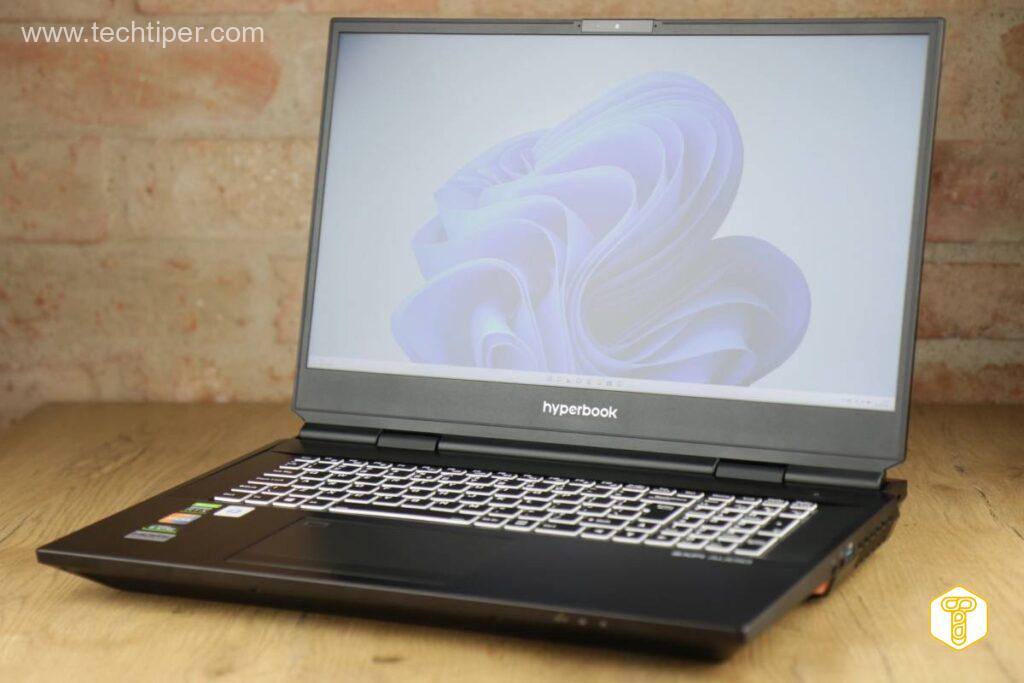 The Hyperbook GTR is great not only because of the components but also the size of the display. The over 17-inch panel is offered in two versions, which differ in the refresh rate: 165 or 300 Hz. Nevertheless, the latter variety is hard to come by. Therefore, let's focus on the tested unit, the panel of which is… okay. It is not a revolution, but it is also far from tragic. In a way, 4K resolution may be lacking, but 2K also allows you to use the large matrix well. Brightness? Standard, which is about 300 rivets evenly distributed, which is more than enough indoors.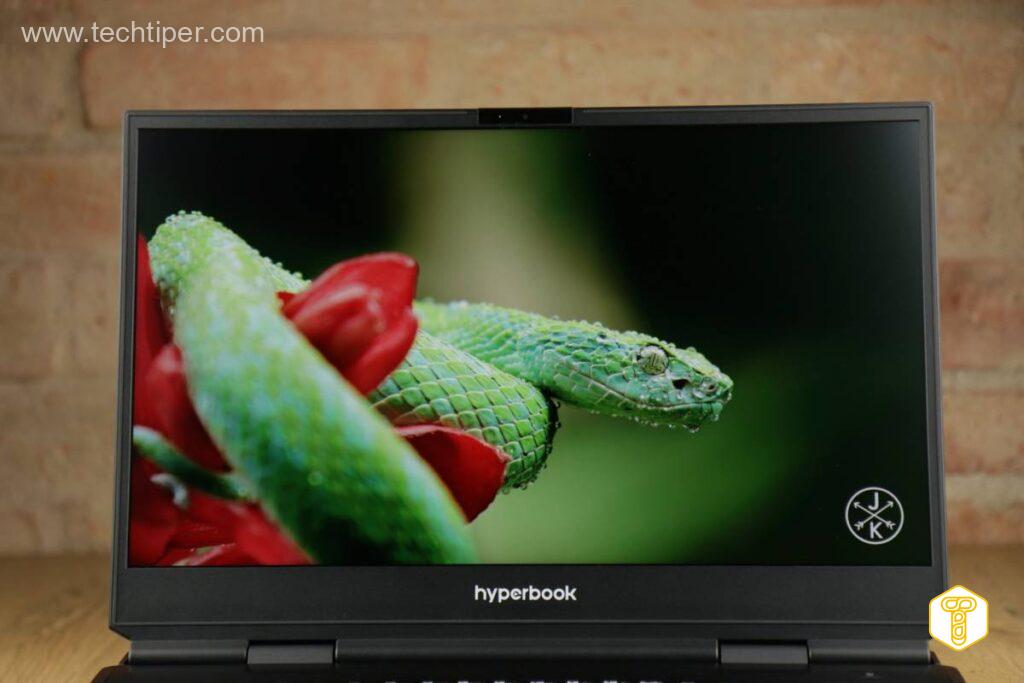 The problem, however, is the backlight leakage on the upper and lower edges, which may in part only be a feature of a specific test specimen. Color palette? Close to 95% for sRGB and less than 70% for DCI-P3so also the correct standard. On the plus side, I can certainly pass a good calibration out of the box (deltaE <2). The mentioned refresh rate is flawless. Especially that we are talking about a panel with G-Sync support, so I just have nothing to complain about.
Battery – working and charging time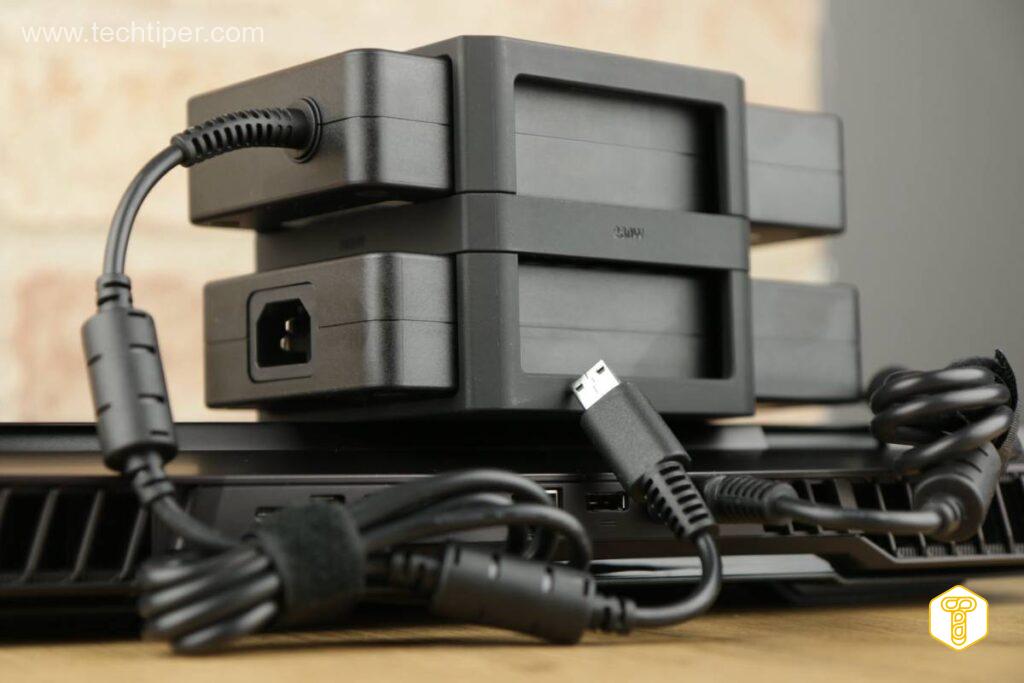 The two batteries in the set are not due to the fact that Hyperbook gave one as a spare. Quite simply, the GTR has such a huge power requirement that 2x 280 W is required to run at full capacity. Yes, this laptop is a stationary machine enclosed in a mobile housing , so you have to take into account a lot of energy consumption.
At the same time, it's hard to expect great work on the battery itself. This one is large, but it is enough for about 2 hours of working on the Internet or watching movies. The equipment has a chance to survive for about 1 hour at full capacity. In turn, full charging takes less than 1.5 hours.
Software and performance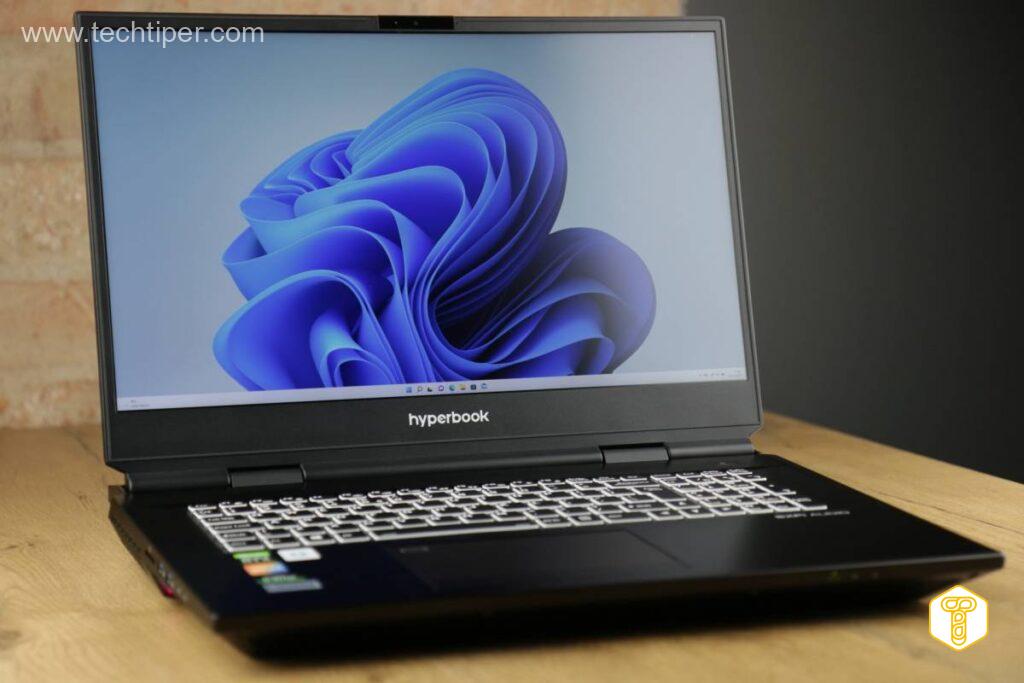 Hyperbook does not pay much attention to its software. Fortunately, there is not much of it, but you can see that the company was not yet ready for Windows 11, which came to GTR quite quickly. Some applications stopped working properly and it was necessary to combine them to run them at all. In the end, I was unable to run only the CPU overclocking tools, so I leave this issue aside. On the other hand, the rest of the available laptop management programs are behind them. Nevertheless, they do work, and this is the most important thing.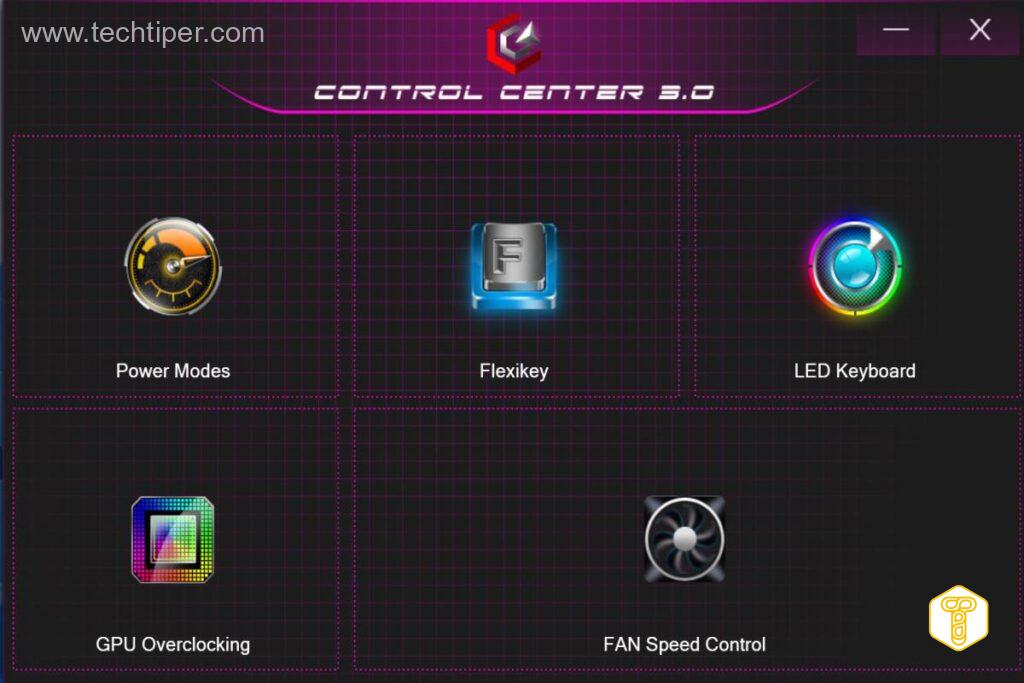 Therefore, we can quickly control the laptop's work profile, adjust its RGB backlight, as well as the speed of the fans (including their cleaning). We also have a tool for recording macros on the keyboard and mouse. Let's not forget about the advanced tool for managing the Wi-Fi network in the form of Killer Control:
Temperature and volume
We are talking about a laptop that focuses primarily on performance. It is large and heavy, so the cooling system is also quite large. At the same time they are efficient, but not necessarily quiet. The fans are clearly jumping rather than smooth, and they go into high speed quickly. Even when working in the browser, they can reach about 50 dB, and this is clearly audible. Fortunately, we are able to bring this value down to an acceptable 35-40 dB when we set the appropriate energy management mode. Of course, at the expense of performance. The fans easily generate noise close to 65 dB under full load.
However, a lot of noise is compensated by low temperatures on the housing. Quite imperceptible, which in a way results from the structure itself, where there is a lot of free space and it allows for free heat exchange. Thus, the palmrest heats up to a maximum of 34-35 degrees Celsius under full load. These are values ​​unattainable by many laptops.
Read Also: MSI GS76 Stealth review: gaming laptop with powerful hardware and weak speakers
Benchmarks and performance
Will I surprise someone when I write that the equipment can handle everything in the highest settings? The Witcher 3 over 120 fps, Watch Dogs: Legion close to 100 fps, Dirt 5 similar. Even Cyberpunk 2077 is getting closer to 90 fps. , and last year's Hitman 3 exceeds 200. Literally nothing was able to bend the Hyperbook GTR. Likewise, everyday work thanks to super-fast drives has shown that it is a laptop that is hard to bend with anything. Ah, remember that the above benchmarks were made without overclocking the components. At the same time, I did not notice excessive thermal throttling.
Hyperbook GTR review – summary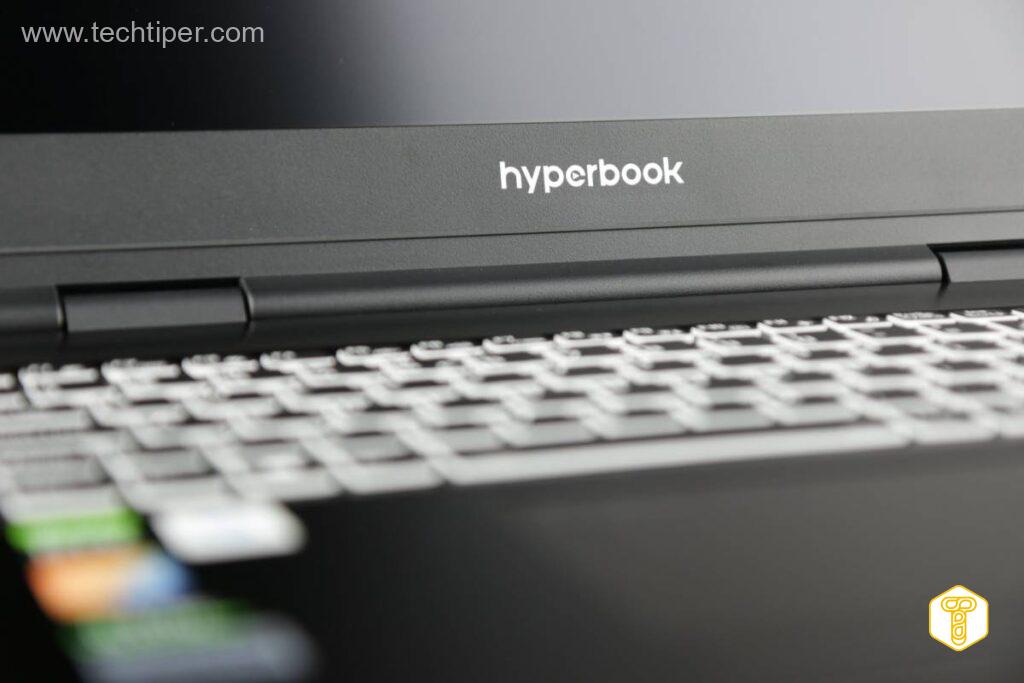 Of course, the Hyperbook GTR is a unique piece of equipment that you most likely won't find on a coffee table. However, this is not his role. It is a super-efficient computer with components that can be freely replaced. The multitude of configurations also makes an electrifying impression. Likewise, the price. The main problem comes down to the housing. In theory, we shouldn't expect ultrabook quality, but a better finish would be appreciated.
Benefits
Automatic cleaning
Strong suction power
Vacuum and wipe at the same time
Rarely gets stuck or crashes somewhere
Multi-stage air filtration with HEPA filter
Several levels of cleaning floors and lifting the cleaning cloth
Supports multi-level maps, timetables, boundaries and zones
Disadvantages
It costs expensive
Wipes with water only
Makes a lot of noise when cleaning carpets
---