Looking for a powerful 17-inch laptop that's easy to carry around? The MSI GS76 Stealth will prove to be an excellent choice. High performance here is provided by an Intel Core i9-11900H processor, 32 GB of RAM and an NVIDIA GeForce RTX 3070 graphics card.
On the other hand, the display lacks brightness, the case heats up, and the speakers are weaker than the competition. You will learn about many features and differences of this laptop from my review.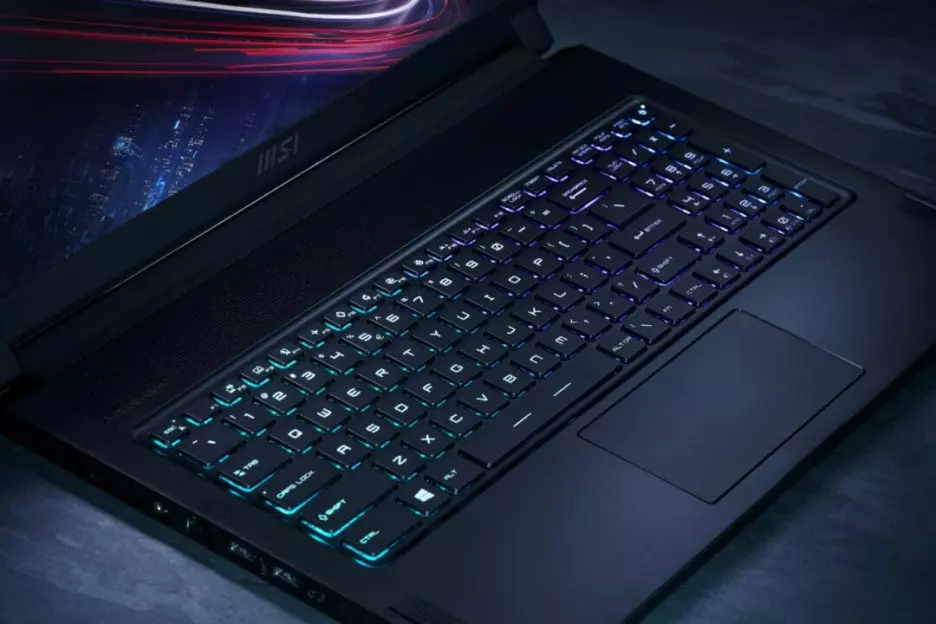 Specifications MSI GS76 Stealth
| | |
| --- | --- |
| Screen | 17.3″ IPS (1920×1080), 360Hz, 100% Adobe RGB, 300nits brightness |
| CPU | Processor Intel Core i9-11900H Tiger Lake (11th Gen), Clock speed 2.5 GHz, TurboCore 4.9 GHz |
| video card | NVIDIA GeForce RTX 3070 8GB GDDR6 |
| RAM | 32 GB DDR4-3200, 2-slot SO-DIMM, max. 64 GB |
| Inner memory | 1TB 2-slot M.2 SSD |
| Communication and connection | Killer E3100 LAN (up to 2.5G), Killer WiFi 6E AX1675 (2×2), Bluetooth v5.2 |
| Operating system | Windows 10 Home |
| Webcam | IR type HD (30 fps at 720p) |
| Audio | 2 speakers from Dynaudio |
| Safety | Face ID scanner, kensington lock |
| Ports and connectors | 1×Type-C (USB/DP/Thunderbolt 4) with PD charging + 1×Type-C (USB3.2 Gen2/DP) + 2×Type-A USB3.2 Gen2 + 1×RJ45 + 1×SD (XC /HC) + 1×HDMI |
| Battery | 99.9 Wh capacity, up to 11 hours battery life, charging via USB-C (Power Delivery) |
| Dimensions | 396×259×20 mm |
| Weight | 2.45 kg |
Configurations and Versions
There are various builds of the MSI GS76 Stealth on sale, I tested the average cost, with an Intel Core i9-11900H processor, 32 GB of RAM, a GeForce RTX 3070 graphics card with 8 GB of video memory and a 1 TB SSD. The display has a diagonal of 17.3 inches, a refresh rate of 360 Hz and a resolution of 1920 × 1080 pixels.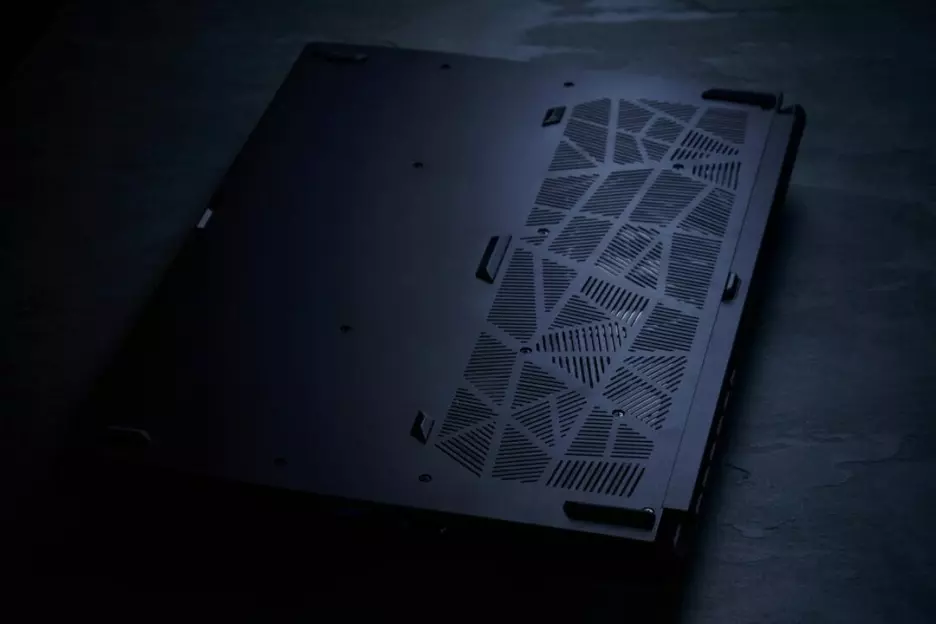 There is a simpler model: a Core i7 processor, an RTX 3060 graphics card, 16 GB of RAM, a 512 GB SSD and a 1080p screen. Buying the most expensive version of the GS76 Stealth will get you an RTX 3080, 64GB of RAM, a 2TB SSD, and a 4K display.
Design and connections
The MSI GS76 Stealth has a simple but stylish design, only the MSI logo is placed on the back of the cover - it is made of black aluminum.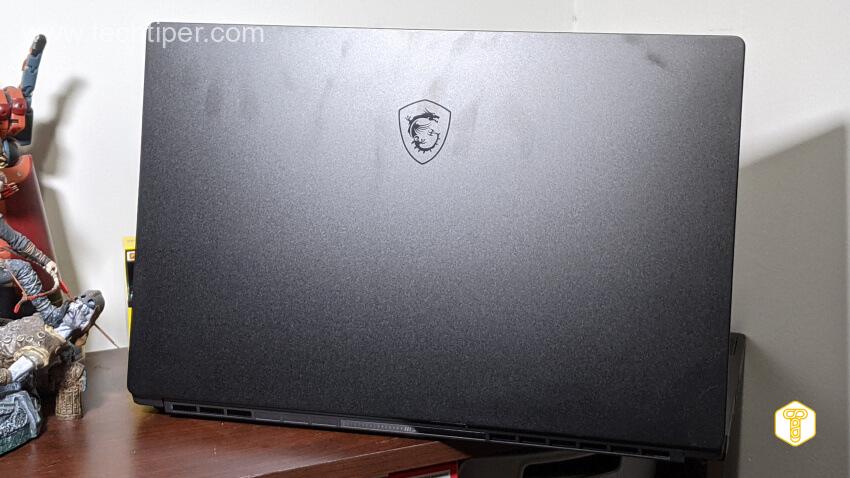 Lifting this cover is like opening the door of a premium car. Inside, you'll find a sleek glass touchpad, a huge, nicely backlit keyboard, upward facing speakers, and a large rectangular fan grille.
The bezels around the display are not wide, the webcam is placed at the top. Dimensions MSI GS76 Stealth – 39.6 × 25.9 × 2.0 cm, weight – 2.45 kg. The case is thinner than many 15-inch laptops, so the device can be easily taken with you.
The GS76 Stealth has plenty of connectors. On the left is a USB-C that supports charging, an RJ45 Ethernet port, two USB-A and a headphone jack. On the right is an HDMI port, one Thunderbolt 4, an SD card reader, and one USB-C. The only thing missing is Mini DisplayPort.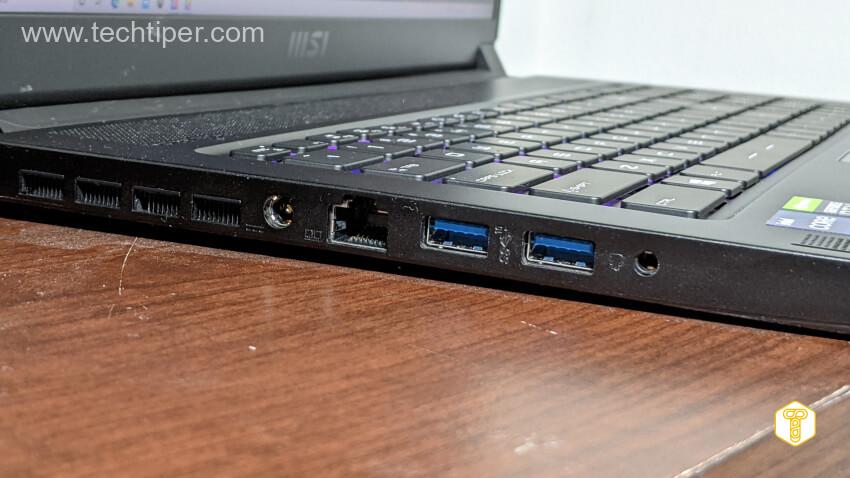 Laptop screen
The MSI GS76 Stealth has a large 17.3-inch display with a resolution of 1920×1080 pixels and a refresh rate of 360Hz.
With its high frequency and rich colors, the screen is suitable for gaming and watching movies. The DCI-P3 color space is 112.1%, which is excellent for a gaming laptop. But the brightness of 300 nits is often not enough – all competitors have it much higher, and this is one of the main problems of the GS76 Stealth.
Keyboard and touchpad
Although the chassis is slim, typing on the MSI GS76 Stealth keyboard from SteelSeries is comfortable and convenient.
Beautiful RGB color backlighting is customizable for each individual key in the SteelSeries Engine 3 application. The only drawback of this keyboard is that the Fn button is located on the right.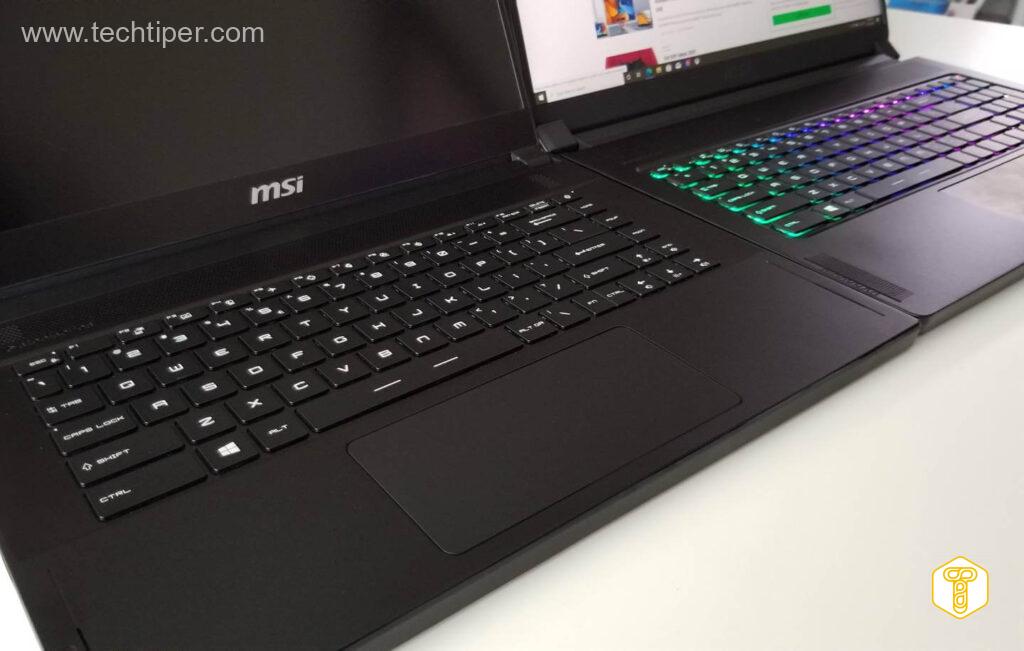 The 11.9 x 6.1 cm touchpad on the GS76 Stealth feels small by today's standards, but you quickly get used to it. The surface of the panel is smooth, although the feedback when pressed is insufficient. But all Windows 10 gestures are supported and there is FaceID facial recognition technology.
Sound quality
Good speakers are rare on laptops, even among top-end models, alas, the MSI GS76 Stealth is no exception.
The upward-facing speakers produce a weak sound, and artificially boosted bass makes the situation even worse. Effects in games do not sound clear, even setting through the Nahimic application does not help. If the speakers are weak, no equalizer will save them, so you can't do without headphones in the case of the GS76 Stealth.
Webcam
A 720p webcam is installed above the display of the MSI GS76 Stealth, alas, the webcam is practically useless.
There is a lot of noise on the video, it will be difficult for the interlocutor to make out even the inscriptions on your clothes. Colors are washed out and objects in the background blend into each other. In general, if you plan on using your webcam frequently, get some external peripherals.
Software
The MSI GS76 Stealth is managed and configured using the MSI Center program, which replaced the MSI Dragon Center.
The functionality of these two programs is the same, but the interface now looks more professional and cleaner. In MSI Center, you can check the temperature of internal components and their workload, adjust performance, download updates, and get general information about the system.
The MSI True Color app gives you access to display settings. Windows 10 has several pre-installed games like Solitaire, Hidden Object Finder, Roblox and a number of others.
Performance and heating
Since the version of MSI GS76 Stealth I tested has an Intel Core i9-11900H processor and 32 GB of RAM, the laptop performs any tasks instantly.
You can have a game open in the background, dozens of Chrome tabs, and five YouTube videos, and you won't notice any lag. In the GeekBench 5.4 performance test, the MSI notebook scores 8102 points. For example, Lenovo Legion 5 Pro on AMD Ryzen 7 5800H has only 7342 points, while Alienware m15 R4 has 7636 points.
One of the performance issues of the MSI GS76 Stealth is that it gets very hot. After just 15 minutes of gaming, the temperature of the bottom surface of the case reaches 45 ° C, which is above the comfortable level. The keyboard reaches 38°C in the center and 29°C in the touchpad area. And this happens even while watching a video, not to mention games and "heavy" applications.
Graphic features
The MSI GS76 Stealth uses an Nvidia GeForce RTX 3070 with 8 GB of VRAM, enough graphics card power to get high frame rates in any game.
In Assassin's Creed Valhalla, I got 53 fps on max settings at 1440p. The performance test of Shadow of the Tomb Raider at 1080p with the highest settings produces 84 fps.
If you run GTA V on "Very High" settings at 1080p, the GS76 Stealth will get you 102 fps, while the Legion 5 Pro has 84 fps here and the Gigabyte Aero 15 has 96 fps.
Autonomy MSI GS76 Stealth
Gaming laptops rarely have long battery life - especially top-tier models with the most powerful hardware.
However, the MSI GS76 Stealth is equipped with a 99 Wh battery, which is enough for 5 hours of autonomous use. The rival Alienware m15 R4 runs out of power in 4 hours, but the Legion 5 Pro can last up to 6 hours thanks to its power-efficient AMD processor.
Read Also: How to choose a Laptop for Gaming. Which kind of laptop is the best for gaming?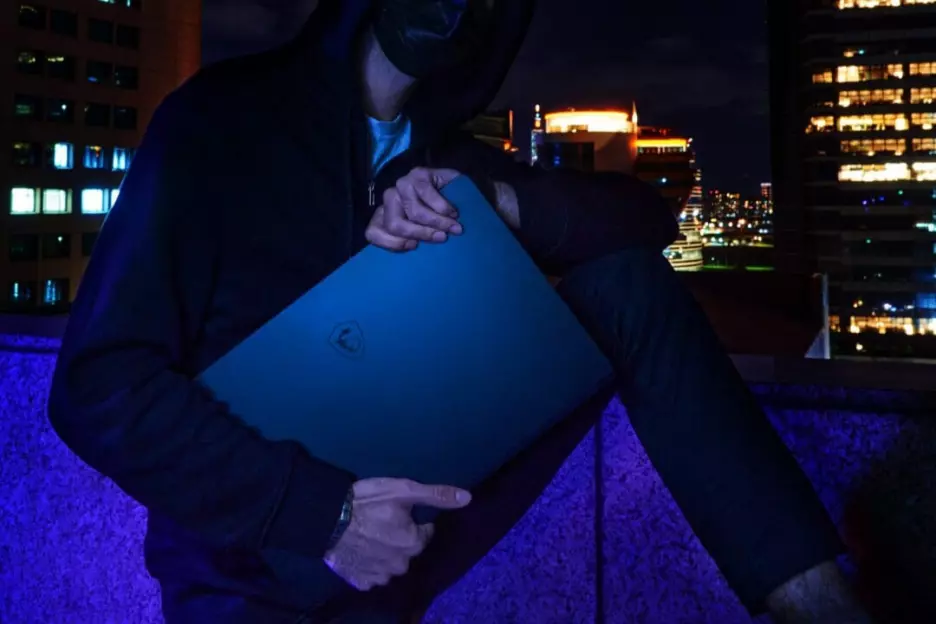 Outcome
The MSI GS76 Stealth is a great gaming laptop with powerful hardware, a comfortable keyboard and long battery life on a single charge.
On the other hand, the display lacks brightness and the speakers are not of the highest quality. The case quickly heats up to an uncomfortable state, especially from the bottom – you can't put a laptop on your knees.
Is it worth buying
Despite the shortcomings, MSI's GS76 Stealth can easily handle any modern game at high frequencies, so you can close your eyes to the little things.
---
About Post Author
MSI GS76 Stealth Review
Design and ergonomics

Display and multimedia

Keyboard and input devices

Connectors and ports

Performance

Communication and connections

Autonomy of work
Summary
The MSI GS76 Stealth boasts strong performance, long battery life and a comfortable keyboard, but the display and speakers could be better.