Onyx is one of the first manufacturers to install e-ink color screens. And with the Boox Nova Air C model, the company could become one of the most important players on the market of digital color readers. You can upload any text e-book, magazine or comic here, and the tablet can handle it. Moreover, the competition is not able to offer similar equipment, such as a color screen or a stylus. However, is there any "but" …?
The device combines a lot of advantages that are attributed to both tablets and e-book readers. Onyx Nova Air C is the fruit of a quite successful marriage of what is good in tablets and what we like best in readers. Plus, it's a digital notebook.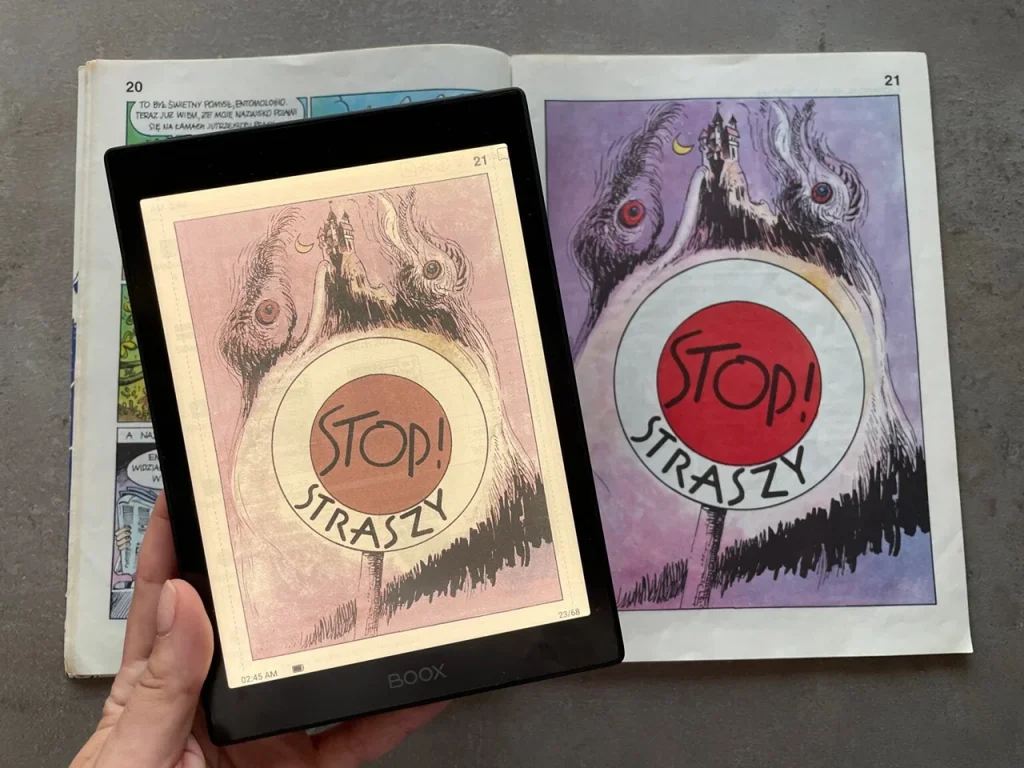 Will taking notes on paper become a thing of the past for good? With the Nova Air C Onyx model it shows that this can happen. It offers a device that is more than an e-book reader, although it cannot be called a full-fledged tablet yet. You can use them to read books and comics, to browse materials for study or work, as well as to take notes, which by using the color and the stylus included in the set makes this activity much more pleasant.
Despite its polished look, great features and versatility, the Onyx Boox Nova Air C may not find many buyers due to its price. It is high, both for the reader and the tablet.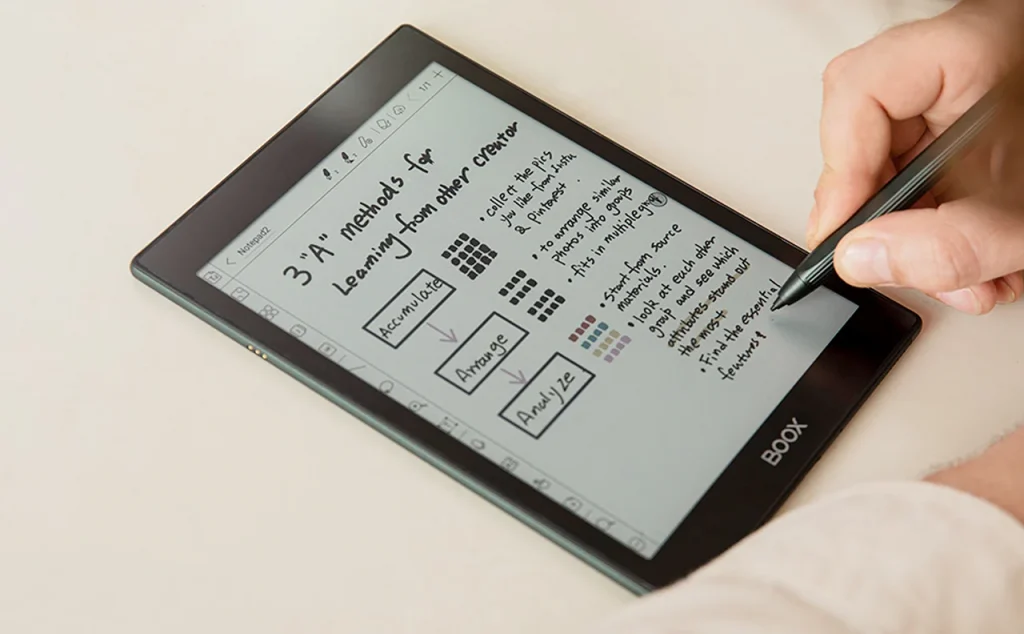 Users have different needs and different expectations. Onyx Boox Nova Air C will certainly be a dream device for many, and a strange device for others, which not only does not know whether it is a tablet or a reader, and also costs too much. However, if you are interested in a multifunctional reader with a color screen, I invite you to the review:
Boox Nova Air C specification
Onyx Boox Nova Air C is probably one of the strongest readers on the market. But probably also one of the few that have Android 11 on board.
Resolution: 1872 × 1404 pixels
Screen: 7.8-inch diagonal, Kaleido Plus display, backlight with 36 white and amber LEDs
Capacity: 32 GB eMMC
Processor: 8-core Snapdragon 662 clocked at 2 GHz
RAM: 3 GB
Audio: microphone, speaker
Supported formats: TXT, HTML, RTF, FB2, FB2.zip, DOC, DOCX, PRC, MOBI, CHM, EPUB, JPG, PNG, GIF, BMP, PDF, DjVu, MP3, WAV, CBR, CBZ
Connectivity: Wi-Fi 802.11 b / g / n / ac, Bluetooth 5.0, USB-C (OTG)
Battery: Li-Pol, 2000 mAh, QC 4.0
OS: Android 11
Dimensions: 194 × 136.5 × 6.3 mm
Weight: 235 grams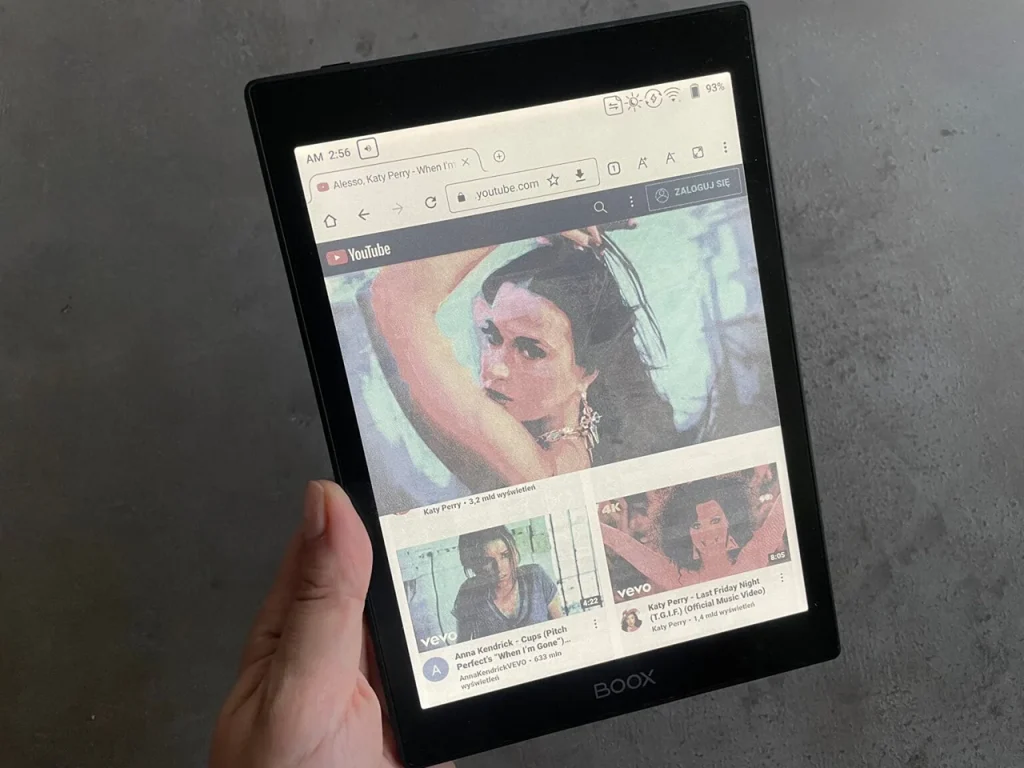 Set – elegant and modest
Onyx Boox Nova Air C is packed in an elegant, black cardboard box with a colorful inscription "Like a tablet, unlike any tablet". At the bottom, the most important information about the reader and its specification are listed. Inside, in addition to the tablet, there is a laconic manual, a charging cable and a magnetic WACOM stylus (BOOX Pen Plus).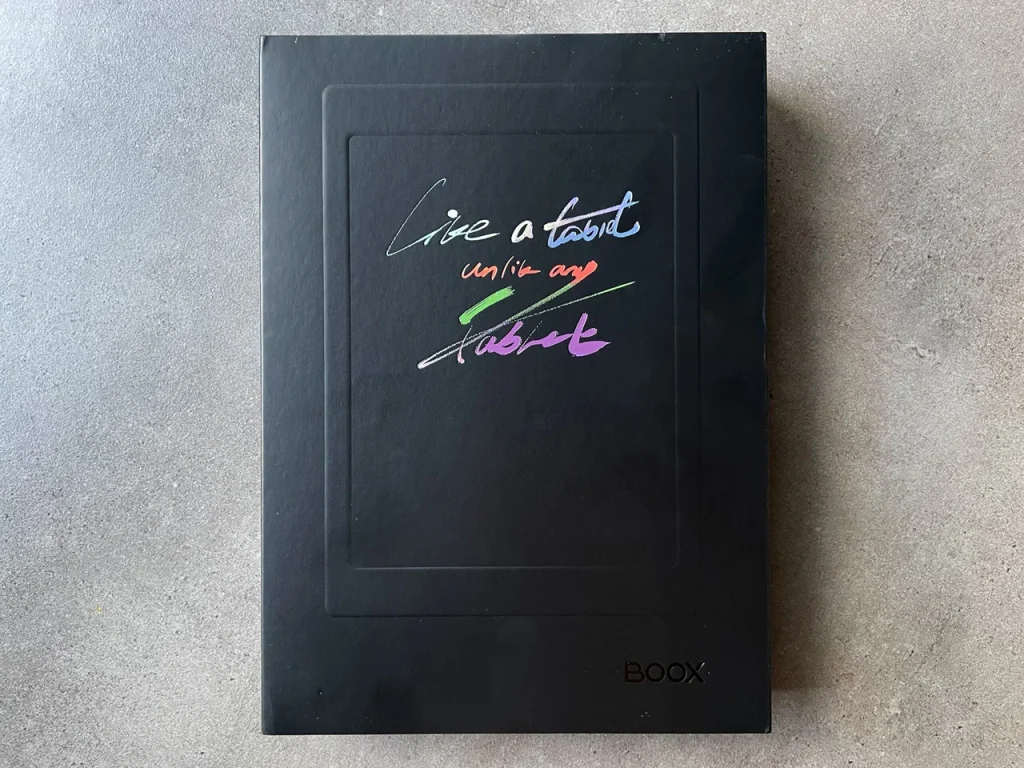 Slim and handy – tablet design
In terms of construction, Onyx did not strive for originality. It is a rectangle made of plastic and glass with a matte black (with a slight shade of green) finish. It looks elegant, and the matte backs do not attract fingerprints – although they pick up grease very easily.
There is a power button on the upper edge, while the lower one has a USB-C port, two fairly average speakers and a microphone opening. On the left edge you can see three pins that are used to attach the case. On the right side is a magnetic connector for attaching the included stylus.
The WACOM stylus is an important element of the set, which constitutes a significant added value. Without it, the Nova Air C would only be a reader, and so it also becomes a digital notebook.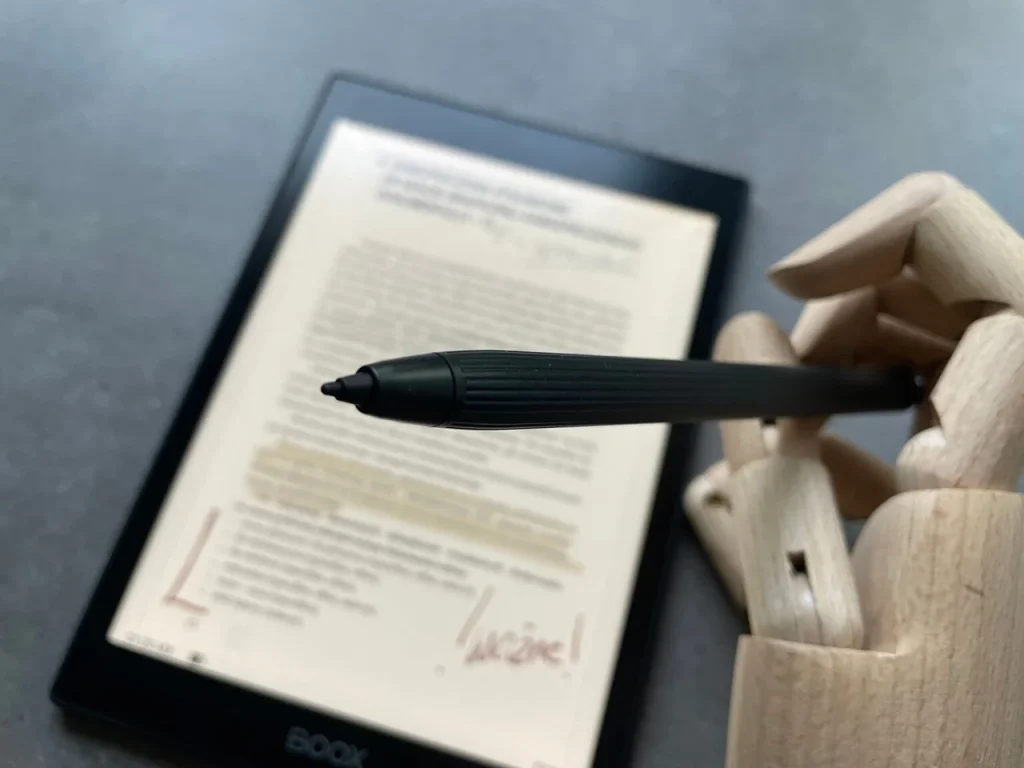 Not only does it allow you to save and mark within the read texts – there is also a very extensive application for taking notes. The stylus offers 4096 levels of pressure sensitivity and a magnetic mount. The stylus has a diameter of 9.5 mm, and the round shape makes it comfortable in the hand. It is 155 mm long and weighs just 15 grams.
Boox Nova Air is quite compact, slim and fits comfortably in the hand. What's more, it easily fits in a purse or backpack – and mobility is very important when it comes to this type of device. It should be noted that the tablet is not waterproof, and the temperature range in which it can operate is 0-50 degrees.
Kaleido Plus screen – a colorful accent in the world of readers
Few manufacturers offer color screen readers made in e-ink technology. It is a technology that has great potential but is still imperfect.
Size – there is not enough space
Initially, I was a bit skeptical of the relatively small size – 7.8 inches – as I wanted to use the Nova Air C to read comic books and magazines. However, it turned out to be unfounded, the content looks very good, and I also had no problems with the readability of the content and the details of the images. Well, unless they were scaled from A4, then in fact details can get lost and smaller texts become impossible to decipher. In the case of texts in a smaller format, there was no problem. Moreover, when taking notes, there was usually no shortage of working space here.
The panel offers a resolution of 300 ppi (1404 × 1828), but this is for a layer in 16 shades of gray. Above the monochrome screen there is one more layer with a resolution of 100 ppi (468 × 624), which displays 4096 colors. Before we go any further, it's worth writing a few words about the technology behind the colorful e-ink screens.
Kaleido Plus – what is this technology about?
The Nova Air C model uses the Kaleido Plus panel by E Ink. Let's start with the technology itself, which, according to the manufacturer's website , uses the following layers: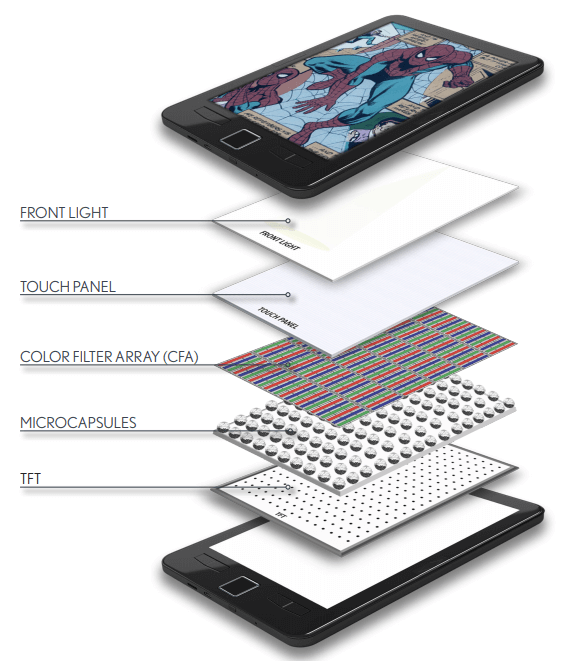 E Ink Kaleido is based on two main layers – traditional e-paper, i.e. microcapsules with ink, and a Color Filter Array (CFA) layer in lower resolution. The whole is complemented by backlighting with LEDs placed around the screen, which cast light on it.
In relation to the older technology of E Ink color screens, in the newer version of this display, the manufacturer has modified many elements to obtain even better quality. Improved incl. pixel grid pattern and brought closer to the ink layer to produce brighter colors with better text quality.
The backlighting and text rendering algorithms have been improved to make it easier to read. Thanks to the new color technology, it was possible to introduce tablets not only for reading, but also for taking notes, which opened up new possibilities for educational and professional devices. It is worth adding that in recent weeks , the E Ink Kaleido 3 technology, improved compared to Kaleido Plus, debuted .
Colors – washed out, but present
And although readers with color screens are brilliant for people who are not limited to reading only books, they must be aware of the limitations of the technology used. It is primarily about imperfect, matte, poorly saturated colors. Anyway, see the following comparison of the same comic book fragment viewed on a color e-ink screen and with an LCD panel: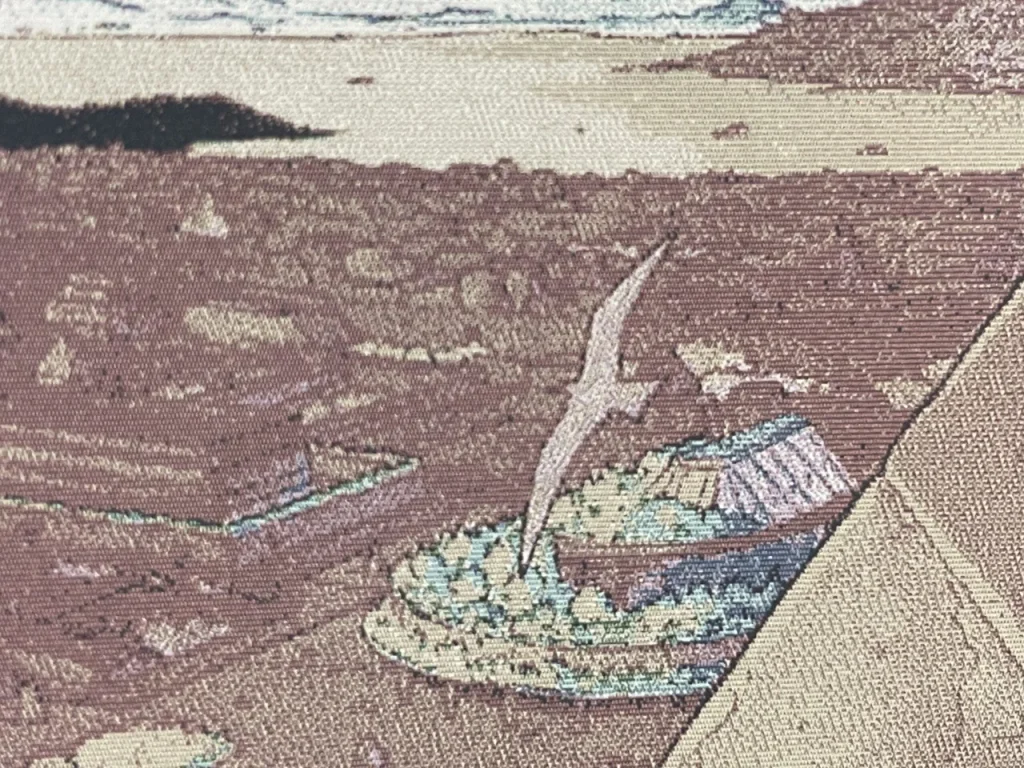 Washed colors are not the only problem - the color layer has a much lower resolution (100 ppi) than the gray layer (300 ppi). It just makes the details disappear.
Backlight – cold or warm, but essential
For this reason, colored e-book readers need the backlight to be left on so that they can be used relatively comfortably. And good outdoor lighting. Without it, the image is just too dark. The reviewed Onyx reader allows you to set the backlight with adjustable color – a separate slider is for warm and cold light.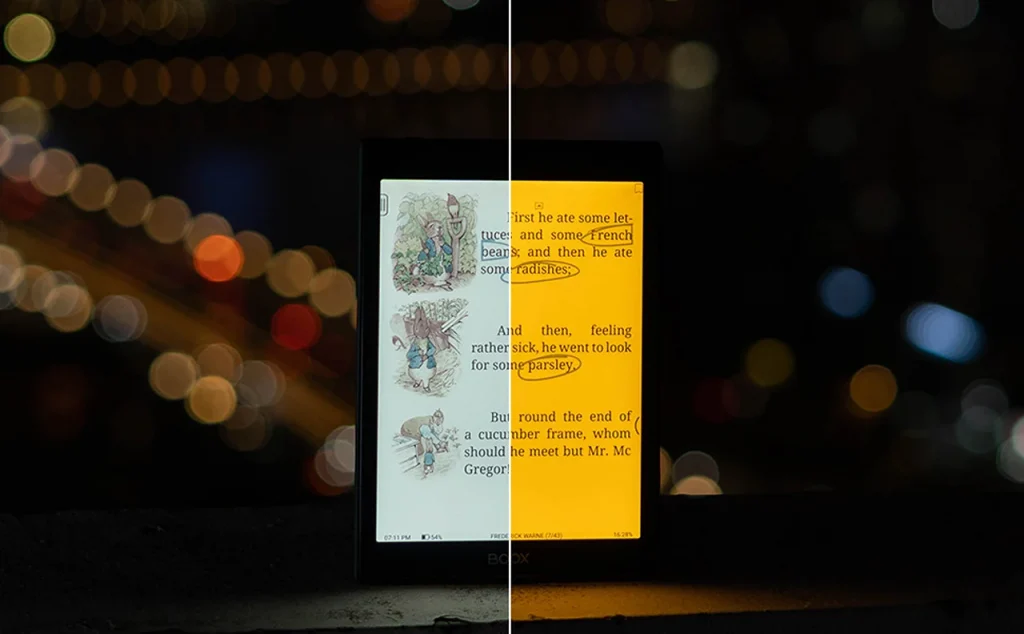 The advantage is that you can use it literally anywhere, in all lighting conditions, and in the dark, in full sun. The bad news is that in most cases the screen will need a backlight – it's just too dark without it. Unfortunately, this translates into higher battery consumption and shorter working times.
Contrast – the devil is in the details
It also seems to me that the contrast even in the case of texts is slightly weaker here than in standard monochrome readers. This is due to the presence of a pixel grid belonging to the colored layer.
Moreover, due to the layered structure, the reader is not able to provide a white background – it is always grayish, even with full LED lighting or in the sun. And that also translates into contrast. I compared the text displayed with the Kindle Paperwhite 4 and Boox Nova Air C readers here:
Android 11 – version for the reader
After starting the device, the first step is to select the language – Hindi is also available among the available ones. Next, you need to accept the privacy policy, set the date and time, power-related functions (automatic sleep and shutdown timeout).
The next part of the first configuration is choosing the method of expanding the top panel and gestures (you can optionally set them later through the Gesture Manager), as well as calibrating the stylus, which is an integral part of the set. Moments later, you can use the tablet.
The layout of the interface is neither particularly visually attractive, but fairly simple. There are three main areas here: the system bar, the function bar and the rest of the space where the selected content is displayed.
At the top there is a system bar that displays the current status of the device: battery status, active communication modules, time, running applications and more. It can be further expanded with a downward movement of the finger, which reveals the control panel, i.e. a number of additional icons and sliders for device configuration (Wi-Fi, Bluetooth, backlight and volume sliders) and a set of shortcuts. There is an area for notifications below.
From the bottom, there is a panel called E Ink Center, which allows you to modify the displayed colors: you can boost dark colors, increase the brightness and brightness, and set the page refresh interval (normal mode, speed mode and A2 mode).
On the left side there is a function bar that gives access to the Library, the Store (with ebooks, dominated by English-language books available in the public domain), Notepad, Device Memory, Apps and Settings. The remaining space is occupied by an area with content depending on the selected functions.
Here are the individual functions available through the main interface:
It is worth taking a closer look at the applications tab, where there is a lot of useful software and a store from which you can download additional applications from selected categories:
It is also worth paying attention to the menu with settings. Compared to typical readers, the multitude of functions and settings related to personalization is impressive:
Reader for everything
Onyx Boox Nova Air C is not limited to one type of materials or selected formats. It works with PDF, AZW3, CBR, CBZ, EPUB, and MOBI files, so it basically opens up virtually anything you throw into its memory.
I checked several magazines, comics and books in various formats here – and in most cases I was completely satisfied with the result. Everything up to B5 looks great and is perfectly legible. In the vertical layout, the problem was at best with materials in a larger format, but then you can always rotate the image.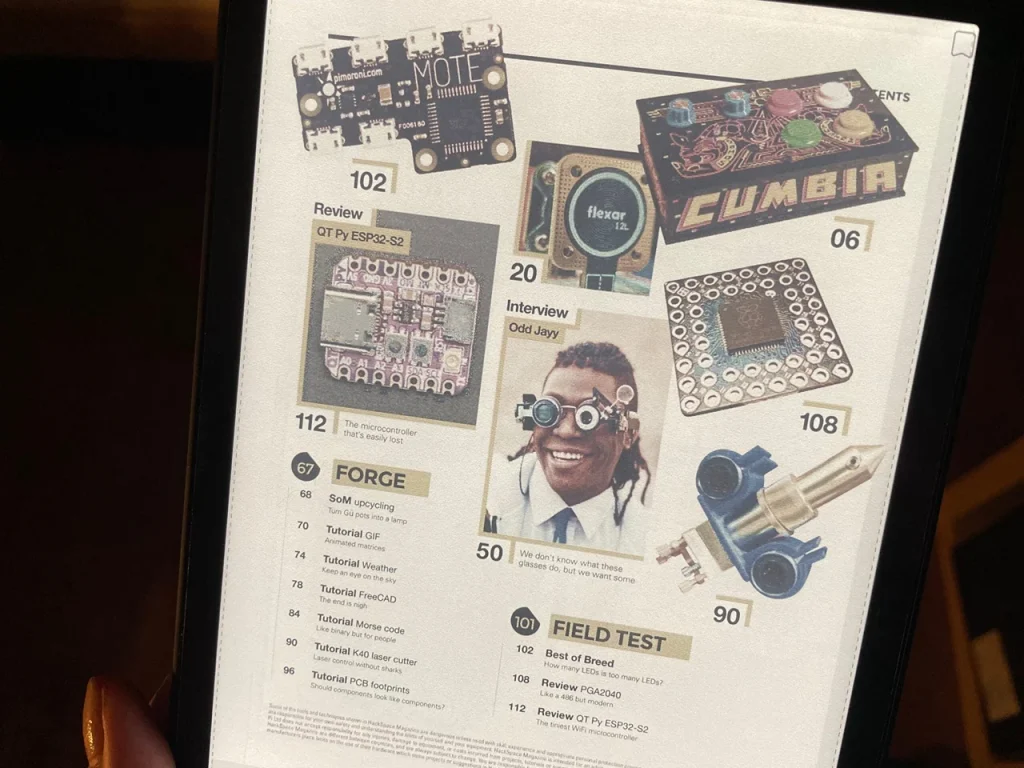 The user also has a lot of options related to the personalization of the virtual library. He can filter and sort it, view it by displaying covers or as a list. Reading statistics are also available.
Individual items from the library open in full screen view, but you only need to touch the center of the page to display an additional menu that allows you to navigate faster, add notes or change page scrolling parameters or the appearance of the content.
Add to this the fact that you can install additional applications with access to a virtual library (synchronizing the Amazon account was easy), and also take notes while reading. Onyx Boox Nova Air C beats the competition in many respects. Of course, this comes at a price.
It should be added that the reader gives you access to the Google Play Store, but the activation process is a bit more complicated:
Following the steps shown in the video actually allows you to activate Google Play in Boox Nova Air C and use the richness of this store's apps.
Notes tool
In addition to the possibility of taking notes within the texts from the files from the Library, there is also an application intended only for taking notes. And its functionality should satisfy all people who prefer a digital form of taking notes.
What is worth emphasizing? Firstly, the user can work with layers, secondly, he can choose different types of pens, their thickness and color (16 colors to choose from), and thirdly, he can remember a few of the most frequently used pens and add them to his favorites (they will be available in the top bar). You can also add shapes, expand the notes workspace (in case the screen diagonal is too small), text recognition (OCR), both handwriting and dictation.
There is really a whole lot of functions that will satisfy probably every user in this aspect. What's more, it all works quickly, and drawing a shape or typing text appears on the screen immediately, without the slightest delay.
Working times
To charge a completely damaged device, I used a laptop charger (USB-C is a great standard) and after 30 minutes the charge was about 40%. After another 30 minutes, it was already 80%, and another half an hour later - 100%.
Much more important, however, is how quickly the Boox Nova Air C consumes the battery in everyday work. Compared to a typical tablet, the working times are good, but compared to a typical reader, such as the Kindle, it is much worse. All this is due to the backlight, which is necessary for the comfortable use of the content.
In practice, I was able – using the reader intensively, with the backlight set to 100%, reading, surfing the Internet, playing music in the background – to discharge it in one day. But this is the exception rather than the norm. When reading with 50% backlight and with communication modules turned off, the device consumed approx. 3-4% per hour. It all depends of course on what the user intends to use the device for and what settings will be used.
It should be added that the tablet defaults to quite unfriendly settings related to energy saving – for example, that it turns off after 15 minutes when not in use. And it wouldn't be a problem if it wasn't for the fact that it doesn't take a moment to wake it up, but about half a minute… Of course, this is something that can be changed in the settings.
Read Also: Huawei MatePad Paper review: a good e-reader and a bad tablet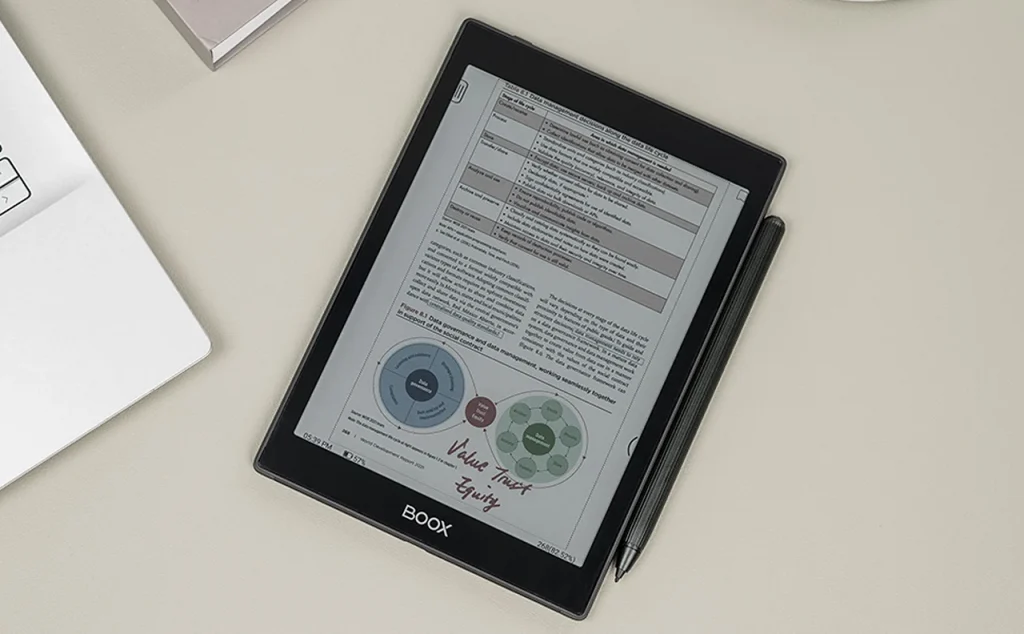 Summary
Visually, Nova Air C is a slimmer and more colorful version of the Kindle, which is additionally equipped with a stylus, Android 11, stereo speakers and a backlight, which uses LEDs that emit warm light. It's a device for enthusiasts, offering many unique features, but you will have to pay a lot for it.
The manufacturer calls this device a tablet, but I would treat Onyx Nova Air C as a very well-equipped reader that has much more possibilities than what, for example, the Kindle Paperwhite 5 offers. Plus the ability to install additional applications, a built-in music player or numerous personalization options … Onyx it destroys competition among readers. Moreover, if the presence of a stylus and the ability to create colorful notes are important to you, the Nova Air C is a device worth considering.
Benefits
the color in the reader is a novelty
slim shape, good size and handiness
stylus support (WACOM stylus included)
stereo speakers for listening to music or audiobooks
USB-C with OTG function
Android on board
numerous personalization options
can be used in all lighting conditions
app store, Google Play, music player and other features not available on standard readers
good working times
Disadvantages
price
e-ink color screens are an immature technology (imperfect colors, poor contrast)
visually unattractive interface
a poorly equipped company book store
backlight is indispensable for comfortable work, which translates into faster battery consumption
limited memory (no expansion with microSD)
no dust- and water resistance
What I dislike about the device under review is almost entirely due to the immaturity of the e-ink color screen technology itself. However, even with muted colors, the color screen in the Onyx Boox Nova Air C is much more attractive than the monochrome displays from the competition. Which does not change the fact that I will personally wait for the technology of e-ink color screens to develop more, and the readers equipped with them will not have the current disadvantages and prohibitive price.
About Post Author
Onyx Boox Nova Air C review
$419.99
Design and ergonomics

Display and multimedia

Connectors and ports

Performance

Communication and connections

Autonomy of work
Summary
If you are one of the few people who read Poles, and you make a lot of handwritten notes and like the latest technological solutions – although they are still not perfect and the slightly higher price does not scare you, Onyx Nova Air C is a novelty, which you definitely need to take into account.