Acer Nitro XV252QF review in three sentences
Picture quality in games

Execution and service

Impressions of use

Set and price
Summary
Acer Nitro XV252QF is a very good monitor aimed at fans of high refreshment. In some respects it is far from other monitors at this price, but on the other hand, they are far from refreshing at 390Hz.
Benefits
The 390Hz refresh does the job for fast games
Very good visibility in dark parts of the image
Overclock function, HDR support
Convenient and clear menu
Full options for adjusting the monitor settings
Price
Disadvantages
Grayish dull picture
Very low versatility
No additional USB connectors
Hopeless speakers
A gaming monitor is a fairly common product sought by gamers. There are a lot of options, but today the topic is the review of the Acer Nitro XV252QF, a FullHD monitor with a refresh rate of 390 Hz, which is much greater than the most popular 144 Hz monitors. Is it worth buying the Acer Nitro XV252QF monitor? Is 390 Hz better than 240 Hz? This review will answer these and many more questions.
Set and price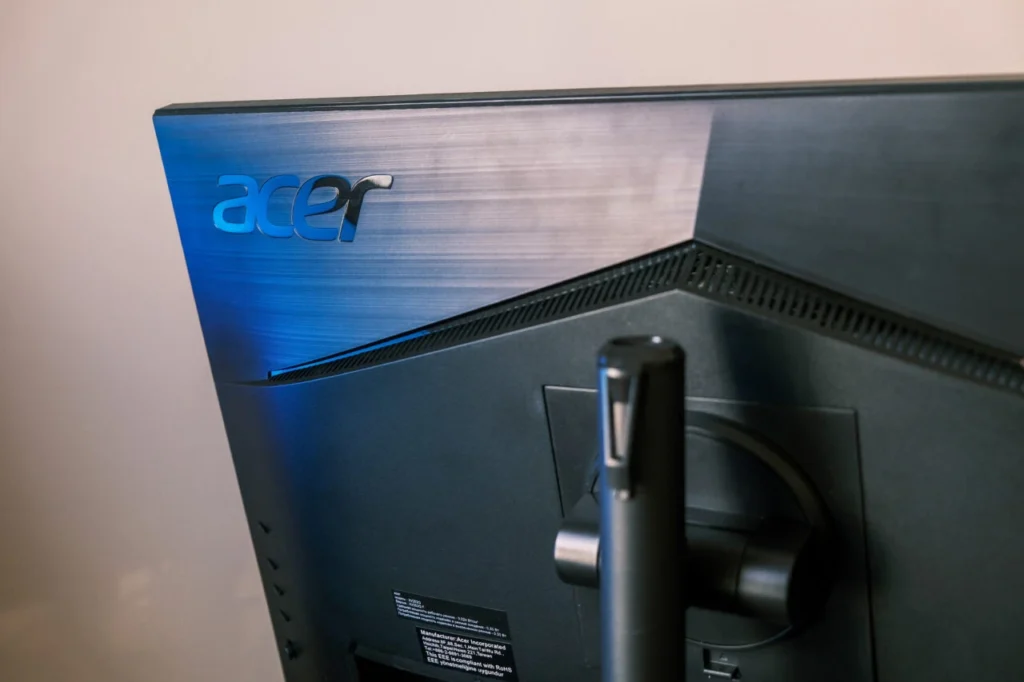 The monitor comes to us in a light, standard-size cardboard box. Inside, we find, of course, a polystyrene filling that protects the monitor, the base mounted without the use of screws, as well as some paperwork and cables (power, HDMI, DisplayPort). Very standard set, but there is hardly anything else to demand here.
Mounting the Acer Nitro XV252QF monitor stand is incredibly simple . Just press the latch and the handle fits into the hole on the monitor and locks in place. A much better solution than the need to combine with screwing the whole thing or multi-element sockets, where the matter is often even more difficult.
The Acer Nitro XV252QF currently costs USD $555 ( £469.99 ), which makes it one of the cheapest monitors with a refresh rate above 360 ​​Hz.
Acer Nitro XV252QF – specification
Size 24.5 inch
IPS matrix
Native 360Hz refresh (with 390Hz overclocking)
1920 x 1080 pixels resolution
Display HDR 400 certified
Brightness up to 400 nits
FreeSync Premium support
Vesa 100 x 100
2 x HDMI 2.0, 1 x Display Port 1.4, 1 x audio output
2 x 2W speakers
Build quality and build
What surprised me very much at the start, the Acer Nitro XV252QF does not look like a typical monitor for players . The only thing that reveals what the monitor was made for is a red circle on the base. Apart from this single element, the rest looks very standard, not to say even office-like. However, the whole thing is very well made, the monitor does not wobble, does not creak and has well-fitted components. A fairly large amount of plastic hurts, but this is rather standard with this type of monitors.
Fully adjustable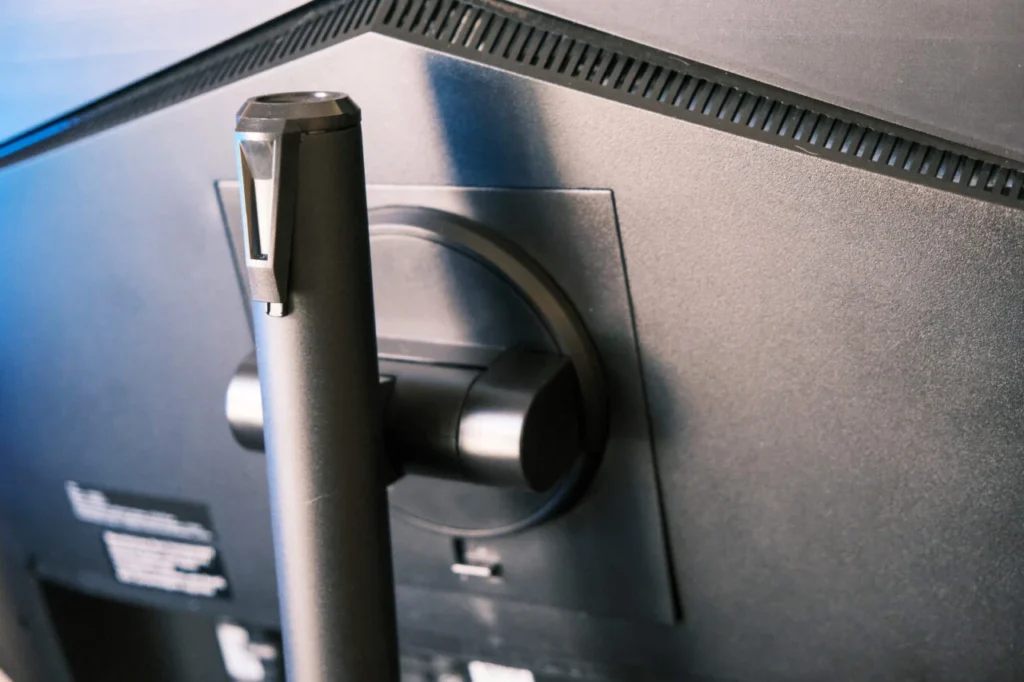 The monitor stand also deserves a big plus, as it allows you to adjust it in every needed plane. We can adjust the tilt of the monitor, its height, you can turn it left and right, and also rotate it 90 degrees , so there is also a pivot function. Some may wonder why who needs this option, but here the answer is very simple.
Many people have sets consisting of two or monitors, where such a monitor would be only an additional screen on a daily basis. When I processed photos and wrote texts, I had it placed vertically, because it was more convenient for me. When processing photos, however, there are more important things than the sensor refresh at the level of 390 Hz.
Convenient operation
The Acer Nitro XV252QF monitor is operated with a few buttons on its back and a small joystick. This is a standard kit from the manufacturer, which is fairly simple and works. The menu offers many options, including changing image modes, the possibility of adjustments in the RGB scale, enabling overclock, or showing the number of frames per second transmitted by the source.
A convenient option to check if we really have FreeSync working and if we really have DisplayPort 1.4. We can switch everything quickly and smoothly. What makes me very curious and sad, ClickMonitorDDC does not work with the monitor. The startup values ​​show up correctly, but we are not able to change anything from the application level.
Poor set of connectors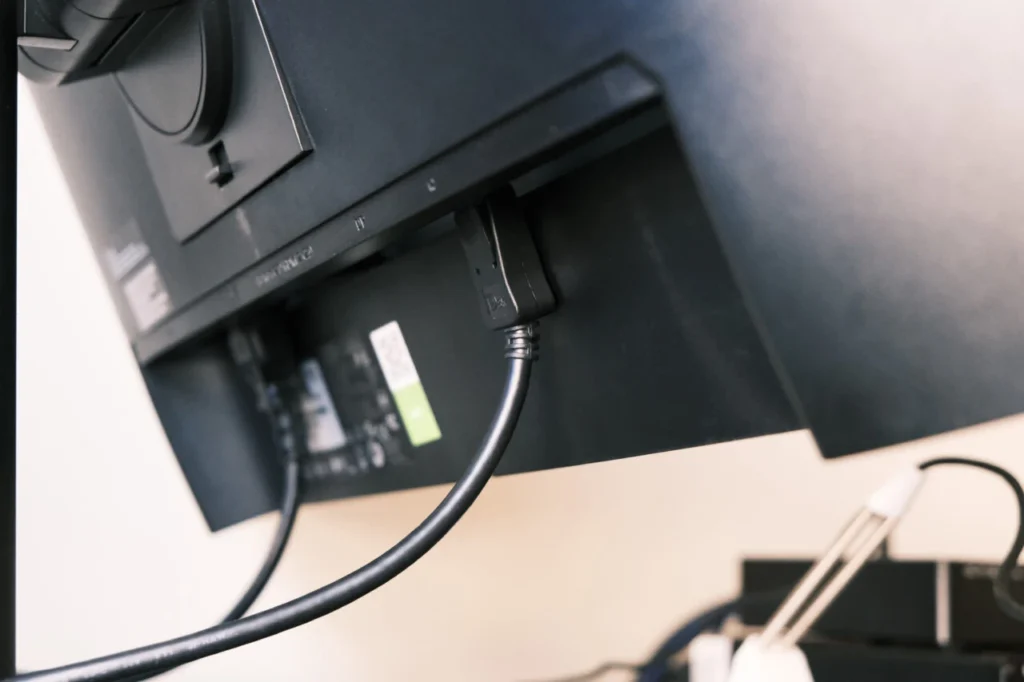 In the Acer Nitro XV252QF monitor we will find only three needed connectors, of which we will probably only use one , i.e. DisplayPort. With the help of HDMI 2.0 we can send a signal of up to FullHD with a refresh rate of 240 Hz, which does not allow the full use of the monitor. But I do not understand why the manufacturer did not provide a USB HUB here, or the ability to charge devices via Power Delivery .
These are small elements, but very useful in my opinion. It is much more pleasant for me to connect external drives, or even a keyboard with a short cable. Likewise, many of my friends who use wireless mice attach the receiver to the monitor, because there are problems with the stability of the connection when it is in the USB of the motherboard.
Image quality, i.e. a monitor almost only for games
Acer Nitro XV252QF at the start surprised me a lot. I do not use the most expensive and best monitor myself, because it is one of the basic models from the same manufacturer with QHD and 75 Hz refreshing. But most of the modes in the monitor under review make the image just gray and many colors blend together .
The only mode that is more colorful is the one labeled HDR . Here, the colors still don't go crazy, even visually, but it's still much better than with the other options. Watching movies on the Acer XV252QF monitor, which is the subject of the review, is not the greatest pleasure. If we have no other option, it is also not tragic of course, but it could have been better.
Using the HDR mode, I got pretty good results with the measurements. You can only see that the screen is definitely too blue, at the level of 7500K, where the optimal color temperature is 6500K.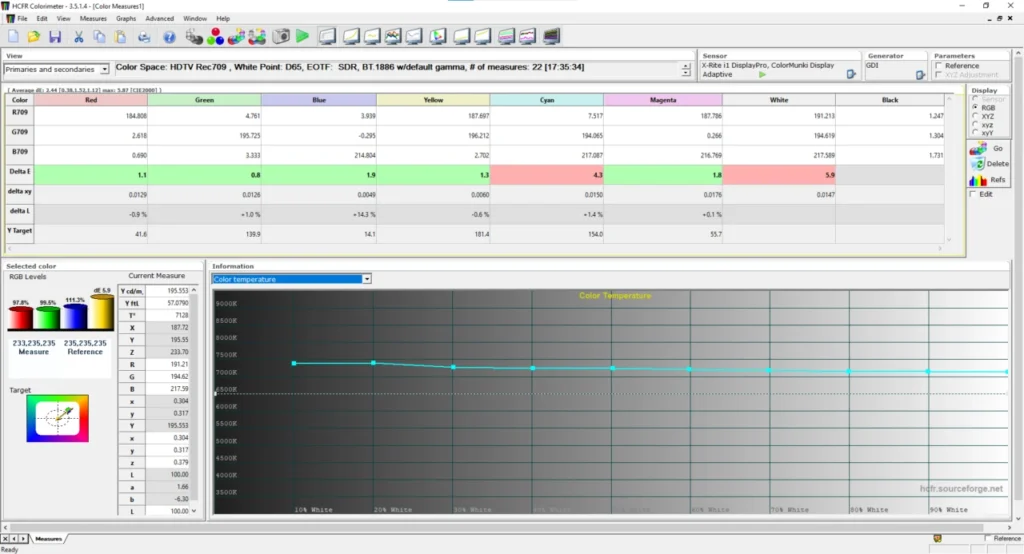 Strongly lined shadows with reasonable contrast
In games, however, the monitor works great. In darker productions, such as Hunt Showdown or Escape From Tarkov, it was very easy to navigate through the dark centers of buildings or night maps, where I was able to cope with no additional settings combinations. Despite the strong shadow enhancement, the contrast remained at a good level.
The grayscale elements did not blend together, the cuts are clearly visible and it was not difficult for me to distinguish the opponent from the tree in front of him. Well, as long as the game itself allowed it, because sometimes even taking a screenshot and manipulating it in Photoshop, we will not see anything.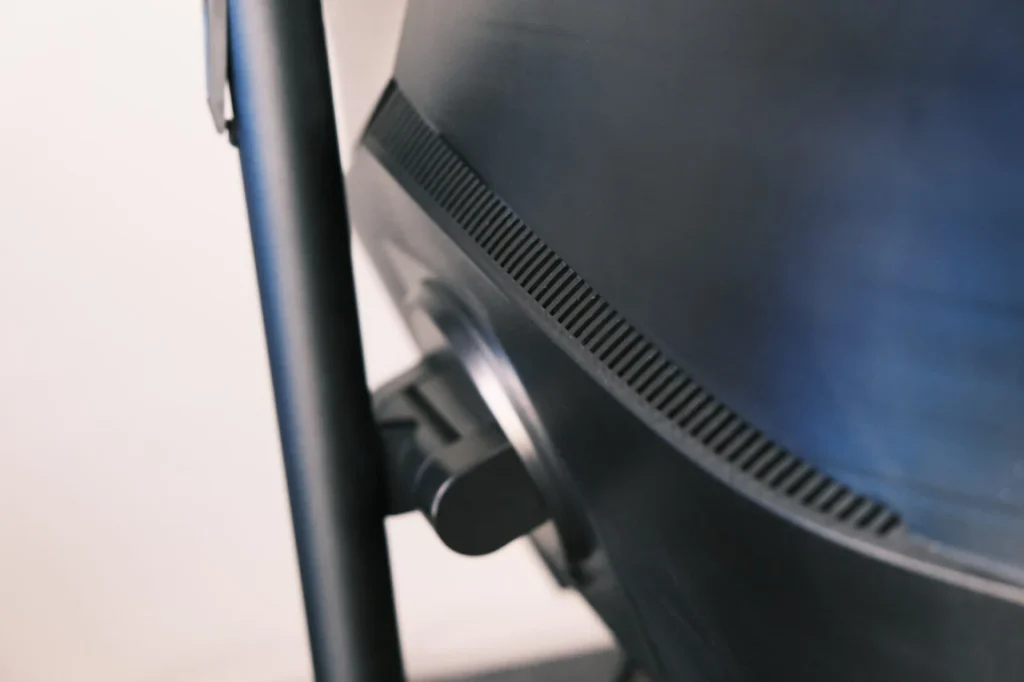 The colors in games are also useful
The times of microtransactions and a lot of skins, which are often colored, favor monitors with saturated colors in my opinion. After all, if a skin has red elements and the game is gray-gray, it is easier for us to see red than the next element of gray. As I already wrote, the HDR mode helped, which has much more saturated colors, which helps a lot, because without it the Acer Nitro XV252QF allows us to overlook colorful elements.
Good viewing angles
The Acer Nitro XV252QF has very good viewing angles due to the IPS matrix. To see any distortions, I have to literally stick my head into the monitor, i.e. be 20-30 centimeters away from it. Hardly anyone plays like that, so it is not problematic.
The brightness is okay, but I wouldn't disdain a slightly brighter screen
With the daily use of the monitor as the main one, I did not experience any problems or discomfort . I was able to spend several hours in front of him without a break, which did not result in pain in my eyes or their dryness. The brightness of the monitor at a level of up to 400 nits is, in my opinion, slightly too little.
During the day, it is very easy to make the sun, even from behind the clouds, decide about lower visibility of the image. If our stand is set away from the window or on the north side, you should not experience any problems with everyday use and playing.
Is the difference between 390 and 240 and 144 Hz visible?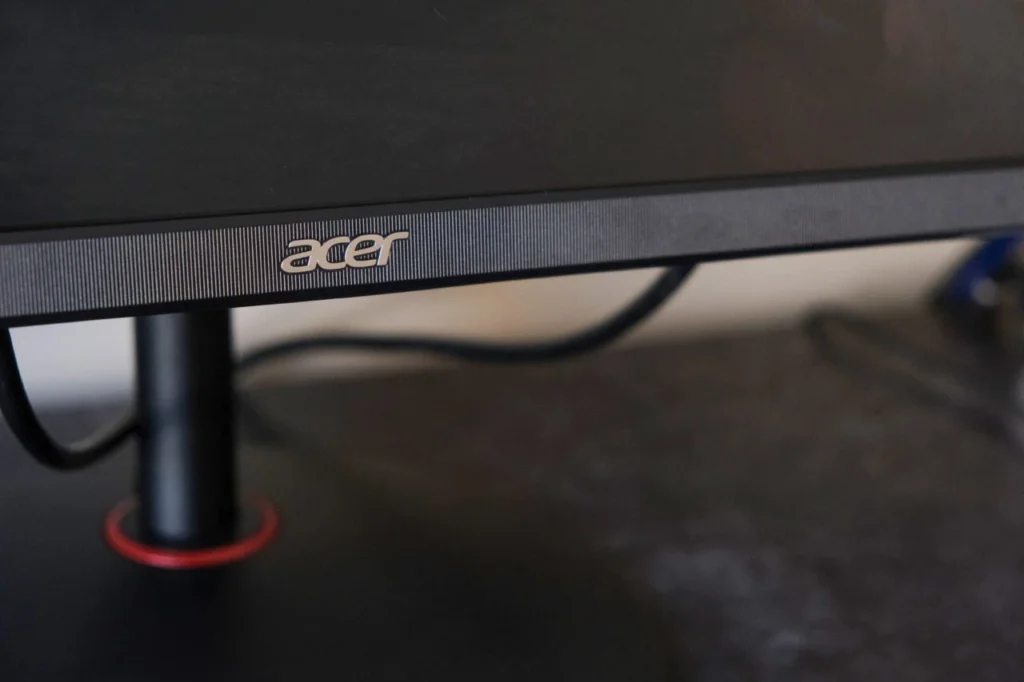 This is the question that it is best for everyone to answer for themselves. I know people who can't see the difference between 60 Hz and 144 Hz, and I know people who can see between 120 Hz and 144 Hz. The Acer Nitro XV252QF, however, offers a refresh rate of as much as 390 Hz, so here the difference should be immediately visible.
It should also be remembered that with such a refresh, a fairly powerful computer will be useful. In my case, on the i5 10400F + RX 6600 XT I was able to achieve around 400 fps only in typical e-sports games. But I have to admit that you can feel the higher refresh rate even on the desktop and when browsing the Internet. Just move the mouse on the screen for a moment to feel that it is much smoother than on the screen of 60 or 144 Hz. If you want to connect such a monitor with a laptop, it is worth taking a look at our review of the Acer Predator Helios 300 , which is a powerful enough device.
Rainbow Six Siege lets you feel the difference
Since I'm not a huge fan of Counter Strike, I decided to prove myself in Rainbow Six Siege by switching between 60, 144, 240 and finally 390 Hz. The difference between 60 and 390 Hz is obviously huge. This is not something you cannot help but feel. With subsequent attempts, the difference decreased, but was still visible.
When switching between 240 Hz and 390 Hz it was quite small, but my skills themselves are not great either. I am sure that people playing at a high level will feel these differences much more than me, because in my case the limitation was clearly skill and response time, not the amount of Hz in the Acer Nitro XV252QF monitor.
QHD at 144 Hz or FullHD at 390 Hz?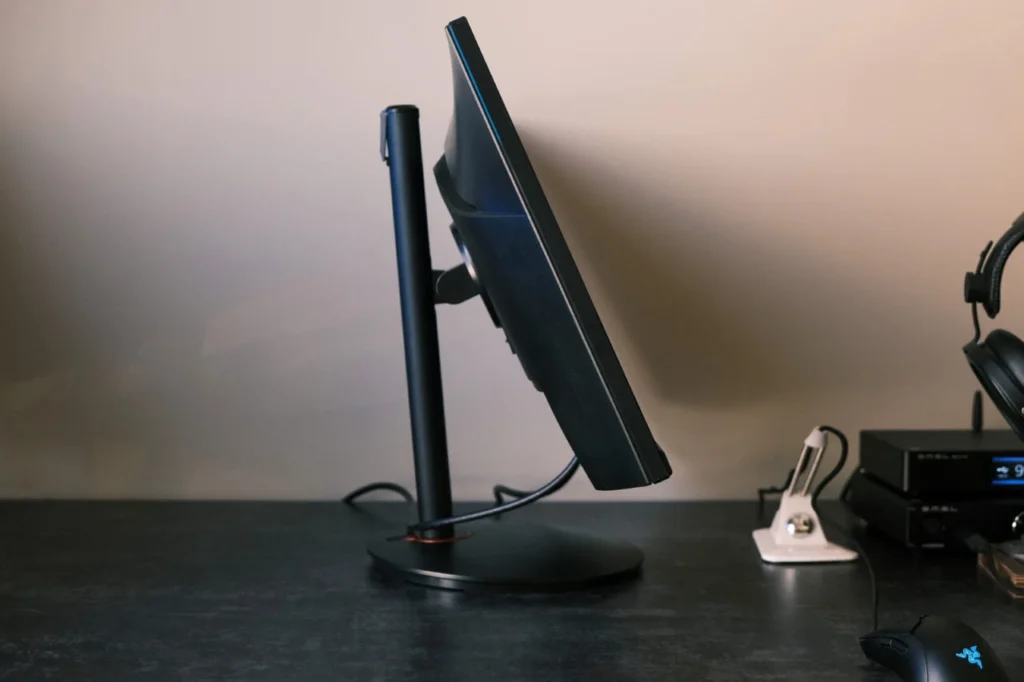 This question is again very much dependent on the games we play, the performance of our computer and simply preferences. I prefer a higher resolution with a lower refresh rate than the other way around, because I play games rather slower and based on fighting at much greater distances , and thus smaller objects than in games like CS: GO or League of Legends. More pixels allow me to separate the opponent from the background better, which is not necessary in games where our target is always quite a large object, and it moves much faster because it is closer.
Sound quality, i.e. speakers for an attachment
Two speakers with a total power of 4 W are not of the highest quality. I didn't enjoy playing games or watching TV series on them. The bass can start to distort a lot, and the midrange and treble are very flat and unpleasant. The manufacturer, however, had to apply cuts somewhere, finally let me remind you that this is the cheapest monitor at the moment with a refresh rate of 390 Hz.
Acer Nitro XV252QF review – summary
Acer Nitro XV252QF is a monitor aimed at a specific audience. It is a great monitor for fans of esports games, where high framerate is one of the most important factors to be able to do more. And in this regard, I absolutely cannot fault him. However, if we are looking for a slightly more universal monitor, play slower games, or are we not at the highest level, in my opinion, it is worth taking a look at slightly different monitors that may have better colors, better speakers, or be a bit better usability due to the presence of extras like a USB hub.
About Post Author