Dell Alienware AW3423DW QD-OLED Monitor Review
Image quality

Build quality and build

OSD and operation

Impressions of use
Dell Alienware AW3423DW review in three sentences
The Dell Alienware AW3423DW is a monitor that I love in almost every aspect. In terms of image quality, I have almost no objections. The equipment is absolutely complete, but also quite expensive.
The first monitor with a QD-OLED matrix. Targeted at gamers, but does that mean it's only suitable for them? Review of Dell Alienware AW3423DW, which is very universal equipment. Is it worth buying it? Will it work in everyday use? Will it not burn out? All these questions will be answered by the Dell Alienware AW3423DW review.
Benefits
Image quality
Production quality
Stability
Anti-burnout technologies
Very sharp and smooth movement at the same time
High brightness in peak
Disadvantages
The matrix is ​​not fully black
It is very bad to clean
I would prefer HDMI 2.1 instead of G-Sync Ultimate
Set and price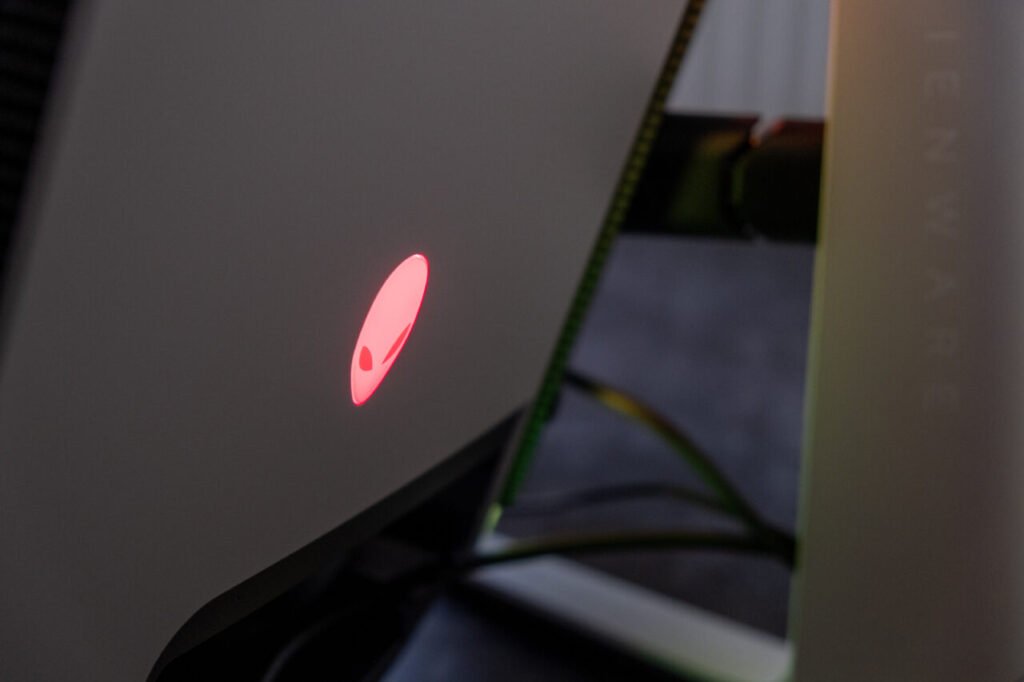 Dell Alienware AW3423DW comes to us in a very large and heavy cardboard box, and inside we find quite a large set. There is a very large and heavy leg, DisplayPort, HDMI and power cable. Moving on, we find the monitor itself, a ton of paperwork, and something that will delight purists, i.e. a large connector cover that will allow us to cover the cables and unify the back of the monitor.
Dell Alienware AW3423DW currently costs about USD $1,689.99 , which is a very large amount, but fully justified in my opinion. 
Dell Alienware AW3423DW – specification
Diagonal 34 inches
Resolution 3440 x 1440 pixels
1800R curvature
Up to 175 Hz refresh rate via DisplayPort and up to 100 Hz via HDMI
Weight 10.76 kg
Freesync and G-Sync Ultimate support
QD-OLED matrix
Infinite contrast
Maximum peak brightness: 1000 nits
Semi-matte matrix
2 x HDMI 2.0, 1x DisplayPort 1.4, 4 x USB 3.0, 3.5mm combo jack
Build quality and build
Dell Alienware AW3423DW is definitely a powerful and well-made monitor. From the front, looking at the screen itself, it does not stand out with anything big. On the lower frame we will see the word Alienware and that's it. However , when we take a look at the base, things change quite a bit. It is simply huge , although it does not protrude significantly in front of the screen itself. It is worse at the back, because there it takes up a lot more space. It has a V-shape, very thick elements and is made of white plastic. Its assembly is very simple and quick, and the set includes a short and simple instruction.
A bit more is happening from behind
The back of the Dell Alienware AW3423DW monitor is much more interesting, because we find here a very interesting design. First of all, there is RGB backlight in the center of the back of the monitor. This does not work on the Ambilight principle on Philips TVs. In this case, it is just an additional decorative element, which I like very much despite its small usefulness.
An additional lamp is located at the bottom of the monitor, next to the joystick, and the last such element is a switch. There is also a cable guide in the base, which allows us to quickly organize the workplace. In combination with the overlay for the connection point, the monitor gives the impression of being wireless from the front.
The whole thing is extremely stable and offers a lot of setting options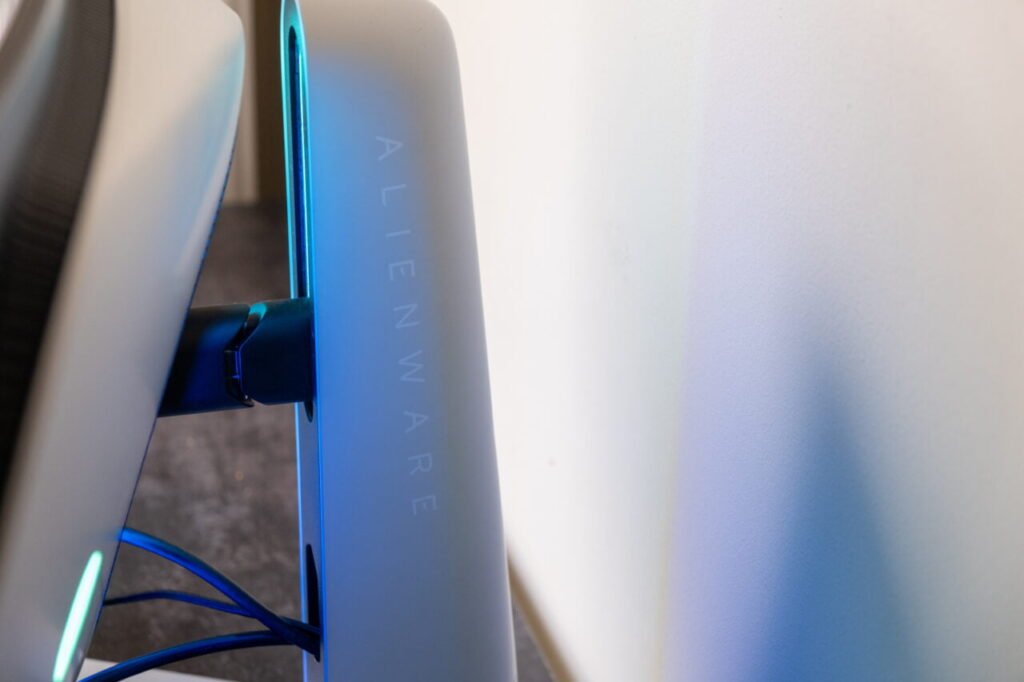 The Dell Alienware AW3423DW, due to its weight and used connections, is an incredibly stable monitor. My private Acer can shake when typing on a mechanical keyboard, not to mention sneezing, and the QD-OLED bravely handles everything that happens on the desk, including even the cat behind him. The monitor can also be conveniently placed underneath you in three axes. We have a large height adjustment, as well as deviations in both planes. This is especially important with a curved matrix, as it significantly increases the comfort of use.
But it gets dirty easily
The Dell Alienware AW3423DW gets dirty easily. I have the impression that it is enough for a fly to sit on it and there is already a stain that is hard to wipe off. It is just as bad with fingerprints, which are just as troublesome to wash off. They rub more over the surface , where in the case of OLED TVs they easily disappear under a clean microfiber cloth.
Connectors I understand but do not approve of
Both DisplayPort 1.4 and HDMI 2.0 used in the monitor have their limitations. HDMI 2.0 supports a maximum of 100 frames per second in QHD resolution with G-Sync Ultimate. The manufacturer had to choose between HDMI 2.1 and G-Sync Ultimate. Ultimately, he chose the latter option, which is not fully understandable to me.
The license and chip alone cost a fortune, and G-Sync Compatible would be enough for most players. DisplayPort 1.4, in turn, has problems with the number of colors. With QHD resolution and 175 Hz refresh rate, sampling is only 4: 2: 0. We can go down with refreshing to increase the number of colors, so everyone can adjust the monitor to their needs. But it would probably be easier to use HDMI 2.1 and have a complete set, wouldn't it?
The USB HUB is very handy
In the Dell Alienware AW3423DW monitor, we have access to a USB hub, but two connectors are under the bezel. I understand the focus on a coherent design, but then the two USBs on the underside of the monitor are more visible than if they were placed in the base or exposed on the back. USB behind the grille are useful only when we use transmitters for a mouse or keyboard.
Can Dell Alienware AW3423DW burn out?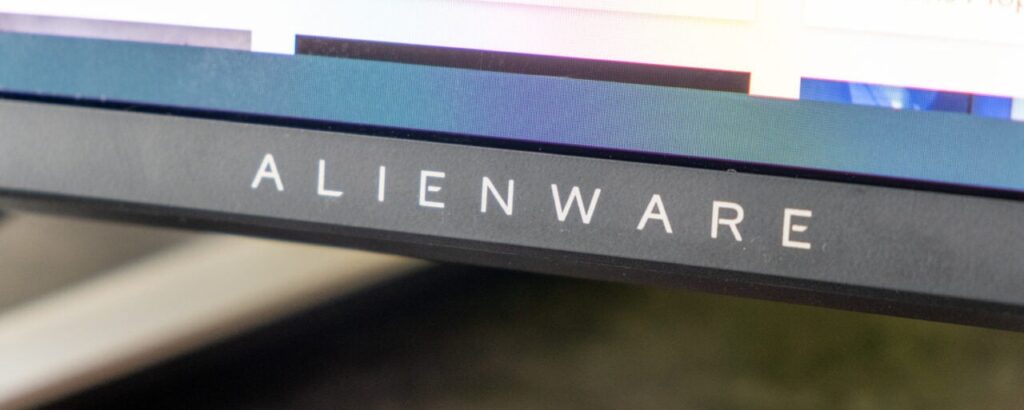 Probably once so, but the manufacturer has used a lot of security measures that should prevent this from happening. Only one of them felt very negative, but this is due to the lack of a thorough sweep of the menu beforehand.
Refreshing pixels
Dell Alienware AW3423DW will inform us about the need to refresh the pixels every few hours of use. This is standard procedure for OLED matrices . It takes a few minutes, but the monitor must remain untouched during this time. By default, the alert about the willingness to perform such a procedure is turned on, but I found out about it in the middle of the game, which of course caused me to die.
You can also turn it on "by finger", which I suggest to people who sit for several hours in a row. We always have a moment to make food or just walk around the apartment. The monitor also performs it after going into sleep mode, so when we turn off the computer, it will happen automatically.
Actively cooled die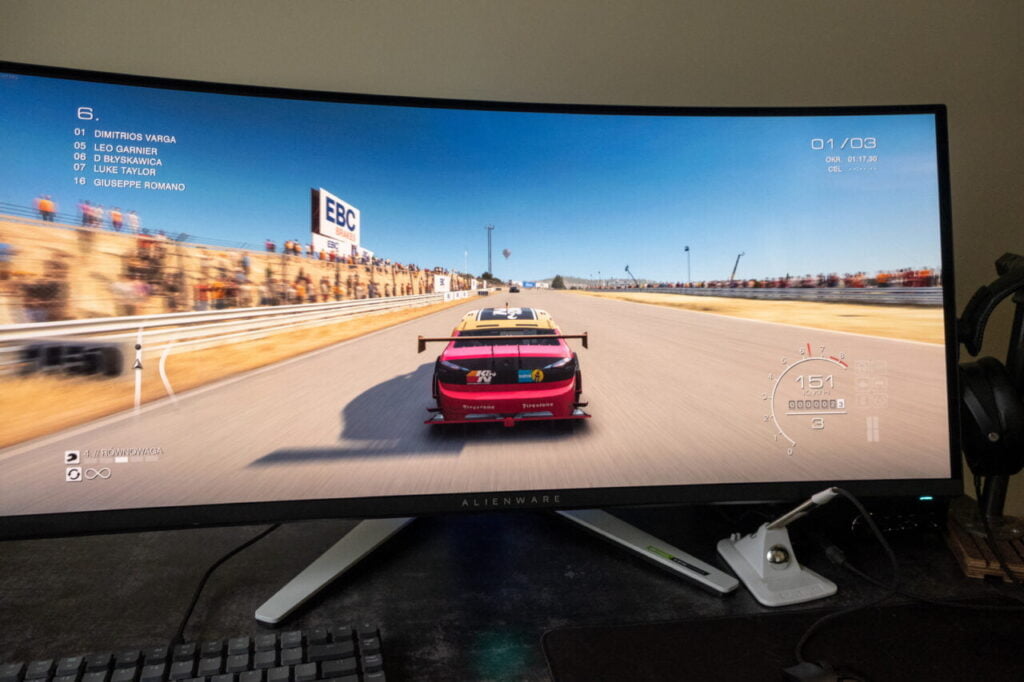 There are two fans in the center of the monitor. The first one works all the time and hums very quietly, also in a low tone. You have to listen closely and preferably lean behind the monitor to hear it . The second is activated when the monitor is used for a long time at high brightness. This allows you to reduce the temperature of the die, and at the same time slow down any burnout. With two running fans, however, it is a bit louder, although even regular open headphones will cut us off from this noise .
Full matrix refresh
This process on the Dell Alienware AW3423DW monitor takes a lot more time and is best done once every few months as more frequent use may have negative effects on the displayed image. It's in the menu right next to Pixel Refresh, so be careful what you click.
Pixel shift
For some, this may be a bit strange, because the image is rarely perfectly centered. Pixels jump to different directions from time to time. This prevents solid elements on the screen from burning out. Thanks to this, the pixels that were constantly displaying, for example, the white UI of a text editor will slightly shift to load other pixels. A very simple technique, although sometimes you may be surprised when the image jumps during use.
Menus, Modes and Functions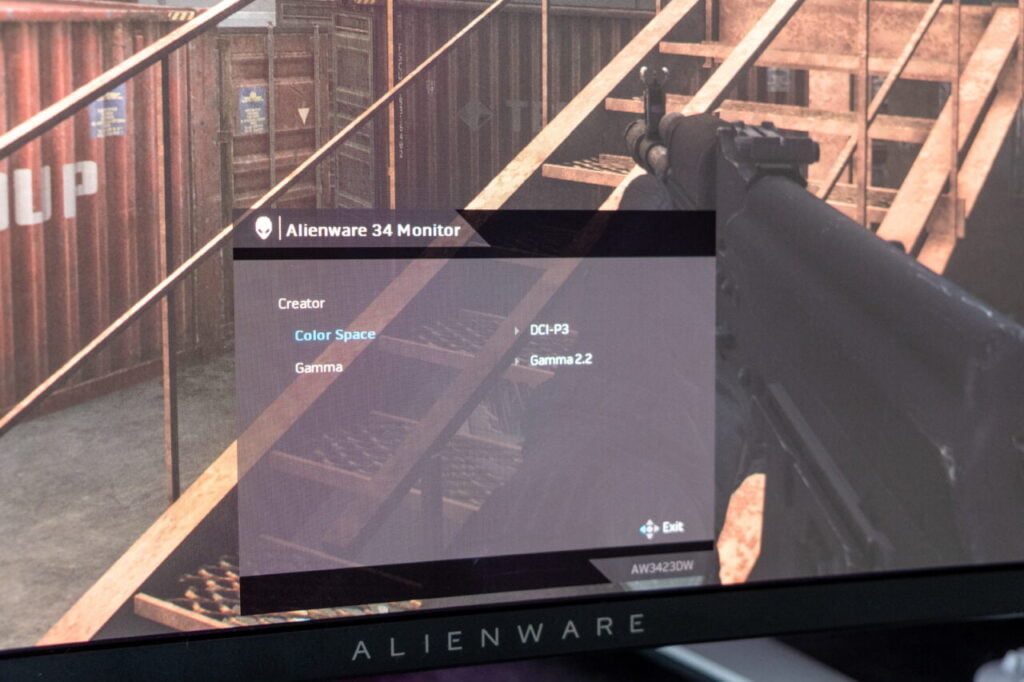 The Dell Alienware AW3423DW has a very nice on-screen menu, but operating it with a single joystick is not very comfortable . Often I jumped too far and left the menu on the fly. The nice thing is that you can choose five functions that we can quickly change. I myself played with these modes on a regular basis, because while I was always in Creator mode, I changed the gamma and black level when playing games.
Lots of predefined options
Despite the decisive gaming jam, the reviewed Dell Alienware AW3423DW monitor has the already mentioned Creator option, where we can change the gamma from 1.8 to 2.6 and the color space between sRGB and DCI-P3. In my opinion, we do not need anything more, because it always works great. Then we will find the standard mode, a lot of game modes (FPS, MOBA, RPG, Racing) and user modes, where we freely choose the options for ourselves.
We also control the lighting via the OSD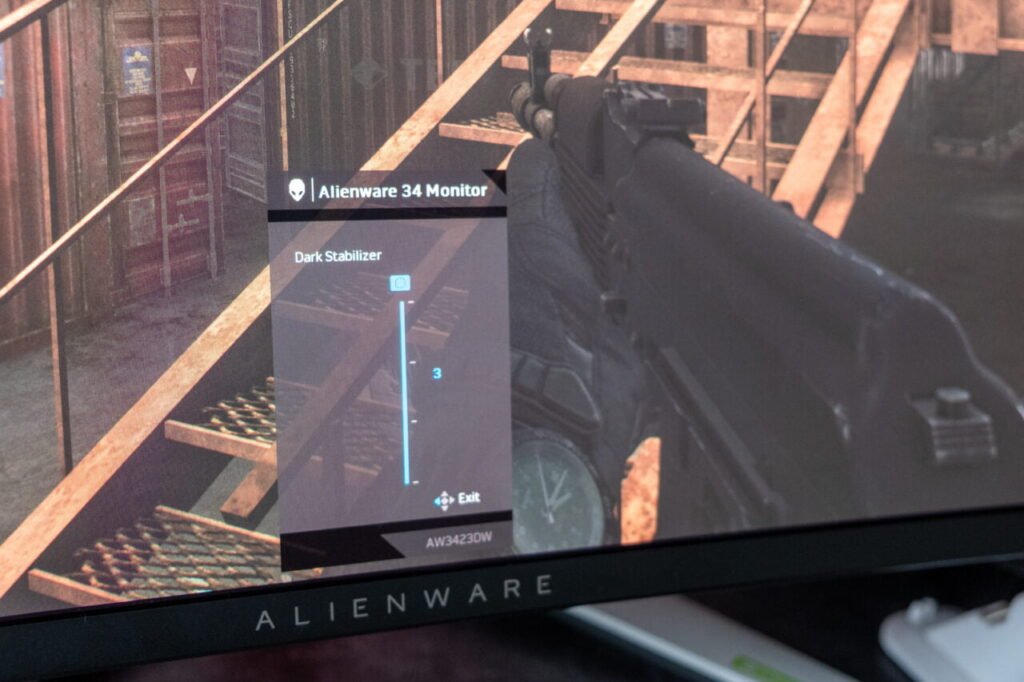 RGB LEDs do not have many options, unfortunately. If we decide to turn them on, we have a choice of either a solid color or constantly changing colors. However, we can change the colors that glow zonally, so you can play with it a bit. A treat not only for RGB fans, because it additionally cares for our eyesight, reducing the contrast between the monitor light and the background.
The matrix is ​​not completely black, but it is semi-matte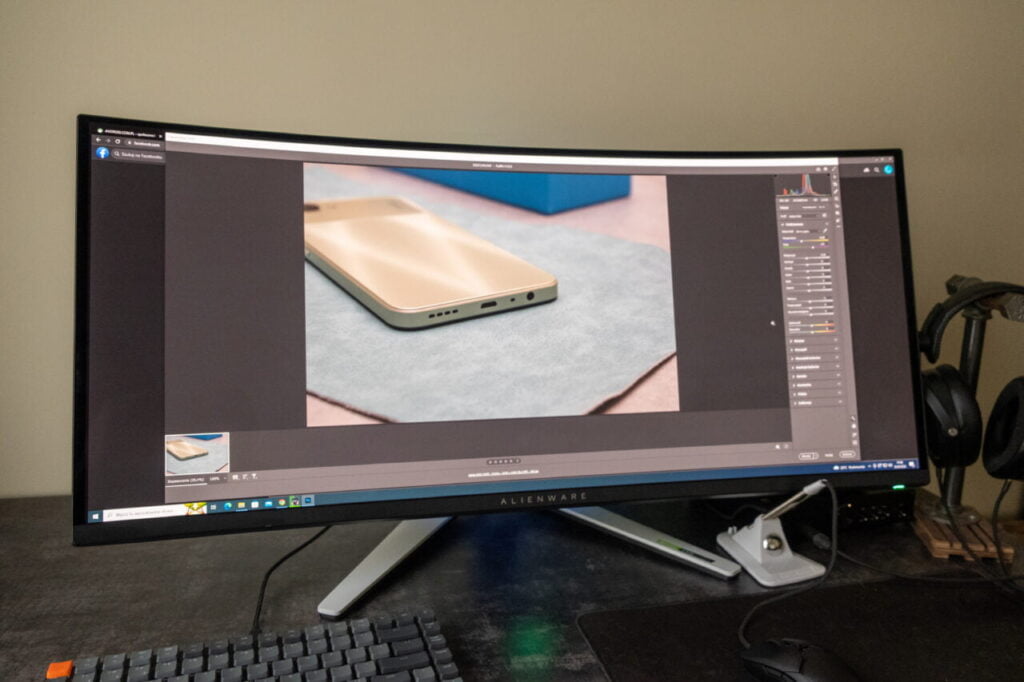 Something that looks very strange, i.e. a not entirely black matrix. I'd say the fully dimmed screen of the Dell Alienware AW3423DW monitor is a dark brown color. It looks pretty funny right next to the black glossy bezel. However, when the sun goes down this problem disappears. However, when it continues to shine, thanks to the semi-matte surface, the whole thing looks great.
My Dell Alienware AW3423DW is more exposed to direct light than my main IPS matte monitor. Nevertheless, reflections are much less visible. The matrix itself must already absorb a large part of the light, thanks to which the reflections are not bothersome. Well, unless we are on the loading screen and it reflects our face stretched by the curvature, but it is impossible to jump.
The image quality is absolutely top
Dell Alienware AW3423DW is not only the first monitor with a QD-OLED matrix, but also the first OLED designed for desktop computers. The quality that comes with this significantly exceeds the currently available monitors with a contrast level of 4000: 1 or lower. Infinite contrast, almost full filling of the DCI-P3 color space, each pixel shining separately, or high peak brightness are just a few advantages of this screen that everyone will appreciate.
Dell Alienware AW3423DW in games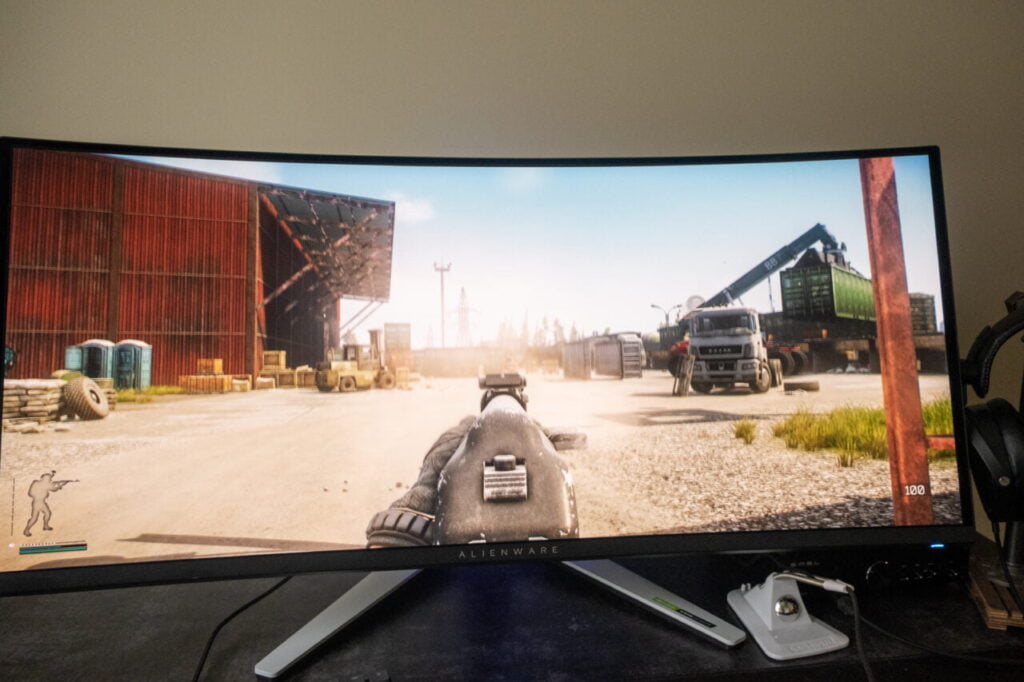 21: 9 monitors are successfully selected by players and it is no different in this case. I am not a fan of such wide monitors, so the image quality definitely forgave me.
Thanks to the infinite contrast and a very good matrix setting with a well-corrected gamma of the Dell Alienware AW3423DW, it allows me to see my opponents in virtually every, even the darkest point. They always, at least slightly, cut off the surface behind them, thanks to which, with the additional gamma descent to 1.8 and raising the black levels, we have a definite advantage over our opponents.
In addition, very vivid, but not exaggerated colors allow for better cut-off of colored skins in games. Or does it just allow me to admire the sunset in Minecraft or car paints in racing games, which, however, did not happen often to me. The Nissan GT-R R34 in Pennzoil colors in Forzy Horizon impresses me even more than ever.
Is the Dell Alienware AW3423DW suitable for photo manipulation?
Definitely. Thanks to the great results in measurements and great contrast, I enjoyed processing photos on it with a great pleasure, and the results far exceeded my expectations. This is perhaps the first monitor that is so well suited for both professional work and gaming.
The Delta E error with DCI-P3 colors is calmly below two, around 1.8 with a maximum of 2.2, and in the case of sRGB, the maximum error is only 1.4. However, the screen is slightly too blue. It is about 200 Kelvin too cold, which can be corrected very quickly.
The motion mapping is shocking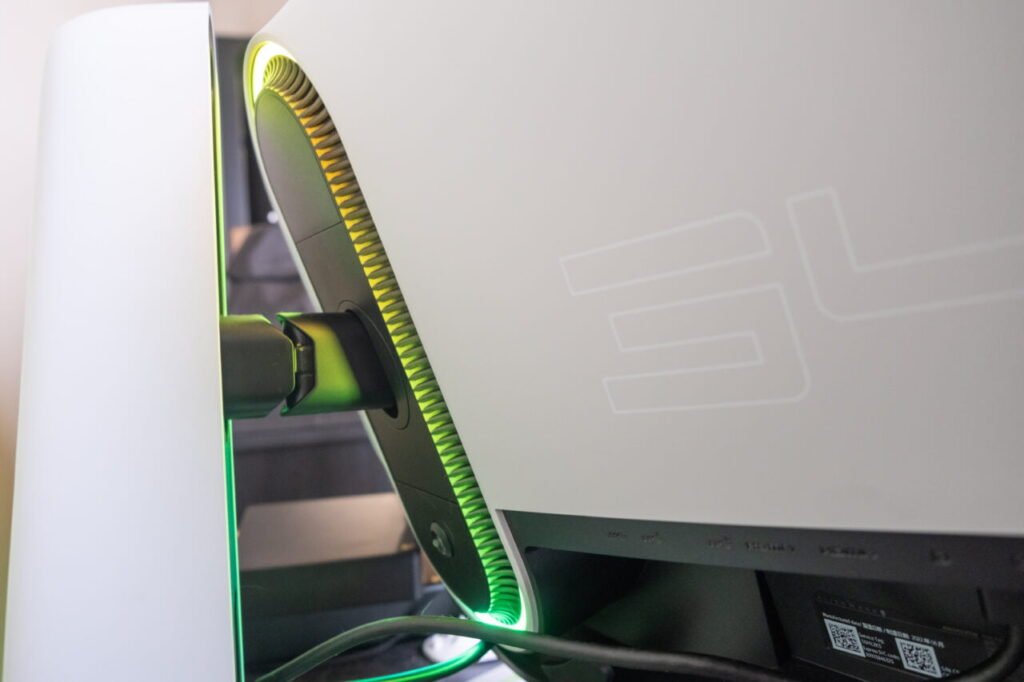 When my friend found out that I got the Dell Alienware AW3423DW monitor with a QD-OLED matrix for the review, he immediately wanted to come and see it with his own eyes. Privately, it has a QHD monitor with a refresh rate of 144 Hz and plays at about 120-130 frames per second. For me, the computer allowed about 80-90 frames in the same game, and yet the game felt just as smooth. I myself have very similar feelings. The same frame rate on this monitor looks better than the same picture on monitors with IPS / VA matrices.
Thanks to a very low response time and no smudging, the image looks much better to the eye than you might expect. While many people will prefer a 390Hz monitor like the Acer Nitro XV2 for games like CS: GO , I would stay with Dell.
The full-screen brightness is not impressive, but the peak brightness forgives it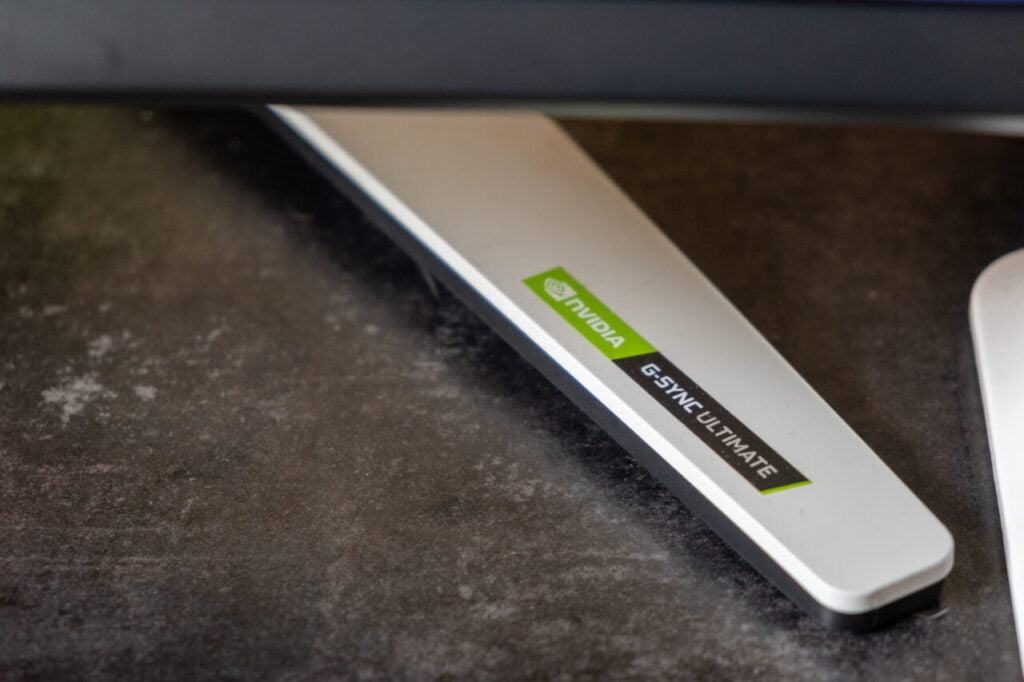 The maximum brightness that can be achieved with the entire screen is about 250 cd / m2 . This is not a shocking amount, because this brightness is achieved by inexpensive LCD monitors. However, we rarely need such a bright image, and in the case of the peak brightness in a 2% window, in HDR, it is as much as 1000 nits . This allows for a great HDR effect, although the monitor only supports regular HDR. Without HDR10 + or HLG. However, when used mainly for PCs, it does not make much difference to us.
Viewing angles? Look where you want from
Dell Alienware AW3423DW provides amazing viewing angles that allow us to view the image from all sides. Of course, it does not matter much because of the curvature, but if you are a fan of sticking your nose into the monitor while playing, you do not have to worry that you will avoid something in another part of the screen, as is the case with monitors on IPS / VA matrices.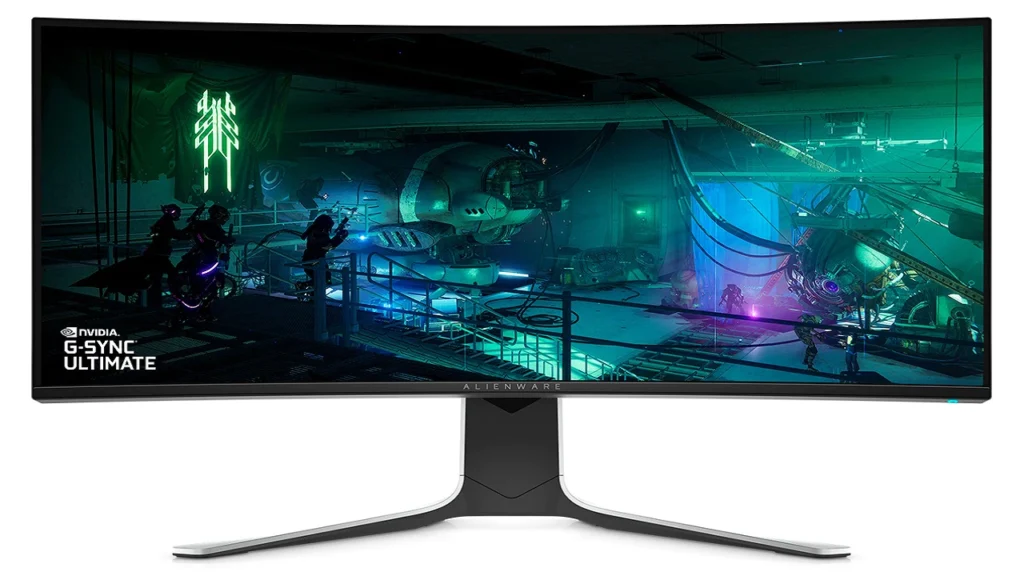 Dell Alienware AW3423DW QD-OLED review – summary
I think the best summary is that I don't want this monitor. I just want him. It is very difficult to find a monitor that will be so universal, so well made and so good. It works great not only in the games for which it was created, but also in normal work with graphics or movies. There are some confusing decisions for me, like choosing G-Sync Ultimate over HDMI 2.1, but what to do? DisplayPort 1.4 was enough for me personally, and the monitor itself delighted me with the image on a regular basis.
About Post Author