The number of more and more in-ear wireless headphones with ANC on the market, but Sony is the most popular choice in the higher budget. Sony WH1000XM5, because that's what we are talking about in this review, is already the fifth installment of the famous series. The manufacturer introduced a lot of changes, but are they for good? Please see the full text.
Sony WH1000XM5 review in three sentences
The Sony WH1000XM5 is decent in terms of performance, they are very light and fit well on the head, despite the fact that the ears are warm in them. The sound is good, but it's definitely not for everyone. The headphones also have a really amazing ANC, which significantly improves the comfort of work or travel.
Benefits
Great ANC
Changes in construction compared to the previous series
A very good application
Microphones at a very high level
Battery life and fast charging
Disadvantages
They get dirty quickly
They warm the ears strongly
Differences with previous models do not justify a price increase
Set and price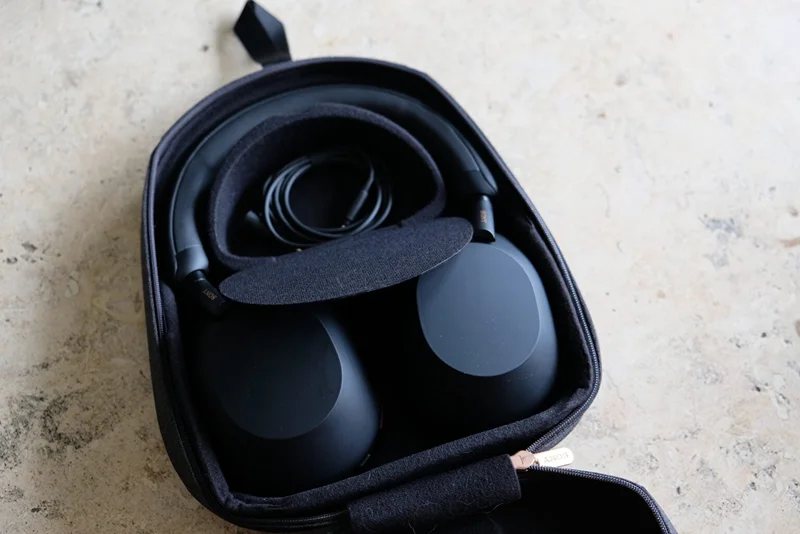 Sony WH1000XM5 come to us in an aesthetic eco-box that comes from recycling. It is an interesting solution and I prefer it over colorful cardboard boxes that were popular a few years ago. Inside we find a rigid material case that looks decent and protects the headphones well.
I really like the element that is also on the headphones, i.e. the rose gold color, in this case on the sliders. It contains not only headphones, but also a magnetic pocket, in which there is a short USB-C cable and a longer Aux cable for using the headphones if they were to discharge.
Sony WH1000XM5 currently costs USD $398 , but promotions related to them are slowly starting to appear.
Specification Sony WH1000XM5
Battery up to 30 hours with ANC, up to 40 hours without ANC
ANC
Four microphones for phone calls
SBC, AAC and LDAC codecs
Weight 250 grams
Bluetooth 5.2
Comes with a case, USB-C and 3.5mm cable
Build quality and build Sony WH1000XM5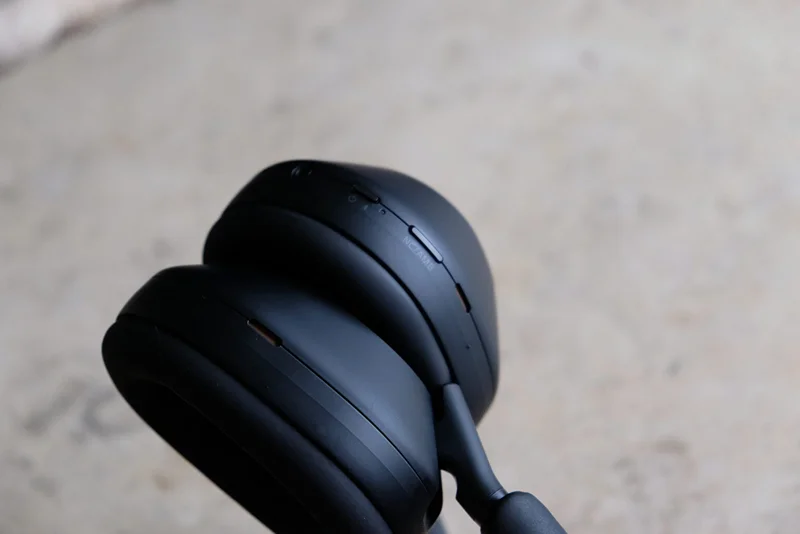 This is an element that I do not fully understand. The headphones are made great, they are pleasant to the touch, no element even thinks about squeaking, but there is not a single metal part in the headphone housing. The manufacturer boasts that the material they are made of comes partly from recycled car interior elements , which explains this type of behavior, but personally I would prefer to add some aluminum to strengthen the structure.
Soft pads made of nice eco leather
Until it's hot. The last week was not mild in terms of temperatures, which had a strong impact on the comfort of using the Sony WH1000XM5. Taking off the headphones after a short while outside, the pads were all wet . In an equally hot apartment, I use hybrid pads on my headphones and I am able to spend the whole day in them without any problems. It is much better in a cool environment. The pads are very soft, so they easily adapt to the shape of our head, which is additionally supported by earcups that rotate in two planes.
Improved headband
On older WH1000XM series models, some users have complained about breakage in several components. Consequently, the headband has been redesigned for the Sony WH1000XM5. It can be bent quite a lot now, but it doesn't fold. The only option to make the headphones smaller is to rotate the ear cups 90 degrees.
The element that holds them with the headband has also been redesigned. We no longer have a standard cradle, but a single element in each handset. Time will tell when it comes to durability, but when it comes to looks, I like the new option much more. The headphones feel smaller, more mobile and a bit more premium. The whole is complemented by small Sony inscriptions in rose gold.
Stepless extension of the headband
Many of you may know a loud clicking noise when pulling your headphones apart to fit your head. Sony WH1000XM5 have stepless and almost silent adjustment. Despite the plastic solution, this element is thick and I don't think it will give up easily, but it should be reinforced with an aluminum plate (if it is not already there).
Cleaning the Sony WH1000XM5 is a Sisyphean job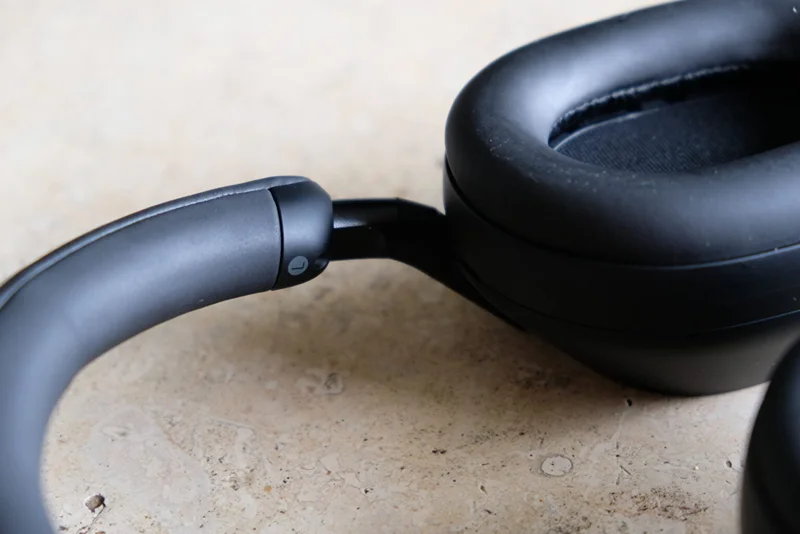 The material from which the Sony WH1000XM5 was made gets dirty incredibly quickly. Just touch them, and there is a trace that is quite difficult to clean. Most solutions leave streaks on the earbuds, pads, and the headband, keeping the earbuds looking dirty. The problem is probably much smaller in the bright color version, which I would rather recommend for people with a more pedantic approach.
Read Also: Sony LinkBuds S Review: Active Noise Canceling Smart Headphones
Microphones and communication
Sony boasts of doubling the number of microphones in the XM5 model compared to the previous generation. In total, this gives us four conversation microphones, which are doing really well overall. Our voice is very clear, the microphones do not pick up the wind and they listen to us, not to our surroundings.
A nice bonus is the presence of a mode that detects whether or not we are talking. The headphones begin to learn our voice, and when they detect it, they turn on the "Ambient" mode, which reproduces the sound from the microphones to the headphones themselves. In my case, two words are enough for the headphones to understand what they are supposed to do. A very convenient option. Sometimes he exaggerates though, because all you need to do is clear your throat for the headphones to pause the music and turn off the ANC.
Convenience and comfort of use
Sony WH1000XM5, as befits mobile headphones, should be very comfortable. And temperature issues aside, that's exactly how it is. I am able to use the headphones in a cool environment for several hours without discomfort. The soft pads help a lot with this. For some people, however, the headband can be a bit problematic. It is largely filled with soft foam, but a friend gently complained about tugging on his hair. I am almost bald myself, so in my case this problem did not occur.
Shell gestures could be more accurate
In pure theory, the Sony WH1000XM5 horizontal line sliding should be perceived as a desire to move the track. In practice, quite often it was considered a vertical shift, which in turn is responsible for the volume control . The same applies to a pause that works once with a single tap and sometimes with a double tap. It will probably be fixed with updates, but it bothers us at the moment.
I also miss the smooth gesture of the volume control. Currently, headphones allow us to change the volume by a constant value, and a much better solution would be to smoothly adjust the sound level.
Headphones off, stop music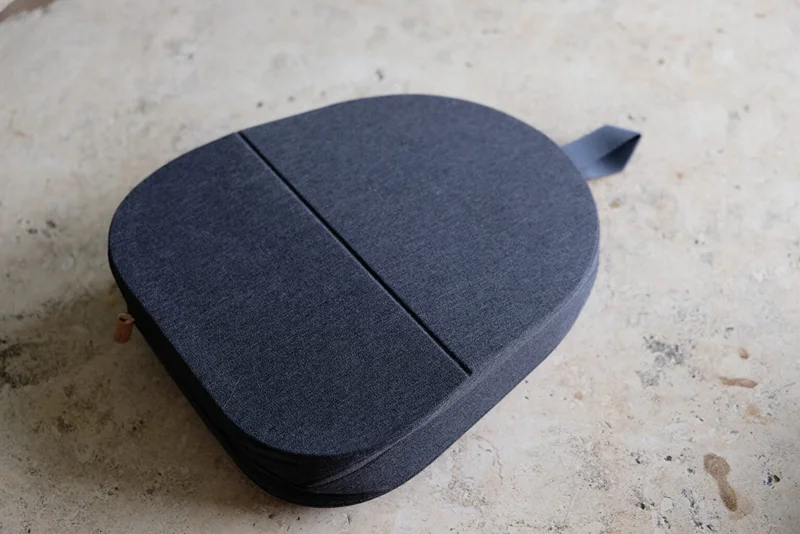 I have to admit, this is my favorite feature, especially for podcasting. I don't have to manually pause what's playing in the background, because the headphones will do it for me . I also don't risk other people hearing what I'm listening to. Sony WH1000XM5 detect presence on the ears very accurately. The music is paused even when one earbud is on the ear and the other is pulled closer to the temple.
Automatic detection of user activities
Let's say I understand the idea for this mode, but its implementation is ultimately average. Headphones should turn off ANC and turn on ambient mode when we move on our feet. The ambient noise mode also adjusts its power to the activity, but sometimes the headphones do not detect what we are doing.
There is hardly any advice for that, apart from a camera analyzing our surroundings, but hardly anyone will agree to such a solution. Headphones quite often recognized that I was starting to walk, especially in public transport. I am passing someone, there is a hole, a jump, and the headphones will recognize that I am walking. Annoying but quick to disable in the app.
The app works fine and the features you want are on top
The application with which we can control the Sony WH1000XM5 is called Headphones Connect and is relatively simple in terms of design and use. You will immediately notice a large number of options, including a five-band equalizer, selecting the power of the environmental awareness mode, changing or correcting information about our activity and much more.
An important element is the LDAC codec operating mode. As you may know from our guide on Bluetooth codecs, devices often switch from the highest quality mode to keep the connection stable. However, LDAC likes to overdo it, so it's a good idea to set High Quality Mode and switch to a more stable version only when you hear the music interrupting, which can happen when you're on the move.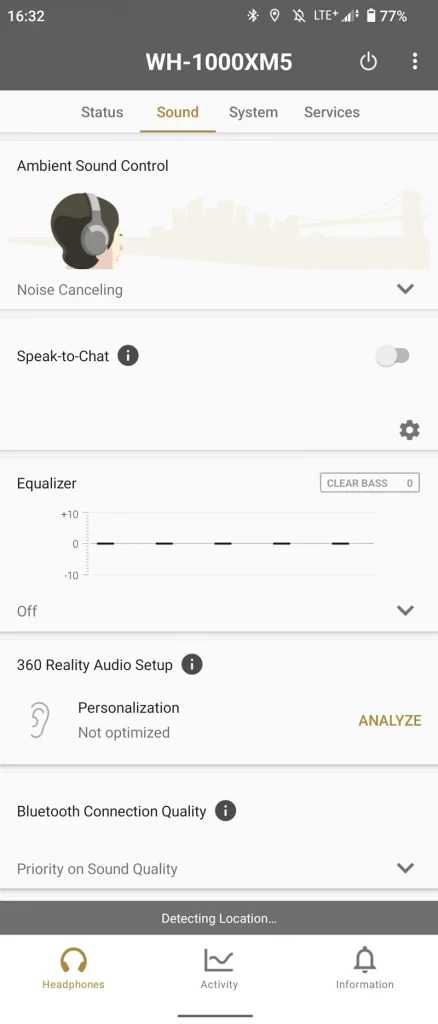 Connection quality on the Sony WH1000XM5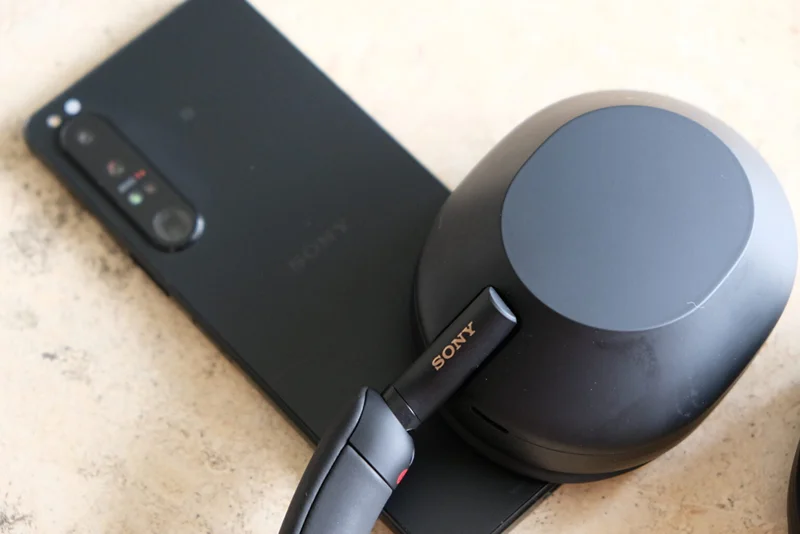 Now that I've already said a bit about LDAC, it's time to say how it works for the Sony WH1000XM5 headphones. I used almost only the high quality mode, because the connection with various phones was very stable. LDAC only started to tear when I started walking around the apartment with my headphones on, and the phone was on the couch. After turning on the stability mode, I could easily travel around the apartment on foot and enjoy the music without any problems. On the plus side, even negligible latency should be included. With the Sony WH1000XM5 headphones, we can easily play games or watch series.
No LDAC and it's worse
It is a bit worse with devices that do not support the LDAC codec. While that doesn't apply to any fresh Android phone, it does much mostly to laptops, which can often support AptX, which the Sony WH1000XM5 or the SBC itself does not. When connected to the latter codec, the delay increases significantly. It is not very annoying yet, but you can see the difference between what is happening on the screen and what we hear. The stability itself remains at a very good level and the connection doesn't even think about breaking up.
Read also : Sony LinkBuds review – exceptional is an understatement
Is ANC in Sony WH1000XM5 good?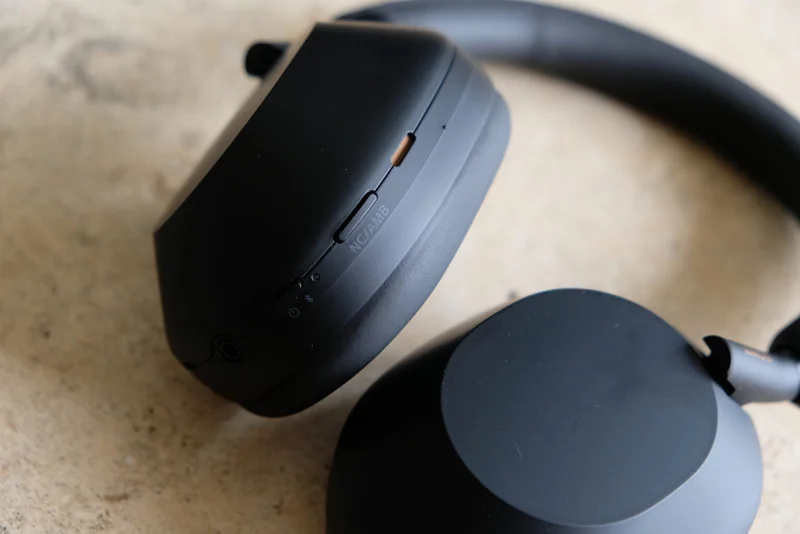 ANC is by far the best component of the Sony WH1000XM5 . It is slightly improved over the previous generations and works very well in virtually any environment. It perfectly muffles not only constant noise, such as public transport or the fan, but it is also incredibly good at dealing with voices and any taps, such as the keyboard. The ANC is not perfect, however. I have noticed that there is one thing that causes problems. Small and medium-sized dogs barking . I don't know why this happens, but these are the only sounds that reach my ears almost intact. They beautifully muffle all the screams of children, which should be on similar frequencies.
What do the Sony WH1000XM5 sound like?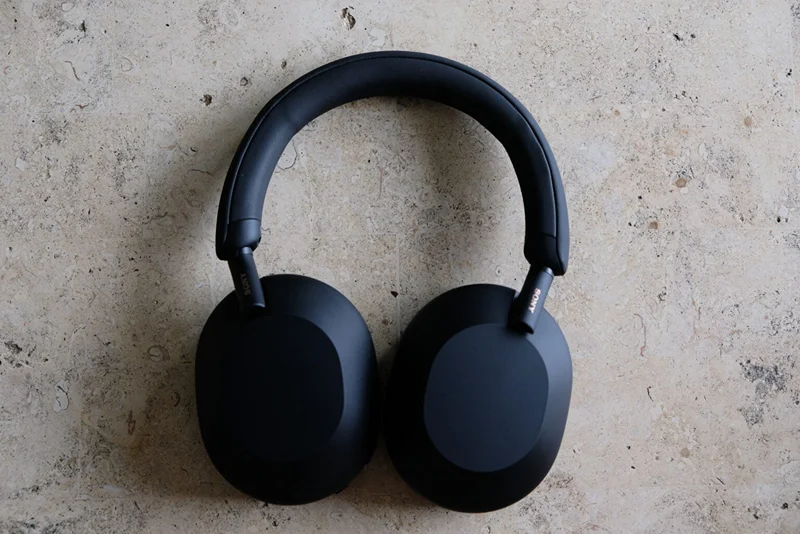 Knowing relatively previous models, I can say that the Sony WH1000XM5 have made a step forward. Maybe not as much as the price would suggest, but they are quite decent-sounding headphones. Of course, there is still quite a lot of bass , but it does not cover the midrange as much as it was before. Its highest part hides slightly in the bass, which should provide a better kick. You can feel it in a sound that seems to be a bit muffled and slowed down. Midbas and subbas extend to the front of the bass presentation, which many people may like. I like this solution very much at work, but in the city I like playing a bit more entertaining.
To better understand the description of the sound, I invite you to the guide and ranking of headphones for 2022 , in which most of these elements have been explained.
The midrange is a bit worse with ANC than without
Turning on ANC hides vocals and guitars a little, especially slightly higher male voices and lower female voices . When I sat with the ANC on for a long time, after turning it off, these elements of the sound seemed to be somewhat flashy, but I quickly got used to it and again the hidden vocals hurt more after turning on the active noise reduction.
In terms of details, it is decent, but not crazy. Sometimes a nice texture can appear in the sound, but it is rather a very delicate and small element. The highest tones are delicate and serve more as a third than foreground. People sensitive to sibilants can breathe a sigh of relief because they will not experience any here. Sony WH1000XM5, due to the relatively dark sound, are free from this problem.
How long do Sony WH1000XM5 stay on the battery?
The manufacturer declares us about 30 hours with ANC on and 40 hours without ANC. These are the most realistic results at about 60% volume. Charging the battery is quick and will save us from listening to the sounds of the city. The manufacturer claims that the first three minutes should be enough for three hours of headphone operation . Full charging takes about two hours, which is standard value.
Sony WH1000XM5 review – summary
Personally, I do not perceive the Sony WH1000XM5 as headphones strictly for music. These are mainly lifestyle and business headphones , whose main task is to be comfortable, cut us off from the environment, have good microphones, sound good and are suitable for many tasks. In these tasks they are doing perfectly well, maybe except for a small problem on Windows, where I am not sure which side is at fault and that eco-materials do not work well at high temperatures.
Personally, I would choose something else, possibly cheaper, but I would focus on sound quality more than the rest. And I couldn't hold out with dirty headphones all the time.
About Post Author
Sony WH1000XM5 review
Sound quality

Production quality

ANC

App

Connectivity and service
Summary
The Sony WH1000XM5 is decent in terms of performance, they are very light and fit well on the head, despite the fact that the ears are warm in them. The sound is good, but it's definitely not for everyone. The headphones also have a really amazing ANC, which significantly improves the comfort of work or travel.