The tablet market has been very saturated for years. 10 years ago there was a real boom for this type of device. Cheap electronics, primarily with Android, was available in every store and for every wallet. Over the years, in every household, every user has at least one such device, which is probably lying somewhere in a drawer usually unused (if he has Android). However, the tablet market is actually two markets:
Android devices that are purchased for basic content consumption and are used rarely or occasionally,
devices with iPadOS, which are expensive, and are bought by conscious users for whom the tablet will be used for work or study.
The tablet market is very saturated, but not everywhere!
People have been reluctant to buy tablets for years and I am not surprised at all. These are specific devices that can replace a computer for a short time, but using them for work can be tiring in the long run.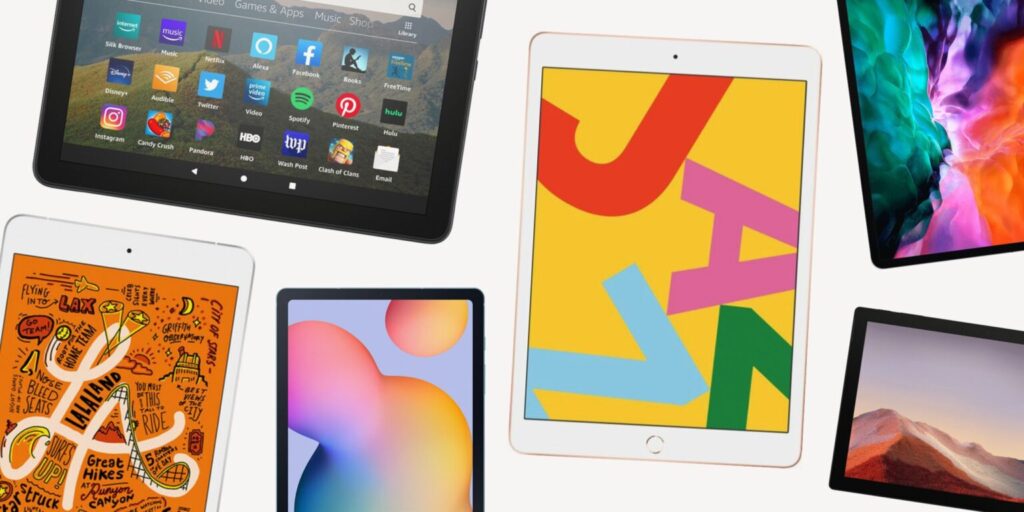 It is worth looking at the tablet market in the first quarter of 2022. Apple supplied as many as 15.8 million devices to the tablet market, which is a 6% decrease year on year. This does not change the fact that the market share of the Cupertino company increased by 1.7 percentage points to 39 percent. It is worth adding that this translates into as much as USD 7.2 billion in revenues for the company. We can read such data from the last Strategy Analytics report.
Check also: iPadOS 16 – Apple knows what's good for tablet users!
Samsung, in turn, delivered 8.2 million tablets to the market in the same period, and its market share reached 20% (an increase by 1.2 percentage points). Interestingly, the third position is occupied by Amazon with a 9% market share. Lenovo is in fourth place with a decrease in the period considered (by 20%) with 3 million tablets delivered – the market share is 7%.  
The result of Microsoft, which sold 1.4 million tablets, may be surprising. Apparently, users of this type of hardware do not want to use a truncated version of Windows.
The tablet market is experiencing a difficult period, but in the first quarter it experienced a short-lived "popandemic" spurt. The competition among Android devices is really fierce and it does not threaten Apple in any way, which has a dedicated group of customers replacing old equipment with new one. Manufacturers such as Lenovo, Xiaomi and Samsung want to take over from Huawei, which has lost access to Android. Fighting for a customer in such a saturated market is extremely difficult. It is also worth adding that the prospects for the market are not very optimistic, because logistic pressure, inflation and the war in Ukraine are the reasons for the difficult deliveries.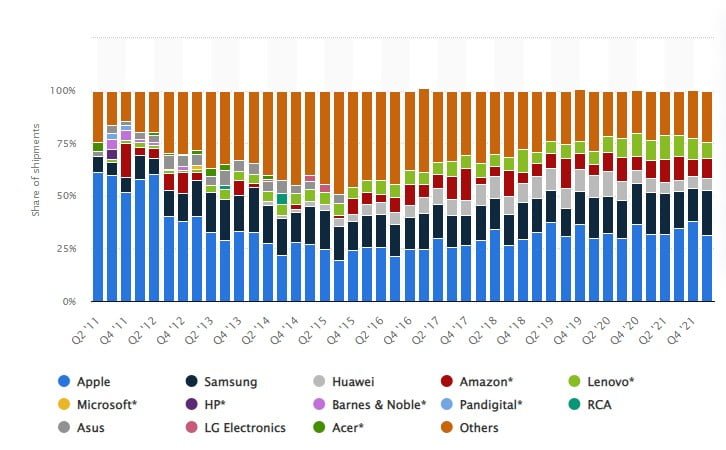 If we look at the tablet market structure over the years, you can immediately see that Apple has dominated over the last decade, but its market share has slightly decreased. It is safe to say that we have been dealing with stagnation in the division of this area for 3 years.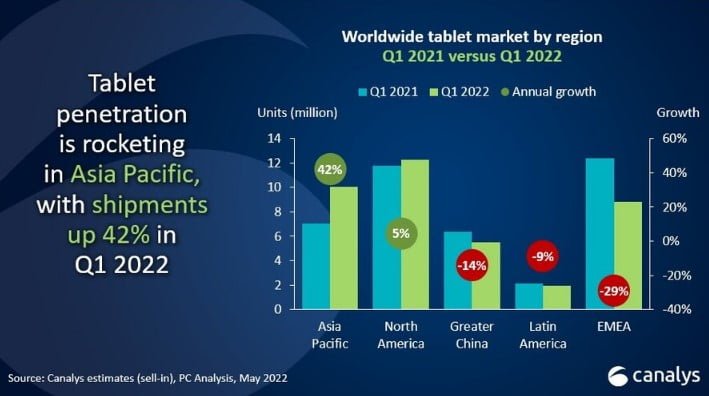 If we look at the regional perspective, the point of view and conclusions may slightly change. Asia-Pacific achieved very strong growth in the first quarter of 2022 , amounting to 42% year-on-year. This applies to countries such as India, where tablets are increasingly used in education along with free Internet. It is cheap equipment that is winning these markets.
If the tablet is just the one from Apple
Android tablets never really appealed to me, even though I use one – namely the Galaxy Tab S6 . I use it to view stock quotes and occasionally to play. It is hard for me to imagine that such devices would replace my laptop, even though it was a flagship at the time of purchase. Android tablets are fine for consuming basic content, but nothing to do with the productivity and efficiency of the iPad.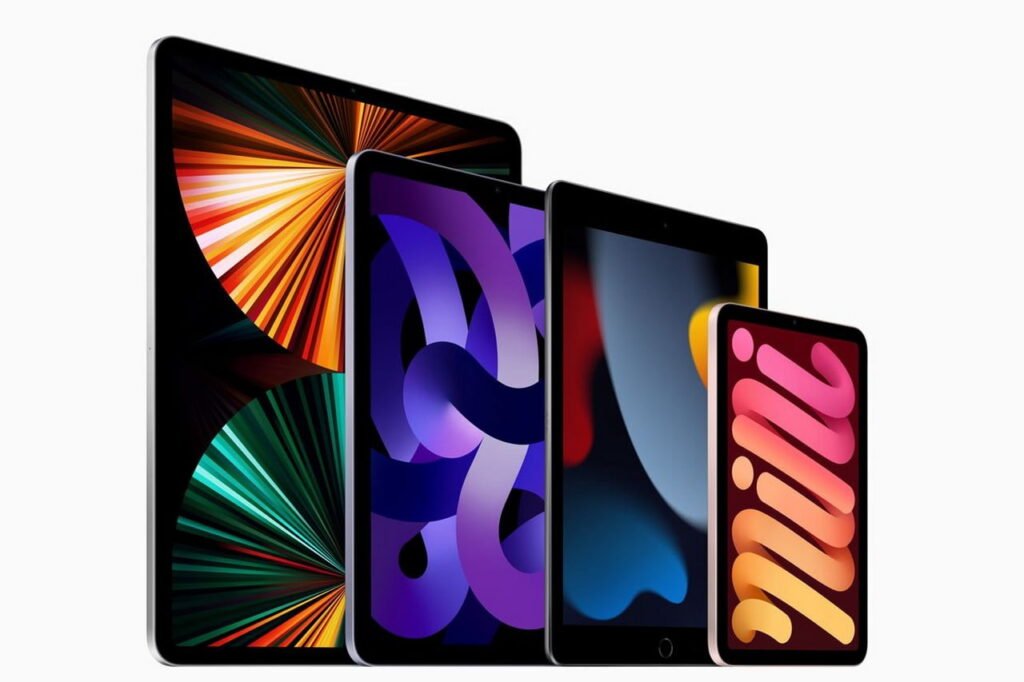 A very big downside of Android tablets is their short support period. Many manufacturers forget about larger devices very quickly, only offering an update for a year or two. This is not enough, considering the fact that most users buy such equipment for a very long term – 5 years or more.
To this should be added the lack of optimized applications for the tablet version of Android . For example, to this day, on my Tab S6, I cannot download TFT from Riot Games because it is not adapted to this device. Google has long since given up releasing special versions of Android adapted to tablets. I have the impression that the American giant treats this area neglectfully – without much support. All this makes the competition in the form of Apple great .
The company from Cueprtino has distinguished iPadOS, which works better and better and copes with multitasking. The functioning of this platform is the apple of Apple's eye, and users appreciate the number of useful functions and great synchronization with the company's ecosystem. This translates into the sale of devices that regularly receive refreshed parameters and appearance.
It is safe to say that Apple is second to none in the premium segment. The greatest threat to the competitive advantage of the iPad Pro comes from … Apple in the form of the iPad Air. The device is good enough to meet the expectations of many customers. The mere fact that Apple has created special M1 chipsets for this type of equipment shows how seriously the company is taking the tablet market.
The company has even emerged from its shell by establishing a shocking partnership with Microsoft and making Office work perfectly here (and yet Apple has its own office suite). So why should a potential customer buy a premium device (or even an average device) from competitors? I don't see any reasons – it's better to buy an iPad Air or Pro, which will serve him for years and receive long-term support. The tablet market belongs to Apple – end, period.
Source: business-standard, businesswire, canalys, zdnet
About Post Author