Over the years we have got used to the fact that the most popular smartphones when it comes to specific models are the iPhone. The math itself is behind it. After all, the manufacturer releases only a few smartphone models each year, although in many memory variants, and yet it is on the podium, fighting for second place with Xiaomi. Despite this, this year it is not the iPhone that is the leader in popularity, but the smartphone from Samsung. 
However, to add a bit of spice to the whole thing, it is worth adding that this is not a device from 2021, but from 2020. And it is not a flagship, on the contrary: a budget smartphone.
Read Also: What instead of the iPhone SE 2022? The best Android smartphones at a similar price
The most popular smartphone of 2021
So what smartphone was the most-chosen device last year? Well, Samsung Galaxy A12. The device, which debuted at the end of 2020, tops the list of the most-sold phones with over 51.8 million units. At least that's what the Omdia report for last year shows. Thus, it beat the iPhone 12 by 10.1 million copies. On the other hand, it is worth emphasizing that the Galaxy A12 is a much, 5 times cheaper device than the Apple product. So if we take into account the highest revenue from the sale of a single model, Apple will take the leading position.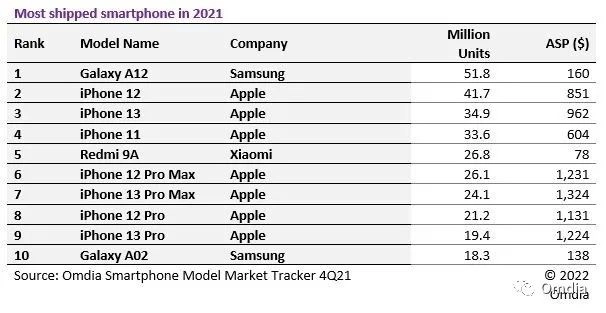 These results show that the revolution that Samsung has made in the Galaxy A series – and especially in its lowest segment – turned out to be a bull's eye. A decent but budget processor, a wide range of RAM to choose from, and a strong battery at an attractive price have become a recipe for success. 
Read Also: An era is over – Android statues are disappearing from Mountain View
It is worth emphasizing that these results do not mean that people cannot afford more expensive smartphones. Rather, they show that people who could not afford anything more expensive, or did not want to spend more on a smartphone, decided mainly on this one specific model. 
It remains to be hoped that the Galaxy A13 A will prove to be its worthy successor. After all, for years, there was a lack of really successful and budget solutions on the market.
Source: Gizmochina
---